Global Meetings Industry Day (GMID) has arrived, with meetings industry professionals celebrating at more than 160 events around the world. Recent research from Oxford Economics affirmed the importance of face-to-face meetings—they supported 5.9 million jobs and $845 billion in economic impact in the United States. Smart Meetings is celebrating GMID by sharing the stories of empowerment from all over the world.
Canadian Prime Minister Justin Trudeau weighed in on the importance of the industry in his released statement saying, "Global Meetings Industry Day offers a wonderful opportunity to highlight the important role professionals in the meetings and events industry play in our communities. Their expertise and skills ensure the success of conferences, trade shows and business meetings held across the world."
Best Cities and Greater Bogota Convention Bureau Team Up
BestCities Global Alliance has launched its latest campaign with a focus on the "Power of the People."  Led by Greater Bogota Convention Bureau, the communications initiative shines a spotlight on the unique and progressive role people play in the meetings and events industry. "We strongly believe that each person has the power to make a fundamental difference that can shape the future and make a positive change," says Linda Garzon Rocha of Greater Bogota Convention Bureau. Eleven more BestCities destinations will also participate, including Cape Town, Tokyo, Houston and Vancouver.
MPI Northern California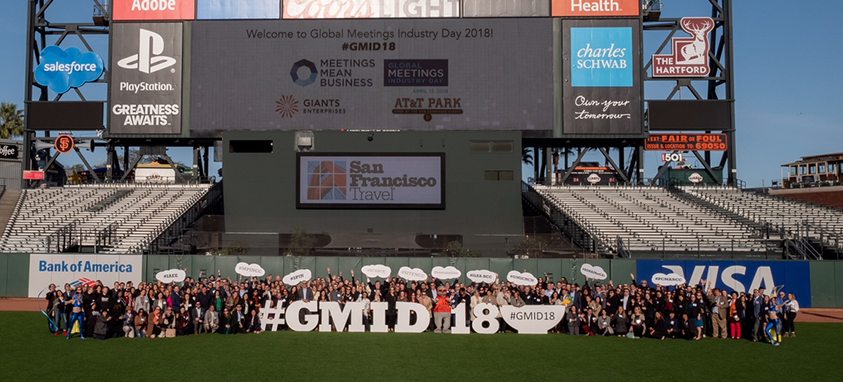 MPI Northern California Chapter celebrated at AT&T Park with a toast to the economic power of bringing people together.
Meet AC Brings Virtual Reality to Forefront
In partnership with YouVisit, Meet AC announced today that it has gone digital. By implementing virtual reality (VR) headsets, the sales team is bringing Atlantic City to its viewers, no matter their location. The use of VR will allow the Meet AC sales team to both meet their goals and focus on bookings at the Atlantic City Convention Center.
Game Changers in the Meetings Industry
Carina Bauer, CEO of the IMEX Group, had words of wisdom to share regarding the importance of the industry in honor of GMID. Reflecting on how the meetings industry has evolved since 2001, she believes that there were four "tipping points:" globalization, emergence of cities and regions around the world as knowledge or innovation hubs, the rise of technology and the internet, and the "TED factor." "This is an incredibly exciting time to be in the meetings and events industry!" she says.
NYC & Company Shines Blue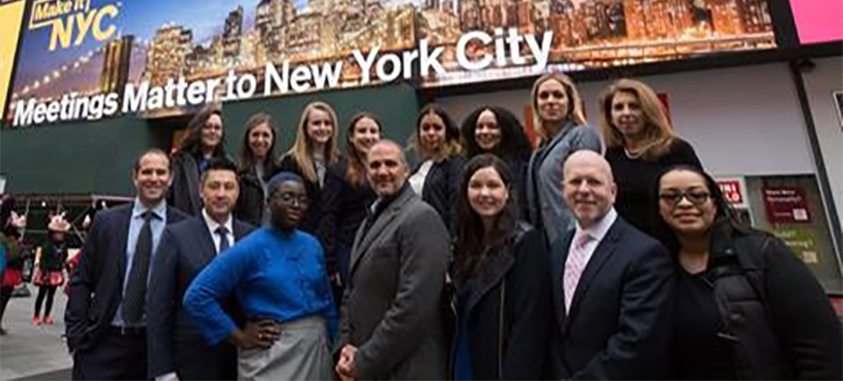 The New York City skyline (including the Empire State Building, Pier 17 and Jacob K. Javits Convention Center Crystal Palace Dome) was awash in blue light to mark the power of the meetings industry while telling the industry story popped up on big screens in Times Square and LinkNYC. The NYC and Company team also co-hosted education sessions with PCMA in Potomac, sponsored an event at Universal Studios in Hollywood with MPISCC, SITE SoCal and PCMA-SW, co-chaired planner for celebrations in Kansas City and Minneapolis and hosted a dinner for buyers in Warsaw.
Four Seasons Makes Design Top Priority
Four Seasons Hotels and Resorts consider meetings and events when designing a new hotel or resort. It prides itself on its ability to customize space to host the perfect event, and event management teams, such as general managers and property teams, are eager to help create a personalized event. "Meetings and events are not only an important part of business growth, they are also an opportunity for us to showcase the passion, creativity and excellence that happens every day at Four Seasons hotels and resorts around the world," says Peter Nowlan, executive vice president and chief marketing officer, Four Seasons Hotels and Resorts.
Continue following Smart Meetings throughout the day for more updates on GMID across the globe.