Hyderabad
Good to Know: Hyderabad rests along the Musi River. The capital of Telangana, it's known as the City of Pearls, and sits on hilly terrain at an altitude of 1,178 feet. Once a prolific diamond-trade center and a major hub for the East India Co., Hyderabad is known for its lakes and wildlife parks. Hyderabad Rajiv Gandhi International Airport (HYD) is 12.5 miles from the city. Temperatures range from 50 to 102 degrees.
Business: Called Genome Valley, Hyderabad is a thriving pharmaceutical R&D and biotech center. Major companies and government institutes include Center for DNA Fingerprinting and Diagnostics, Bharat Heavy Electricals, National Geophysical Research Institute, and Centre for Cellular and Molecular Biology. Hyderabad hosts Oracle, Apple, Google, Dell, Amazon, Facebook and Cisco offices.
Attractions: Qutb Shahi Tombs, Makkah Masjid, Hussain Sagar Lake, Salar Jung Museum, Falaknuma Palace, Pearl Market, Bella Vista Palace and Ladd Bazaar are well worth the trip.
Photo of Hyderabad International Convention Center
Meeting Space: Hyderabad International Convention Center (HICC) offers nearly 70,000 sq. ft. of internal space with expandable seating options, along with full audiovisual support. Theater-style seating is available in configurations that accommodate 252, 710, 2,404, 2,960 and 4,846.
Hotels: Hyderabad has 170 hotels. Novotel Hotels & Resorts connects directly to HICC and offers 287 guest rooms. The Westin Hyderabad Mindspace offers 427 guest rooms along with event space. Three ballrooms accommodate from 48 to 550 guests. Combined, the ballrooms offer 4,998 sq. ft. of space. Three meeting rooms hold 10 to 33 attendees each, or can be combined to accommodate up to 75 participants.
Mumbai
Good to Know: Formerly known as Bombay, Mumbai rests on the edge of India's western peninsula. It is the most populated city in India. Known as the Island City because it juts into the Arabian Sea, Mumbai's average temperatures range from 75 to 88 degrees. Chhatrapati Shivaji International Airport (BOM) handles most of India's inbound flights.
Business: Jawaharlal Nehru Port handles up to 60 percent of India's cargo ship traffic, while dozens of bridges, highways and railways connect the city to the rest of India. Mumbai is India's financial and commercial trade capital. Tata Group, Life Insurance Corp. of India, Reserve Bank of India and Bombay Stock Exchange are based there.
Attractions: Gateway of India building, Elephanta Island, Crawford Market, Parsi Towers of Silence, Madh Fort, Girgaum Chowpatty Beach and Asiatic Society of Bombay (a historic public library) are very popular destinations.
Meeting Space: Bombay Convention & Exhibition Centre is among India's largest convention centers. It offers more than 441,000 sq. ft. of exhibition space, with the largest conference room being 126,957 sq. ft. Two exhibition halls provide 206,054 sq. ft. and 25,414 sq. ft. of space, respectively. There are eight dedicated meeting rooms.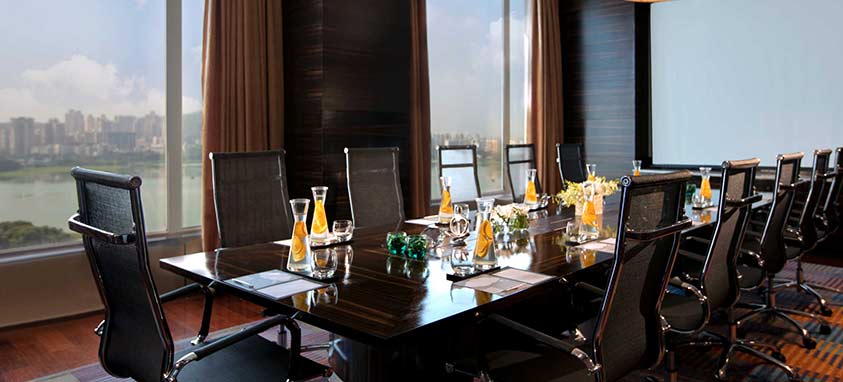 Photo of Marriott Renaissance Mumbai Convention Centre Hotel 
Hotels: Mumbai has 270 hotels. Marriott Renaissance Mumbai Convention Centre Hotel offers 600 guest rooms. The hotel provides 20,332 sq. ft. of event space, 12 meeting rooms and 18 breakout rooms, ranging from eight to 40 participants. An 11,169-square-foot ballroom holds up to 1,800 guests.
New Delhi
Good to Know: New Delhi is the capital of India. Located on the Indo Gangetic Plain, it is bordered by the Yamuna River, Delhi Ridge and Shahdara region. It's a cosmopolitan city with strong attachments to the past. Hundreds of historic landmarks, museums and gardens reflect the city's heritage. Temperatures average 57 to 93 degrees. Indira Gandhi International Airport (DEL) is one of the busiest airports in the Asia Pacific.
Business: New Delhi, India's commercial hub, is an important financial center. As India's capital, New Delhi's economy thrives on the funding of infrastructure and transportation projects. Key international organizations have regional headquarters there, including UNESCO, UNICEF and World Bank.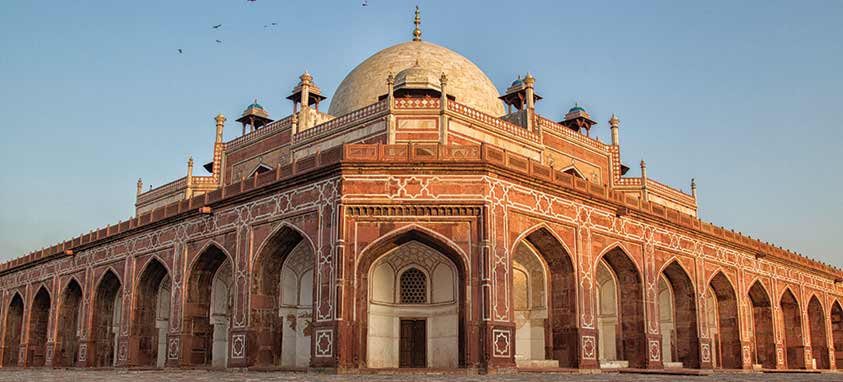 Photo of Humayun Tomb, New Delhi
Attractions: Red Fort, Jama Masjid, Qutb Minar, Humayun Tomb, India Gate, Raj Ghat (Gandhi's tomb), Akshardham Temple, National Gallery of Modern Art, Buddha Jayanti Park and Lodi Gardens are among the compelling attractions. The world-renowned Taj Mahal is in Agra, 131 miles from New Delhi.
Meeting Space: India Expo Centre touts itself as India's largest venue for exhibitions and conventions. Built in 2006, the facility offers dozens of configurations for conferences, including ballrooms, banquet halls, meeting rooms and breakout areas. Several meeting rooms provide more than 37,000 sq. ft. of indoor space.
Hotels: New Delhi has 481 hotels. Starwood's ITC Maurya New Delhi offers 437 guest rooms and 11 meeting spaces, with the largest being 6,783 sq. ft. Radisson Blu Hotel New Delhi provides 219 guest rooms and 9,000 sq. ft. of event and meeting space. The Westin Guragon New Delhi offers 313 guest rooms and more than 14,600 sq. ft. of space, including 10 meeting rooms, with the largest being 5,544 sq. ft.
Further Reading: