College Football Hall of Fame
Although it's been a top-five U.S. city for meetings, conventions and trade shows for many years now, Atlanta has no intention of resting on its reputation for its excellent variety and quality of hospitality offerings for groups. More than 12,000 hotel rooms are within 1 mile of Georgia World Congress Center (GWCC), the city's largest convention center, and almost as many rooms are within the same distance to its other downtown convention facility, Atlanta Convention Center at AmericasMart.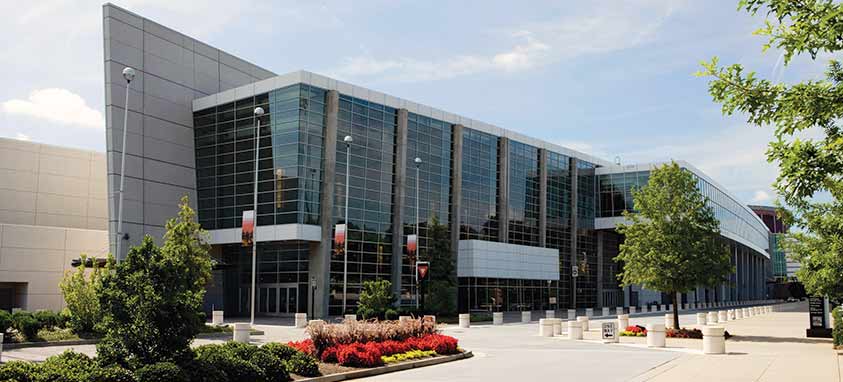 Georgia World Congress Center
A grand plan is in motion to make Atlanta's downtown district even more conducive to hosting every element of citywide events as well as small and mid-sized meetings. Known as 2020 Vision and led by Georgia World Congress Center Authority, the plan is the single biggest thing that's happened to Atlanta's convention business since the opening of Georgia World Congress Center in 1976, Vaughan says. The 2020 Vision initiative will deliver the following additions, expansions and renovations within the next three years.
Mercedes-Benz Stadium is slated to open by September. Replacing the nearby Georgia Dome, this retractable-roof arena will be home to the NFL's Atlanta Falcons, MLS' Atlanta United FC, and approximately 70 other concerts and events each year. It will host the College Football Playoff National Championship on Jan. 8, 2018, Super Bowl LIII on Feb. 3, 2019 and the NCAA Men's Final Four basketball tournament April 4–6, 2020. Some of the larger citywide conventions and trade shows could use the stadium in tandem with GWCC.
A hotel with between 800 and 1,000 guest rooms will be constructed just south of building C at GWCC, and is likely to open by late 2018. It will be convenient for GWCC event attendees and provide additional meeting space for groups using part of the facility. West Plaza, the outdoor space between Building C and the proposed hotel, is where many convention groups host outdoor lunches that are served by various food trucks from around the city.
Contiguous exhibit space will be added between buildings B and C at GWCC to attract groups that have outgrown it. This addition creates 1 million contiguous sq. ft. of space in that area, complementing the 1.4 million contiguous sq. ft. already available in GWCC.
Centennial Olympic Park will receive a series of renovations to enhance its multi-use capability, including expanding and updating its outdoor amphitheater to offer about 1,300 seats.
"Meeting groups large and small take advantage of the park," Vaughan says. "They do everything from team-building exercises to huge parties with world-renowned musical acts performing."
Further Reading: