Houston convention district
Convention center projects around the globe signal a very bright future for meetings and events in the new year. From San Francisco to Auckland, New Zealand, and Sydney to Aberdeen, Scotland, convention center projects include major expansions and new builds that are born from demand.
Houston, Texas
Houston's downtown convention district is undergoing a $1.5 billion renovation that will totally change the face of meetings and conventions in America's fourth-largest city. The most noticeable change is the new five-block, pedestrian-friendly Avenida Houston, which can host outdoor gatherings for convention attendees. It offers 99,000 sq. ft. of space and connects delegates to such popular attractions as Minute Maid Ballpark, Toyota Center and BBVA Compass Stadium. Avenida Houston is adjacent to George R. Brown Convention Center, which offers 1.2 million sq. ft. of event space…More
San Francisco, California
Close to Smart Meetings' home office in Sausalito, California, Moscone Center in San Francisco is undergoing major modifications. The expansion will increase Moscone's size from 614,839 to 772,179 sq. ft. Started in 2015, this convention center project will be complete by the end of 2018. Moscone North and Moscone South will be closed April through August to achieve target goals, while Moscone West will not be affected and is open for business.
"The expansion of Moscone Center is continuing on schedule and it's exciting to see the new facilities taking shape," says Joe D'Alessandro, president and CEO of San Francisco Travel. "At the same time, we are working closely with our hotels and other venues to provide innovative and attractive solutions for our meeting customers during the construction period."…More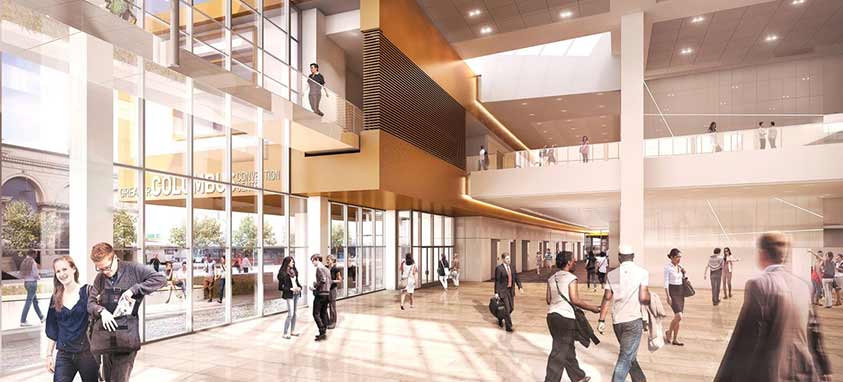 Columbus, Ohio
Greater Columbus Convention Center (GCCC) is undergoing a $125 million renovation and expansion to be completed by July 2017. Its exhibit halls host hundreds of conferences and conventions including the annual Arnold Classic, the largest multisport festival in the nation, with 18,000 athletes competing in various events across Columbus.
The convention center has stayed open throughout the entire construction phase. The project includes the addition of 100,000 sq. ft. of event space, boosting the GCCC to 1.8 million sq. ft. There will be 74 meeting rooms and 447,000 sq. ft. of exhibit space, including a 74,000-square-foot multipurpose ballroom. Nine new meeting rooms and a two-level atrium will flood the north end of the building with natural light. The atrium will also be used as prefunction space for the updated Short North Ballroom, while Arnold Plaza will be enlarged with 10,000 sq. ft. of space for outdoor events…More
New York City
What's unfolding along the Hudson River on Manhattan's Far West Side is indeed noteworthy. In January, New York Gov. Andrew M. Cuomo announced a $1 billion project that would increase the size of Jacob K. Javits Convention Center by more than 50 percent, from 2.1 million sq. ft. to 3.3 million sq. ft. The expansion broke ground this year. The expansion will add a 58,000-square-foot ballroom that will rank as the largest in the Northeast and a rooftop event space for up to 1,500 guests. There will be five times more meeting space and 27 new loading docks.
"The Javits Center is in the middle of a renaissance," says Tony Sclafani, senior vice president and chief communications officer for Javits…More
International Convention Center Projects
Sydney, Australia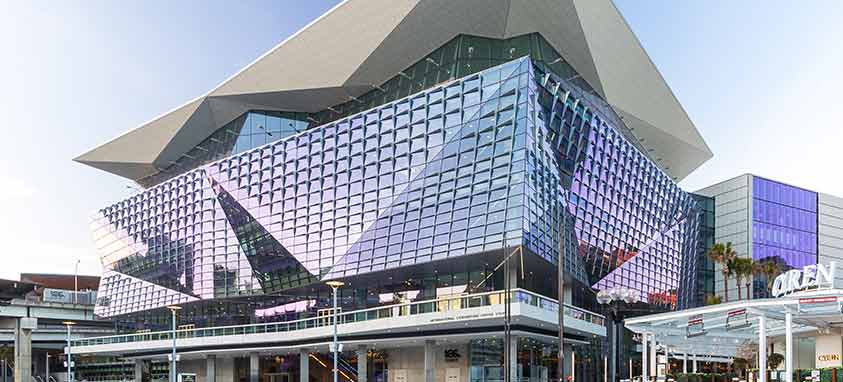 International Convention Centre (ICC) Sydney opened this month. With more than 360,000 sq. ft. of exhibition space and the largest ballroom in the city, ICC Sydney is the largest convention center in Australia. Located on the waterfront in Darling Harbour, ICC Sydney contains spaces for up to 750, 1,000, 2,500 and 8,000 people, making it capable of hosting four completely separate events for up to 12,000 people at the same time. The modernist structure is part of a larger food and entertainment complex that is expected to revitalize the adjacent business district.
Joint venture partners HASSELL + Populous worked together to design the new convention, exhibition and entertainment venues for Sydney, with inspiration from the site's spectacular city and harbour surrounds as well as Cockle Bay's history.
"In designing the new ICC Sydney, HASSELL and Populous have created world class venues that connect with their surrounding built and natural environments as part of a new inner city destination that people will love. The design for the new ICC Sydney unlocks the economic, social and cultural potential of the harbour side site for visitors and Sydneysiders alike," said Glenn Scott, HASSELL Principal and Joint ICC Architecture Director
"Engagement is at the heart of the design – engagement with both the surrounding built and natural environments and engagement with Sydney's residents and visitors. The needs of the meeting industry are changing and while Convention and Exhibition centres do retain a unique focus, it is now combined with a desire to contribute to the local neighbourhood. ICC Sydney is a development for a modern urban community, a catalyst for business and a major international destination," said Richard Breslin, Populous Senior Principal and Joint ICC Architecture Director.
According to Geoff Donaghy, CEO of ICC Sydney, the venue plays a pivotal role in boosting the local knowledge economy. "ICC Sydney will deliver over $5 billion in economic benefit to New South Wales in the next 25 years, but it will do more than just deliver a cash injection to the economy," Donaghy says. "It will also become a place of intellectual combustion and innovation for organizations big and small."…More
Auckland, New Zealand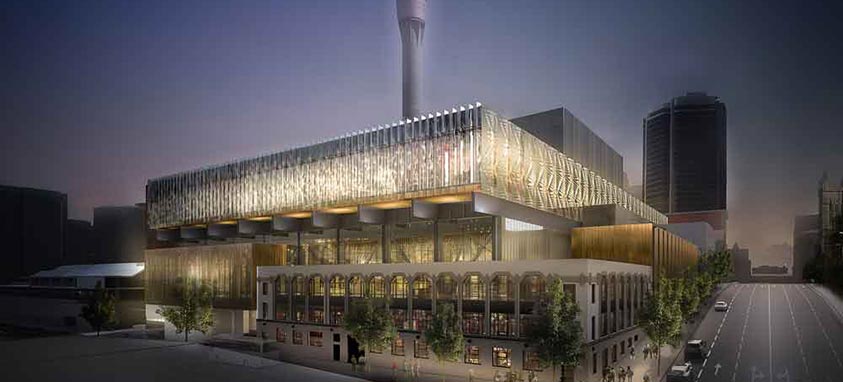 New Zealand International Convention Centre (NZICC) scheduled to open in 2019. Groundbreaking for the three-year project was in February. To make way for NZICC, 16 buildings were demolished to enhance the flow between downtown and the city's famous harbor. The new convention center will feature a 2,850-seat plenary and a 71,412-square-foot exhibition hall. It will be within walking distance to 4,500 four- and five-star guest rooms, creating a state-of-the-art meeting district completely integrated into the city.
"We will have a facility that will compete with any facility in the region," says Simon Jamieson, group general manager for NZICC. "It will make a big difference to New Zealand's economy when it's completed."…More
Aberdeen, Scotland
Visit Scotland recently met with Smart Meetings in San Francisco to share news about several projects, including the construction of a new convention center scheduled to open in Aberdeen in 2019. Located on the island nation's northeast coast, where the North Sea is a global center for sub-sea technology, Aberdeen is capitalizing on the region's cutting-edge solutions for oil extraction by building a $440 million convention center, which has the full support of local businesses, regional government and Visit Scotland…More