If you've ever considered visiting or holding an event in New Zealand, this blog is designed to get your wheels spinning.
Tourism New Zealand just hosted a dozen U.S. meeting and incentive planners, and one lucky journalist, to experience its many treasures and attend the annual Conventions and Incentives New Zealand (CINZ) trade show. Let me just say that Tourism New Zealand, Auckland Convention Bureau and Air New Zealand, among others, rolled out the red carpet.
Many things stand out, but I was most impressed by the variety of ways we got around the North and South Islands. For starters, we flew business premier class from the United States. This included impeccable service and seats that easily convert into 6-foot-6 long flat beds. Although I didn't wear the spiffy socks that were in the airline's amenity bag, I certainly appreciated the thought. With my own personal TV monitor and gourmet food, I wasn't ready to get off the "air hotel" when I landed in Auckland from San Francisco in less than 12 hours.
Air New Zealand is regarded as one of the top international airlines and offers routes throughout the world, not just to and from its native country. North American gateways are Vancouver, San Francisco, Los Angeles, Houston and Honolulu. International hub cities include Sydney, Hong Kong, Tokyo and Buenos Aires.
Our first activity once we got to Auckland was taking a luxury yacht, Pacific Mermaid, for a leisurely ride to Waiheke Island. The yacht is used for executive excursions and has hosted many foreign heads of state. It can hold up to 80 for receptions, 50 for buffet dinners and 30 for seated dinners. It features four elegant bedrooms, so overnighters are possible. This was such a great way to begin our fam trip, recognizing immediately that Auckland is all about boats.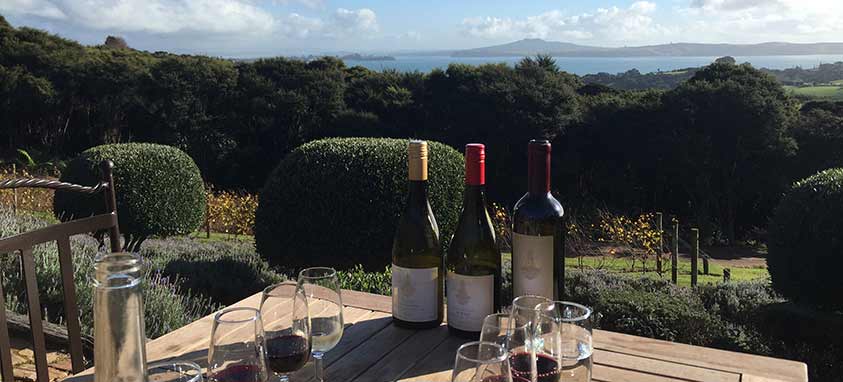 Even if you're not able to splurge for a private yacht to give your execs a once-in-a-lifetime luxury experience, there's reliable ferry service thanks to Fullers.  We took the Pacific Mermaid to Waiheke Island and returned to Auckland on the ferry, which only took about 30 minutes. Fuller is a leading cruise and ferry operator based in Auckland. It offers a range of cruises and tours around the islands of the Hauraki Gulf Marine Park, with leisure service to Auckland's newest volcano, Rangitoto Island, and Waiheke Island.
Waiheke Island is a must-see and easily accessible thanks to the ferry service. A cross between Napa Valley and Maui, Waiheke features 30 wineries that help keep New Zealand vintners among the most competitive in the world. A day of tasting wasn't enough.
The Kiwis love their boats, which is one of the reasons they were such great hosts during the 2000 and 2003 America's Cup races. That success still resonates today thanks to Explore Group, which sails out of Auckland and Bay of Islands, New Zealand, as well as Sydney and Hamilton Island, Australia. Explore offers unique products including sailing, marine wildlife, diving and cruising in amazing places aboard boats once used for America's Cup racing.
We learned how to grind, but mostly got to tour Auckland Habour with our guides doing the work. It was a bonus that we got to see someone bungee jump from Auckland Harbour Bridge in addition to learning about the history and importance of boats in and around New Zealand.
Motorcycles
There were many surprises during our week-long fam trip, but we were definitely keen on getting picked up by motorcycles and driven from Skycity Grand Hotel to Auckland War Memorial Museum.  Our hosts from Tourism New Zealand and Auckland Convention Bureau confirmed they can coordinate transportation and rides for up to 200. It seems like there were water views at every turn, and our group bonded as we road through the downtown streets and scenic roads. The Auckland museum has the largest collection of Maori art and artifacts in the world!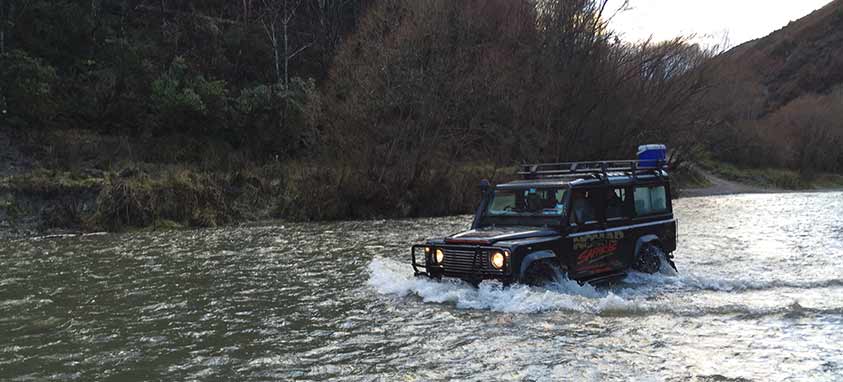 On the South Island in Queenstown, there are all kinds of things to do, including bungee jumping, ziplining, mountain biking and riding the luge at the Skyline Queenstown adventure park.
Nomad Safaris helped us get to know New Zealand's gold mining history. We rode in fully-equipped Land Rover Defenders through riverbeds and over small boulders to pan for gold. It's estimated that about half the people in each group accompanied by Nomad guides strike gold and we actually had a few participants uncover small specs. I never felt scared on the very bumpy ride, but our feet did get a little wet as we drove through several feet of water. The ride also showcased locations where Lord of The Rings was filmed and an exclusive high-country farm.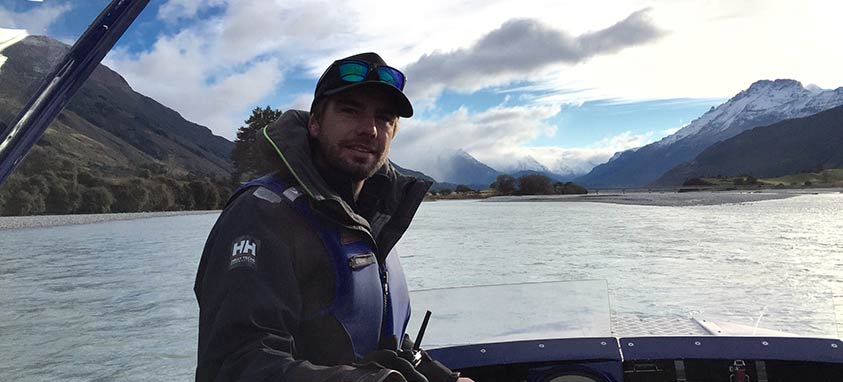 Outside Queenstown in the small village of Glenorchy,  adventure-seekers find a jumping off point that is life-changing. Dart River Jet Boat trips transport riders into New Zealand's protected wilderness, offering up spectacular views of snow-covered mountains, forests, waterfalls and mist-induced rainbows. We entered Mount Aspiring National Park, which is part of Te Wahipounamu-Southwest New Zealand World Heritage Area.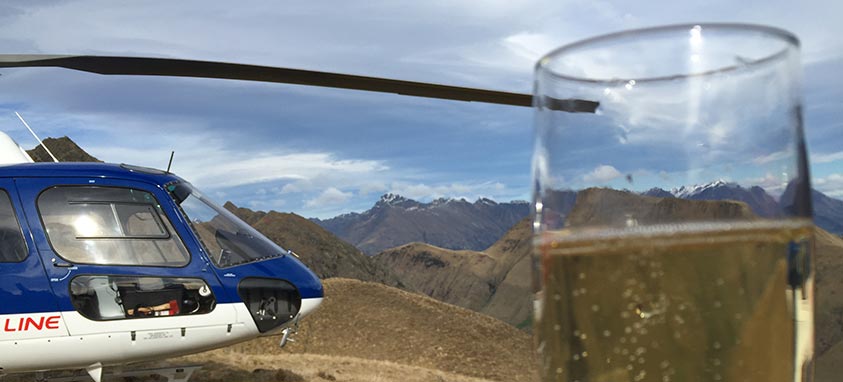 After speaking with many tour operators, hospitality providers and tourism officials, it's evident that every trip to New Zealand should include a helicopter ride. It's a part of the transportation system.
The Helicopter Line is New Zealand's leading helicopter company, operating a fleet of predominantly AS350 Squirrel helicopters. With service in and around Queenstown, Mount Cook, Twizel, Franz Josef and Fox Glacier, The Helicopter Line shows off New Zealand's parks, glaciers, lakes and snowcapped mountains.
During our fam trip, we toured the national park by jet boat before being picked up by helicopter to explore New Zealand's awe-inspiring mountains. We stopped on a peak for a few photos and to soak in the ambience. The next thing we knew, a guide from the helicopter service was serving us New Zealand sparkling wine.
New Zealand is full of surprises.