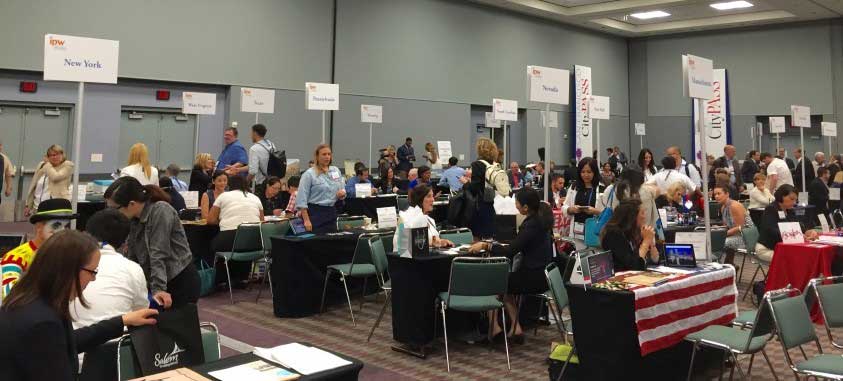 The 47th annual U.S. Travel Association's IPW conference held in Orlando May 30-June 3 was a huge success, drawing 6,500 attendees from 73 countries. The premier international marketplace, which took over the spacious Orange County Convention Center, included nearly 100,000 business appointments that will generate an estimated $4.7 billion in direct bookings to U.S. destinations over the next three years.
"IPW is an extraordinarily unique event, which brings the entire international travel and tourism marketplace to the U.S. in one location, said Roger Dow, president and CEO of U.S. Travel Association. "The business conducted at IPW will have a tremendous effect, not only on the local economy initially, but several years into the future."
According to the independent firm Rockport Analytics, IPW is expected to bring 8.8 million international visitors to the United States and $28 billion in total spending during the next three years. Hosting the event was expected to have an immediate $11.6 million impact on Orlando and $1.7 billion in direct economic impact, including an additional 1 million visitors, over three years.
Orlando also hosted IPW in 2010. The increase in the number of travel buyers from key international markets attending the 2015 show speaks to the popularity of Orlando and the IPW marketplace. The Chinese delegation was the largest-ever at 109. Overall, the total delegation at IPW has increased 27 percent compared to Orlando 2010.
The increase in attendance, and business, at IPW has a lot to do with the amazing entertainment opportunities that come with meeting in Orlando. The private party at Disney's Magic Kingdom was off the chart, with all attendees getting mice ears that featured LED lights, which were synchronized with the light show and fireworks display.
Those who toured Universal Orlando Resort got to try out the Transformers ride, which combines the larger-than-life Transformers characters and an exciting storyline with life-like HD CGI media, state-of-the-art 3-D technology.  The IPW evening at SeaWorld was really fun, despite continual rain. There were a few dry places, though, including Turtle Trek, the first-of-its-kind 3D/360-degree film that immerses guests in the journey of a sea turtle.
The opening press breakfast took place at the new I-Drive 360 entertainment complex. The new Orlando Eye observation wheel definitely lives up to the hype.
IPW in Orlando was a huge success and will impact tourism in Florida and throughout the United States for years to come.