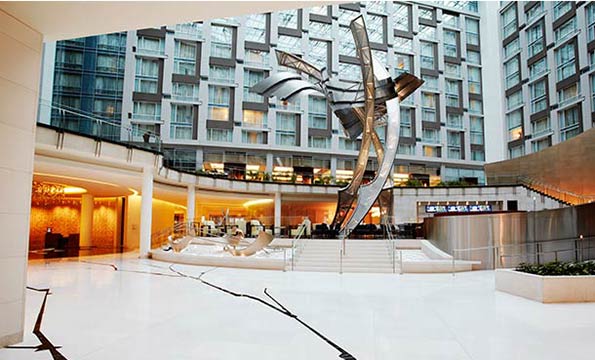 Marriott Marquis, Washington, D.C.
The hospitality industry is helping raise the bar for green buildings, with many earning LEED certifications that signify their commitments to efficient energy and environmental design.
LEED stands for Leadership in Energy & Environmental Design, which is based on standards established by the U.S. Green Building Council. LEED certifications have become the most coveted in the green-rating business, thanks to its third-party verification and rigorous benchmarks.
To celebrate Earth Day, Smart Meetings would like to applaud all properties that are making the environment a priority in all that they do. Here are a few of our favorites:
Marriott Marquis Washington, DC is a landmark green hotel that opened last May. It just earned LEED Silver certification for its building and operating standards that conserve energy and reduce water and CO2 emissions. Cutting-edge technology also helps the Marriott meet its ever-expanding sustainability goals. Other innovative sustainability practices include plant life throughout the lobby and second floor; low-flow toilets; irrigation water provided by storm water; preferred parking for low-emitting vehicles.
The hotel was designed by Atlanta-based Cooper Carry Architects and TVS Architects in collaboration with interior design by HOK Design.
"More than ever, hospitality properties are joining the wave of being environmentally responsible similar to work place and commercial interior projects," says Julia Monk, senior vice president and director of hospitality design for HOK. "This is an incredible edict that I am thrilled to be entrusted to and I am optimistic that other brands will also look to carrying forth a commitment to being green. Having it receive the LEED Silver accreditation and be located in our nation's capital bares testament to its level of importance."
– The Marriott Marquis is connected to the Walter E. Washington Convention Center via an underground concourse. It offers 105,000 sq. ft. of meeting space and 1,175 guest rooms and suites.
– Anaheim Convention Center in Southern California broke ground on a $180 million expansion on Tuesday that will add 200,000 sq. ft. event space. This LEED certified Southern California institution is already one of the largest convention centers in the United States, with 1.6 million sq. ft.
– Monterey Conference Center in Central California will begin a $45 million renovation later this year. The LEED Silver certified building is being redesigned by the firm, Skidmore, Owings & Merrill, which has produced award-winning projects such as convention and conference centers in Hong Kong, Seoul, Virginia Beach, Chicago and San Francisco's Moscone Center.
– Orange County Convention Center in Orlando is the largest convention center in the world to achieve LEED Gold certification. The second-largest convention facility in the United States has initiated a five-year capital improvement program to upgrade some of its 2.1 million feet of total exhibition space, meeting rooms and concourses.
– Virginia Beach Convention Center was the very first convention center in the nation to earn LEED Gold status in the existing building category back in 2010. Staff from the convention center and city of Virginia Beach have addressed a host of details, from the more obvious (energy usage, recycling and composting measures) to the nitty-gritty, including what type of vacuum cleaners, air filters and copier paper the venue used.
– The Langham, Chicago has earned LEED Gold certification. The Langham's recycling program allows the hotel to recycle paper and cardboard for reuse in the office building. Guest rooms have temperature controlled thermostat and lighting system that defaults the temperature in unoccupied rooms to 70-76 degrees along with queuing lights to shut off when guests exit the room. The property even uses the LEED certified Integrated Pest Management (IPM) system, which eliminates regular pesticide application and combines several strategies to achieve long-term solutions for pest control.
– Hyatt Regency Maui Resort and Spa in Hawaii has debuted a new 4,871-square-foot eco-friendly ballroom in March. The resort has already earned LEED Silver certification, positioning it at the forefront of sustainability in Hawaiian hospitality.