You know it for the wine. And, indeed, it is the world wine capital, surrounded by the most coveted wineries on earth and with more acres under wine cultivation—7,000 venues and wine properties—than anywhere else. But if you are looking toward Europe for a MICE occasion, Bordeaux, the historic city on the Garonne River in southwestern France, has emerged in recent years as so much more.
Even longtime residents are astonished at the transformation of their formerly grimy dowager with rat-infested port quays into a clean, vibrant city that boasts charming pedestrian streets faced by gleaming 18-century facades and more restaurants per capita than Paris (many of them Michelin starred or recommended).
More: Top 10 International Cities: Finding the Right Recipe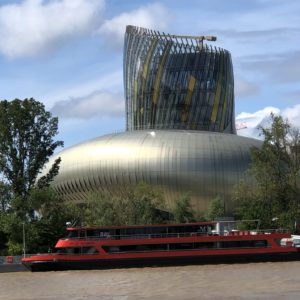 Inhabited for 2,000 years, and with some structures dating to Roman times, the city's bones have been good since at least the 1700s. "Take Versailles, add Antwerp, and you have Bordeaux," famously quipped Victor Hugo. He was referring to the 5,000 structures built along its rues, boulevards and plazas from the riches of the wine trade. After a major sprucing up and infrastructure building spree over the past decade, its historic heart became the largest urban area to be designated a UNESCO World Heritage site; it has the greatest concentration of historical buildings of any city in France except Paris.
Not bad for a modestly sized city of 250,000 that you can cross by bicycle in about 15 minutes. The compact manageability of Bordeaux is one of its chief attractions for groups, but for English-speaking planners and attendees, so is widespread familiarity with their language—and a welcoming attitude that comes, in part, from centuries of wine trade in the British market and the fact that the region was ruled by England for 200 years.
Growing MICE Appeal
Another plus is Bordeaux's ever-increasing ability to host MICE events.
A new convention and exhibition hall, Palais 2 l'Atlantique, opening in May seats 6,000, second-biggest outside Paris. Unique venues include the futuristic Cite du Vin (City of Wine) on the left bank of the Garonne, which explores the global history of wine and hosted 440 private events and tasting workshops last year; MECA, a brand-new exhibition space dedicated to the creativity and culture; and Musee Mer Marine (Museum of the Sea and the Navy), which has an entire floor for corporate events.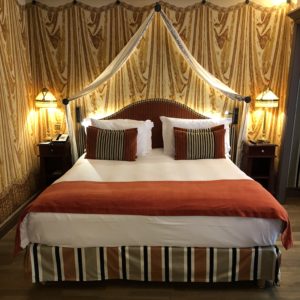 History also serves group needs. Bordeaux Palais de la Bourse, part of the magnificent Place de la Burse, an Age of Enlightenment masterpiece dating to the mid-1700s and the most emblematic address in the city, offers 26,425 sq. ft. of meeting space. Another wing is Bordeaux Patrimoine Mondial, a discovery center for city history. The complex is fronted by the world's largest water mirror.
Getting around is quick and easy, thanks largely to an efficient tram system that uses a French technology that eliminates overhead cables to preserve the aesthetics of the historic center.
There are 16,600 hotel guest rooms, and another 750 on the horizon by 2020. They range from the historicly posh, such as InterContinental Bordeaux-Le Grand Hotel (130 guest rooms, 12,680 sq. ft. of meeting space) across from the majestic Grand Theatre that was built under King Louis XVI, to quirky modern, such as Seeko'o Hotel (44 rooms, 753 sq. ft.) an immaculate white "iceberg" clad in Corian and designed by local architectural firm King Kong, and Philippe Starck-designed Mama Shelter Bordeaux (97 room, 1,615 sq. ft.) with its wildly popular rooftop bar.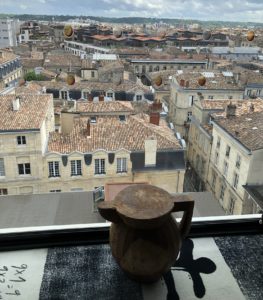 Business-friendly hotels near major convention and meeting venues include Hilton Garden Inn Bordeaux Centre (166 guest rooms, 4,032 sq. ft. of meeting space) and Pullman Bordeaux Lac (166 rooms, 31,301 sq. ft.), an Accor property that works with others in the city to offer planners joint room blocks with a single contract.
Resources for speakers and panelists are abundant. Apart from 575-year-old University of Bordeaux with it 52,000 students and eminent faculty in science and technology, health sciences and oenology, the city is a nexus of aeronautics and robotics. Wine, of course, drives the local economy. It has been produced in the region since the 8th century, and Bordeaux is home to the world's pre-eminent wine fair, Vinexpo. The next most important revenue generator may surprise you—oysters, from the nearby seaside town of Arcachon, are renowned throughout Europe.
What do you do in Bordeaux?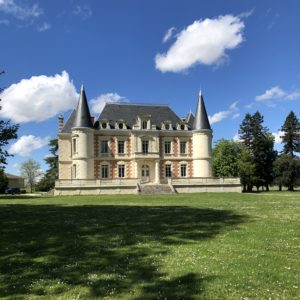 Wine tourism to the Medoc, Saint Emilion, Pomerol, Graves and other area appellations—some less than a half hour from the city—is, as you would expect, big. Bordovino a la Francaise offers a Medoc vineyard tour as an incentive trip, with stops at Grand Cru wine chateaux and vineyards with MICE facilities and offers, such as Chateau Marquis de Terme and Chateau Lamothe Bergeron. The latter features an excellent multimedia demonstration of wine blending and tasting. Without even leaving Bordeaux, an Urban Wine Trail takes you to a collection of top wine bars, and Ecole du Vin de Bordeaux (Bordeaux Wine School) hosts tasting workshops for groups.
More: How to Make International Attendees Feel Welcome
The Garonne River is another favorite group excursion. Yacht de Bordeaux hosts guided cruises during which the city's colorful history as a port city is revealed as you glide by the bridge Napoleon built so his army could more easily march south to conquer Spain and spot the menacing hulk of concrete that housed a German U-Boat fleet during World War II (and is now a cultural center and museum).
One of the best ways to explore Bordeaux is by purchasing a CityPass (24-72 hours), which gives unlimited access to the tram and city buses, admission to City of Wine as well as 20 museums and monuments, city tours, plus much more.
As the Bordelais say these days, come for the wine…but stay for the city.