Tokyo is eager to attract more of the international meetings market, and a high-tech entertainment hub on an artificial island in Tokyo Bay could play a more important role.
The island, Odaiba, has steadily developed since the 1990s as a commercial, leisure and residential area. It features Hilton Tokyo Odaiba and other leading hotels, as well as a beach at Seaside Park, views of Mount Fuji from Daikanransha Ferris wheel, sushi bars along the waterfront, robots that are ready to interact with visitors at Miraikan science museum, and the Aqua City and Venice-themed VenusFort malls.
"Odaiba wants to make it as a top international destination," said Kazutoshi Takatani, general manager for Fujisankei Communications International, Inc.—the American arm of Fujisankei Communications Group, a Japanese media conglomerate—during a wide-ranging conversation at the Smart Meetings office in Sausalito, California, last week.
Like many destinations in Japan, however, Odaiba needs to attract more foreign visitors, including meeting professionals.
More: Will One of These Japanese Cities be Your Next Event Destination?
"We have 30 million visitors now, twice the number we had 10 years ago, but only 5 percent come from the United States and Europe," said Takatani, who is based in Los Angeles. "The other 95 percent are from Asian countries, such as Malaysia, China, Korea and Indonesia.
"Tokyo wants more of the American market."
Insights into a Changing Culture
Takatani provided the following insights into other Japanese trends, based on his experience with Fujisankei and travel agencies.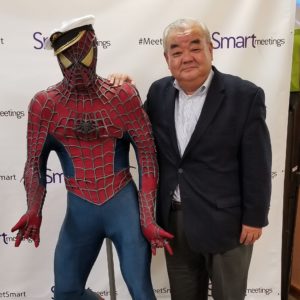 An ever-growing number of Tokyo's visitors consist of China's upwardly mobile young professionals. Takatani said that many of them are wealthy, and are particularly fond of nice hotels, cosmetics, ramen, Kobe beef, Japanese barbecue and five-star restaurants. Young American professionals share their Chinese counterparts' love of ramen, but generally gravitate toward inexpensive lodging such as guest houses, as well as pop culture, and Kinokuniya and other Japanese bookstores, he said.
Many restaurants in the Tokyo area are modifying the ingredients used in foods to better accommodate the culinary habits of not only tourists, but the growing number of foreign workers, such as Malaysians, most of whom are Muslims, and therefore do not eat pork or drink alcohol.
Japan's population is aging, which has created a challenge to fill jobs. "More foreigners are being hired, but they are used to a different work style," he said, adding that this has required more training, especially given's the country's continuing emphasis on solid teamwork.
Taxi fares have dipped in the Tokyo area by about 10 percent recently due to more people opting for subway trains and buses.
Ride-sharing services such as Uber and Lyft haven't been able to gain much foothold in Japan, mainly due to the strength of the Japanese Taxi Drivers union.
Inspired by the positive benefits, many Japanese companies are offering employees incentive trips to foreign destinations.
One of the hottest trends among visitors to Japan is sharing meals and conversation with Japanese families in their homes.
Japan has been a world leader in introducing robot employees in hotels and restaurants, and Toyota has been experimenting with driverless cars, although they may not be widespread any time soon. "There is a lot of traffic in Tokyo," Takatani said.