Construction is never ending in New York City. Cranes can be seen and jack-hammers can be heard on just about every block. One of the areas that has undergone a major transformation is Times Square. Several years back, The Crossroads of the World shut down to vehicles and became a pedestrian-only thoroughfare. In recent months, Midtown Manhattan has debuted a series of brand new attractions perfect for groups to experience a wide array of hands-on exhibits.
NFL Experience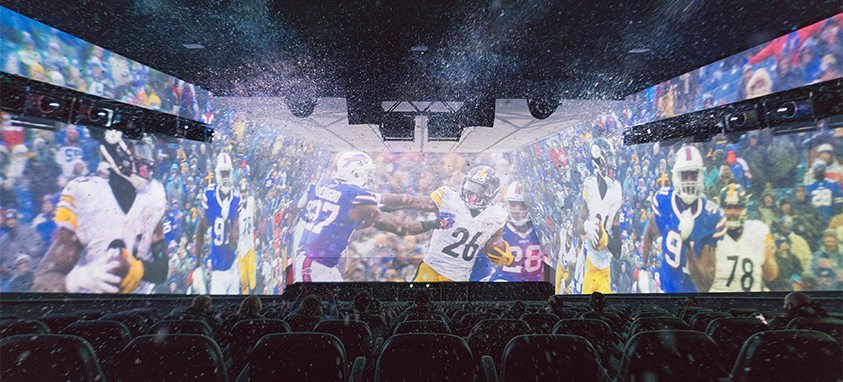 Go from the sidewalk to the gridiron at the new NFL Experience Times Square, opened in December by the National Football League and Cirque du Soleil Entertainment. Huddle up with your draft picks to strategize a game-winning meeting and dine on delicacies from each of the 31 NFL stadiums.
Inside the 180-seat 4D stadium theater, guests experience the different weather elements players encounter on the football field, such as wind and snow. Two event spaces are available for smaller groups, as is a complete venue buy-out for up to 1,000 attendees.
Opry City Stage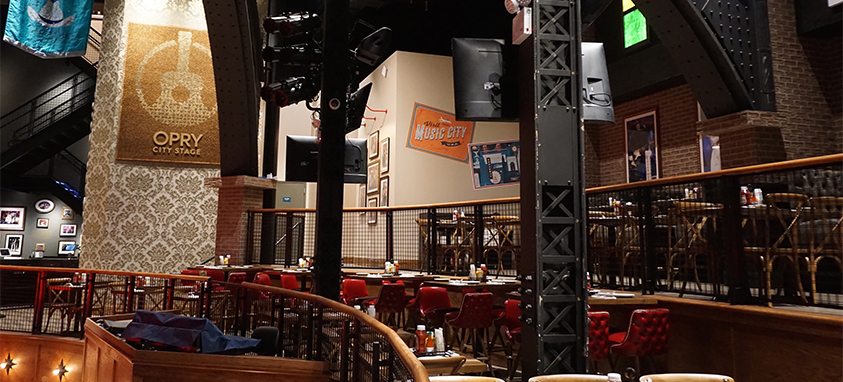 Want a break from Broadway showtunes? New York has gone country with the December opening of Opry City Stage, the first satellite location of Nashville's Grand Ole Opry. Transport up to 500 guests to Music City USA in the heart of Times Square for Southern comfort food from Blue Bird Cafe and live entertainment.
"The Opry has always enjoyed a warm welcome in New York City, and we believe Opry City Stage will appeal to both New Yorkers and tourists who will now be able to hear authentic country music in one of the world's most famous entertainment centers," says Colin Reed, chairman and CEO of Ryman Hospitality Properties. "With its millions of annual visitors from around the world, Times Square is a logical place to debut the Opry City Stage concept, which we believe can be expanded to other tourist-focused markets in the near future."
Spyscape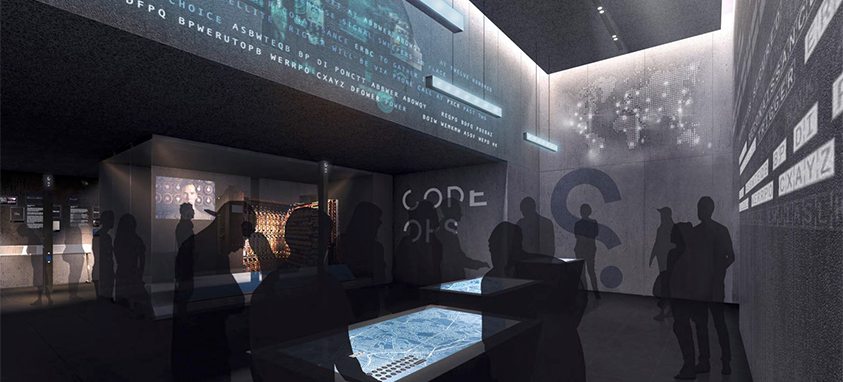 Do you have what it takes to be in the FBI? Thinking about auditioning to be the next James Bond? Get out your magnifying glass and go undercover at Spyscape, which just opened up shop on February 16. Dodge bullets, crack encrypted codes and detect liars in an interrogation booth at New York City's interactive spy museum during experiential team building activities. It features 60,000 sq. ft. of meeting space and a situation room to hold board meetings.
Gulliver's Gate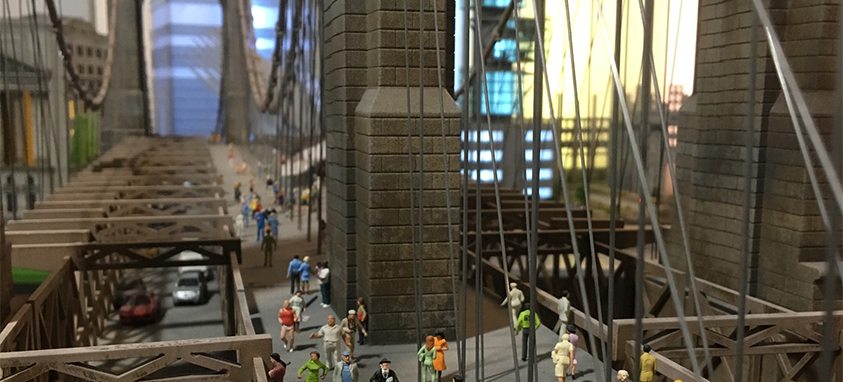 The world's largest interactive museum of miniatures began wow-ing crowds last year. The size of a city block in width, the 50,000-square-foot Gulliver's Gate is like a Christmas village on steroids. Visitors will go on a journey through technologically advanced, interactive and immersive exhibits of 25 cities on five continents. Your imagination will run wild as you take in shrunken scenes and landmarks such as Grand Central Terminal, 9/11 Memorial, Times Square, the Brooklyn Bridge, the Hoover Dam, The Beatles crossing Abbey Row, The Louvre in Paris, Saint Basil's Cathedral in Moscow, the Colosseum in Rome, the Egyptian Pyramids and the Great Wall of China. There are 967 miniature buildings, 102 bridges and 233 cars that'll put even the most elaborate LEGO display to shame. Guests can even have a 3D model made of themselves.
Magic Hour at Moxy Times Square
Warn your Instagram followers that their feed will blow up with your posts from Magic Hour, the rooftop at Moxy Times Square. The carnival and amusement park-themed space is designed for adults to have some cheeky, childish fun. Visitors enter a dark lobby with a funhouse mirror that leads to five different environments, including an elephant room, a topiary garden and a miniature golf course. Go for a spin on the antique carousel, which has lounge couches and cocktail tables instead of horses. The year-round venue has a retractable roof and serves state fair food with a modern twist.
"We made Magic Hour more about attitude than exclusivity," says TAO Group co-founder Noah Tepperberg. "If you're here to have fun, no problem!"
Moxy Times Square opened in September 2017 and is housed in what was the New Mills Hotel from 1907. It has 612 guest rooms and more than 22,000 sq. ft. of meeting space. Marriott International's Moxy Hotels will be expanding with two more NYC locations this year in downtown and Chelsea.
National Geographic Encounter: Ocean Odyssey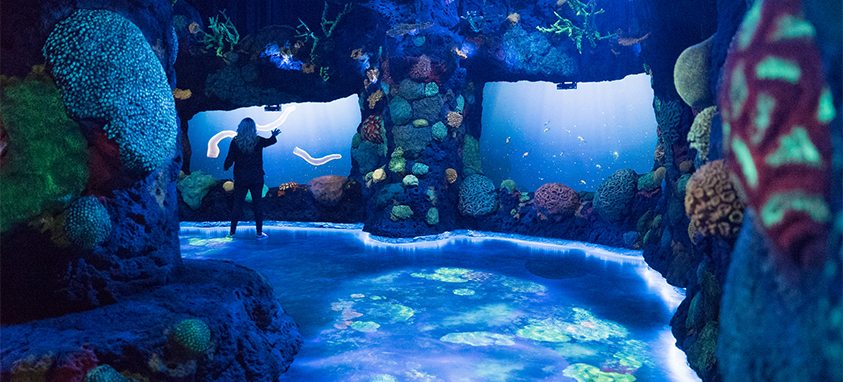 Hold your breath and dive right into National Geographic Encounter: Ocean Odyssey, an immersive underwater adventure in Times Square. Don't worry, you don't actually get wet. Visitors can virtually play with sea lions, humpback whales and other marine life in a dry atmosphere. Three rooms accommodate private events and a 40' customizable LED wall. Up to 1,000 people can be accommodated and full buy-outs are available.
"Our guests loved the space. The video walls for branding and scene setting, step and repeat area, cocktails, food and service were best in class and the ability to walk through the experience itself made the event very unique," says Mitch Glazier, president of the Recording Industry Association of America (RIAA) in an online testimonial. "Thanks so much for hosting us. The music industry has found a new one-of-a-kind space for events in NY!"
Ziegfeld Ballroom
The historic art deco Ziegfeld Theatre originally opened in 1969 as a single-screen movie theater. Until closing in 2016, it was a popular venue to host some of Hollywood's biggest film premieres. Meeting professionals are in luck because it reopened last fall as Ziegfeld Ballroom. A mile outside of Times Square, the almost 10,000-square-foot column-free ballroom can fit 1,400 guests. Meetings can also be held on the balconies of this three-story venue. It offers state-of-the-art technology, a hydraulic stage and a full-service kitchen.