It's always wine o' clock in Napa Valley! Northern California's famous Wine Country is the perfect canvas for a picturesque event. Smart Meetings participated in this week's Wine Country Hospitality and Event Trade Show, hosted by Concierge Alliance of Napa Valley and Sonoma (CANVAS). Here are nine things we did during our nine hours in Napa.
1. Rise & Shine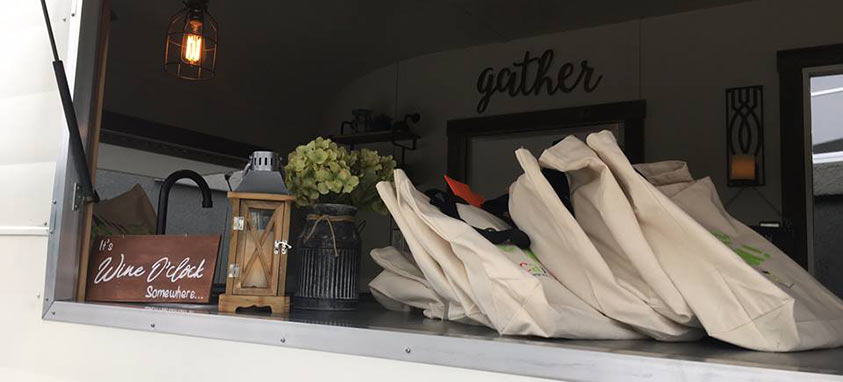 A continental breakfast was served in the tasting room at Liana Estates, the event's home base. Liana is the combination of its two founders' names, Peju sisters Lisa and Ariana. If Peju rings a bell, that's because it's their parents' winery. The cork doesn't fall far from the tree! The second-generation winemakers opened Liana in 2016.
2. Winery #1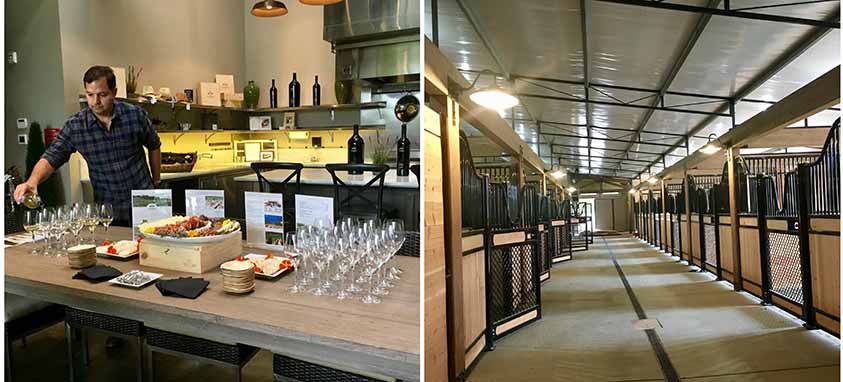 Following breakfast, attendees boarded limousine buses provided by Napa Valley Wine Country Tours en route to Shadybrook Estate Winery. They have an expansive fleet of vehicles including a trolley, convertible Sprinter van and a Maybach!
Get ready to saddle up at this equestrian-esque vineyard. Open since May 2017, Shadybrook offers tastings and cooking demos in their tremendous kitchen. Outside, private events of up to about 125 attendees can be hosted on the terrace overlooking an edible garden. The patio area has a built-in bar, barbeques, corn hole and more.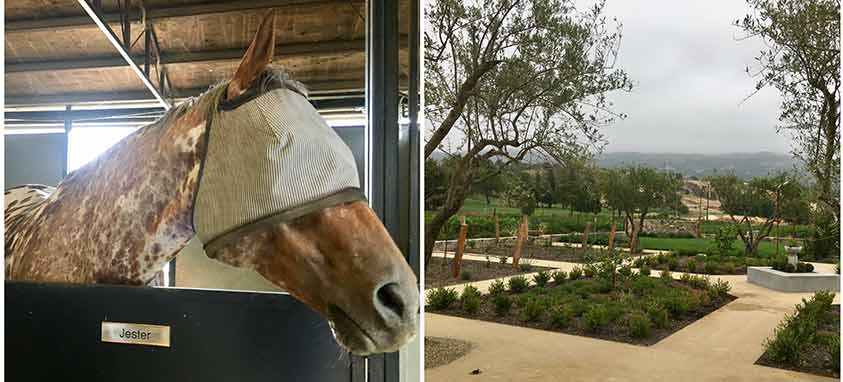 Guests can pair wine tasting with horseback riding. They have a stable full of horses ready to take you on a trail through the vines. The on-site English Equestrian Center is currently receiving its final touches, but meeting professionals take note. Shadybrook will soon be getting dressage horses and an Olympic trainer for your entertainment pleasure.
3. Winery #2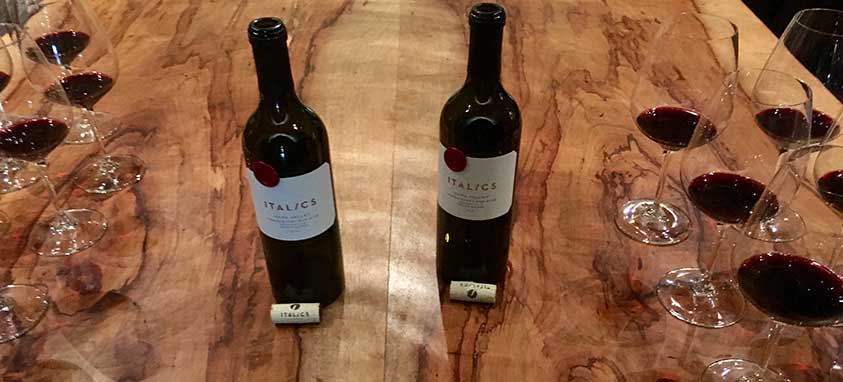 Italics Winemakers is also relatively new to the area. We tasted a white and two red wines during our visit. This unique property features caves that were carved out using the same construction vehicle that makes subway tunnels. There's a private dining room inside the cave with a beautiful chandelier above the table.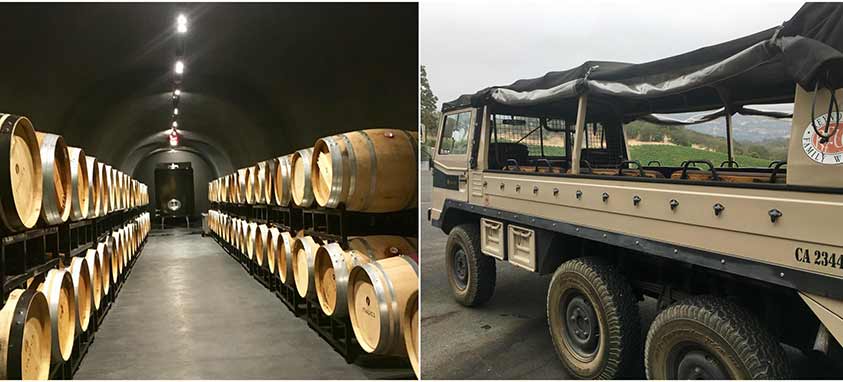 A military-looking Jeep took us up the hill to the on-site three-story newly renovated mansion. There are several large bedrooms for overnight stays, a kitchen with gorgeous views of Napa scenery, long dining table, spiral staircase leading up to a fitness room, pool table and more. Italics hosts bi-weekly pool parties at the estate during the summer. It's free for event and hospitality industry professionals to attend, but they just ask you bring your own bottle and come prepared to swim if you want to take a dip. Before departing, Italics generously gave each visitor a complimentary bottle of wine.
4. Winery #3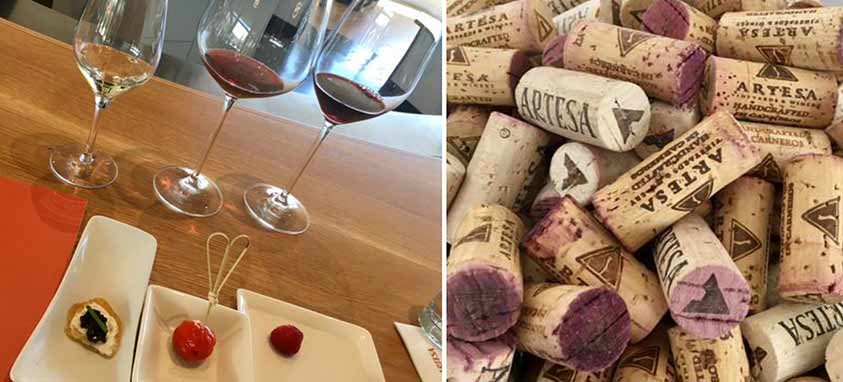 Artesa Vineyards & Winery is no stranger to the wine biz. The family has been producing vino for over 400 years and is currently in its 17th generation!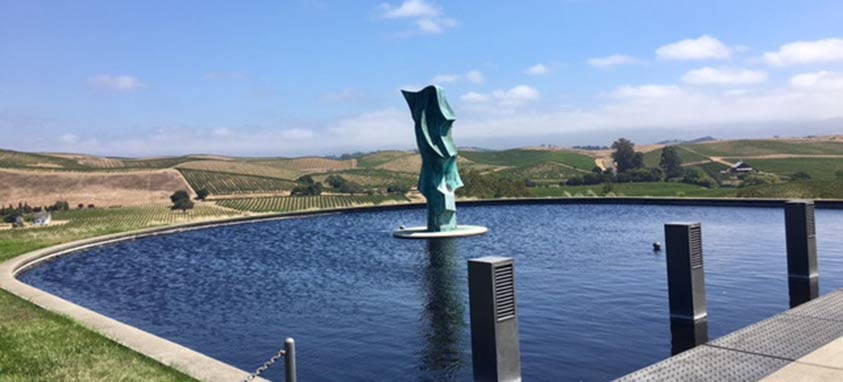 Guests are greeted by large fountains as they enter Artesa. Once inside, you go downstairs to an underground cellar where the barrels are stored. This large space is available for events and musical performances. An outdoor courtyard is also a popular venue for all ages. There are two private dining rooms that are limited to guests who are over 21 years of age.
Artesa is known for food and wine pairings. CANVAS participants experienced "Taste of Artesa," a sampling of finger foods and sparkling, white and red wines. Their rosé is also worth a sip… or glass.
5. Cocktail Hour

We returned to Liana Estates for a tented cocktail hour atop a hill. The tent was provided by Peak Productions Event Tent Rentals. Guests were greeted by living topiary (actors dressed as shrubs). Another showstopper was being served bubbly from the Champagne Gun. It looked like it was straight out of a James Bond film or music video. It cost nearly $500, but well worth the splurge for a memorable experience for your attendees.
CANVAS participants also noshed on pulled pork sliders from Cochon Volant BBQ and caviar from Black River Caviar.
6. Sit-Down Lunch
Then, we headed downhill for a multi-course sit-down luncheon catered by Alba @ The River Terrace Inn and Amiee D'Maris Events inside a barn. Floral arrangements by Bella Vita Event Productions hang from the ceiling like chandeliers in lieu of centerpieces.
A representative from a different winery was seated at each table. Smart Meetings was seated with Yao Family Wines, which is owned by retired NBA superstar Yao Ming. In his post-basketball days, he's traded the court for the cork. Guests were encouraged to visit other tables to sample various wines.
7. Save Room for Dessert

The day of eating was not yet complete. The dessert tent included peach cobbler, wine-inspired sorbets from Cold Stone Creamery's cart and assorted cookies from Annie the Baker. Guests looking for one final glass of vino enjoyed sipping on wine provided by Gloria Ferrer Caves & Vineyards. Directly behind the ice cream cart was an impressive cone made out of balloons by decorator Balloons By Design.
8. Food Truck Festival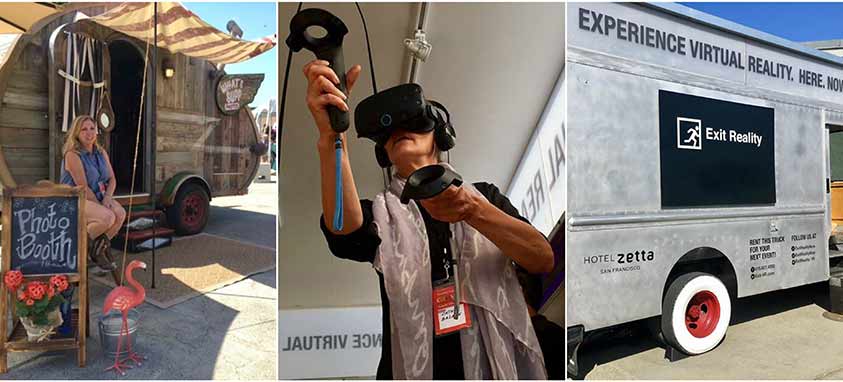 "Food" trucks aren't just for food anymore. Exit Reality, a virtual reality experience, parked in Liana's lot. Once you board, put on the VR goggles and have the controllers in your hands, you are immersed in a different world whether it be under the sea or in outer space. Exit Reality is currently expanding their fleet of trucks to be available for more events and can also set up an indoor booth at an event. The VR experiences are pretty customizable and can be tailored to suit your brand, agenda or industry.
What's Up Photos also set up shop. It is a photo booth that appears retro and vintage, but is actually very new. This trailer was built specifically for this purpose. Guests will enjoy taking fun snapshots and printing or sharing on social media on-the-spot.
After a day full of drinking, guests sobered up with a complimentary caffeinated beverage from OHM Coffee Roasters. Their truck is available for Napa Valley area events and their beans are available for purchase as gifts or by subscription. Off the Grid Catering can work with meeting professionals to coordinate a food truck festival for your next event.
9. Trade Show
Down a couple of steps in a sunken yard with a bocce ball court, the CANVAS trade show took place. Joining Smart Meetings, a wide assortment of vendors set up shop at tables.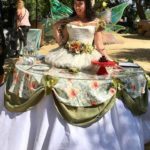 Eyes were immediately drawn to a fairy-looking woman standing inside a table. She's from a company called Circosphere that offers various event entertainment services such as cirque acts, fortune tellers and more.
Another stand-out special event experience is the Napa Valley Wine Train. It has been chugging down the rails since 1864. Cars or the entire locomotive can be chartered for private events.
Smart Meetings also met with some great Napa Valley venues, including Flamingo Conference Resort and Spa and sister properties Vintage Inn and Villagio Inn & Spa and a delicious new restaurant called Acacia House by Chris Cosentino, located at Las Alcobas luxury hotel.