Blue Ridge Mountains
Virginia is for Lovers—food lovers, that is. From deep in the Blue Ridge Mountains, where organic produce pairs well with aged country ham and homemade biscuits, to the seafood bonanza along the Eastern Seaboard, menu options there are as diverse as the landscape itself.
Somewhere between the Blue Ridge Mountains and Atlantic Coast, your appetite is bound to be satisfied on many levels.
Virginia's sizzling culinary scene has exploded, re-branding the state as a foodie destination. Acclaimed chefs and cookery artisans are elevating Southern fare to new heights, tapping into locally sourced organic produce and prime meats. The many esteemed wineries and breweries simply enhance any dining experience there.
Northern Virginia
Fairfax and Arlington
Across the Potomac from Washington, D.C., sit Arlington and Fairfax counties, with a host of attractions such as Arlington Cemetery, The Marine Corps War Memorial, Smithsonian's National Air & Space Museum and Meadowlark Botanical Gardens. The counties also boast great restaurants with farm-totable fare.
Stay Arlington promotes its restaurant scene as "a culinary globe trot in one zip code" because the offerings are so diverse.
"Fairfax County, Virginia, is where all lines intersect for meeting and event planners," says Dean Miller, national sales manager at Visit Fairfax. "With easy— and inexpensive—accessibility via air, rail and auto, plus our proximity to National Capital-area attractions and dozens of great, recently renovated meeting hotels with very attractive rates, we provide an unmatched destination."
Recently, George Washington's Rye Whiskey was named the official state spirit of the Commonwealth of Virginia. With the exact recipe and 18th-century production methods from Washington's era, the unaged whiskey is distilled just twice annually and available only at George Washington's Mount Vernon. This historic home offers Robert H. & Clarice Smith Auditorium to seat 200 for meetings, and can host private events for groups of any size.
Renowned chef and restaurateur Mike Isabella offers Isabella Eatery, a food emporium inside Tysons Galleria featuring Spanish, Mexican, Italian and Greek fare; a coffee shop; a bar; and a creamery. The Hitch Chantilly features sophisticated-yetsimple coastal fare.
In early 2018, Founding Farmers Reston will begin serving hand-crafted American cuisine and have modest private event space available. Also in Reston, Cooper's Hawk Winery and Restaurant offers a Napa-inspired tasting room, modern casual dining and private event space for 44 guests.
Loudoun County
A vibrant destination just 25 miles from Washington, D.C., Loudoun County has meeting venues ranging from luxury sites to historic estates. Dulles International Airport (IAD) provides easy accessibility and convenience for attendees.
One popular venue is the award-winning Greenhill Winery and Vineyards, offering a new two-story, equestrian-themed tasting room and production facility with outdoor seating and event space for 50. For complete decadence, The Conche presents an array of artisan handmade chocolate confections, chocolate-infused savory cuisine and hand-crafted cocktails. It also offers specialty classes and can customize private events.
A premier steakhouse, Eddie Merlot's, just opened at One Loudoun town center. This upscale restaurant has private and semiprivate dining options with an exceptional menu for up to 300 guests.
Other outstanding restaurants include Magnolias at the Mill (or Maggie's, as the locals prefer) in a circa 1905 restored mill with a seasonally driven menu. The banquet room for 50 is available for private events, as is the loft for 70.
Enjoy fine dining in a glass-enclosed atrium overlooking the Potomac at the certified organic The Restaurant at Patowmack Farm. Acclaimed chef Tarver King creates extraordinary plates from the property's produce and meats. Reservations for groups are welcome.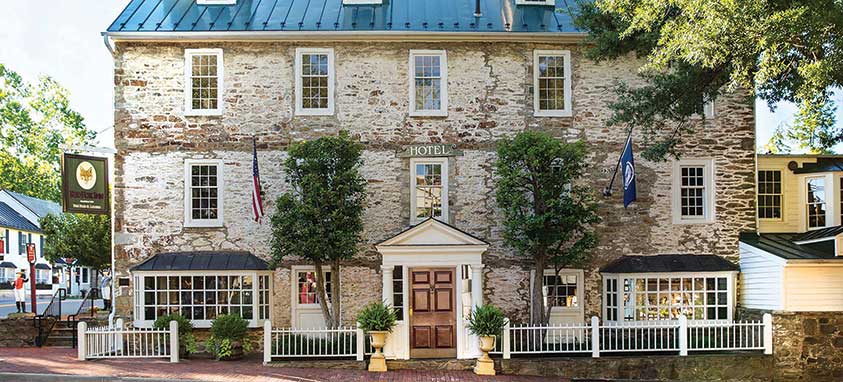 Red Fox Inn & Tavern, Middleburg
Listed on the National Register of Historic Places, The Red Fox Inn & Tavern has remained intact throughout history, and many took shelter behind its fieldstone walls. The sophisticated Jeb Stuart room can accommodate 46 for meetings, with pub fare and tavern food available.
Fox Chase Farm opened its Middleburg Barn in July, providing a unique venue spotlighting Middleburg's rich horse and wine country. Large groups are welcome for special events in the 5,400-square-foot space. Other event space includes the Colony Room, a renovated hayloft and a barn loft.
Situated on 55 stunning acres, just minutes from Leesburg, Beacon Hill Manor is an 11,000– square-foot luxury venue for corporate retreats with meeting space for 150 and plenty of room for team-building activities.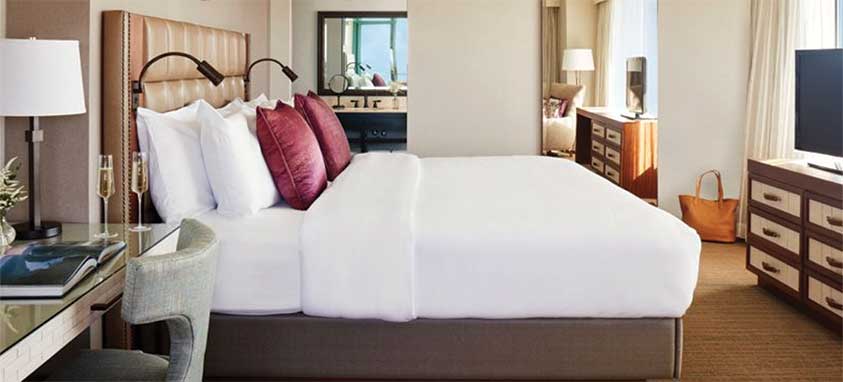 Guest room at Lansdowne Resort and Spa, Leesburg
Two excellent meeting destinations in Leesburg are The National Conference Center, with 265,000 sq. ft. of meeting space and Lansdowne Resort and Spa, a 476-acre property with 296 guest rooms and 55,000 sq. ft. of meeting space.
Coastal Virginia's Tidewater Region
Williamsburg
Featuring unparalleled history, Virginia's largest winery and a meadery, Williamsburg is a standalone destination. It's also home to Busch Gardens Williamsburg and Colonial Williamsburg, an interactive history lesson.
"Not only is Williamsburg affordable and accessible for meetings—we offer a distinct and unique destination experience unlike anywhere else," says Dominique Holt, who is associate director of conference sales and marketing for Visit Williamsburg. "Picturesque scenery, a vibrant arts scene, championship golf and The Williamsburg Tasting trail, combined with extraordinary shopping and dining opportunities and unrivaled offsites, guarantee something for everyone once meetings conclude."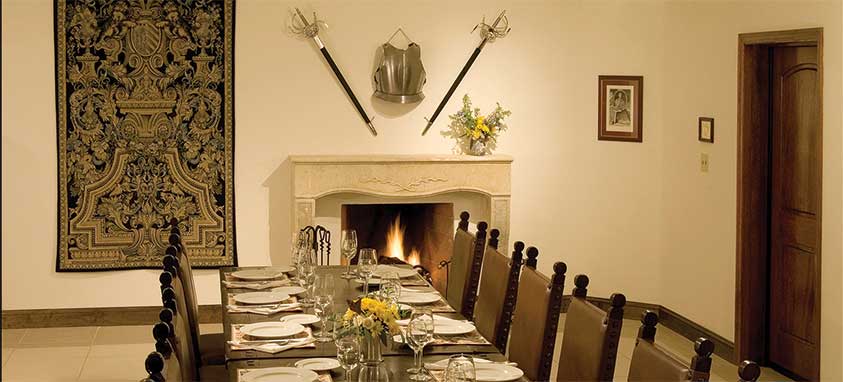 Meeting space at The Williamsburg Winery at Wessex Hundred, Williamsburg
Within 300 secluded acres is The Williamsburg Winery at Wessex Hundred, a 40-acre vineyard and two restaurants—The Gabriel Archer Tavern, offering an authentic farm-to-table experience, and Cafe Provencal, with elegant dining among French antiques. Overnight accommodations include 25 guest rooms with fireplaces, and three luxury suites, while the several event spaces provide room for up to 300. Outdoor space is also available.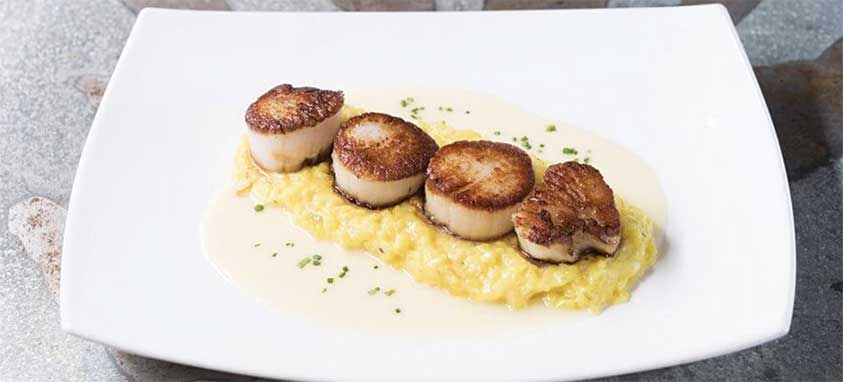 Day Boat Sea Scallops & Risotto at The Hitch Chantilly
Voted one of 100 Best Restaurants for Foodies in America by Open Table, the upscale Fat Canary & The Cheese Shop is also an AAA Four Diamond dining venue. While congregating on the patio, groups enjoy elegant dishes such as free-range guinea fowl, and pan-seared sea scallops with fine wines and cheeses.
Presenting classical American dishes, Way point Seafood and Grill taps local sources for its seasonal menu, and has seating for up to 30 for private events. Old City Barbeque utilizes smokers fueled by hardwood coals to maintain superior quality for its nose-to-tail menu selections. The restaurant can host up to 60 guests.
Great lodging and meeting options are Kingsmill Resort, with 400 guest rooms and 16,000 sq. ft. of meeting space, and Great Wolf Lodge Williamsburg, with 405 guest rooms and 13,000 sq. ft.
"I love recommending Williamsburg to my clients!" says Nikki Abig, global account executive for Conference Direct. "The proximity to the Chesapeake Bay and Atlantic Ocean makes this a fantastic destination."
Culinary Delights in the River City
Claiming some 400 years of history, Richmond has started a new uprising with delectable food and craft beer. National Geographic stated that it is a place to travel for food, while Travel & Leisure designated it a top destination.
On the banks of the James River is The Boat House at Rocketts Landing (pictured), inside a historic 19th-century power plant. It offers skillfully prepared local seafood and sushi, with seating for 150 and receptions for 230 guests in one of several event spaces.
Enjoy light German fare at The Hofgarden, a Bavarian-style pub with a rooftop Biergarten and game room. The Loft Banquet Hall is available for corporate events, with seating for 250 guests, while the Rooftop Lounge can host up to 60, weather permitting.
Identified as one of Richmond's Top Seven Sensations by Richmond Magazine, Julep's features signature shrimp and grits, along with andouille and cheesecake made from sweet potatoes and goat cheese. Event space includes a separate dining room for 50, and 125 can be hosted for reception.
Hampton
In the Tidewater Region of Virginia, along the Atlantic Coast and Chesapeake Bay, the allure of Hampton is undeniable. The city provides waterfront views from every angle, and there's no shortage of entertainment in neighboring Virginia City and Norfolk. Hampton is home to Langley Air Force Base and Virginia Air and Space Center.
In 2017, Commanding General's Residence Gardens at Fort Monroe opened its doors as an event venue. It has space for up to 100 people.
And you won't go hungry! Mango Mangeaux serves French Creole and " neo-soul" fare ( the women behind this food appeared on Shark Tank) followed by mango coconut-pecan ice cream. Downtown, Venture Kitchen and Bar serves specialty pizzas and tapas capped off with splendid cocktails. Both restaurants have private seating available.
If dining on fresh seafood while overlooking Chesapeake Bay and Hampton Roads Harbor sounds enticing, try The Deadrise at Fort Monroe National Monument, where large groups are accommodated. Several more new restaurants opened in 2017, serving up barbecue, specialty burgers, Mexican foods and health-conscious breakfasts.
Norfolk
In Norfolk, which boasts 144 miles of shoreline, fun and entertainment are just steps from any meeting. And with the introduction of the city's bike-sharing program, touring along the waterfront is a pleasure. Your group also will find the largest naval base in the world, Naval Station Norfolk, in this 400-year old port town. Adjacent to Norfolk International Airport (ORF) is the new 332,000–square-foot Norfolk Premium Outlets, with 90 designer and name-brand stores.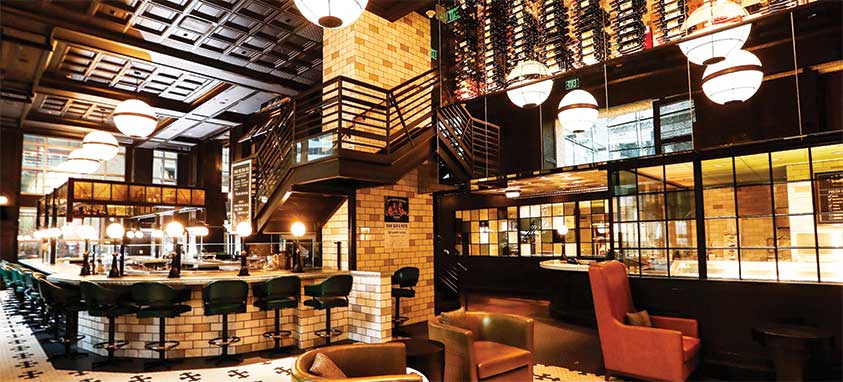 Hilton Norfolk The Main hotel
The Main opened downtown in 2017 as a mixeduse destination. The $147 million center includes Hilton Norfolk The Main hotel, with 300 guest rooms; The Exchange, an IACC-certified conference center with top-shelf dining along with 50,000 sq. ft. of event space; and Grain, a 10,000–square-foot rooftop beer garden overlooks the waterfront and serves everything from signature salads to big plates.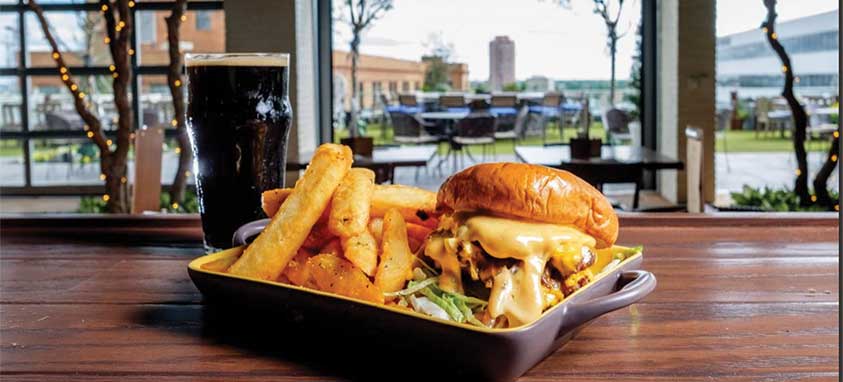 Cheese burger at Grain, Norfolk
The recent $40 million re-vamp of the famous Waterside District features dining and entertainment venues that can host 500 guests for receptions. For seafood, Stripers Waterside delivers while The Harbor Club plates up small bites and cocktails.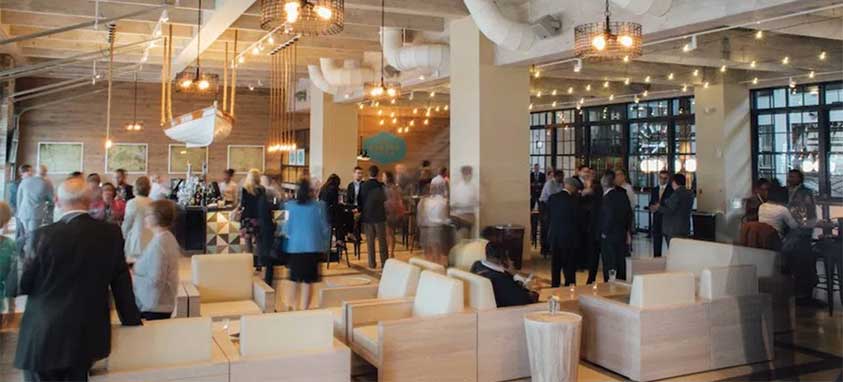 event at The Harbor Club, Norfolk
Modern Italian fare is best found at Varia, with private parties for up to 50 held in The Vault behind a swiveling bookcase. Farm-to-table cuisine, organic and locally harvested, is featured at Commune, accommodating up to 300 guests in both Norfolk and Virginia Beach.
Local favorites are Todd Jurich's Bistro, a five-star eatery with space for modest private events that serves fresh Lynnhaven oysters, Norfolk flounder and award-winning she-crab soup; and LeGrand Kitchen, a small diner offering crafty seasonal fare.
Hotel Roanoke Peanut Soup
This signature soup has been served at The Regency Room in the Hotel Roanoke since 1940.
1/4 pound butter (1 stick)
1 small onion, diced
2 stalks celery, diced
3 tablespoons flour
2 quarts chicken broth, heated
1 pint peanut butter
1/2 cup ground peanuts
1/3 teaspoon celery salt
1 teaspoon salt
1 tablespoon lemon juice
Melt butter in large pot, and add diced onion and celery. Saute for five minutes, but don't brown. Add flour and mix well. Add hot chicken broth and cook for 30 minutes. Remove from stove and strain. Add peanut butter, celery salt, salt and lemon juice. Sprinkle ground peanuts on soup just before serving. Serves 10. Pairs well with spoonbread.
Virginia Beach
Virginia Beach, the Commonwealth's most populated city boasts some 35 miles of sandy beaches and outdoor recreation, and sits along the Atlantic Coast at the mouth of Chesapeake Bay.
"No other CVB has been as active and hospitable as the team in Virginia Beach," says Ken Siegrist, associate director of venue planning for Sans Institute. "They take the time to review the key components of your program and provide guidance on venues that will serve your meeting best."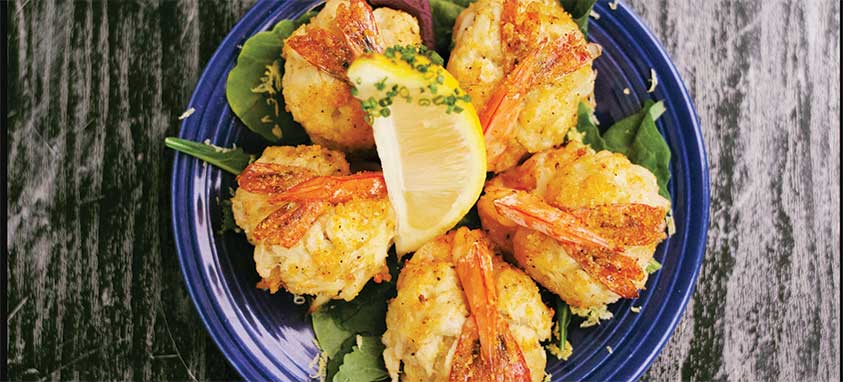 Shrimp platter at The Butcher's Son, Virginia Beach
The Butcher's Son, with an elegant private dining room for 40, features antibiotic-free, hormone-free, humanely treated meats and locally harvested, organic produce.
Virginia breweries and wineries reign there, as well. Smartmouth Brewing Company recently launched a second location; its Norfolk tasting room can accommodate up to 120 guests, while the new Virginia Beach Pilot House can host 450. Mermaid Winery just opened with 8,084 sq. ft. of meeting space, including a restaurant and patio for dining, and a tasting room for corporate functions. Guests can view the wine-making process from the bar area.
In the Vibe Creative District, an artisanal mecca, Craft Burger Bar just opened with toppings such as fried pimento cheese, served with a side of fried kale. Desmond's Island Soul Grill dishes up Caribbean and West Indies fare. including oxtails and curry chicken, while A Bite of Maine food truck features a lobster roll, whoopie pie, lobster seafood bisque and the East Coast's own Moxie soda. All have limited private space, but can accommodate groups.
Scheduled to open in March is Farmhouse Brewing and Farmhouse Cidery, with on-site production and packaging facilities.
Cultural Attractions in Fairfax
Lucy Burns Museum at the Workhorse Arts Center, Lorton
Come tour a museum at the former Lorton Prison—to honor the courageous women who battled in 1917 for the right to vote for every woman in America. See the original prison cells where 72 members of the National Women's Party were incarcerated after picketing at the White House, along with 4,000 sq. ft. of exhibits. The 2017 opening of the museum corresponded with the 100th anniversary of the imprisonment of these amazing women.
George Washington's Mount Vernon, Mount Vernon
Attendees now can enjoy a first-person interactive experience in which they can assume the role of George Washington listening to advisers such as Thomas Jefferson and Alexander Hamilton before making historic decisions. Experience films in 4-D in Revolutionary War Theater.
The museum features 23 galleries and theaters with interactive displays of more than 700 objects that give an unparalleled view of the Washington family and its times.
The National Museum of the Bible, Washington D.C.
Easily accessible from Fairfax County, this museum recently opened, and is one of the most technologically advanced worldwide.
National Museum of The United States Army, Fort Belvoir
Scheduled to open in mid-2019, this museum will enable visitors to glimpse into the stories of more than 30 million men and women who have served and sacrificed in the U.S. Army since 1775. The museum will be located at Ford Belvoir, near George Washington's Mount Vernon estate, with the main building encompassing 186,000 sq. ft.