The Lone Star State's elite sports scene creates a competitive advantage
When picking a meeting destination for a sports-loving group, swing for the fences: Choose Texas. Each player on the state's impressive roster possesses sporting venues and experiences to exhilarate attendees.
Fervent fan bases, championship-winning teams, historic playing fields and standard-bearers of modern sports entertainment fill the megacities. The smaller markets have assembled a team-building dream team around a nucleus of golf courses, minor league athletic facilities and outdoor recreation. In this wide, wide world of elite Lone Star State talent, every planner holds a No. 1 draft pick. Consider this your fantasy cheat sheet to the best places to meet in this dynamic destination.
Dallas
The University of Texas at Austin's DKR Memorial Stadium
Thanks to six hometown professional sports teams, Dallas' sports obsession constantly operates at fever pitch. The epicenter of the fan frenzy is American Airlines Center, the star attraction at Victory Park, a 70-acre urban gathering space. In addition to serving as home base for NBA's Dallas Mavericks and NHL's Dallas Stars, American Airlines Center has hosted arena football, gymnastics, bull riding, figure skating, concerts and more.
Groups can experience the arena via luxury suites and behind-the-scenes tours, as well as meeting and event spaces such as Lexus Platinum Club, featuring downtown views and space for 250 attendees, and 17,000-square-foot Victory Plaza, located outdoors.
Apart from the arena, Victory Park venue options include Hero, opened in May. The hip sports bar offers groups of up to 1,100 five distinct bars, a VIP cocktail mezzanine with a private bar and balconies, a '90s arcade room featuring customizable claw machines and custom-printed swag via local boutique Bullzerk.
The site of one of college football's most heated annual rivalry games, Cotton Bowl Stadium has been embedded in the sport's lore since 1932. Each year, the nation's ninth-largest football stadium hosts the postseason Cotton Bowl Classic in late December or early January. In October, the Red River Showdown between University of Texas Longhorns and Oklahoma Sooners kicks off amid the pride of State Fair of Texas.
Cotton Bowl Stadium anchors 277-acre Fair Park, a cultural, educational and sports facility that draws more than 7 million visitors each year. The complex, which hosted the Texas Centennial Exposition in 1936, represents the only intact, unaltered pre-1950s world's fair site in the United States. An exceptional array of Art Deco art and architecture populates the grounds, as does an equally expansive collection of event spaces suitable for conventions, festivals, galas, meetings and parties.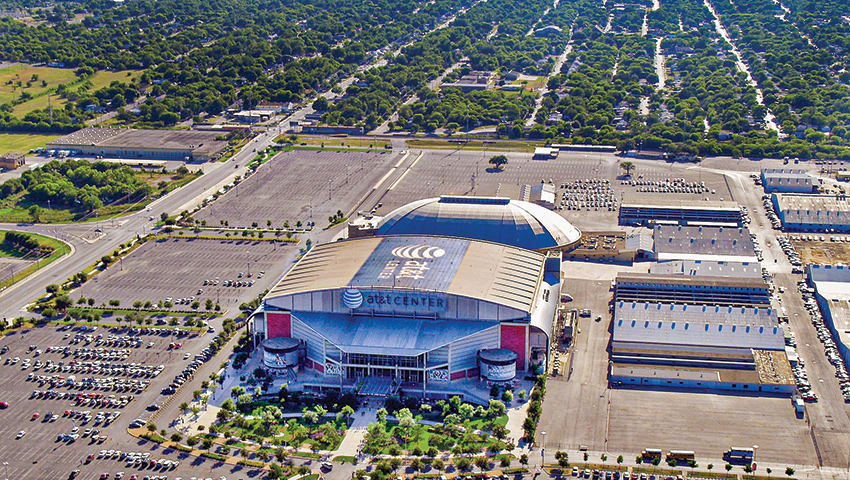 The glitziest gridiron temple of the modern era sits 20 miles west of Dallas, in Arlington. The star logo on the 50-yard line at AT&T Stadium, home field of the NFL's Dallas Cowboys, pinpoints the center of the Texas football universe. But football Sundays—and Mondays, and Thursdays—only tell part of the story. Groups can explore the largest domed structure in the world via guided VIP tours and view the revolutionary stadium's collection of museum-quality contemporary art. Architecturally stunning event spaces include intimate IT Amphitheater, with seating for 48 attendees, six end zone platforms ranging in size from 14,000 to 24,500 sq. ft., two main-level clubs measuring 9,300 sq. ft. each and the playing field itself, offering more than 98,200 sq. ft. for up to 8,000 guests.
Soon, AT&T Stadium will get a new neighbor. MLB's Texas Rangers will throw the first pitch at Globe Life Stadium, their new Arlington home, when the 2020 season opens in March. The 1.7 million-square-foot ballpark will seat 40,000.
Whatever their group's area of interest, Visit Dallas can guide planners toward success. Recently, Visit Dallas hosted 20 employees from a company bringing its 11,000-person conference to the city for the first time in 2021. To foster familiarity and excitement, the team crafted a custom itinerary featuring a tour of the Mavs Gaming esports facility in the Deep Ellum neighborhood, high-altitude sushi-rolling lessons at Reunion Tower and a Latin American-inspired meal at newly opened hot spot Te Deseo.
Fort Worth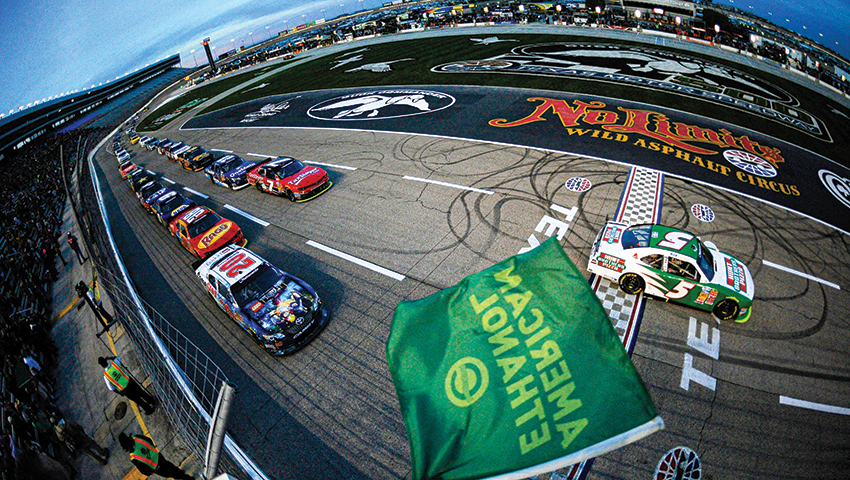 Perpetually paired in a twin bill with Dallas, Fort Worth is very much its own city, with a full calendar of sporting events to prove it. The PGA Tour comes to Fort Worth each May for Charles Schwab Challenge at Colonial, played at Colonial Country Club since 1946. Private hospitality venues available on club grounds provide the perfect setting for incentive trips and entertaining clients.
Adrenaline junkies take to the tracks at Texas Motor Speedway year-round for a once-in-a-lifetime driving experience: an unforgettable professional driving session developed by seven-time NASCAR champion Richard Petty. Groups that would rather leave the driving to the pros can head for a suite during NASCAR and Indycar races held in April, June and November.
Every Friday and Saturday night, the world's only year-round rodeo ropes spectators into an authentic Western cowboy experience. Stockyards Championship Rodeo at Fort Worth Cowtown Coliseum features bull riding, team roping, barrel racing and more. Groups of up to 2,000 can book private events and chuckwagon dinners at the facility, which is also home to Texas Rodeo Cowboy Hall of Fame.
Dickies Arena opened in November with 14,000 seats, ready to host the annual Fort Worth Stock Show and Rodeo, concerts and sporting events. Planners can make use of the site's 98,000 sq. ft. of exhibit space, as well as 209,088-square-foot, outdoor Dickies Arena Plaza.
An updated scouting report on the Fort Worth group market shows that Fort Worth stands to gain more than 1,000 new hotel rooms, split between newly opened properties and others coming soon.
The Sinclair, Autograph Collection, which opened in October, captures the ultramodern, refined and rustic vibe of its home city in its rooftop bar and 164 guest rooms, including a two-story penthouse suite overlooking downtown. Set to debut in late 2020, the 200-room Hotel Drover is a key part of a massive redevelopment project underway at Stockyards National Historic District that will also feature Second Rodeo Brewing Co., a brewpub and live-music hall from Texas chef Jason Boso.
In nearby Irving, boutique Texican Court offers several unique meeting options, including Little Chapel Ballroom ( 2,668 sq. ft.). Its 152 guest rooms feature Smeg fridges and cool country-luxe decor.
A pair of newly implemented public transportation programs make it easier than ever for attendees to navigate Fort Worth. Texrail offers daily service along a 27-mile commuter rail line connecting Dallas/Fort Worth International Airport (DFW) and downtown Fort Worth. An electric bus known as The Dash began service between downtown and the Cultural District in September
To keep pace with the city's growth, local officials are considering a $380 million expansion of Fort Worth Convention Center that would increase exhibit space to 300,000 sq. ft. over the next half-decade.
Already, the city's renewed vitality is making an impact on groups. "Fort Worth has changed and grown so much over the years, especially the downtown vibe, and it was noticeable to attendees in a positive way," says Jennifer Rousch, senior director of operations and events at Texas Travel Industry Association (TTIA), which hosted 400 attendees for its annual Texas Travel Summit in late September.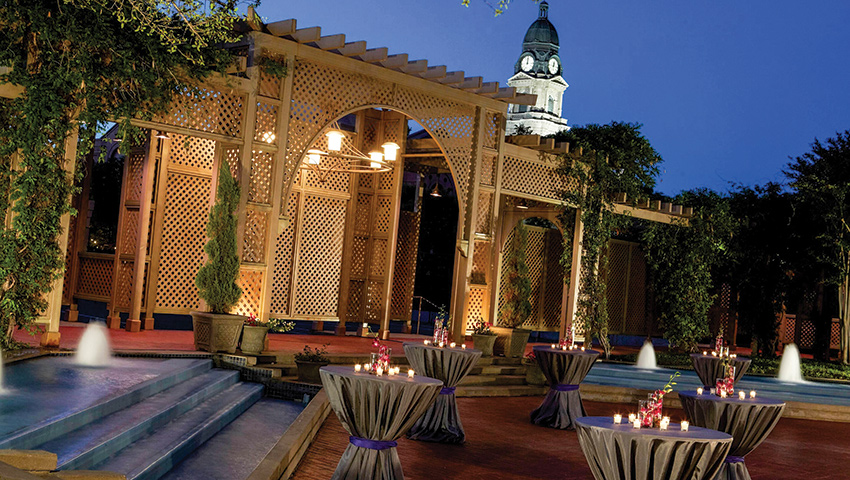 Apart from the opening night receptions and excursions, all other meetings and events were held at Worthington Renaissance Fort Worth Hotel, containing 53,009 sq. ft. of function space in 19 event rooms. "TTIA requested morning activities to keep their members active," says John Cychol, vice president of sales for Visit Fort Worth.
"Considering the host hotel's spacious terrace and the mayor's noted love of cycling, our Convention Services team arranged for Zumba on the Worthington rooftop and a bike ride through the city with a local guide and cycling guru."
"The Visit Fort Worth team added different elements of Fort Worth throughout the conference. From delicious bites from a renowned chef to unique flavors from a local ice cream parlor, to music from local artists, to tours highlighting some of Fort Worth's gems, attendees were able to experience the city every day," Rousch says.
Houston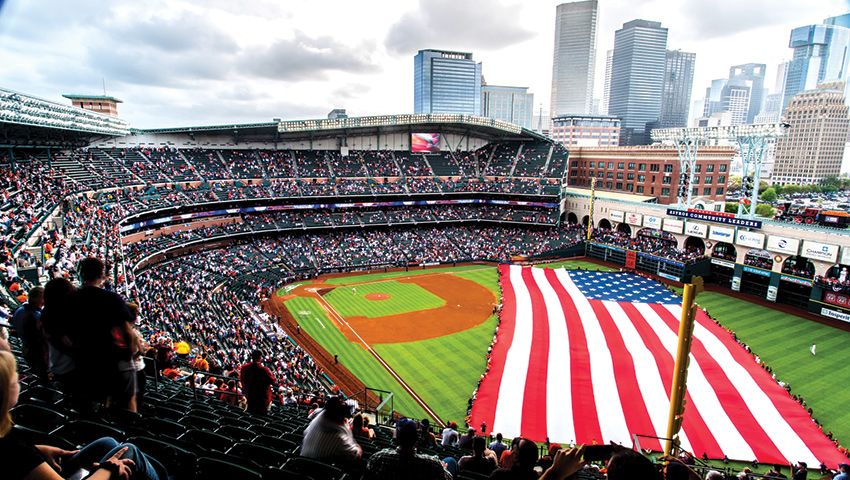 A population of 2.3 million, the fourth-largest city in the nation and the biggest in Texas: The statistics put Houston in a weight class by itself. Foremost among the heavyweights of the H-Town sports universe is NRG Park, a highly adaptable destination for sports, entertainment and conventions. Facilities include NRG Stadium, host of NFL's Houston Texans games as well as Super Bowl LI, containing 196 suites and 125,000 sq. ft. of event space.
The supersized complex also includes NRG Center, with more than 706,000 sq. ft. of contiguous, single-level event space and eight adjacent parking lots for outdoor gatherings.
A perfect match for events with 10,000 or fewer attendees, multifunctional NRG Arena features 350,000 sq. ft. of exhibit space, an 8,000-seat arena and a 2,000-seat pavilion. Most equine competition events during Houston Livestock Show and Rodeo take place there. Since beginning in 1932, the three-week event has become the largest of its kind, providing a showcase for the sport of rodeo, the livestock industry and musicians from Miranda Lambert to Zac Brown Band.
MLB's 2017 World Series champion Houston Astros play at Minute Maid Park, located downtown at Union Station. The 41,000-seat stadium celebrates the city's historic connection to the railroads with a full-size 19th-century replica locomotive chugging along the left-field wall. Available team-building activities include batting practice on the field or indoors, scavenger hunts and softball games. There's no risk of a rainout, thanks to a retractable roof.
Another property that leaves nothing to chance is The Post Oak Hotel at Uptown Houston, which premiered in March 2018. The lavish 16,000-square-foot ballroom within the 38-story, 250-room luxury high rise has its own private entrance, but attendees won't want to miss the chance to explore the property's opulent features, such as a two-level Rolls Royce dealership and the cascading crystal chandelier custom-built in the Czech Republic to crown the three-story glass lobby.
Top-tier amenities extend to the sports world, as well. The Post Oak and Houston Rockets NBA franchise share the same owner, allowing the hotel to offer groups insider access to team facilities at Toyota Center. Host a seated dinner for up to 2,000 on the arena floor, have attendees compare their wingspan and vertical jump to those of the pros with a team-building activity in the Children's Memorial Hermann Sky Court or entertain clients and VIPs in the 5,190-square-foot Lexus Lounge.
Two elegant boutique properties from Valencia Group deliver big style for small groups. The 5,000 sq. ft. of meeting space at Hotel Alessandra accommodates one group at a time, creating an environment of exclusivity and privacy. Clients work with the same planner from inquiry to completion, ensuring a streamlined, consistent planning experience. Toyota Center and Minute Maid Stadium are a short walk away, and NRG Stadium is accessible door to door via light rail.
An anchor of Houston's Citycentre mixed-use, pedestrian-friendly shopping, dining and entertainment district, Hotel Sorella Citycentre offers 10,000 sq. ft. of event space in nine meeting rooms, accommodating groups of eight to 230. An adjacent 15,000-square-foot meetings and event center is accessible via skywalk. In the hotel's 3,000-square-foot, two-story presidential suite, one of the city's largest, double-height, floor-to-ceiling windows frame panoramic views.
Austin
Austin possesses world-class sports facilities that draw events as varied as Formula One United States Grand Prix, X Games and Davis Cup golf, and the local sports scene is about to get even bigger.
A trio of forthcoming venues will give planners fresh options for group outings, team-building activities and special events. The University of Texas at Austin is building a world-class 15,000-seat arena to host the Longhorns men's and women's basketball games, plus concerts and events. The on-campus facility is expected to open in 2021. A $175 million expansion project underway at Darrell K Royal-Texas Memorial Stadium will further enhance college football Saturdays in Austin.
Two new soccer venues are also coming soon. The 21,000-seat Austin FC Stadium will be the future home of the Austin FC Major League Soccer team, set to begin play in 2021. Austin Bold FC, a professional soccer team competing in the United Soccer League Championship, is getting a 5,036-seat stadium of its own. Bold Stadium broke ground in October 2018 next to the Grand Plaza at Circuit of The Americas, a 1,500-acre sports and entertainment complex that is the only facility in the United States purpose-built to host elite motor sports championships, such as Formula 1, MotoGP and Indycar. Planners can book a private suite for a top-tier racing event, a tour for up-close views of the racetrack, or a driving experience behind the wheel of an Audi or a go-kart and navigate the track for themselves.
Golf courses abound in and around Austin. More casual golf options include high-tech driving range-meets-upscale pub Topgolf Austin and the PGA-tour designed Henry Penick Golf Campus, featuring a hybrid of golf and soccer known as footgolf.
The city's meeting and convention facilities play up to the level of the local sports facilities. Educational technology company Blackboard brought 1,500 clients, partners and staff members to Austin in July for BbWorld 2019. The majority of the event took place at Austin Convention Center, the city's meetings MVP. The LEED Gold EB-certified complex covers six blocks and has 247,052 sq. ft. of column-free space.
Fairmont Austin, a 1,048-room tower, connects to the convention center and contains 140,000 sq. ft. of meeting space, including 13,500 sq. ft. outdoors.
San Antonio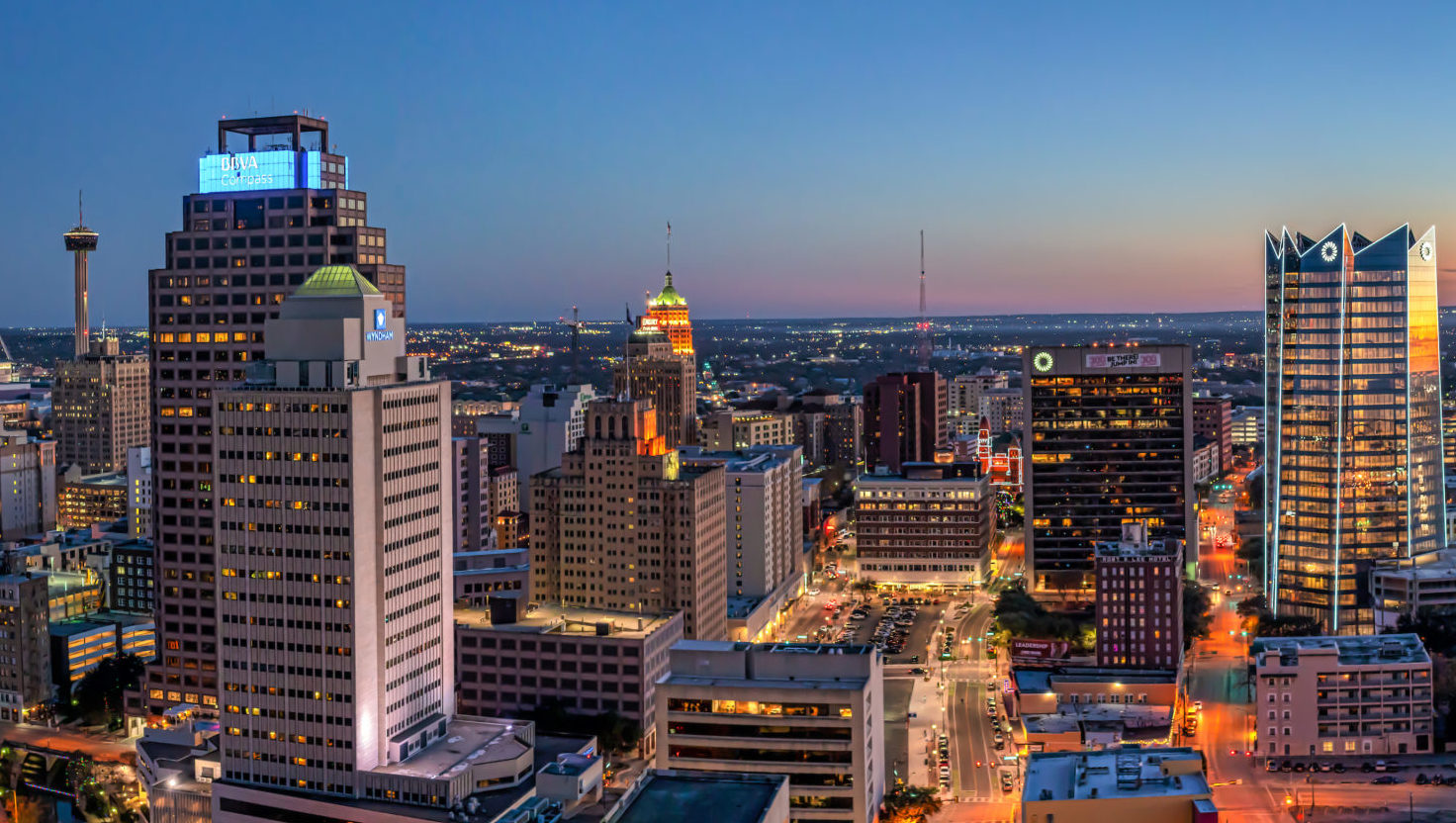 The single professional sports franchise to call San Antonio home is a bona fide dynasty: San Antonio Spurs, the five-time NBA champions, are known for stability and organizational excellence.
"San Antonio has a fervent community spirit that embraces a love of sports to the fullest," says Casandra Matej, president and CEO of Visit San Antonio. "This exuberance permeates our neighborhoods and culminates in our arenas and stadiums. The AT&T Center and Alamodome teams can host groups for amazing events with plenty of local flare."
The 725,000-square-foot AT&T Center, which the Spurs share with the San Antonio Rampage of the American Hockey League, provides multiple meeting, dining and hospitality spaces for groups of all sizes in both business and casual environments. The arena floor holds up to 18,000 for concerts or up to 750 banquet-style. SWBC Terrace Restaurant serves up high-end cuisine and a sneak peek of the arena for up to 200 attendees. Views are the main draw at the Porch, a memorable gathering spot for groups of up to 400. Private, behind-the-scenes tours of select team areas are also available.
Alamodome, now the University of Texas at San Antonio Roadrunners' home football field, contains more than 160,000 sq. ft. of flexible space for up to 65,000 attendees. Recently, the iconic venue's largest capital improvement project yet expanded the east and west concourses, added two exterior beer gardens, installed video boards, enhanced the sound system and improved Wi-Fi coverage.
Along with the Rampage, the San Antonio Missions Triple-A baseball team and the USL Championship San Antonio FC soccer team provide a deep bench of options for group outings. "Minor league games offer unique opportunities to get up close and personal with the action, and groups can customize their experience with video-board recognition, on-field activations or unique team-building activities before and after games," Matej says.
The all-star staff at Visit San Antonio can create an ideal game plan for any group. Recently, the team planned a unique, interactive and efficient showcase of River Walk venues. Two river barges ferried 80 vendors between 15-minute information sessions at six restaurants, with food and beverage samples at each stop. The tour delivered a varied, detailed local scouting report in less than three hours.
A riverwalk icon for cuisine—and meetings—is newly renovated Hotel Valencia Riverwalk. A blend of Spanish Colonial and Mediterranean design, the charming property offers over 7,000 sq. ft. of event space and 213 luxury guest rooms.
Rhianna S. Collier, managing director of global events at Society of Exploration Geophysicists, cites Visit San Antonio as a key component in the success of her organization's mid-September annual meeting, which drew 5,126 attendees and included a golf tournament at The Quarry Golf Club. "The Visit San Antonio staff were one of the most accommodating and hospitable teams we have worked with. They made all of our ideas come to fruition," Collier says.
In early 2020, San Antonio Marriott Rivercenter will complete a multimillion-dollar, river-to-rooftop renovation encompassing the hotel's 1,000 guest rooms and suites, common areas, 68,496 sq. ft. of premium meeting space and more. And over the next three years, the city will add more than 750 new hotel rooms spread across multiple properties, including a W Hotel on Broadway, expected to debut in 2022.
The Woodlands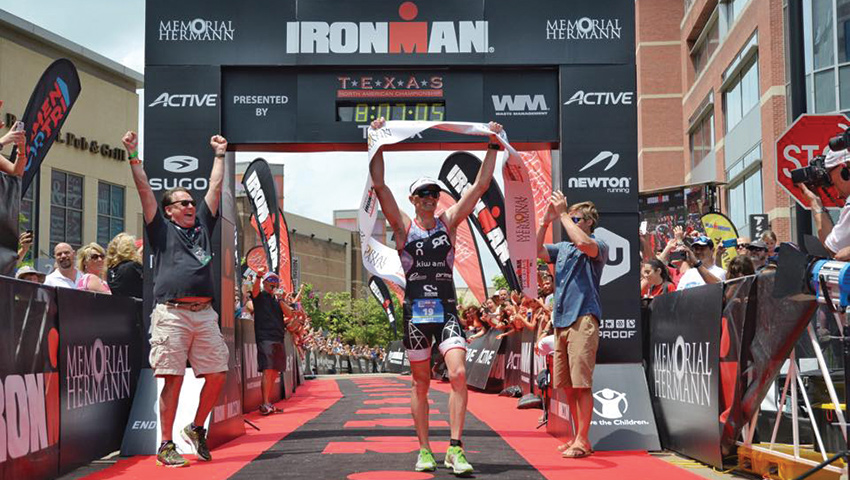 The Woodlands, a master-planned community 30 miles north of Houston, hits accessibility out of the park. The Town Center Trolley system connects nearly 5 miles of shopping, dining, hotels and outdoor recreation.
More than 300 holes of golf cover The Woodlands in a meticulously groomed blanket of green. Towering trees and Lake Harrison frontage keep The Oaks, the course at The Woodlands Resort (406 guest rooms, 60,000 sq. ft. of meeting space), on par with the area's best.
Each April, participants in Ironman Texas North American Championship race through The Woodlands, swimming 2.4 miles, biking 112 miles and running 26.2 miles in a single day. The grueling event tests athletes and inspires spectators. Ideally situated for an aerial view of the road race, The Westin at The Woodlands also contains 16 meeting rooms totaling 28,492 sq. ft. of event space.
Galveston
Galveston is a Texan destination in a league of its own. Situated on a barrier island, it feels far removed from city life yet it's just 50 miles from Houston.
Groups up to 2,000 are right in Galveston's strike zone. The 209-square-mile island packs in 300,000 sq. ft. of meeting space, 5,000 hotel rooms, 150 restaurants and 32 miles of beaches. The beaches provide an idyllic backdrop for yoga. Or gather attendees to run, jog, walk or bike the 10-mile gulfside Seawall, the nation's longest continuous sidewalk.
At historic Hotel Galvez and Spa, A Wyndham Grand Hotel, team-building activities range from spooky to spirited. Attendees can enjoy ghost tours led by a concierge or via the hotel app. Another team-building option was born of necessity. When Swiss-based engineering company Sulzer couldn't find the perfect budget-friendly team-building activity, the hotel created one.
"We decided to do a mixology contest and keep it all in house. Along with our F&B team, we created an over-the-top experience that was a hit not only with attendees, but also with our planner and her team," says Christine Hopkins, the hotel's director of communications.
They are very detail-oriented," says Jennifer Cardillo, Sulzer's marketing and communications manager. "We have had them host mixology events for two different groups, and they were a blast."
The Tremont House, another Wyndham Grand Hotel, radiates 19th-century ambiance in Strand District., with 133 luxury rooms and almost 16,000 sq. ft. of meeting space.
El Paso
A $500 million investment in downtown El Paso has rewritten the meetings game plan for this far-west Texas city. El Paso's hotel room tally of 9,500 includes over 400 rooms added during the last three years.
For more than 100 years, groups have met beneath the stunning stained-glass ceiling of Hotel Paso del Norte, Autograph Collection, which will reopen before year's end with 32,444 sq. ft. of event space.
A glamorous past is being revived at The Plaza Hotel Pioneer Park. The 130-room hotel's encore begins in early 2020 with 7,600 sq. ft. of meeting space.
Both properties are conveniently located near Judson F. Williams Convention Center (133,100 sq. ft. of usable space), which has a renovated outdoor plaza.
Grapevine
Less than 4 miles from Dallas/Fort Worth International Airport (DFW), the city of Grapevine is so much more than a suburb of the metroplex. Its historic downtown beckons all who seek small-town charm with local art galleries, intriguing shops a wide range of restaurants, craft breweries and an urban wine.
Grapevine Vintage Railroad, with its 1920s Victorian coaches, offers Jazz Wine Trains and other special events—and can be booked for groups.
In mid-2020, Hotel Vin will join Marriott's Autograph Collection when it debuts as the gateway to Main Street District. Eight meeting rooms will total 10,327 sq. ft., and outdoor space will add another 4,140 sq. ft. Connected to the hotel will be Harvest Hall, featuring chef-driven, specialty foods from around the world.
Other group meccas include Gaylord Texan Resort & Convention Center (1,662 guest rooms, 152 suites and 490,132 sq. ft. of meeting space). Grapevine Convention & Visitors Bureau has details on the more than 20 hotels within the city, which collectively offer more than 800,000 sq. ft. of space.
Waco
The city calls itself the Heart of Texas. On the banks of the Brazos River, this former cattle-drive town in central Texas is proud of its many unique attractions, including Texas Ranger Hall of Fame and Museum and Dr. Pepper Museum (in honor of the soft drink invented at a local drug store). The bones of two dozen mammoths are on display at Waco Mammoth National Monument. Baylor University also makes its home there.
Downtown Waco features Magnolia Market, created by Chip and Joanna Gaines of HGTV's Fixer Upper in old grain silos. It's a shopping complex with specialty stores and event space that is so hugely popular that Waco Convention & Visitors Bureau created a Magnolia Trail, a self-guided tour.
The city hosted 28 citywides in 2018, and one of the meetings mainstays is Hilton Waco, which connects to Waco Convention Center (144,000 sq. ft. of meeting space) via a covered walkway and has more than 10,000 sq. ft. of meeting space and 196 guest rooms. Across the street is Courtyard Waco (153 guest rooms, 1,248 sq. ft.). New on the lodging scene for 2020 will be Aloft Waco Downtown (115 guest rooms, 486 sq. ft.) and Hyatt Place Waco-South (96 guest rooms, 701 sq. ft.).
Courtney Peter is an award-winning writer who has covered travel, food, history and preservation.