New and enhanced spaces await your group's return
The Silver State has always attracted adventurous spirits. From the Mohave and Washo native peoples who called its plains home as long as 20,000 years ago, and the Spanish missionaries of the late 1700s, to miners chasing Comstock Lode in the 1860s and the owners of El Rancho Vegas, the first casino hotel on The Strip in the 1940s, it was a place where anything seemed possible.
Now, Travel Nevada, the statewide marketing organization, is putting out the call to groups: "When you're ready to wander, start here."
While potential visitors were hunkered down in their living rooms, flattening the curve on coronavirus, construction flourished up and down the state. When attendees break their meetings fast, they will find a whole new landscape filled with shiny new places to gather.
Consider this your road map to adventures worth leaving the house for.
Tahoe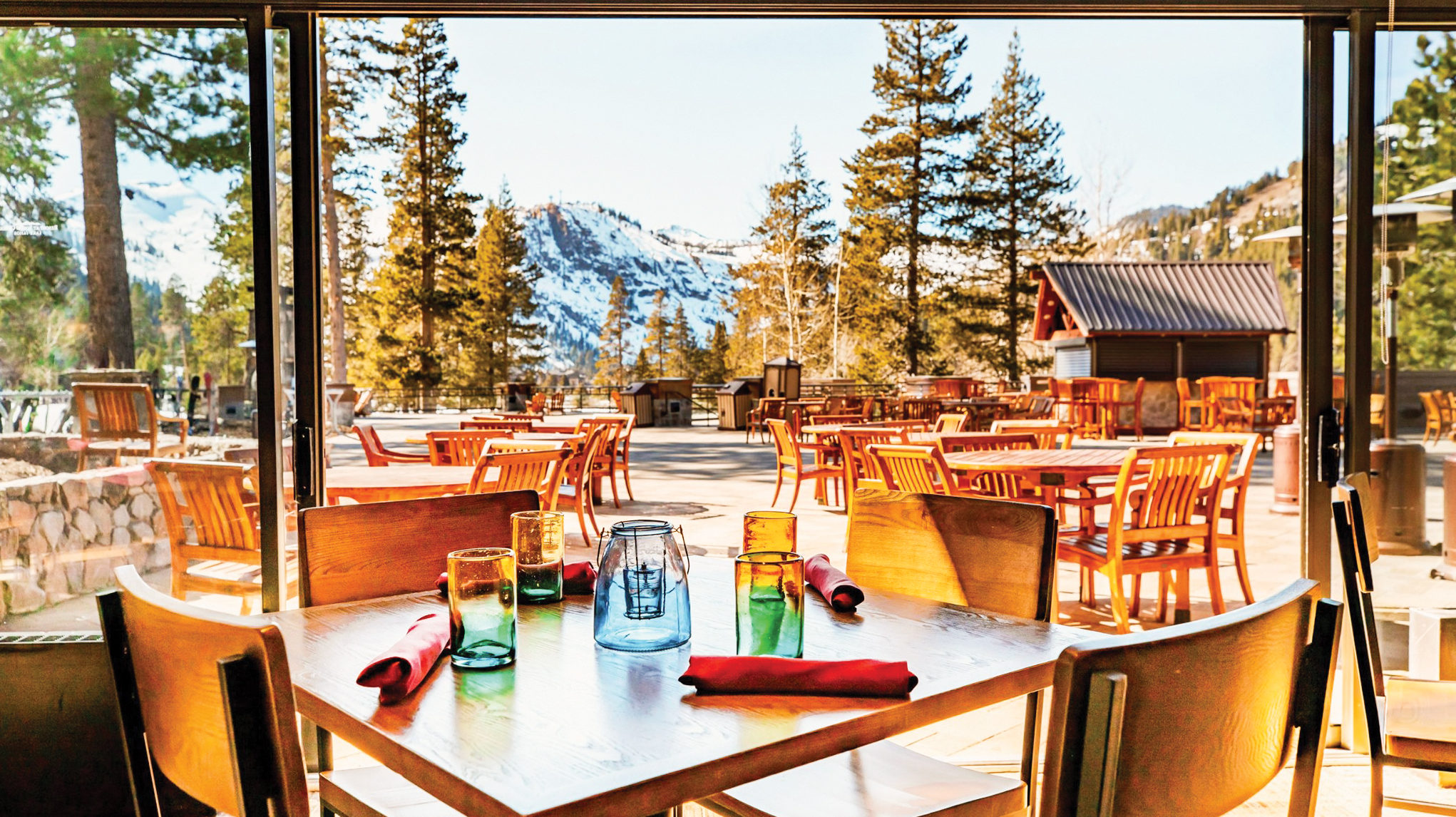 North Lake Tahoe draws groups from nearby Reno, all of Northern California and around the world with 7,000 guest rooms and 20,000 sq. ft. of meeting space in 30 properties—many of which spent the down time during the "hospitality-pocalypse" to add a little extra shine to existing spaces and build more places for groups to spread out.
Lake Tahoe properties have long excelled at delivering fresh air, excitement and culinary delights. From Tahoe Queen dinner cruises on the largest alpine lake in North America to fine seasonal dining at Edgewood Restaurant in the premier golf resort in Stateline, every meal is paired with the view of majestic Sierra mountains and crystal blue water. Now, at Edgewood Tahoe Resort (154 guest rooms, 8,000 sq. ft. of meeting space), for example, you will find executive chef Lonny Huot's signature pinecone-smoked elk loin with lavender-honey carrot puree, fine-herb farro, roasted corn custard and summer berry glace de viande.
Nearby, Larry Ellison, tech billionaire and owner of a tourist island in Hawaii, closed a $36 million deal in January to buy Cal Neva Resort, the first casino built on the lake, in 1926. The former playground of Frank Sinatra and his pals is slated for an upscale hotel, conference center and spa.
Meanwhile, Caesars Entertainment invested $41 million in renovations to 519 guest rooms in the Lake Tower at Harveys Lake Tahoe Hotel & Casino. A new focus on bringing the natural beauty of the location inside includes the addition of a Gordon Ramsay Hell's Kitchen, where lobster risotto, beef Wellington and sticky toffee pudding will be paired with stunning lake views. The property boasts 25,000 sq. ft. of meeting space with an equal amount across the street at sister property Harrah's Lake Tahoe. The company also owns Montbleu Resort Casino & Spa (16,000 sq. ft., 438 guest rooms).
Hyatt Regency Lake Tahoe Resort, Spa and Casino recently spent $1 million renovating 50,000 sq. ft. of meeting space, including Lakeside Ballroom, which brings the outside in. Resort at Squaw Creek pumped $2 million into a refresh of its 33,000 sq. ft. of meeting space. The Olympic village offers 405 guest rooms, six restaurants and lots of outdoor activities.
Reno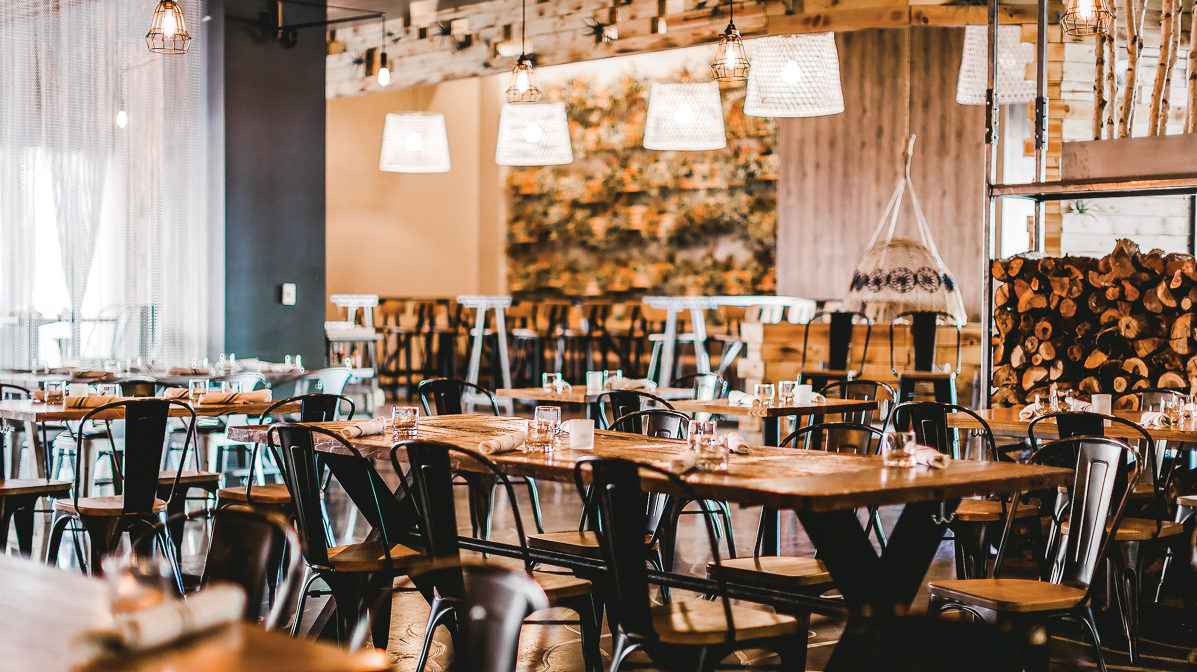 The biggest little city is ushering in a new era of travel by doing away with attrition rates, instituting new health and safety protocols and offering a rich commission structure at a wide range of property styles. The focus on peace of mind for meeting planners makes it easy to take advantage of the convenience of multiple properties and special-event venues all in close proximity. And the influx of new, nongaming properties focused on the emerging tech industry—Tesla, Panasonic and Chewy.com are neighbors—in the Sierra Mountain destination is adding to the allure. More than $1 billion dollars is being invested in the destination's transformation, making it ripe for upcoming events and business as travel resumes.
"Meetings are crucial to the growth of Reno-Tahoe, and the booming industry attracted hundreds of thousands of convention and business travelers in just the last year alone. The city's ongoing $1 billion dollar renovation and influx of big-name tech, entrepreneurs and ambitious creatives have bolstered the growing meetings sector," enthused Mike Larragueta, vice president of sales with Reno Sparks Convention and Visitors Authority. "Looking ahead, Reno Tahoe's convention hotels and spaces have collectively reimagined their product, as well as health and safety procedures, and are offering the ultimate flexibility for contemporary meeting planners, priming the destination for a strong comeback as we approach the fall and winter ski season."
Those who haven't been to Northern Nevada in a while may need to call up their Google maps. Before Eldorado merged with Caesars (see sidebar), the company started buying properties in downtown Reno and invested $50 million to create The Row Reno, a massive block of diverse spaces, restaurants and lodging options that included Silver Legacy and Circus Circus Reno. The three resorts boast a combined 180,000 sq. ft. of meeting space and 4,100 guest rooms—with access to Execuline One Club, a corporate rewards program that works at all the properties.
The company also sold off Harrah's Reno to CAI Investments to become the core of what will be Reno City Center, an office, housing and retail island.
Truckee's Riverwalk and Old Brewery districts are attracting more diverse groups with over 35 restaurants, bars and cafes. Whitney Peak Hotel, a boutique, nongaming, nonsmoking property that sports an outdoor climbing wall covering one side, boasts 20,000 sq. ft. of indoor and outdoor, millennial-friendly meeting space.
Grand Sierra Resort and Casino (or GSR, as it is known by the cool kids) has been transformed since Alex Meruelo, a real estate and media investor who owns Spanish-language television and radio stations and SAHARA Las Vegas, invested more than $200 million in the property. Upgrades include Infinity High Limit room; The Pool, a year-round outdoor oasis and day club; an overhaul of 1,990 guest rooms and suites; upgrades to the more than 200,000 sq. ft. of meeting and convention space; and the arrival of Charlie Palmer Steak to the property's Restaurant Row.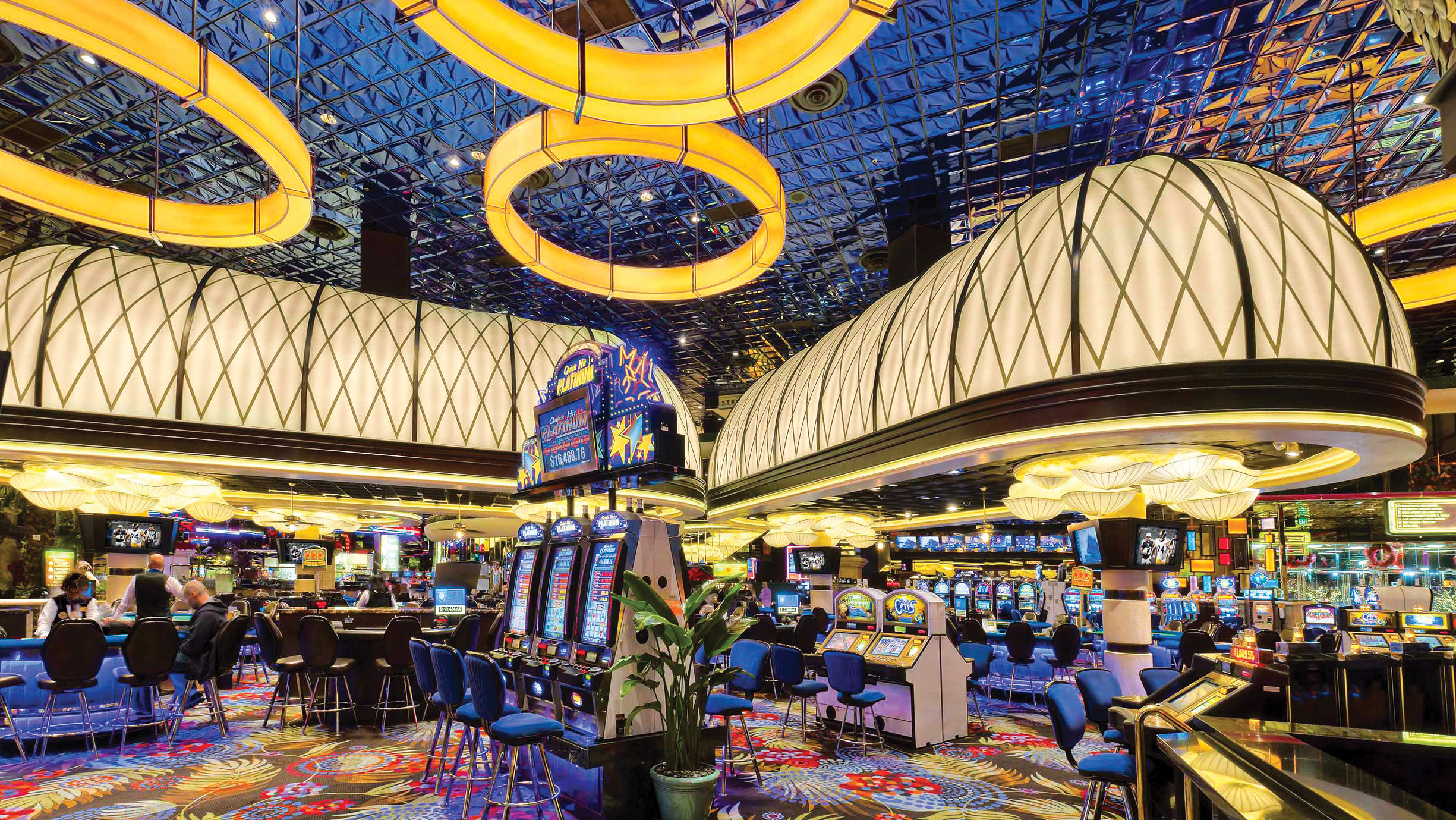 At Atlantis Casino Resort Spa Reno, a new esports lounge dedicated to video game competition ushers in the most advanced digital technology. The facility is connected to Reno-Sparks Convention Center's 600,000 sq. ft. of meeting space with 5G capacity.
Jacobs Entertainment, the new owner of Sands Regency Hotel & Casino's 725 guest rooms and 25 surrounding acres, announced in March that it is expanding the resort with a spa, restaurants and a rooftop pool as part of the new $1 billion Neon Line District.
Big, Wide, Open Spaces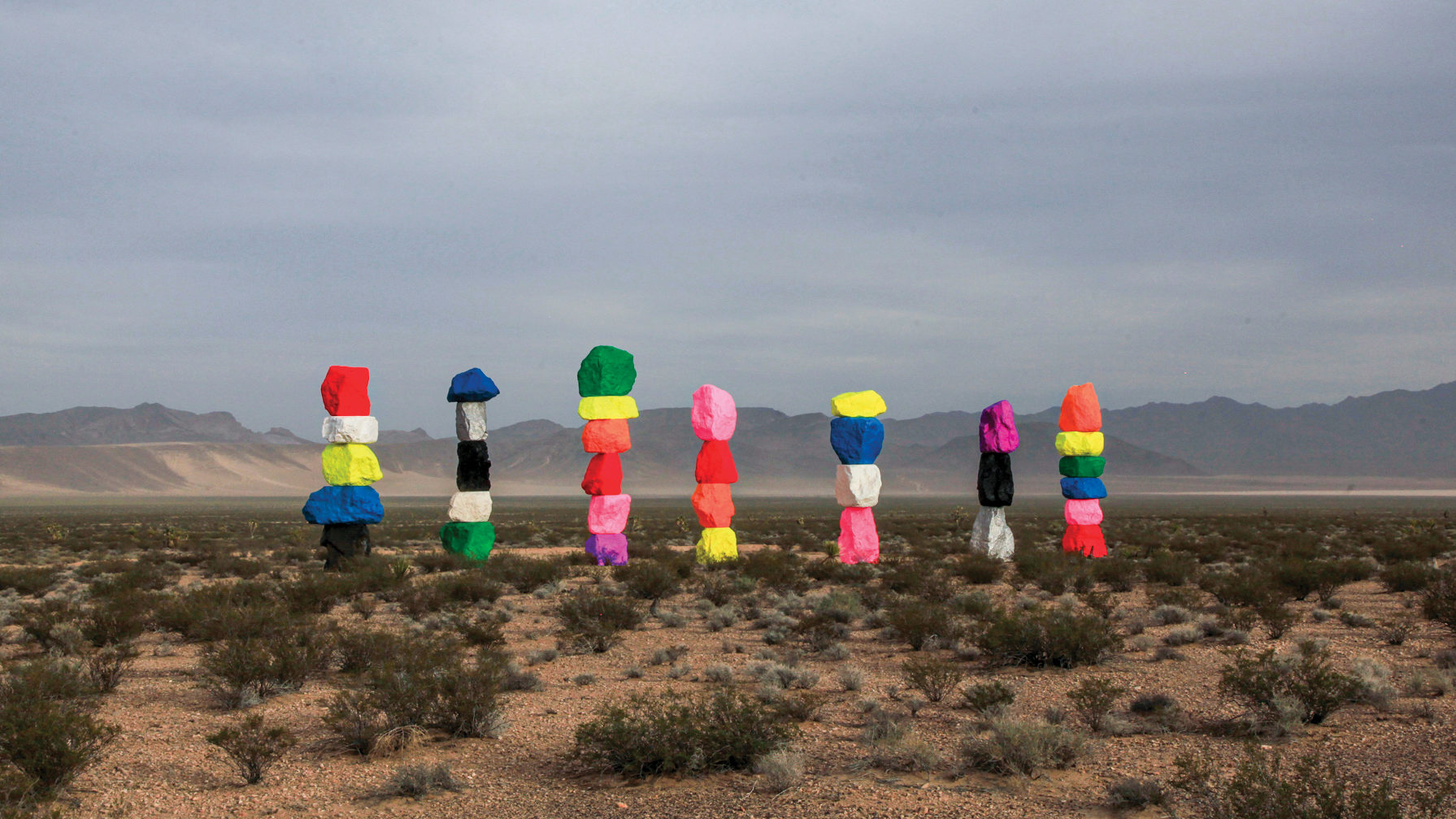 It may come as a surprise to some, but Las Vegas has always been big on outdoor activities. Fresh air is included with everything from watersports at Lake Mead to hiking in the Red Rock canyons. If you can imagine it, a service is available to help you make it happen.
Vegas Water Sports, for instance, makes it a snap to get your group on a boat cruise or jet-ski treasure hunt. At Lake Nevada, a 40,000-square-foot floating aqua park, stand-up paddle boarding and kayaking keep attendees on the move.
Red Rock Canyon National Conservation Area boasts some 2,000 climbing routes and ideal picnic areas. Meanwhile, Valley of Fire State Park offers petroglyphs dating back more than 2,000 years and vantage points with stunning views. Pink Jeep Tours can get your group there safely. Sun Buggy Fun Rentals will put everyone in ATVs for tours and races through 15,000 acres of desert landscape.
Just south of the city, Seven Magic Mountains is a public art installation that will awe travelers with towers of colorful, 30-foot tall stacked boulders jutting out of the desert. Multiple helicopter services, including Maverick Helicopters, Sundance Helicopters and Papillion can give your VIPs birds-eye views of all Southern Nevada has to offer.
Even at indoor restaurants in Las Vegas, visitors will find that they have more elbow room, as most have limited restaurant capacity to 50 percent, seat no more than six guests per table, and space tables at least six feet apart. Single-use menus or menus via QR codes are standard, along with contactless payment options. All staff members at restaurants, hotels and resorts wear masks. Patrons are required to wear face coverings except when going into the pool, or when eating or drinking.
Donald Contursi, president of Lip Smacking Foodie Tours, offers private and socially distanced culinary tours of The Strip, downtown, and now, the Chinatown/Spring Mountain Road neighborhood.
Las Vegas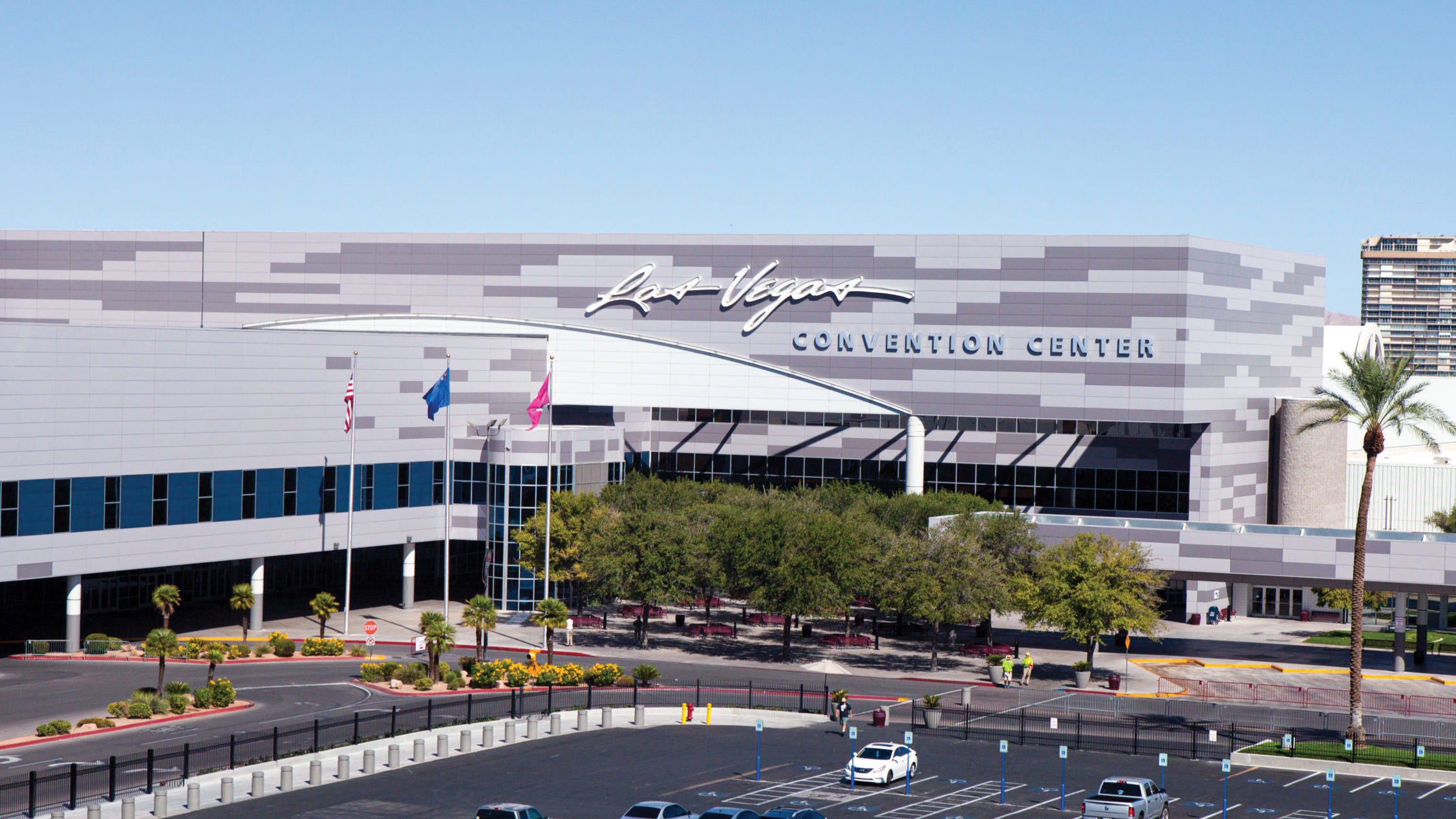 Clark and Henderson counties in Southern Nevada are fueled by tourism. In 2019, Las Vegas welcomed 42.5 million visitors—6.6 million of whom were business and convention travelers. When that spigot abruptly shut off in March, the neon city did not go completely dark. Construction crews kept the lights on with nearly 3.3 million sq. ft. of landscape-altering projects, many of which will be open to greet the return of conference attendees.
Steve Hill, president and CEO of Las Vegas Convention and Visitors Authority, reported that the 1.4 million-square-foot expansion at Las Vegas Convention Center is on track for a ribbon-cutting in December. The high-tech new-build is part of a three-phase expansion and renovation that was just awarded Gold Star accreditation by the Global Biorisk Advisory Council for its clean facilities protocols.
A wave-shaped porte cochere will shelter an outdoor terrace that can hold up to 2,000 people and offers Insta-worthy city views. The interior features a calming vibe with an abundance of natural light.
The entire structure is wired to serve the most advanced meeting needs. Interactive LED screens, integrated audiovisual equipment and high-speed connectivity pave the way for even bigger tech events in the future. By 2023, a third phase will bring the existing 3.2 million sq. ft. of space at the 60-year-old existing facility completely up to date.
All over the meeting oasis, properties have been putting the pieces in place to welcome groups back safely. "We want our visitors to feel confident that coming to Las Vegas is still a fun and healthy experience. We know how much our visitors miss Vegas, and we want to welcome them back to enjoy the destination as safely as possible," Hill said.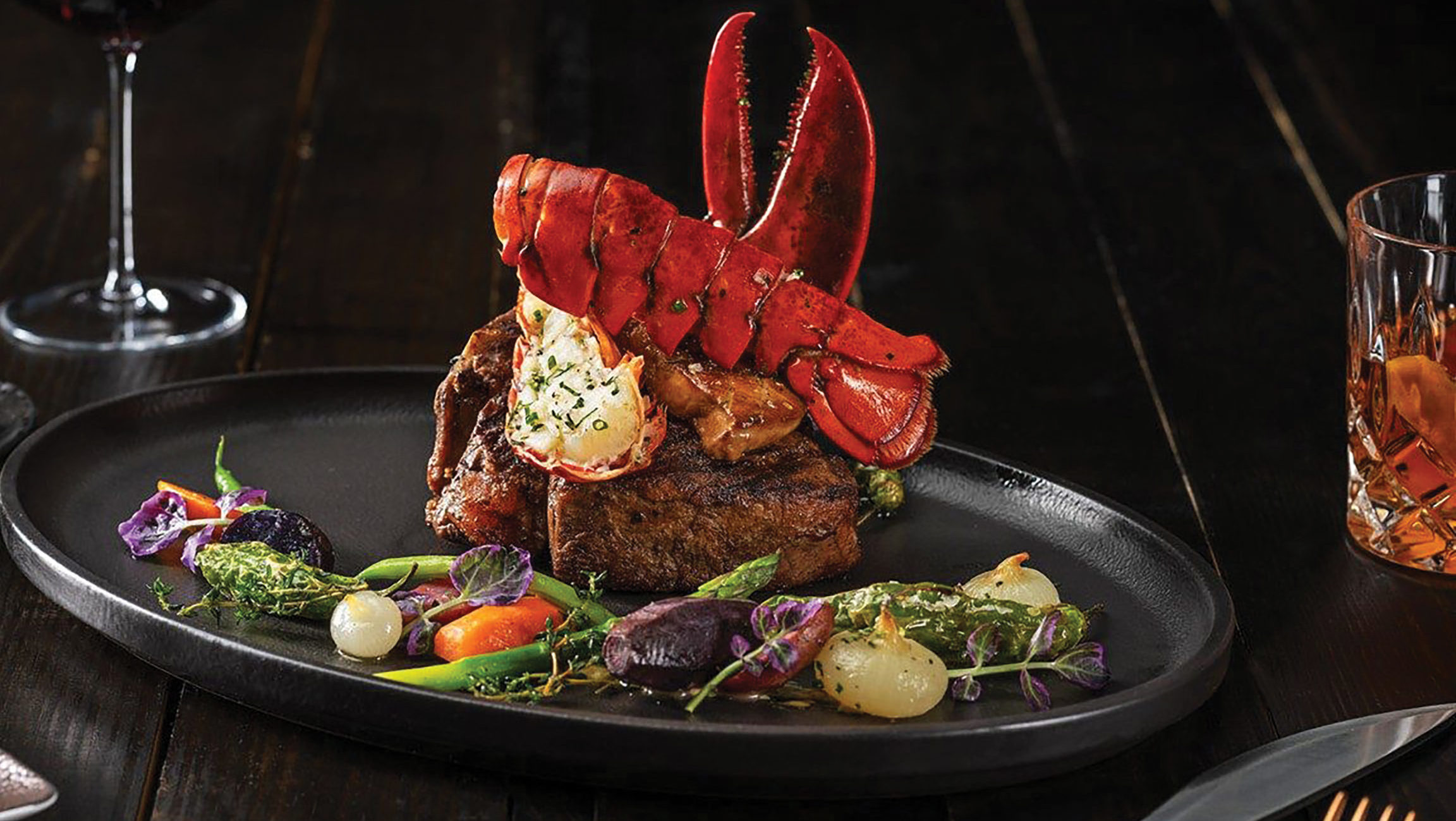 Caesars Entertainment delayed the grand-opening festivities for 550,000-square-foot Caesars FORUM and will christen the indoor-outdoor space with two of the largest pillarless ballrooms by welcoming ConferenceDirect's annual partner meeting and reverse trade show in October. Behind the roll-up glass walls designed to earn LEED Gold status is an industrial kitchen ready to dish up restaurant-quality food at convention scale while following all safety guidelines.
FORUM will be within walking distance of eight Caesars properties and more than 20,000 Caesars guest rooms. The 100,000-square-foot outdoor plaza will open onto Linq Promenade, and 3,500-room Flamingo Las Vegas, home of the fun new Bugsy & Meyer's Steakhouse, a sly homage to the property's infamous founders, mobsters Benjamin "Bugsy" Siegel and Meyer Lansky, who created the first resort-style hotel on the Strip back in 1946. The new group dining option takes notes from the past and adds fresh twists, including an entrance that makes it feel like you are entering the secret space through a back door, a grand bar and a hidden speakeasy.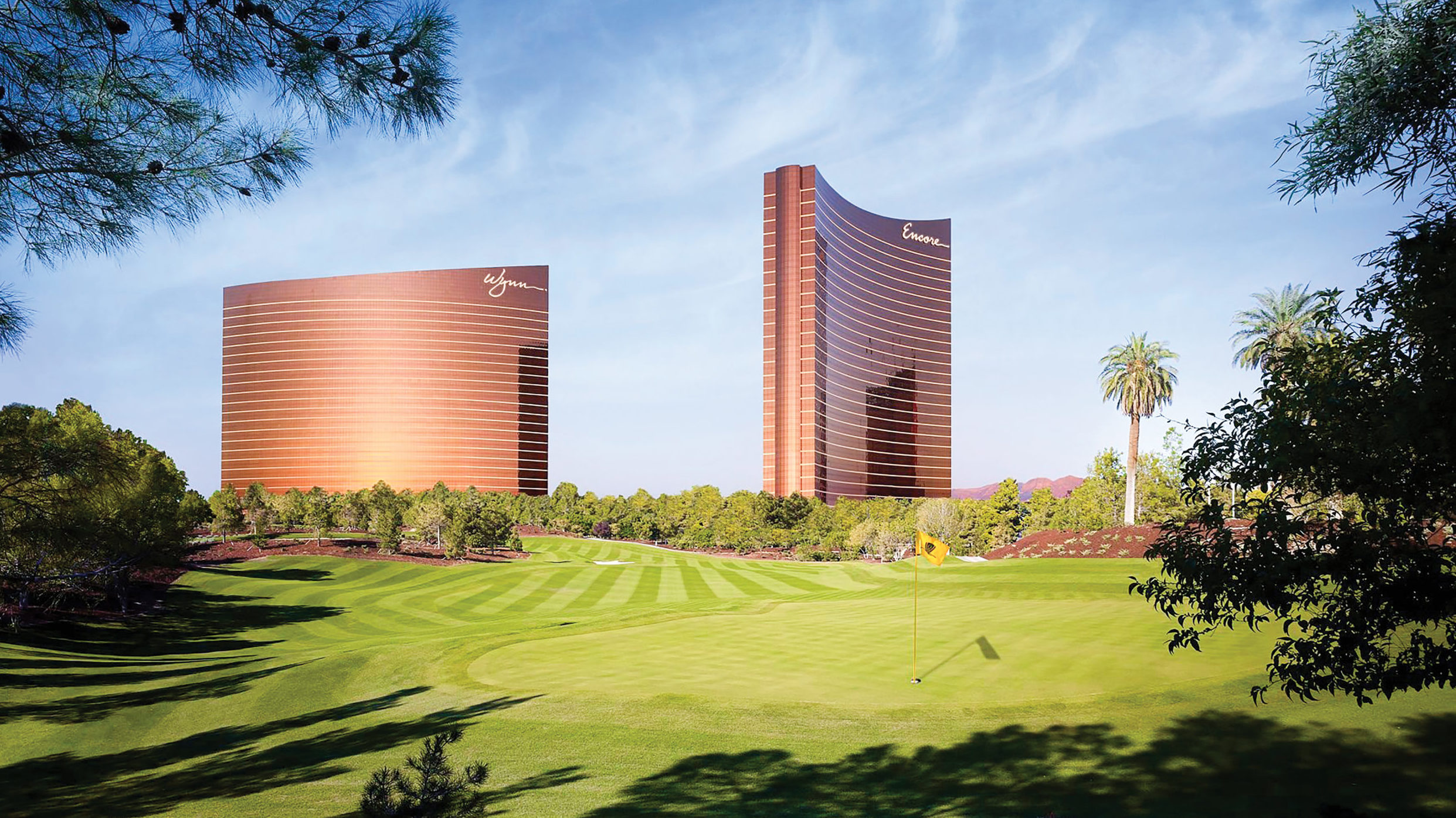 In April, Wynn Las Vegas announced the opening of a 430,000-square-foot, eco-friendly convention space expansion. "Our new expansion seamlessly complements the existing space at Wynn and Encore, giving clients endless options to create memorable events," said Chris Flatt, executive vice president of hotel sales at Wynn Las Vegas. The space offers sweeping views of the new 18-hole signature golf course and will be powered by renewable energy from Wynn's own 160-acre solar facility. A 20,000-square-foot outdoor pavilion and equally large lawn make fresh air part of the package. New in June, Elio now offers contemporary Mexican cuisine and a creative space for late-night gatherings with signature cocktails and an extensive list of mezcals and tequilas.
The final touches were added in July to the luxury boxes at 65,000-seat Allegiant Stadium, the new home of NFL's Las Vegas Raiders. And although the inaugural game against the New Orleans Saints will be played this month without an audience, the venue is booking private groups for future dates when gathering is permitted.
SAHARA Las Vegas completed its transformation from SLS Las Vegas with a $150 million assist from Meruelo (see GSR in Reno) last summer. Additions include a 24-hour CASBAR Lounge and an upgraded spa and hotel lobby. All 1,615 guest rooms were renovated, and 30,000 sq. ft. of meeting space awaits. High-touch areas have been coated with BioProtect antimicrobial coatings for added safety.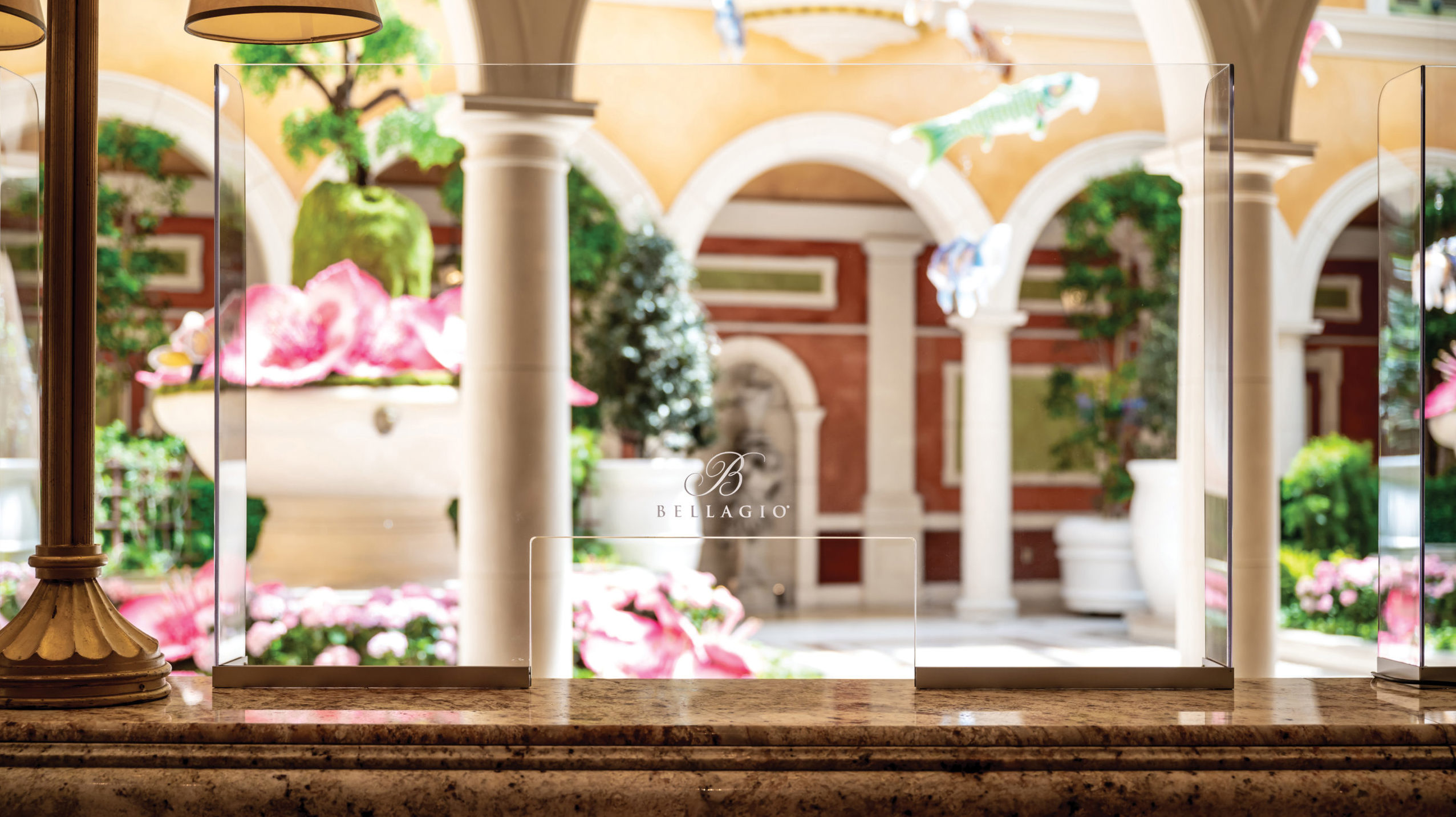 MGM Resorts greeted the green flag for reopening by unlocking the doors at Bellagio, New York-New York and MGM Grand (which just completed a lobby redesign), followed by a string of restarts at the property's other 13 properties on The Strip. The Mirage was slated for opening Aug. 27, just in time for Labor Day. The brand's seven-point safety plan includes mandatory masks and physical distancing, contactless check-in processes and fewer lines.
Expo at World Market Center Las Vegas' 315,000 sq. ft. of exhibit and prefunction space received approval for occupancy in July, and a physically distant International Market Center Summer 2020 Las Vegas Market for interior designers was set as the grand opening at the end of August.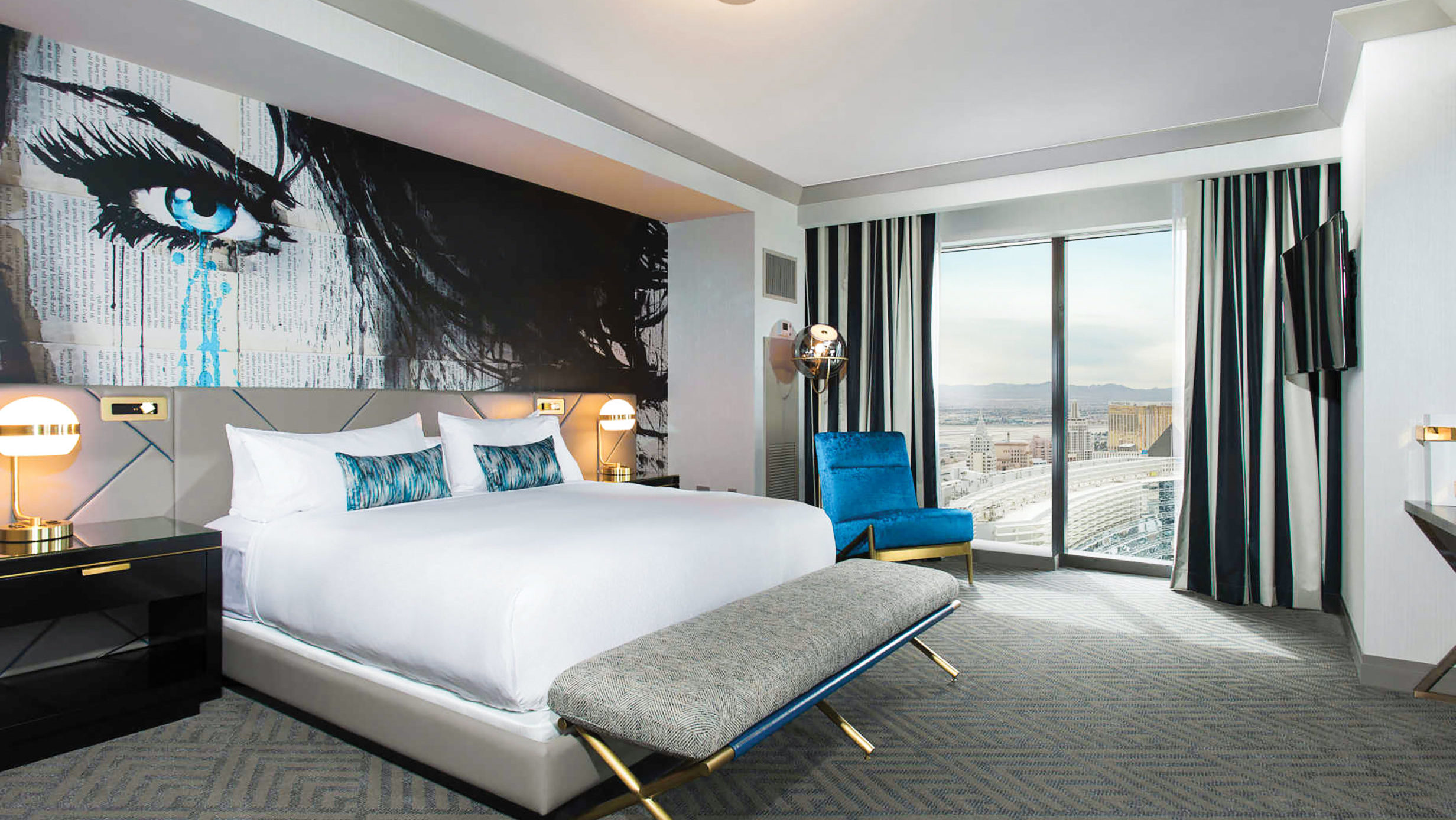 The Cosmopolitan of Las Vegas upgraded its 3,042 oversize guest rooms and added the Block 16 Urban Food Hall, with Lardo gourmet sandwiches and Hattie B's Nashville Hot Chicken. The luxury property on The Strip is offering dive-in movies, with big-screen classics such as Star Wars, at Boulevard Pool.
At Treasure Island Las Vegas (TI, to locals) a renovation of all 2,884 guest rooms that started before the shelter orders has shifted into high gear. Meanwhile, restaurant offerings are being modernized with a $60 million refresh. Owner Phil Ruffin just purchased Circus Circus Hotel & Casino Las Vegas from MGM Resorts, and it is in line for its own reimagination.
Just south of The Strip, M Resort, Spa, Casino Las Vegas' 390 guest rooms and 92,000 sq. ft. of meeting space make small groups feel special. A new Topgolf Swing Suite with virtual, multisport games has team building covered.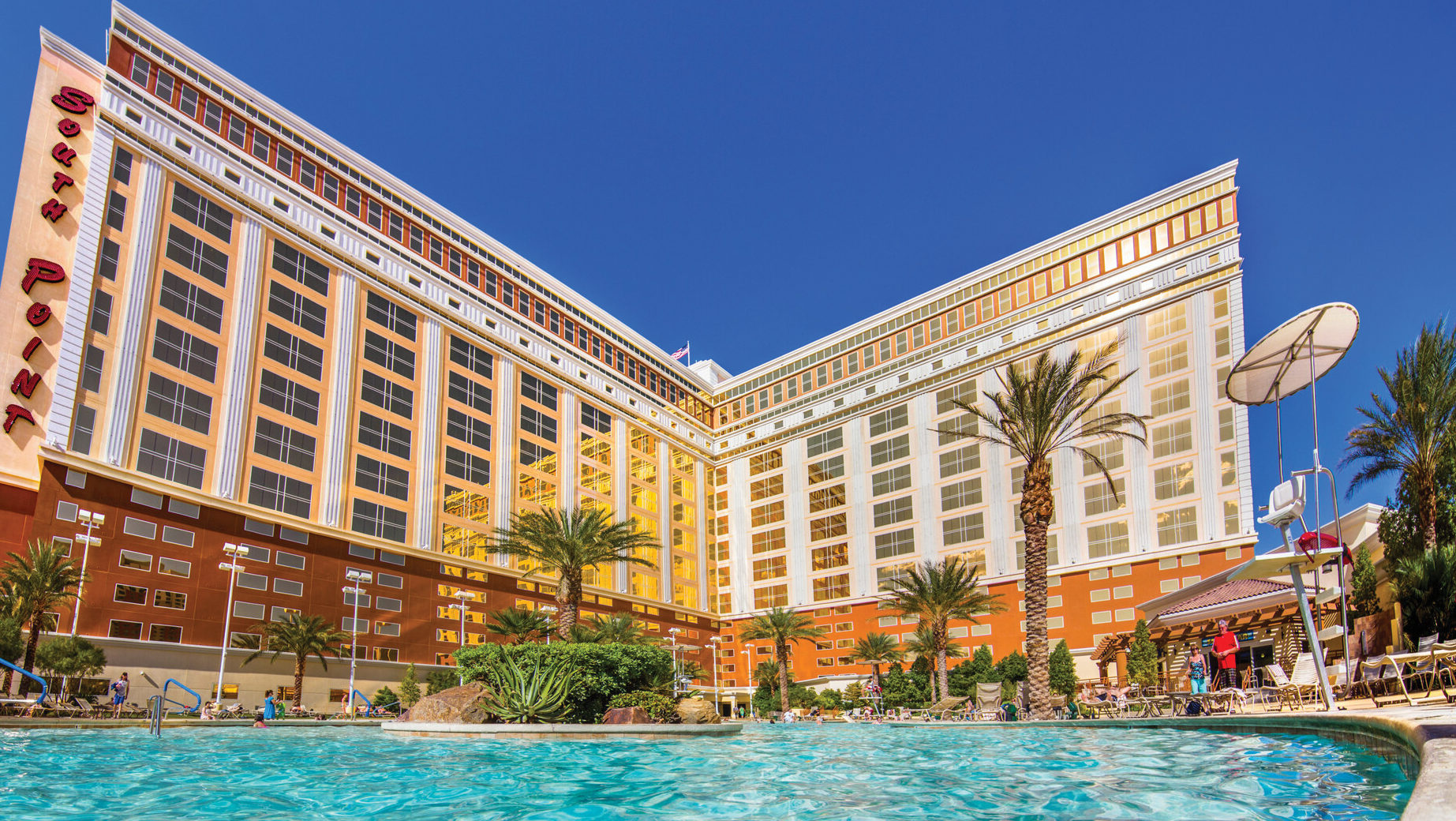 Another off-Strip (but in-the-middle-of-everything) property that is upgrading meeting space during the pandemic is South Point Hotel & Casino, which has 2,163 guest rooms, a 64-lane bowling center, a 16-screen movie theater and a 22-room spa. Its 180,000 sq. ft. of meeting space includes a pavilion with 80,000 sq. ft. of usable space and a covered equestrian arena.
It's only fitting—since one of the first sports that set off the stampede to sporting events coming to town was National Finals Rodeo—that American Paint Horse Association Western National Championship Show will be one of the first major events to return to the city for a four-day competition at South Point Arena & Equestrian Center.
Tropicana Las Vegas, a DoubleTree by Hilton property, is delighting attendees with its new 12,000-square-foot Havana Room meeting space, anchored by a stunning crystal chandelier and a dramatic dance floor. It boasts 1,470 guest rooms, a 25,000-square-foot ballroom and a 55,000-square-foot exhibit pavilion.
The $4.3 billion, 3,500-room Resorts World Las Vegas is on track to open in summer 2021 and will be a stop, along with Wynn across the street, on the new underground transportation system being built by Elon Musk's The Boring Company at Las Vegas Convention Center. Automated Tesla vehicles will ferry conventioneers to the hotels in about two minutes starting as soon as January.
The Circa Resort & Casino is finishing up construction of a three-story casino for an October opening. A 777-room hotel will follow. When it opens ahead of schedule next month, Circa will be the first brand-new, downtown resort in four decades, and will feature the world's largest sportsbook and a year-round pool amphitheater on the fifth floor.
In January 2021, Virgin Hotels Las Vegas is scheduled to rise from the shell of Hard Rock Hotel after a $600 million makeover to create a "modern desert resort oasis" with 1,505 guest rooms ("chambers," in Virgin-speak), 130,000 sq. ft. of convention space, a five-acre pool complex, and a 3,500-seat theater.
Still to come, in 2023, the slightly delayed MSG Sphere: 875,000 sq. ft. of technological wonder in the shape of the world's largest man-made globe, from Madison Square Garden Entertainment Corp.
A Merger of Entertainers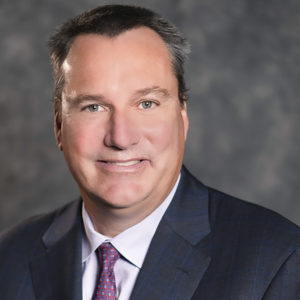 In July, Reno became official headquarters of the largest casino and entertainment company in the United States. That was when Eldorado Resorts announced it had received all regulatory approvals to complete purchase of Caesars Entertainment Company in a $17.3 billion deal. The combined company, which has adopted the Caesars name, now owns and operates more than 55 casino properties globally, including eight on the Las Vegas Strip with extensive meeting space.
In making the announcement, Caesars Entertainment CEO Tom Reeg pledged to "welcome all team members" to the combined company and extend Caesars Rewards loyalty program, which counts 60 million members, to all the newly joined properties. He also highlighted the company's longstanding commitment to corporate social responsibility and promised an even greater emphasis on diversity and inclusion programs, as well as gender-equity initiatives.