Sponsored by Explore St. Louis
When it comes to bragging rights in the state of Missouri, Kansas City is biggest. Springfield and Branson are most downhome in that Ozarks way. But St. Louis has always laid claim to something extra, too. It's something special in the Show Me state. Maybe it's that the Gateway City traces its origins to the French, when it was a fur-trading outpost. Like in New Orleans, which is roughly 1,250 "river miles" down the muddy Mississippi, the colonial French of St. Louis couldn't have been more different from the severe Spaniards or Puritan British. They let loose at Mardi Gras—to this day, St. Louis has one of North America's largest annual celebrations—and the privileged followed the latest Paris fashions and trends. Mixing of the races was not as frowned upon as in other parts of the state. Today, the spirit of St. Louis remains bon temps (good times). And for groups, there has never been a better time to experience all the city has to offer. Here's how planners can block out three unforgettable days.
Day One: See the Sights!
What better way to give your group a sense of the city than at its many world-class cultural institutions? City-run venues are free, thanks to a subsidy underwritten by local taxes. Others have minimal admission fees, and several offer special group tours and meeting and event space.
Choices include the idiosyncratic City Museum, an outrageous accumulation of reclaimed treasures from within city limits such as salvaged bridges, miles of tile and vintage chimneys reassembled to form an architectural marvel and surreal vision by internationally acclaimed artist Bob Cassilly. Discounted admission is available to groups.
Outside of downtown, The American Kennel Club Museum of the Dog is housed in an 1853 house with more than 700 paintings, sculptures and other artworks depicting man's best friend through the ages; 3,500-square-foot Constellation Room is available for conferences and receptions, as are outdoor spaces.
From tail wagging to toe-tapping, Scott Joplin House State Historic Site is a restored Civil War-era building that once inspired the famous ragtime composer whose music stirred a nation. Lit by gaslight and with an old player piano performing Joplin's tunes and exhibits to remember his life and work, the site also features New Rosebud Cafe, a performance venue available for rent.
This is a city where live music is heard every night, and visitors soon learn you can't know St. Louis without knowing its musicians. Joplin, who lived in the city in the early 1900s, was America's most famous ragtime musician, but it was Alabama-born W.C. Handy who put St. Louis on the music map when passing through in 1892. On a street corner, he overheard a distraught woman lament her husband's unfaithfulness by saying, "Ma man's got a heart like a rock cast in de sea."
That line found its way into the Handy classic, "St. Louis Blues," as its composer forever changed the course of popular music by integrating the blues idiom into ragtime. The song has been recorded by everyone from Bessie Smith to Pat Boone, to Bob Wills and His Texas Playboys.
Let groups catch the St. Louie beat by spending a few hours at National Blues Museum, a two-year-old, interactive homage to blues music and the city's role in shaping it. Located just up the street from St. Louis' primary meeting and exhibit space, America's Center Convention Complex (ACCC offers 502,000 sq. ft. of exhibit space, 80 meeting rooms, a 67,000-seat arena and a 1,400-seat theater in four distinct facilities), boasts state-of-the-art installations and impressive music memorabilia.
At action stations throughout the venue, visitors can compose and record their own blues numbers and learn how to play the washboard and other improvised instruments in a jug band. Live performances in an adjoining cabaret are regular weekend happenings; it's one of two event spaces available to groups, and the entire museum is available for buyouts.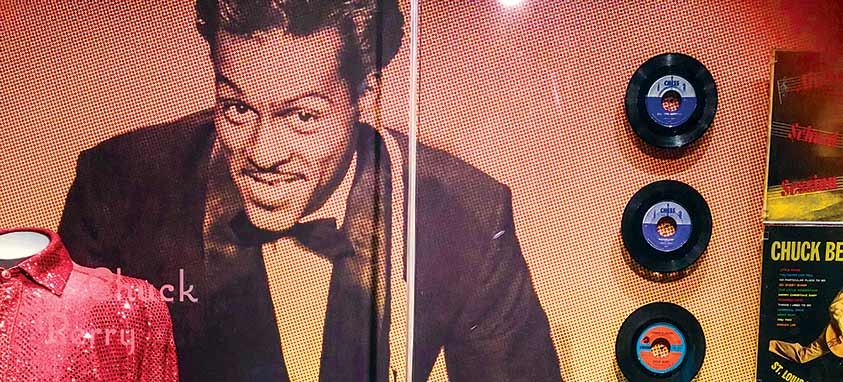 The museum also superbly traces the blue's influence on rock 'n' rollers, including Mr. "Roll Over Beethoven" himself, local legend Chuck Berry. An exhibit that features one of his screamin' red costumes will make you want to slip on your Blues Brothers shades. (Out of downtown, in an outdoor plaza on the Delmar Loop, an 8-foot, in-motion sculpture of Berry, the first inductee into Rock & Roll Hall of Fame, is flanked by granite etched with his lyrics; across the street, at Blueberry Hill, you'll find the most extensive collection of Berry-iana in the world.)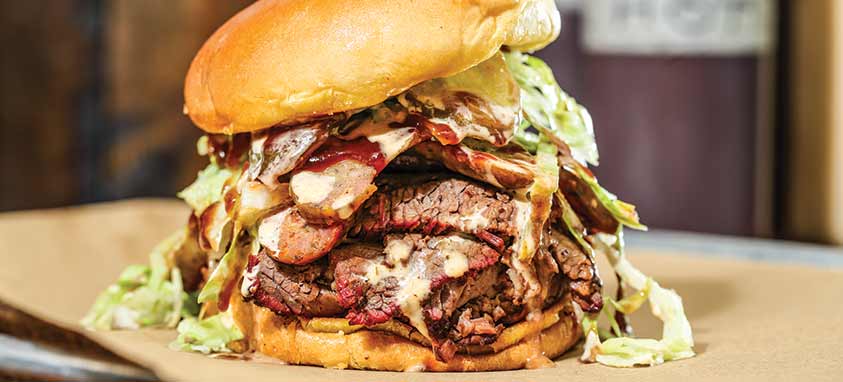 To top off a blues museum visit, direct your group next door to Sugarfire Smokehouse, named Best Barbecue Restaurant by St. Louis Magazine and overseen by a chef who cooked under Emeril Lagasse. Its St. Louis-style 'cue prompted rapper Snoop Dogg to don a Sugarfire T-shirt in a social media video. With several locations in Missouri, this flagship counter-service restaurant—directly across from ACCC—also caters.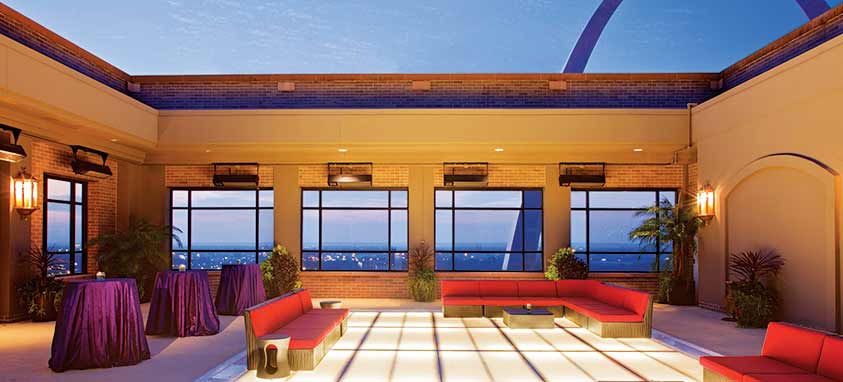 The biggest news in St. Louis this summer, however, wasn't about music or local grub. It was about rejuvenating and connecting downtown to the city's most iconic landmark, Gateway Arch. Eero Saarinen's 630-foot-high, stainless-steel monument and surrounding grounds are what draw visitors from around the world, yet since 1965 they have stood apart from the city across busy Interstate 44. No more. After completion of the $380 million CityArchRiver project, Gateway Arch grounds have expanded to become an inviting 91-acre park with bicycle paths, children's play areas, performance venues and a lively, invigorated riverfront—and an easy stroll to the closest meetings hotel, Hyatt Regency St. Louis at the Arch (910 guest rooms, 83,000 sq. ft. of indoor and outdoor meeting space, all newly renovated), restaurants and downtown attractions.
Other major downtown hotels for groups include Hilton St. Louis at the Ballpark, The Westin St. Louis, Four Seasons Hotel St. Louis, Drury Plaza Hotel St. Louis at the Arch, Marriott St. Louis Grand, HoteLumiere at the Arch and Hotel Majestic St. Louis.
"It really is a symbol of the renewal of St. Louis," says Anthony Paraino, director of communications for Explore St. Louis, of the CityArchRiver effort. "The whole project better connects the arch with all of downtown and provides easy access to one of the most famous monuments in the country."
The arch itself is unchanged, still 5,199 tons of gleaming steel that reaches higher than Washington Monument in Washington, D.C. Groups can still enjoy the nostalgically low-tech experience of clamoring into tiny tram compartments inside the arch and slowly ascending to the top, where the view from airplane-like windows is exhilarating and vast.
But at the base of the arch, a new thrill awaits. A bigger and all-new Museum of Westward Expansion is now accessed through a sweeping curve of glass that fills the interior with natural light and gives views across the park to cupola-topped Old Courthouse, where more galleries highlighting the rich history of early St. Louis await. (It was there that the pivotal Dred Scott slavery case was first heard and Virginia Minor fought for women's right to vote.) An upgraded 15,000-square-foot tram lobby features a new audiovisual experience, and there's a new restaurant, Arch store and 350-seat Tucker Theater. The entire Gateway Arch Park is overseen by U.S. Park Service because of the history memorialized by this spot, near where the Lewis and Clark Expedition embarked in 1804 to map the Louisiana Territory to the Pacific and thousands of settlers in wagon trains followed thereafter.
The redone museum still tells the Westward Ho! story, but it refocuses new exhibits on St. Louis itself in that era, as well as before and after. Recreations of French pioneer cabins and exhibits about life in the young settlement are accompanied by the equally fascinating history of the area's Native Americans, forced to adjust to the European presence. Interactive displays in six, dramatically lit, thematic areas are viewed to enveloping sounds, such as neighing horses and rushing water.
For group functions, the tram lobby, new mezzanine and lobby can accommodate up to 1,000 guests for a reception and 750 for a banquet.
Day Two: Play Ball!
"Everything is Cardinal red in St. Louis," says Kitty Ratcliffe, president of St. Louis Convention & Visitors Bureau. "Our brand is red."
With more than a century of tradition—including 11 World Series Championships and 19 National League pennants—MLB's St. Louis Cardinals are a storied baseball franchise. The 81 game days each season make downtown into a festival of red, as mobs of fans descend on Busch Stadium in logo gear. Taking in a game is always great group fun, and the Cardinals' group sales team is ready to help.
But it's not the only option. A conference facility nestled within the stadium's executive offices can accommodate 20–100 people, and offers audiovisual and free Wi-Fi. Busch Stadium tours are run yearround, during which guides give an inside-baseball look at the radio broadcast booth, World Series trophies in Champions Club and Cardinals dugout.
Just across the street, in Ballpark Village, it's game day every day. This exciting dining and entertainment district, which is currently being expanded, is where groups can take in St. Louis Cardinals Hall of Fame Museum, on the second floor of Cardinals Nation Restaurant. Its seven galleries lead visitors on a chronological journey through the rich history of the team and its most famous stars and personalities. Where else can you take a practice swing with Stan "the Man" Musial's bat? It's an entertaining panorama of the American pastime created to appeal even to nonfans. After hours on nongame days, up to 150 attendees can be hosted for a reception at the museum, with food and beverage catered from the restaurant.
Another option is to rent AT&T Rooftop for up to 338 guests. It's located on the third floor and functions as a detached bleachers section for Busch Stadium. Full buyouts on game days include seating, a buffet and a full-service bar. Otherwise, it can host up to 140 for a plated meal, or 200 reception-style.
You might guess baseball is the only game in town, but Ballpark Village is actually a temple of all major sporting events, thanks to Fox Sports Midwest Live!, said to be the world's largest sports bar. More than 1,200 sq. ft. of HDTV, with splendid audio, broadcast whatever's on Fox Sports. During warm weather, a 100-foot retractable roof slides back to give the place a stadiumlike feel. The venue also includes a stage for live concerts and performances, 200-seat restaurant and VIP lounge. Groups can reserve space in advance.
A television studio that overlooks a plaza just outside Fox Sport Midwest Live! originates live Cardinals pre-game and post-game shows. Elsewhere in Ballpark Village, dining spans from Budweiser Brew House to El Birdos Cantina. Outside, a baseball infield is laid out on the spot of the original Busch Stadium diamond, enabling fans to "stand on sacred ground once tread upon by legends" and enjoy live entertainment and festivals throughout the year. The Barn in PBR St. Louis features local, regional and national live entertainment nightly.
Fittingly, the NHL franchise in town is named St. Louis Blues, and is proud of its own 50-year history. The team skates the ice in newly renamed Enterprise Center. The downtown arena is undergoing a multiphase renovation to create more social spaces, including 14th Street Beer Garden & Neighborhood, and group options are expected to be enhanced. The area's other professional sports team, Saint Louis Football Club, competes in the United Soccer League and offers special ticket pricing for groups up to 800 or more; it plays home games in outdoor Toyota Stadium, one of four soccer stadiums in World Wide Technology Soccer Park.
Day Three: Get Outside!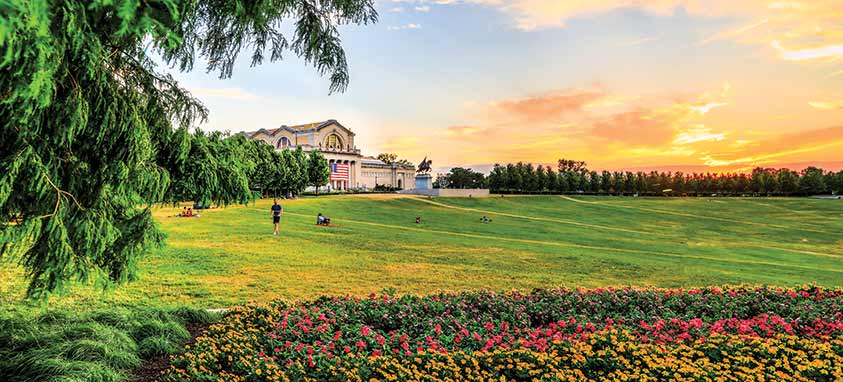 Nothing refreshes meeting-goers like Mother. As in Nature. Forest Park is the largest urban park in the nation, at 1,371 acres, and miles of pedestrian and bike trails crisscross it. It boasts forests, varying ecosystems, nature reserves, lakes and streams, plus five major cultural institutions with group offerings, such as St. Louis Art Museum and St. Louis Science Center. USA Today readers voted it No. 1 City Park in the United States.
The park is easily accessed via MetroLink, a light rail transit system that connects downtown, St. Louis Lambert International Airport (STL) and other major destinations. Delmar Loop, a bustling entertainment district, is now also quickly accessible to the park via Loop Trolley, a 2.2-mile electric trolley.
Forest Park is also home to St. Louis Zoo, voted Best Zoo and America's Top Free Attraction by readers of USA Today. More than 16,000 animals are divided into six zones on 90 acres. The zoo is also an acknowledged leader in animal management, wildlife conservation, research and education. For teambuilding and receptions, venues include The Living World, a 65-foot rotunda with a glass-domed ceiling and two levels of flexible space, plus 346-seat Anheuser-Busch Theatre for presentations and entertainment. Conference and meeting rooms feature audiovisual equipment and catering, and packages can offer after-hours and behind-the-scenes tours (including Geek Tours, which focus on the zoo's business operations, sustainability practices and water conservation efforts), zoo speakers, Zooline Railroad rental and discounted attraction tickets.
Planners can even invite foxes or eagles to an event, with animal meet-and-greet rentals.
Finally, after a morning of brainstorming or professional development, nothing tops the fresh breezes in an iconic brewery's beer garden. And no St. Louis immersion is complete without a tour of Anheuser Busch Brewery that includes a visit to the Clydesdale Stables, Historic Brewhouse, Beechwood Aging Cellars and ends in the Biergarten. Have one of the famous Cydesdales visit your gathering, or send your attendees to Beer School, an interactive beer sampling experience led by a flightmaster.
Anheuser Busch Beer Museum is also an option. The outdoor Biergarten can be rented for up to 300 people; an indoor counterpart holds up to 200 guests. Beer Museum can accommodate 150 people, cocktail style. Catering is also available, including a beer-pairing dinner.
Ozarks Odyssey
If bright lights and big city are not for your group, the alternative Missouri experience can be found in Springfield (pop. 167,000) in the southwestern part of the state. The metro area offers more than 6,300 hotel rooms—including Hilton Garden Inn Springfield, the state's first LEED Gold-certified hotel—and 850 dining options, plus a pleasing variety of shopping and cultural opportunities.
Historic Route 66 passes through it, and Red's Giant Hamburg in Springfield is said to have invented the fast-food drive-through window on that fabled highway. From historical attractions to wineries and breweries, as well as industrial tours, groups have no lack of opportunities to enjoy the simple pleasures at a slower pace. Nearby standouts include National Tiger Sanctuary, Fantastic Caverns (with a Jeep-drawn tram tour) and Air and Military Museum of the Ozarks.
For an only-in-Springfield experience, History of Hearing Museum is where groups can marvel at hearing aids from ear trumpets to today's high-tech wonders. And less than an hour south lies Branson and all its entertainment and amusement options.