Brewery Bhavana, Raleigh
When planning the annual National Business Media show, a trade show for roughly 3,000 attendees, Sue Hueg, vice president of NBM Events, regularly returns to the same place. "We've been going to Charlotte since 1991," Hueg says. "Without fail, no matter when we're there, the weather is great. There's a lot to do, and it's a really easy, walkable city, with good lift from the airport. The people are really friendly, and Charlotte is budget-friendly. It's really at the top when it comes to value."
Beyond Charlotte, North Carolina offers a range of options for groups of all sizes, particularly in its cities, where a Southern experience is being re-defined in the form of craft breweries, farm-to-table restaurants and eclectic arts districts.
North Carolina's convention industry has had a wild ride over the past few years, after fallout from the controversial transgender bathroom law. But state leaders removed that obstacle last March, and today North Carolina's tourism leaders are eager to spread the word that their state is welcoming to everyone.
"We're an incredibly authentic destination and state," says Wit Tuttell, director of Visit North Carolina. "Each area retains a lot of history and unique individuality, from the laid-back mountains of Asheville to the industrial and banking center of Charlotte, to the college town of Raleigh. We find that when people come here, almost 90 percent come back. It's the kind of place you fall in love with."
Below are overviews of four North Carolina cities, with tips for surprising your group, downtime options, unique venues and more.
Asheville
Why We Love It
Snuggled into the Blue Ridge Mountains, Asheville embodies North Carolina's laid-back vibe, and is home to a thriving arts scene and a growing number of hotels and restaurants. In case you hadn't heard, it's also officially on the national radar: Forbes Magazine named it one of the 15 Coolest Places to Go in 2018 and CNN called Asheville one of the 18 Best Places to Visit in 2018.
"Asheville has hundreds of fine artists, performing arts venues, mountain crafters, folk artists, hip arts neighborhoods, lively music venues, colorful art galleries and a myriad of events to celebrate creativity," says Landis Taylor, public relations manager for Explore Asheville Convention & Visitors Bureau. New construction has increased its sleeping rooms to more than 8,000, and will bring the total number of downtown hotels to 15. This will provide more options for city-wide events, new meeting spaces and trendy rooftop venues for events.
Stand Out Feature
The great outdoors is a distinctive feature of Asheville. The city is surrounded by more than 1 million acres of national forest, so attendees can venture out for guided hiking, white water rafting, ziplining and other fresh-air fun. Even if you don't have time to leave the city, an outdoor event (at a rooftop venue, for instance) will bring the mountains into view. "Most planners state that our mountain setting is a top reason for choosing Asheville as their meeting's destination," Taylor says.
Unique Events Facility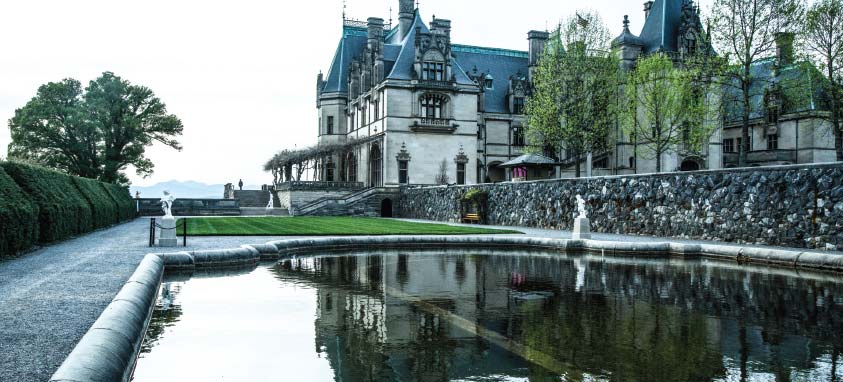 It doesn't get more old-school than Biltmore, a grand, 8,000-acre property with a 250-room mansion built in 1895 by Gilded Age mogul George Vanderbilt. Spaces for group events include lavish gardens and a winery, as well as renovated areas such as the Champagne Cellar and Antler Hill Barn, once the home of the estate's agricultural operations. Biltmore also hosts exhibits throughout the year: Through May, groups can enjoy Glamour on Board: Fashion from Titanic the Movie, and from May through October, glass marvels by Dale Chihuly will be on display.
Downtime Options
Consider a guided tour of the city's emerging arts scene. Asheville Art Studio Tours, for example, offers a glimpse of the River Arts District, or Lexington Glassworks, a downtown glass-blowing studio and gallery. For evening fun, Asheville claims to have more breweries per capita than any other city in the United States. Highland Brewing, the city's oldest brewery, has event space for up to 450 people.
Surprise Your Group
Work with the CVB to hook up attendees with Attraction Value Cards, good for discounts at attractions and businesses. Or take advantage of Explore Asheville's Have More Fun on Us incentive program, through which qualified meetings can receive up to $2,500 to be spent with local vendors.
Charlotte
Why We Love It
The largest in North Carolina combines cosmopolitan amenities with a warm Southern style. According to a recent study by Yelp, the Queen City is the No. 1 Most Up-and-Coming City in America. As part of that rise, Charlotte is revamping formerly bleak industrial spaces into hip districts for locals and visitors. For example, Camp North End, a 75-acre site that once produced Model T's and Army missiles, is being reimagined with restaurants, cafes, art spaces and more. "Charlotte is a destination on the move," says Laura White, director of communications for Charlotte Region Visitors Authority.
Stand Out Feature
Charlotte is one of the most accessible cities between Washington, D.C., and Atlanta, and the main airport is just 7 miles from Center City Charlotte (site of many of the city's 7,600 hotel rooms). Also in this district is Charlotte Convention Center, which is set to launch a $110 million expansion, to be completed in December 2020, that will bring total meeting space to 600,000 sq. ft.—and a new skyway will connect to The Westin Charlotte. Meanwhile, a 9.3-mile extension of Charlotte's Lynx Light Rail is set to open this spring.
Unique Events Facility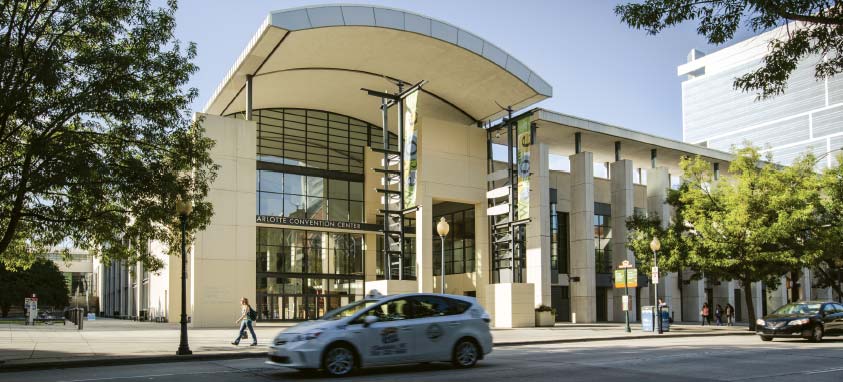 NASCAR Hall of Fame is connected to Charlotte Convention Center, making it an easy option for a fun event. Featuring exhibits, memorabilia and historic stock cars from the likes of Dale Earnhardt and Richard Petty, the space can hold up to 2,400 people.
Downtime Options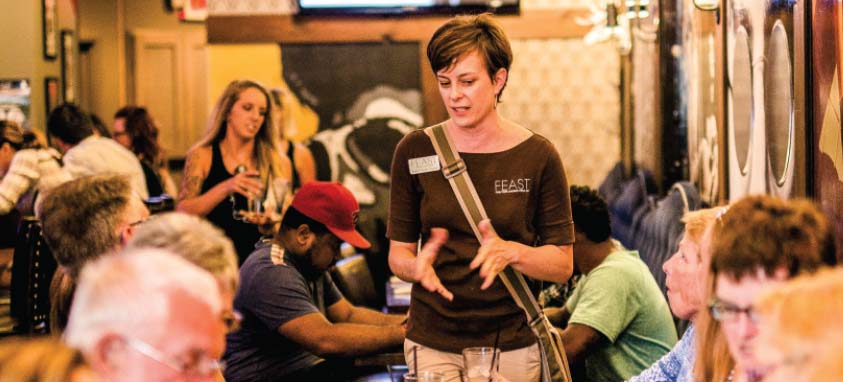 Charlotte is home to a range of museums, including Discovery Place Science, an interactive science and technology center that can hold up to 1,800 people; Bechtler Museum of Modern Art, dedicated to mid-20th-century European and American modern art; Mint Museum Uptown, a 145,000-square-foot, five-story gallery space; and Harvey B. Gantt Center, which features works by acclaimed African-American artists. As another option, operators such as Feast Food Tours and Tour De Food offer walking tours of Charlotte's neighborhoods, and can arrange visits with chefs and tastings, of course.
Surprise Your Group
Charlotte is home to U.S. National Whitewater Center, located on 1,300 acres of woodlands. Surprise a group with a visit to enjoy more than 30 miles of mountain-biking and running trails, a climbing center, a mega zipline, flat-water kayaking, geocaching,challenge courses and more.
Raleigh and Durham
Why We Love It
The second-largest city in North Carolina (and the state capital), Raleigh has a youthful energy fueled by the presence of North Carolina State University, Shaw University (the first historically black university in the American South) and other academic institutions. Raleigh is also a seat of industry as part of Research Triangle, together with Durham (home of Duke University) and Chapel Hill (site of University of North Carolina Chapel Hill).
"Raleigh is a lively, celebratory and smart destination for meetings and events," says Malinda Harrell, CMP, CASE, director of sales for Greater Raleigh Convention and Visitors Bureau. "Raleigh appeals to many academia-based conferences, as well as meetings and conventions that align with the destination's four key industry clusters." They are cleantech/ smart grid, advanced manufacturing, IT/technology and life sciences.
Stand Out Feature
Raleigh is sometimes called Smithsonian of the South for its free museums and historic attractions. Less than a mile from Raleigh Convention Center is North Carolina Museum of Natural Sciences (and Nature Research Center), North Carolina Museum of History and North Carolina Sports Hall of Fame.
Unique Events Facility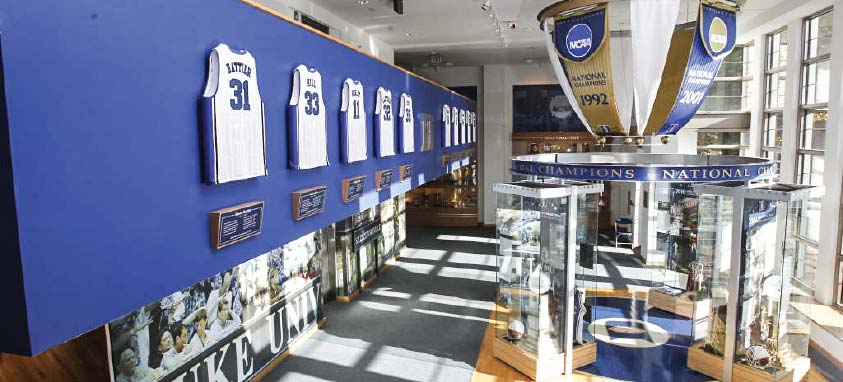 JB Duke's IACC-approved executive conference center is a convenient way to start a day that ends with a round at Duke University Golf Club, one of the top ten golf courses in North America. Or, take to the stands for a Blue Devils game with a reception in the Duke Basketball Museum and Sports Hall of Fame.
Downtime Options
Starting this spring, give attendees a taste of the Carolinas with a visit to Morgan Street Food Hall & Market, a 20,000-square-foot venue in downtown with more than 60 different food stalls, restaurants and market opportunities. Visitors will also enjoy sampling local craft businesses, including bean-tobar chocolatiers and coffee roasters.
"Planners can give gifts that were hand-made in Raleigh, host an on-site activation at the event with a maker or even take their groups to the maker to experience the process first-hand," Harrell says.
Surprise Your Group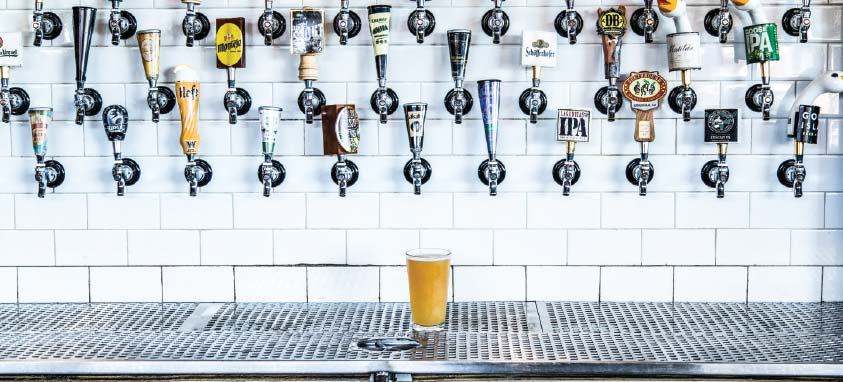 Planners can arrange a narrated tour on the Raleigh Trolley, which is operated by the city government, or the Great Raleigh Trolley, which is privately run and more amenable to brewery tours and other fun. If you need a destination, Raleigh Beer Garden has no fewer than 366 varieties of beer on tap (with mostly North Carolina brews) and a rooftop garden for private events.
Greensboro
Why We Love It
Located in the heart of the state, Greensboro is North Carolina's third-largest city. It is home to more than 500 restaurants and 87 accommodations, and has its own arena football team, the Carolina Cobras, as well as a city opera, ballet and symphony orchestra. But you will also find quaint options such as Barn Dinner, America's longest-running dinner theater.
Stand Out Feature
Greensboro has an active art scene, with more than 40 galleries. This year will mark the 16th anniversary of Greensboro Fringe Festival, and the city is also home to the North Carolina Folk Festival. Your group can also enjoy a First Friday event, when downtown galleries, shops and restaurants entice with special events and offerings.
Unique Events Facility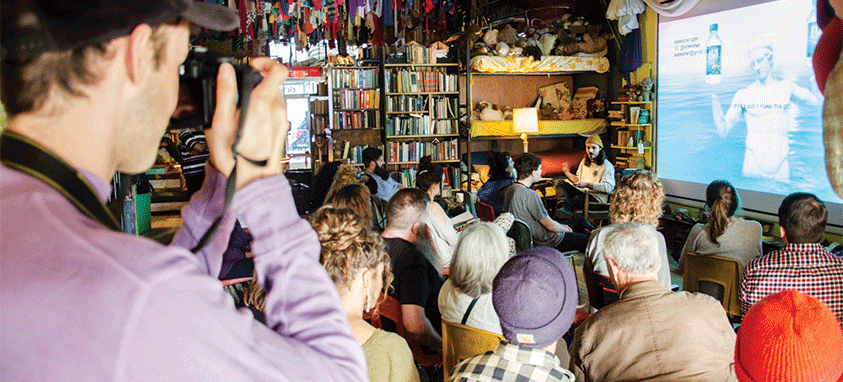 Elsewhere is the name of a museum and artist residency inside a three-floor, former thrift store; artists are invited to reimagine eclectic objects once crammed into the store. The space can be rented for unique private events, and the community of artists, designers and writers can help bring them to life. For more traditional tastes, Weatherspoon Art Museum, on the University of North Carolina Greensboro campus, is home to modern and contemporary works by the likes of modern masters Henri Matisse, Willem de Kooning, Alexander Calder and Andy Warhol.
Downtime Options
The only facility in the state with an aquarium, museum and zoo, Greensboro Science Center (GSC) is celebrating its 100th anniversary this year. Through May, the featured exhibit is Wicked Plants from The North Carolina Arboretum, a showcase of dangerous and deadly plants. The GSC can be rented for meetings, or you can use its stunning spaces for evening receptions.
Surprise Your Group
For a field trip to a beautiful setting, Castle Mc- Culloch is a restored gold refinery (with a granite castle, moat, tower and nearly 7,000 sq. ft. of event space) located in Jamestown, about a 25-minute drive from Greensboro. The nearby Crystal Garden has Victorian-style beveled glass walls, a crystal chandelier and a veranda with a view of the castle across a lake.
Along the Civil Rights Trail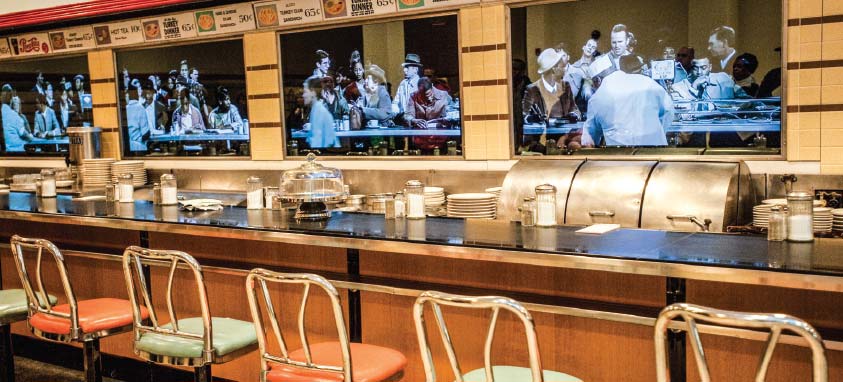 The past few years have brought new light to the continuing challenge of achieving racial equality in America. North Carolina was one of the centers of the Civil Rights Movement, and is home to sites along the Civil Rights Trail, which spans 15 states (plus Washington, D.C.) and includes more than 100 landmarks from the struggles of the 1950s and 1960s.
Greensboro's International Civil Rights Center (pictured) is in the former F.W. Woolworth retail store that was the site of a nonviolent protest when four brave students insisted on sitting at a "whites-only" counter. Today, the center features photography; artifacts; video reenactments and galleries, including a Hall of Shame displaying violence against protestors; and a replica Colored Entrance at Greensboro Rail Depot.
Greensboro is also home to Art Coffee Cup Collaborative, a community-based public art project featuring eight unique coffee cups to reflect the request of African American students who sat at the all-white lunch counter and asked for a cup of coffee.
Raleigh, meanwhile, was the birthplace of the Student Nonviolent Coordinating Committee; you can also visit historically black colleges such as Shaw University and Saint Augustine's University, where students led protests against segregation by holding sit-ins at local stores. The city is also home to Dr. Martin Luther King Jr. Memorial Gardens, which features a life-size sculpture of King and a 12-ton, granite monument honoring the area's civil rights leaders.
Although not officially on the Civil Rights Trail, Levine Museum of the New South, in Charlotte, documents the region's history from the end of the Civil War to today, and includes exhibits focused on the Civil Rights Movement.