In South Florida, Cultural Places are Meeting Spaces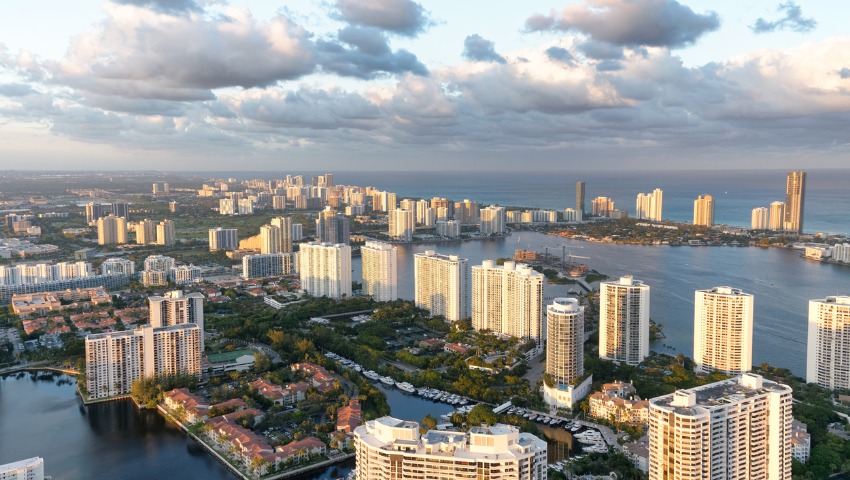 Stunning new developments are transforming the region
In addition to its great beaches, resorts, and year-round golf and other recreational opportunities, South Florida is known for its expanding international trade and tourism, multiethnic flavor and the exciting transformations of its three main cities.
In fact, the region has grown faster than just about any other area in the United States since 1990. That year, the total population of Miami-Dade County, Broward County (including Greater Fort Lauderdale) and Palm Beach County was 4.1 million. Today, it's nearly 6.5 million, and growing.
It's known, too, for some of the most famous meeting hotels in the world, and many interesting cultural venues are now offering excellent meeting spaces, as well. Once low-rise Miami now has one of the most impressive skylines in America, with stunning white towers more than 80 stories tall punctuating its subtropical sky. Fort Lauderdale now has a vibrant downtown filled with great meeting hotels, restaurants and cultural venues. In addition, downtown West Palm Beach has blossomed into an exciting 24/7 city, with new entertainment, retail and financial districts.
To help address the ever-increasing influx of business travelers and tourists, each of South Florida's three main cities has either totally rebuilt its convention center recently, is now in the process of rebuilding or is planning renovations.
Here's a rundown of some of the most compelling recent developments for meeting planners.
Greater Fort Lauderdale
Fort Lauderdale/Broward County Convention Center is being upgraded and expanded to the tune of $1 billion. When it's finished in 2023, it will be among the best convention centers in the United States. Currently boasting 600,000 sq. ft. of meeting space, it will add 350,000 sq. ft. of exhibit space and a 65,000-square-foot waterfront ballroom, along with several new restaurants, a waterfront plaza and increased access via the downtown water taxi.
The biggest news about the convention center, though, may be its soon-to-be-added missing piece. The center is finally getting its long-sought-after hotel, the 800-room Omni Hotel Fort Lauderdale, which is scheduled to open in 2023.
In addition, there are more than 3,000 hotel rooms within a 1.5-mile radius of the Convention Center District, and a total of 14,000 in Broward County.
The Dalmar opened in December 2018 in a 25-story building, with 209 guest rooms, 15,000 sq. ft. of meeting space, Terrace Grill and a rooftop bar. In the same building, Element Fort Lauderdale Downtown also debuted, with 114 guest rooms.
Seminole Hard Rock Hotel & Casino Hollywood unveiled its stunning "guitar hotel" expansion in October. This 42-story structure actually is shaped like a giant guitar. Along with a new tower, it offers 806 guest rooms to supplement the 469 in the original hotel. There's a casino, of course, along with new restaurants and bars, and 120,000 sq. ft. of meeting space.
Le Meridien Dania Beach at Fort Lauderdale Airport is scheduled to reopen this winter after a $30 million upgrade with 245 guest rooms, 23,340 sq. ft. of meeting space and two redesigned restaurants. Dual-branded Tru by Hilton and Home2 Suites by Hilton is expected to debut downtown this summer with 218 total guest rooms and a pool bar, fitness center and 4,843 sq. ft.
Hyatt Centric Las Olas Fort Lauderdale will open later this year, featuring 238 guest rooms and 8,800 sq. ft. of meeting space.
A new Four Seasons hotel is also coming later this year on the beachfront, with two restaurants, a spa, a fitness center and meeting facilities.
In the town of Sunrise, an AC Hotel by Marriott is slated to open in spring 2021 at the gigantic Sawgrass Mills shopping, dining and entertainment experience. The hotel will offer 174 guest rooms, a rooftop restaurant, a fitness center and 2,500 sq. ft. of meeting space.
Greater Fort Lauderdale is also blessed with cultural facilities that double as great meeting and event places.
Broward Center for the Performing Arts consistently presents a world-class schedule of entertainers and performances. It's downtown, close to the New River (and Riverwalk), the elegant shops and restaurants of newly restored Las Olas Boulevard, and the trendy new eateries and bars of the recently restored Himmarshee Village District, where Fort Lauderdale was founded. Broward Center offers seven meeting rooms with seating for up to 200, reception space for 400, 584-seat Amaturo Theater and 2,658-square-foot Au-Rene Theater.
Gallery of Amazing Things, situated in a rebuilt structure in Dania Beach, is not only on the former site of one of Fort Lauderdale's most beloved old museums, but it's also an excellent art museum/gallery. It hosts performances by local arts groups and contains 40,000 sq. ft. of space for meetings and events.
A longtime cultural icon in Fort Lauderdale, the 1,168-seat Parker Playhouse is now undergoing a $25 million transformation. It is a symbol of classic elegance in a region hurtling toward the future, and that style is being preserved in the upgrade. The project is slated for completion right about now, and includes a new lobby, private lounges and meeting spaces, as well as upgraded technology.
The Bamboo Gallery, located in the town of Davie, offers a unique cultural experience. The setting is reminiscent of a South Seas island, with waterfalls, ponds, tropical foliage and objects such as wooden footbridges dotting the grounds. This 2.5-acre piece of paradise amid a booming metropolitan area can host groups of up to 400.
The downtown NSU Art Museum has a world-class collection of artistic treasures. There, you can meet in spaces such as The Curve or Peck Terrace, each of which can host 200 for receptions; 256-seat Horvitz Auditorium; or a boardroom seating 30.
Hollywood Central Performing Arts Center has an auditorium seating 500 and a lobby with wall-to-wall windows that holds 120. Just down the street is an affiliated cultural venue—PAC, the Art and Culture Center Main Galleries—which can host 175 attendees.
Fort Lauderdale's Museum of Discovery and Science offers groups the chance to meet with adults but dream like kids in a fanciful, wondrous place where they can wander through cave-like aquariums, ride to the moon in a space capsule, play on computers and problem-solve. The museum has meeting rooms for 30 and event space for 2,000.
Linda Adams, chief operating officer at Orlando-based Florida Nursery Growers & Landscape Association, brought 6,500 professionals from all over the world to Fort Lauderdale Jan. 17-19, 2019, for the annual Tropical Plant International Expo, an international marketplace for industry buyers and sellers.
"Of course, with a group that size, we met at the convention center," Adams says. "And, as always, they try very diligently to anticipate our needs in advance—and they always come through. Our attendees stayed at 10 different hotels around the city, and they found it very easy to get around. And when you wake up in your hotel and see those magnificent cruise ships lined up at the port…it's a stunning sight."
Adams says she's brought this meeting to Fort Lauderdale for 30 years.
"It's a young, exciting city," she says. "The airport is great, with plenty of international flights. The convention center is very user-friendly and easy to get around."
And they came back again this January.
Greater Miami and the Beaches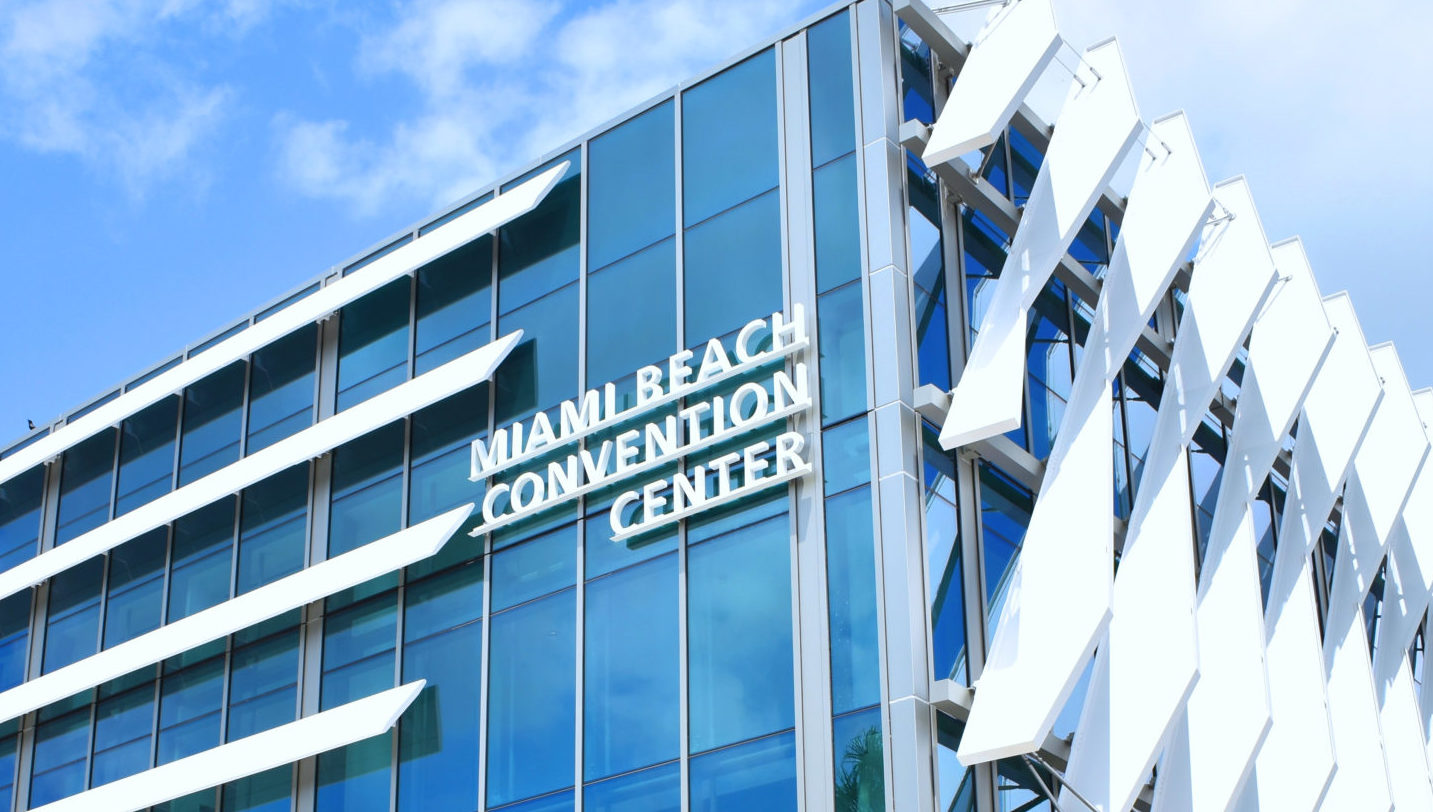 Only a couple of decades ago, Miami was a low-rise city with a somewhat relaxed pace, downtown streets that mostly went dark after the sun sets, and a cultural life that became somewhat relaxed once summer came and the "snowbirds" headed back north.
Today, it's a stunning place, a burgeoning international metropolis with a futuristic glass skyline, under which major international corporations reside, along with the largest cruise port in the world, one of the busiest international airports in the United States and one of the most famous neighborhoods in the world (South Beach).
It also boasts exciting nightlife that runs on into the morning, some of America's most innovative chefs and restaurants, and outstanding cultural facilities that present world-class performances and exhibitions all year long.
Miami's also blessed by nature, with a now-vibrant downtown sitting on aqua-marine Biscayne Bay and with Miami Beach, just a few miles across, offering world-famous beaches and hotels, as well as Art Deco District, a 24/7 international hot spot.
Miami Beach also boasts Miami Beach Convention Center (MBCC), which last year completed a $620 million, LEED-certified renovation and expansion, making it a state-of-the-art facility. It has added 263,000 sq. ft. of space, bringing its total to 1.4 million, and now offers a 60,000-square-foot ballroom, 500,000 sq. ft. of exhibit space and nearly 200,000 sq. ft. of meeting space, in addition to 6 acres of green space. The convention center also has invested more than $7 million in public art throughout the campus.
Like its counterpart in Fort Lauderdale, it also is finally adding the cherry on top—plans for an 800-room hotel adjacent to the convention center have been approved, and it will open by 2023.
The MBCC and the upcoming hotel are the anchors of what's now called the Convention Center District. This once-glamorous area had fallen into disrepair by the '80s. But young entrepreneurs began buying up these deteriorating properties and converting them back to their original Art Deco glory, with technicolor exteriors, round "porthole" windows, marble-floor entrances and rounded edges. Today, this area features the most impressive collection of 1930s Art Deco buildings on Earth, with upscale hotels, restaurants and live-music venues, and one of America's most colorful "people parades," which go on every day into the wee hours.
Also in the 52-acre Convention Center District are museums, historic landmarks, parks, and entertainment and cultural venues.
One of Miami's great historic landmarks, The Biltmore Hotel Miami-Coral Gables, completed a $25 million restoration in December 2018. A new meeting facility, Conference Center of the Americas, was added, bringing total meeting space to 75,000 sq. ft. The renovation also included the 271 guest rooms, Donald Ross-designed golf course, lobby, fitness center and spa.
On the north end of Miami Beach, Sole Miami completed a remodeling of its 249 guest rooms and 6,500 sq. ft. of meeting space last year. It's a whimsical Art Deco treasure right on the water, with a private beach, a pool and seaside BaleenKitchen.
At JW Marriott Miami Turnberry Resort & Spa in Aventura, attendees can surround themselves with luxurious accommodations and amenities in an upscale part of town. The resort offers 685 guest rooms and 98,687 sq. ft. of meeting space, along with two championship golf courses, the award-winning Bourbon Steak restaurant and seven other eateries/bars, a 24/7 fitness center and a full-service spa. Across the street is the trendy, very popular Aventura Mall.
Miami also has extraordinary arts and cultural venues, many of which also have extraordinary meeting spaces. One of the coolest artistic meeting spaces is in The Betsy South Beach, a Colonial-style hotel with 130 guest rooms and 25,000 sq. ft. of meeting space. There, you'll find The Gallery, an old-time spot with wood-plank floors, high ceilings and 1,184 sq. ft. in which you can meet, surrounded by interesting art.
The 3.5-acre campus of National Young Arts Foundation is centered around a stunning building called The Jewel Box, sitting on a 40,000-square-foot plaza that's rentable. The exterior is composed of 28,000 glass-mosaic tiles, and the interior has eye-catching art, along with 8,000 sq. ft. of meeting space and a 200-seat theater. The grounds also offer The Gallery, with 3,018 sq. ft.
Miami Beach's New World Center is home to the highly regarded New World Symphony, along with some interesting meeting spaces. The Performance Hall seats 758; the SunTrust Pavilion has 2,700 sq. ft.; the sun-splashed Atrium, with a high glass ceiling, can accommodate up to 350 for receptions; and the Rooftop Garden & Donor Lounge can host 160 for dinners. Three additional spaces can each accommodate 30 people.
Fillmore Miami Beach carries the name of legendary rock 'n' roll venues in San Francisco and New York City. It's right next to the convention center, and it offers a state-of-the-art auditorium that can hold 2,713, as well as meeting rooms accommodating up to 30.
Want to see how industrial royalty lived in the early-20th century? Vizcaya Museum & Gardens was an Italianate mansion built by James Deering, founder of Deering Harvester Company and then International Harvester. This magnificent home and grounds on Biscayne Bay feature a working Italian gondola that is available to groups.
The East Terrace can hold up to 300 for events, the courtyard accommodates 100, and the gardens and grounds can fit 2,000.
The Palm Beaches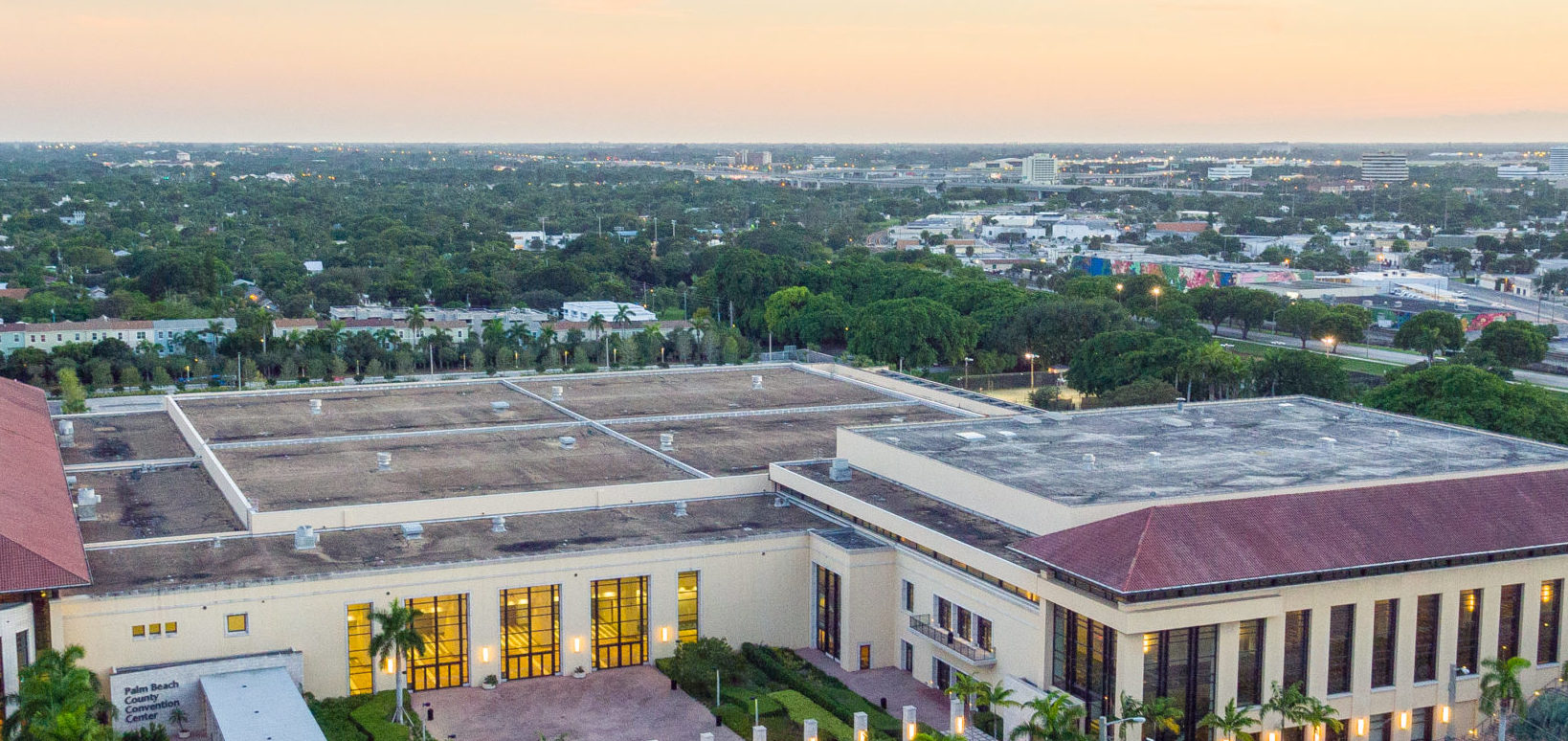 Palm Beach County is the largest county in Florida and within its 2,034 square miles is a remarkable variety of landscapes, cities, cultural venues, recreational opportunities and meeting hotels.
Everywhere you look in The Palm Beaches, you'll see a booming meetings and hotel scene, and cultural venues that spark inspiration and productivity.
Palm Beach County Convention Center offers 350,000 sq. ft. of meeting space that includes large windows and modern design with Florida touches, such as cantilevered wood ceilings. Accessibility around the entire convention center is easy, because it's stacked vertically, rather than spread out.
Following a record year of hotel convention bookings and widespread recognition of the convention center's important role as an economic engine, the county launched a long-awaited plan to expand the facility. Conventions, Sports and Leisure International, a leading planning firm, has been chosen to chart the future course of the Convention Center District.
According to county officials, the expansion could provide anywhere from an additional 100,000 to 300,000 sq. ft. and should include another convention center hotel, and possibly even a pedestrian bridge over the busy downtown streets. Officials intend to get construction underway within the next few years.
In the meantime, however, Palm Beach County's meetings and hotel infrastructure isn't just remaining stagnant.
Opening this month, The Ben, West Palm in West Palm Beach is a strikingly designed hotel named after Byrd Spilman Dewey's Ben Trovato Estate, one of Palm Beach County's original great homes, where the Dewey family entertained guests such as President Woodrow Wilson and the Vanderbilts. The hotel offers 208 guest rooms and 8,000 sq. ft. of meeting space, along with a library modeled after the Deweys' own library, two restaurants, a rooftop pool and a waterfront restaurant.
Also expected to open this winter is Canopy by Hilton West Palm Beach Downtown. Featuring 150 guest rooms and 3,069 sq. ft. of meeting space, the hotel also has two restaurants, one of which is on the 13th-floor rooftop. Amrit Ocean Resort &
Residences should open this spring on the ocean, with 155 guest rooms and 10,000 sq. ft.
The classic Brazilian Court has been around since 1926, and it finished a $5.1 million upgrade of its 80 guest rooms in November. It also has 3,500 sq. ft. of meeting space.
Palm Beach County also boasts many impressive cultural treasures. Attendees marvel at Henry Morrison Flagler Museum on Palm Beach. Flagler, a railroad magnate, built this magnificent Beaux-Arts palace in 1902. Today, attendees can peruse its 75 rooms, featuring world-class furnishings and art. They can also meet or mingle in spaces such as Grand Hall, accommodating 300 standing; Courtyard, holding 80; and Lake Terrace, fitting 325.
The stunning, glass Kravis Center for the Performing Arts is adjacent to CityPlace shopping, retail and entertainment district in downtown West Palm, and across the street from the convention center. It's now completing a $50 million expansion and upgrade. Dreyfoos Hall seats 2,195, Rinker Playhouse seats 300, and there's now a new outdoor plaza for events.
In Juno Beach, Loggerhead MarineLife Center, sitting at ocean's edge and filled with ocean creatures, has meeting spaces for 100. Norton Museum of Art has been a Palm Beach County cultural landmark since 1941 and last year completed a $100 million expansion. Its varied meeting and event spaces now include the elegant Jane and Leonard Korman Room, capacity 230, as well as a 210-seat auditorium and a new 37,200-square-foot sculpture garden.
A century ago, Morikami Museum & Japanese Gardens in Delray Beach was the site of a thriving Japanese agricultural community. The community is gone, but the ethereal beauty and mystique of this place remains, including bonsai trees, koi ponds with wooden red footbridges, mini-waterfalls in tropical greenery, and authentic period-rooms situated around a tranquil courtyard. There's 12,000 sq. ft. of unique meeting space.
Palm Beach Zoo & Conservation Society offers an air-conditioned tent with 3,200 sq. ft. of meeting space and a setting in which you'll see some very exotic tropical wildlife. Boca Raton Museum of Art offers two different meeting spaces—accommodating 400 and 90, respectively, for dinners.
Amie Devine, CMP, director of operations and conferences for the Chicago-based Hybrid Group (a meeting-planning and management company), brought 750 attendees and 200 exhibitors to Palm Beach County Convention Center in April for the annual conference of a national health-care association. They utilized seven hotels, including Hilton West Palm Beach (400 guest rooms, 24,000 sq. ft. of meeting space) adjacent to the convention center, and West Palm Beach Marriott (352 guest rooms, 20,361 sq. ft.), across the street.
"We found a lot to like about West Palm Beach," Devine says. "It's an interesting city with a lot going for it. There are great nightlife areas, like Clematis Street, great shopping and strolling areas like CityPlace, and the city's right on the Intracoastal Waterway."
Ghosts in the Attic
South Florida is filled with long-dead residents who have never really departed, according to some people.
West Palm Beach
Yesteryear Village is located at South Florida Fairgrounds in rural western Palm Beach County. It's an authentic frontier village that depicts the life of the area's early settlers. It's also the site of Riddle House, originally built in downtown West Palm in 1905 to house workers building a hotel there. It was moved years ago to its current location in Yesteryear Village…and reportedly, some of those workers moved with it.
The house is said to be full of ghosts. Workers helping with the move, and today's groundskeepers, have all sworn their tools were mysteriously moved, and one man claimed to have suffered an unexplained hit in the head by a heavy tool. Visitors have also reported seeing a boy playing in a bedroom and a woman getting ready for bed.
Miami
Villa Paula was Miami's first Cuban consulate, occupied by Consul Domingo Milford and wife Paula. Now it's an art gallery, allegedly with some very permanent visitors. Paula died there in the early 1900s after a leg amputation. But some people claim a one-legged woman with black hair resembling Paula has been seen wandering the halls.
A former resident swore he often smelled coffee and roses, both of which Paula loved. A subsequent owner of the property told about a female friend who fell asleep while visiting. When she awoke, she seemed to be possessed by the spirit of Paula, and spoke with stunning accuracy about Paula's life. A word of advice: If you visit, stay awake!
Fort Lauderdale
Stranahan House was built in 1901 by entrepreneur Frank Stranahan, Fort Lauderdale's first settler. The property included a ferry service, post office, trading post, bank and town hall. In 1906, Frank transformed the building into a home for himself and his new wife, Ivy.
After losing everything in the Depression, Frank made several unsuccessful suicide attempts. On June 23, 1929, he succeeded, however, tying himself to a discarded iron gate and throwing himself into the New River.
But Frank pops in regularly, according to staff and visitors, in what is now Stranahan House Museum. For decades, workers and visitors have sworn that they've seen and heard Frank. Ivy, who died in 1971, is also reportedly a frequent visitor, with some sensing strong whiffs of her favorite fragrance.
Several long-deceased family members also allegedly drop in occasionally, along with the Stanahans' Native-American servant girl.
Steve Winston is an award-winning writer who has traveled extensively and writes for national and international magazines.