Birmingham, Alabama
In the Heart of Dixie, where the first rocket that lifted man to the moon was designed and college football is somehow worked into most conversations, Alabama has a robust culinary culture on the rise. The state that is home to the nation's largest peanut festival, and grows more than half its peanuts, sets the table with authentic Southern and soul food, fresh Gulf Coast seafood and barbeque worth the drive. Sides typically include the best of a local harvest and gracious service.
"The wonderful thing about the Alabama culinary scene is that it is so diverse," says Brian S. Jones, public relations director for Alabama Tourism Department. "It really offers something for every taste."
Birmingham, Alabama's largest city, is a cultural mecca on the cusp of a renaissance, with a mixed-use downtown district. Expansions of both residential and commercial options have caused many to take notice, especially since it was named host city for the 2021 World Games, the major international competition for non-Olympic sports. The event is expected to have a $250 million regional economic impact. National media, including The New York Times and The Washington Post, have also recognized the explosion of Birmingham's food, wine and beer culture.
Perched on the Gulf Coast is Mobile, as well known for its art and architecture as for Mardi Gras celebrations where revelers are tossed Moon Pies instead of beads. But it's very possible the beachside dining paired with magnificent ocean sunsets is what satisfies visitors most in this charm-soaked city filled with flavors of the Gulf's wild-caught shrimp, oysters and blue crabs.
Alabama welcomes you to share in its wealth of country roots and urban sophistication, amid a backdrop of natural beauty and hospitality. All centered around a food-centric culture, of course.
Birmingham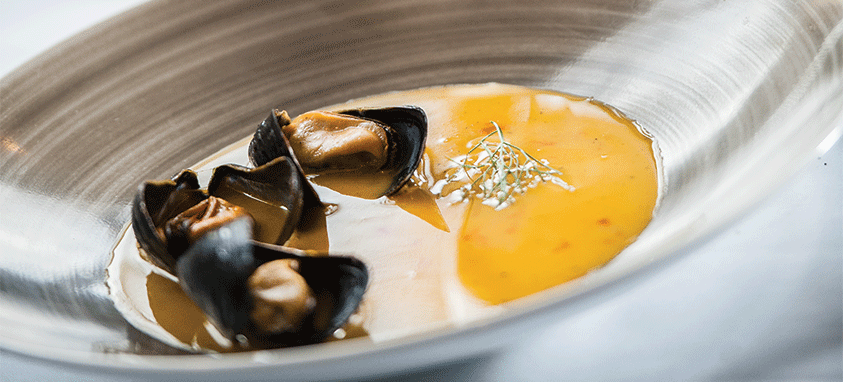 There's an obvious vibe in Birmingham that's caught the attention of travelers far and wide. Tapping into locally sourced ingredients that blend well with international trends, the culinary scene there has simply exploded. Birmingham is home to several James Beard Foundation award nominees and winners who have set the table for the area's young chefs who are coming into their own.
Locals and guests alike are experiencing creative culinary adventures in the downtown hub, which features a host of excellent restaurants, most within a short walk of each other. The common denominator there is passion, excellence and creativity.
The recipient of a perpetual nod from the James Beard Foundation for Most Outstanding Restaurant in the country, along with numerous other awards, is Highlands Bar & Grill. Owner and chef Frank Stitt has beautifully melded his Southern roots with French techniques for a masterful approach to fine dining. Along with offerings such as grilled venison with muscadines, you'll notice stone-ground grits and country ham. Since 1982, Highlands has satisfied the most discriminating appetite with memorable meals.
"During the Alabama Council of Association Executives convention in Birmingham, a group of meeting planners were invited to have lunch with chef Stitt, an Alabama native who is well-known in culinary circles around the world," says Patti A. Culp, CAE, executive director for Alabama Travel Council. "He and one of his chefs-in-training treated the group to a tutorial on pasta and oils. Guests also received an autographed copy of one of chef Stitt's cookbooks. It was an experience all of us will treasure."
Enticing Restaurants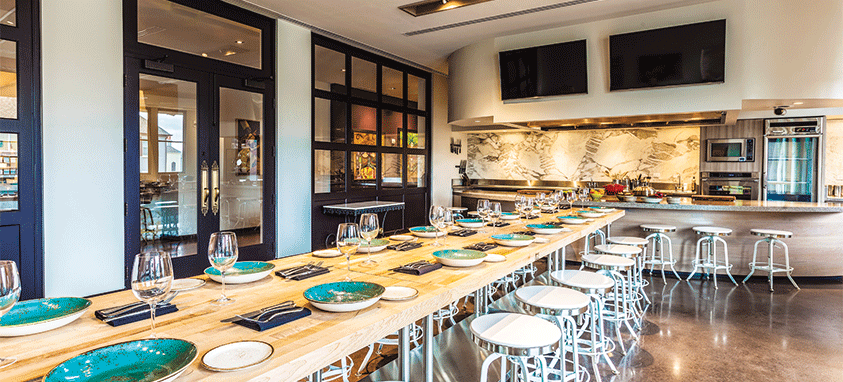 For a sophisticated, Italian-inspired dining event, Bottega Dining Room delivers with delectable fare such as scallops with sweet potatoes, leeks, pan-cetta and brown butter. The backdrop of limestone architecture and an arched portico provides authenticity and ambiance. Private parties of up to 38 guests can be accommodated in the elegant mezzanine, with high ceilings and a grand staircase leading from the main dining room below.
Next door is Bottega Cafe, a relaxed trattoria with seasonal Gulf seafood, local vegetables and naturally raised meats.
At Hot and Hot Fish Club, acclaimed chef and co-owner Chris Hastings plates up favorites such as duck confit beignets and chicken-fried steak prepared with New York strip and crispy chicken skins. With a flair for merging the best of Southern, French and West Coast cookery, this casual dining room with adjoining bar has fresh, local ingredients as the foundation of every artisan meal served. The works of renowned artists command attention throughout the dining areas, with framed pieces, handmade furniture, chandeliers and pottery. Private seating can host up to 25 guests, and custom catering is offered for luncheons, cocktail parties and events at any location.
Tucked in an 1870s downtown storefront with original flooring and exposed brick walls, Cafe Dupont celebrates the period environment with a changing menu daily. A proponent of the Slow Food movement, chef Chris Dupont pleases the palette of diners with signature dishes such as fried oysters and okra with cayenne butter sauce, and buttermilk-fried chicken breast with truffled-cream potatoes, lemon beurre blanc and grilled yellow squash. Private space is available in the upstairs loft, which overlooks historic 20th Street for up to 60 seated guests and 100 for cocktails. The space is also adaptable for meetings and seminars.
One of Birmingham's coziest spots is Bettola, with its signature Neapolitan-style pizzas baked in a brick oven from Naples and refreshing cocktails. Authentic pizza options from the Campania region of Italy include a favorite made with house-made sausage, local spinach, fontina, pecorino, mascarpone and a local farm egg. Handmade pasta and house-cured meats with Old World flavors help put owner and chef James Lewis on coveted lists such as Food and Wine's Best New Chefs. He's also a three-time nominee for Best Chef South by James Beard Foundation.
For the freshest seafood, Ocean is a AAA Four Diamond restaurant known for oysters on the half shell and amazing sushi—try spicy Hawaiian tuna with red pepper, sriracha, cucumber and toasted coconut. Diners can also feast on sea scallops, salmon and halibut in this chic, modern environment.
A regular winner of Wine Spectator's Award of Excellence, George Reis' restaurant in the trendy Five Points district also offers a signature martini inside or at the patio bar. Two private rooms are available for dining, and business events can accommodate up to 40 guests; there's an enclosed courtyard with a canopy roof and full-service bar, as well, for 40 seated and 60 standing. The Loft offers a warehouse ambiance for an additional 100.
Top Meeting Spots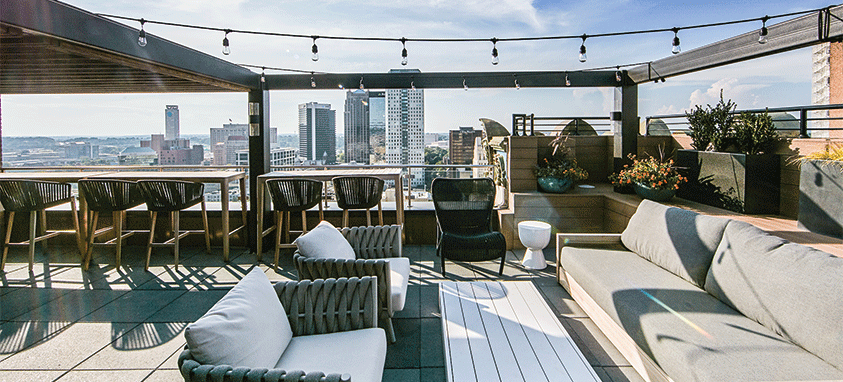 Meetings are always heavily attended at Birmingham-Jefferson Convention Complex, boasting a 220,000-square-foot exhibition hall and 107,000 sq. ft. meeting space with two ballrooms. Connected to the convention center via skywalk is Sheraton Birmingham Hotel, with 757 posh guest rooms and Alabama's only 25,000-square-foot ballroom.
With the fifth-longest golf course in the world, the regal Renaissance Ross Bridge Golf Resort & Spa is a AAA Four Diamond resort with 259 guest rooms and 18,000 sq. ft. of impressive meeting space. At dusk, the sounds of a bagpipe emerge from the woods as a costumed musician marches throughout the property.
Recently opened after a $45 million renovation is 16-story Elyton Hotel, Autograph Collection, with 117 guest rooms and a rooftop bar. The converted 1909 office building in downtown now has 1,830 sq. ft. of meeting space.
For boutique elegance, Grand Bohemian Hotel Mountain Brook offers 100 guest rooms and 15,106 sq. ft. of meeting space, with a ballroom. Guests can enjoy rooftop dining, the Bohemian Wine Blending & Tasting rooms and the Habitat Cooking School, which is focused on seasonal foods.
Mobile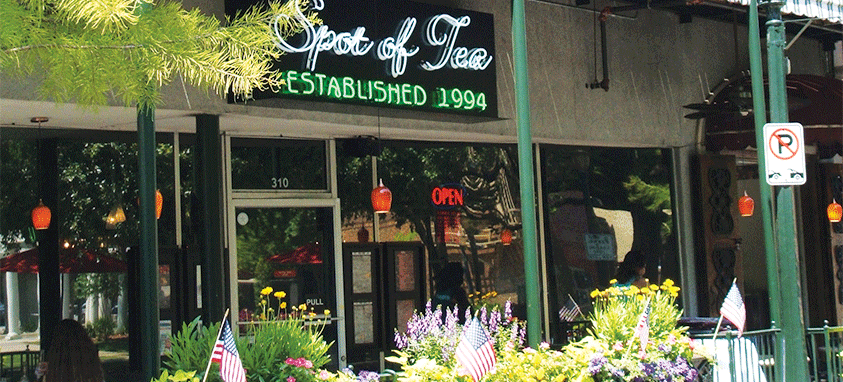 With moderate temperatures year-round, local and seasonal ingredients are plentiful in Mobile. Not only is farm-to-table a familiar concept, but gulf-to-table is just as common. The last decade has brought a restaurant revival to the area, with talented, young chefs developing flagship restaurants while established eateries continue to raise the bar.
"It's easy to love Mobile," says Mary B. Conner, Southeastern regional director for Alpha Kappa Alpha Sorority, Inc. "And the people and the service you receive make you return time and time again!"
Enticing Restaurants
Mobile brings it all together with landmark restaurants such as Wintzell's Oyster House. Founded in 1938, the restaurant is known for its oysters—"fried, stewed or nude"—but you really should also sample the West Indies salad, made with lump crabmeat, onions and spices and then marinated overnight in oil and vinegar. "Ridiculous" is the word that comes to mind. There's room for private and semiprivate dining, as well as catering options that come to your event.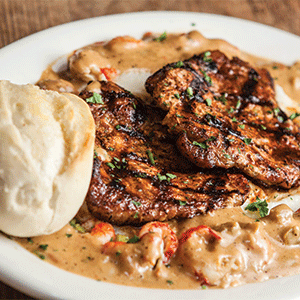 Felix's Fish Camp is the place to relax with fresh Gulf seafood, USDA-certified steaks, cocktails and brilliant sunsets along Mobile Bay. The menu consists of seafood prepared in every possible way, such as crawfish-smothered pork chops and grits and Dr. Skipper's turtle soup. With seven private dining areas, seating up to 65 in the largest room, there's always a party there. The Swamp Room has a white-sand floor, fixed stage and bar; it can host up to 1,000 guests for informal gatherings, such as crab and shrimp boils with live entertainment.
Nothing hits the spot like Spot of Tea for breakfast, lunch or brunch downtown. Select from an extensive menu with dishes such as a Cajun seafood omelette, Banana's Foster French toast and a Monte Cristo sandwich. There are also plenty of private spaces, with seating for 60 in the quaint, brick-walled Carriageway Dining Room and the Carnival Space, which has a stage for a band or DJ and two full-service bars; it can seat 100 guests and up to 300 reception-style.
For a culinary experience, try Dauphin's, a sophisticated space with panoramic views of Mobile Bay and downtown from the 34th floor of the Trustmark Building. With a baby grand in the piano bar, a vibrant nightlife and an entertainment venue featuring live music, it is renowned for hosting private parties of any size. A lucky group of six can enjoy the area's first and only chef's table in the kitchen—and visit with executive chef and sommelier Steve Zucker as he prepares fare such as maple-leaf duck breast or Ono Island tuna. Don't miss Zucker's version of Gumbo Z'herb that was just named to Alabama Tourism Department's 100 Dishes to Eat Before You Die.
TP Crockmier's Restaurant & Bar serves up small-plate appetizers, hand-crafted burgers and artisan sandwiches, steaks and, of course, Gulf Coast seafood. It also specializes in private events and parties, with menu options ranging from appetizer buffets to a "Low Country boil" or sit-down dinner for 300 or more guests.
Mix it up at Kitchen Culinary Studio at Wind Creek Atmore, which offers cooking classes every weekend—ideal for attendees who arrive early. Chef Brandon Thrash provides hands-on courses featuring local and international cuisine, techniques and wine pairings for any skill level.
"Mobile is really making its mark as an emerging foodie destination, with deep roots in traditional Southern fare, seafood infused with modern trends, techniques and innovative dishes that will surprise you," says Tara Zieman, marketing and communications manager for Visit Mobile.
Top Meeting Spots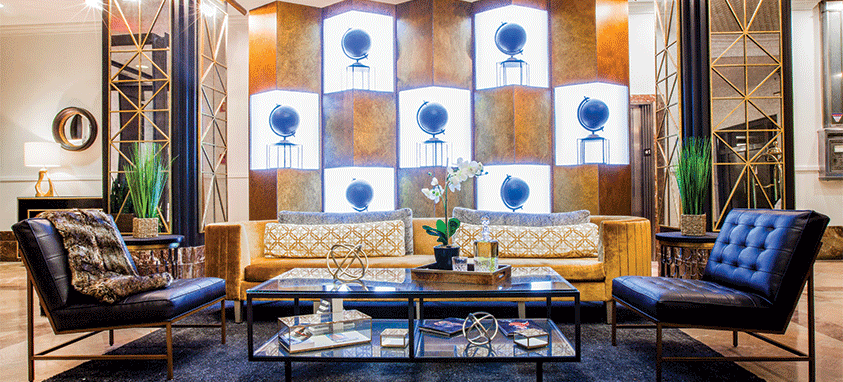 If you must sleep, options in Mobile are phenomenal. After an extensive, multiyear, $32 million renovation, Grand Hotel Marriott Resort, Golf Club & Spa is joining Marriott's Autograph Collection. The No. 1 Best Hotel in Alabama according to U.S. News & World Report, it showcases totally refreshed guest rooms, a new pool and beachside cabanas and restaurant upgrades.
"Great meetings have been happening at Alabama's Grand Hotel since 1847," says executive chef Cory Garrison. "Our food and beverage team incorporates innovative ways to bring local flavor and experiences into the mix. From seafood caught right off our property to produce picked on the Grand grounds, fresh ingredients are essential in both our meeting and restaurant menus." With 43,810 sq. ft. of meeting space and three exquisite ballrooms, along with two Robert Trent Jones golf courses, a 20,000-square-foot European-style spa, 10 tennis courts and an extensive marina, meeting there is always a pleasure.
Another option is the waterfront Arthur R. Outlaw Mobile Convention Center, with 317,000 sq. ft. of function space, two 7,750-square-foot-ballrooms and 45,000 sq. ft. of outdoor space. A skywalk connects the Riverview Plaza Hotel with its 373 nautical-themed guest rooms and 39,213 sq. ft. of event space. Magnificent Mobile Bay views are on display throughout the 28-story hotel.
Mobile's only AAA Four Diamond restaurant can be found at The Battle House Renaissance Mobile Hotel & Spa, a Historic Hotel of America with 238 posh guest rooms and 28,177 sq. ft. of function space. Guest will also relish the full-service spa and nearby attractions within walking distance.
The iconic Admiral Hotel Mobile, part of the Curio Collection by Hilton, is located downtown, with 156 recently refreshed guest rooms and more than 7,000 sq. ft. of event space.
Smaller groups may prefer a beachfront rental or one of many restored historic homes, such as Kate Shepard House, which features splendid architecture and award-winning pecan praline French toast, another dish selected for 100 Dishes to Eat in Alabama Before You Die.
For casual sophistication with a Southern twist, look no further. Alabama has everything you're looking for, including good manners and genteel hospitality.
2018 Culinary Weekends at the Grand Hotel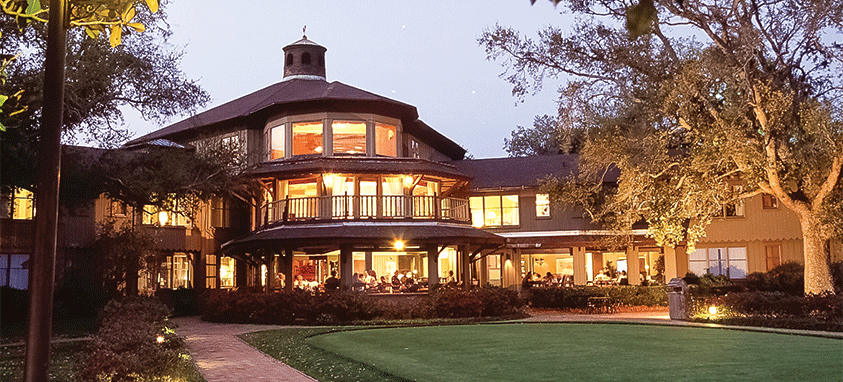 The iconic Grand Hotel Marriott Resort, Golf Club & Spa (pictured) presents a year-long series of educational culinary weekends centered around creating exceptional food and spirits. Gracing the spectacular Mobile coastline, the resort's commitment to unique hands-on experiences for guests and visitors extends to sophisticated fun for novice cooks and those with advanced skills.
Each of the 12 culinary weekends kick off on a Friday evening with a Beverage Academy. Students learn to make classics served at the Grand, such as a Jubilee Sunset mixed with Midori, Malibu rum, pineapple juice, house-made sweet and sour and a splash of grenadine. They may also partake in beverage tastings. On Saturday, the fun continues, with Grand chefs sharing coveted recipes and the techniques to prepare them.
Eating well is unquestionably the grandest of the Southern arts.
"With three new signature restaurants and a reinvention of all our dining experiences, The Grand pays homage to this great art magnificently," says executive chef Cory Garrison. "Here, talented chefs curate inventive breakfast, lunch, break and dinner menus that spotlight honest farm-to-table fare—and the iconic cocktails that accompany these brilliant meals. The Grand is where culinary tradition meets New South innovation in a most memorable way."
After meetings, relax on the new pier over Mobile Bay, stroll under massive oak trees and discover other Grand traditions, including a daily cannon firing. The resort has consistently been named Alabama's best hotel property and attracts meetings from across the country.
Grand Culinary Weekend Schedule
May 18–19
Wine & Dine
June 15–16
International Flavors
July 20–21
Tequila & Bratwurst
Aug. 17–18
Set Sail (rum)
Sept. 14–15
Whiskey A Go Go
Oct. 19–20
How Sweet It Is
Nov. 16–17
Merci and Thanksgiving
Dec. 14–15
Holiday Magic