Find adventure beyond Seattle
The Emerald City is a meeting jewel, gleaming with corporate headquarters—Boeing, Amazon, Alaska Airlines—and the expanding Washington State Convention Center, as well as a hotel boom that will satisfy the needs of groups of all sizes. However, for those who venture beyond Puget Sound, treasure awaits.
At the southern tip of the Sound is Olympia, the state capital, and offering what Experience Olympia calls hand-crafted meetings. Seattle's next-door neighbor, Bellevue, is home to outdoor retailer Eddie Bauer's headquarters, T-Mobile's 4G LTE network and expense management company Concur Technologies. A short drive north in Redmond lies the command center for Microsoft Corporation, Nintendo of America and Honeywell International Inc.
Keep heading north with Mount Baker to the right and Haro Strait keeping you company between the pine, fir and hemlocks to your left, and the rugged greenery of Everett, Anacortes and Bellingham await. All are jumping off points for the peace of San Juan Islands.
Consider this a trail map to a place the author David James Duncan described as where "we are united by karmic connections so essential to our mutual inner balance that the endless differences of our minds are a constant amusement."
Arrive
We all know and love SeaTac, or more formally, Seattle-Tacoma International Airport (SEA), but did you know Bellingham International Airport (BLI) offers nonstop service to San Francisco, Los Angeles, Las Vegas and Tucson, Arizona, via Alaska Airlines?
You can even fly into the single runway at Friday Harbor Airport (FRD) as an alternative to a ferry ride. However you arrive, be prepared to have your breath taken away by the lush beauty of the landscape.
Meet and Sleep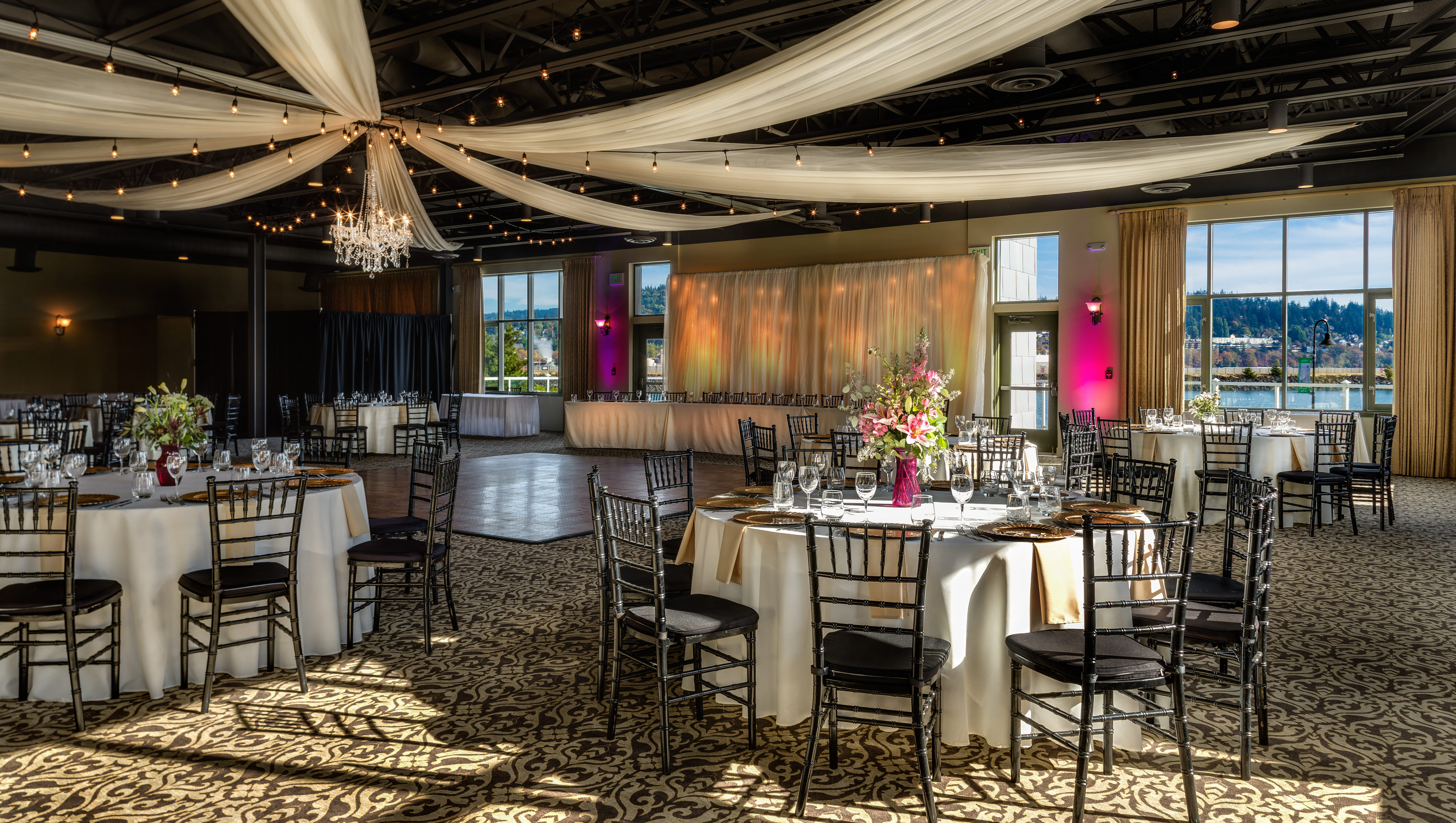 Get ready for something completely new you bring your group to the Pacific Northwest. A detour off Interstate 5 takes you to Great Wolf Lodge in Grand Mound, a massive indoor water park where the water is always a fine 84 degrees and guests can slide into a more relaxed state of mind. Beyond the liquid activities, the more than 20,000 sq. ft. of meeting space allows you to get down to business.
For an accessible taste of the traditional Pacific Northwest with all the modern conveniences, Tulalip Resort Casino, 36 miles north of Seattle, is the whole package, with 30,000 sq. ft. of meeting space, a 450-seat cabaret theater, 370 guest rooms, a 16-room spa and a nearby golf course.
When in Bellingham, it makes sense to turn your eyes to the water, and Hotel Bellwether Lighthouse Bar & Grill on Bellingham Bay beckons with a scenic 4,437-square-foot ballroom, stately Wine Cellar dining room and breezy Garden Room. For an upscale retreat, Semiahmoo Resort boasts 35,000 sq. ft. of meeting space, an award-winning golf course and a full-service spa surrounded on three sides by the bay and all the team-building activities you could possibly want.
Do
Once you have traveled to the farthest point north and west in the contiguous United States, it is almost required that you make the jump to San Juan Islands. Whether it is a meeting at Orcas Center for education and fresh seafood or a retreat in the sunken garden at Roche Harbor Resort, the islands offer some of the world's best whale watching, kayaking and sailing.
See also: How to Eat Your Way Through Seattle Meetings
Need to Know
140 public airfields in the state
30 meeting and retreat venues in San Juan islands
23 vessels operated by Washington State Ferries, the largest fleet in U.S.