Seattle makes a wickedly great impression
Somewhere over the rainbow, Seattle is a land that I heard of. In 1981, Seattle-King County Convention and Visitors Bureau, now known as Visit Seattle, held a contest to come up with a new slogan. This entry by Sarah Sterling-Franklin won: "Seattle, the Emerald City. Seattle is the jewel of the Northwest, the queen of the Evergreen State, the many-faceted city of space, elegance, magic and beauty."
Ever since, the nickname Emerald City has stuck. It's not to be confused with the fictional Oz. There's no wizard, wicked witch, flying monkeys, lions, tigers or bears. But, oh my, my whirlwind two-day visit sure felt like being caught in a fast-moving tornado. There's nothing like seeing a city as a first-timer, as many conference attendees are. There are so many curiosities and so much to explore.
The blown glass at Chihuly Garden and Glass is as colorful as the lollipops in Munchkinland. Imagine meeting in a glass-enclosed atrium with a vaulted ceiling. A ginormous chandelier hangs above and you're surrounded by a sculpture garden. Planners can book a glass-blowing demonstration.
Groups can host receptions atop the transparent revolving floor, The Loupe, at Space Needle for a panoramic view of the city. During my visit, it was being decked in blue tones for Alaska Airlines, one of many major companies headquartered in Seattle.
Down below, planners of super-sized conventions can create a block party, utilizing all or some of the venues, in addition to Space Needle, that make up Seattle Center's campus: Chihuly, Museum of Pop Culture, Pacific Science Center and Seattle Children's Museum.
A Heart of Gold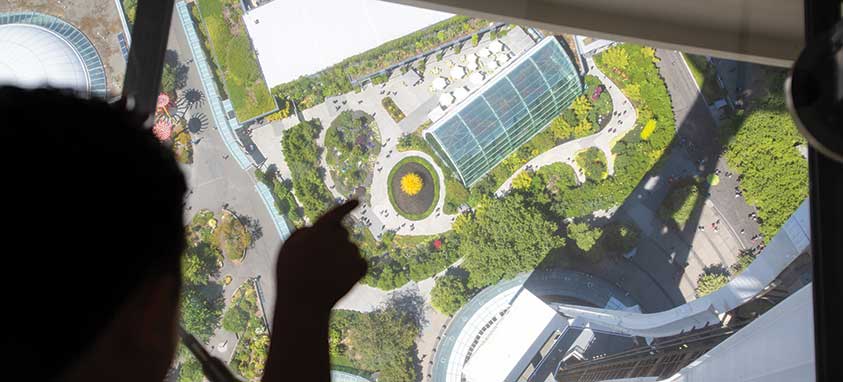 The Tin Man can find his heart in Seattle, a city with a heart of gold. As I skipped down the red brick road to Pike Place Market, I learned there's so much more to it than shopping for artisan crafts, fresh fish and a cup of coffee at the original Starbucks. Pike Place Market Foundation provides low-income, senior and assisted-living housing, as well as social services.
Visitors can contribute to the cause by dropping spare change in the oversize Rachel or Billie piggy banks. Get your name or business engraved on charms that hang on a fence or hoofprint floor tiles. The market is also an incubator for mom-and-pop businesses that may one day become part of our vernacular. Besides the coffee chain, Sur La Table, Beecher's Cheese and Rachel's Ginger Beer launched in Seattle.
As I toured hotels and Washington State Convention Center (WSCC), it quickly became apparent the large role the hospitality industry plays in serving and rehabilitating the community. Cities throughout the nation have a homelessness problem, and Seattle is proactive in doing something to solve it. FareStart, a local organization, provides culinary training to homeless and impoverished residents.
A popular CSR activity is to host an off-site meal at one of FareStart's restaurants. The program has enabled participants to rejoin the workforce as part of the culinary teams at the convention center and hotels.
Two of Seattle's go-to meeting hotels are committed to the season of giving. During my stay at Sheraton Grand Seattle, the 26th Annual Gingerbread Village was being constructed by architecture firms with the help of the hotel's culinary team, staff members and their families, who volunteered countless hours to build a sugary re-creation of Dr. Seuss' Whoville. It benefits Juvenile Diabetes Research Foundation. The hotel has 1,236 guest rooms and 75,000 sq. ft. of event space.
Fairmont Olympic Hotel is also steeped in philanthropic holiday tradition. Guests are greeted by a life-size gingerbread house at the entrance and can stroll through the Festival of Trees display. The hotel's Teddy Bear Suite, filled with stuffed teddies large and small, brings a smile to the faces of children of all ages (adults, too). In 2018, $565,000 was raised for uncompensated care at Seattle Children's Hospital and Seattle Children's Autism Center. Fairmont Olympic has 450 guest rooms and 15,000 sq. ft. of meeting space.
Expanding Space
Seattle's meeting space is growing. I visited the construction site of WSCC's expansion. The new Summit building will add more than 408,000 sq. ft. of function space to the city's inventory. I got a sneak preview of the newly opened Hyatt Regency Seattle—adjacent to the convention center—and its delicious catering menu. The largest hotel in the Pacific Northwest, it boasts 1,260 guest rooms and 103,000 sq. ft. of meeting space.