A Meetings Itinerary Fit for a Duke and Duchess
Sydney Opera House
The British monarchy has a deep-rooted history with Australia—which was brought to light by the recent visit by the newlywed Duke and Duchess of Sussex, Prince Harry and Meghan Markle— and many royal touches are still evident. The Commonwealth of Australia was formed on Jan. 1, 1901, during Queen Victoria's reign, thereby establishing the nation as a constitutional monarchy. Two of the country's six states—Victoria and Queensland—reference its royal background.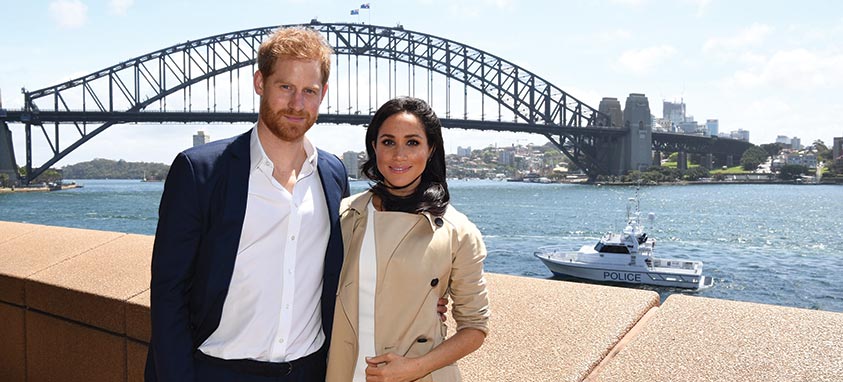 To honor her 1897 Diamond Jubilee, Queen Victoria Building opened in Sydney the following year. Today, the Romanesque architecture building is a vibrant shopping mall. Guided tours of the arcade are available, including one that incorporates high tea served on Royal Albert china. When touring the building, visitors will see the Royal Wishing Well, a statue of Queen Victoria and a letter from Queen Elizabeth II to the city's citizens that will be opened by Lord Mayor of Sydney in 2085.
These days, the royal matriarch holds merely a ceremonial and symbolic role and is not involved in the daily business of the Australian government. Her official title is Elizabeth the Second, by the Grace of God Queen of Australia and Her other Realms and Territories, Head of the Commonwealth.
The royal presence is revered whenever a member of the Windsor family travels Down Under. On their recent tour, Harry and Meghan made international headlines as media and fans followed their every move in the land of Oz. You don't have to be heir to a throne to enjoy the attractions they saw. Meeting professionals can reference the royal itinerary for site selection and team-building inspiration…no tiara required.
Sydney
As part of their official duties, members of the royal family travel the world as ambassadors for charitable causes. Inspired by Warrior Games in the United States, Prince Harry, who served in the British Army, created Invictus Games as an adaptive sporting competition for wounded, injured and sick active-duty and veteran soldiers from all over the globe. From Oct. 20 to 27, Sydney hosted 491 athletes from 18 countries and 1,000 supporters. The 11 sports categories created a citywide event, utilizing such venues as Sydney Olympic Park and Sydney Harbour.
The opening ceremonies of Invictus Games took place at Sydney Opera House. In 1973, his grandparents— Queen Elizabeth II and Prince Philip—officially opened the iconic landmark, and the couple returned in 2000. Over the years, many members of the royal family have passed through it. During Harry and Meghan's visit, they watched a modern dance troupe rehearse.
Besides catching a show while in town for a conference, the opera house has heaps of meeting space inside. The Function Centre, which has a capacity for up to 500 guests, will reopen this year after undergoing a major renovation. Additional spaces for meetings and receptions are available throughout the building. Tours are also available.
Step outside to enjoy the visually breathtaking Badu Gili, which means "water light," a free nightly event that projects animations of First Nations art on the opera house's sail-like rooftop architecture. The sails are also lit for Vivid Live from late May to early June, which takes place during 10 days of the longer, citywide Vivid Sydney light festival.
Prince Harry joined the ranks of more than 4 million climbers to have climbed to the summit of the iconic Sydney Harbour Bridge. To mark the opening of Invictus Games, the duke, now-Prime Minister Scott Morrison and Australian athletes raised the Invictus flag at the bridge's peak, where it flew until the event wrapped. Although women who are less than 24 weeks pregnant are permitted to climb with a doctor's note, the duchess sat this one out.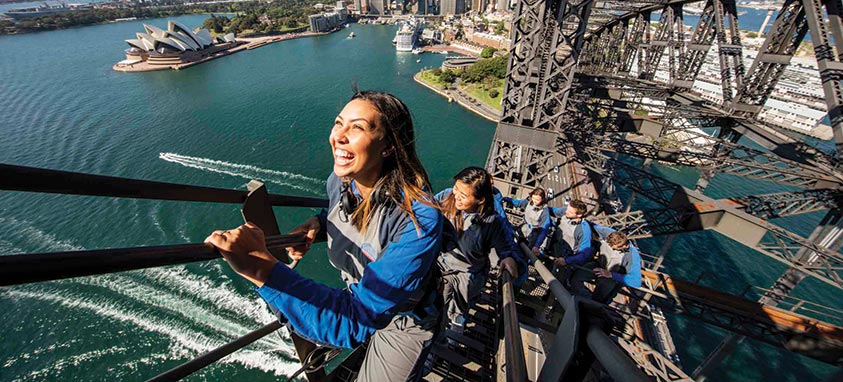 Recently under new management, BridgeClimb features enhanced safety measures. Planners can book this as a team-building activity or incentive for groups of any size. Enhance the climb with catering at the summit or in a private cinema afterward. Climbs range in duration from 1 1/2 to 3 1/2 hours. "The whole BridgeClimb experience was a highlight of the program, receiving outstanding feedback from the participants," says Gemma Thompson, a project manager for University of New South Wales.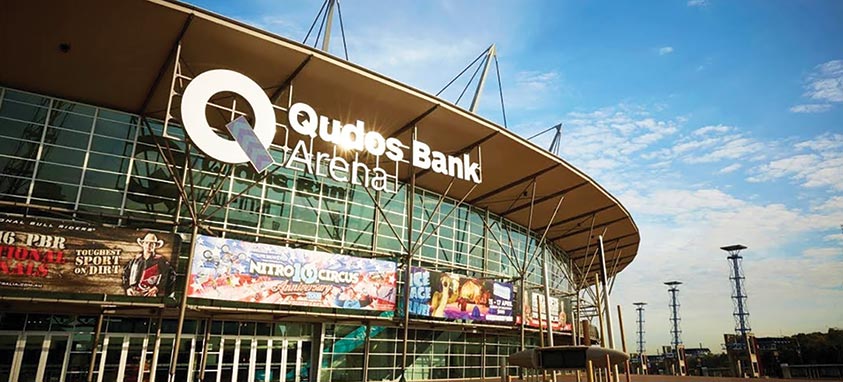 Unlike many Olympic venues throughout the world that have fallen into despair after the flame is extinguished, 19 years post-games, Sydney's Olympic Park remains alive and well as a destination for sports, entertainment and meetings. Harry and Meghan attended the wheelchair basketball finals at Quaycentre and Invictus Games' closing ceremonies at Qudos Bank Arena, Australia's largest indoor arena, which can fit 21,000 people.
The arena offers a grand ballroom, foyer, column-free exhibition hall and suites for private functions. Quaycentre has conference space, as well, in its 23,314-square-foot arena, 4,757-square-foot meeting rooms and 12,787-square-foot Hall of Legends. In total, the Olympic park encompasses 11 venues.
Cuddle a Koala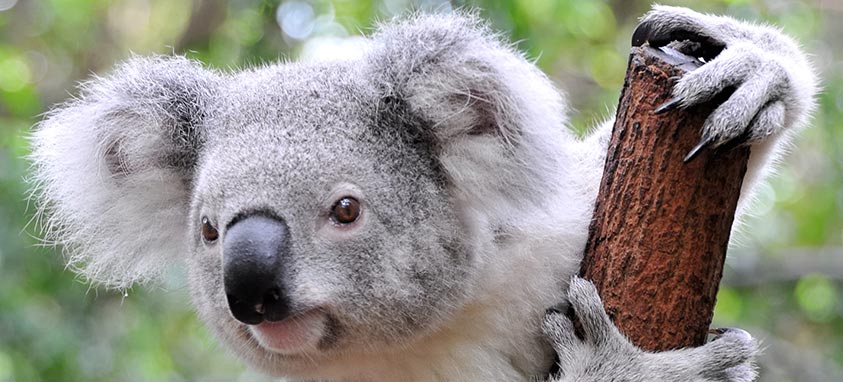 Australia is known for its heaps of animals. You can't return home without a signature photo with a koala, now can you? Zoos and wildlife parks throughout the nation offer this special photo op. A popular stop for the royals, locals and tourists is Taronga Zoo Sydney. Given Australia's distance from Europe and the Americas, convention attendees often turn it into a bleisure trip and bring their spouse and children along.
"Our warm, friendly and welcoming people—coupled with a stable political system, low crime rate and high standard of living—make Australia a great place for business events and for attendees to travel to with their families," says Penny Lion, executive general manager of events at Tourism Australia.
The Duke and Duchess of Cambridge, Prince William and Kate Middleton, did this in 2014 with Prince George. Where else would you go but the zoo with a kid in tow? A bilby enclosure was named after the tiny tyke during the visit. Harry and Meghan also visited—to open Taronga Institute of Science and Learning. They met koalas and joeys as part of breeding program and spoke to conservation scientists.
Groups can glamp at the zoo's Roar and Snore overnight safari experience, where they listen to keeper talks and enjoy special animal encounters and feedings, all with Sydney Harbour as a backdrop. Taronga Centre offers conference space for up to 3,000 people in its ballrooms, terraces, balconies, gardens and meeting rooms. Planners can include a cable car ride or ropes course challenge in their package.
Catch a Wave
Baywatch is real Down Under. Since forming in 1907 to protect beach-goers, Surf Life Saving Australia has grown to become the largest volunteer movement of its kind in the world. There are 311 affiliated clubs throughout the country, which total 168,823 members strong. Besides performing heroic acts in the Pacific Ocean, life-guarding is treated as a competitive sport. Children as young as 5 enroll in nipper classes.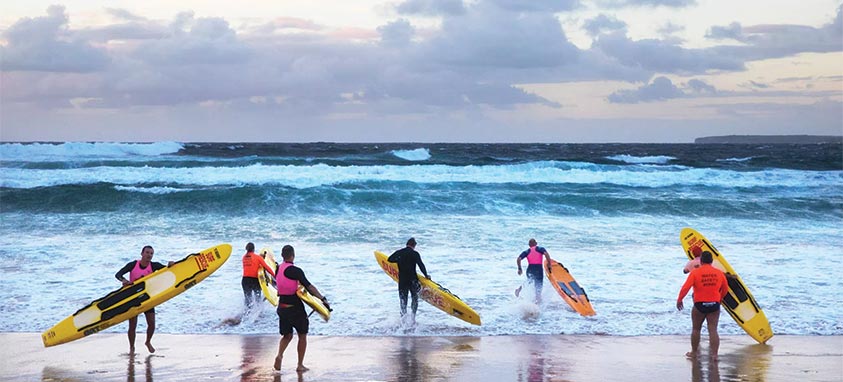 Established in 1913, Bondi Lifeguards are so popular that they star in a long-running reality show titled Bondi Rescue. They host a Splash Series to train the masses with running and swimming skills, all in the name of friendly competition for charity. One of the organizations it benefits is One Wave, a nonprofit that raises awareness about mental health through surfing, swimming and yoga. Harry and Meghan participated in a free, weekly Fluro Friday session at Bondi. One Wave offers corporate packages at the beach or meeting room to teach mindfulness and well-being.
Surf life-saving seminars and surfing lessons with companies, such as Let's Go Surfing, at Sydney, Manly or another of Sydney's gorgeous beaches provide an authentic Australian experience for groups. You can also get down to business at the beach. Blue Room Bondi, located inside historic Bondi Surf Bathers' Life Saving Club, can host corporate functions for up to 150 guests and Bondi Icebergs Club, overlooking the famous oceanfront swimming pool, can accommodate up to 120.
Spotlight on Perth
Due to its remoteness on Australia's West Coast, far from the majority of the country's quintessential landmarks, Perth hasn't been on the radar as a must-see destination. With the addition of 15 new hotels in the last three years and eight more under construction, it's to be overlooked no longer.
There are more than 10,000 guest rooms in Perth City to support Perth Convention and Exhibition Centre, which features 25 event spaces, including a 2,500-seat theater, ballrooms, boardrooms, an outdoor garden and a 178,680-square foot exhibit hall. Crown Perth features more than 118,403 sq. ft. of conference space, a 2,300-seat theater, 39 restaurants and bars (including a nightclub), a spa and three hotels—Crown Towers (500 guest rooms), Crown Metropol (397 guest rooms) and Crown Promenade (291 guest rooms).
In April 2018, the first guests were welcomed at the 368-room The Westin Perth, which also houses almost 25,000 sq. ft. of meeting space. The 18-story QT Perth is yet another new addition to the Western Australia hotel inventory. It has 184 guest rooms, medium-sized conference space and private dining options.
Intercontinental Perth City Centre opened in October 2017 with 240 guest rooms and The Gallery Meeting Suites, an entire floor that includes four meeting rooms, a central lounge, private al fresco terraces and a display kitchen. The Melbourne Hotel Perth, a historic property from 1897, has been renovated and modernized to host events of up to 225 participants. It has 73 guest rooms. The Ritz-Carlton Hotel at Elizabeth Quay proposes to contribute another 204 guest rooms to the area and a to-be-determined amount of meeting space.
The technologically advanced Optus Stadium is a meeting planner's dream. The 60,000-seat stadium opened last January. Its more than 18 private event spaces, many overlooking the playing field, can accommodate up to 2,000 guests. The stadium features the two largest jumbotrons in the Southern Hemisphere, which can display logos and presentations, and the roof can be lit with corporate colors. In-house catering is available.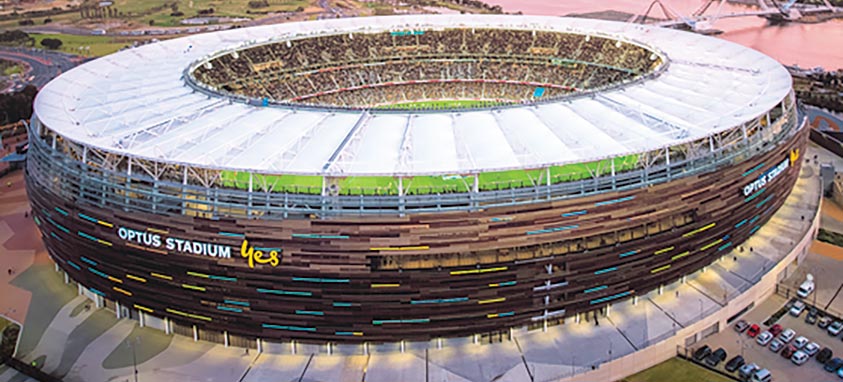 Fraser Island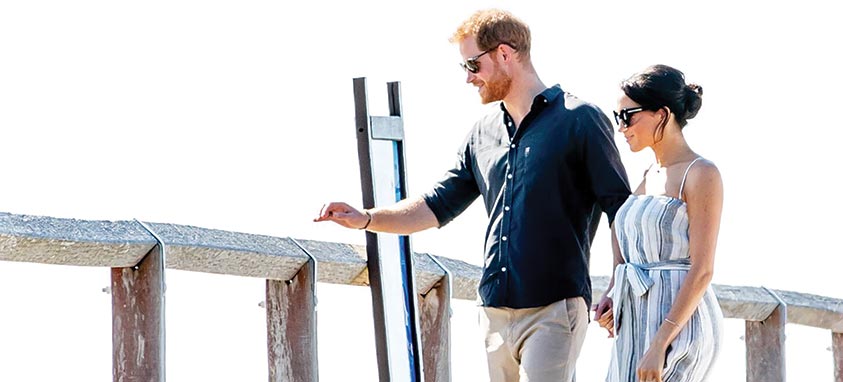 Located slightly north of Brisbane in the state of Queensland lies the world's largest sand island, off the coast of Hervey Bay. World Heritage-listed Fraser Island consists of 95 percent national park and more than 100 freshwater lakes, including Lake McKenzie.
The duke and duchess' itinerary during their stay at the island's conference resort, Kingfisher Bay Resort, can be replicated for meetings. The property has a ballroom that can seat 300 people theaterstyle and multiple smaller meeting rooms. There are 152 guest rooms, as well as 110 villas and houses.
One afternoon, the royal couple participated in a public meet and greet on the jetty. This beach spot is often used for team-building activities, cocktails at sunset and outdoor dining. As part of a conference package, attendees can indulge in bush tucker—native fruits, berries, herbs and spices—just like the duke and duchess did at the resort's Seabelle restaurant.
Traveling to some parts of the island involves a bumpy ride, so Monique Parker, the resort's group communications manager, offers alternatives for guests who are injured or, like Meghan, are expecting. The Island Day Spa offers pregnancy-safe treatments and the island has other less physically enduring activities.
Just like Harry, planners can schedule a chartered ranger-guided tour of the island's rainforest, lakes, shipwreck and 75 Mile Beach's highway. "Exploring the iconic sights of Fraser Island as part of a conference activity schedule is a highlight for most delegates and provides a five-star nature experience away from Wi-Fi and stress," Parker says. Bushwalks, fishing trips, jet skiing, sailing, canoeing, four-wheeling, helicopter rides and seasonal whale watching are also available.
"Our conference at the Kingfisher Bay Resort was by far the best we have hosted to date, and that was largely due to [the organization] of the entire team, from hotel staff to the conference and events team," says Kama Hussey, executive assistant to the executive general manager of Visionstream. "All of our team [members] have said how enjoyable their time was and how looked-after they were during their stay. Many have already said they are planning their next holiday on the island!"
The Planning Process
Whether you are planning for a royal, foreign dignitary or high-profile keynote speaker, there are many logistics to be sorted. Tourism Australia and DMCs work closely with planners to curate itineraries and transportation. They work in tandem with local police and state governments to ensure security.
Now that it's no longer a tightly guarded secret, Kingfisher Bay's Parker took us behind the scenes to show how she and her team pulled off Harry and Meghan's visit. State departments, federal police, palace security and media outlets visited the property a dozen times prior to the royals' arrival. Since the host company owns the island, resort, ferry and tour buses, Parker was in the unique position to coordinate 80 percent of the logistics internally. Only two people knew the identities of the VIP visitors in advance of the palace's press release.
"However, the information that they were staying overnight at the resort was still kept top secret," Parker says. "What worked really well was the hands-on involvement and ownership of the process by our general manager, who understood the business benefits to all of the hard work happening behind-the-scenes in terms of our publicity and future bookings. Many of our team members had to go above and beyond and worked extremely long hours to make it all happen, but we had a sense of camaraderie and purpose."
Tourism Australia and Parker concur that the investment of time and resources put forth in planning a royal tour is well worth the effort. The attention it receives on a global scale ignites interest in both leisure and business travelers from abroad to book a trip Down Under. "The royal couple have undoubtedly made a positive contribution to Australia's tourism and MICE industry, with images of experiences and destinations beamed around the world," says Tourism Australia's Lion. "Australia.com experienced large spikes in traffic during the visit. After the pair visited Taronga Zoo, the zoo's website experienced a 262 percent rise in traffic. The New South Wales town of Dubbo reported a direct impact of over AUD 3 million [U.S. $2.17 million]."
"[Kingfisher Bay has also] seen an increase in bookings because of media interest surrounding the event and new enquiries that have come in for conferences and meetings from people who were previously unaware of the destination," Parker says. "MICE bookings have a longer lead time than individual travelers, so it is too early to measure the total impact just yet; however, it has been an extremely exciting time and already looking very promising for 2019."
Planning Tips from Kingfisher Bay Resort's Monique Parker
Have effective internal communication.
Project plan across departments.
Support those who demonstrate leadership in busy times.
Provide media training for those in contact with key stakeholders.
Ask for help and support from industry partners, contractors and team members from other departments as required.