The Islands welcome all
Hawaii beckons like never before. With Covid-19 retreating under the rollout of mass vaccinations and newly reimagined resorts now open across the Aloha State, visitors will find much-needed respite through reconnection with the Island's encompassing hospitality and many sacred and celebrated natural landscapes and sites.
From welcoming leis to ukulele classes, from pineapples to food trucks, from simple white-sand beaches to sky-high volcano-tops, the power of the Islands has never been more evident. Hawaii's resounding "Aloha" calls to all.
Don't expect billboards or daylight savings time; they aren't to be found on the eight islands that make up the state. With the longest life expectancy in the United States, Hawaiians know the value of hospitality, and enjoyment is the name of their game.
Two years of Covid shutdowns have allowed resorts and businesses the time and initiative to reimagine themselves with remodeled interiors and layouts, new pools and restaurants, revitalized menus and contemporary cultural programs. It's time to reconnect with the Spirit of Hawaii.
Hawaii "The Big Island"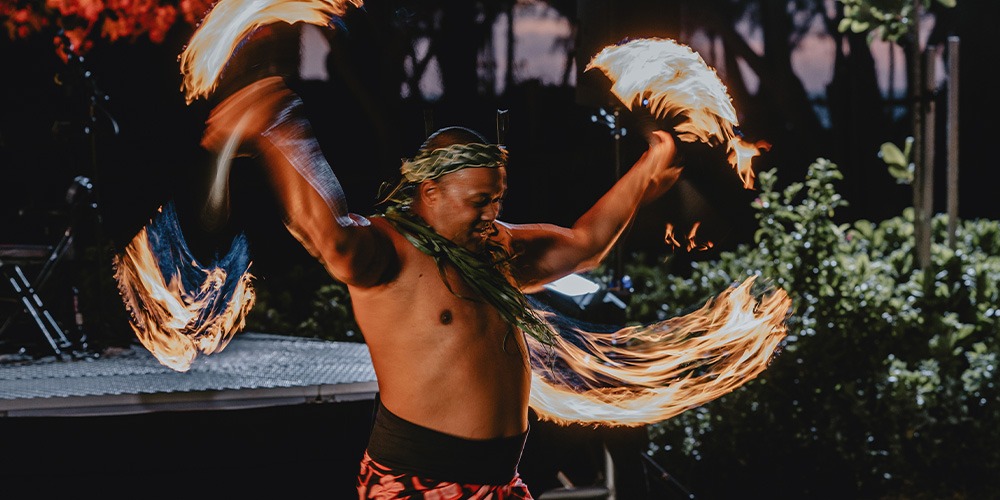 The Big Island, renowned for its lava-spewing volcano, Kilauea, is possibly the easiest of the Islands to navigate, with two primary directions, Mauka (toward the mountain) and Makai (toward the sea), and two main cities, Hilo and Kona. Its numerous historical sites offer profound glimpses into native Hawaiian culture, while its geography encompasses a range of climate zones, from tropical to polar. Distinct regions range from verdant valleys to active volcanoes and colored-sand beaches.
With major resorts found on the Kohala Coast, Historic Kailua Village (Kailua-Kona) and Keauhou, options for meetings abound. Event planners can choose from numerous world-class hotels, while guests will find that the resorts and the surrounding communities offer many ways to commune with the spirit of the island.
Reconnect
Pu'honua O Honaunau National Historic Park (City of Refuge)
A visit to this sacred historic sanctuary is an excellent way to immerse oneself in the spirit of Hawaiian culture. Located on Honaunau Bay on the Big Island's west coast, the City of Refuge in past times served as a safe haven for those who broke Kapu, or sacred laws, and was protected by Lono, the God of Life. It lies within a 180-acre national park, along with other temples and coastal sites. Allow one to one-and-a-half hours to walk the self-guided tour.
Adventure
Mauna Kea Summit
Mauna Kea, the tallest summit on the Islands, represents the connection between Earth and the heavens in traditional Hawaiian spirituality. The view from its 13,796-foot volcanic peak encompasses nearby active volcano Mauna Loa and spectacular high-altitude sunsets.
Hiking the 4,500 vertical feet to the summit is an option, but guided vehicle caravans and 4WD van tours allow for easier passage. Extreme weather and temperatures require visitors to use caution on the journey, but also allow for snowboarding under the right conditions.
Night Life
Night Manta Ray Adventure
End your enchanted day by swimming with manta rays off the Kona Coast. The highly rated two-and-a-half-hour Night Manta Ray Adventure tour sets sail from Honokohau Marina and includes a cruise to a snorkel site to view the colorful sunset, followed by a guided ocean frolic among the manta rays. Equipment, snacks, drinks and onboard washrooms complete the experience.
Good Eats
Kealakekua Bay Dinner Cruise
This three-hour cruise to remote Kealakekua Bay includes commentary by a local historian, dinner, a cocktail and live entertainment. Dolphins, turtles, manta rays and seasonal humpback whales make the journey all the more exotic, as do the historic shoreline sites of Ahu'ena Heiau, Keauhou Holua Slide and Kuamo'o Battlefield.
Meet & Stay
More than 85,000 sq. ft. of indoor and outdoor event space await event planners at The Westin Hapuna Beach Resort and Mauna Kea Resort. In addition to enjoying the largest white-sand beach on the island, attendees will appreciate Hapuna Ballroom, with a theater capacity of 900, and 3,543-square-foot Kauna'oa Ballroom, as well as a pre-function area, boardrooms, and poolside and courtyard venues for receptions or open-air events.
The resort recently opened Mana Up pop-up shop in Mauna Kea Resort's Kohala Room, which features local artisan work through October 2022, while a collaboration with Red Dot Goods allows visitors the chance to buy local vintage art, surfboards and skateboards. Most notably, Westin Hapuna Beach Resort recently became The Big Island's first carbon-neutral resort with the planting of its on-site, first-ever Hawaiian Legacy Forest.
Read More: Hawaii Convention Center Brings More Mahalo to Mother Earth
Known as "Ka-Hollyood" for the number of celebrities who frequent it, The Kahala Hotel & Resort is a member of The Leading Hotels of the World. The Kahala Clean Promise ensures the highest quality of sanitation for all guests through a program which trains staff on cleaning and disinfectant techniques, use of PPE and contact tracing.
Meeting venues at this Healthy Stays-certified resort encompass 24,000 sq. ft. across seven adaptable spaces. These include Kainoa II Boardroom, with a private garden, oceanfront Kahala o Ke Kai room with folding glass doors and Maile Ballroom with a view of a lagoon and 8,800 sq. ft. of meeting space.
Not to be missed are the Kahala's pristine 800-foot-long beach, its private 26,000-square-foot natural lagoon with a resident family of Atlantic Bottlenose dolphins and the complimentary monthly Sunset Seminar Series presentations about efforts to protect and preserve Hawaii's natural environment and native culture.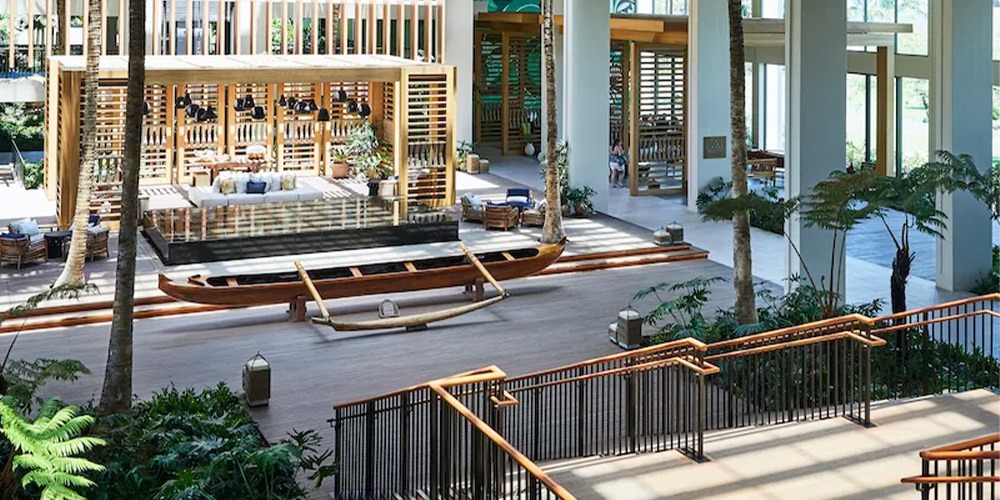 Located between five prominent mountains along the Kohala Coast, Mauna Lani Auberge Resorts Collection basks in a pristine landscape long enjoyed by Hawaiians. Its recent 14-month, $200 million upgrade illumined the Halau (lobby) and the South Lana and added two new structures—the Surf Shack, the residence of Mauna Lani's Kainalu Ocean Sports program, and Hale 'I'ike ("House of Knowledge").
The renovation encompassed a full overhaul of all accommodations including guestrooms, suites and two-bedroom residences, and the addition of a 3,900-square-foot Resort Pool, a 2,000-square-foot adults-only pool and a Keiki (children's) Pool. A new farm-to-table restaurant, poolside bar and grill, and market augmented the renovation of the existing oceanfront CanoeHouse restaurant.
With almost 10,000 sq. ft. of ballroom space, more than 43,000 sq. ft. of total indoor meeting space and 50,000-plus sq. ft. of lawn space, Mauna Lani meets the needs of groups of up to 750 people. Its 4,000-square-foot Francis Brown Suite, used for private dinners and entertainment, offers a kitchen, a living area and a lanai with vista ocean views. Its Pavilion, with lanai and lawn, offers 49,000 total sq. ft. of meeting space.
Maui "The Valley Isle"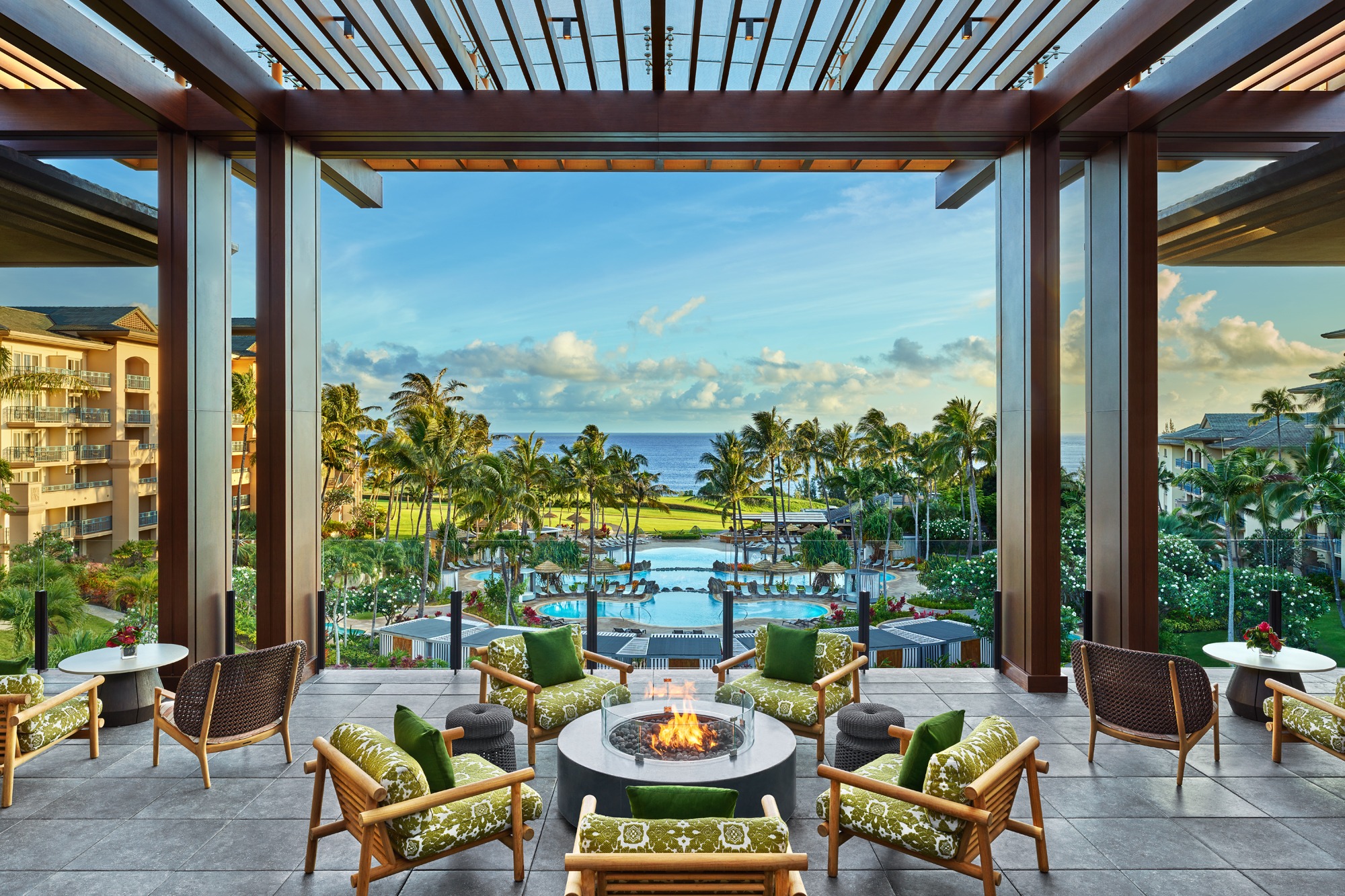 Long known for its pristine white-sand beaches and world-class snorkeling, the Maui experience is a mix of high-end resorts and stunning natural settings. In addition to 30 miles of sandy beaches and one of the world's most-renowned rainforests, visitors will enjoy the top-notch beachside hotels, with their many restaurants, bars and clubs. On Maui it's as easy to reconnect with the Island Spirit as it is to plan a conference.
Reconnect
Hana Rainforest
Home to magical black- and red-sand beaches, towering waterfalls and pristine bamboo forests, Hana is one of the world's most beautiful and revered rainforests. While many visitors drive the 52-mile Hana Highway with its accompanying 620 curves and 59 bridges, others opt to leave that to professionals by booking either a round-trip helicopter tour or an inclusive van tour with hiking, swimming and meals.
Adventure
Helicopter Tour of West Maui and Molokai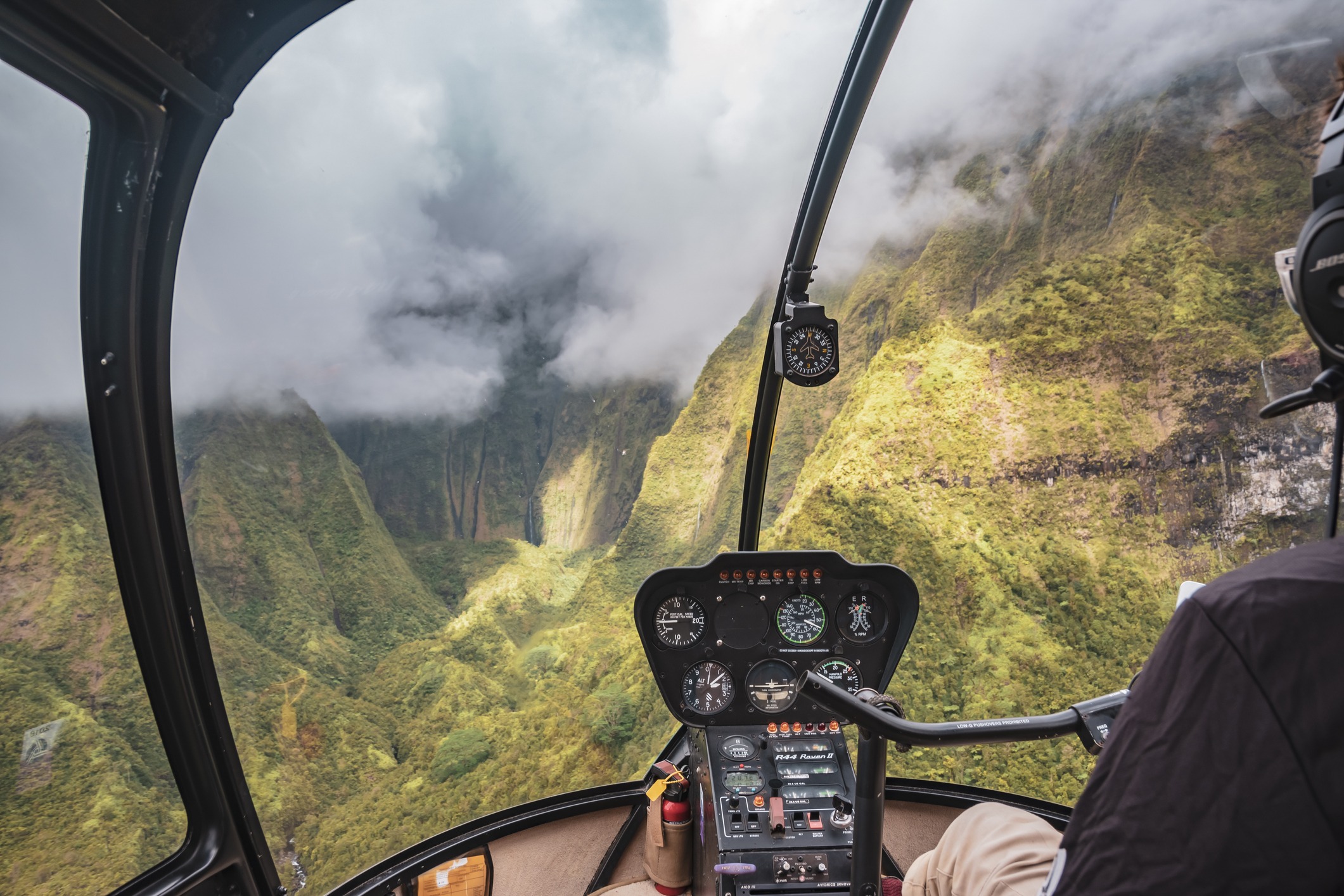 For the excursion of a lifetime, book a helicopter tour of West Maui and Molokai. Get a birds-eye view of remote Maui waterfalls and canyons inaccessible by foot, then fly across the channel for aerial close-ups of Molokai's 4,000-foot-high cliffs, all narrated by an expert.
Night Life
The Dirty Monkey
The most happening place to unwind in Lahaina and voted "Best New Bar on Maui" in MauiTime Weekly, this remodeled sports bar features daily live acoustic music and happy hours. Customers choose from a menu of family-style food options and an award-winning international whiskey selection. In addition to dancing and regular live entertainment, The Dirty Monkey is available for large parties and events with flexible drink options.
Good Eats
Luaus
Maui's local food, which includes farm-to-table cuisine, Spam musubi, shave ice and kalua pulled pork, is world-renowned, and rightly so. But the time-honored Hawaiian word for "feast" is "luau," and luaus may just be the world's best dinner parties. Don't sell yourself short—pick one that offers a sunset view and beachfront seating, and purchase tickets in advance. Arrive hungry; the food and live entertainment lasts up to 3 hours.
Meet and Stay
In March of 2022, Fairmont Kea Lani began its multimillion-dollar, multi-phase "hoʻomaka hou" (New Beginning) project, which includes complete renovation of all 413 one-bedroom suites and 37 two-story villas, as well as an entrance and lobby transformation which will add both a cultural center and a new food-and-beverage venue.
More than 42,000 sq. ft. of function space—including 13,000-square-foot Polo Beach Lawn and 8,400-square-foot Kea Lani Ballroom—and the option to enhance events with Preferred Partners make this resort a sought-after conference destination.
A $100-million revision of 54-acre The Ritz-Carlton Maui, Kapalua resort—including new guest rooms, dining experiences and public spaces, and a new premium room category—is due for completion by late 2022. Meanwhile, the new Ritz-Carlton Club Lounge at the Anuenue Room is certain to wow conference executives with oceanfront views and five food and beverage presentations daily.
It is one of six locations in the world with access to Ambassadors of the Environment, a program developed in partnership with ocean explorer Jean-Michel Cousteau and his Ocean Futures Society. Highlights include guided snorkeling excursions through coral reefs, volunteer projects, coastal hikes and tidepool exploration.
Four Seasons Maui at Wailea boasts Maui's largest guest rooms and suites. In addition, its newest Elite oceanfront suites provide guests with luxe extras including a personal assistant, roundtrip airport transportation, unlimited laundry and more.
The resort's 19 indoor and outdoor venues—encompassing ballrooms, lawns and gardens—total 40,202 sq. ft. and provide reception capacity for up to 750 people. In addition, air cooling systems are outfitted with state-of-the-art UV lights and top-quality commercial MERV-13 filters.
Oahu "The Gathering Place"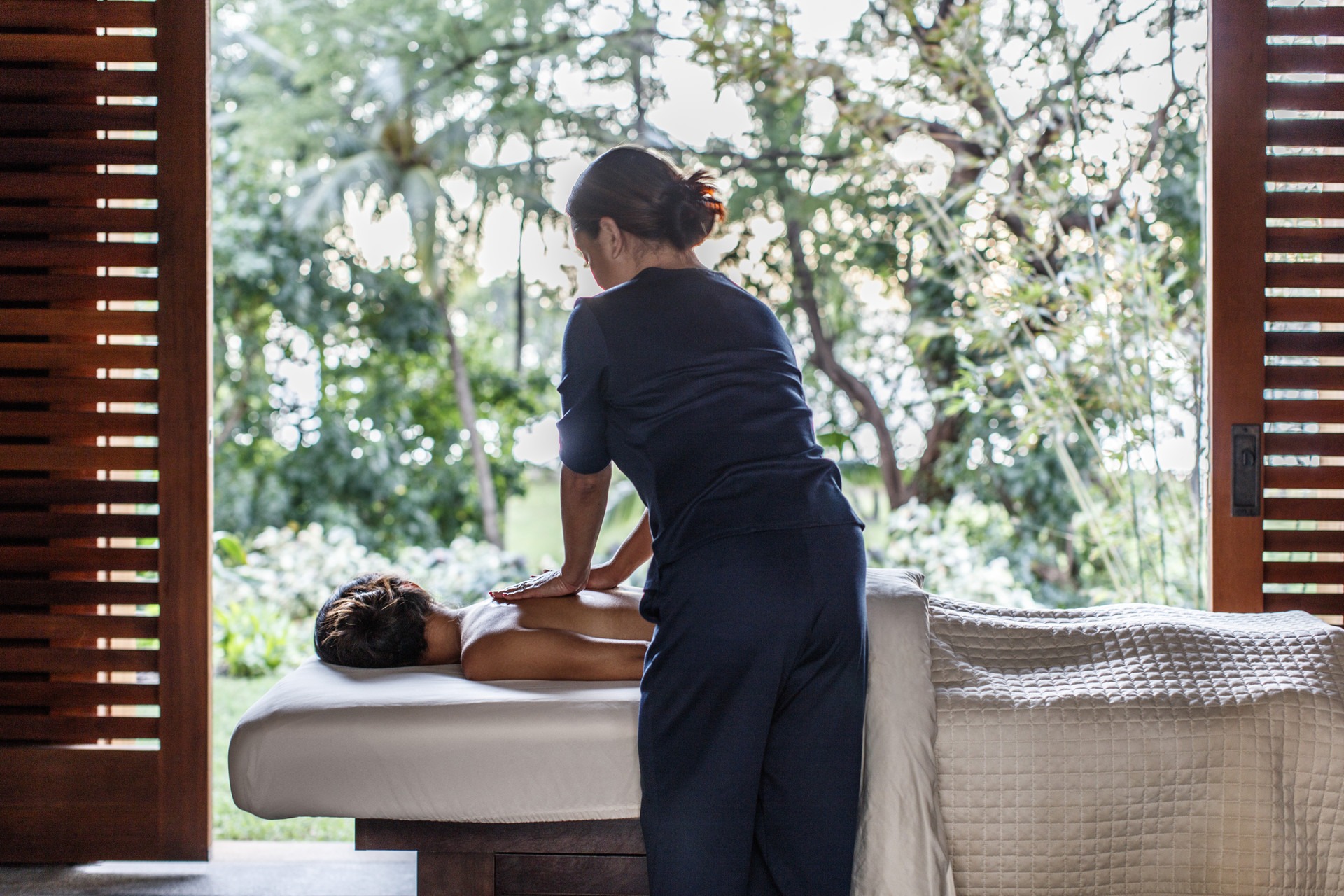 Oahu offers visitors all the nature they expect, with the added thrill of urban culture and nightlife. The most populous of the Islands, its natural attractions include the world-class big waves found on the North Shore, famous Waikiki Beach and Diamond Head State Monument. Honolulu's metropolitan business hub, coupled with Waikiki's spectacular beaches and bustle, lend themselves to conventions of all types.
Read More: Oahu Festivals Welcome Visitors in 2022
Reconnect
Diamond Head
Located just south of Waikiki Beach, Diamond Head offers visitors the rare opportunity to climb to the rim of a volcanic cone and stand at the edge of a 350-acre crater for grand views of both the crater floor, 560 feet below, and the vast expanse of the Pacific Ocean. The 1.6-mile roundtrip hike includes a tunnel and a 99-step staircase.
Adventure
The LineUp at Wai Kai
When the ultimate water adventure experience opens in 2023, it will showcase surfing, stand-up paddle boarding and outrigger canoeing alongside dining, shopping and live entertainment.
The Wai Kai Wave, a man-made deepwater standing wave with a width of 100 feet and an adjustable height, promises to be the world's largest. The Wai Kai Lagoon will offer 52 acres for paddle boarding, kayaking, guided outrigger canoeing and pedal boating, while the Dock will feature a selection of rental equipment, lesson clinics and social events. Bars, a restaurant, a club lounge and private cabañas will round out the water destination.
Buyouts will be available for events of up to 750 people. Group packages will include activities at the Wai Lai Wave and the Lagoon, with lounge and cabaña options.
Night Life
Choices Abound
Oahu's bars and clubs are widely considered the most vibrant nightlife on the Islands. For a different experience, consider one of several highly rated sunset cruises with live DJ and dancing, or good laughs at a comedy club.
Good Eats
Multiple Options
For an enjoyable road trip out of town, try a North Shore shrimp truck. For cutting-edge fare in downtown Honolulu, consider the city's newest venues. To wit: Hou Fish Market, rated 5 stars by customers, for dinner; and 7Gradi Gelato, with a variety of flavors and excellent customer service, for dessert.
Meet and Stay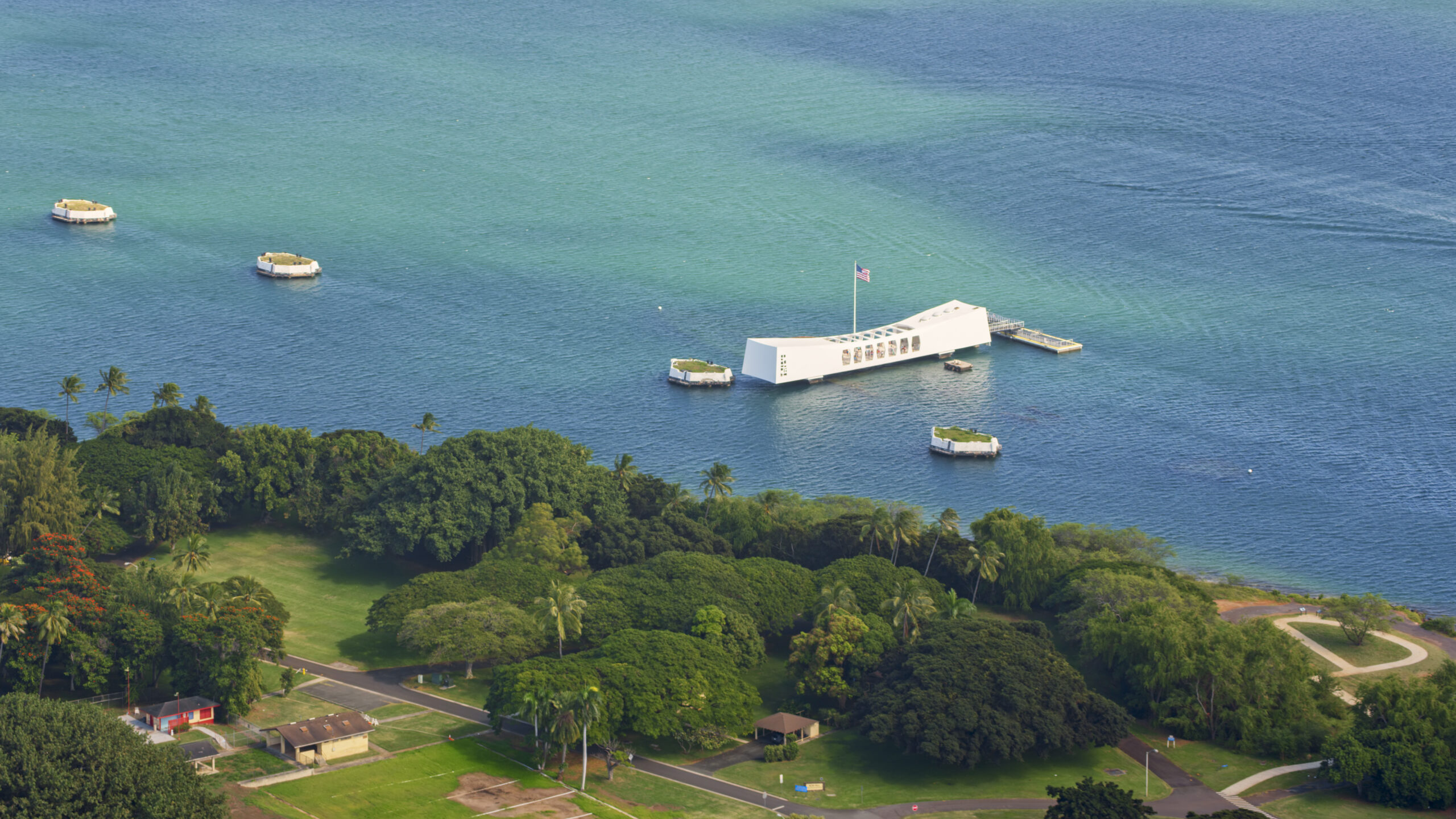 Turtle Bay Resort Oahu reimagined all its public spaces before reopening in 2021. Los Angeles-based designer Dianna Wong redesigned its guest rooms, suites and meeting spaces while a new adults-only pool, as well as a new category of rooms consisting of 42 private, lux oceanfront Ocean Bungalows, were both added. All of the F&B outlets have been reimagined to celebrate the local culture and bountiful ingredients grown on the island. The vision is for guests to leave with memories centered around their culinary experiences that elicit storytelling and keep them coming back for years to come.
In addition, the Only at Turtle Bay experiences—including the Paniolo Pāʻina Dinner Series, Kuilima Farm Tours, Jamie O'Brien Surf Experience and Beachfront Picnics—were introduced, and all food and beverage venues were redesigned to honor local culture and celebrate locally-grown ingredients.
Expect to book small-to-medium events at Waikiki's newest hotel. The Ritz-Carlton Residences Waikiki Beach is a five-star venue best suited for meetings of up to 100 people. Think breakout groups, executive meetings and receptions. Five indoor spaces, all with ocean views, range in size from 528 to 1,488 sq. ft., while the outdoor venues make for picture-perfect presentations. Look to the dedicated concierge for assistance with planning your event.
Rooms and suites feature floor-to-ceiling windows with ocean views, balconies and deep soaking tubs, while the resort's featured dining experiences offer guests international cuisine with local influences.
Newly reopened as of March 2021, Four Seasons Resort Oahu at Ko Olina's 72,517 sq. ft. of event space allows for "meet and feeds" of up to 500 people, while its 14,960-square-foot Ko Olina Ballroom allows for banquets of 960 guests. Whether you require banquets, receptions or classrooms, this is the right venue for large events. Island activities such as golf and ziplining are available to all guests.
In addition, the resort's new Lead With Care program features a state-of-the-art Needlepoint Bipolar Ionization air purification system in all accommodations, and The Transformational Wellness Retreat in September 2022, while open to all guests, provides a template for future similar, customized events.
The new #FSWayfinders program allows guests the option to engage in on-site artisan-guided workshops in lei making, astronomy and stargazing, hula and more. "
Kauai "The Garden Island"
Known for its lush rainforests, the dramatic cliffs along its Na Pali Coast, and awe-inspiring Waimea Canyon, Kauai is a nature-lover's paradise. Its laid-back, small-town vibe reflects the many outdoor activities available across the island. Between The Garden Island's cutting-edge, world-class MICE amenities and the incessant call of the wild, conference planners and attendees may just find their stay more productive than they expected.
Reconnect
Waimea Canyon
While beaches and ocean are ubiquitous throughout the Hawaiian Islands, Waimea Canyon—known as "The Grand Canyon of the Pacific"—is a unique state treasure unto itself. Located inland in Waimea Canyon State Park and far from any resort hustle and bustle, the 14-mile-long, 1-mile-wide, 3,600-foot-deep canyon sits on Kauai's southwest side. Visitors can drive in on one of two roads to access parking lots or an overlook, while round-trip hikes typically vary between 1 and 3 hours. The topography of sheer cliffs and lush forest makes for breathtaking views.
Adventure
Koloa Zipline
For an adrenaline-filled communion with the Garden Island, tie onto the eco-friendly Koloa Zipline. Its 3.5-hour course includes the half-mile Waita line. Best of all, custom, full-body harnesses allow for upside-down, superman, backwards and tandem zipping.
Night Life
The Point
Laid-back Kauai isn't known for its frenetic nightlife, but it does have some good bars and clubs. Among them is The Point, a popular South Shore club on the water with live music and great sunset views.
Good Eats
Stay Local
Traditional Kauai fare includes poke, or diced raw fish seasoned with condiments; Lomilomi "massaged" salmon; and poi, a porridge made from mashed taro root. But The Garden lsland is also known for its locally grown coffee, coconut, sugar and pineapple, all of which live up to their reputations and must be experienced to be appreciated. For tasty, inexpensive meals that support local businesses, check out the island's amazing food trucks.
Meet and Stay
Grand Hyatt Kauai offers guests breathtaking views from the island's sunny south shore. Newly resurfaced pool decks, guestroom renovations including new carpeting and ottomans, and five newly upgraded luxury suites, are complemented by socially distanced poolside seating and Hyatt's Global Care & Cleanliness Commitment. Additional suite renovations are in-process.
The resort's new Hawaiian Cultural Center recently opened following a traditional Hawaiian blessing and now teaches Hawaian culture through hands-on experiences such as hula and ukulele classes.
"The resort has been re-open since April of 2021 and we have been very busy throughout. The meeting and convention business really kicked into gear in 2022," says Diann Hartman, Grand Hyatt Kauai's director of marketing communications.
Award-winning Koloa Landing Resort at Poipu is a 25-acre luxury resort on Kauai's sunny south shore known for world-class service and amenities. Its 12,000-square-foot Grand Ballroom, which hosts up to 1,000 guests and breaks into smaller rooms, has a meeting planner suite and a 2,500-square-foot, pre-function lanai. In addition, an 8,000-square-foot lawn is located directly outside the banquet facility.
Buyouts are available and corporate retreat packages come with a choice of group-building activities including whale and bird watching, snorkeling and scuba diving, surfing classes and team scavenger hunts along the beach.
"The resort has been re-open since April of 2021 and we have been very busy throughout. The meeting and convention business really kicked into gear in 2022."
–  Diann Hartman, Grand Hyatt Kauai's director of marketing communications
Meeting planners and conference attendees will appreciate Sheraton Kauai Resort's newly-renovated guest rooms and suites as much as its 12 event rooms, which total 55,726 sq. ft. of space. Elegant Poipu Ballroom can accommodate 100 conference attendees. Guests will find that the on-site fitness center, spa and gourmet marketplace are augmented by shopping at nearby Kukui'ula Village.
The Time Is Now
Hawaii took a hard hit when Covid-19 rocked the world. Tourism and MICE came to a sudden standstill, and many resorts temporarily closed their doors in 2020 and 2021. But with downtime came the opportunity to reimagine, and hotels took the moment to remodel, add new amenities, and create new outdoor activities and cultural programs. In addition, they all refined their cleanliness protocols. The Islands are as enticing as ever, and resorts are ready to host events, incentives, conferences and exhibitions.
3 Elevated Island Meeting Digs
In a destination full of unique venues, we rounded up some truly distinctive places for board meetings, break-out sessions and dinners. Prepare to be awed.
Koa Room
Koa Kea Hotel & Resort's 700-square-foot luxe boardroom provides space for 24 attendees on the Big Island. Natural light, a private en-suite bathroom and catered cuisine by acclaimed Executive Chef Noelani Planas make for an irresistible package.
Sheraton Kauai Coconut Beach Resort
Sheraton Kauai Coconut Beach Resort's 7,834 sq. ft. of meeting space includes an open-air ballroom with ocean views, 8,000 sq. ft of flexible outdoor space and a 500-square-foot Executive Board Room that accommodates up to 16 people. In addition, blocks of hotel rooms with business amenities may be reserved for destination gatherings.
Monarch Room
Located in The Royal Hawaiian Resort Waikiki, legendary Roaring 20s-themed Monarch Room offers MICE groups a luxe indoor/outdoor meeting space at the edge of Waikiki Beach. The 7,800-square-foot indoor venue hosts up to 500 guests, offering them access to the lawn and views of nearby Diamond Head.
Resources
Hawaii Tourism Authority
Hawaii Visitors and Convention Bureau
Island of Hawaii Visitors Bureau
Kauai Visitors Bureau
Maui Visitors and Convention Bureau (Maui, Lanai, Molokai)
Meet Hawaii Oahu Visitors Bureau
This article appears in the August 2022 issue. You can subscribe to the magazine here.