Philly or Pittsburgh, autumn is awesome
We spent some time in Pennsylvania
Doing things we've never done before
And I can still feel that warm wind blow
Pennsylvania hold me strong, never let me go!
Without a doubt, this anthem by the Americana band Cabinet, whose self-styled "Pennsylvania bluegrass" Rolling Stone calls a mash-up between bluegrass, country and jam, rings true. Pennsylvania entices with many, many things your group has likely never seen and done before. The Keystone State—so named because of Pennsylvania's essential role in the nation's founding—is a meetings magnet for a reason. Or, rather, for a multitude of them.
Did you know…
Eastern State Penitentiary in Philadelphia had indoor plumbing before the White House did? Today, the historic former lockup hosts events like Halloween Nights (Sept. 23-Nov. 12), a festival with immersive and interactive environments with looming video projections and other eerie special effects.
Leap-the-Dip, in the central Pennsylvanian city of Altoona, is the world's oldest operating roller coaster. Your group can still climb aboard for thrills on this wooden National Historic Landmark, though be forewarned: It has no seatbelts, lap-bars or headrests.
Harry Packer Mansion, nestled in the Victorian village of Jim Thorpe in the Pocono Mountains, is so gothic-spooky its facade inspired the Haunted Mansion ride at Disney World. The property is available for events and is also a memory-making bed-and-breakfast.
The list could go on, but it's a big state. So, let's focus on what's special this time of year in the two cities that anchor its east and west: Philadelphia and Pittsburgh. Pennsylvania's largest and most vibrant metropolises share some strengths and types of experiences, yet planners could hardly be faced with two more starkly contrasting choices.
Philadelphia
There's the Philly of "Yo, Adrian!" where water is "wooter" and the steps of the Philadelphia Museum of Art are a training camp for guys aching to be a contender. And there's the Philadelphia of the Main Line, with gentlemen sporting genteel bow ties and Colonial bloodlines accompanying ladies equally endowed in finery and historic lineage.
And then there's the many Philadelphias in between. Demographic percentages in this racially diverse city tally Blacks as slightly outnumbering Whites. In antebellum America, the city's sizeable population of educated and free Black people contributed important voices to the antislavery movement and conductors for the underground railroad.
In vibe the City of Brotherly Love—a nickname derived from literal translation of the city's name in Greek—is akin to a somewhat gentler, kinder New York City, with a lovely overlay of historic D.C. It's laid out mostly in Euclidian good order over generally flat terrain that edges on the Delaware River. The famous harbor is today graced with an abundance of parks, museums, piers and restaurants.
"In vibe the City of Brotherly Love is akin to a somewhat gentler, kinder New York City, with a lovely overlay of historic D.C."
Culturally, there's its wealth of world-class universities and arts organizations, most with multiple opportunities for rentable spaces with inspiring backdrops, as well as first-rate minds to enliven panels and keynotes. Yet no doubt in your attendees' minds, modern-day Philly's most emblematic cultural contributions are the Rocky movies and the cheesesteak sandwich. Another local contribution to the culinary oeuvre is scrapple, a Pennsylvania Dutch creation of pork bits, cornmeal or wheat flour and spices.
Autumnal Pleasures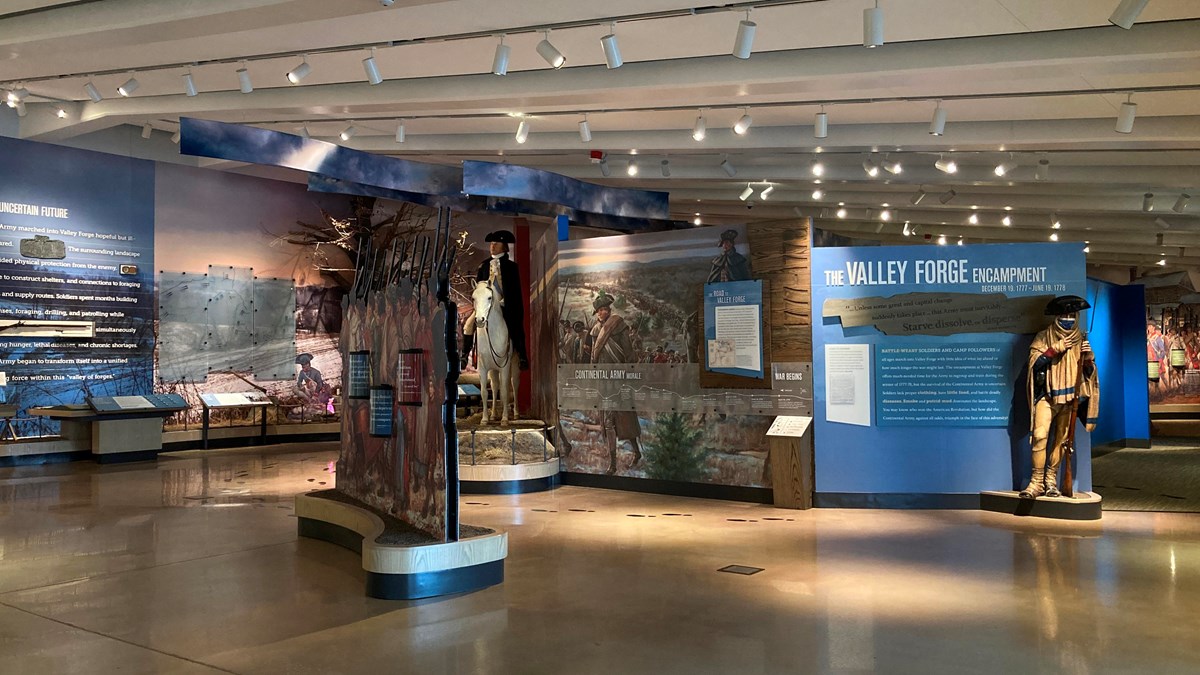 There's always plenty for groups to do in the city and nearby environs and the fall season is no exception.
Apart from the many High Culture offerings this fall—Barnes Foundation has a Modigliani exhibit that explores how the iconic artist created his paintings and sculpture, for instance, and Philadelphia Museum of Art is offering Matisse in the 1930s—fall weather in the city is lovely, making it a great time for groups to enjoy walking tours.
Frightful fall fun in Old City, Philadelphia's historic district, can lead in several directions, courtesy of Ghost City Tours, Ghost Tours of Philadelphia or Spirits of '76 Ghost Tour. That last option, for example, promises "more than 20 of Philly's frights and sights on a ghoulish 75-minute outdoor walking adventure." A private 90-minute VIP tour for up to six people starts at $400 and includes "ghost-hunting equipment such as EMF detectors, infrared thermometers and other paranormal detection equipment and processes.
Read More: Eastern Pennsylvania: Familial Love
More than 4,000 wall murals are on view throughout Philadelphia, which lays claim to the title "Mural Capital of the World." Mural Arts Philadelphia offers private tours that explore murals along 13th Street in Center City, affectionately dubbed "The Mural Mile," just steps from Pennsylvania Convention Center.
Beyond the Bell Tours focuses on telling inclusive historic stories of women, people of color, LGBTQ+ folks, first nation folks and more. City Food Tours Philly immerses visitors in Philadelphia's food culture while they enjoy some of its best dishes; private tours, customized dine-arounds and team-building scavenger hunts for up to 60 participants through historic Reading Terminal Market are also available.
Philadelphia Urban Adventures leads several group tours focused on the city's history, food, conservation and even Rocky movie locations. Groups can also venture beyond city limits: The day-long Countryside Tour includes Valley Forge National Park and Amish country; another tour goes wine-tasting and exploring in Brandywine Valley.
New Hotels, Venues & Meeting Spaces
The biggest news for planners on the accommodations front is Live! Casino & Hotel in South Philadelphia Stadium District, which debuted in 2021. Combining 15,500 sq. ft. of meeting space plus boardrooms and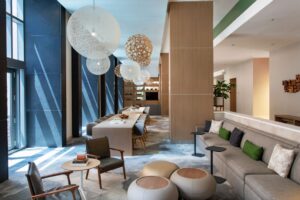 breakout rooms with the services of a 230-room luxury hotel and casino—it's quickly becoming a player on the Eastern Seaboard.
New hotels have also opened within walking distance of Pennsylvania Convention Center (1 million sq. ft. of meeting space over four city blocks). Element Philadelphia (460 guest rooms) and hip W Philadelphia (295 guest rooms) share a building and 45,000 sq. ft. of meeting space; they're also convenient to popular downtown attractions.
Also getting considerable attention—Travel + Leisure named it one of the best new hotels in the world this year—is the boutique Guild House Hotel, in an 1855 rowhouse with resplendent furnishings, "fireside chats" with celebrity speakers and products crafted by minority-owned businesses; perfect for incentives, retreats and celebrations, it offers a dozen rooms and suites.
Unforgettable choices for meetings and events have never been more varied. Let's start with Liberty Point, now the city's largest outdoor restaurant, which opened recently on the Delaware River waterfront. Able to host up to 1,400 guests in private and semi-private spaces, the design includes three main levels for food, drinks, and live entertainment, along with smaller sub-levels, a stage for live music, five bars and glorious unobstructed river views. On Benjamin Franklin Parkway, Victory Brewing Company opened last year as a bi-level, 14,000-square-foot taproom with three bars pouring exclusive brews and a rooftop patio; private and semi-private spaces are available for groups.
The popular Fishtown neighborhood now offers Lilah, the latest culinary outpost by James Beard Award-winner Michael Solomonov (whose restaurant group includes acclaimed Philly favorite Zahav); it has a private event space that welcomes special occasions. Localhost at The Block, a 40,000-square-foot esports campus along N. Broad Street near City Hall and Pennsylvania Convention Center, has been innovated by Nerd Street Gamers, a locally founded esports infrastructure company, to be event friendly. Curated experiences for groups can mix trivia, wordplay, puzzle games and the most popular video games, some of which let players participate on their smartphones instead of a game controller or keyboard and mouse.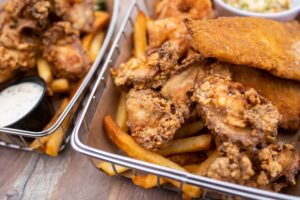 Also in Fishtown, the new Brooklyn Bowl is part live-music venue, part bowling alley and all great group fun. It features 24 bowling lanes and stages across two floors of the 38,000-square-foot venue and regularly welcomes touring acts, DJs and other performers. In-house production facilities and turnkey live streaming services promise to amp up your digital, hybrid or in-person event into a fully immersive experience.
Last but not least, the aforementioned Reading Terminal Market is finishing up an extension of its outdoor dining and event space. The project transforms some 15,000 sq. ft. adjacent to the atmospheric and bustling indoor farmers market as a new streetscape for events and seasonal festivals.
Pittsburgh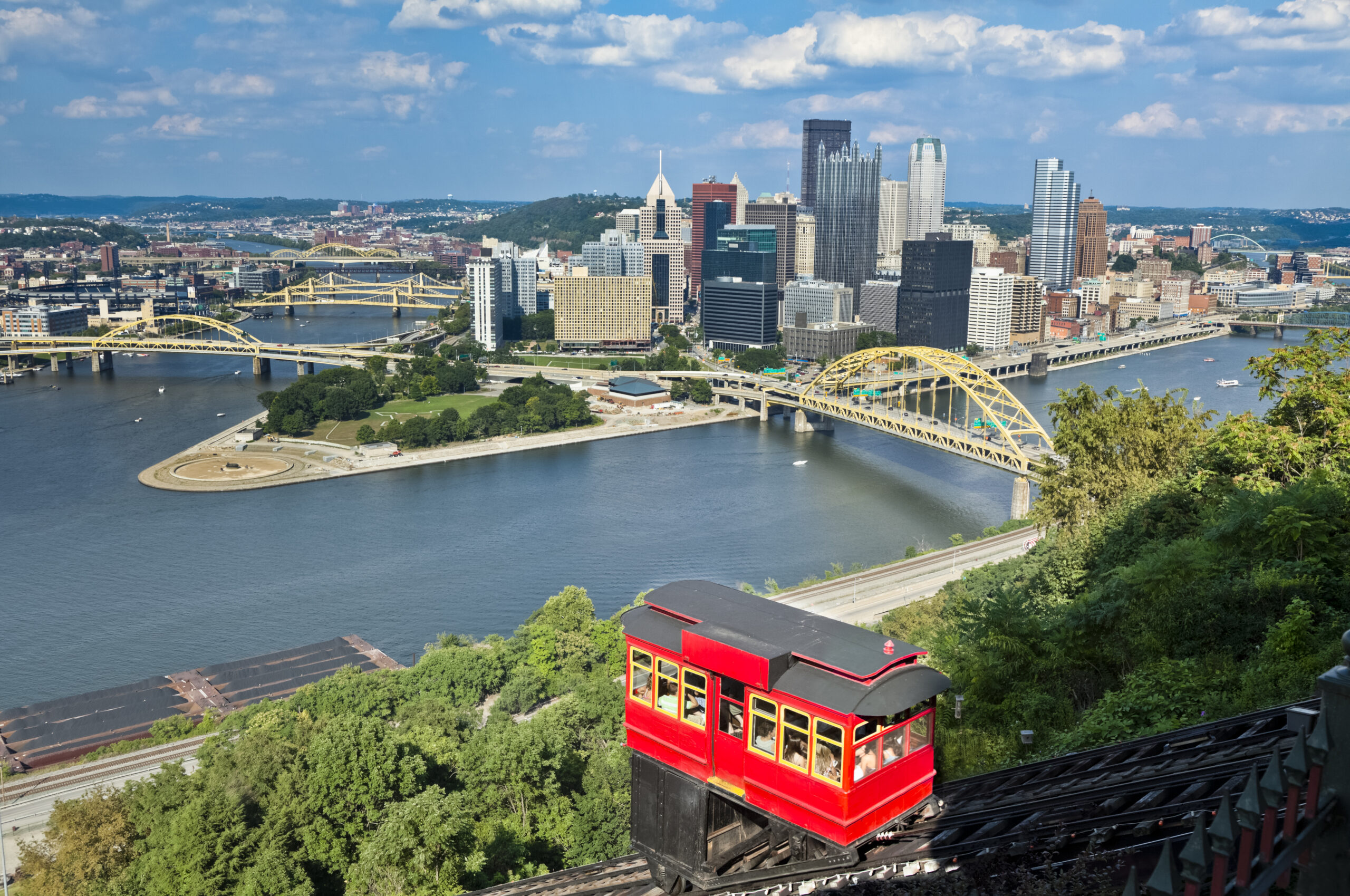 In 1776, Philadelphia was a thriving metropolis of the American Colonies, an intellectual center where the nation free of royal rule was born. Pittsburgh at that time had barely been established as a township, a baby step beyond its origins for Europeans as a trading post and frontier fort. Yet its setting at the confluence of two mighty rivers, the Monongahela and Allegheny, which formed an even mightier third, the Ohio, as well as the area's mineral wealth, would lead to it becoming the second-largest city in Pennsylvania.
Perhaps because one of its earliest industries was boatbuilding for those journeying west into the untamed Ohio Territory, Pittsburgh seems to face more toward the Midwest than the East. Its scenic hills and winding layout to accommodate its terrain lend an air of adventure very distinct from the settled, orderly Philly. Famed as Steel City, of course, its smokestacks have long since been tamed, and health care, education and tech round out the economy.
It's a city of surprises that tolerates, even embraces, the unconventional. Where else puts French fries with melted cheese on top of salads and sandwiches? Or has a museum devoted to Andy Warhol, a local boy?
Autumnal Pleasures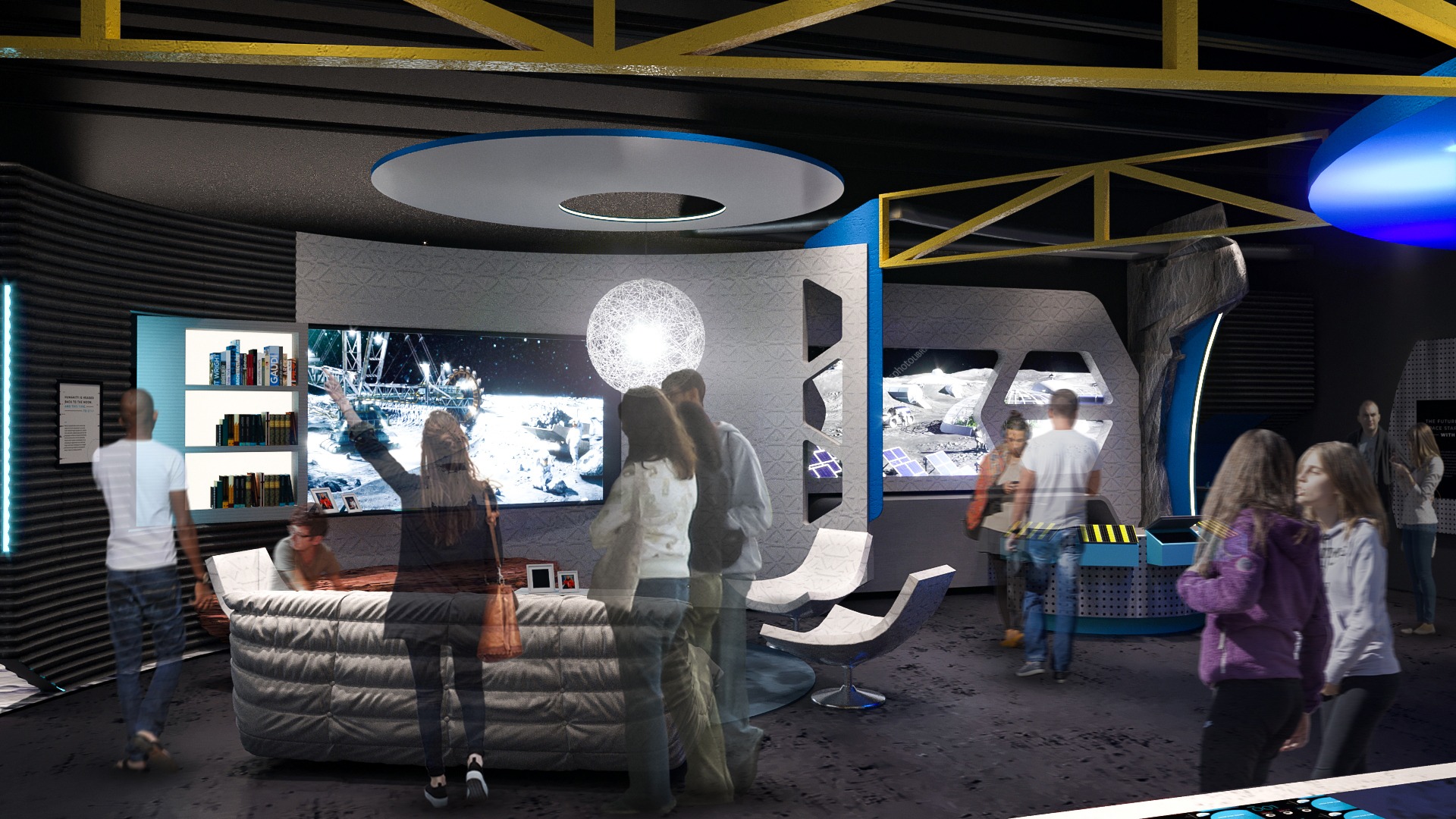 Pittsburgh's prominence in steel beginning in the late 19th century was due largely to one man, Scottish-born Andrew Carnegie. It made him the Elon Musk of the era—the world's richest man. His philanthropy has left a lasting legacy in many places, but nowhere more than in Steel City. Beginning Sept. 24 (and until April 2, 2023), the 58th Carnegie International will debut at Carnegie Museum of Art.
It's been happening since 1896, making it the longest-running North American exhibition of international art, but it's a chance that only comes along every three or four years. The exhibition encompasses both historical works from the collections of international institutions, estates and artists alongside new commissions and recent works, all themed to how art and artists respond to the critical questions of our time.
"Perhaps because one of its earliest industries was boat-building for those journeying west into the wild Ohio Territory, Pittsburgh seems to face more toward our Midwest than the East."
The museum offers many options for private event rentals, ranging in group size from 40 seated in the Founder's Room to 1,950 theater-style in Carnegie Museum Hall. Your group can spend the whole day in the city's Oakland neighborhood, as the Carnegie Museum of Natural History—one of the top museums of its kind in the country and another of Pittsburgh's four Carnegie museums—is housed in the same building.
On the subjet of museums, a brand-new one is officially opening in the city's Northside in early October. Moonshot Museum is co-located at the headquarters of Pittsburgh-based space robotics company Astrobotic Technology, where the first American lunar lander since Apollo is being built. Visitors are invited to go on a simulated lunar mission and take an up-close look of real lunar landers and rovers being readied to fly to the moon.
More down to earth, autumn in Pittsburgh means fair weather and fall foliage to be enjoyed by land or water. For the best views of the downtown skyline and surrounding leafy hillsides, lead your group to a $2.75 ride in one of the 145-year-old trolley-like cars on the Duquesne Incline, a funicular railway that surmounts the steep slope of Mt. Washington. An Observation Deck and a museum showcasing Pittsburgh history await.
Read More:
Or book a walking tour with Walk the Burgh Tours or 'Burgh, Bits & Bites Food Tour. The more energetic can lace up walking shoes or hop on a bike and ride the more than 24 miles of riverfront trails and beyond—particularly, a stretch of the Great Allegheny Passage, a 150-mile trail that connects Cumberland, Maryland, to downtown Pittsburgh, which is a definite fall highlight.
Floating past seasonal colors is a great way to go, too. Groups can enjoy Pittsburgh's famous three rivers aboard the Gateway Clipper Fleet and Rivers of Steel's Explorer, built to LEED standards (Leadership in Energy and Environmental Design) as "the world's first green riverboat." Private cruises are available from both.
Then there's the city's spookier side. The 3 Crossings Campus in the popular Strip District hosts the 2022 Pittsburgh Monster Pumpkins Festival, Oct. 15-16. Where else can you see a nearly 2,000-pound pumpkin dropped from 130 feet? For free, no less. Or visit haunted attractions like ScareHouse at Pittsburgh Mills, called one of America's scariest Halloween attractions by the Travel Channel. (The same producing team hosts a blood-curdling escape room and axe-throwing in the Strip District.)
New Hotels, Venues & Meeting Spaces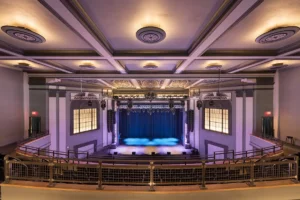 New downtown is Joinery Hotel Pittsburgh, Curio Collection by Hilton. The 185-room boutique property honors the city's working-class history and distinct culture and features an "experiential lobby" that serves as a neighborhood hub, plus a 10th-floor terrace. Meeting space is right for small groups, at 800 sq. ft.
Meetings workhorse Sheraton Pittsburgh Hotel at Station Square is undergoing the head-to-toe brand redo, including the 399 guest rooms. Ample meeting space of 30,000 sq. ft. is complemented by a new restaurant opening this fall called The Factory South Shore.
The meetings nexus of Pittsburgh, LEED Platinum-certified David L. Lawrence Convention Center has a new rooftop terrace with expansive walkways, gardens and seating pods for gorgeous views of the Allegheny and the downtown skyline; the space can hold 1,500 reception guests over its 35,000 sq. ft. Overall, the venue boasts in excess of 1.5 million sq. ft. of meeting space.
Beer, bowling and golf figure prominently at new off-site venue options for groups. Shorty's Pins x Pints, in the North Shore neighborhood, offers "retro-tainment" options like duckpin bowling, pinball machines and bocce courts, complemented by a riverfront outdoor area with firepits, cornhole and more. Meeting space, including outdoor, is 15,500 sq. ft. Five Iron Golf, located downtown in Market Square, has 14,000 sq. ft. of meeting space amid 11 golf simulators, entertainment options and a full-service restaurant and bar. Open since May, Sly Fox Pittsburgh Brewery & Pub at the Highline offers 5,800 sq. ft. of meeting space plus a one-acre public outdoor space; to lubricate gatherings, small-batch brews are served on a seven-barrel system with 20 taps.
Finally, just four miles from downtown in McKees Rocks, Roxian Theatre is a unique event space housed inside a 1929 classic movie house. It can accommodate up to 1,400 guests in its 25,000 sq. ft. of space and offers full-service event production, first-rate lighting and sound as well as custom menus.
Resources
Valley Forge Tourism and Convention Board
Pocono Mountains Visitors Bureau
Cheshire Country's Brandywine Valley
This article appears in the September 2022 issue. You can subscribe to the magazine here.