Flowers are blooming, and meetings will soon be booming in North Carolina
Once again, the spring equinox is upon us. If Earth maintains its regularly scheduled programming, this will mean more sunshine, warmer weather and more daylight—perfectly suited, in other words, for outside adventuring. And if you haven't heard, North Carolina is an ideal state to bring groups not only for meetings in spaces that make you go "ooh" and "ahh," but also to wine, dine and rock climb.
Whether it's battling it out with its neighbor to the south for bragging rights as the "best" Carolina or taking on the whole South to claim the ultimate barbecue, North Carolina has been hard at work. Rest assured, by finding ways to expand, renovate and become a better destination, it's ready for your group's visit.
Charlotte
Hotels, Conventions and Venues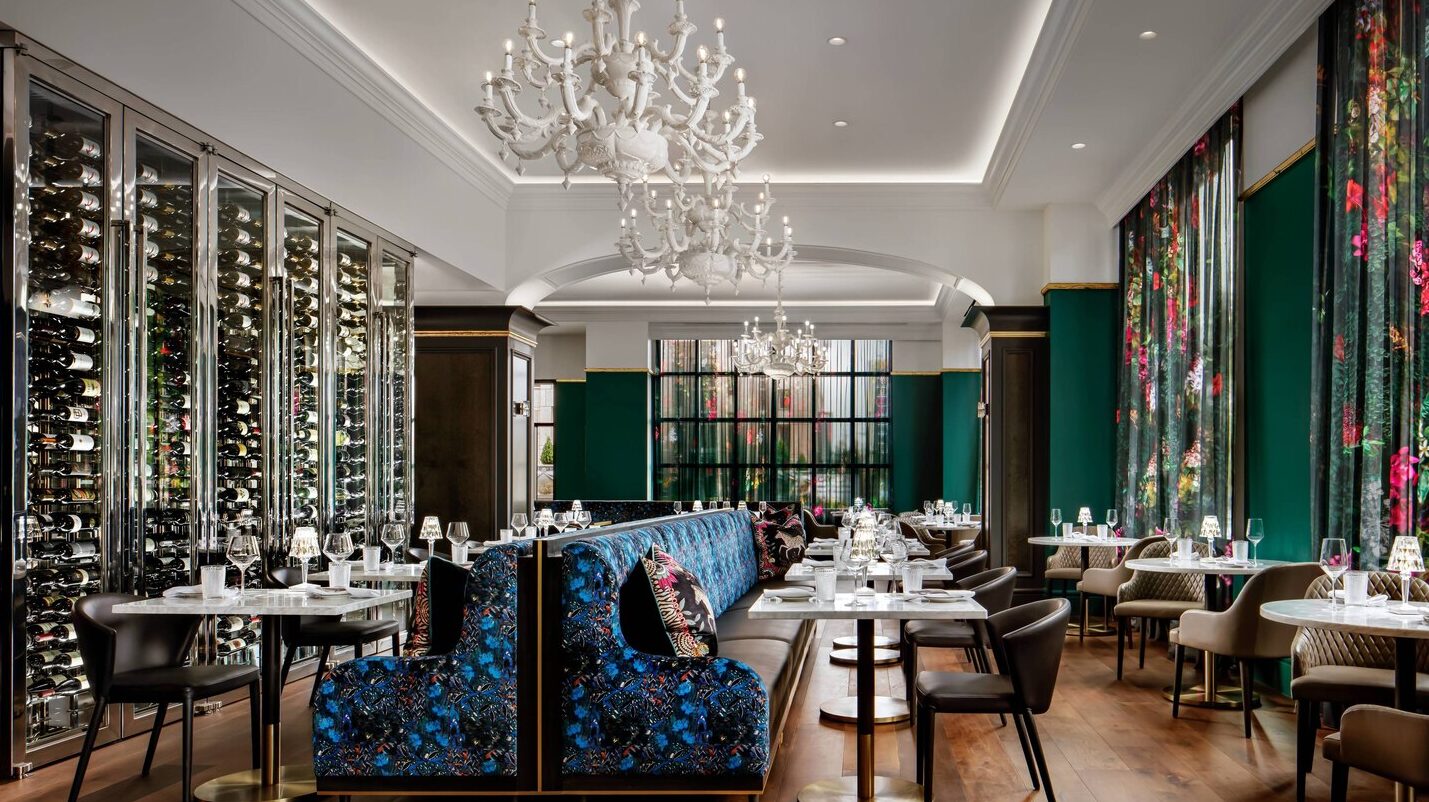 This year and the next is looking to be a great time to be in Charlotte, largest city in North Carolina. And with renovations and the debut of several properties and a conference center, there's no better time to consider coming.
In 2020, Grand Bohemian Hotel Charlotte, Autograph Collection, was welcomed to Charlotte's uptown. The 254-key hotel features 32 suites, more than 16,000 sq. ft. of indoor and outdoor meeting spaces, and several dining and drinking options, such as Argentinian Mico Restaurant, Buho Bar and The Bohemian Garden.
A 21-story JW Marriott Charlotte, opening in May, will house 381 rooms and have 22,240 sq. ft. of meeting space. UNC Marriott Hotel and Conference Center opens this month. It's located downtown, just steps from University of North Carolina at Charlotte's main campus, with 226 guest rooms and 20,113 sq. ft. of meeting space. The property also makes for easy access to Charlotte Motor Speedway and the outdoor music venue PNC Music Pavilion; American cuisine is on the menu at the hotel's Golden Owl Tavern.
A Moxy hotel is coming in 2022, expected to feature 208 guest rooms, a rooftop bar and cozy meeting space. Next year will also see a new InterContinental Hotel atop the renovated Carolina Theatre.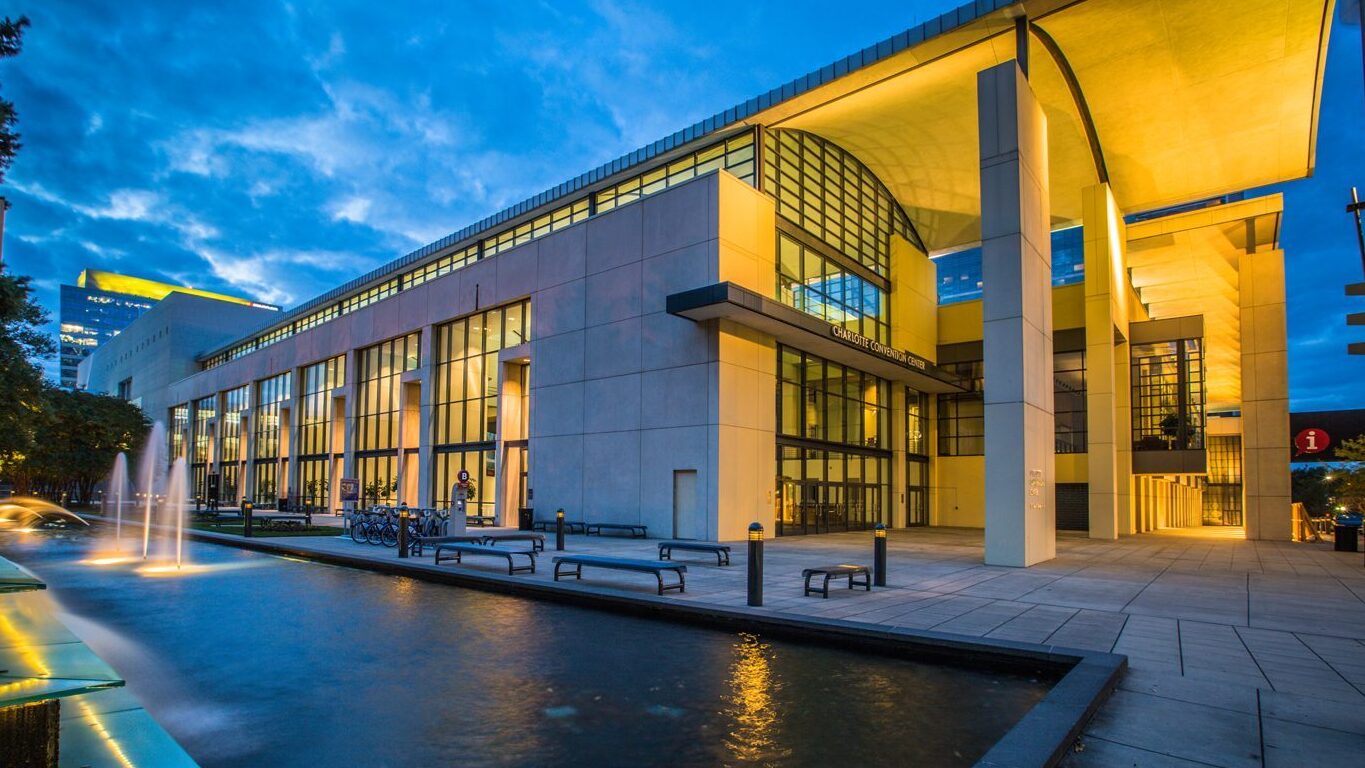 Scheduled for completion by late summer, Charlotte Convention Center is being expanded to increase exhibition space to 600,000 sq. ft., which includes 14 new meeting rooms, two 10,000-square-foot event spaces and an over-street walkway to the 700-room Westin Charlotte and light rail.
"As one of the fastest growing cities in the U.S.—and certainly for millennials—Charlotte has continued to evolve to a new city every few years. It's why we have so many repeat events—because Charlotte offers planners and attendees the full package, making it a memorable experience for everyone," says Mike Butts, executive director for Visit Charlotte.
Visit Charlotte is wooing meeting planners booking more than 10 hotel rooms through Aug. 31 with a $10 rebate per room.
Eats and Entertainment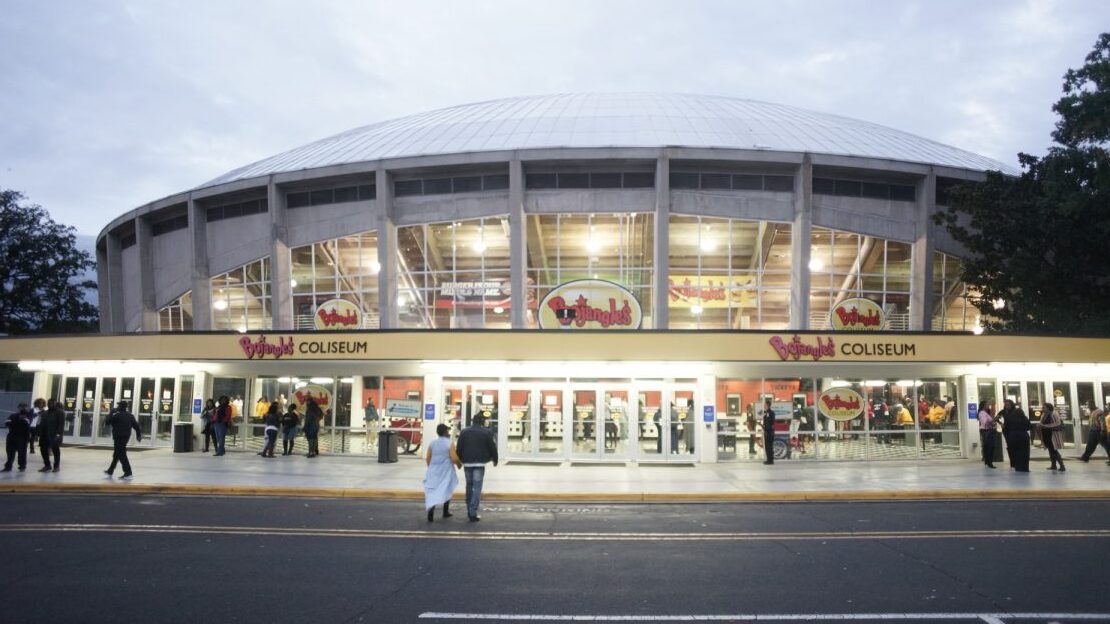 Bojangles Entertainment Complex opened its 35,000-square-foot, LEED-certified connector facility, uniting its two venues, Bojangles Coliseum and Ovens Auditorium, which combined have a capacity of more than 13,000 people. In addition to expanding the complex, this connected space features new meeting spaces, including the 4,000-square-foot East CLT Room, new concession options and an outdoor patio.
Last year, more than 70 new bars and restaurants opened their doors despite the pandemic, and even more are in the pipeline this year, including Supperland, which will inhabit a renovated church. It's from Jeff Tonidandel and his wife, Jamie Brown, of renowned Charlotte restaurants Haberdish, Crepe Cellar, Reigning Donuts, and Growlers and Pourhouse.
The classy Stoke Charlotte, located at Marriott City Center, is on local gourmands' short list. Small plates, entree plates and delicious appetizers—or "companions," as Stoke likes to call them—are brought in from Carolina farms and the restaurant's local partners. A private dining room is available. If the team is looking for a quicker bite, Ace No. 3., voted Best Burger by Charlotte Magazine is another hit with locals.
Gaston County
Complexes and New Hotel Openings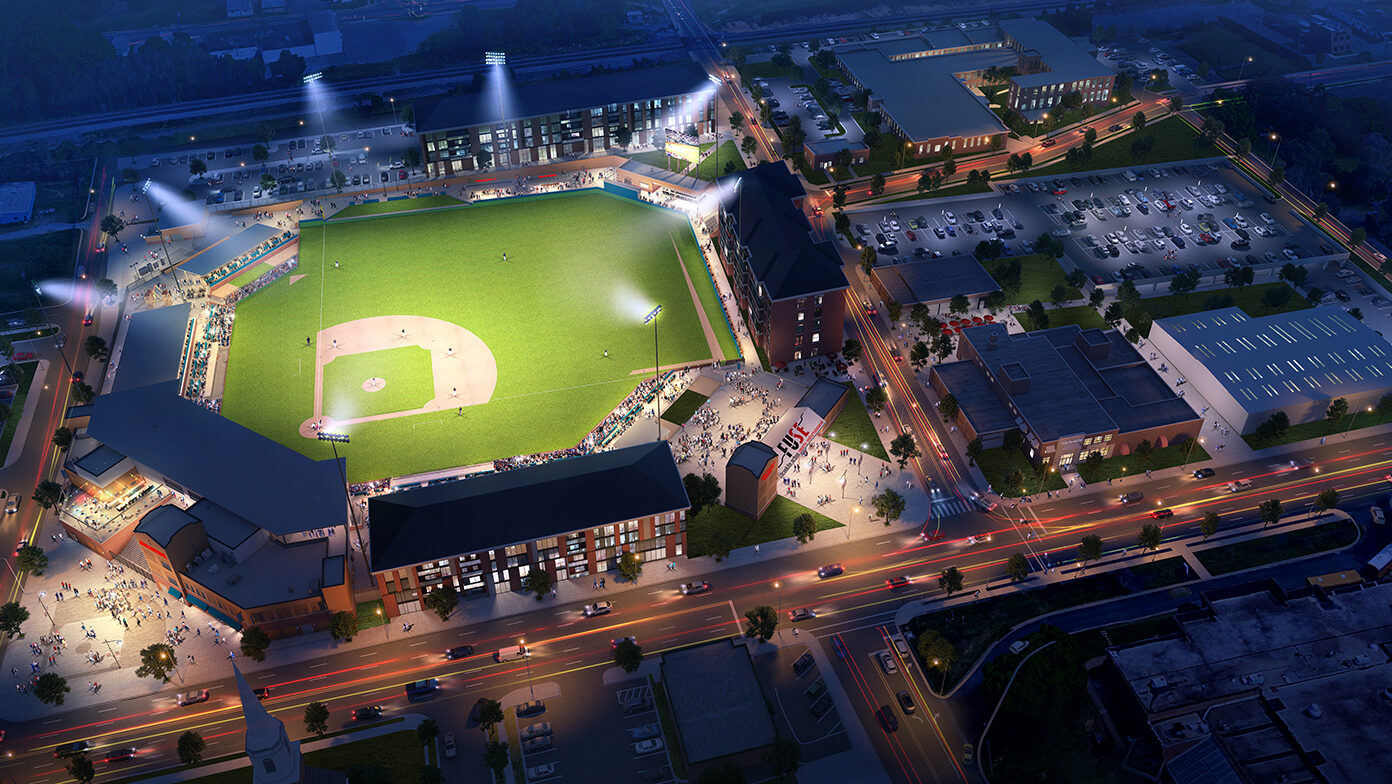 Northwest of Charlotte and across the Catawba River lies the county of Gaston, which consists of 14 towns, including Gastonia, Belmont, Kings Mountain and Dallas.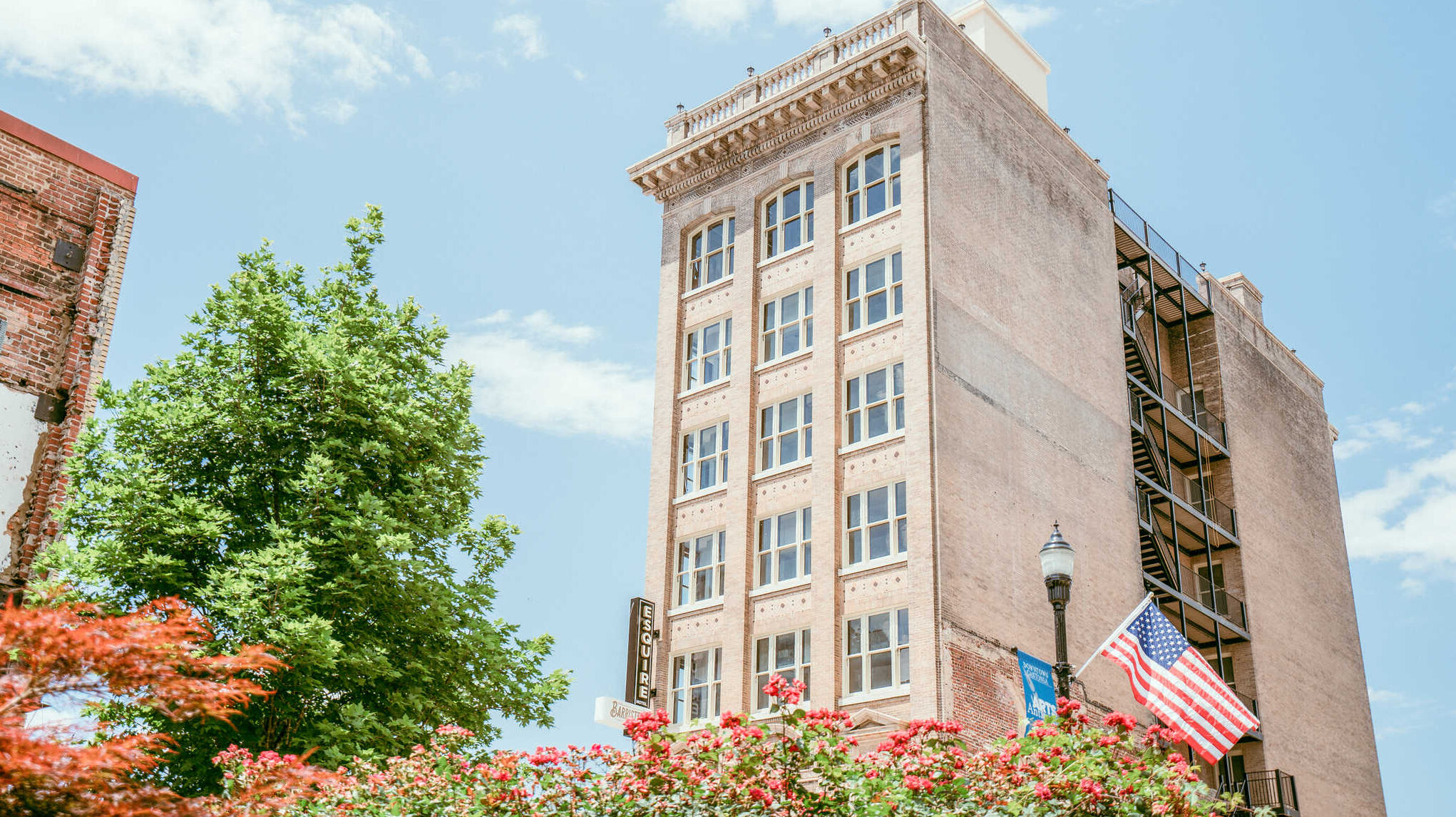 The 30,000-square-foot Gastonia Conference Center features 10 meeting rooms and a 5,100-square-foot ballroom. Steps away from the conference center is 35-room The Esquire Hotel, Ascend Hotel Collection, featuring 3,100 sq. ft. of event space, including Barrister's, the property's lobby-level restaurant.
Gastonia's new multiuse complex, Franklin Urban Sports and Entertainment (FUSE) District, home of Atlantic League of Professional Baseball's Gastonia Honey Hunters, opens this spring, hosting sports events, festivals and concerts. Around the stadium, groups can find restaurants, retail stores and a craft brewery.
More Eats, More Entertainment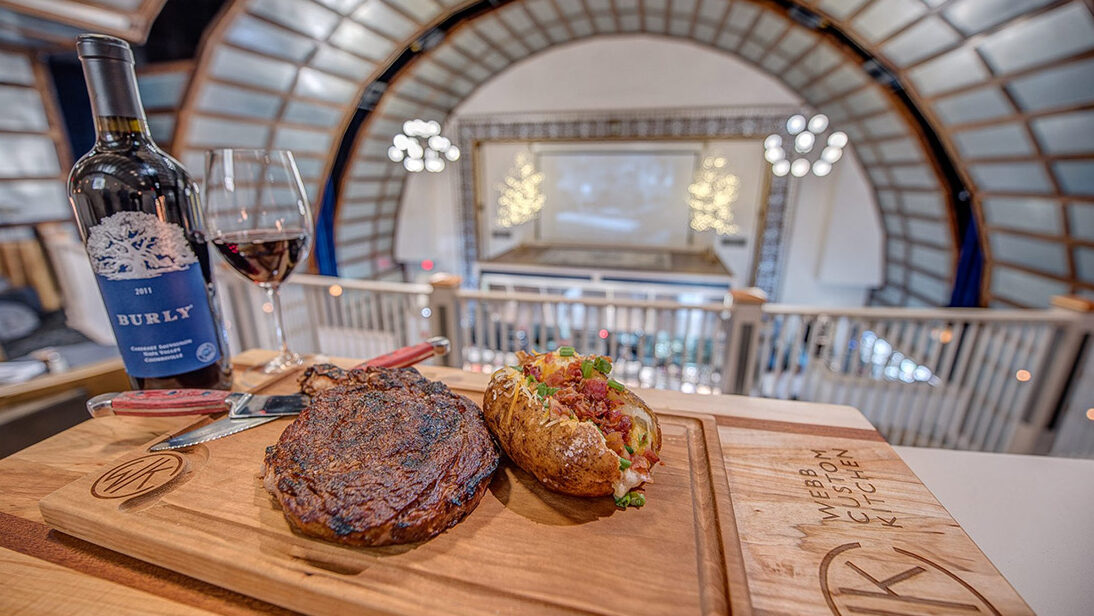 Nellie's Southern Kitchen serves all the Southern goodies you'd expect from such a spot, such as shrimp and grits, Cajun chicken, and chicken and gravy. Webb Custom Kitchen is another Gastonia treat. Seared tuna tacos, braised short ribs and crab cake sandwiches are just some of what to expect. Private dining is available there, as well.
Any seafood devotees in your group? While not strictly for pescatarians, Love's Fish Box in King's Mountain has a wide selection of marine-based food options, from scallops and shrimp to flounder and perch. Chicken and beef options can be had as well.
Cabarrus County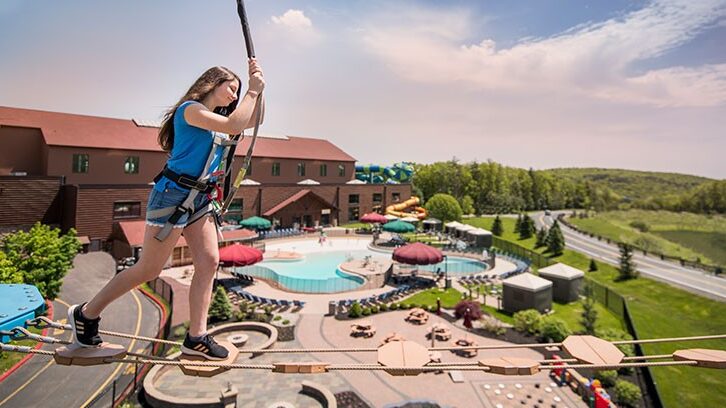 If you didn't know better, you might mistake the 402-room Great Wolf Lodge in Concord for just a lavish waterpark. Indeed, should your attendees want to bring families along, these indoor attractions are extravagant and wide-ranging enough to keep the kids fully immersed while the group handles business. Six breakouts and 20,254 sq. ft. of meeting space await.
44 Mills Kitchen + Tap is named after the 44 textile mills that hummed with activity in Cabarrus County in the 1800s. The inspired small bites at 44 Mills are perfect for coupling with 16 rotating craft beer taps and wide selection of cocktails and wines. Some who live nearby call it a little bit of heaven.
73 & Main is an American restaurant and pub inside the restored Mount Pleasant Hosiery Mill. The restaurant offers a wide selection of steaks, burgers, seafood and lots of bourbon, almost 100 different options. Along with brews from the on-site Old Well Brewery, 73 & Main also incorporates flavors from local partners, such as the bone-in pork chop finished with Sun Dog Apple Dumplin' whiskey sauce from Southern Grace Distilleries.
Water Adventures and Rope Suspension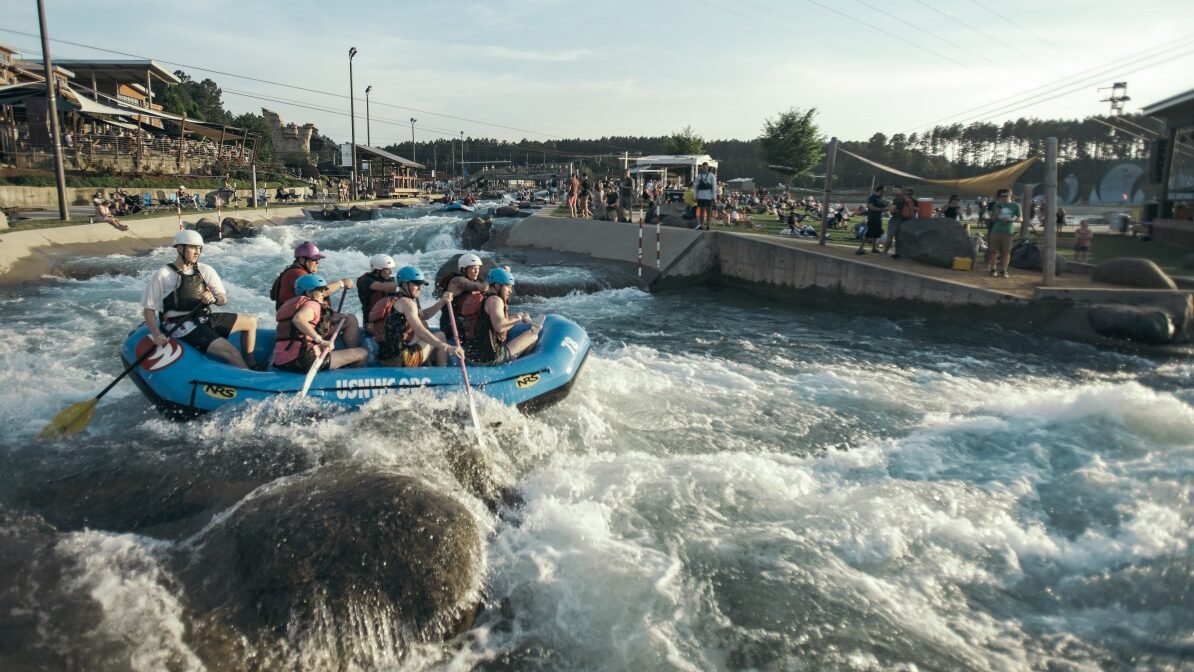 Have you ever heard of American Ninja Warrior, where individuals attempt to get from point A to B with a multitude of beyond-difficult hurdles and barriers, requiring an elite level of fitness? Xtreeme Challenge, a 17-acre campus in Monroe, about a half-hour drive from Charlotte, is sort of like that—without the need for extreme fitness, a rowdy audience or a huge cash prize. Featuring high ropes courses, such as ziplines and tree ladders. And low ropes courses, such as the horizontal ladder and tire traverse. Your group, which can number more than 400, will get their bodies moving and engage in healthy team building while doing it.
Of the many modes by which to navigate the waters, Cannon Water Adventures in Sherrills Ford, also near Charlotte, offers many of them for rent. Kayaks, paddleboards, jet skis, or ski boats and pontoon boats for slightly larger groups—there's plenty to choose from. During the off-season, Cannon Water is by appointment only.
If your group wants to get really active, U.S. National Whitewater Center offers nearly everything. And that means everything. About a 20-minute drive west of downtown Charlotte, this 1,300-acre center offers a chance for your group to team build with more than 30 activities, including whitewater rafting, climbing, kayaking, ice skating, mountain biking and deep water solo, which is like rock climbing but relies on falling into water rather than being supported by harnesses, ropes and anchors.
You've heard of farm-to-table, but try paddle-to-table, where your group can enjoy a relaxing paddle on the Catawba River, followed by an outdoor dining experience. Whitewater Center also features indoor and outdoor venues for your meeting pleasure.
Resources
Gaston County Travel & Tourism
Visit Charlotte
Visit Cabarrus