ARRIVE Hotel, Palm Springs
It's expanded its offerings to attract younger, more diverse crowds
Greater Palm Springs has long been a favorite destination for meeting groups and tourists, but recently it has become even hotter than its summer weather. One big reason is that it has expanded its offerings to attract a more diverse clientele, especially younger crowds.
In fact, Palm Springs was ranked No. 1 in Gogobot.com's 2016 list of The 10 Hippest Mid-Sized Cities in America.
"Once upon a time, Palm Springs was known for being a retirement haven where the post-employment crowd liked to spend their vacations and golden years," noted the online travel guide. "Boy, has that changed. While it's still Baby Boomer-friendly, it's now also LGBT-friendly, foodie-friendly, microbrew-friendly, and millennial-friendly."
Greater Palm Springs Convention & Visitors Bureau—which serves Palm Springs, Cathedral City, Rancho Mirage, Palm Desert, Indian Wells, Indio, La Quinta, Coachella and Desert Hot Springs—has invested plenty of resources to emphasize this shift.
"We have transitioned to a vibrant, exciting and easily accessible destination for all ages and tastes," says Rob Osterberg, CMP, director of convention sales for the CVB.
Palm Springs experienced a 6.1 percent increase in the economic impact of travelers from 2013 to 2015, and Osterberg expects to see similar growth from 2015 to 2017. Here's a look at some of the new and forthcoming hotels, restaurants and attractions that are especially suitable for groups, and are helping to shape the "new" Palm Springs.
Leader of the New Modernist Movement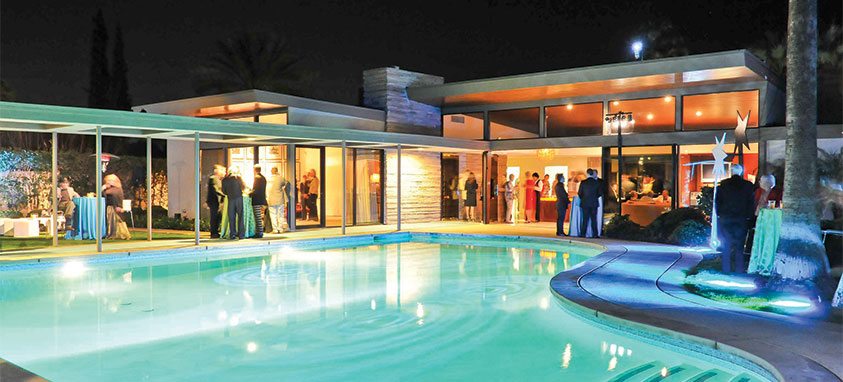 Palm Springs boasts the world's largest inventory of intact Midcentury Modernist architecture, and has been at the forefront of the new, worldwide Modern renaissance. The city has been increasingly striving to preserve structures, ranging from private homes to civic centers, and this movement has piqued the interest of millennials, and other young residents and visitors.
One of the recent success stories involves a building designed by E. Stewart Williams in 1961 that originally housed Santa Fe Federal Savings and Loan. After it was purchased by Palm Springs Art Museum Architecture and Design Center in 2011, renowned fashion designer Trina Turk and other community members donated funds to restore it, resulting in a 13,000-square-foot, glass-and-steel building with floor-to-ceiling windows. The original terrazzo floor, bank vault door and other parts of the building were restored.
The museum contains major collections of modern and contemporary art, architecture and design, glass, photography, and Native-American and Western art. Docent tours are available.
Osterberg points to other options for immersing in the city's famed architecture.
"Groups can experience it by taking a tour of Midcentury Modern properties around the destination, or even better yet, by hosting an event at classic Midcentury Modern homes such as Twin Palms Sinatra Estate or The Merv Griffin Estate," he says.
Also, the Uptown Design District—an expanding retail district with about 60 boutiques and art galleries, many housed in Midcentury Modern buildings—has become an architectural aficionado's destination in its own right. It's located along a 2-mile stretch of North Palm Canyon Drive, between Tachevah Drive and Alejo Road, just north of downtown.
Every year, Palm Springs hosts Modernism Week (pictured above), an 11-day festival celebrating Midcentury Modern design, architecture and art. This winter, the festival drew 97,000 participants, 25 percent more than last year. The event takes place Feb. 15–25 in 2018. The Modernism Show & Sale (for decor and furnishings) and Palm Springs Fine Art Fair (for post-war and modern art) are held during Modernism Week.
Progressive New Hotels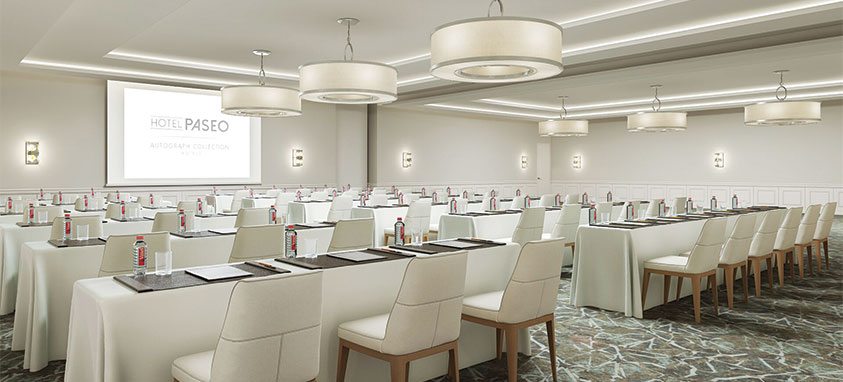 Palm Springs has many outstanding hotels—including Hilton Palm Springs, Renaissance Palm Springs Hotel, Parker Palm Springs, Hard Rock Hotel Palm Springs, Hyatt Palm Springs, Saguaro Palm Springs Hotel and Ace Hotel Palm Springs. Several new hotels have been added that inject more of a hip, contemporary flavor to the mix.
Kimpton Rowan Palm Springs Hotel is scheduled to open late this fall in the heart of downtown with 153 guest rooms, offering stunning views of the surrounding area—and yoga mats. The property also features nearly 16,000 sq. ft. of meeting space, as well as a rooftop with a pool, a bar and panoramic 270-degree views of the valley. At 4 Saints, chef Stephen Wambach serves Mediterranean cuisine with a French influence.
The first new luxury hotel in Palm Desert in more than 30 years, Hotel Paseo (pictured above) provides 149 guest rooms, a restaurant and bar featuring craft beers and curated wines, a spa, a high-tech fitness center, an outdoor pool and a cabana bar. The boutique property, a member of Marriott's Autograph Collection, also has 3,675 sq. ft. of meeting space. It's near upscale shopping, art galleries, restaurants and nightlife on El Paseo, known as "The Rodeo Drive of the Desert."
Located on a 2-acre parcel in Uptown Palm Springs, Arrive hotel, which celebrated its grand opening in 2016, was designed with younger, socially connected consumers in mind. Guests check in at the bar, and communicate with room service, housekeeping and hotel units via their smartphone. The 32 guest rooms feature stylish but affordable pieces from West Elm and CB2, as well as Apple TV, Malin & Goetz bath products and mini bars. The property has 21,820 sq. ft. of indoor and outdoor meeting space.
Arrive hotel "draws heavily from Midcentury Modernism's playbook but pushes the design vernacular into 2016," the Los Angeles Times reported when it opened.
The 302-room DoubleTree by Hilton Golf Resort Palm Springs, located in Cathedral City, recently completed a thorough $12 million renovation that gives the property more of an upbeat, contemporary vibe. The renovation upgraded rooms and meeting spaces, and added new restaurant and bar areas, an expanded gym, and cabanas and fire pits around the pool. The property has 23,000 sq. ft. of meeting space, including two ballrooms.
Stimulating Attractions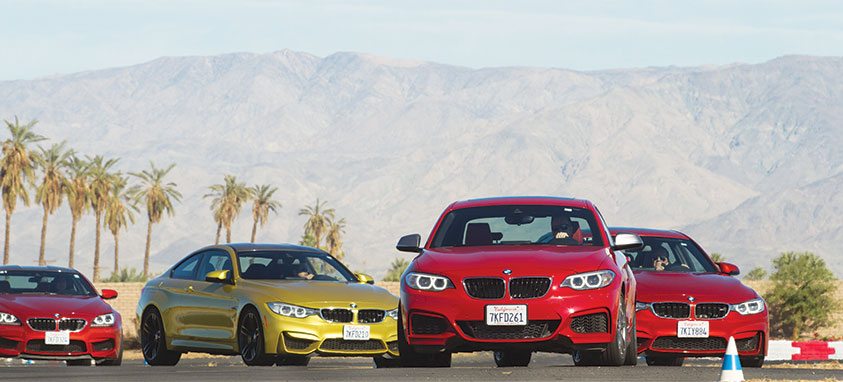 The Palm Springs Aerial Tramway—the largest tram with a rotating cabin in the world—is one of the city's top attractions, along with The Living Desert Zoo and Gardens, Palm Springs Air Museum, and jeep tours to the San Andreas Fault and the ancestral home of the Agua Caliente Band of Cahuilla Indians. Several new developments, including the following, are enhancing Palm Springs' bevy of attractions.
Escape Room Adventures, which offers great team-building activities, has relocated to a new building in Palm Springs that offers nearly three times as much space as its former home. The choices cover some popular subjects—including Merlin's Magic School, Jack the Ripper and Titanic—and require teams of 10 to 65 to work together to solve puzzles. No special skills are required, and people with disabilities are able to participate.
A new attraction, BMW Performance Center (pictured above) in Thermal, features exciting team-building options, including driving experiences and off-site adventures. Its North and South Palm circuits are challenging, full-length courses with hairpin turns, a 2,500-foot straight, 4.5 miles of track and elevation changes. The center also has a cafe and two conference rooms for group instruction.
Agua Caliente Band of Cahuilla Indians plans to start building a large-scale cultural center and spa complex in early 2018 in downtown Palm Springs at the site of the tribe's historic hot spring. The cultural center will feature a museum with approximately 48,000 sq. ft. of gallery space, including areas for art and cultural artifacts, changing exhibits, an education center and a garden.
The spa and bathhouse will provide some 40,000 sq. ft. of spa treatment rooms, men's and women's bathhouses, a salon, a fitness center, outdoor mineral pools and a tranquility garden. An undetermined amount of meeting space will be available. The project is scheduled to be completed by early 2020.
Inventive Cuisine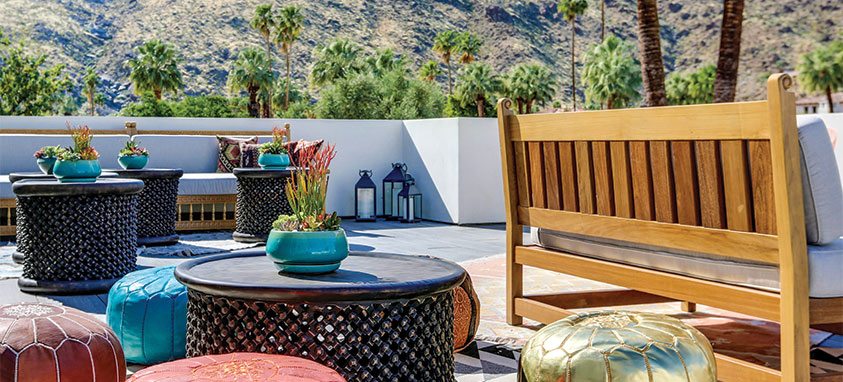 It's never been a challenge to find excellent cuisine in Palm Springs, and recently the selection has been boosted by a host of unique, health-conscious restaurants that have opened or announced plans to do so soon.
Azucar Restaurant and Bar (pictured above) opened in September on the roof of Palm Springs' new La Serena Villas complex. Azucar uses local farm-to-table ingredients to create its menu items, which blend Spanish and Mediterranean influences. Small plates for sharing, as well as full-course items, are available. This poolside restaurant offers indoor and outdoor seating, and a patio with day beds and a fireplace.
Acqua California Bistro, which debuted in September in Rancho Mirage, features modern California cuisine. It also provides revamped and expanded dining areas, a remodeled outdoor patio and the new River Room for private parties, corporate events and special occasions.
A vegan restaurant, Chef Tanya's Kitchen, has been earning heaps of praise since it opened in Palm Springs in July. Chef Tanya Petrovna brings her unique touch to fresh, flavorful, healthy dishes that appeal to vegans and nonvegans. One favorite, the El Cubano sandwich, replaces ham with seitan, a wheat protein that she marinates. Other popular menu items are the eggless potato salad and the Tuno salad, made with chickpeas.
One of the world's top sushi chefs, Engin Onural, will be opening a restaurant in Palm Springs in 2018. It will showcase the unique twist on traditional sushi that he offers at his Palm Desert restaurant. The main focus will be the pairing of sushi and whiskey, but the menu and design will be heavily influenced by Onural's travels to Norway and other regions of Scandinavia.
Solstice, a desert-inspired, upscale restaurant featuring farm-to-table reinterpretations of American fare, is scheduled to open at V Palm Springs hotel next year. The seasonal menu will include organic and locally produced dishes, and signature cocktails will be served.
A favorite restaurant among hipsters and others since it opened in Palm Desert in December 2016, Evzin will soon be opening a second restaurant in Palm Springs inside Caliente Tropics Resort Hotel. Evzin's outside-the box, creative interpretation of Mediterranean cuisine will blend with the hotel's popular take on Tiki culture.
Heirloom Craft Kitchen in Indio was slated to open at the end of 2018, and feature soups, salads, small plates, sandwiches and signature dishes using local and organic produce. Baked goods and pastries are also to be available, as well as grab-and-go cases for easy take-out.
Celebrity Hot Spot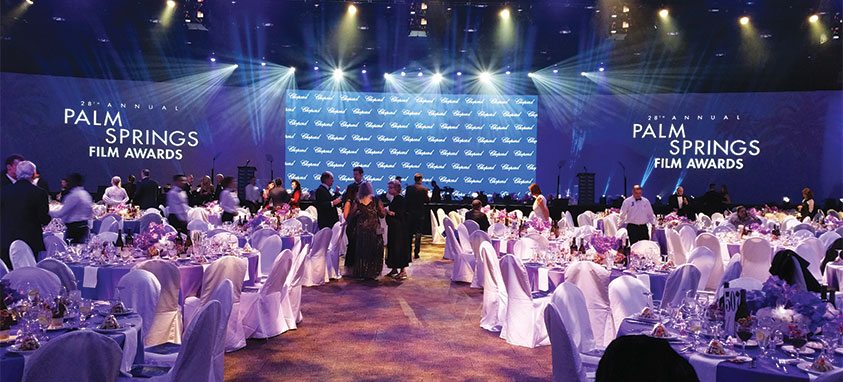 Since the 1930s, Palm Springs has been home to some of the world's leading celebrities, including Marilyn Monroe, Elvis Presley, Frank Sinatra, Greta Garbo, Bing Crosby, Elizabeth Taylor and Liberace. Several current celebrities—including Leonardo DiCaprio, John Barrowman and Sia—are part of a new wave of celebrities who own homes there. Palm Springs also is a favorite spot of many celebrities residing in the Greater Los Angeles area.
"We continue to celebrate the long association with Hollywood," Osterberg says. "Greater Palm Springs is still an easy getaway for celebrities to escape their day-to-day routine and just chill."
Many of them come for the Palm Springs International Film Festival in early January. Sonny Bono, former mayor of Palm Springs, was the main force behind the creation of the film festival. He felt that it would be exactly the type of event that might extend the truncated tourist season in Palm Springs, and help put the area on the map as a year-round tourism destination.
From its modest inception in 1989, it has become one of the largest film festivals in North America, welcoming some 135,000 attendees over a 14-day period for its annual lineup of more than 150 international features and documentaries.
The annual Film Awards Gala at Palm Springs Convention Center (pictured above) honors the best individual achievements of the year, and always features some of the industry's brightest stars, including many young talents.
This year's lineup included Tom Hanks, Nicole Kidman, Ruth Negga, Natalie Portman, Mahershala Ali, Andrew Garfield, Amy Adams and Casey Affleck. The event takes place Jan. 2–15 in 2018, and tickets for films and special events are on sale at the end of December.