Glamping adventure, Heritage Inspirations, Taos
The Land of Enchantment offers oodles of exciting transformational experiences
New Mexico, with its stunning beauty, rich cultural mix and thriving arts scene, has long been regarded as an especially attractive place for meetings. Its main cities also offer outstanding restaurants and wonderful hotels, but perhaps above all, the Land of Enchantment features a spirit that inspires groups, often triggering transformational—and even life-changing—experiences.
"The state is brimming with one-of-a-kind experiences that touch the soul and leave a lasting imprint," says Kristin McGrath, vice president of convention sales, services and sports for Visit Albuquerque. "From the annual burning of Zozobra to the Albuquerque International Balloon Festival and living Native American cuisine, New Mexico is a place that is truly unlike any other."
Powerful experiences are available throughout the Land of Enchantment, and are abundant in the most popular meeting and tourism areas. Many opportunities for transformative experiences in these cities can be arranged, but some happen without any planning whatsoever.
"Though there are many attractions and activities that can be considered 'transformative' in Taos, it is worth noting that visitors can come here and be transformed without doing anything," says Karina Armijo, director of marketing and tourism for Town of Taos. "Visionaries and icons like Georgia O'Keeffe, Ansel Adams and D.H. Lawrence came to Taos and were changed by simply being here.
"The views, the colors and the air changed them, inspired them and motivated them. So, while there are plenty of incredible experiences that groups can try, there is something about just looking around, taking in the surroundings and breathing in the calm, quiet air of Taos that has a knack for changing people in the most beautiful ways."
The same can be said for Santa Fe, Albuquerque and Las Cruces. Here's a look at some of the magical qualities of each city and the transformative opportunities they offer.
Santa Fe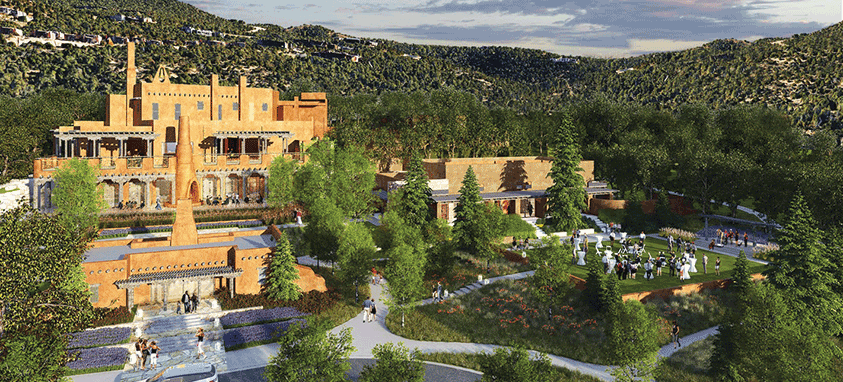 Home to some 70,000 people, Santa Fe was founded by Spanish colonists in 1607 (then known as La Villa Real de la Santa Fe de St. Francis de Asis) and is the capital of New Mexico. City officials aptly nicknamed it The City Different early last century due to its many stunning, unique qualities, from the rich Native-American tradition to the incredible sunsets.
"Groups find this iconic destination to be an easily walkable city with a small-town feel and an international flair," says David Carr, director of sales for Tourism Santa Fe. "Attendees can effortlessly walk between the convention center and host hotels, passing museums, centuries-old buildings, colorful art galleries and charming boutiques along the way."
This stimulating destination is also a place where transformative experiences flourish.
Awesome Experiences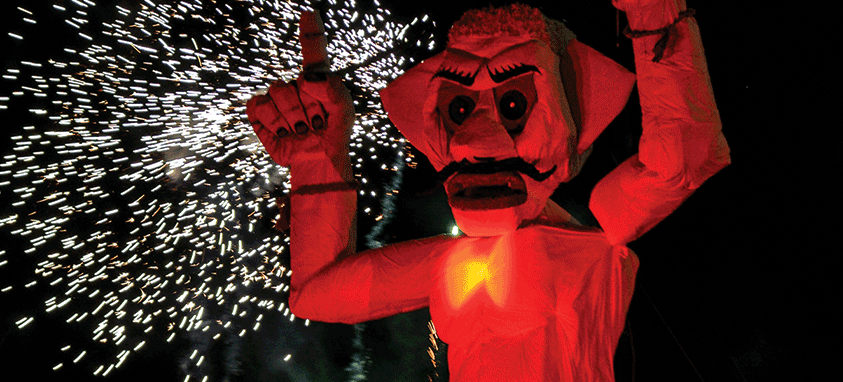 One popular group outing is a visit to Bandelier National Monument, less than a one-hour drive from Santa Fe. It contains some of the most unusual and interesting ancient ruins in the Southwest, including petroglyphs and pictographs, as well as mountains rising to 10,200 feet, steep canyons with plenty of wildlife and a colorful section of the Rio Grande Valley.
"It is possible to arrange for a dinner at Bandelier with a backdrop of cliff dwellings and performers, whose ancestors lived in the area hundreds of years ago, entertaining the group," Carr says.
The annual ceremony of the Burning of Zozobra, Old Man Gloom, is a fiery and spirited event that offers an unforgettable kickoff to the annual Fiestas de Santa Fe during the first weekend of September following Labor Day.
Old Man Gloom, more than 50 feet tall, is made of muslin and stuffed with shredded paper. The fantastical creature flails and groans eerily at the crowd before being set ablaze by torches amid fireworks and ceremonial dances. According to tradition, as Old Man Gloom burns, the feelings of gloom and doom from the past year also perish.
The Burning of Zozobra takes place at Fort Marcy Park, just a few blocks from historic Santa Fe Plaza.
Equus Santa Fe is built upon the premise that conventional approaches to living and leading are no longer effective when facing today's challenges, and that organizations need to be highly adaptive to thrive. It contends that new capacities of awareness, wisdom and presence are now required, but they can't be learned in the same way other skill-sets are learned. Instead, conditions need to be created for such capacities to emerge.
Attendees learn about themselves and unleash their true potential during an amazing bonding experience with horses at Equus. Horses have an innate capacity to feel the intention of those around them, as well as to connect with others whom they trust. They guide groups on a journey of self-mastery and discovery. Offerings are customized to serve the needs of clients, whether they be short-term sessions and workshops, or long-term retainer engagements.
Transformative adventures also are offered by Meow Wolf, which creates immersive and interactive experiences that transport groups into fantastic realms of story and exploration through the use of art installations, video and music production—and extended reality content.
The group's first permanent installation, the THEA Award-winning House of Eternal Return, was launched in March 2016 with support from Game of Thrones creator George R.R. Martin. Groups discover a multidimensional mystery house with secret passages, portals to magical worlds, and an expansive narrative amid surreal, mesmerizing and maximalist art exhibits.
Top Meeting Venues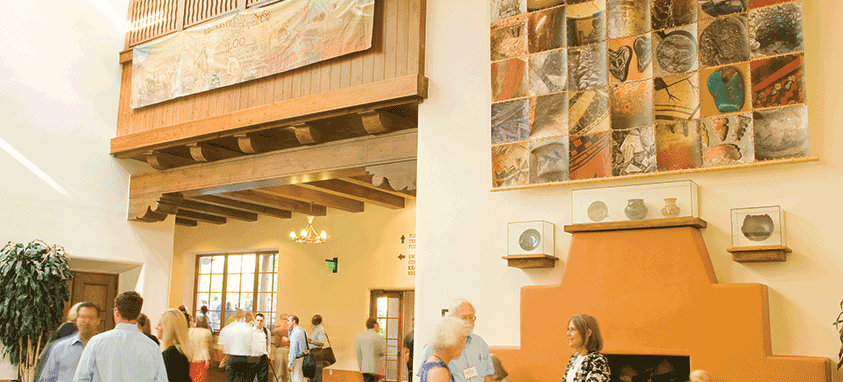 Bishops Lodge is an iconic 1920s resort situated on 317 acres in the foothills of the Sangre de Cristo range of the Rocky Mountains. Now owned by Auberge Resorts Collection, it is currently closed for a renovation that is expected to provide Santa Fe with another five-star hotel when it re-opens in June. It will feature 120 guest rooms, a 3,000-square-foot ballroom and the 5,500-square-foot Event Garden, with a small stage for presentations and performances.
Featuring historic adobe architecture, Santa Fe Community Convention Center highlights Navajo rugs, Spanish Colonial tin accents and carved furniture accent pieces made by local artisans. It offers 40,000 sq. ft. of indoor, flexible meeting space, including the 17,836-square-foot Sweeney Ballroom.
Eldorado Hotel and Spa, with 219 guest rooms and 22,000 sq. ft. of meeting space, is the city's largest hotel. Its grand ballroom features 7,000 sq. ft. of space, a 15-foot ceiling, multipaned doors, traditional wainscoting and custom light fixtures.
The only hotel directly on Santa Fe Plaza, La Fonda on the Plaza is a focal point of the city's activities and attractions. It includes 180 guest rooms and 21,275 sq. ft. of meeting space, including the 6,500-square-foot Lumpkins Ballroom.
Drury Plaza Hotel Santa Fe, the newest downtown hotel, sits on 5 acres of landscaped grounds and offers 182 oversized guest rooms and 20,112 sq. ft. of indoor and outdoor meeting space.
Taos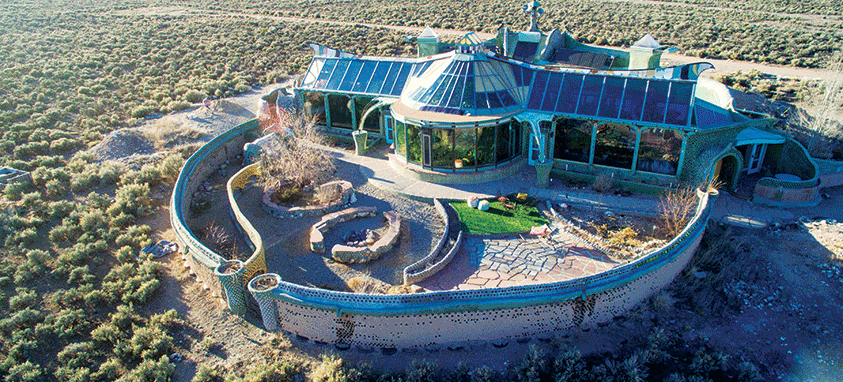 When Taos is mentioned, people customarily think of the world-famous Taos Pueblo, an ancient pueblo belonging to a Taos-speaking (Tiwa) Native-American tribe of Puebloan people. It truly is a remarkable place, but Taos also is a prominent art colony and boasts a world-class ski resort (Taos Ski Valley), one of the most photographed and iconic churches (St. Francisco de Asis), and a majestic landscape encompassing the Rocky Mountains and the Rio Grande Gorge (and its eponymous bridge).
"When visitors aren't in the conference rooms or meeting centers, they can enjoy a wide array of outdoor activities, local shops, one-of-a-kind eateries and endless galleries, no matter the season," says Armijo of Town of Taos. "A meeting in Taos is much more than a meeting—it's a retreat and an incredible place to spark inspiration, make lasting memories and experience pieces of history and culture that are impossible to find anywhere else."
Awesome Experiences
The only living Native American community designated as both a World Heritage Site by UNESCO and a National Historic Landmark, Taos Pueblo, estimated to be around 1,000 years old, is located 1 mile north of Taos. According to Taos Indian custom, oral history is not divulged outside of the community, which has kept many of the secrets of the Taos Pueblo within the minds of the people who still live there.
Group tours are available, though, and an ideal time to visit is during one of the 13 annual Feast Days, which consist of eating, visiting with family and friends and enjoying traditional dances. Feast days are an integral part of the Pueblo culture and the community likes sharing them with visitors and friends.
"Also under the bucket list header in Taos is the Christmas Eve Processional at Taos Pueblo," Armijo says. "Ceremonies as old and as sacred as this are difficult to come by in the United States, and the opportunity to witness centuries of history and tradition come to life in the form of bonfires, rifle salutes and traditional song and dance is a once-in-a-lifetime opportunity."
Another intriguing group, The Earthship Biotecture Community, provides tours, during which groups can visit media rooms and a gallery with exhibits, as well as outdoor pathways to get a better look at its ongoing, ground-breaking construction projects. Groups can experience a fully functioning Earthship—a futuristic-looking type of passive solar house that is made of both natural and upcycled materials such as earth-packed tires—that combines passive solar architecture, thermal mass construction, renewable energy, integrated water systems that include indoor food growing, and the use of natural and recycled materials.
The breathtaking views of some the state's tallest mountains and the Rio Grande Gorge make the hike to Wheeler Peak—which, at 13,167 is the highest point in the state—unforgettable. Two standard routes lead to the summit: the gentle-but-long 7.5-mile Bull-of-the-Woods Trail, and the short-but-steep 3.5-mile Williams Lake Trail. Both trails can be accessed from Taos Ski Valley resort, which is 20 miles from Taos. The trails provide wide views of the mountain, which pioneering explorer and cartographer George Wheeler (after whom the mountain is named) and his party explored nearly 150 years ago.
Attendees with additional time to spend in Taos before or after an event might want to participate in a glamping tour offered by Heritage Inspirations, a Taos-based company. This year, the company will be launching a glamping tour centered around the Perseid Meteor Shower. The tour, to take place in August, will include luxe canvas tents perched among wild sagebrush, far away from any lights that could interfere with viewing the shower.
"After a night admiring this celestial spectacle, the following two days will be filled with hiking and yoga in the expansive Rio Grande Valley and paddleboarding on Lake Abiquiu, surrounded by the sights that inspired artists like Georgia O'Keeffe," Armijo says.
Heritage Inspirations also offers glamping tours during some new moon phases, as well as other adventure tours in Taos, Santa Fe, Albuquerque and other New Mexico locations.
Top Meeting Venues
Hotel Don Fernando de Taos closed in January of 2016, but reopened last year as one of 11 Hilton Tapestry Collection hotels. The 126 guest rooms are housed in six buildings—ideal for groups—on the 6-acre property. Palettes, Taos Food Art restaurant offers the culinary creations of the Taos Art Colony, which originated in 1898. The hotel also has a 1,260-square-foot ballroom and outdoor gathering spaces.
Nestled in a beautiful section of the Sangre de Cristo Mountains, The Blake at Taos Ski Valley, which opened in 2017, is an 80-room alpine guesthouse adjacent to Lift 1 that's ideally situated for mountainside adventures, including skiing, hiking, shopping and strolling. The ballroom at Ski Valley's Resort Center offers 21,783 sq. ft. of space.
Recently updated Sagebrush Inn & Suites provides 156 guest rooms, Southwest dining at Sagebrush Grill & Cantina and 13,000 sq. ft. of meeting space, including a 9,000-square-foot ballroom.
Voted a Top 25 Resorts in the Southwest by Conde Nast Traveler, the 84-room El Monte Sagrado is surrounded by majestic mountain views. It offers the award-winning Living Spa—featuring aromatherapy massages, refreshing facials and special, locally sourced treatments—and 7,000 sq. ft. of meeting space.
Albuquerque
Boasting some 558,000 residents, Albuquerque is the most populous city in New Mexico. Situated about a one-hour drive southwest of Santa Fe, it's a historically and culturally rich but ever-evolving city that has recently revitalized its downtown area.
"From taking a heart-pounding flamenco performance to soaring above the city in a hot-air balloon, visitors to Albuquerque will not only see different things—they will see things differently," says McGrath of Visit Albuquerque.
This is reflected in the theme, "Change Your Perspective," that Visit Albuquerque is using to market the city as a tourism and meetings destination.
Awesome Experiences
Albuquerque is known as the hot-air ballooning capital of the world. Conditions are ideal for ballooning—the city has more than 310 days of sunshine and its unique geographical setting facilitates balloons filling the air almost every morning. Several companies offer ballooning adventures, enabling groups to see the world and gorgeous New Mexico terrain from a totally new perspective.
The city's most famous ballooning event, Albuquerque International Balloon Fiesta, is the largest balloon festival in the world. "This is a true bucket-list experience, where more than 500 hot-air balloons paint the city's skies in a kaleidoscope of colors and shapes," McGrath says.
It takes place each October and includes food, music and merchandise vendors.
Flamenco may have originated in southern Spain, but it has become as New Mexican as the Zia sun symbol. On any given night in Albuquerque, a bailaora is performing, fusing intense passion, emotion and technique into the art form. National Institute of Flamenco promotes flamenco's artistry, history and culture through performances and educational offerings.
Each June, National Institute of Flamenco and University of New Mexico co-host Festival Flamenco Albuquerque, bringing the finest flamenco artists in the world to Albuquerque. For eight days, Albuquerque is filled with the pulse of flamenco, and is transformed into a cultural epicenter for performers and observers.
Groups can have an up-close-and-personal view of Albuquerque's clear blue sky with Sundance Aviation glider rides. Gliders ascend to up to 18,000 feet above sea level, and the view from the cockpit is spectacular. The company offers rides year-round over the stunning New Mexico high desert, and occasionally they are joined by eagles, hawks and falcons.
Though its closed until June for reconstruction, the 9-mile La Luz Trail, at the north end of the Sandia Mountains, takes groups from the base of the mountain to the peak. Gorgeous, challenging and filled with ever-changing scenery, the trail will provide memories your group will never forget, including panoramic views of Albuquerque from the crest. The trail is strenuous, and groups are advised to bring plenty of water and high-energy food, and allow plenty of time to descend before darkness.
Another option is to take Sandia Peak Aerial Tramway—the longest aerial tramway in the world—which transports groups above deep canyons and breathtaking terrain over 2.7 miles. Some of nature's dramatic beauty unfolds during the ride. At sunset, the desert skies produce a spectacular array of color. The observation deck atop Sandia Peak affords an 11,000-square-mile, panoramic view of Rio Grande Valley.
Top Meeting Venues
Located in the heart of downtown, Albuquerque Convention Center is a multipurpose event complex with more than 270,000 sq. ft. of meeting and exhibit space. The center recently was renovated to establish a strong regional architectural presence that harmonizes with the city's identity. The project resulted in a new exterior facade; a complete remodeling of the ballroom, including a new entertainment deck; massive windows with panoramic views; a renovated kitchen; and a total remodeling of the atrium on the West Complex's lower level.
Harry E. Kinney Civic Plaza, across from the West Complex, also underwent renovations that included an interactive fountain, an enormous video screen for the stage and an upgraded sound system. A new shade canopy was installed over the amphitheater, next to the fountain. The plaza was created in 1974 to host events and can be rented by groups.
Located 7 miles from Albuquerque International Sunport (ABQ), Isleta Resort & Casino provides distinctive Southwestern touches, along with 201 guest rooms and 60,000 sq. ft. of meeting space, including an 18,620-square-foot grand ballroom
El Vado Motel, which opened in 1937, held its grand reopening in July. It is a unique blend of historic character and charm, combined with modern comforts and amenities. It has 22 guest rooms and a 3,050-square-foot event center.
The 118-room Hotel Chaco opened in spring 2017 as the first luxury hotel built in Albuquerque. Located in Old Town, it is inspired by the architecture and the ancient civilization of Chaco Canyon, a UNESCO World Heritage Site. The building includes precise stone masonry, vigas and latillas for rooftop structures and is aligned to the sun's movement. Hotel Chaco has 118 guest rooms, a 1,150-square-foot meeting room and a 2,070-square-foot rooftop terrace suite. Large groups can access the 62,000 sq. ft. of meeting space at Hotel Albuquerque at Old Town, a 188-room sister hotel within easy walking distance.
Las Cruces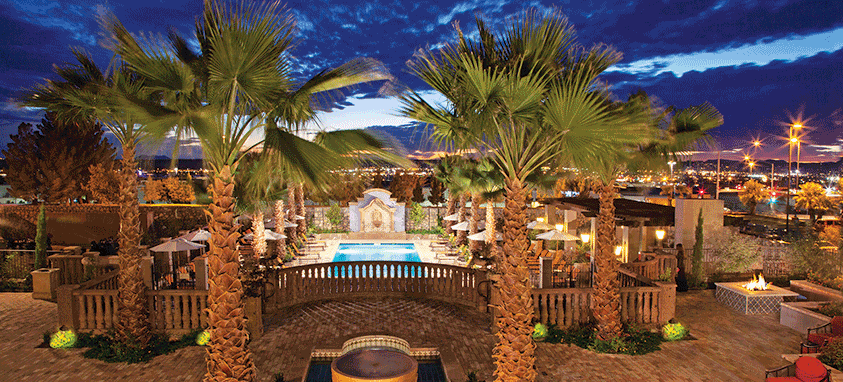 Situated along Interstate 25, 192 miles south of Albuquerque and 46 miles north of El Paso, Las Cruces is a city of around 101,000 people. Mexican traditions and Spanish saints infuse the culture, and the cowboy and farming roots are alive and well.
"It has a great selection of meetings spaces and accommodations for every budget, but they are only part of the package," says Albert Herrera, convention sales manager for Visit Las Cruces. "The city is charming, historic, unique and friendly. Visiting Las Cruces means exploring, experiencing and discovering the great New Mexican outdoors, award-winning cuisine, historic landmarks and one-of-a-kind experiences."
Awesome Experiences
El Dia de los Muertos (Day of the Dead) is a Mexican celebration of the deceased that originated more than 3,000 years ago during the time of the Aztecs. Falling on Nov. 2 each year, it is a lively, colorful holiday for families to remember and honor their deceased loved ones with food, drink, parties and activities that the dead enjoyed in life.
In historic Mesilla, 5 miles southwest of Las Cruces, the celebration takes place over three days on the plaza, where locals construct family altars, adding their relative's favorite trinkets and photographs to honor their memory. The celebration sees death as a natural part of the human experience. On Dia de los Muertos, it is believed that the dead, still part of the community, awake from eternal sleep to share celebrations with their families and loved ones.
Situated 45 minutes east of Las Cruces, White Sands National Monument protects the world's largest gypsum dune field and the unique plants and animals that survive in this unforgettable, other-worldly place. The magnificent pure white dunes provide excellent recreation opportunities; visitors can picnic or surf on them, or just stroll through a portion of the 275-square-mile national monument. The monument also offers tours and activities for groups, such as Sunset Stroll Nature Walk, full-moon night programs (May to October), special events and tours of Lake Lucero.
Prehistoric Trackways National Monument also boasts an adventurous experience. In 1987, a major Paleozoic Era footprint deposit was discovered in mega-trackways throughout the Robledo Mountains. These fossils, known as ichnofossils, belonged to a bevy of land and sea creatures, as well as the prehistoric insect world. Flora, consisting of fossilized plants and petrified wood dating back 280 million years, was found in the area. At the monument, groups can take a walk through this long-gone ancient world.
Sitting in the New Mexican desert, about a one-hour drive north of Las Cruces, is Spaceport America, the world's first commercial-built spaceport. The FAA-licensed horizontal and vertical launch areas are home to a growing community of bold space innovators—entrepreneurs, astronauts and space voyagers—on the campus, which covers 18,000 acres. Tenants include Spaceport America, Virgin Galactic, SpaceX, UP Aerospace and EnergeticX.
Group tours are available on Tuesdays and Wednesdays. After taking a short walk up the Astronaut Walk, visitors enter Gateway Gallery, where their journey through commercial space continues with numerous interactive exhibits and kiosks. Some visitors choose to experience the G-Shock simulator that subjects these would-be astronauts to rapid acceleration comparable to what an actual astronaut might feel in flight. Later, groups venture into Spaceport Operations Center and interact with Spaceport America crew members and the state-of-the-art fire station before visiting the iconic spaceport structure.
Top Meeting Venues
LEED Gold-certified Las Cruces Convention Center is undergoing an expansion, to be completed in summer 2019, that will add approximately 17,000 sq. ft. to the current 30,000 sq. ft. of meeting space. This will include additions to the 14,500-square-foot exhibition hall, new breakout meeting rooms, more lobby and reception area space, and support space.
The facility currently features the exhibition hall, a 9,000-square-foot ballroom, six breakout totaling some 3,000 sq. ft., more than 8,500 sq. ft. of prefunction areas and 5,000 sq. ft. of outdoor space.
A 126-room Courtyard by Marriott is under construction adjacent to the convention center and is expected to open this spring.
Other local properties include Hotel Encanto de las Cruces, featuring Colonial architecture, 204 guest rooms, Garduno's Restaurant & Cantina, a golf course and 35,000 sq. ft. of meeting space.
Hacienda de Mesilla, which opened in 2017 in nearby Mesilla, is a 14-room boutique hotel with several outdoor gathering areas, including Rooftop Terrace, which offers spectacular views of the majestic Organ Mountains.
Inn of the Mountain Gods, located in Mescalero, 98 miles from Las Cruces, is a destination in and of itself, featuring stunning mountain views, 273 guest rooms, five dining options, a 45,000-square-foot casino, a spa and 40,000 sq. ft. of meeting space, including 15 meeting rooms.
A Dozen Fun Facts About New Mexico
The Taos Pueblo building is thought to be the oldest continuously inhabited structure in the world.
Despite being one of the longest-inhabited areas in the United States, New Mexico was only the 47th state to join the country.
The lowest temperature ever recorded in New Mexico was minus 50 degrees while the highest was 122, one of the largest ranges of any state.
In 1950, the producer of the radio show Truth or Consequences said that he would broadcast from the first place to rename itself after the show. The town of Hot Springs took him up on the offer and retains the name.
An enchilada crafted at a Whole Enchilada Fiesta in Las Cruces holds the world record for largest enchilada ever made.
Dancing around a sombrero is illegal in New Mexico.
New Mexico has more Ph.D.s per capita than any other state, primarily due to its many government and private research facilities.
More chili peppers are grown in New Mexico than in all other states combined.
New Mexico wine can be traced back to the early 1600s, making it the oldest known wine-producing region in North America.
Tia Sophia's in Santa Fe claims to have invented the breakfast burrito, dating it back to 1975.
Albuquerque has more than 300 hot-air balloons, the most of any city in the United States.
Around 1,000 official reports of UFOs are made each year in New Mexico.