Maine Circus Academy at Thompson's Point, Portland, Maine
Factories reimagined and reborn welcome groups for tours and more
The Industrial Revolution in the United States began in New England in the late 1700s, when a man named Samuel Slater immigrated to Pawtucket, Rhode Island, from England with knowledge of cotton-spinning. His water-powered mill established a textile-weaving industry in the New World, and the factory system in America was born.
Today, New England is no longer an industrial powerhouse, but that era's legacy lives on. Creative uses have been found for long-neglected brick factory buildings. As in other parts of the country, many now house artists, artisan businesses or museums that lend authenticity and a sense of place for those who want to see how weaving mills and other clattering machines have morphed into something brand new. Factories still in operation may offer behind-the-scenes visits, where attendees can learn how technology has evolved, with automation doing much of the work that once engaged 18th- and 19th-century Irish and other European immigrants.
Come with us on a meeting planner's tour of New England industry. Yankee ingenuity has not disappeared from the landscape. It has merely adapted to changing times.
Maine
Portland
Former factory space in the burgeoning neighborhood of Thompson's Point in Portland, Maine, is now used for multiple purposes, including meetings. Inside what was once Maine Central Railroad Machine Shop, Brick South Maine offers 25,000 sq. ft. of space for trade shows and corporate functions. Its exposed iron and wood beams, concrete floors and brick walls keep the factory aesthetic alive and well.
Also at Thompson's Point, the Depot Building offers 13,000 sq. ft. of event space, with a roof and open sides, in addition to a spacious festival lawn. State Theatre, originally a 1929 movie house, underwent a multimillion-dollar renovation and can accommodate private catered events. The theater also hosts an outdoor summer concert series at Thompson's Point. Hotel Portland plans to break ground this spring and open at Thompson's Point in 2019. It'll have 148 guest rooms and a 1,750-square-foot rooftop terrace.
To add flair to your meeting, hire acrobats from Circus Maine to wow your crowd. Their training facility, Maine Circus Academy, is housed at Thompson's Point, and its production company, Pinion Productions, arranges bookings onsite and off. "We had Circus Maine perform at Old Port Festival this year at the children's stage, and it was a huge hit!" says Sally Newhall, president of Seaglass Events. "I have also rented the space at Thompson's Point for TEDxDirigo, and working with Circus Maine throughout the event was great."
Situated on the shoreline of Casco Bay, The Holiday Inn by the Bay in downtown Portland is the largest convention hotel in Northern New England, with 30,000 sq. ft. of meeting space, including a 12,500-square-foot exhibit hall, and 239 guest rooms. Nearby, The Westin Portland Harborview has more than 15,000 sq. ft. of meeting space and 289 guest rooms.
Rhode Island
Newport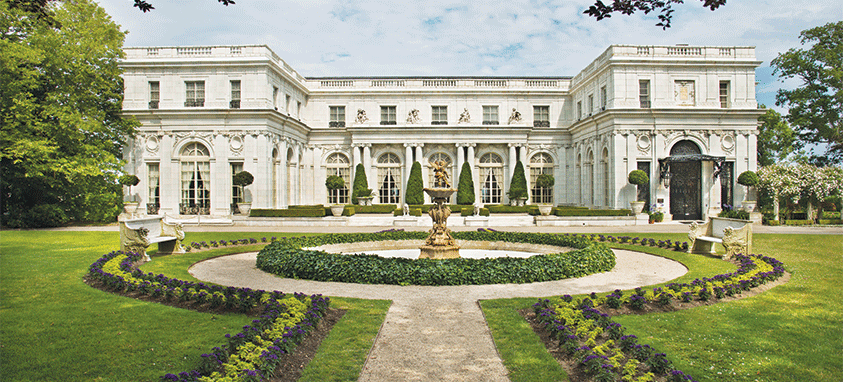 In January, National Geographic Traveler named Newport one of the 30 small cities on the rise in the United States. There are more than 900 hotel rooms at four convention hotels—Newport Marriott, Gurney's Newport Resort & Marina, The Newport Harbor Hotel and Marina and Hotel Viking—in downtown Newport with a combined 70,000 sq. ft. of meeting space.
Situated on the site of a former missile manufacturing plant, Newport Car Museum parked itself in town in June 2017. Its 55,000 sq. ft. of space houses more than 60 vehicles from the 1950s to the present, representing the progression of industrial design in the automobile industry across the last six decades. The Thunderbird Ballroom offers 5,000 sq. ft. of space for up to 500 guests within the colorful Fin Car exhibit.
Guests can embark on self-guided tours on a catwalk through the 18,000-square-foot workshop at the International Yacht Restoration School, where students learn the technology, marine systems and carpentry of boatbuilding. The 2.5-acre waterfront school was founded in 1993, but the campus' history dates back much farther. The Aquidneck Mill Building opened in 1831 as a textile mill, and another building opened in 1903 as an electric generating plant.
Four of the Newport Mansions—Rosecliff, The Elms, Marble House and The Chinese Tea House—are available for corporate dinners and celebrations in the evening. Reminiscent of the Gilded Age and modeled after the Grand Trianon of Versailles, Rosecliff is home to the largest private ballroom in Newport and served as a setting for the films The Great Gatsby and 27 Dresses, as well as a performance by magician Harry Houdini.
The Preservation Society of Newport County has debuted a new tour, Beneath the Breakers, which takes guests underneath an estate once inhabited by the Vanderbilt family. Groups walk through the tunnel, boiler room and basement of the mansion, learning about the advent of household electricity, the elevator, heating and cooling systems, and how plumbing and laundry advancements revolutionized hygiene.
Gurney's Newport Resort & Marina, formerly Hyatt Regency Newport, on Goat Island has completed renovations of its 257 guest rooms. New York City's renowned Scarpetta Italian restaurant has an outpost there. Boasting 50,000 sq. ft. of lawns and pavilions, and 27,000 sq. ft. of ballrooms and halls, Gurney's offers the most event space of any property in Newport. A charming historic lighthouse sits on the North Lawn. Complimentary skiff rides to town can be had from May through October. A house Porsche is available for year-round transport.
A 143-room Cambria Hotel & Suites opened in June at The Atlantic Resort Newport Hotel & Conference Center in nearby Middletown. The waterfront property overlooks Easton's Pond and the Atlantic Ocean. The two largest spaces each offer 8,500 sq. ft. of meeting space.
Newport Marriott received a AAA Four Diamond rating in 2017. The hotel just completed renovation to its 320 guest rooms, more than 24,000 sq. ft. of meeting space (including a sea-inspired, 7,686-square-foot grand ballroom), the lobby, a restaurant, bars and a health club. The hotel also features an indoor saline pool. Last year it was selected Hotel of the Year for Marriotts in the Americas.
Providence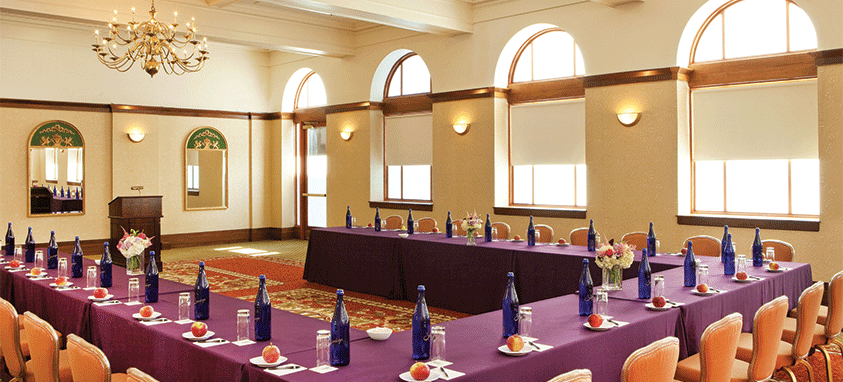 The nucleus of Providence is the Rhode Island Convention Center (RICC), which has a total of 167,000 sq. ft. of meeting space, including an expansive, 100,000-square-foot exhibition hall, 30,000 sq. ft. of prefunction space and 23 meeting rooms. It's conveniently located within easy walking distance to almost 2,400 hotel rooms, including the attached 564-room Omni Providence Hotel, which offers an additional 22,877 sq. ft. of meeting space.
The largest hotel property in downtown is also connected to Providence Place, a shopping, dining and entertainment complex.
A skybridge joins RICC and Dunkin' Donuts Center, aka the Dunk. The 14,000-seat arena is home to the AHL Providence Bruins and college basketball. It can host trade shows in the 31,000-square-foot arena, with additional space available in the concourse, lobby, suites and hospitality areas.
Designed by the same architects as Grand Central Station in New York City, historic Providence Biltmore Hotel, which will re-emerge in early 2019 as Graduate Providence, has been welcoming guests since 1922. Located one block from RICC, its rooftop grand ballroom features a two-story ceiling. In total, there is 18,500 sq. ft. of meeting space and 294 guest rooms. The only AAA Four Diamond luxury boutique hotel in the city is The Hotel Providence, in the arts and theater district, three blocks from RICC. It has 5,500 sq. ft. of event space and 80 guest rooms.
Massachusetts
Springfield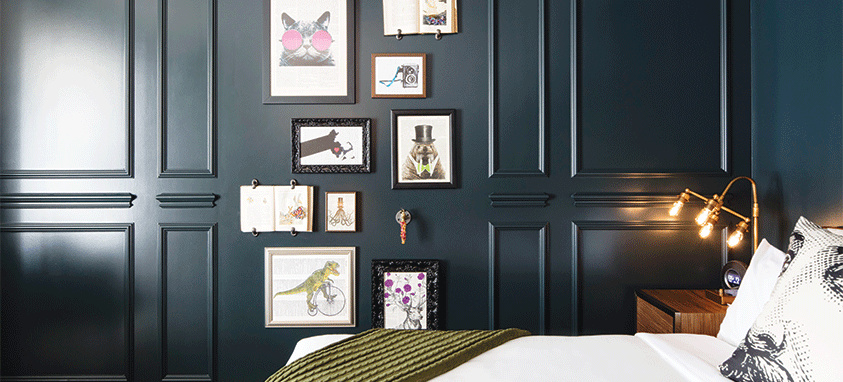 Oh, the places you go for meetings. Beloved children's book author Theodor "Dr. Seuss" Geisel hails from Springfield. At The Amazing World of Dr. Seuss Museum, guests can learn how his rhyming technique revolutionized literacy. Outside, the Dr. Seuss National Memorial Sculpture Garden is available for rent—to serve green eggs and ham among statues of his beloved characters, of course.
When the $960 million MGM Springfield opens in the third quarter of 2018, it will incorporate the city's literary culture into some of its 250 guest rooms and become New England's first luxury gaming resort. The pillows in the queen rooms will have quotes by poet Emily Dickinson. The hotel's windows of factory-style wired glass are a bow to Springfield's industrial past. In addition to 44,000 sq. ft. of meeting space, MassMutual Center, which is managed by the hotel, offers a 100,000-square-foot convention center only a block away.
"We couldn't be more excited to welcome MGM Springfield," says Mary Kay Wydra, president of Greater Springfield Convention & Visitors Bureau. "This new attraction, coupled with existing attractions like Yankee Candle Village and Six Flags New England, makes this destination even more attractive for meeting planners and their attendees."
The largest ballroom in town, at 9,648 sq. ft., can be found in the Sheraton Springfield Monarch Place Hotel. In all, it features 38,000 sq. ft. of meeting space and 325 guest rooms. Tower Square Hotel Springfield contributes another 15,170 sq. ft. of meeting space and 265 guest rooms to the local inventory.
Vermont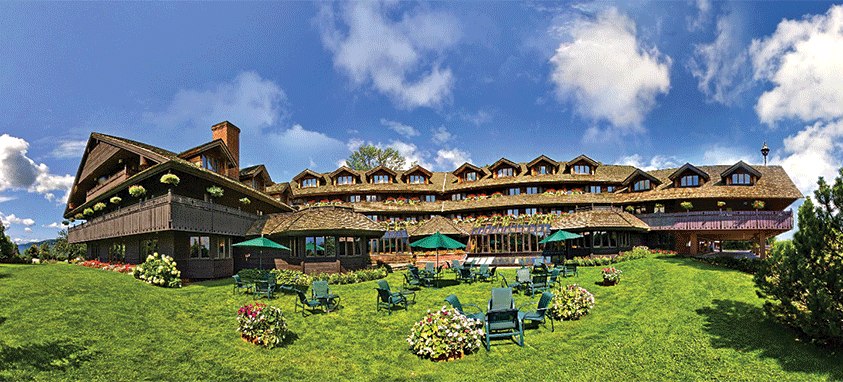 Think Vermont industries, and what comes to mind? Maple syrup, for starters. But what about teddy bears? A quintessential souvenir for groups to bring home to family or co-workers is a cuddly stuffed animal from Vermont Teddy Bear Company (VTBC) in Shelburne. During a tour guided by a Bear Ambassador, groups of any size are taken through the sewing process and bear hospital. Picnic tables await for boxed lunches.
"Vermont offers some of the most unique consumer experiences around," says Bill Shouldice, the company's CEO. "Watching our craftspeople create our bears by hand is something you just won't see anywhere else. There are no loud, impersonal conveyors here churning out our bears—just skilled, caring hands that put 1,267 unique stitches into every single teddy bear."
In August 2016, Vermont Captive Insurance Association's 35th Annual Conference was treated to A Day in the Life of a Vermont Teddy Bear. VTBC's director of manufactory, distribution center manager and controller guided attendees through a bear's journey from being ordered to being sent to its new home. They also learned about areas of risk management such as product liability, manufacturing, delivery and credit card fraud.
According to CareerCast.com, event coordination is the fifth-most stressful job, but stressed spelled backwards is dessert! So, scoop time out of your agenda to tour Ben & Jerry's factory in Waterbury, Vermont. As the state's No. 1 tourist attraction (excluding skiing), America's best-known ice cream factory welcomes 365,000 visitors annually. Groups of up to 40 people are guided through the ice cream-making process, learn about the company's values and visit the Flavor Graveyard, where the "dearly de-pinted" (discontinued) flavors are laid to rest. A VIP immersive experience is also available to get hands-on in the Flavor Lab. There is no event space onsite, but off-site catering is available.
The hills are alive with the sound of meetings at Trapp Family Lodge, where the real-life Sound of Music family opened a resort in Stowe after fleeing Austria. There is 6,000 sq. ft. of meeting space in the main lodge and an additional 1,500 sq. ft. in their brewery, Bierhall. Tented events for up to 200 people can be hosted outside, depending on the season. Most of the property's 96 guest rooms are newly renovated. Activities include cross-country skiing, snowshoe tours and horse-drawn sleigh and wagon rides.
Stoweflake Mountain Resort & Conference Center in Stowe is the state's only IACC-certified facility. Wellness programs, such as meditation, Nordic walking, yoga and aromatherapy, are available, and a Merchants-to-Meetings initiative connects attendees to more than 30 local boutiques, restaurants, tours, breweries and distilleries. The resort offers 176 guest rooms and more than 40,000 sq. ft. of indoor and outdoor event space. It also hosts an impressive hot-air balloon festival annually.
Meetings are about to get grander at the 196-guest room Mount Snow resort in West Dover, when the new Carinthia Lodge opens for the upcoming ski season. It will add 10,000 sq. ft. of meeting space to the property's existing 15,000 sq. ft. In January, Canned joined the resort's apres-ski scene, serving local beer and cider only in cans.
Social Net-Work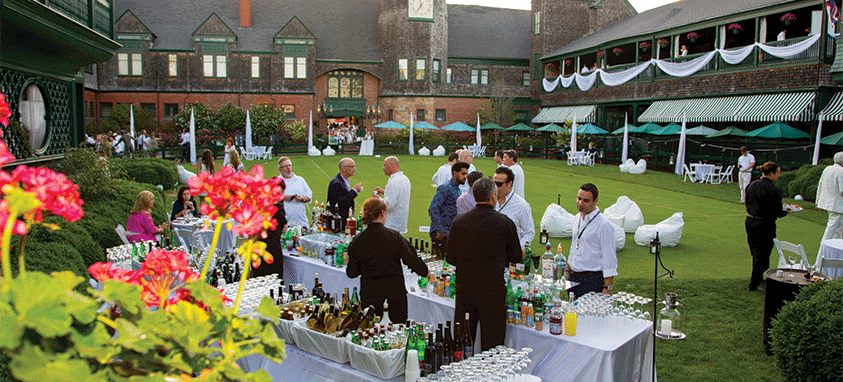 There's so much more to New England sports culture than the Patriots, Celtics, Bruins and Red Sox. The region is also home to two noteworthy halls of fame, where meeting professionals can plan winning events for their own MVPs.
International Tennis Hall of Fame
Bring the allure of Wimbledon to your Newport, Rhode Island, meeting at International Tennis Hall of Fame (pictured). The 2,000-square-foot Horseshoe Piazza forms a semicircle around the museum's signature grass court, where guests can be entertained by an old-fashioned tennis exhibition with players dressed in throwback court attire. Additional meeting space is available in the USTA Wing and The Canfield House.
Naismith Memorial Basketball Hall of Fame
Take your best shot on center court at Naismith Memorial Basketball Hall of Fame in Springfield, Massachusetts. The hardwood transforms into a magnificent ballroom, accented by a domed roof and balcony. In total, there is more than 80,000 sq. ft. of event space, including a 200-seat amphitheater. Corporate team-building programs are offered.