Nevada evolves again in surprising ways
This past April, the city of Las Vegas, Nevada hosted the National Football League (NFL) Draft, an event that attracted more than 325,000 attendees over three days. Vegas was chosen in part because it is the new home of the Las Vegas Raiders and Allegiant Stadium, a dazzling new facility that will be home to the 2024 Superbowl. Of course, it also helps that "Sin City" is one of the world's leading hubs for meetings and conventions, offering more than 150,000 hotel rooms and a global reputation for buzzy fun.
"Las Vegas is one of the largest hosts of hotels and resorts," says Aubrey L. Walton, director of event location strategy and planning for NFL Events, who helped plan the draft and related activities. "The NFL wanted to bring our second largest national event to the city to learn how the city works, introduce ourselves to all the resort partners, build upon the entertainment title that Las Vegas represents, and bring impact back to the community."
The NFL Draft is one of thousands of meetings, conventions and special events set to take place this year in Nevada—not only in Las Vegas, but also in Reno, Lake Tahoe, Carson City and other cities across the state. Planners who haven't visited in a while may be surprised to see how the state is evolving: as tribal gaming properties have sprung up across the nation, Nevada's cities have diversified their offerings. Many of the newer hotels do not even have casinos.
Meetings leaders from Las Vegas—including Michael Massari, chief sales officer for Caesars Entertainment, and Stephanie Glanzer, senior vice president and chief sales officer for MGM Resorts International—recently teamed up to lobby for the meetings industry in Nevada and beyond through an industry-wide initiative called Meetings Mean Business."
It is critical that our voice as an industry is heard within our communities and in Washington, D.C.," says Reina Herschdorfer, director of marketing national meetings and events for Caesars Entertainment. "The meeting and events industry is a three trillion-dollar industry, and still today many are not fully aware of the social and economic impact it has. We hope that everyone in our industry advocates for it."
Nevada is constantly changing, and creative meeting planners can find options for any group, whether it's a golf outing and boat trip on Lake Tahoe or a meet-and-greet with a rock star on the Vegas Strip. Here's an overview of just some of what's possible across the Silver State.
Las Vegas
Las Vegas has rebounded since the pandemic began: more than 32 million people visited in 2021, according to Las Vegas Convention and Visitors Authority (LVCVA), and more than 1.6 million business travelers attended meetings there in the first four months of 2022 alone, drawn in part by massive shows like CES, World of Concrete, IMEX America and Global Gaming Expo. New meeting spaces keep coming in: Vegas now has 14 million sq. ft. of space—roughly three times the size of Vatican City.
"Planners who haven't visited in a while may be surprised to see how the state is evolving."
"Hosting an event in Vegas increases attendance on average by 9% and research shows that attendees spend more time in meetings and on the trade show floor when events are held here," says H. Fletch Brunelle, vice president of marketing for LVCVA. "As we head into the second half of the year, that momentum remains strong, with a steady pace of shows and events taking place throughout the destination."
Las Vegas is not as affordable as it once was, but the city's hotels offer a range of price points; the average daily room rate remains less than $140. Why do major shows keep coming back? A key part of the appeal is the diversity of offerings. The NFL Draft, for example, spread across multiple facilities, including Caesars Forum, a new 550,000-square-foot conference center on the Las Vegas Strip, where it hosted its VIP hospitality, media center and other services.
"The space is new and beautiful, and the team at Caesars Forum was very easy to work with to make our event come to life," Walton says. "My advice for planning in Las Vegas would be to create relationships with all your key partners and be open to their feedback, since they know their venues best and they know their city best. The NFL worked in lockstep with Las Vegas Convention & Visitors Authority. Their expertise in knowing the city and who all the key partners are was instrumental in the NFL Draft's success."
Planners also appreciate the endless buffet of shows, spas, restaurants, nightclubs and other activities. During their site visits, NFL Draft planners held a group dinner at Giada, a restaurant helmed by Food Network chef Giada De Laurentiis that is one of dozens of celebrity chef-led restaurants across the city.
They saw a performance by Usher, who (along with stars like Katy Perry, Billy Idol, and Sting) settled in this year for multi-week Las Vegas residencies. They attended a performance of Absinthe, a surreal carnival experience, though they could have opted for Cirque du Soleil, Penn & Teller, Blue Man Group or other jaw-dropping shows.
"Many of the destination's top productions offer special VIP tours, meet and greets and a variety of other group options to choose from," Brunelle says. "There is no shortage of fun and exciting activities that can only be found in Vegas, guaranteed to fit your group's unique interests."
­­­­­­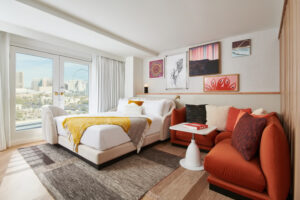 Since 2020, Las Vegas has seen the opening of several new properties, including Circa Resort & Casino in Downtown Las Vegas, and Virgin Hotels Las Vegas, which took over the former Hard Rock Hotel location. Palms Casino Resort Las Vegas, an iconic property just off the Strip, reopened in April. "Looking ahead, we are projected to see more than $4.5 billion in investments over the next two years, adding approximately 7,000 more hotel rooms and 791,000 sq. ft. of convention space by the end of 2024," Brunelle says.
Read More: Virgin Hotels Las Vegas: A Cool Gift Wrapped in Fancy Paper
Resorts World Las Vegas, a 3,506-room property at the north end of the Strip that opened in 2021, connects directly to Las Vegas Convention Center (LVCC) with a tunnel developed by Elon Musk's Boring Company; guests can get to LVCC in 90 seconds in the comfort of a Tesla car. "We are one of the few hotels that you can hold your entire event at our property and never have to step foot into a casino unless you are looking for one," says Jason Glascock, vice president of sales for Resorts World Las Vegas.
"Las Vegas hotels are already booking past 2025, with an expectation of a full group recovery of rooms in 2023. There has been significant growth within Las Vegas in sports, music festivals, etc., so it will provide great entertainment opportunities for groups, but also increased demand."
Another new option for planners is Fontainebleau Las Vegas, a long-awaited property near the LVCC that will have 550,000 sq. ft. of indoor and outdoor offerings, including one of the city's largest pillarless ballrooms, when it opens at the end of 2023.
"The design of Fontainebleau Las Vegas solves a lot of pain points for meeting planners," says Tony Yousfi, senior vice president of sales, catering and convention services with Fontainebleau Las Vegas. "The best example is our accessibility: attendees do not have to go through the casino to get to their meetings, we have specially designated freight elevators that make it easier to load in or out, and the amount of space we can offer means groups don't even have to share the same floor."
Earlier this year, MGM Resorts completed its purchase of The Cosmopolitan of Las Vegas, adding a new sophisticated offering to its portfolio. "The addition of this beautiful resort provides a tremendous opportunity to expand our offerings for premier meetings and events all within close proximity to Bellagio, ARIA, Vdara and Park MGM," says Stephanie Glanzer, senior vice president and chief sales officer for MGM Resorts International. "This luxury meetings district allows us to get creative with an incredible collection of meeting spaces and venues for groups of all sizes."
While conventional wisdom holds that planners should not overplan a Vegas meeting, there are opportunities to get creative when it comes to teambuilding, health and wellness, or other activities. "We've seen groups offer yoga or meditation out at Mandalay Bay Beach—a beautiful way to start a busy day of meetings," Glanzer says. "Or we've seen groups take advantage of the MGM Resorts Fine Art Collection with teambuilding scavenger hunts that take them throughout many of our resorts. It gets them out and about to bond and also explore our great city in the process."
Read More: Las Vegas Loop Continues to Expand
For planners looking for rooms at a lower price point, South Point Casino finished a $40-million overhaul of its rooms in 2021. "Vegas is doing well," says Maureen "Mo" Robinson, director of sales for South Point Casino. which has facilities ranging from a bowling complex to an equestrian center—along with 175,000 sq. ft. of meeting space. "My hotel is running an average of 85% occupancy. We have so many different venues within the hotel, it lends itself to a great array of diversity."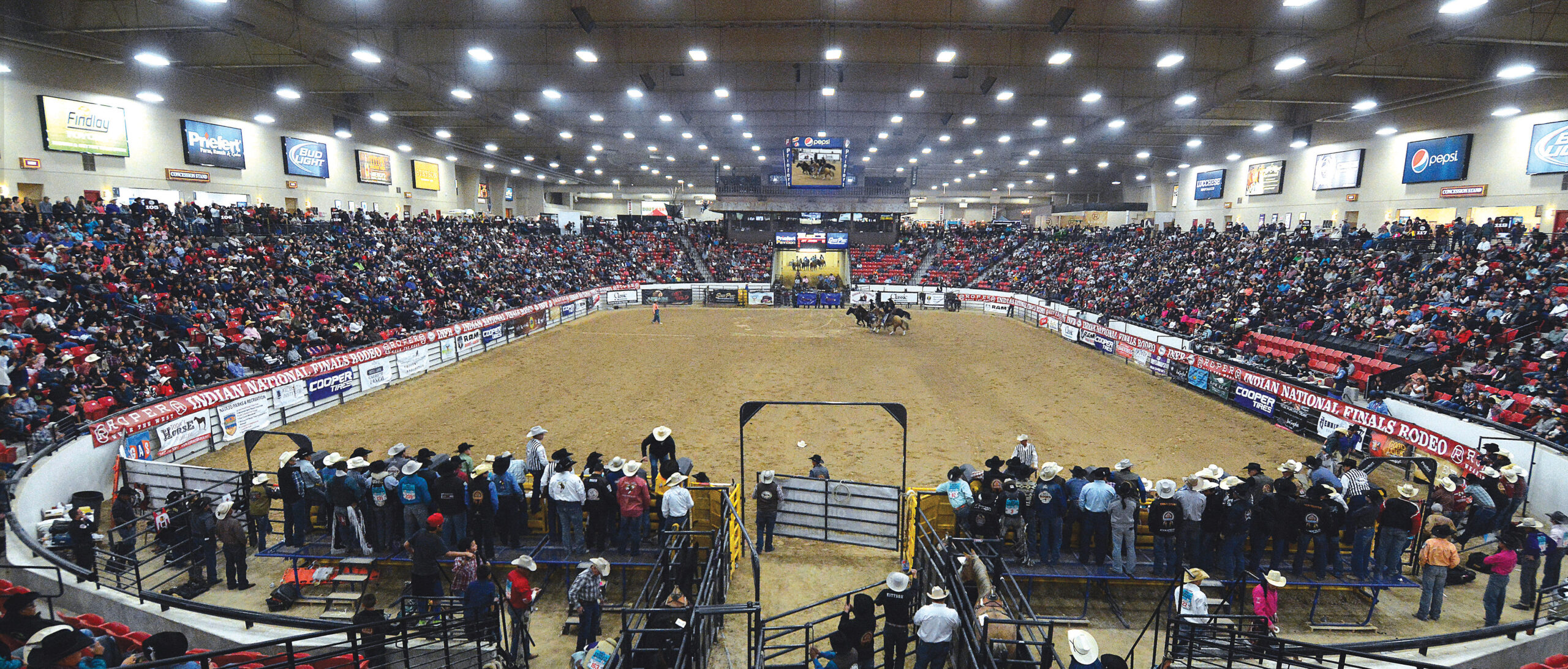 The coming months will bring some exciting new opportunities. January 2023 will see the opening of MSG Sphere, a live entertainment venue that will feature the largest and highest-resolution LED screen on Earth; it will have a brandable "exosphere" and capacity for up to 20,000 guests. Caesars Palace is wrapping up renovations on a stunning new entryway featuring a 15-foot statue of Augustus Caesar. Paris Las Vegas has new (or planned) restaurants from Bobby Flay, Nobu Matsuhisa, Lisa Vanderpump, and Martha Stewart. And in November 2023, the Las Vegas Strip will transform into a Formula One speedway.
"If we've learned anything in the last few years, we've discovered that as humans, we feel the inherent need to gather and celebrate," Glanzer says, "and as a city that continues to reinvent itself in every way, Las Vegas will lead the way."
Reno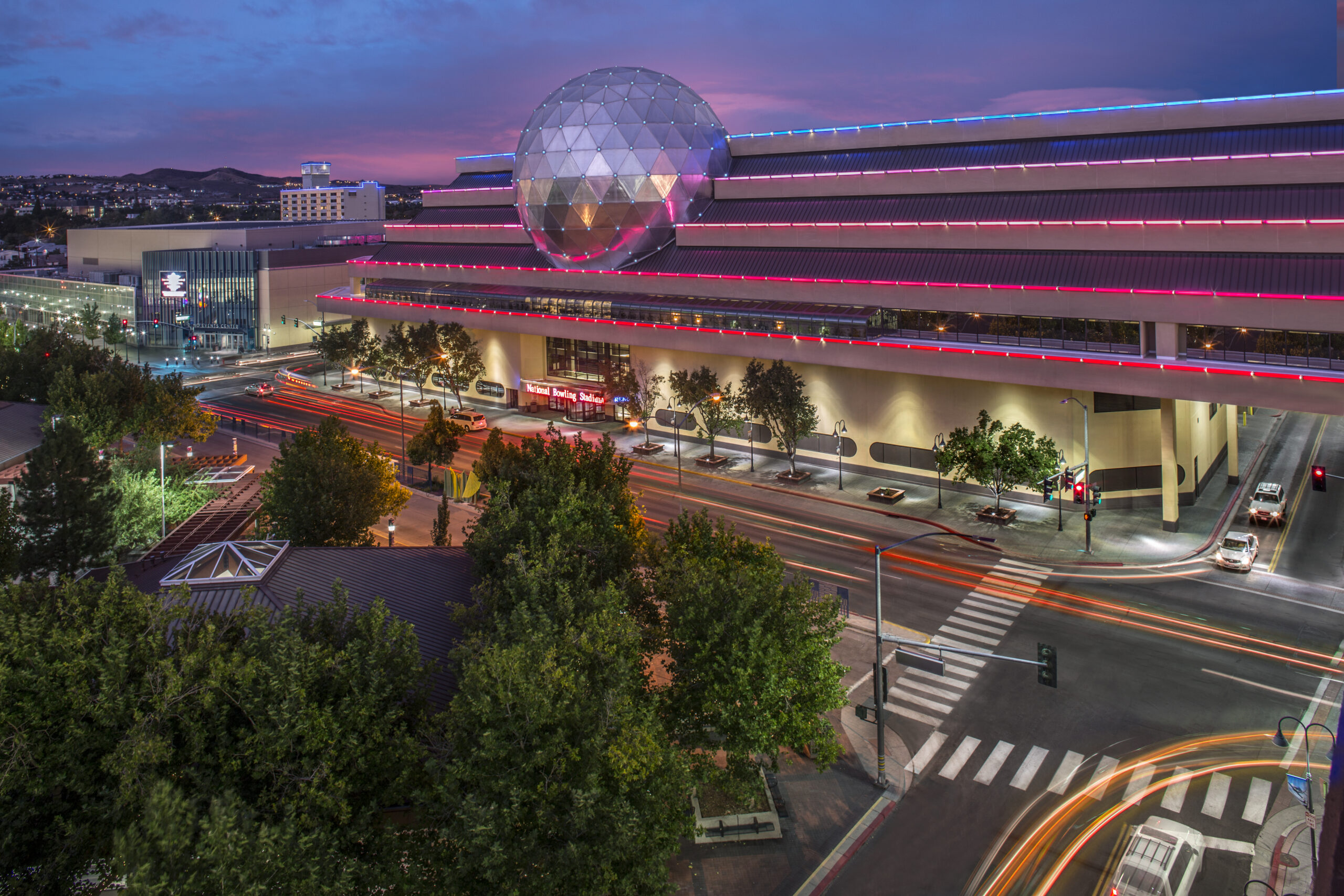 When the planners at Parking Today Media sought a location for the annual Parking Industry Expo, a 700-person conference, they selected Grand Sierra Resort and Casino, a property in Reno, Nevada, with more than 200,000 sq. ft. of meeting space and 45 meeting rooms. "It fit all of our needs and the newness of the city the economic benefit and the beauty of it enticed us to pick it," says Marcy Sparrow, director of sales and operations for Parking Today Media.
In the course of their four-day event, the planners organized a night of bowling, as well as a 700-person party with DJ music at the Lex nightclub. "As a show planner, Reno has everything to offer," Sparrow says. "The price is right and the weather is perfect. It is so beautiful and revitalized and energetic as a city, and compared other cities like Chicago, New York, and San Francisco, your dollar goes a lot further and you can do more at your show."
Nicknamed "The Biggest Little City in the World," Reno has a different vibe than Las Vegas. Located at the foot of the Sierra Nevada mountains, the city is closer to San Francisco than to Las Vegas, and the influence of the Bay Area comes through. Drawn by lower costs and advantageous tax rates, companies like Tesla and Google have moved to Reno (and the adjacent city, Sparks) in recent years. The region has also benefitted from its proximity to the popular Burning Man festival, as large art installations originally designed for the Black Rock Desert can now be spotted around the city.
"We're a very different type of destination than our friends down south," says Charles Harris, president and CEO of Visit Reno Tahoe, the Reno-Sparks Convention and Visitors Authority (RSCVA). "Reno has grown significantly, and the meeting convention business has been coming back in a very positive way to this area. The destination has fared well during the Covid times and coming out of it. We've actually done better than a lot of the rest of the country."
Visit Reno Tahoe recently took over the management of some of the largest event venues in town, including the 600,000-square-foot Reno-Sparks Convention Center (RSCC); Reno Events Center (REC), a theater that regularly draws major performers; National Bowling Stadium (NBS), a venue well-suited for teambuilding of after-hours fun; and Reno-Sparks Livestock Events Center (RSLEC), which is used for rodeos and other events.
At the heart of the city is "The Row," three interconnected hotels—Eldorado Resort Casino, Circus Circus Reno and Silver Legacy Resort Casino—all run by Caesars Entertainment with more than 4,000 hotel rooms combined. "We've seen a lot of changes in Reno, and there has been a paradigm shift when it comes to the destination," says Don Goodman, Caesars executive director of sales for Northern Nevada.
"Although we still hang our hat on gaming as a whole, we have opened our eyes to so much more. It used to be that we used to try to keep everybody inside our four walls, in the hotel, casino and convention space. Now meeting attendees want an experience where they can walk outside, maybe do some shopping or visit some outside restaurants. It has really shifted downtown Reno in a positive direction."
Other downtown properties include Whitney Peak Hotel, located in the heart of the city, which has a sleek ambiance and a large rock-climbing wall on its exterior façade. The first hotel in the Kimpton boutique chain is scheduled to open in Reno in 2025 and the shuttered Harrah's Reno hotel-casino is being developed as a mixed-use residential and commercial project known as the Reno City Center. In development near downtown is the "Reno Experience District," or RED District, which will include an Element by Westin hotel.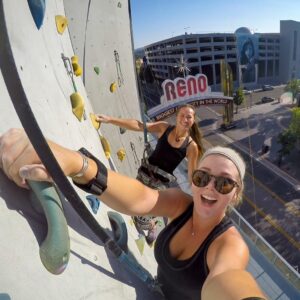 Group activities in Reno include golf (there are dozens of golf courses in the region), escape rooms or an outing to see the Reno Aces, the local AAA baseball team. Reno also has multiple cultural centers, including Nevada Museum of Art, which has five rooms that can be used for meetings. The Reno Brewery District has an array of hip bars, breweries and distilleries.
Reno also hosts dozens of special events every year, including rodeos, balloon races, Shakespeare in the Park, arts festivals and a popular rib cookoff. "We might be the special event capital of the country," Harris says. "There's something going on every weekend. A lot of really cool things are happening in the city."
Carson City
Located 25 miles south of Reno of the Reno/Tahoe International Airport (RNO), Carson City is an appealing destination for smaller meetings. "As a city with little traffic and a very walkable downtown paired with our numerous attractions and accessible trails, it's easy to navigate and also to see a lot while you're here," says Stuart Wexler, events and sales manager for Visit Carson City.
Meetings hotels include Gold Dust West Carson City, which counts 4,000 sq. ft. of meeting space, and Casino Fandango, which has a ballroom that can accommodate up to 500 guests. Carson City Plaza Hotel and Event Center can accommodate up to 300 people. Activities include hiking along Kit Carson Trail, or an outing on a "railbike," a pedal-assisted vehicle that runs along railroad tracks.
"Carson City is almost an entirely different city than it was 10 years ago," Wexler says. "A remodeled downtown, new hiking trails, a continuously blossoming restaurant scene, and annual events have changed Carson City for the better."
Lake Tahoe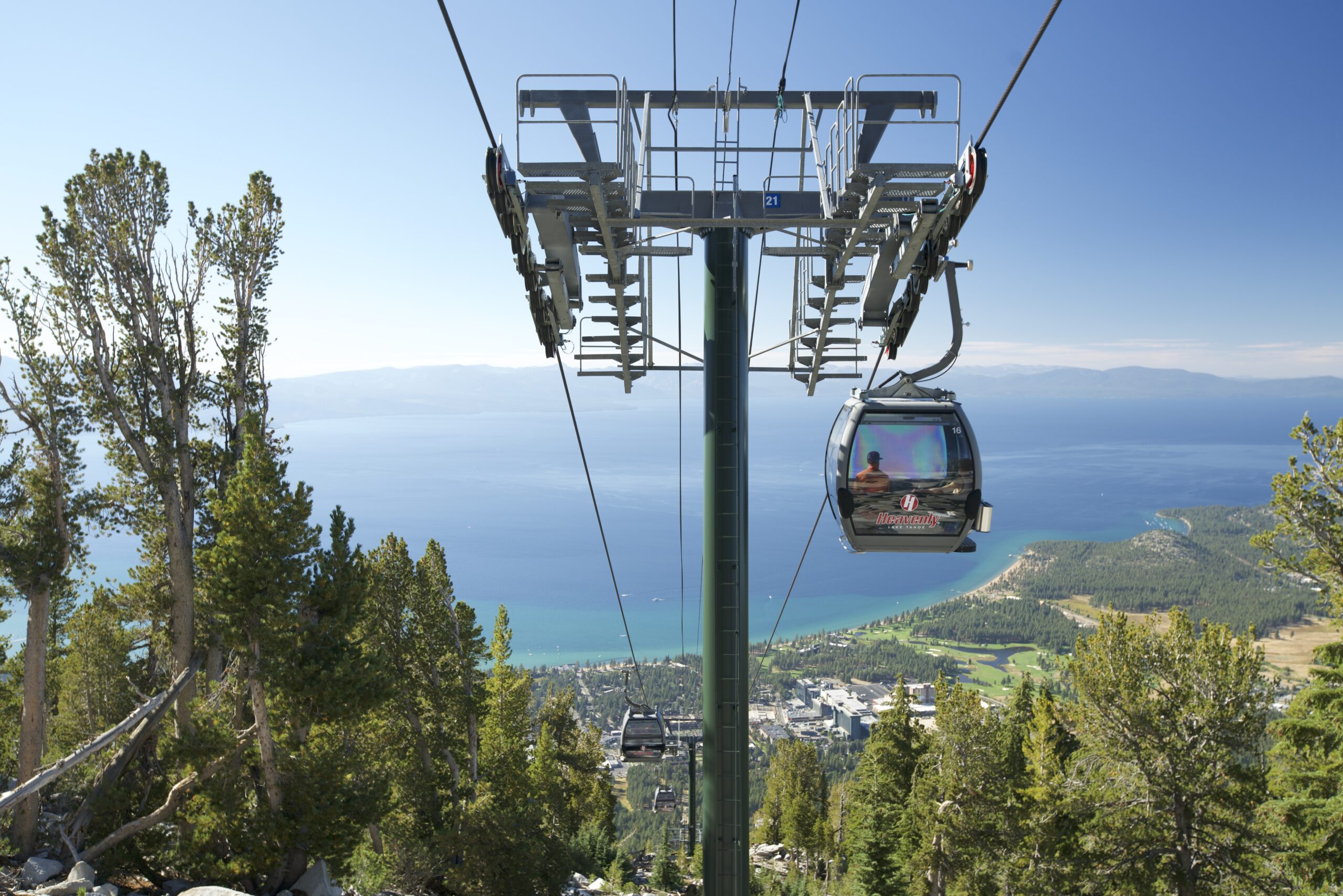 Straddling the border with California, roughly 45 minutes west of Reno in the Sierra Nevada mountains, stunning Lake Tahoe is second deepest lake in the United States. The region has long been a center for summer tourism and winter skiing, and many of the properties on the Nevada side have casinos, nightclubs, shows and other Vegas-style amenities, as well as plenty of meeting space.
"With the beauty of the lake, the crystal-clear water and just being in the Sierra Nevada, Tahoe sells itself," says Stuart Maas, director of marketing and conference sales for Visit Lake Tahoe, which represents properties both in Nevada and California. "Something that differentiates our destination from other mountain towns is that we have year-round outdoor adventure and indoor play, because we have four major casinos that provide 24-hour nightlife and entertainment."
In 2021, the South Lake Tahoe region was severely impacted by the Caldor Fire, a massive forest fire, but business has recovered. The four largest casino hotels in Stateline (in South Lake Tahoe) are Harrah's Lake Tahoe Hotel & Casino; Harvey's Lake Tahoe Hotel & Casino; Hard Rock Hotel & Casino Lake Tahoe; and Bally's Lake Tahoe Casino Resort (formerly MontBleu). North Lake Tahoe is less developed, and properties include Hyatt Regency Lake Tahoe Resort, Spa and Casino, which has 422 rooms and over 65,000 sq. ft. of indoor and outdoor function space.
Summer 2023 will mark the opening of the Tahoe South Events Center, a 20,000-square-foot indoor venue with seven dedicated meeting rooms. "That's going to be a real game changer for the entire region because it will allow us to host programs that might not have been able to fit with our existing infrastructure," Maas says. "It will also have an outdoor lawn area where people can enjoy the beautiful scenery and weather that we have here." Tahoe is also developing "LakeLink," a micro transit shuttle service that will offer free rides around the area.
Golf and skiing are both popular activities in the Tahoe region, but the centerpiece is Lake Tahoe itself; planners can help groups get out on the water on an organized kayak trip, fishing charter, or a daytime or dinner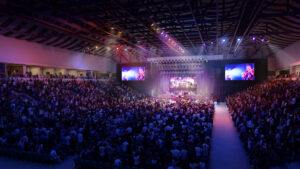 cruises on the MS Dixie, an iconic paddlewheeler that can hold up to 300 guests. "We're seeing a natural shift from gaming-oriented activities to the great outdoors and recreation," Maas says. "There's really something to do every month of the year. We see a large influx of meetings coming in our spring and fall."
No matter where in Nevada you choose, be sure to work with the local experts to find the right creative ideas and opportunities for your group's specific needs. "We recommend working closely with your sales manager and the [convention and visitors authority], as they are the experts," says Caesars Entertainment's Herschdorfer. "When planning, be clear on your objectives and provide a history of what has worked for you in the past as well as what your goals for the future are. Anything you can dream up is possible with enough time, budget and planning."
Resources
Las Vegas Convention and Visitors Authority
Visit Carson City
Visit Lake Tahoe
Visit Reno Tahoe
This article appears in the September 2022 issue. You can subscribe to the magazine here.