SPONSORED BY MEMPHIS CVB
Nashville and Memphis boast exciting, world-class music scenes
For groups wanting to mix a bit of music into their meeting, it's hard to top Tennessee. Memphis, known as "The Birthplace of Rock 'n' Roll" and "Home of the Blues" (though both are contested by other cities), sits near the southwest border of the state. Just 210 miles to its northeast is Nashville, so deeply saturated with almost every conceivable genre that it's widely referred to as "Music City."
Former Tennessee Gov. Don Sundquist created the slogan, "Sounds Good to Me" to call attention to this rich music tradition.
A long line of performers has helped to shape the outstanding music traditions in Memphis and Nashville. Meeting attendees can experience the history of these traditions and the brilliance of current artists in arenas, clubs, bars, museums, hotels—and on sidewalks.
"Memphis music is everywhere, be it in the bars and juke joints of Beale Street to mainstream artists who have record deals and millions of downloads to their credit," says Jeff Homad, vice president of convention sales and service for Memphis Convention & Visitors Bureau.
Here's a close look at some of the many intriguing options for groups to experience the music scenes of the two cities.
Nashville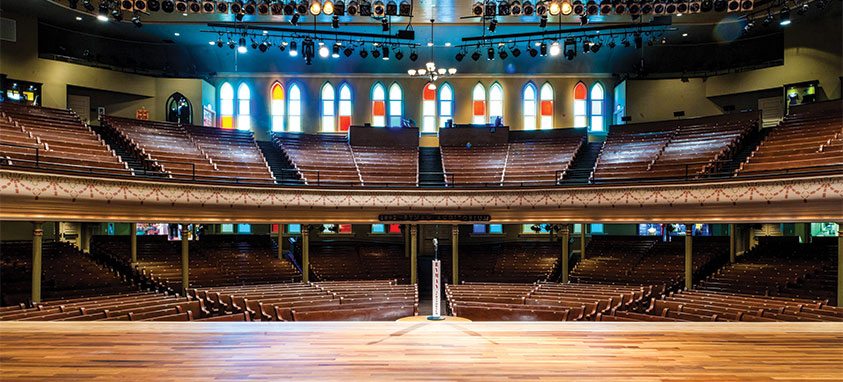 Nashville's emergence as an iconic music city can be traced back to an unlikely source in the 19th century.
"Nashville wouldn't be known as Music City if it weren't for the Fisk Jubilee Singers, the student choir group at Fisk University that formed in 1871 to raise funds for the school," says Kay Witt, chief sales officer for Visit Music City, Nashville's convention and visitors corporation. "During a fund-raising tour through Europe, the Queen of England was so impressed with the Jubilee Singers that she stated that they must come from Music City.
But the legendary Grand Ole Opry (pictured above), which began in 1925 and continues to thrive, is widely credited with giving the city its moniker. And it fits better now than ever before.
"Although country music has always been integral to Nashville's music scene, the city is known for music of all genres," Witt says. "Artists like the Kings of Leon, The Black Keys, Justin Timberlake, Keb Mo, Cage the Elephant, Steven Tyler and Sheryl Crow call Nashville home. Everything from rock and hip-hop to jazz and Americana can be heard at live music venues on any given night."
Music City didn't earn its nickname solely due to its outstanding performers, though: It also is a haven for songwriters and music producers.
Fascinating Museums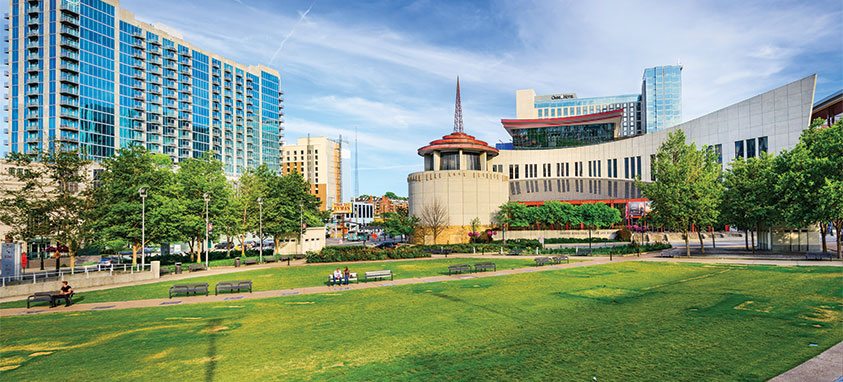 Several of the city's museums provide keen insights into its music tradition, and offer unique group experiences. The Country Music Hall of Fame and Museum (pictured above) has several outstanding options, including a private performance and discussion with John Carter Cash, the only child of Johnny and June Cash. Groups also can co-write a song with one of Nashville's acclaimed songwriters; listen to a live performance by a top songwriter; and record a song with a professional sound engineer after touring the famous recording studio.
Located on the ground level of the legendary Nashville Municipal Auditorium is Musicians Hall of Fame and Museum, which recognizes not only famous stars, but also studio musicians who played on many hit records. So, while Jimi Hendrix is included in an exhibit, so is Hal Blaine, a Los Angeles session drummer who played on hundreds of hit records by artists such as Elvis Presley, The Byrds, The Mamas and The Papas and The Beach Boys.
The museum includes Grammy Museum Gallery, which allows guests to explore the history of the Grammy Awards, and to experience every aspect of the recording process through interactive exhibits.
The Musicians Hall of Fame and Museum can be rented, and has 30,000 sq. ft. of meeting space.
Boasting the world's largest collection of "Man in Black" memorabilia, Johnny Cash Museum has everything from old guitars to hand-written lyrics, along with a small theater where groups can watch clips of Cash's performances and TV appearances. Special rates and packages are available to groups of 15 or more.
Exciting Live Performances
Nashville has more than 160 live music venues, featuring pop, rock, country, gospel, bluegrass, jazz, classical, contemporary Christian, blues and soul.
At the recently renovated Ryman Auditorium, dubbed "The Mother Church of Country Music," groups can pack in the pews and throw their hands in the air praising the almighty legends who play there. Known worldwide as one of the best performance halls in the world, it was named Theatre of the Year in 2010, 2011, 2012, 2013, 2014 and 2015 by Pollstar Magazine. Many leading artists—including Johnny Cash, Neil Young, Patty Griffin and Jonny Lang—have recorded performances at Ryman. Backstage tours are available, and the hall can be rented for group functions.
Located 9 miles from downtown, Grand Ole Opry House honors country music's glorious history and dynamic present by showcasing a mix of country legends, and the contemporary chart-toppers who have followed in their footsteps. The Grand Ole Opry is the world's longest-running radio show, and groups visiting Nashville can attend concerts in person and tour the facility.
Or, planners can rent the venue to host an intimate dinner for up to 170 on the Opry's stage; utilize the 4,400-seat theater's state-of-the-art video, lighting and audio systems for a meeting; or invite their group to an exclusive Opry show customized just for them.
Mercy Lounge is nationally renowned for attracting top performers, such as White Stripes and John Fogerty, and for introducing the newest, breaking bands to the city. It consists of a main lounge, Cannery Ballroom on the first level (with a capacity of 1,000) and The High Watt, a smaller room ideal for catching local acts. Corporate events and private parties can be arranged.
Nashville Hotel Buzz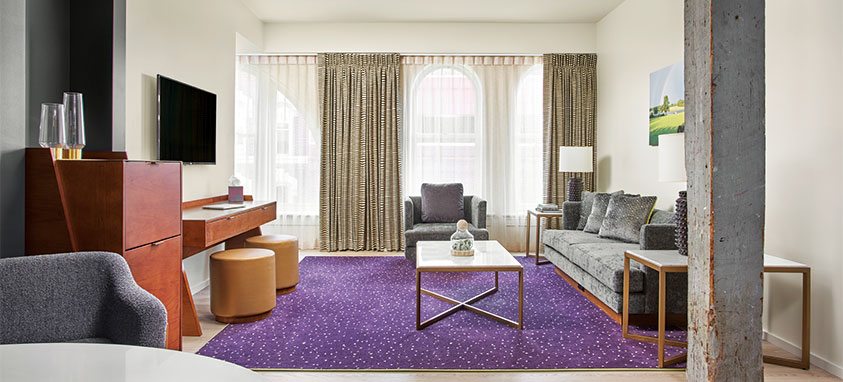 The 21c Museum Hotel Nashville (pictured above), which opened in May, is woven into the fabric of downtown and features curated exhibitions, cultural programming and culinary offerings. It's a 124-room boutique hotel that is housed in the historic 222 Building, a 1890s-era structure listed on the National Register of Historic Places.
The 247-room Hutton Hotel, which provides 13,600 sq. ft. of meeting space—including 7,000-square-foot Vista Ballroom—is completing a renovation project this fall that will include guest rooms, suites, the lobby and 1808 Grille restaurant.
Bridgestone Arena, which can hold up to 20,000 and can be converted into the 5,145-seat Music City Theater, recently underwent a renovation that added retail space, a new tavern and pub called Tavern '96, and upgrades to a new HVAC system and carpet on the upper level. Also, all of the seats in the lower bowl have been replaced, several food options were added, new outdoor plaza areas were upgraded, and a massive outdoor TV screen and news banner are now displayed for passersby.
MAJOR MEETING VENUES IN NASHVILLE

Gaylord Opryland Resort & Conference Center
Huge Marriott property located 10 miles from Nashville International Airport; 2,882 guest rooms; 18 F&B options; nightclubs; fitness center; three pools; jogging track; 757,478 sq. ft. of meeting space, including six ballrooms.

Hilton Nashville Downtown
Located next to Bridgestone Arena; 330 guest rooms; four restaurants, including acclaimed, casual-chic Il Mulino Trattoria; business center; fitness room; 17,800 sq. ft. of meeting space, including 7,452-square-foot Volunteer Ballroom.

Hutton Hotel
High-tech, eco-friendly luxury boutique hotel in West End undergoing transformation of its 247 guest rooms, lobby and restaurant; Forbes Four Star 1808 Grille blends Southern cuisine with global flavor; 13,600 sq. ft. of meeting space, including 7,000-square-foot Vista Ballroom.

Loews Vanderbilt Hotel Nashville
Adjacent to Vanderbilt University in Midtown, near Country Music Hall of Fame and Museum; 339 guest rooms; Mason's offers soulfully inspired fare from executive chef Brandon Fortune; 24,000 sq. ft. of meeting space.

Marriott Nashville at Vanderbilt University
Located in the West End, on Vanderbilt University campus; walking distance to The Parthenon and Centennial Park; 307 guest rooms; 18,076 sq. ft. of meeting space, divided among 13 rooms.

Nashville Music City Center
Convention center next to Country Music Hall of Fame; spectacular, 2.1 million-square-foot facility; set to undergo $19.9 million renovation; flowing, all-glass outside and state-of-the-art technology inside; 1.2 million sq. ft. of meeting space.

Omni Nashville Hotel
Located across from Nashville Music City Center; integrated with expanded Country Music Hall of Fame and Museum; 800 guest rooms; acclaimed Bob's Steak & Chop House; superb Mokara Spa; rooftop urban pool deck; 80,000 sq. ft. of meeting space, including 23,760-square-foot Broadway Ballroom.

Renaissance Nashville Hotel
Located downtown; 673 guest rooms; business center; 24-hour fitness center; four restaurants and bars; indoor heated pool; 69,408 sq. ft. of flexible meeting space.

Sheraton Nashville Downtown Hotel
Walking distance to Bridgestone Arena; 482 guest rooms; restaurant and lounge; indoor pool; fitness center; 30,000 sq. ft. of meeting space, including rooftop venue, which offers 360-views of downtown.

The Westin Nashville
Elegant downtown hotel; opened October 2016; 453 guest rooms; three upscale restaurants; L27 rooftop bar; spa; 24-hour fitness center; indoor and outdoor pools; 20,000 sq. ft. of meeting space, including 7,254-square-foot Vanderbilt Ballroom.

Union Station Hotel
Historic 1900s railway station turned boutique hotel; part of Marriott Autograph collection; 125 guest rooms; 22-foot ceilings, Kentucky limestone arches, original stained-glass ceiling and intriguing artwork; 12,000 sq. ft. of meeting space.
Memphis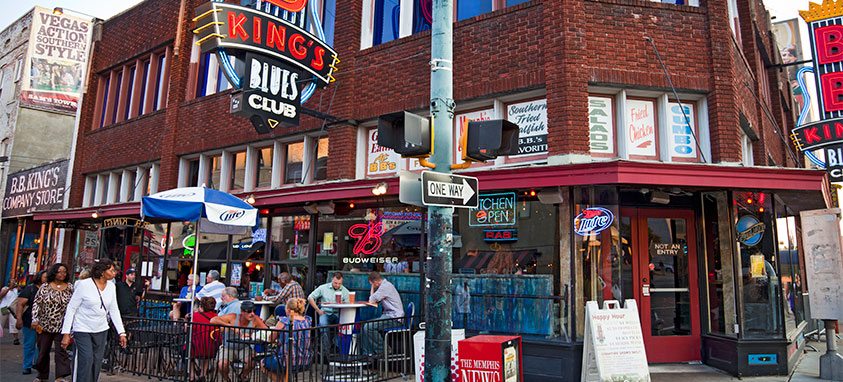 The influence of Memphis on the American—and worldwide—music scene is truly staggering. Memphis soul, Memphis blues, gospel, rock 'n' roll, Memphis rap, buck, crunk and sharecropper country music all have gained widespread popularity and influence.
Elvis Presley, Aretha Franklin, B.B. King, Johnny Cash, Jerry Lee Lewis, Carl Perkins, Roy Orbison and Al Green are among the major talents who got their start in Memphis in the 1950s and 1960s.
Many legendary performers made their mark on Beale Street, a National Historic Landmark that is one of the most iconic streets in the United States. Bands played on the street as early as the 1860s, and by the 1940s jazz and blues clubs lined it. In 1977, an act of Congress declared Beale "Home of the Blues." It's recently been revitalized, and is one of many exceptional music attractions in Memphis.
Hot current artists with strong ties to the city include Timberlake, K. Michelle, Yo Gotti, Kirk Whalum, Three 6 Mafia, Ruth Welting and Kallen Esperian.
Fascinating Museums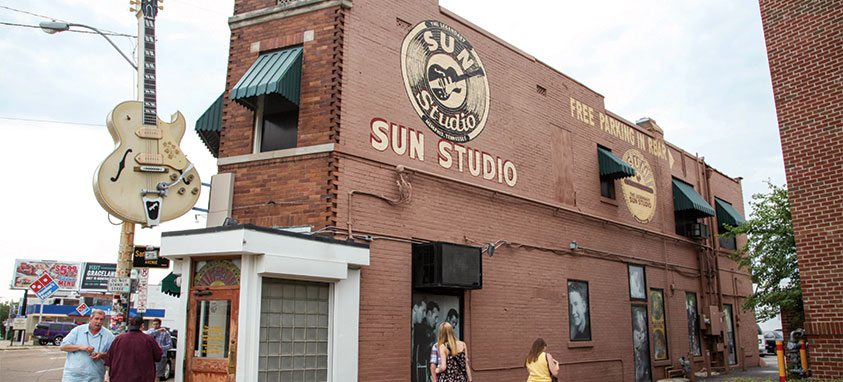 Memphis Rock 'n' Soul Museum on Beale Street is the only museum in the city that tells the complete story of Memphis music history, as researched by the Smithsonian Institution. Through engaging exhibits, the museum shows how the work songs, blues, country and gospel of the sharecroppers in the 1930s and 1940s fused with the urban blues and jazz of Beale Street, rock 'n' roll of rockabilly, and rhythm and blues and soul music at Stax and Hi Records.
The museum is available for private parties, receptions, seated dinners and corporate functions, and live music can be arranged. Dinners for up to 150, classroom-style seating for 100 and receptions for 200 are available.
Graceland, located on a 13.8-acre property that was owned by Elvis Presley, is the second most-visited house in the United States, trailing only the White House. The site is listed on the National Register of Historic Places and is a National Historic Landmark. Groups can explore Presley's home and follow his journey to super-stardom by viewing an array of features, including museum-quality videos, personal mementos, displays of authentic clothing and a large showcase of awards. Private, evening tours are available for groups of 50 or more.
Sun Studio (originally called Sun Recording Service) on Union Street is often referred to as the "Birthplace of Rock 'n' Roll," as reputedly the first rock 'n' roll single, "Rocket 88," was recorded there in 1951 by Jackie Brenston and his Delta Cats, with song composer Ike Turner on keyboards.
That only begins to tell the story, however. Throughout the 1950s, owner Sam Phillips recorded some of the most talented R&B artists—such as Howlin' Wolf, Junior Parker, Little Milton, B.B. King, James Cotton and Rufus Thomas. He also recorded many top rock 'n' roll, country and rockabilly artists, including Cash, Presley, Perkins and Lewis. On Dec. 4, 1956, an impromptu jam session involving these four luminaries took place at Sun Studio. The group was subsequently labeled the "Million Dollar Quartet" and inspired a play of the same name that was nominated for a Tony Award in 2010.
U2, John Mellencamp, Chris Isaak and other leading musicians have used Sun to record albums. The venue now is used for the filming of Sun Studio Sessions, a television show featuring today's rising artists. Ninety-minute tours of the studio are offered from 10:30 a.m. until 5:30 p.m.
Opened in May 2015, Blues Hall of Fame Museum features 10 individualized galleries with interactive touchscreen displays, along with three master databases where visitors can hear music, watch videos and read about each of the 400 inductees. The museum can be rented for private events. It accommodates 300 for a cocktail-style reception and up to 100 for a dinner or meeting.
Stax Museum of American Soul Music celebrates the legacy of Stax Records and its artists—including Isaac Hayes, Otis Redding, Booker T. & the M.G.s, Sam & Dave, the Staple Singers and Albert King—as well as famous artists on other soul-music labels. Group tours are offered.
Exciting Live Performances
Groups wanting to experience the Memphis music scene often head straight to Beale Street. One of its top spots, B.B. King's Blues Club, offers live entertainment every night of the week—from authentic blues to classic soul and rock 'n' roll. Top national and local performers are featured, including the versatile, talent-laden house band. It's a great place for groups, whether they're attending a scheduled performance or a private function.
Also on Beale Street, New Daisy Theatre has hosted Bob Dylan, Red Hot Chili Peppers, Nirvana, Foo Fighters, Smashing Pumpkins, Jack White and Dave Matthews, among others. In October 2015, it completed a 10-month, $1.2 million restoration. The theater accommodates 1,100 standing and 500 seated, and has rooms that can be rented.
During the 1970s, the original Lafayette's Music Room was a key stop for up-and-coming touring artists. It was short-lived, but helped to launch the careers of Leon Russell, Billy Joel, Kiss and J.J. Cale, to name a few. Today's Lafayette's Music Room—located in the heart of revitalized Overton Square—evokes that storied past. The recently renovated property boasts live bands seven nights a week, from local and touring acts playing rock 'n' roll, jazz, blues and many other styles. It can be rented, and accommodates up to 325 for a reception and 275 for a seated event.
Memphis Hotel Buzz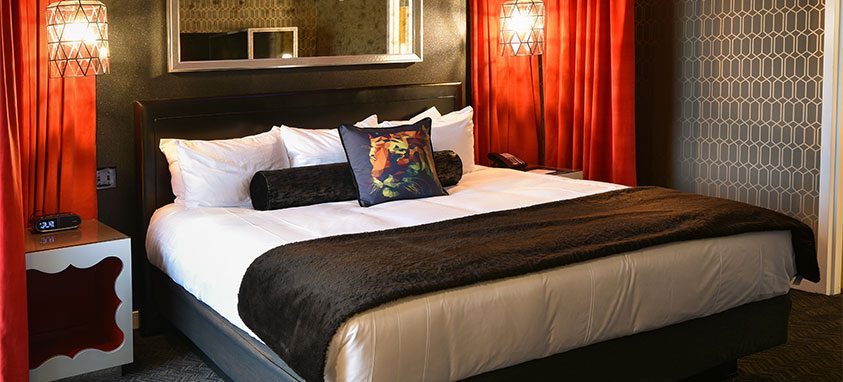 The Guest House at Graceland (pictured above), a hotel-resort that opened in October 2016 next to Elvis Presley's mansion, is the largest hotel project in Memphis in more than 90 years. Featuring a Southern Colonial exterior and specialty suites—many with design overseen by Priscilla Presley—the 450-room property reflects Elvis' personal style and the unique character of Graceland.
Highlights include a restaurant with indoor and outdoor seating, a themed sports bar and restaurant, a large outdoor pool and bar, a 464-seat theater for live performances and movies, and 25,600 sq. ft. of meeting space.
Big Cypress Lodge has created quite a buzz ever since it opened in 2015. Situated inside Bass Pro Shops Pyramid downtown, it features 100 rustic guest rooms and suites reflecting Bass Pro Shops' outdoor lifestyle.
Suspended among 100-foot cypress trees planted in the pyramid, some rooms are designed to resemble tree houses, while others are decked out like vintage duck-hunting camps. All rooms include fireplaces and handcrafted furniture, and many rooms have porches or balconies.
The pyramid includes a 13-lane, ocean-themed bowling alley, alligator ponds, restaurants and the world's tallest freestanding elevator. Hotel guests can utilize a fitness center and rent the 13,000 sq. ft. of event space.
MAJOR MEETING VENUES IN MEMPHIS

Big Cypress Lodge
Located inside Bass Pro Shops Pyramid downtown; 100 guest rooms, some resembling tree houses; 13-lane bowling alley; 13,000 sq. ft. of meeting space.

Crowne Plaza Memphis Downtown
Situated between Memphis Cook Convention Center and Beale Street; fully renovated; 230 guest rooms, with skyline views; 6,500 sq. ft. of meeting space.

DoubleTree by Hilton Hotel Memphis
In the East Memphis business district; 264 guest rooms; Lynchburg Legends Bar & Grill; business center; indoor pool; fitness room; 9,701 sq. ft. of meeting space.

DoubleTree by Hilton Hotel Memphis Downtown
Downtown property; walking distance to convention center, Beale Street Entertainment District, Rock 'n' Soul Museum, Sun Studios; 280 guest rooms; fitness center; outdoor pool; 8,500 sq. ft. of meeting space.

Fogelman Executive Conference Center & Hotel
IACC-accredited, full-service conference center, linked to a Holiday Inn; on University of Memphis campus; 133 guest rooms; 30,500 sq. ft. of meeting space, including ballroom for up to 1,000.

Hilton Memphis
Located within 10 miles of Memphis International Airport; striking, circular, glass hotel; 405 guest rooms; Rook's Corner Restaurant; The Lobby Bar; 24-hour business center; fitness center; pool; 30,000 sq. ft. of meeting space.

Madison Hotel
Features cool urban designs and high-end sophistication; 110 guest rooms; 4,833 sq. ft. of meeting space; dining spaces include Eighty3 restaurant and Twilight Sky rooftop terrace.

Memphis Cook Convention Center
Renovation project, costing more than $100 million, due for completion in 2019; 300,000 sq. ft. of meeting space, including 125,000-square-foot, column-free exhibit hall.

Sheraton Memphis Downtown Hotel
Linked by skybridge to Memphis Cook Convention Center; 600 guest rooms; outstanding views of Mississippi River and skyline; Crossroads Tavern and Grille; indoor heated pool; 16,000 sq. ft. of meeting space.

The Peabody Memphis
Forbes Four Star, AAA Four Diamond hotel; a Memphis landmark since 1869; 464 guest rooms; six restaurants and bars; afternoon tea; legendary Peabody ducks visit the lobby at 11 a.m. and 5 p.m. every day; 80,000 sq. ft. of meeting space.

The Westin Memphis Beale Street
Located steps from Beale Street, FedEx Forum, Gibson Museum; 203 guest rooms; 24-hour business center; fitness studio; 7,000 sq. ft. of meeting space.