Preservation Hall
A Neighborhood Guide to New Orleans Exhilarating, Unique, Night Spots
The Big Easy turned 300 this year, and celebrated the milestone as only it can.
"As a city with unmatched annual celebrations, commemorating New Orleans' tricentennial has been a natural success," says Roberto Reso, vice president of convention sales for New Orleans & Company (formerly New Orleans Convention & Visitors Bureau). "Many of our annual events, including the New Orleans Jazz and Heritage Festival and French Quarter Festival, have celebrated by including special celebrations, fireworks and highlighting the city's history and culture throughout their events.
"In the last part of the year, there will be special exhibits at New Orleans Museum of Art, the Old U.S. Mint and through the French Quarter Museum Association. Fete de Fromages [Nov. 17] and Luna Fete [Dec. 6–9] will also include special celebrations commemorating the tricentennial."
In the city that loves to party, the special celebrations elevate—rather than completely transform— the nightlife scene, which centers on music. Every night of the year, a wide variety of music—with an especially heavy emphasis on genres such as jazz, blues, funk and zydeco—flows in many neighborhoods, along with plenty of opportunities to indulge in the city's other exciting offerings.
Meeting groups are lured by New Orleans intriguing music scene, which is undeniably the heartbeat of the city. They enjoy it in clubs, bars and other venues, and come away energized and upbeat— qualities that carry over into meetings. The abundance of nightlife music options can be a bit daunting, so we've provided recommendations in some of the city's main neighborhoods.
French Quarter (Vieux Carre)
Much of New Orleans' nightlife is centered around the pulsating French Quarter, which features colorful buildings with cast-iron balconies, clubs, Cajun eateries and raucous bars.
"It is the oldest of the New Orleans neighborhoods, dating back to the city's inception in 1718," Reso says. "Many restaurants stay open for guests to enjoy late-night offerings and drink specials."
Lafitte's Blacksmith Shop Bar was built between 1722 and 1732 and is reputed to be the oldest structure used as a bar in the United States as well as one of the oldest buildings in New Orleans. According to legend, the Lafitte brothers originally used the shop as a base for smuggling operations from 1772 to 1792. It later was used as a meeting spot for businessmen from Spain, France, Africa and North America.
In many respects, it's still the epitome of New Orleans' Old World charm—with an intriguing dark atmosphere and a popular, cozy piano bar area in the back—but (to the dismay of some) modern touches have been added, including a photo booth and contemporary music blasting through the sound system.
Preservation Hall was established in 1961 to honor traditional New Orleans jazz. Operating as a music venue, touring band and nonprofit organization, it continues to serve as a cornerstone of New Orleans music and culture. Situated in the heart of the French Quarter on St. Peter Street, the venue presents intimate, acoustic jazz concerts 350 nights per year, featuring ensembles from a collective of more than 100 local master practitioners. Preservation Hall mounts five 45-minute performances nightly. It can be rented for special group events.
House of Blues serves up plenty of blues in an atmosphere reminiscent of an old Delta Southern juke joint. Don't be misled by the name, though: The ever-popular venue also features leading artists from many other musical genres—including jazz, hip-hop, rap, soul, country, folk, rock, pop, electronic and world—as well as comedy. It also has a restaurant featuring a world-famous Gospel Brunch on Sundays. Receptions for up to 1,600 and banquets for more than 600 can be arranged in its seven areas.
Boasting velvet-flocked walls and a bordello-chic atmosphere that captures the feeling of old New Orleans, One Eyed Jacks features a wide variety of local and touring acts, including jazz, funk rock, standup comedy and burlesque shows. The club can accommodate up to 450 people for a private event or function. It has three different rooms on two floors, with full bars in each, offering separate or combined event possibilities.
The centerpiece of Carousel Bar & Lounge in Hotel Monteleone is a bright, 25-seat merry-go-round bar that has been revolving since its installation in 1949. Vogue Living recently named Carousel one of the Top 20 Bars in the World due to the whimsical carousel and vast list of cocktails. It features live New Orleans music Wednesday through Saturday.
Billed as New Orleans' oldest operating jazz club, Fritzel's European Jazz Pub, which was founded in 1969, features traditional jazz in a historic 1831 building nestled in the heart of the French Quarter. Its multiple rooms, built-in bar and large balcony overlooking Bourbon Street make it an ideal spot to host special group events.
Groups looking for a sophisticated, upscale music experience often head to The Davenport Lounge in The Ritz-Carlton, New Orleans, which features the suave jazz stylings of highly acclaimed trumpeter and vocalist Jeremy Davenport on Wednesday through Saturday evenings. Guests can order a classic cocktail and nibble on delicacies from the lounge's revamped menu while enjoying the show.
Home of the Hurricane—a fruity, red, rum cocktail garnished with an orange slice and a cherry—Pat O'Brien's is a charming venue with lush gardens, a lively piano lounge and a courtyard restaurant. The establishment has party rooms for rent.
Faubourg Marigny/Bywater
The most vibrant section in this neighborhood is a two-block stretch of Frenchmen Street in the Faubourg Marigny area, which is known for its wide variety of live music—including jazz, Latin, blues and reggae—every night of the week. Venues are identified by plain wooden signs rather than the glitzy neon lights found on Bourbon Street in the French Quarter, which is within easy walking distance.
The Maison offers free live music every night. The back stage features nationally touring bands, while traditional jazz bands are featured in the front-stage dining area from 5 to 10 p.m. Local jazz, brass and funk bands take over the front stage at 10 p.m. "With multiple rooms and sections available for private events, The Maison can accommodate any occasion imaginable in addition to providing live music, deejays and performers," Reso says.
Arguably the city's premier jazz club, Snug Harbor Jazz Bistro on Frenchmen Street features live performers every night, including Charmaine Neville Band most Mondays and Ellis Marsalis Trio with Christien Bold most Fridays. Located in a renovated 1800s storefront, the venue also has a bar and restaurant noted for its burgers and steaks.
Situated in the heart of the Faubourg Marigny area, The Spotted Cat Music Club features local musicians playing modern jazz, blues, funk, klezmer and more. Also noted for its inexpensive drinks, the venue is very popular, so groups should arrive early.
Established in spring 2000, D.B.A. is a hip—but not trendy—live music club that features local and regional acts nightly. It's in a building that dates to the 1880s, and some musicians have said that the all-cypress-wood music room is one of the warmestsounding rooms in New Orleans. Touring performers have included Clarence "Gatemouth" Brown, Stevie Wonder, Jimmy Buffett and David "Honeyboy" Edwards. D.B.A. also offers one of city's largest selections of brews and spirits.
Perhaps New Orleans' most unique music venue, Music Box Village in the Bywater area is crammed with shanties and tree houses that surprise visitors by emitting music when they open the doors or tap on the walls. It originated from a public project by New Orleans Airlift, an organization dedicated to increasing civic engagement with art by staging experimental public art.
Music Box Village isn't technically a nightlife venue, since it's open Thursdays and Fridays from noon to 7 p.m. and Saturdays and Sundays from 10 a.m. to 7 p.m., but performances and special events sometimes extend into the night.
Mid-City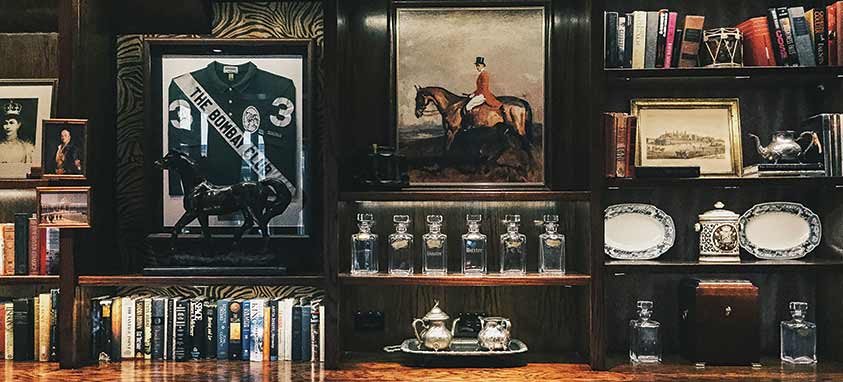 Mid-City is a diverse, middle-class neighborhood that has fewer tourist spots than many other parts of New Orleans. The clubs, restaurants and bars are frequented mainly by locals, giving them an intensely local flavor that appeals to many groups.
Banks Street Bar and Grill provides indoor and outdoor seating, pool tables, boardwalk games and late-night pizza by the slice. It also features a bar decorated with an eclectic selection of New Orleans artwork and live music every night—with no cover charge. On some nights, there's just one band and on other nights, there are four or five—music genres include funk, rock, blues and jazz—and noted musicians are known to stop by and jam.
Situated back from the entrance of Prince Conti Hotel sits a largely undiscovered gem—The Bombay Club, featuring soothing jazz, the largest selection of martinis in the city and British culinary fare with a Cajun twist, such as bangers and grits with black pudding and onion pan gravy, as well as Scotch eggs with boudin and collard greens.
Chickie Wah Wah, one of New Orleans' premier dance spots, features live music from local talent throughout the community almost every night. Other highlights at the Canal Street club include daily drink specials during happy hour and classic Southern barbecue dishes.
Rock 'n' Bowl venues can be found throughout the country, offering a nightclub-type atmosphere with music and bowling. Typically, recorded music is played, but Mid-City Lanes Rock 'n' Bowl takes the experience up several notches by featuring live music nightly. Pizza, burgers, chicken dishes and drinks are available, and group events can be arranged.
Jefferson Parish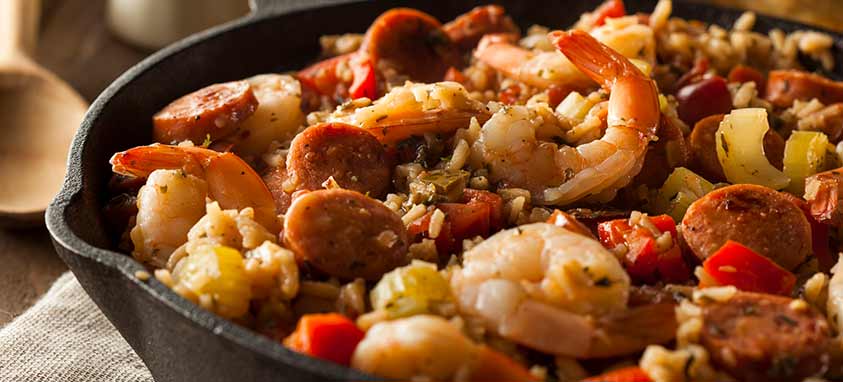 Nestled next to New Orleans and sprawling over 60 miles from the Gulf of Mexico to the shores of Lake Pontchartrain, Jefferson Parish offers a variety of attractions, activities and cuisines. It's also noted for its fairs and festivals in the spring and fall, when its otherwise quiet communities come alive with fabulous music and foods such as jambalaya, crawfish etouffee and seafood.
Bridge City Gumbo Festival, Jefferson Parish's oldest annual festival, began as a small church fair in 1973 and has continued to grow ever since. Volunteers prepare more than 2,000 gallons of seafood as well as chicken and sausage gumbo, jambalaya (pictured), red beans and rice, and other local favorites throughout the festival.
Cajun, country, zydeco, jazz, blues and rock musicians perform continuously on an outdoor stage with a dance floor. Groups enjoy perusing the arts and crafts booth and attending the coronation of King Creole Gumbo and Miss Creole Gumbo at this October festival.
Family Gras Festival traditionally takes place on Veterans Memorial Boulevard, across from Lakeside Shopping Center, in Metairie. It's a perfect location to see the pageantry of Mardi Gras and enjoy the outdoor concerts by national and local artists on Mardi Gras Plaza stage. The Art Market is filled with a variety of local photography, framed artwork, regional decor, folk art, hand-crafted jewelry and more.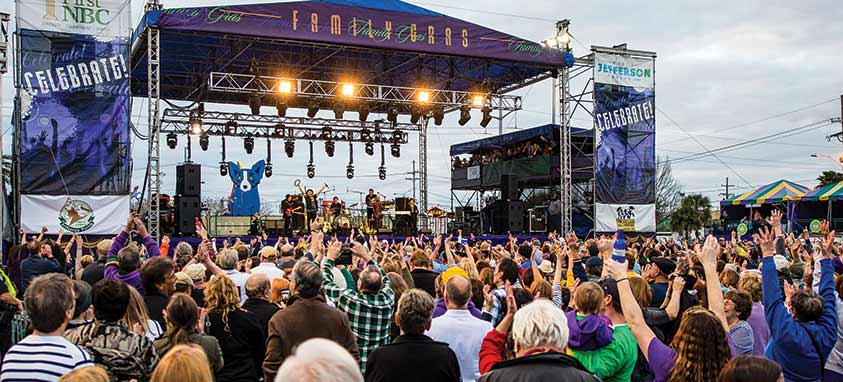 A stellar list of performers has appeared at Family Gras (pictured), including Cyndi Lauper, Frankie Valli and the Four Seasons, The Beach Boys, the Pointer Sisters, Blood Sweat & Tears, The Monkees and Leann Rimes.
Top meeting spaces in Jefferson Parish include DoubleTree by Hilton Hotel New Orleans Airport in Kenner, with 245 guest rooms and 12,000 sq. ft. of meeting space.
Central Business District
Like many other U.S. urban centers, New Orleans' Central Business District was once a ghost town after work, but it now buzzes with nighttime activity, including crowds flocking to historic Lafayette Square for free concerts, and to the many restaurants, bars and theaters.
Polo Club Lounge—situated in Windsor Court Hotel on Gravier Street—has recently added 930 sq. ft. of seating and performance space. It features local jazz five nights each week, including weekend headliner Robin Barnes, "The Songbird of New Orleans," whose latest album reached No. 5 on the Billboard charts for Current Traditional Jazz Albums. Polo Club Lounge is reminiscent of the private clubs of England, with its rich, soft furnishings and dark woods. The new menu features elevated pub fare, including caviar, fish and chips, and short rib on a French baguette.
In 2012, the Bazan family transformed the 115-year-old Little Gem Saloon into a two-story private event space, restaurant and live music venue that harkens back to the days when it was the jazz corner of New Orleans. It offers a fresh take on legendary New Orleans jazz through the performances of Kermit Ruffins, Meschiya Lake and many others. It's open for lunch and dinner, and offers a Sunday jazz brunch.
Live Nation plans to open Fillmore New Orleans early in 2019 inside Harrah's New Orleans, at the foot of Canal Street. It will include a luxurious lobby area and spacious music hall with VIP seating for 1,000 and standing room for 1,000. "It will honor the traditions of Fillmore music halls around the country," Reso says, but will also provide local flavor in design details that reflect the unique qualities of local architecture and materials—such as wrought-iron gate segments and clapboard sidings—as well as gas street lanterns and hints of Mardi Gras.
Arts District/Convention Center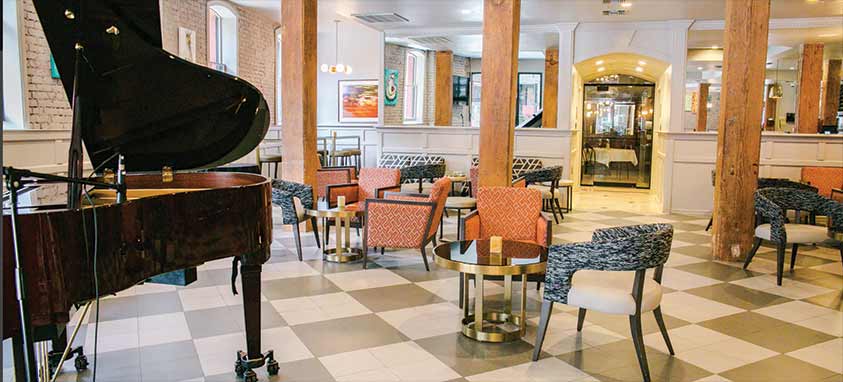 The Arts District was formerly known as the Warehouse District, a 19th-century industrial area used to store grain, coffee and produce shipped through Port of New Orleans. Today, it's home to Contemporary Arts Center and plenty of other art and music venues, and is often referred to as "the SoHo of the South."
Howlin' Wolf is the name of a famous Chicago blues artist, but this namesake venue is more of a high-velocity outlet for rock bands, with occasional blues, jazz and comedy. The venue's exterior is a mural masterpiece created by renowned artist Michalopoulos that re-creates New Orleans neighborhood scenes, telling the story of its music history, from Louis "Satchmo" Armstrong to Dirty Dozen Brass Band. Howlin' Wolf can accommodate up to 1,200 for private events.
The tiny music room at The Circle Bar belies the major talent that plays there on a nightly basis. The bar is housed in a building from the 1880s that mixes several architectural styles—including Greek Revival, Italianate, Second Empire and Late Victorian. The bar can be rented for groups.
Groups looking for a Cajun experience often enjoy Mulate's, a legendary restaurant recognized throughout the world as the "King of Cajun Dine and Dance halls." Mulate's features live Cajun music and dancing along with home-cooked Cajun food seven days a week. Cajuns come to celebrate their heritage and the world comes to join them in their celebration. Groups can be accommodated and private parties for up to 1,200 can be arranged.
New Orleans Social House, which opened in 2017, combines the fun of a music venue focusing on jazz and traditional New Orleans genres, the cuisine of a worldly Creole restaurant and the beverages of a high-end craft cocktail and wine bar. Groups rentals, including buyouts, are available.
Ace Hotel New Orleans sits on the corner of Carondelet and Lafayette streets, and one of its main attractions, Lobby Bar, offers bright cocktails as well as homey-yet-polished Southern and Italian dishes. Just off the lobby, Three Keys features live music almost every night.
Garden District/Uptown
The Garden District is noted for its astounding scenery, including showy gardens and elegant homes. The Uptown District, beginning upriver of the Garden District and stretching to Broadway Street, is mainly a residential area where late-19th century homes are scrupulously maintained, and small-scale restaurants and shops reinforce the village feel of the area. And this neighborhood has superb, highly unique music venues, even by New Orleans standards.
Founded by legendary musician Professor Longhair (who died in 1980), Tipitina's is a standing-roomonly venue in a building on the corner of Napoleon Avenue and Tchoupitoulas Street that formerly housed a gambling house, gymnasium and brothel. It's been a staple of New Orleans culture since 1977, featuring the likes of Dr. John, the Neville Brothers and Trombone Shorty. Private group events can be arranged. Tipitina's Walk of Fame, located outside the venue, is a permanent tribute to many of New Orleans' finest musicians, producers and cultural standard bearers.
Maple Leaf Bar's location also has a colorful history, having once served as a chess and music club as well as home to poetry readings and recitals by flamboyant pianist James Booker. And, like Tipitina's, it is now one of the hottest music spots in New Orleans. Performers from many musical styles— including blues, funk, R&B, jazz and zydeco—are featured. George Porter Jr., recipient of the 2018 Grammy Lifetime Achievement Award, performs on Monday nights and Grammy-winner Rebirth Brass Band plays on Tuesday nights. Private special events with music performances can be arranged.
Dos Jefes Uptown Cigar Bar is a no-frills jazz bar where cigars are not only welcomed, but encouraged. It features eccentric bar food and one of the city's top selections of fine liquor. Groups who aren't fond of the smoke inside can enjoy the outdoor patio. Dos Jefes can be rented for parties and special events.
Uptown's newest venue for the arts, Gasa Gasa is an intimate venue on Freret Street that hosts live music, local art exhibitions, film screenings and recording sessions. Its goals are to highlight local talent and create a room accessible to all forms of artistic expression that reflects the eclectic nature of New Orleans.
Top Meeting Spaces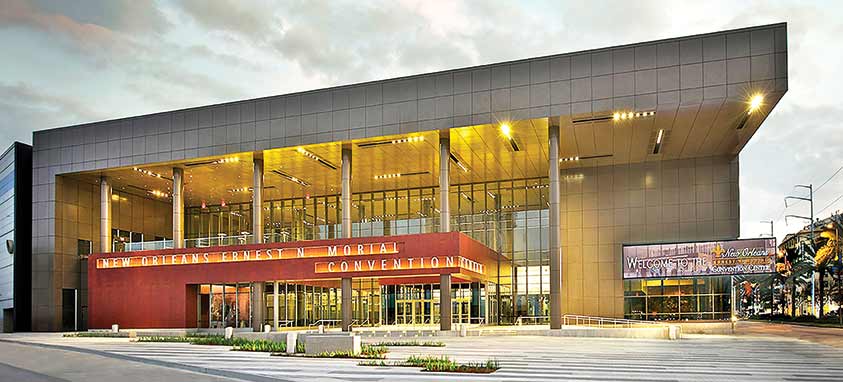 New Orleans has plenty of outstanding lodging and meeting spaces for groups, starting with New Orleans Ernest N. Morial Convention Center (MCCNO)—located in the Central Business District— with 1.1 million sq. ft. of contiguous exhibit space, along with 25,000 sq. ft. of prefunction space and a 60,000-square-foot, column-free ballroom.
"As the sixth-largest convention facility in the nation, it consistently ranks in the country's top 10 facilities for annual conventions and trade shows held annually," Reso says. "The latest addition to the facility is a 225-foot-long rooftop herb and vegetable garden. Growing seasonal crops, the new rooftop garden will be cultivated by chefs from Centerplate, MCCNO's exclusive food and beverage partner, to serve thousands of attendees iconic Louisiana dishes using locally sourced, seasonal produce."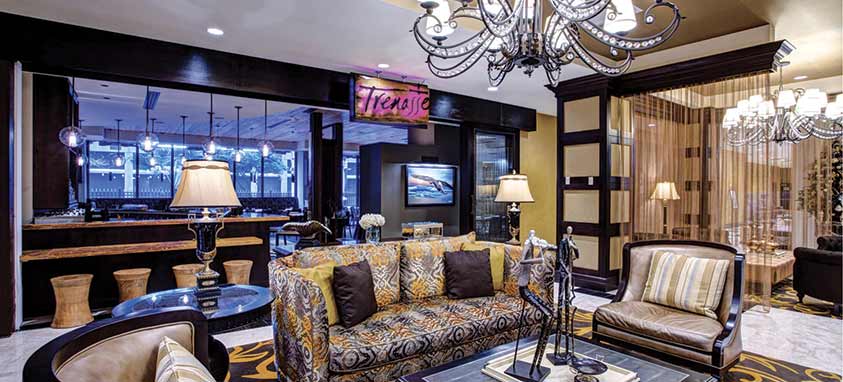 Many of the city's top hotels—featuring excellent meeting and dining options—are also in the Central Business District, and several have recently opened or been renovated. InterContinental New Orleans has 484 newly renovated guest rooms, a rooftop pool with stunning city views, Trenasse Restaurant—offering contemporary Cajun-Creole dishes created from regionally farmed ingredients—and 19 meeting rooms totaling more than 30,000 sq. ft. of space, as well as 8,300-square-foot La Salle Ballroom.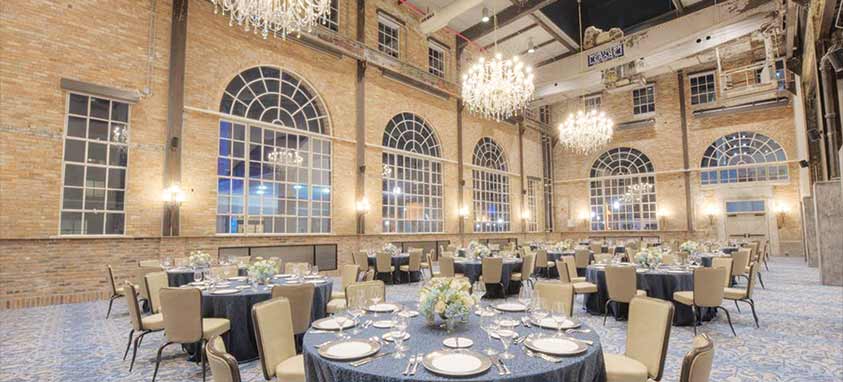 Elegant NOPSI Hotel emerged in 2017 from the stunning $50 million renovation of the former headquarters of New Orleans' power and transportation company. The transformation of the historical landmark, constructed in 1927, included 217 guest rooms, along with Public Service, a regionally inspired, upscale restaurant. Other top features are Above the Grid, consisting of a rooftop pool and bar, as well as 14,000 sq. ft. of meeting space, including the industrially elegant Dryades Ballroom, with floor-to-ceiling arched windows.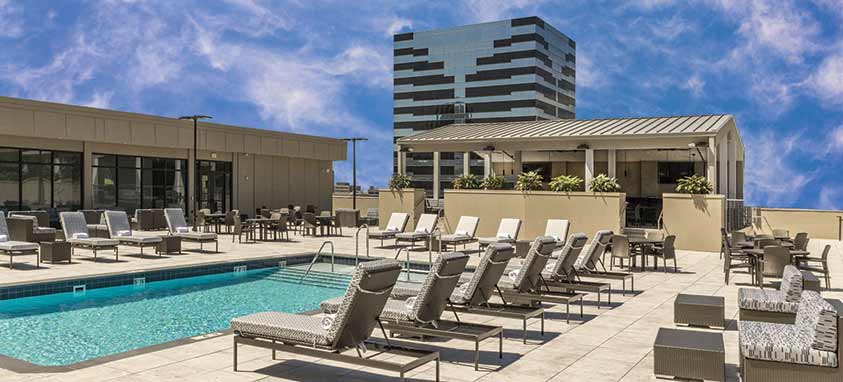 Renovation of 17-story The Jung Hotel & Residences, one of the most historic hotels in the city, was completed last year. It includes 207 guest rooms, a rooftop, poolside bar and spa, a restaurant, a coffee shop, 21,000 sq. ft. of meeting space (divided among 15 rooms) and a 12,000-square-foot exhibit hall.
Hilton New Orleans/St. Charles Avenue, which was added to the prestigious Historic Hotels of America in 2014, offers 252 guest rooms and 10,000 sq. ft. of meeting space. Its signature restaurant, Luke, is a Creole-inspired brasserie featuring classic New Orleans dishes and highlighting local purveyors and farmers' market ingredients.
The Eliza Jane is a recently opened 196-room Hyatt hotel housed in a 19th-century building that was formerly the offices of The Daily Picayune newspaper; in fact, the hotel is named after Eliza Jane Nicholson, the paper's first female publisher. Highlights include Couvant, offering simple, relevant renditions of iconic French dishes. It also contains a fitness center and 1,729 sq. ft. of meeting space.
Situated next to Mercedes-Benz Superdome, the 32-story Hyatt Regency New Orleans offers 1,193 guest rooms and eight dining options. It recently doubled its amount of meeting space, and now has 200,000 sq. ft., including the 48,100-square-foot The Elite Hall and 22,538-square-foot The Empire Ballroom.
A new Four Seasons with 401 guest rooms and 32,000 sq. ft. of meeting space is slated to open in the former World Trade Center building on the Mississippi Riverfront in early 2020. It will also include two signature restaurants and an observation deck in the two-story rooftop cupola that will feature panoramic views of the city and river.
The French Quarter also has its share of meetings- friendly hotels. Featuring classic architecture, creative cuisine and the lively Bourbon Street scene, Hyatt Centric French Quarter New Orleans provides 254 spacious guest rooms, Red Fish Grill—serving seafood dishes and other New Orleans favorites—and more than 10,660 sq. ft. of meeting and event venues.
New Orleans Marriott, also in the French Quarter neighborhood, features 5Fifty5, showcasing classic Louisiana-style cuisine as well as 1,333 guest rooms and 86,849 sq. ft. of meeting space, divided among 50 rooms. Another Marriott property in the French Quarter, Sheraton New Orleans Hotel, provides 1,110 guest rooms and 105,041 sq. ft. of meeting space, and includes Roux Bistro, highlighting contemporary Cajun cuisine.