Million Dollar Quartet musical, Welk Resort Theatre, Branson
Vibrant, historic areas of Kansas City, St. Louis and Branson lure groups
They nearly form a perfect triangle, separated by very similar distances and slightly less than a four-hour drive from each other. And they are all booming with activity, providing much of the show in the "Show Me State."
The three Missouri cities—Kansas City, St. Louis and Branson—are all well-established meeting and tourism destinations, featuring top attractions, hotels and restaurants. Many of these offerings are particularly prominent in specific areas of each city, such as Kansas City's Country Club Plaza, St. Louis' Delmar Loop and Branson's Entertainment District.
These areas are historically significant and central to the identity of each city, and have continued to thrive largely because they have imaginatively adapted to the changing styles and tastes of their clientele, including meeting groups. As evidence of this, look to the new wave of creative energy and development infused in each area.
Take the Delmar Loop, for example.
"When Edward Gardner Lewis purchased the land that would become University City at the turn of the 20th century, there wasn't much in the area beyond an amusement park, a race track and the loop of the trolley from which Delmar Loop gets its name," says John Bettag, vice president of sales for Explore St. Louis.
Delmar Loop now is a "bustling street of businesses, full of places to eat, shop and have a good time," he says.
Like Delmar Loop, Country Club Plaza and the Entertainment District offer outstanding options to groups.
Kansas City's Country Club Plaza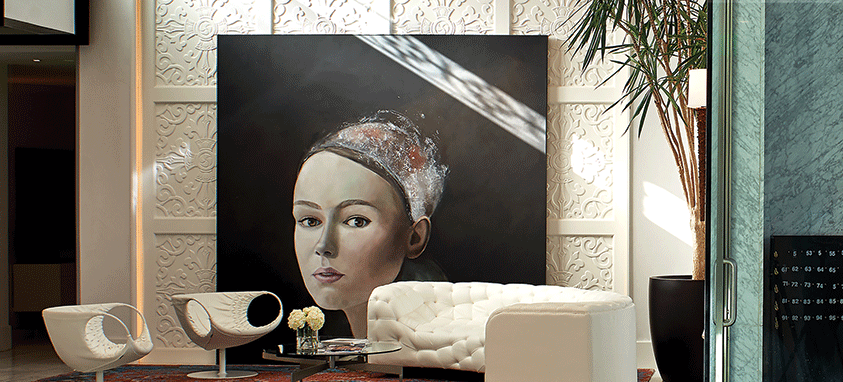 Country Club Plaza opened in 1923, featuring design in the distinctive style of Seville, Spain, with beautiful courtyards surrounded by stucco buildings topped by red-tile roofs and ornate towers. Real estate developer J.C. Nichols hand-picked artwork—including antique sculptures, columns, tile murals and fountains—to adorn the streets and sidewalks.
"The shops and restaurants may have changed over its 90-plus-year history, but what's always remained is the beautiful, Spanish-inspired architecture," says Cori Day, vice president of sales and services for Visit KC, the city's convention and visitors bureau.
The plaza is regarded as one of the city's treasures by residents and visitors alike. Those who have visited it aren't surprised that it was included on Project for Public Spaces' list of 60 of the World's Great Places.
"Known to some as the 'Rodeo Drive of the Midwest,' the Country Club Plaza is one of Kansas City's most unique districts, thanks to an eclectic mix of high-end and local shopping, luxury lodging, inventive dining and more," Day says.
Hot Attractions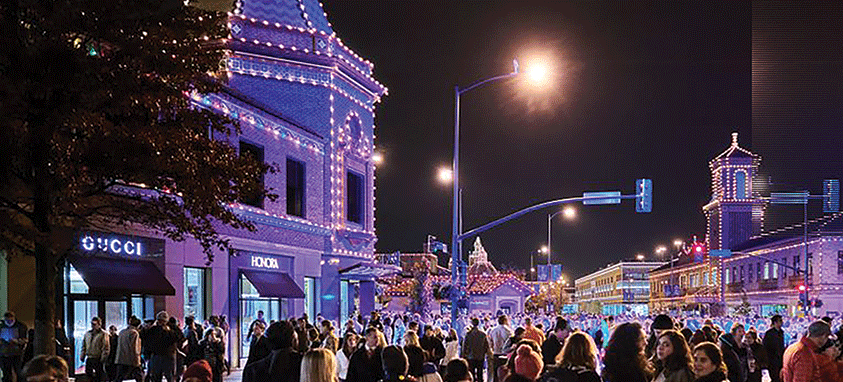 Many of Kansas City's leading attractions are located in or near Country Club Plaza, including prominent museums. One of the world's outstanding art venues, The Nelson Atkins Museum of Art features nearly 40,000 works. Its collections include African, American, ancient, architecture, design and decorative arts, Chinese, contemporary, European, Japanese, modern, Native American, photography, prints and drawings, South, Southeast and West Asian. Among the highlights are top collections of neoclassical architecture, Chinese furniture and Impressionist paintings.
In March, the museum opened the renovated Bloch Galleries in the original 1933 Beaux-Arts building, featuring the acclaimed Marion and Henry Bloch Collection of Impressionist and Post-Impressionist art.
No admission fee is charged to visit the museum, group tours are available and 2,000 sq. ft. of meeting space is provided, divided among 12 areas.
Kemper Museum of Contemporary Art features modern and contemporary artists from around the world. It's Missouri's largest contemporary art museum, and since it opened in 1994 its permanent collection has more than tripled. Docent-led tours for a maximum of 60 people are available. Special events can be arranged in spaces ranging from the expansive atrium to an intimate meeting room.
Housed in a 38-room Italianate mansion on the University of Missouri-Kansas City campus, The National Museum of Toys & Miniatures, formerly called Toy and Miniature Museum of Kansas City, opened in August 2015. It boasts the world's largest, fine-scale miniature collection and one of the nation's largest antique toy collections.
In addition to these indoor museums, Country Club Plaza features more than 40 fountains and 50 outdoor sculptures, and is often referred to as an "outdoor garden."
Leading Hotels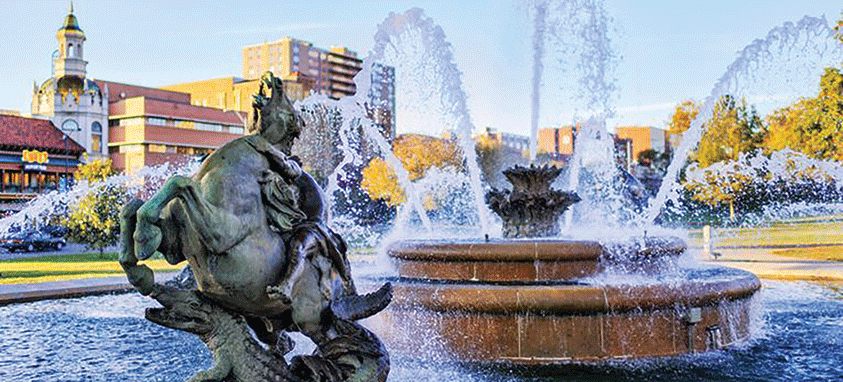 One of the top hotels in the area, Marriott Country Club Plaza is within easy walking distance of the plaza and The Nelson-Atkins Museum of Art. Reimagined in 2016, the property now features a chic, modern design. It offers 295 guest rooms, two restaurants, a coffee house, a fitness center and 18,346 sq. ft. of total event space, divided among 15 rooms.
The Raphael Hotel, a smaller plaza property that is popular among meeting groups, originally opened in 1928 as Villa Serena Apartments, built to attract the city's affluent residents. The building's ornate Italian Renaissance Revival-style has served as a Mediterranean complement to the nascent Country Club Plaza. The boutique hotel, which provides 126 guest rooms and 805 sq. ft. of meeting space, remains Kansas City's most prominent example of the architectural style.
Featuring a blend of modern and Mediterranean-inspired accommodations, The Fontaine is a sophisticated, new destination for business and leisure travelers. The six meeting rooms offer approximately 5,700 sq. ft. of meeting space, and prefunction space is situated adjacent to the lobby, making it an ideal area for guests to mix and mingle under three-tiered, Murano glass chandeliers.
Kansas City Dining Options
Country Club Plaza's Fiorella's Jack Stack Barbecue (pictured) features legendary hickory-roasted barbecue. A popular gathering spot for groups, it includes an elegant dining room and outdoor patio. Private, group dining can be arranged.
Cori Day, vice president of sales and services for Visit KC, also suggests some other intriguing dining options at the plaza, all of which can accommodate group events.
"Jax Fish House & Oyster Bar offers diners fresh, delicious seafood, and Gram & Dun is an innovative gastro pub that never disappoints," she says. "Eddie V's Prime Seafood opened just last year and has quickly become a favorite for groups looking for upscale experiences."
MAJOR MEETING VENUES IN KANSAS CITY

Hilton President Kansas City
Newly renovated hotel in the Power & Light entertainment district; 213 guest rooms; Providence New American Kitchen restaurant; Starbuck's; 12,000 sq. ft. of meeting space, comprised of two ballrooms, eight meeting rooms and a boardroom.

Hotel Phillips
Situated in the heart of downtown; stylish, Art Deco structure built in 1931; 216 guest rooms; artwork in hallways; three dining options; more than 7,000 sq. ft. of meeting space.

Kansas City Convention Center
Located downtown; Bartle Hall has 388,800 sq. ft. of exhibit space on one floor; 46,484-square-foot grand ballroom is LEED silver-certified and features great views of the city skyline; 2,400-seat theater; 10,000-seat arena.

Kansas City Marriott Downtown
Connected to Kansas City Convention Center; 983 guest rooms; MetropolitanKC offers elegant ambience and cuisine; fitness center; pool; 95,105 sq. ft. of high-tech meeting space.

Sheraton Kansas City Hotel at Crown Center
730 guest rooms; four restaurants; daily social hour; fitness center; pool; 88,360 sq. ft. of meeting space, including 45,500-square-foot exhibit hall.

Silverstein Eye Centers Arena
Formerly called Independence Events Center; home to minor-league hockey and indoor-soccer teams; 131,972 sq. ft. of event space; 5,800 fixed seats; restaurant/catering; ice skating.

Sprint Center
Large, multi-use downtown arena; opened in 2007; 18,972 seats, with contiguous gathering and event spaces providing up to 17,000 sq. ft.

The Westin Kansas City at Crown Center
Downtown hotel; connected to Crown Center Exhibition Hall; 724 guest rooms; Brasserie Restaurant; fitness center; 53,873 sq. ft. of meeting space, including 31 rooms.
St. Louis' Delmar Loop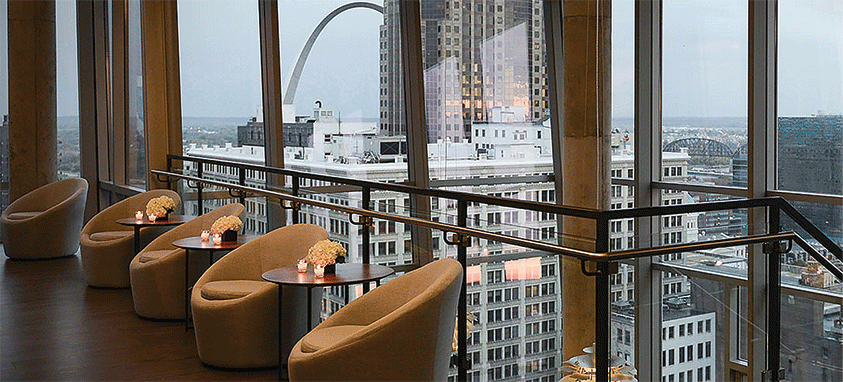 The Delmar Loop was named at the turn of the 20th century, after a streetcar line that ran west on Delmar Boulevard and wrapped around the corner of Delmar Garden Amusement Park to return to downtown St. Louis. The Delmar streetcar brought visitors to Delmar Garden hoping to escape the heat of the city and enjoy an afternoon or evening of dining, theater and amusement park entertainment.
Soon, Delmar Race Track and new attractions opened, including a swimming pool, roller rink, restaurants and a tavern. By the 1920s, Delmar Boulevard was a busy commercial district with new multifamily housing. Automobiles became more prevalent, and by the 1950s shopping districts that had served streetcar riders began to suffer.
Today, Delmar Loop, designated as one of the Ten Great Streets in America by the American Planning Association, is arguably the premier shopping, dining, and entertainment destination in St. Louis.
"The Delmar Loop features one-of-a-kind shops, restaurants, art galleries, live music, cafe culture and the St. Louis Walk of Fame, covering six blocks," says Bettag of Explore St. Louis. "There is something for people of all ages and interests."
Hot Attractions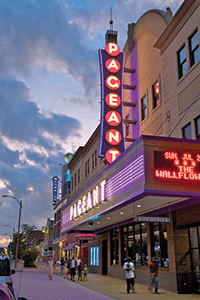 The Delmar Loop attraction people love to tromp on is St. Louis Walk of Fame, which honors people from St. Louis for major cultural contributions. All inductees were born in the Greater St. Louis area or spent their formative or creative years there. The walk consists of 140 brass stars and bronze plaques, each containing an inductee's name and a summary of accomplishments. The walk has been expanded eastward by developer Joe Edwards (also the owner of Blueberry Hill) in recent years, as he continues to invest in the area's redevelopment.
Inductees include Maya Angelou, Chuck Berry, Joseph Pulitzer, Josephine Baker, T.S. Eliot, Tina Turner, Miles Davis and Stan Musial.
Late in his career, Berry played 209 monthly concerts in the Duck Room at Blueberry Hill, one of the top clubs in Delmar Loop. Berry died this year, but the upbeat club continues to offer a mixture of live music, American cuisine, and pop-culture and music memorabilia collections.
Other top entertainment venues are The Pageant, a concert venue that can accommodate up to 150 people for private events, and adjacent Delmar Hall, a new, 750-capacity concert building.
Leading Hotels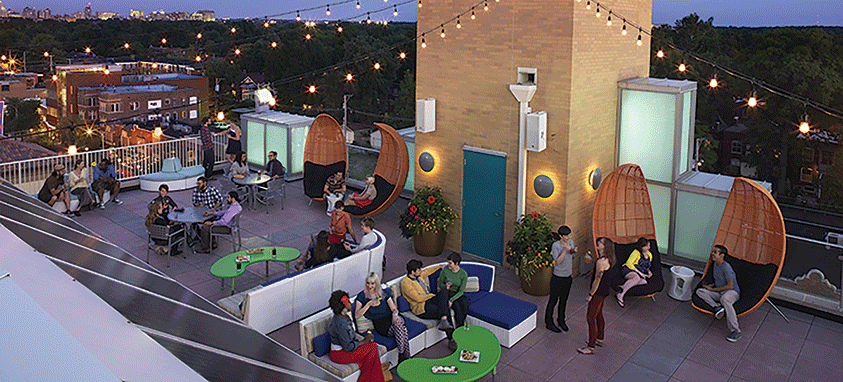 The unique, independent Moonrise Hotel blends right in at Delmar Loop. The hotel's home page states, "Why sleep under the stars when you can sleep with them? Our unique boutique hotel…brings each person who stays here out of their world and into ours. The Moonrise Hotel creates an unforgettable experience for each guest by bringing them on a journey through space and time with a smooth landing on satisfaction."
Bettag describes it as a "one-of-a-kind" boutique hotel.
"Its claims to fame are the outer space theme, 24-hour service and Eclipse Restaurant," she says.
Guest rooms feature Serta Enrapture Eurotop beds and whimsical, moon-themed art. Eclipse Restaurant serves American fare with a cosmic twist and specialty cocktails. Rooftop Terrace Bar offers views of the bustling Delmar Loop district and city skyline under the world's largest revolving, manmade moon replica.
Other top hotels in St. Louis include the recently renovated, historic Mayfair Hotel, dating back to 1925. It was transformed into Magnolia Hotel St. Louis, with 182 guest rooms and more than 8,000 sq. ft. of event space. The 539-room St. Louis Union Station-Curio Collection by Hilton featuring sweeping archways, fresco and gold-leaf detailing, mosaics and glass windows.
Hyatt Regency St. Louis at the Arch has 910 guest rooms and a whopping 83,000 sq. ft. of attractive, flexible meeting space.
St. Louis Restaurants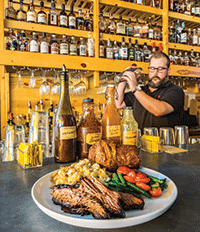 In St. Louis' Delmar Loop, Peacock Diner might be best known for its often-photographed, 11-foot-wide, animated neon sign that weighs 1,800 pounds. It has 50 transformers and more than 680 feet of neon tubing, and a sequencer cues the peacock's colorful feathers to fan out and back 200 times per hour.
The decor inside is also striking, and includes four, U-shaped diner counters brightly lit like the colorful feathers of a peacock, and several display-case collections of peacock memorabilia and old-time diner ephemera. Menu items feature unique twists on diner classics, with vegan, vegetarian and gluten-free options.
Ever-popular Salt & Smoke (pictured) serves Texas-style barbecue, salads, sandwiches, homemade desserts, bourbons, beers, wine and spirits. Nixta, featuring Mexican chef-drive cuisine, was named one of the Top 10 New Restaurants in America this year by Bon Appetit magazine. Other notable new restaurants include Sardella, highlighting flavors of old Italy; Vicia, celebrating vegetable-forward cuisine; and Olive & Oak, featuring creative American standards and cocktails.
Located exactly between St. Louis and Kansas City (125 miles from each city) along Interstate 70, Columbia is much more than a midpoint marker. It's home to the University of Missouri, and features innovative cuisine, beautiful parks, a lively music scene and amazing art.
One of the top attractions, Rock Bridge Memorial State Park, includes more than 2,200 acres of recreational land featuring a wide variety of activities and amenities. It boasts some of Missouri's most scenic hiking trails.
One of the city's leading hotels, the 311-room Holiday Inn Executive Center-Columbia Mall provides 311 guest rooms and 35,000 sq. ft. of meeting space, consisting of the 19,000-square-foot Columbia Expo Center, two flexible ballrooms, four meeting rooms and an executive boardroom.
The woodsy, 180-room Stoney Creek Hotel & Conference Center is a great respite for groups that seek a state-of-the-art space in a unique setting, complete with stone fireplace suites and lodge-themed decor. The property has 11,000 sq. ft. of meeting space.
MAJOR MEETING VENUES IN ST. LOUIS

America's Center Convention Complex
Situated in the heart of downtown; 502,000 sq. ft. of exhibit space; 67,000-seat Dome at America's Center; 28,000 sq. ft. ballroom; 1,400-seat Ferrara Theatre; 502,000 sq. ft. of exhibit space; 80 meeting rooms.

Anheuser-Busch
Tours and classes available; outdoor Biergarten can host 300 people; Pestalozzi Street Patio and Tour Center Main Lobby accommodate groups of up to 1,000.

Drury Plaza Hotel St. Louis at The Arch
Listed on National Register of Historic Places; 355 guest rooms; eighth-floor terrace added this year; 12,000 sq. ft. of meeting space.

Hilton St. Louis at the Ballpark
Busch Stadium and St. Louis Ballpark Village are right outside the door; 671 guest rooms; 360 Rooftop Bar & Restaurant; indoor pool; 40,000 sq. ft. of meeting space; 27 meeting rooms.

Hyatt Regency St. Louis at The Arch
Easy walk to Gateway Arch, sports venues and attractions; 910 guest rooms; four dining options; 83,000 sq. ft. of meeting space.

Marriott St. Louis Grand Hotel
Connected to America's Center convention center; 917 guest rooms; Zenia Bar & Grille features local, chef-crafted cuisine; 77,125 sq. ft. of meeting space; 41 meeting rooms.

Saint Louis Ballpark Village
Dining and entertainment next to Busch Stadium; accommodates groups of up to 10,000 in facilities such as Cardinals Hall of Fame & Museum, five production stages, Bud Deck and AT&T Rooftop.

St. Louis Union Station-Curio Collection by Hilton
AAA Four Diamond hotel; National Historic Landmark; 539 guest rooms; elegant dining in the Grand Hall, which has a nightly light show; 100,000 sq. ft. of meeting space.
Branson's Entertainment District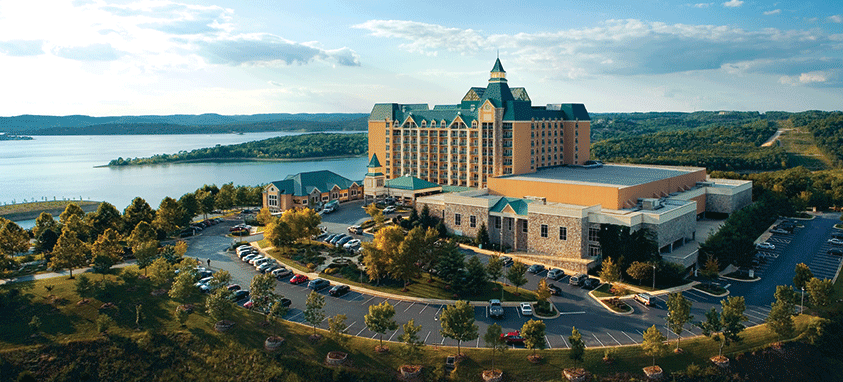 Branson first gained national prominence as a top entertainment spot in 1954 when Red Foley, a legendary country singer, moved to neighboring Springfield, Missouri, to host Ozark Jubilee, a network television show featuring top country music stars.
In the '60s and '70s, a growing number of entertainers began to appear in Branson, and in 1983, Roy Clark Celebrity Theatre opened, the first venue to be linked to a celebrity entertainer. Other stars, such as The Sons of the Pioneers and BoxCar Willie, followed suit.
The city began to gain a reputation by the 1980s for wholesome, family-oriented performances, thereby drawing more entertainers to the area. New theaters, hotels and attractions were built, and Branson emerged as a major entertainment center.
Branson now features more than 80 live shows—running from early in the morning until late at night—and has been dubbed the "Live Entertainment Capital of the World." It also features dozens of other attractions and more than 200 outlet retailers.
Hot Attractions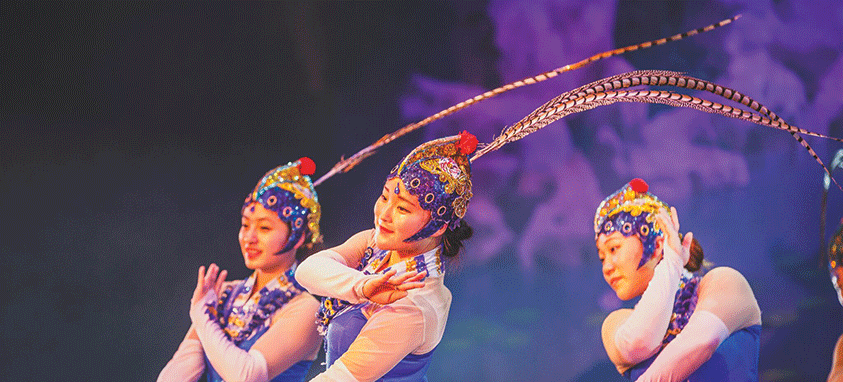 The Entertainment District, which recently underwent a multimillion-dollar renovation, is primarily known for its live shows, featuring everything from rising young talents to legendary acts.
"Shows in Branson appeal to visitors of all ages, with state-of-the-art theaters ranging from intimate 50-seat venues to 3,000-seat theatrical auditoriums," says Deborah Cohen, CMP, director of meeting and convention sales for Branson Convention & Visitors Bureau.
The wide variety of music includes country, pop, rock 'n' roll, gospel, patriotic, Broadway, western, big band, swing, bluegrass, jazz and classical. Several shows are ensemble productions featuring large casts of musicians, dancers and singers. One popular musical, Million Dollar Quartet, re-creates a jam session involving Elvis Presley, Jerry Lee Lewis, Johnny Cash and Carl Perkins.
Tickets to shows can be purchased upon arrival. But since many shows sell out, it's advisable to buy them through online sites, directly from theaters or by contacting a Branson travel professional.
The city also boasts many other attractions, including Hollywood Wax Museum Branson, Branson Ferris Wheel and Fritz's Adventure, featuring 80,000 sq. ft. of hands-on climbing, tunneling, sliding and ziplining. One of the newest attractions, Bigfoot, includes a 200-foot tower that offers some of Branson's most popular new thrill rides.
Leading Hotels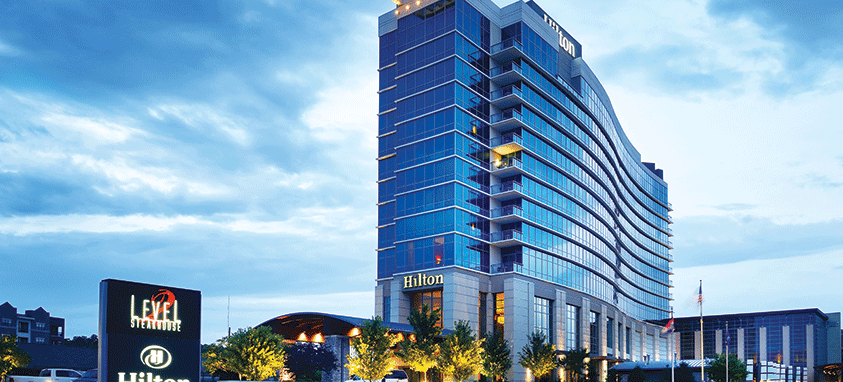 Radisson Hotel Branson, situated within walking distance of several theaters, restaurants and attractions in the Entertainment District, provides 472 guest rooms and 15,000 sq. ft. of meeting space. It also features majestic views of the Ozark Mountains.
Several other hotels provide easy access to the Entertainment District. The 12-story Hilton Branson Convention Center Hotel is located in the historic downtown area. It's connected to Branson Convention Center, and provides 294 guest rooms and 114,000 sq. ft. of meeting space. On the same street is Hilton Promenade at Branson Landing boutique hotel, with 242 guest rooms and 1,898 sq. ft. of meeting space.
The recently renovated Chateau on the Lake Resort Spa and Convention Center, Branson's first AAA Four Diamond Resort, has 301 guest rooms and 43,500 sq. ft. of meeting space, including an elegant 32,000-square-foot ballroom.
Tucked into the wooded hillsides of the Ozark Mountains, Big Cedar Lodge offers 260 guest rooms, a full-service arena and 21,308 sq. ft. of meeting space. It recently added new lakeside cottages and Fun Mountain, featuring bowling, a golf simulator and indoor bumper cars.
Branson F&B Adventures
In the Keeter Center, situated on the picturesque campus of College of the Ozarks in Branson, Dobyns Dining Room offers a unique experience for up to 60 people. The College of the Ozarks operates its own produce garden, dairy farm and grist mill, providing the restaurant with year-round access to fresh, on-site ingredients. Dobyns also receives daily deliveries of seasonal produce such as kale, sugar snap peas and multicolored cauliflower.
Chateau Grille at Chateau on the Lake Resort Spa and Convention Center is an award-winning restaurant in Branson that combines gourmet-quality food and spectacular views of Table Rock Lake. A private dining room is available for up to 36 guests.
Excellent dining spots at Branson Landing include Smith Creek Moonshine, a distillery and tasting bar; Cantina Laredo, offering Mexican food with a modern twist; White River Fish House (pictured below), featuring a wide array of fish dishes, along with salads, sandwiches, burgers, cocktails and wines; and The Paddlewheel, highlighting salads, Mexican foods and shareable snacks.
MAJOR MEETING VENUES IN BRANSON

Albuquerque Convention Center
Modern center located in booming downtown, near popular Civic Plaza; upgraded technology and design elements; 2,300-seat Kiva Auditorium; 270,000 sq. ft. of meeting space.

Big Cedar Lodge
Located 10 miles south of Branson in the Ozark Mountains; 260 lodges, cottages and cabins; three restaurants and bars; fitness center; marinas; horseback riding; two championship golf courses; 21,308 sq. ft. of meeting space.

Branson Convention Center
High-tech, architectural gem; 220,000 sq. ft. of meeting space, including 47,125-square-foot exhibit hall and 22,703-square-foot ballroom.

Chateau on the Lake Resort Spa & Convention Center
Majestic lodge overlooks scenic Table Rock Lake; 301 newly refurbished guest rooms; seven restaurants and lounges; 14,000-square-foot spa; pool; 43,500 sq. ft. of meeting space, including 32,000-square-foot Great Hall.

Hilton Branson Convention Center Hotel
Located in the heart of historic downtown; connected to Branson Convention Center; 294 guest rooms; Level 2 Steakhouse is one of Branson's top restaurants; indoor and outdoor pools; fitness center; 114,000 sq. ft. of event space.

Radisson Hotel Branson
In the Theater District; 472 guest rooms; fitness center; pool; Wildwood Bistro and Time Out Sports Lounge; 15,000 sq. ft. of meeting space, divided among 13 meeting rooms.

The Mansion Theatre
3,000 seats; classic old-time theater; spacious lobby; large multimedia projection system.

Welk Theatre Branson
2,200-seat auditorium; spacious gathering areas; special-event planners on site; Welk Production Team can put on a variety of shows and acts.