Michigan is the fly-in/drive-to state with something for everyone
I lived in Michigan for a dozen years but can't honestly say I know it. Despite many explorations then and since, it still surprises and, almost always, delights. "Pure Michigan" is how the state markets itself, and its natural beauty is indeed abundant. The state boasts hundreds of tranquil lakes and thousands of miles of shoreline for recreation and outdoor rejuvenation, not to mention an entire Upper Peninsula that unfolds like an epic on Discovery Channel. Statewide, quaint villages beckon out-of-town visitors, as do vibrant college towns. There's even a serene and scenic wine country.
But it's a state with undeniable urban attraction, too. First and foremost, of course, is world-famous Detroit (metro population 3.5 million), where depending on your group's inclinations, the experience can be over-the-top elegant or thrillingly edgy. About 100 miles northwest lies the next-biggest population center, friendly and cultured Grand Rapids.
The tale of these two cities could hardly be more different. Let's explore.
Detroit
If unforgettable experiences are the order of the day, the city of motors and Motown won't disappoint. By dint of history and present, Detroit is a trip. The energy is palpable almost everywhere, and the daunting task is choosing which sort. The newly exuberant downtown districts and bustling riverfront, its grand architecture lovingly restored and often repurposed from a heyday of being one of the great urban wonders of the world, offer groups a jaw-dropping counternarrative to negative images of the past.
Yet outside the urban core the excitement and ferment can be just as remarkable, a sense that something new is being born before your eyes. From urban agriculture to edgy art installations and ateliers housed in former factories and more, it's all there. So are a wealth of startups and entrepreneurial projects. It recalls a recent conversation at downtown's venerable Eastern Market, itself a wonder of Old World and New Detroit in its maze of food artisans, traditional butchers and cheesemongers, vegetable stands and pop-up eateries. A young Buddhist nun was selling handmade products from her spiritual community within the city. We started talking about what was happening around her.
"I know," she said. "I've met young German artists from Berlin who came here to create. It's not just because rents are cheap. Why not Berlin, I ask them? 'Berlin?' they said. 'That's so over. This is where it's happening.'"
It was easy for those Berliners to get there, as it is from almost anywhere. Modern and sleek, Detroit Metropolitan Airport (DTW) is a Delta Airlines hub and offers nonstop flights to 128 destinations in the world. The city is no more than a 90-minute flight or an eight-hour drive to 60 percent of the U.S. population. Once there, it's easier than ever to get around with the new QLine streetcar system, downtown Detroit People Mover, MoGo bike share and FAST (Frequent, Affordable, Safe Transit) bus route. And, of course, there's also that foreign country to explore (once all Covid-related restrictions are lifted) via the tunnel that runs under the broad Detroit River.
Where to Meet and Stay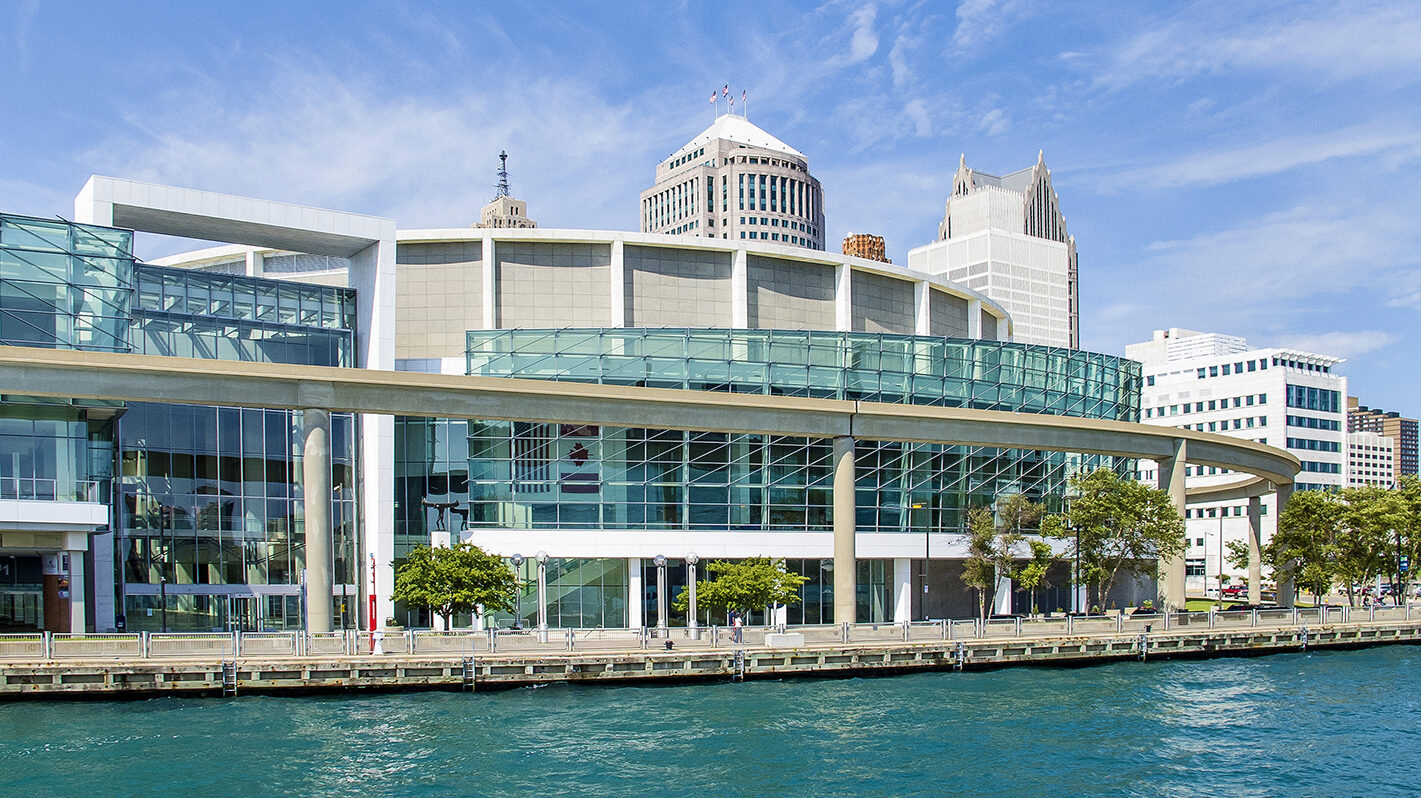 Planners have more options than ever, from recently renovated TCF Center (formerly Cobo Center) in the heart of downtown, where $279 million was invested to upgrade its 723,000 sq. ft. of exhibit hall space and 623,000 sq. ft. of contiguous meeting space, to 320,000-square-foot Suburban Collection Showplace, a convention center near DTW, to unique meeting spaces in historic rehabbed buildings and hotels.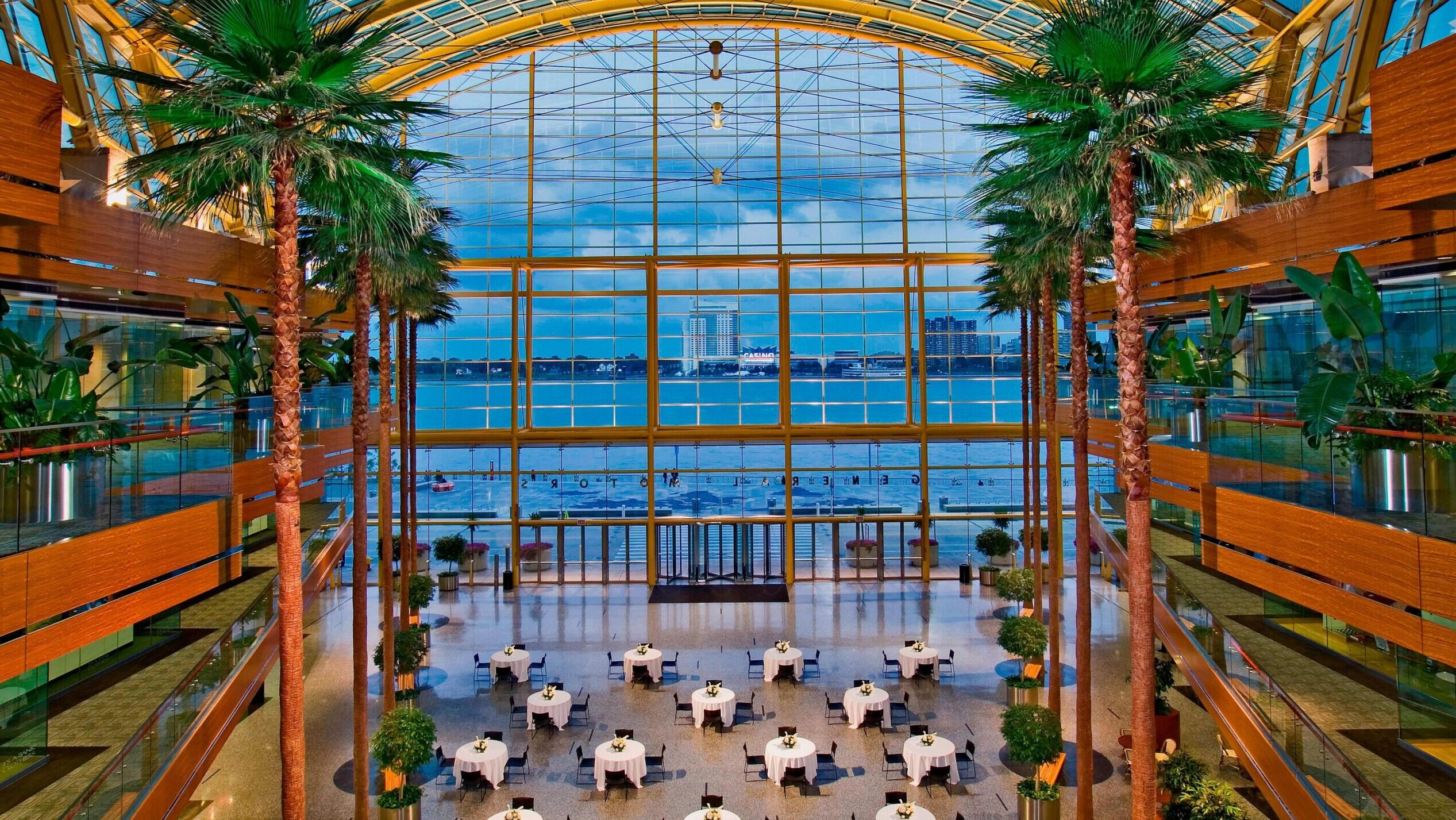 Among the most impactful are Detroit Marriott at the Renaissance Center (1,246 guest rooms, more than 100,000 sq. ft.) in the iconic John Portman-designed towers next to the Detroit River that also serve as headquarters for General Motors; Aloft Detroit at the David Whitney (136 guest rooms, 10,262 sq. ft. of meeting space); Foundation Hotel (100 guest rooms, several meeting and event spaces), the former historic Detroit Fire Department headquarters across from TCF Center; Shinola Hotel (130 guest rooms, modern event venues for 12 to 200 attendees), which offers its made-in-Detroit luxury retail along with a unique boutique setting near Wayne State University; and Element Detroit (110 guest rooms, 2,000 sq. ft. of meeting space).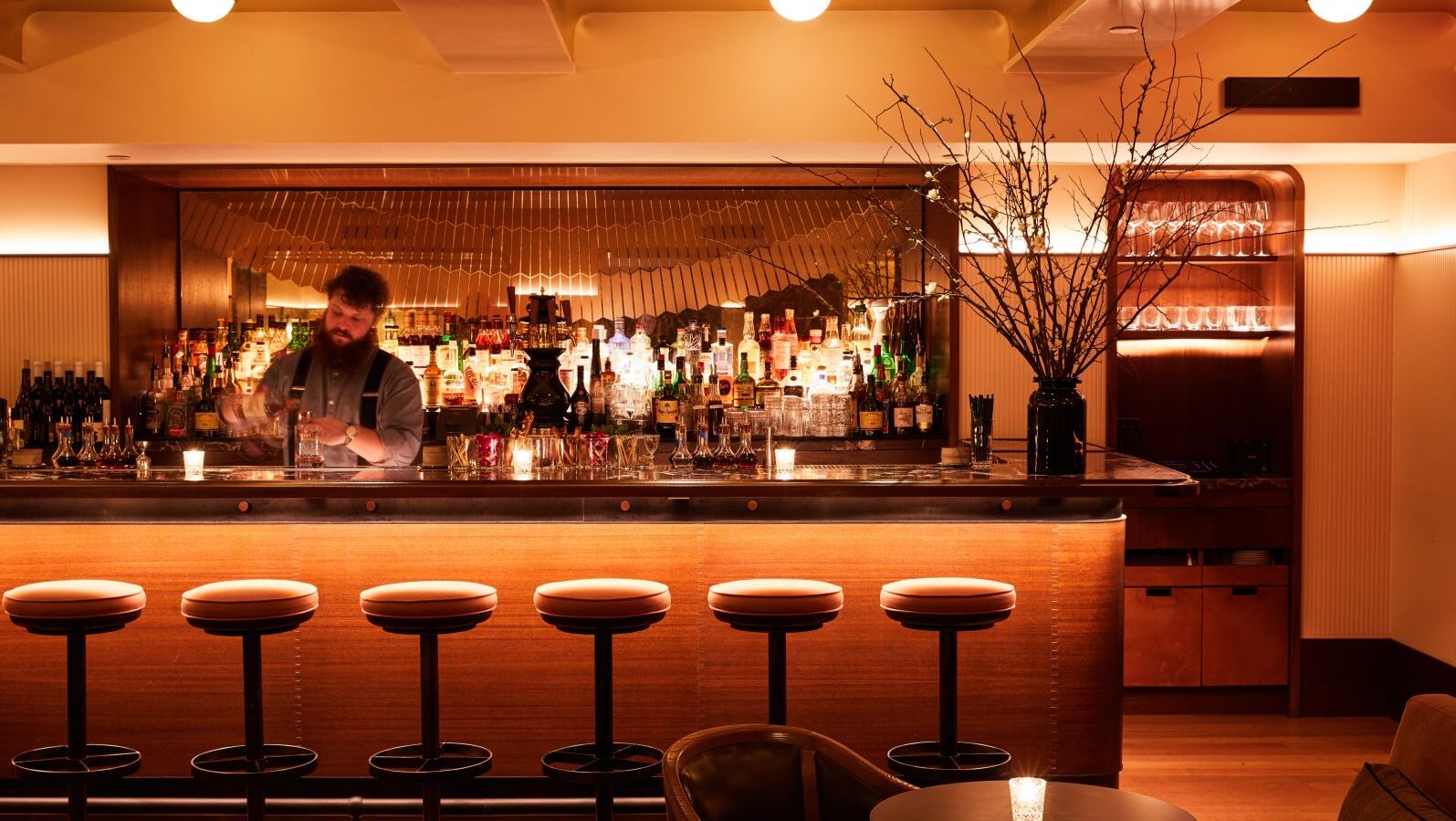 Of course, another group itch that Detroit can ably scratch is for the all-encompassing environment of today's casino resort. MGM Grand Detroit was the first to debut in the Motor City, in 1999, and it remains a top-tier choice as the city's only hotel with both AAA Four Diamond and Forbes Four Star status, as well as the brand's Convene with Confidence protocols for sanitation and safety. Although it would be a shame not to venture forth into the city and environs, no one could blame you—not with the nonstop live entertainment, a Topgolf Swing Suite, numerous dining options and a sprawling casino floor (including the smoke-free gaming salon). The 400 guest rooms include Stay Well options, with wellness features like enhanced air filtration and UV lighting to reduce bacteria, viruses and other microbes. Meeting space rings in at 30,000 sq. ft.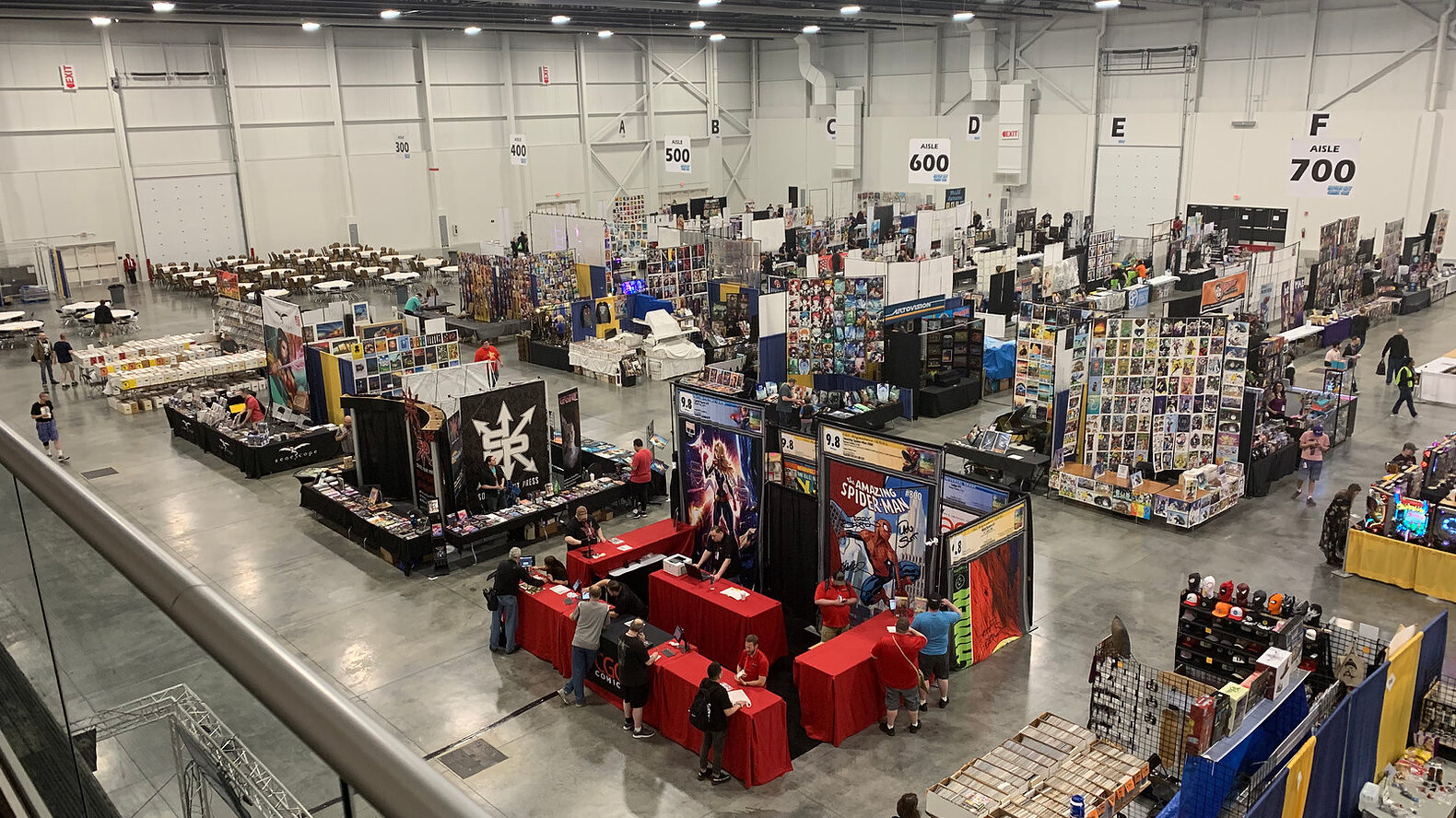 Planners should also note that the MGM Grand's "Extreme Green Team" oversees numerous sustainability initiatives, including a first-of-its-kind urban greenhouse and agricultural center on 1.8 acres of resort property as well as the resort's standing as a Four Key holder from Green Key Eco-Rating Program.
Steppin' Out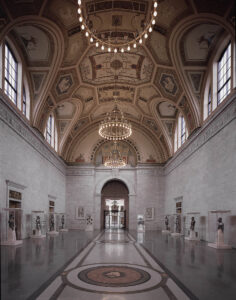 Groups of 20 or more should follow the beat to the Detroit classic that is Motown Museum, aka Hitsville USA, birthplace of Motown Records. Located in the original headquarters and music recording studio, it's home to a trove of artifacts, photographs, costumes and memorabilia. Follow in the footsteps of Diana Ross & the Supremes, Smokey Robinson & the Miracles, Stevie Wonder, the Temptations, the Four Tops, Marvin Gaye, Michael Jackson & the Jackson 5, Lionel Richie and the many more who created the Motown Sound. A $50 million expansion project is underway to grow the museum campus to a 50,000-square-foot entertainment and education destination.
Visit Detroit has created Detroit Experience Packages in partnership with area hotels and tour companies. From a Greektown "OPA" Package that includes a festive Greek dinner in conjunction with a stay at Atheneum Suite Hotel & Conference Center (174 guest suites and 5,074 sq. ft. of meeting space) to kayaking on the Detroit River between the two countries, to visits to world-class museums like recently renovated and expanded Detroit Institute of Arts (with its renowned Diego Rivera Industry murals and unique event spaces) and foodie tours. Many of these can be customized for small groups.
Why It's So Worth It to Traipse to Traverse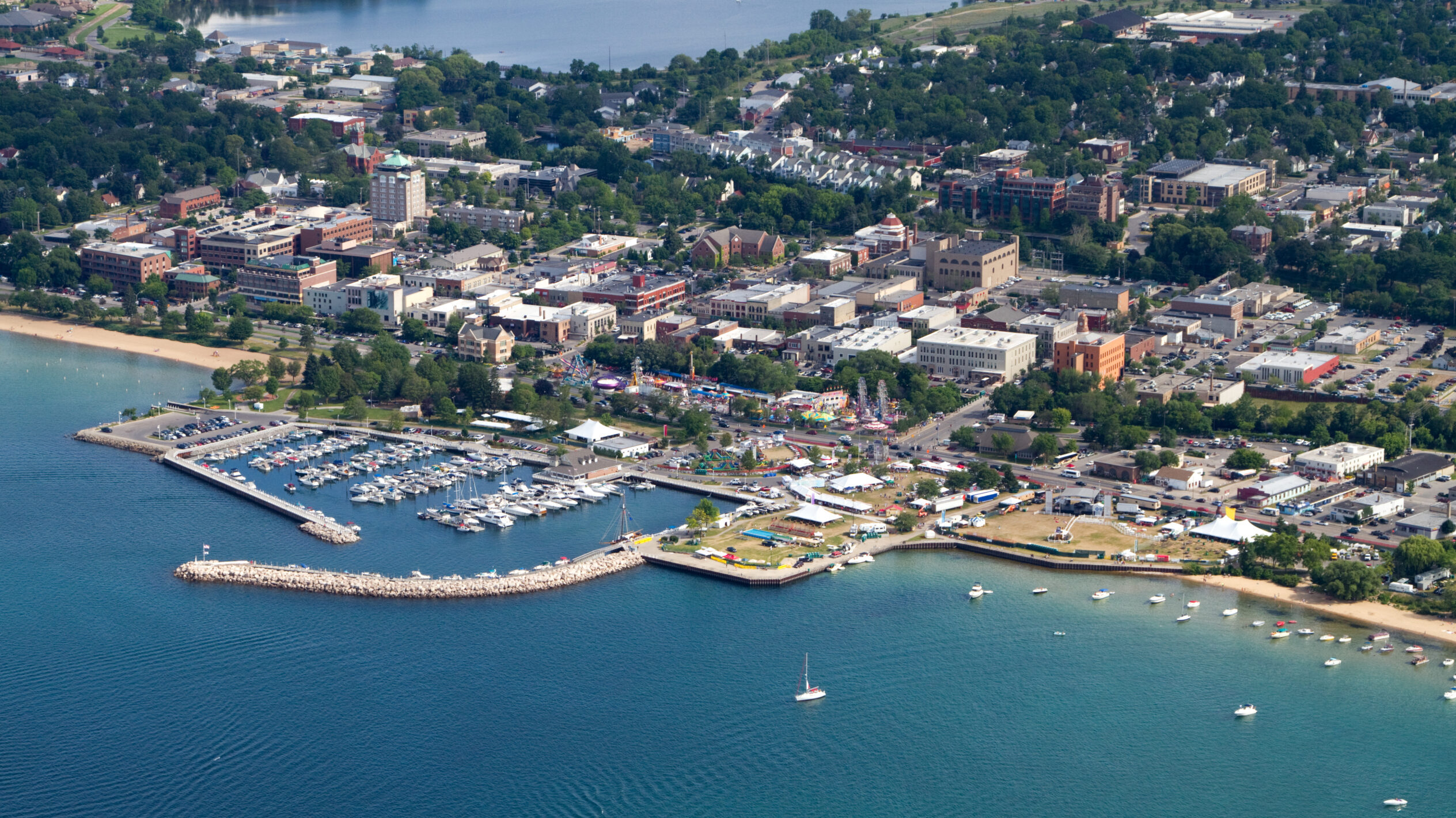 In northwestern Michigan there lies the prettiest place. Certainly, one of the most charming in all of America. Traverse City (pop. 15,570) calls itself "a detour from the ordinary," and with good reason. Where else can you meet in a former state asylum?
That would be Kirkbride Hall, a castle-like Italianate structure designed to soothe its former inmates with beauty and grandeur that has been renovated as a mixed-use property called The Village at Grand Traverse Commons. Seated events for up to 150 attendees can soak in the history and aura of the former chapel, with its stained-glass windows and cathedral ceiling.
But this is but a hint of what Traverse City and its environs has in store for groups, what with its multiple lakes and rivers, charming and historic downtowns, old lighthouses and rolling vineyards. In spring, summer and fall, beautiful natural settings and scenic vistas call out for al fresco events and meetings.
More teasers: In adjoining Benzie County, Elberta Life Saving Station, dating to 1887, edges Lake Michigan and features both indoor and outdoor event space. Iron Fish Distillery's restored redwood barn can host 100 guests (or up to 48 in the art gallery) to experience Michigan's first working farm dedicated to distilling small-batch craft spirits. Former nationally acclaimed restaurant Tapawingo in tiny Ellsworth can accommodate gatherings of 300 on its pergola-covered decks and waterfront space. On Old Mission Peninsula overlooking Grand Traverse Bay and Traverse City's wine country, Chateau Chantal is perfect for small-group activities and wine dinners in its 2,000-square-foot Hospitality Room.
The possibilities stretch on from there. In all, an eclectic mix of lodging and meeting venues can handle 10-25,000 people. The city is practiced in welcoming visitors. Upwards of 500,000 may be lured to Traverse City this month for the weeklong National Cherry Festival. And all the uncommon fun is minutes from Cherry Capital Airport (TVC), which is serviced by Delta Airlines, United and American Airlines.
Grand Rapids
If Detroit was built on wheels, Grand Rapids rose on solid, stay-put craftsmanship. It was a major lumbering center by the late 19th century, milling logs floated down the eponymous river from wilderness forests. That timber was soon being transformed into fine wood furniture. At its height, 44 furniture companies resided in the city, and it became known worldwide as America's Furniture City.
Mansions of lumber barons and furniture magnates on Heritage Hill stand in silent witness to that era, but even today, Grand Rapids boasts five of the world's leading furniture companies. Yet the city has also steadily diversified, and the past two decades have seen Michigan's second-largest city accelerate the expansion, as well as open new and varied hotels, attractions, restaurants and craft breweries.
Why else would Expedia have named it one of America's Super Cool Cities?
Where to Meet and Stay
The Downtown Convention Neighborhood edges the river, anchored by DeVos Place Convention Center (240,000 sq. ft. of convention, ballroom and meeting space) and Van Andel Arena (a 12,000-seat multipurpose facility that's connected by skywalk to the convention center and three hotels)—with most everything downtown within a 10-minute stroll, including seven hotels, six museums, more than 100 shops and restaurants, plus other post-session fun.
DeVos Place also features a 2,404-seat performing arts center that can be booked for meetings and conventions. Working with locally headquartered Steelcase, DeVos Place developers integrated the latest in architecture, furnishings and technology.
With more than 9,800 hotels rooms to choose from countywide (and over 2,500 rooms downtown), one venue still holds sway as the most luxurious and storied—Amway Grand Plaza Grand Rapids. Called The Pantlind when construction began in 1913, it was widely held to be among the country's finest hotels by the 1920s and has been a major player in the city's growth ever since; Amway Corp., which is headquartered in nearby Ada, bought it, changed the name and added a tower in 1983. It offers 682 guest rooms, eight F&B options, a spa and 47,120 sq. ft. of meeting space, including four elegant ballrooms and 42 technology-rich meeting and conference areas. It's affiliated with Curio Collection by Hilton.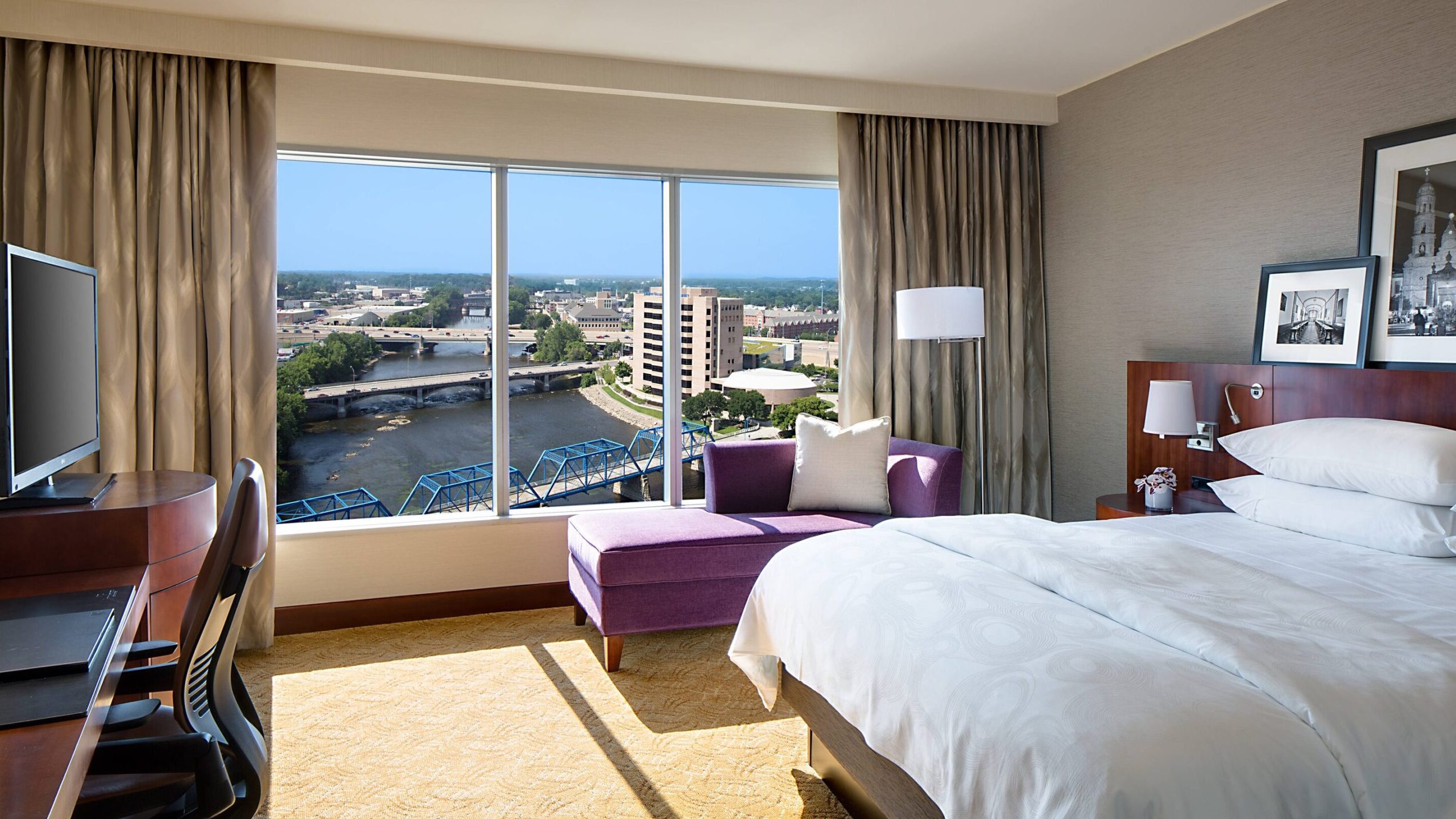 The short list of other excellent meeting venues in the Hotel District begins with JW Marriott Grand Rapids, whose sleek tower was selected as the 2007 Opening of The Year for the entire JW brand. It has 337 guest rooms, three F&B spaces, a spa and 15,369 sq. ft. of meeting space. Newest on the block is AC Hotel by Marriott Grand Rapids Downtown, a modern 130-room property that opened in 2019 with a 19th-century facade and the brand's European aesthetic. It inhabits a transformed 127-year-old warehouse, with public spaces outfitted by longtime local icon Herman Miller Furniture. Hyatt Place Grand Rapids Downtown features 160 guest rooms—all with floor-to-ceiling windows—along with a restaurant, an indoor pool and 1,500 sq. ft. of meeting space, divided among three rooms.
Steppin' Out
It's time to tell you Grand Rapids' other nickname: Beer City. USA Today went so far as to name it Craft Beverage Capital of the U.S.—recognition not only of its free-flowing suds, but also for the abundance of craft coffee, cideries, distilleries, wine bars and creative cocktail mixologists. There are more than 45 breweries in the Grand Rapids area; a downtown brewery walking tour takes in some of the best.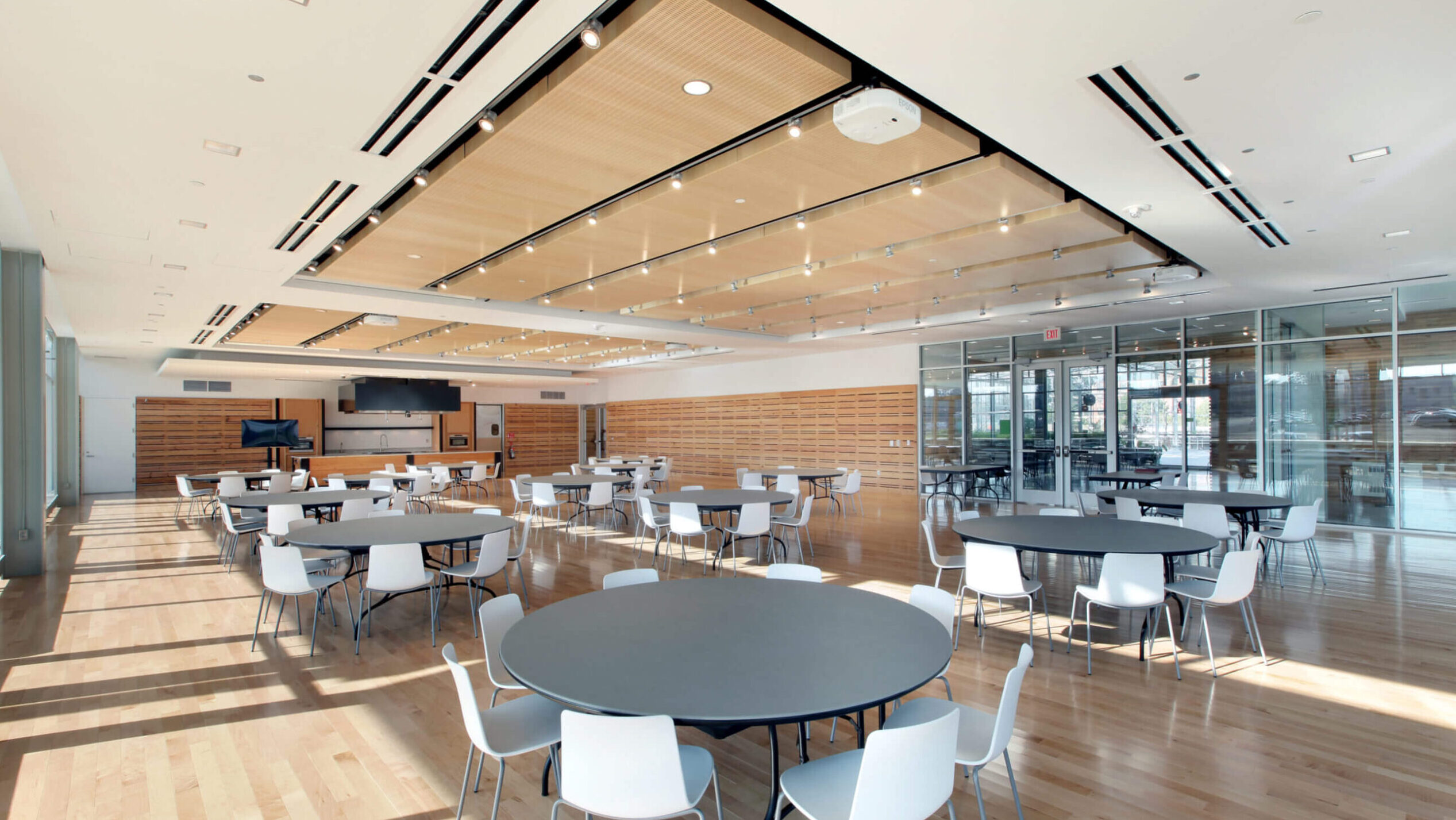 A great place to add sustenance to the brew while strolling is lively Grand Rapids Downtown Market, a culinary collective with butchers, bakers and fishmongers, as well artisan cuisine—some three dozen vendors in all—as well as several spaces groups can rent, including private meeting areas. For those in your group who prefer other libations, Alt City Beverage Company offers a premium selection, including zero-proof cocktails, unique smoothies, healthy juice combos and a range of coffee and espresso-based drinks.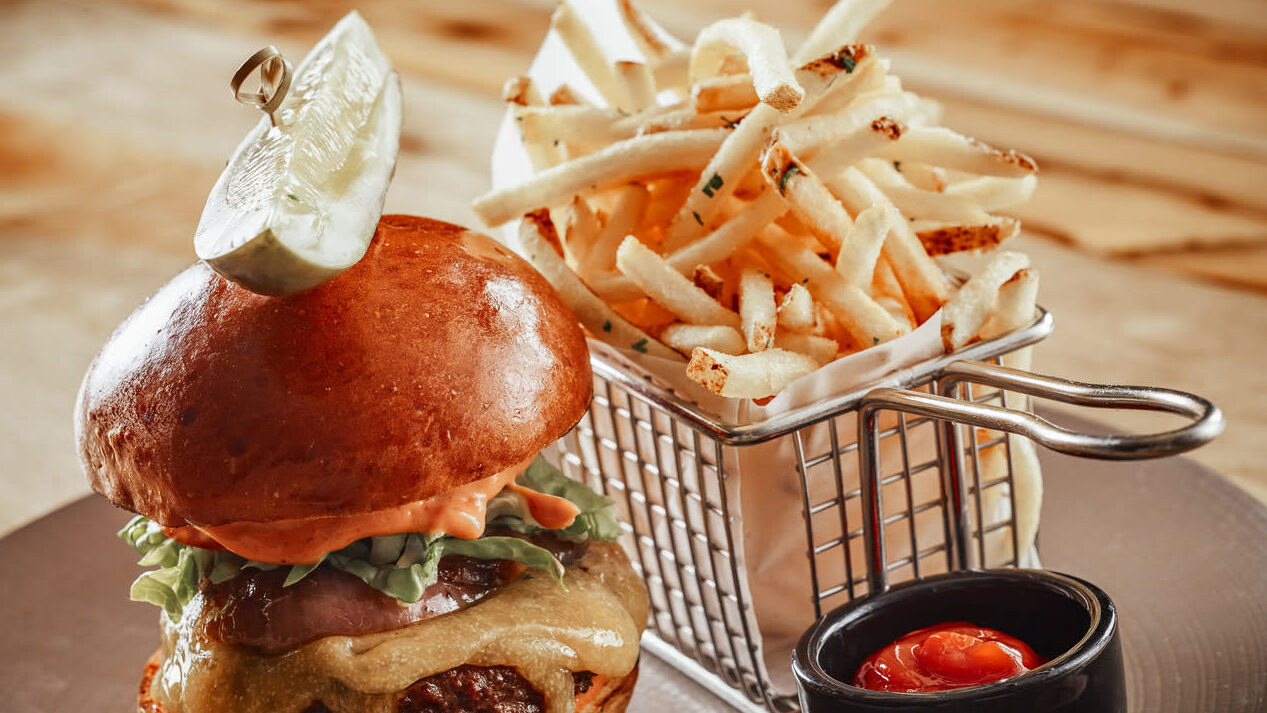 Several breweries serve up the many variations of pub grub, but more upscale dining awaits, too. At Amway Grand Plaza, The Kitchen by Wolfgang Puck, which offers "made-from-scratch comfort fare meets authentic global classics," has private rooms for groups. There's also a branch of Ruth's Chris Steak House at Amway Grand. Other enticing F&B options include Margaux inside JW Marriott, described as "a classic French bistro meets the sophistication and luxury of the JW Marriott brand." Chandelier-lit Bordeaux, a private dining room, hosts up to 18 guests.
A much-lauded star among Grand Rapids attractions is stunning Frederik Meijer Gardens & Sculpture Park, which features 158 acres of indoor and outdoor gardens, one of the nation's most significant sculpture collections, and annual horticulture and temporary sculpture exhibitions. Its indoor space is LEED Silver certified and includes sculpture galleries, a library, cafe, gift shop, education center and meeting rooms. There are also five indoor themed gardens. Outside, nature trails and a boardwalk await.
Grand Rapids Art Museum has a collection of some 5,000 works of art, primarily American and European paintings and sculptures; Grand Rapids Public Museum was founded in 1854, making it one of the oldest history museums in the United States; and Gerald R. Ford Presidential Library & Museum celebrates and explores the life of America's 38th president. Ford and his wife, Betty Ford, are buried on the museum grounds.
Take the Detroit Challenge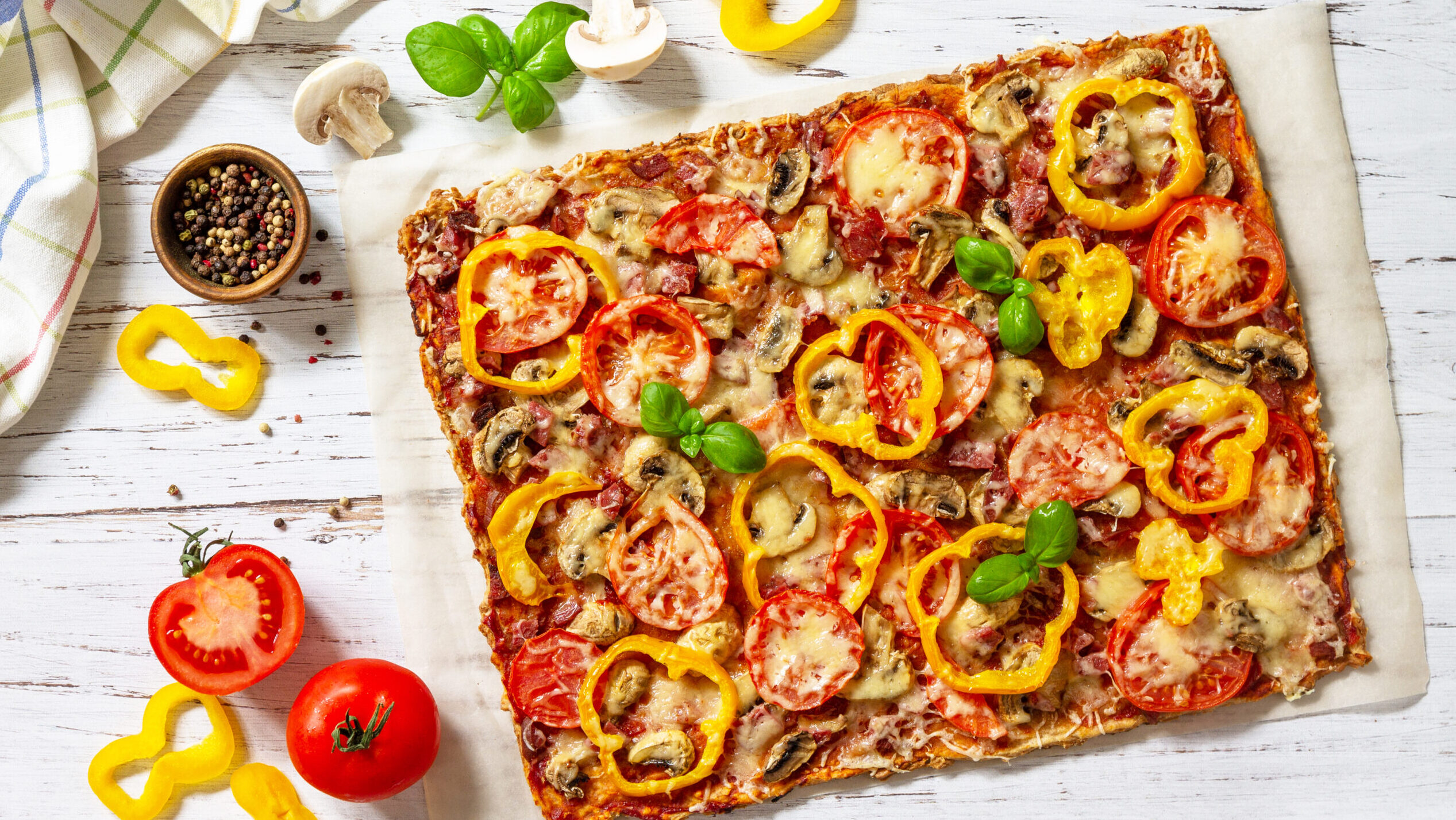 On the ever-popular subject of food, why not ask your group to take the Detroit challenge? Among all the dining choices available—ranging from the picante delights of Mexican Village, Middle Eastern delicacies in nearby Dearborn (where the biggest Middle Eastern population in the country lives and Ford Motor Co. is headquartered), soul food and barbecue to fining dining—two humble classics are as Detroit as they get. Coney dogs (slathered in chopped onions and chili sauce) and Detroit-style pizza (a Sicilian descendant baked in a square pan that lore says were originally intended for spare parts at a local factory). Locals argue endlessly about who's got the best, but let the members of your group decide if you cruise the contenders or cater them in.
Here are your top dueling choices. Coneys: Lafayette Coney Island or American Coney Island, which glare at each other on a downtown street. Pizza: Buddy's Pizza (the 1946 original sits in a northeast neighborhood, but an outpost has opened downtown) or Shields Restaurant Bar Pizzeria (which opened in 1937 on Woodward Avenue, one of America's first paved roads).
Resources
Experience Grand Rapids
Traverse City Tourism
Visit Detroit