Puerto Vallarta
Mexico's Pacific Coast cities offer planners more attractive options than ever
Mexico's Pacific Coast is home to some of the world's most beautiful beaches, outstanding year-round weather and a roster of resorts, restaurants and other group-friendly venues. It's similar to California in that regard, and is roughly the same flight time from the U.S. East Coast. Even better, the number of flights from major U.S. cities to Mexican coastal destinations such as Puerto Vallarta/Riviera Nayarit, Los Cabos and Mazatlan has steadily increased in recent years. As a result, it's easier than ever for business groups to experience the culture, cuisine, climate and hospitality in all of these places.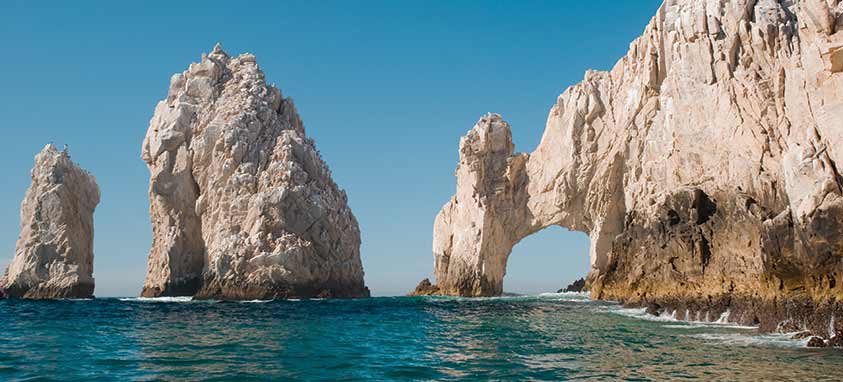 Each destination has its own flair and flavor, based on its interactions with European visitors dating back more than a century. Business groups will surely enjoy the melding of local ways with those of visitors, which has forged a distinct personality in each destination. Many have grand new gathering places that have recently opened for exploration.
Puerto Vallarta & Riviera Nayarit
Set between the lush Sierra Madre mountains and huge, ecologically diverse Banderas Bay, Puerto Vallarta and Riviera Nayarit have made such significant strides in their hospitality offerings in recent years that these adjacent regions are considered two destinations. Even so, groups staying at properties in one area can easily take advantage of the venues, activities and adventures in the other. What's more, the region's Puerto Vallarta International Airport (PVR) is less than a 20-minute drive from most properties in both areas.
In 2017, Riviera Nayarit celebrated its 10th anniversary by reaching 15,500 resort guest rooms and opening two convention facilities. First was Vidanta Nuevo Vallarta Convention Center, with four ballrooms totaling 32,300 sq. ft. plus 14,000 sq. ft. of prefunction space. These new spaces complement the Santuario indoor/ outdoor terrace and beachfront space, which totals 75,000 sq. ft. This generous amount of space easily services five Vidanta Nueva Vallarta hotels that collectively have 2,465 guest rooms.
In the nearby Flamingos area, Bel Air Convention Center opened in mid-2017 with a 15,000-square-foot ballroom, 8,000-square-foot foyer and more than 10,000 sq. ft. of terrace, lawn and beachfront space. Adjacent Bel Air Unique resort underwent an extensive renovation and expansion to 419 guest rooms, five pools and six restaurants.
Hard Rock Hotel Vallarta opened Sanctuary Convention Center in 2015 to bring its total indoor event space to 20,000 sq. ft. And in 2016, Grand Velas Riviera Nayarit, a AAA Five Diamond property with 10,000 sq. ft. of indoor space, received a significant refurbishment.
Grupo Vidanta's Cirque du Soleil theme park, a new entertainment option, is coming to Riviera Nayarit in early 2019. The immersive experience will include a water park and nature park, as well as an outdoor evening show that can accommodate as many as 5,000 spectators. And for late 2019, Conrad Hotels & Resorts will redesign and reopen a property it recently purchased in the upscale Punta de Mita area that's already home to Four Seasons and St. Regis properties. The Conrad Playa Mita will have more than 15,000 sq. ft. of indoor event space plus 30,000 sq. ft. of outdoor space.
The Ameca River, which flows from the mountains into Banderas Bay, separates Riviera Nayarit from Puerto Vallarta. With cobblestone streets, restaurant and art-gallery districts, and historical landmarks such as Basilica of Guadalupe and Plaza Principal (featuring traditional open-air markets), the long-established city of Puerto Vallarta blends old Mexico with new, all with panoramic ocean views.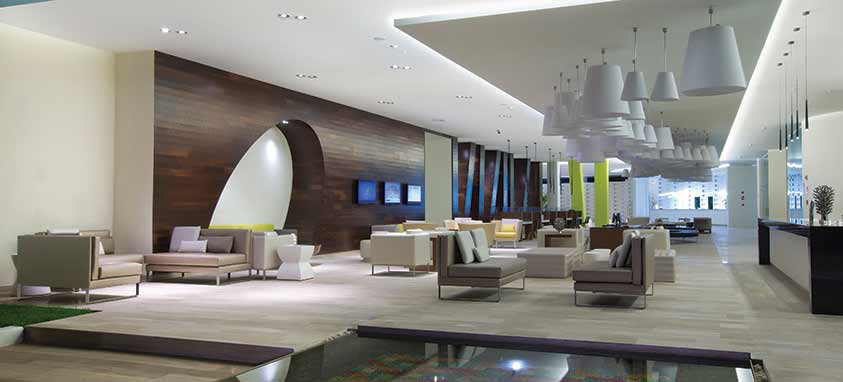 Hyatt Ziva Puerto Vallarta and Hilton Puerto Vallarta Resort, all-inclusive beachfront properties, cater to groups. Hyatt Ziva underwent a $25 million renovation in 2015, and offers 6,500 sq. ft. of indoor meeting space. The Hilton has 7,500 sq. ft. of indoor event space and several outdoor terraces for group use.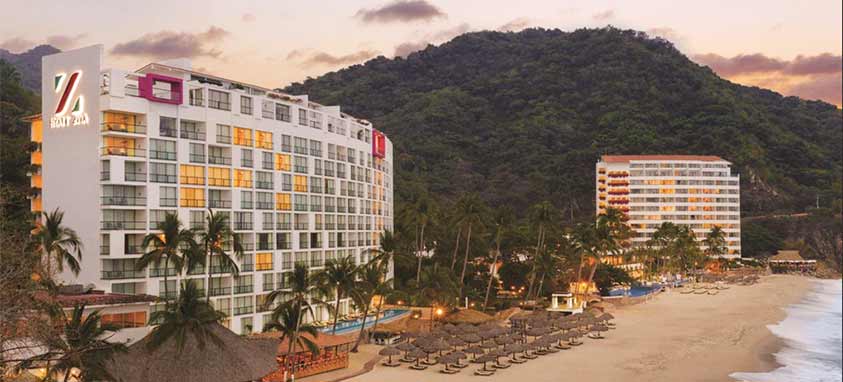 Group-friendly recreational options span from the Sierra Madre mountains down to Banderas Bay and its islands. Located at an elevation above 2,000 feet, the 16th-century village of El Tuito features beautiful gardens plus a traditional bakery and an organic farm from which a group's lunch is prepared and served alongside a refreshing river.
San Sebastien del Oeste, a 17th-century mountain town, showcases authentic Mexican traditions such as growing and roasting coffee beans, and selling handmade wares in the town plaza. Also, the bohemian surfing village of Sayulita makes for a relaxing afternoon quite close to Riviera Nayarit's resorts.
In a protected tropical forest just outside Puerto Vallarta, groups can literally fly through a stunning treetop canopy on a series of thrilling ziplines—including Mexico's longest (4,000 feet) and fastest (up to 60 mph). Attendees who prefer their adventure on the ground can enjoy off-road Jeep adventures, ATV rides, mountain biking and horseback riding; all are available just minutes from the beachfront resorts.
For groups that find the sea relaxing and fascinating, Riviera Nayarit and Puerto Vallarta do not disappoint. Besides allowing for resort-focused activities such as kayaking and stand-up paddleboarding, Banderas Bay provides opportunities to interact with nature that few places in the world can match.
Half-day catamaran cruises to Marietas Islands offer access to a protected sanctuary. Local snorkeling guides introduce participants to all the creatures that call the Marietas home. Guides also lead the way into the islands' rocky caverns and archways, where Hidden Beach, a one-of-a-kind sand spit, is surrounded almost completely by huge rock formations. And on the return trip from the islands, many groups get to see spouting whales and dolphins breaking through the waves.
Los Cabos
Los Cabos is actually a blanket term for two cities at the southernmost end of the Baja Peninsula: San Jose del Cabo and Cabo San Lucas. They share recently expanded Los Cabos International Airport (SJD), which handles 3 million passengers each year, most of whom flock to more than 70 hotels and resorts set along the 20 miles of coastline that's book-ended by the two cities. Those properties, some of them all-inclusive, range from quaint mid-scale to ultra-luxury.
San Jose del Cabo is 250 years older than Cabo San Lucas, thanks to the construction of a Spanish mission in 1730 (it remains a town centerpiece to this day). As a result, a foundation of art and culture was developed there early on, but it only began to be leveraged for tourism in the 1980s. Today, this element helps San Jose del Cabo differentiate itself from the general vibe and offerings of neighboring Cabo San Lucas.
For instance, more than two dozen art galleries line San Jose del Cabo's cobblestone streets, mixed in with artisan jewelry and clothing shops, as well as restaurants serving authentic Mexican dishes and fresh seafood. For groups, that combination of venues makes the town's weekly Thursday night art walk a memorable multisensory experience. Alternatively, planners can coordinate private art-and-cuisine walking tours for their groups any night of the week.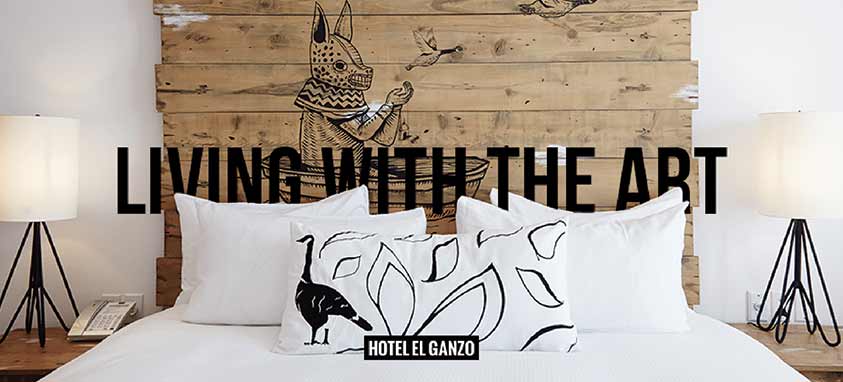 Another option for evening receptions that draws deeply from San Jose del Cabo's artistic resources is a gathering at Hotel El Ganzo, which offers musical artists both indoor studio space and outdoor performance spaces to use. Curated visual-art exhibits are a regular feature throughout the property, and are made even more impressive by the panoramic backdrop of Sea of Cortez.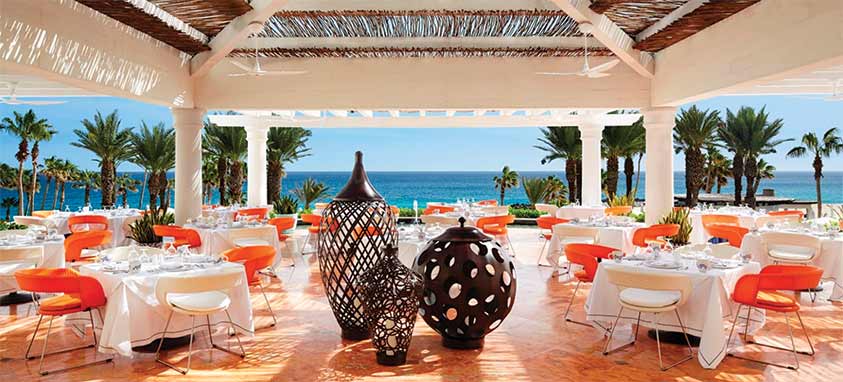 The meeting- and incentive-focused beachfront properties close to San Jose del Cabo include Hilton Los Cabos Beach & Golf Resort, Hyatt Ziva Los Cabos Resort, Krystal Grand Los Cabos, Marquis Los Cabos, One&Only Palmilla, Paradisus Los Cabos, Solaz Los Cabos and The Westin Los Cabos Resort & Villas.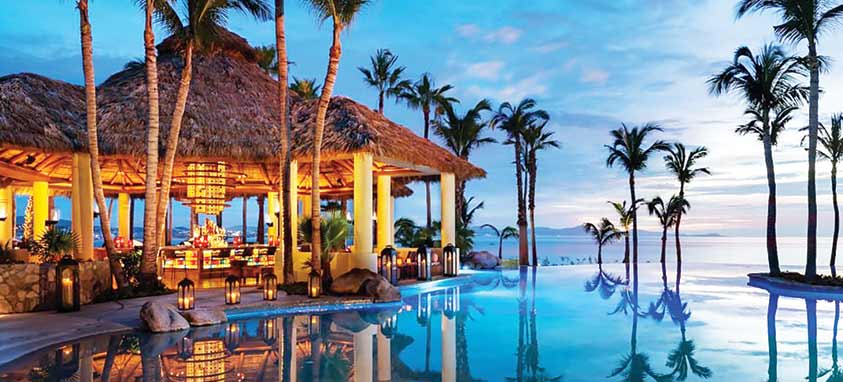 A 25-minute drive down the coastline brings visitors to bustling Cabo San Lucas, which was a sleepy fishing village until 30 years ago, when a few sport fishing outfitters and resort companies saw the potential for tourism. With wide bayfront beaches separated from the Pacific Ocean by hilly Land's End peninsula—and a huge marina, and shopping and dining district, serving as the center of activity—Cabo San Lucas offers a wide array of activities to energize meeting and incentive groups.
For instance, there are up-close whale-watching excursions on speedy boats, half-day fishing charters for many varieties of sport fish, jet-skiing and peaceful sunset cruises that drift gently alongside the famed stone arch where the Sea of Cortez meets the Pacific Ocean. For land-based adventure, groups can partake in ziplining; ATV, Jeep and dune-buggy rides in the desert foothills; and golf in some of the most distinctive playing landscapes in the world.
As for dining and entertainment options, Cabo San Lucas is the focal point of the entire Los Cabos region. The nightlife, in particular, is world-renowned, with rocker Sammy Hagar's Cabo Wabo Cantina leading the way and available for private functions featuring live music.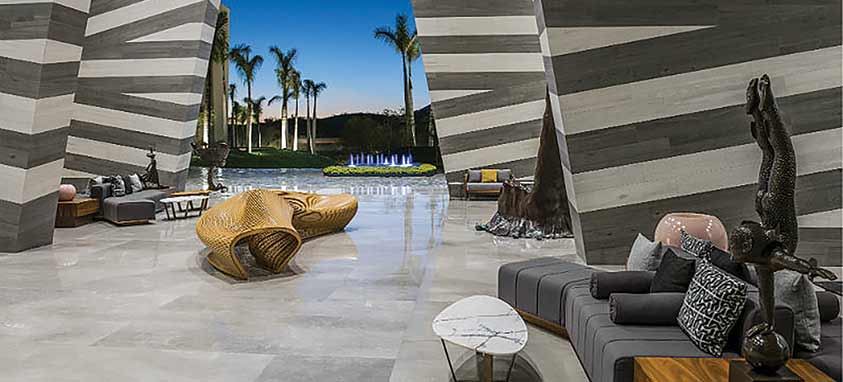 Group-focused resorts nearest Cabo San Lucas are Grand Fiesta Americana Los Cabos All-Inclusive Golf Resort & Spa, Grand Velas Los Cabos (opened in 2017 with the only area restaurant led by a Michelin-starred chef), Pueblo Bonito Sunset Beach Golf & Spa Resort, Resort at Pedregal, Hotel Riu Palace Cabo San Lucas and Sheraton Grand Los Cabos Hacienda del Mar. The impact of Hurricane Odile in 2014 was initially challenging, but brought a happy ending: Nearly every luxury property in Los Cabos underwent renovations and upgrades, and now offers newly refreshed and improved space, furnishings, decor and technology.
What's more, several brand-new properties are coming on line throughout this year, including Nobu Hotel Los Cabos and Montage Los Cabos, while early 2019 will see Hard Rock Hotel Los Cabos open its doors right next to Nobu.
Mazatlan
As this year's host of Mexico's largest travel-industry trade show—Tianguis Turistico, with more than 1,000 international travel agents, event planners and tour companies meeting tourism reps from around the country—the city went about expanding its convention facility, Mazatlan International Center, to 282,000 sq. ft. This expansion was part of a broader renaissance in Mazatlan, where strong German and French influences dating back to the 1800s make the city's architectural, cultural and culinary offerings distinctive.
For instance, the town's central square, Plaza Machado is comprised of many 19th-century European- style buildings that have been restored to their original grandeur. Set among these buildings is the towering Basilica of the National Shrine of the Immaculate Conception, as well as Angela Peralta Theater, a landmark that hosts dozens of live performances, ranging from ballet and opera to musicals and plays. The theater can be rented out for private events.
Nearby is the Malecon, a boardwalk of more than 12 miles that runs between the striking city-center buildings and the wide beachfront. This year, the Malecon added bike tours to its roster of activities; visitors can take the bikes from the Golden Zone (hotel district) to the end of the boardwalk and then climb up to El Faro Lighthouse. Built in 1879, it's the tallest working lighthouse in the world, thanks to it being perched atop a towering hill.
Also near the boardwalk is a diverse restaurant district. Casa 46 is a highly regarded French eatery created by Ernesto Coppel, owner of Pueblo Bonito Resorts. Coppel designed the space to be large enough to accommodate groups of up to 150 people. Another noted restaurant with ample indoor and outdoor space is Presidio on Plaza Machado, where group events can feature local chefs presenting farm-to-table dishes. And right on the streets between Plaza Machado and the Malecon, groups can have a private evening function where they dine al fresco and watch fireworks over the beach.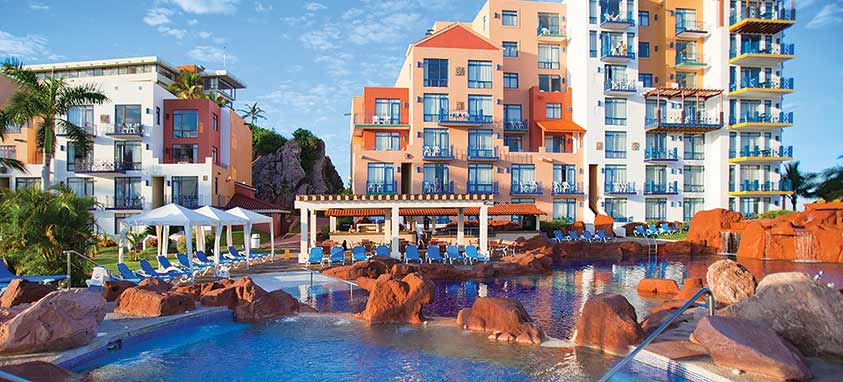 Besides Coppel's Pueblo Bonito Emerald Bay Resort & Spa, several other properties in Mazatlan cater to meeting and incentive groups. These include El Cid Marina Beach Hotel, which not only overlooks a huge yacht basin, but also has a golf and country club nearby to accommodate rounds of golf plus receptions and meals. Estrella del Mar, set just outside of town between secluded beachfront and rolling countryside, offers hotel guests a private golf experience.
Top Choices to Experience Local Culture and Flavor
Puerto Vallarta/Riviera Nayarit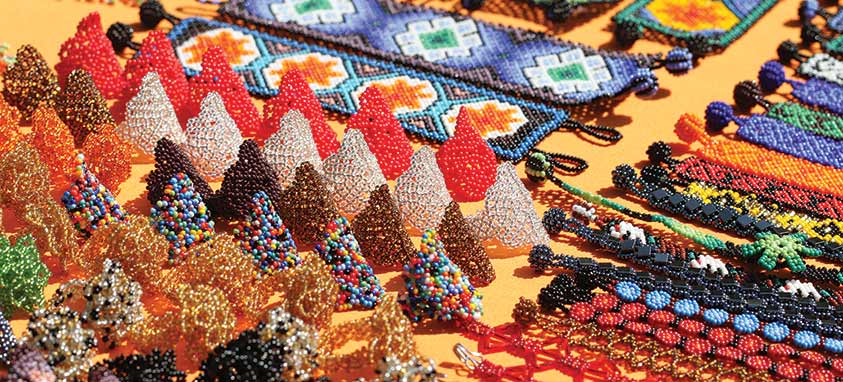 Just 30 minutes from the resort districts, Vallarta Botanical Gardens offer 20 acres of land to explore within a unique, dry tropical forest ecosystem at 1,300 feet above sea level. Its collections feature more than 3,000 plant species; areas include a palm-tree garden, a rose garden, agave garden, fern-tree grotto, orchid house and a carnivorous plant collection, plus jungle trails that afford tropical birdwatching.
A few minutes beyond the botanical gardens and at an elevation of more than 2,000 feet, the 16th-century village of El Tuito features its own lush, sprawling gardens, plus a traditional bakery and an organic farm. The village's quintessential main plaza offers galleries, shops and restaurants serving local dishes. There are also frequent celebrations featuring dance performances in the plaza—and horses and cows occasionally wander through.
Another historical village is San Sebastion de Oeste, a 17th-century mountain outpost with huge haciendas that showcase authentic Mexican traditions, such as growing and roasting coffee beans, and selling handmade wares in the town plaza.
Also, the bohemian fishing village of Sayulita makes for a relaxing afternoon quite close to Riviera Nayarit's resorts. Founded by the Spanish in the 1530s, the area has a consistent ocean-wave pattern that's ideal for surfing—or simply watching surfers from a beachfront cafe. Sayulita also has many art galleries, and is frequented by native Cora and Huichol peoples, whose artwork and bead work (pictured) is uniquely inspired by the peyote cactus and their ideas about the origins of the earth and stars.
Los Cabos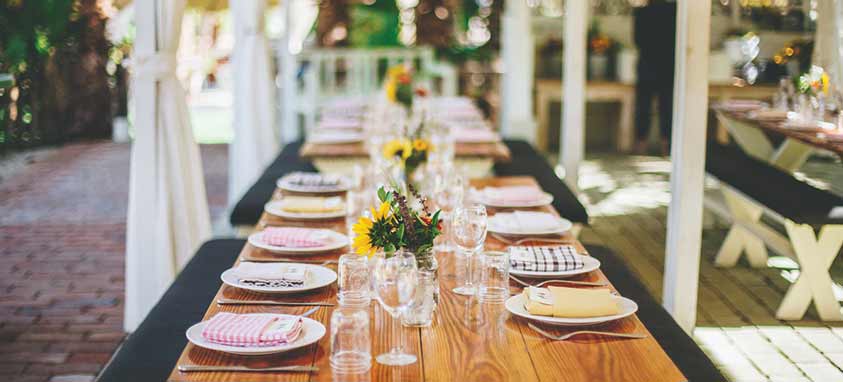 Just outside the town of San Jose del Cabo, groups can experience farm-to-table cooking classes and group meals at three scenic, tranquil venues between the mountains and the sea.
Los Tamarindos is an organic farm and restaurant set on abundantly fertile property that's been used for agriculture since the 19th century. Groups can begin their experience by walking through gardens and harvesting their own vegetables and aromatic herbs. Then, in a kitchen framed by stone walls and a wooden ceiling, guests enjoy a four-course meal that doubles as a hands-on cooking lesson, as they learn how to prepare Mexican and Mediterranean dishes.
Acre is a lush, 25-acre farmland sanctuary at the foot of the Sierra de Laguna mountains. There, up to 500 guests can partake in a hands-on, farm-to-table meal event in a setting beneath a canopy of huge trees, while listening to the notso- distant calls of countless birds and other native animals.
Flora Farms (pictured) lies within a basin near Sea of Cortez, and provides tours of its organic crops, followed by dinner in one of its private outdoor areas—a mango grove and barn, herb garden amphitheater, lakeside lawn or hilltop altar.