Ruins of Tulum, Yucatan
Adventure and ecotourism along Mexico's East Coast 
There's no hiding the main attraction along the coastline of the Yucatan Peninsula, in the eastern Mexican state of Quintana Roo. White-sand beaches and cyan waters have lulled many a mesmerized meeting-goer into a blissed-out seaside stupor.
But there are also more invigorating experiences to be had. By virtue of proximity to biologically rich environments both offshore and inland, the coastal area stretching from Cancun through the Riviera Maya south to Tulum offers a heart-pounding variety of adventure and eco-tourism opportunities.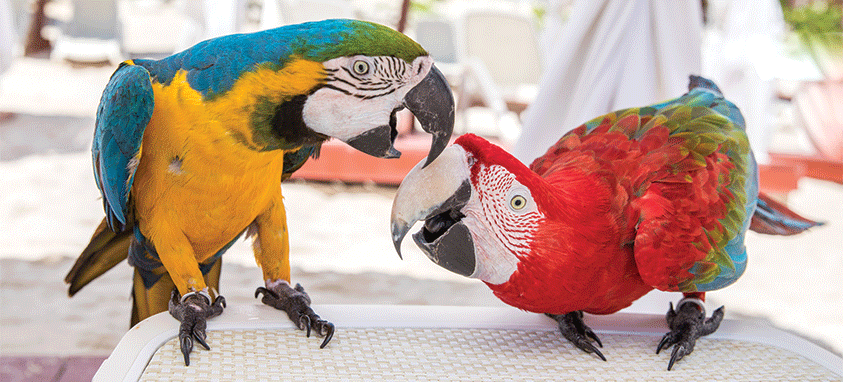 Below the water's glimmering surface lie the kaleidoscopic coral reefs, sheer underwater cliffs and vibrantly hued marine life that earn the region its reputation as a premier destination for snorkeling and scuba diving. The abundance of aquatic species also appeals to attendees interested in sport fishing and wildlife encounters. Thousands of cenotes, natural sinkholes that expose previously hidden pools of groundwater, provide magical arenas for swimming and cave exploration.
Jungle excursions prove that terrestrial flora and fauna can be just as riotous and awe-inspiring as a teeming underwater ecosystem. Let this article be your guide to coaxing attendees away from the lounge chairs and toward an immersive interaction with the natural charms of the Yucatan coast.
Cancun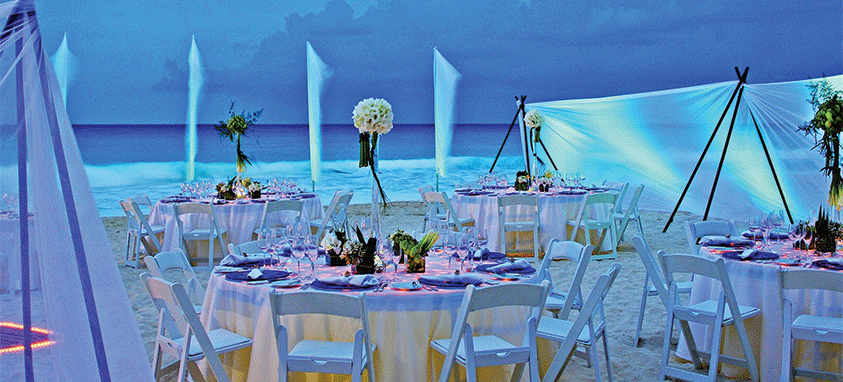 Cancun's combination of luxury amenities, quintessentially Caribbean scenery and easy accessibility from airports throughout Europe and the Americas prove nearly impossible for attendees to resist. The array of varied ecological zones that exist nearby offers ample opportunities for adventure in between boardroom sessions.
"A very popular day trip is Xel-Ha, one of the world's largest natural aquariums, which is made up of a series of inlets and lagoon systems," says Rocio Gonzalez, meetings industry director for Cancun Conventions and Visitors Bureau. Located fewer than two hours from Cancun and about 40 minutes from Playa del Carmen, Xel-Ha Park beckons visitors to swim and snorkel among the vibrantly colored marine life and to hike, bike or enjoy a tram ride through dense jungle trails teeming with native flora and fauna. The site's name means "the place where water is born," and it has served as a model for sustainable ecotourism development since 1995.
Adventure-seeking groups will find options closer to Cancun, too. At Nichupte Lagoon natural reserve, attendees can tour the site's seven lakes, visit a mangrove forest and bask in the beauty of a Caribbean sunset.
Many area resorts offer activities to enrich attendees' ecological consciousness and cultural awareness. For example, the ecology tour at Hyatt Ziva Cancun, available for groups of 10 or more, guides participants between six points of interest, including on-property archaeological sites.
Attendees also learn about local conservation issues, such as protecting the indigenous mangroves and coral reefs, and reducing the number of invasive, non-native lionfish in the surrounding seas. This eco-focused ethos extends to the resort's corporate social responsibility program, which invites groups to take part in beach cleaning, baby sea turtle release and beach reforestation activities.
The Grand at Moon Palace Cancun arranges excursions to Isla Mujeres, located 8 miles off the Cancun coast, where groups can snorkel and scuba dive among the reefs, then refuel with a buffet lunch. Those who venture to the island's southern tip can explore a lighthouse, the vestiges of a Mayan temple and a sea turtle sanctuary.
In February, The Grand at Moon Palace Cancun unveiled the results of a $450 million transformation that elevated the already-opulent facilities to stratospheric levels. Planners who choose The Grand, now featuring 1,300 guest rooms and 80,000 sq. ft. of meeting space, will see their expectations exceeded.
From May through November, female sea turtles come ashore to lay dozens of eggs in nests dug into the sand. The turtle-guarding program at The Ritz-Carlton, Cancun relocates the eggs to a safe nest site for two months, until the hatchlings emerge. Resort guests may take part in releasing the tiny turtles into the ocean at dawn on the day they're born.
Meeting space is just as plentiful as the recreation options. Large groups can sprawl across the beachfront Marriott Cancun Collection facility, which offers nearly 900 guest rooms and more than 88,000 sq. ft. of meeting and event space. The adjacent JW Marriott Cancun Resort & Spa and CasaMagna Marriott Cancun Resort combine to form the capacious event venue, and a unified team provides expert event-management services. Another worthy option, Grand Fiesta Americana Coral Beach Cancun, features 602 ocean-view suites and 80,000 sq. ft. of meeting space.
The 1,342 guest rooms at Grand Oasis Cancun demonstrate that the resort can house a crowd. Oasis Arena, the entertainment-focused property's new 22,000-square-foot event space, can accommodate groups of up to 2,500 to gather, or to take in a concert or sporting event during their stay.
Playa del Carmen/Riviera Maya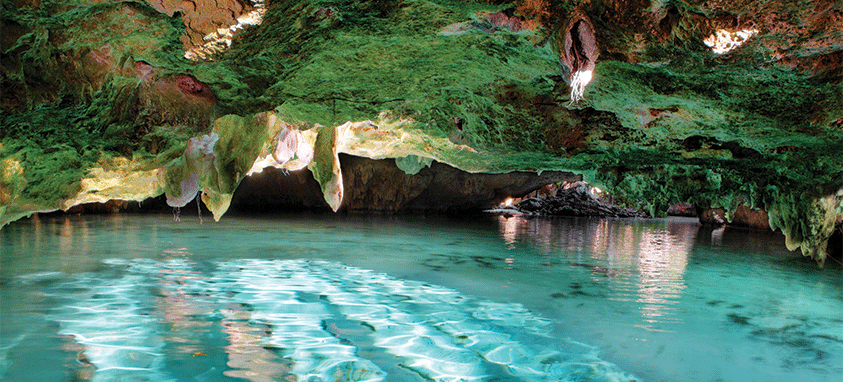 Gorgeous and glamorous, the stretch of Caribbean coastline known as the Riviera Maya encompasses the cosmopolitan city of Playa del Carmen and the network of resort complexes that surround it. Whether your group prefers to explore the jungle interior or stick close to the shoreline, the Riviera Maya offers a gateway to adventure.
The Yucatan Peninsula is studded with thousands of cenotes that formed thousands of years ago. In the Mayan language, cenote means "sacred well," indicative of the cultural significance attributed to them. A feature unique to the Yucatan, cenotes offer entry to swimming holes, interconnected underwater caves and passageways.
Groups can explore these sacred portals to the extent their interest and abilities dictate. Whether as a standalone activity or paired with a trip to a nearby archaeological site, a cenote exploration will illuminate the region's natural and cultural history.
Riviera Maya boasts a full complement of activities to immerse meeting attendees in the sparkling seas and introduce them to the charismatic inhabitants, including sea turtles and dolphins. Groups staying at Barcelo Maya Palace can experience an unforgettable encounter in a safe, contained environment at the Dolphinarium at Barcelo. Participants and porpoises play together as they dive, hug, kiss and observe one another in an on-site enclosure certified by the European Association for Aquatic Mammals.
Two major new additions to the Riviera Maya's resort lineup debuted this year. Andaz Mayakoba Resort Riviera Maya, which opened in January, highlights the intersection of style and nature via an emphasis on innovative, sustainable features. The property's meeting spaces cover 14,000 sq. ft., and manage to be both modern and homelike, with unique configurations and the latest technology.
The property is part of Mayakoba Resort complex, a Yucatan sanctuary featuring clear-water lagoons, mangrove gardens and exotic vegetation. Activities such as bird watching and canal boat rides can introduce attendees to the property's natural attractions. Andaz Mayakoba also offers a selection of day trips, such as cruises to Sian Kaan Biosphere Reserve, just south of Tulum, where groups can explore lagoons and mangroves, or get into the water for fly-fishing and snorkeling.
In March, the debut of Unico 200 870 Hotel Riviera Maya introduced a contemporary chic, culturally conscious new option to the local resort scene. A spacious, 16,000-square-foot convention center is ideally suited for experiential meetings and immersive events. Excursions and amenities can supplement your event itinerary with unforgettable adventures.
For example, the Mayan Village and Tankah Cenotes Tour takes groups ziplining to the backdrop of a Mayan jungle, followed by a cooling cenote swim and finally, on a canoe ride to a secluded Mayan village where locals prepare an authentic feast for attendees. 
Ecological consciousness is a common link shared by many Riviera Maya resorts. AAA Five Diamond Fairmont Mayakoba achieved Rainforest Alliance and Green Key certification in recognition of its efforts to reduce its environmental impact, support local cultures and communities, and promote green activities. Planners who choose Fairmont Mayakoba can utilize 26,495 sq. ft. of indoor function space and a highly adaptable 8,000-square-foot lawn.
Seasons in Paradise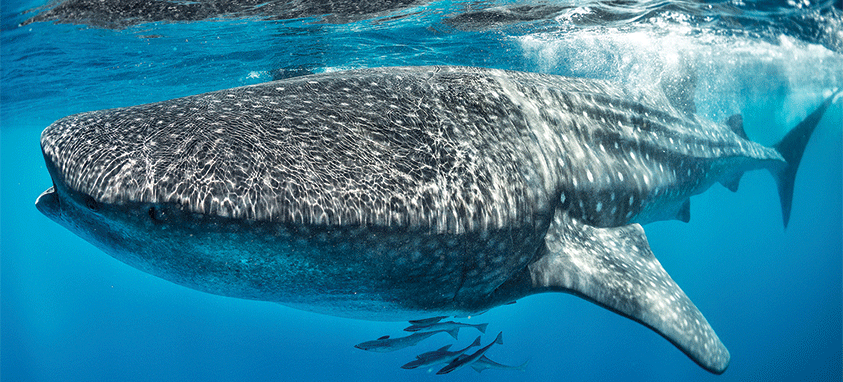 Destinations such as Mexico's Yucatan Peninsula, where average high temperatures differ only about 10 degrees between the warmest and coldest months of the year, can feel somewhat season-less. But that perception is far from reality. The patterns of the natural world mark the calendar's progress. To identify the ideal time for your group's trip to paradise, consider these seasonal cues.
Go Fish
Fishing is a major attraction in the Yucatan, thanks to the variety and quantity of the local catch. While bottom-dwellers and reef fish can be caught year-round, sport fishermen hoping to reel in a trophy should visit from March to August, the prime season for game fish such as marlin, dorado and tuna. An abundance of outfitters gives planners plenty of options for comparison shopping.
Observe Gentle Giants
From May to September, whale sharks migrate to the plankton-rich feeding grounds off the Yucatan coast. Hundreds of whale sharks (pictured) travel thousands of miles to converge on the area's seasonal buffet, forming the largest such seasonal gathering in the world. Swimming among the 40-foot, 11-ton fish has become a popular group activity.
South for the Winter
The region's sheltered lagoons and meandering coastlines prove just as attractive to migratory birds as they do to groups seeking winter respite. From October to March, species such as ibis, roseate spoonbill and Canadian ducks arrive to have winter in the tropics. In addition to the showy visitors, the Yucatan Peninsula is home to 548 native bird species. Coastal, island and jungle excursions are all available. Planners, let your group's preference be your guide.
Cozumel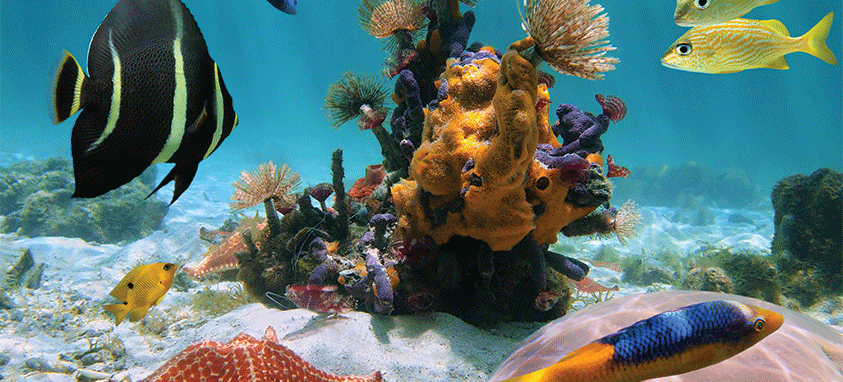 Cozumel, Mexico's largest Caribbean island, harbors an abundance of ecological riches. The biodiversity of Cozumel's forests, dunes and wetlands is rivaled only by the profusion of life found in the waters offshore, home to more than 1,100 aquatic species, including coral, fish, sponges, invertebrates and algae.
The Mesoamerican Barrier Reef (pictured above) surrounds Cozumel as it stretches from the northern tip of the Yucatan Peninsula to Guatemala. The vast expanse constitutes the world's second-largest reef system. (Only Australia's Great Barrier Reef is larger.) Some of the world's largest and oldest coral reefs reside beneath the surface of the sea, where cliffs, caverns and coral formations populate the dramatic underwater landscape. These credentials secure Cozumel's reputation as a world-class scuba diving and snorkeling destination.
Numerous natural reserves blanket the island to ensure the protection of its living treasures. Visiting groups can spot rare bird species, observe crocodiles in their natural habitat, and engage in every water sport imaginable. Shallow waters at Punta Sur Ecological Park, Cozumel's largest ecological reserve, afford access to mangroves, coastal jungles and gorgeous beaches. At Chankanaab National Park, divers and underwater photographers will be enchanted to find underwater statues of Jesus Christ and the Virgin Mary standing tall among the fish and formations of a rare inland coral reef.
The nonprofit organization Parks and Museums Foundation of Cozumel promotes the sustainable development of Cozumel and the conservation of its cultural heritage. The foundation uses admissions revenue from Cozumel's natural reserves to fund workshops and activities—such as scholarships, mangrove reforestation and reef-fish monitoring—that benefit local people.
Planners seeking a home base for adventurous small groups will find it in The Explorean by Fiesta Americana, situated between the ocean and the jungle. The all-inclusive, 56-room property's Daily Expedition and Adventure Program brings guests into direct contact with the various adjacent ecosystems via kayak, horseback ride, dune buggy and other methods of conveyance.
Snorkeling and scuba diving feature prominently among the activity options at Secrets Aura Cozumel (pictured above). The Dive House facility located onsite offers beginner-level classes, administers diving certifications and designs specialty tours for experienced divers. The property's 3,600 sq. ft. of meeting facilities, including an outdoor terrace, accommodate groups of 30 to 40.