Business, events and agritourism in the cradle of the Great Plains
In all its great American splendor and undeveloped space, the typical planner and traveling professional may mistake Nebraska and its natural wonders as demure. Yet where its sleepy, rolling sandhills and flat miles of grasslands meet the big city, a dynamic beacon to life and business exists on the cusp of the rural and metropolitan. Nebraska's relics of history and Midwestern hospitality harken back to an era not only of growth and expansion but of a common effort to bridge two different industrial landscapes.
Today in Omaha and surrounding meetings cities, a culture of connectivity persists. Visitors will find opportunities to explore art, society and cultures for all ages, agriculture where the industry thrives, and a business scene that's been growing for decades with the city's rapidly developing infrastructure.
From metro-capital Omaha to Lincoln, Nebraska's state capital, there's room for meetings and events of every size—and each opens its own doors to city and countryside experiences on the American frontier.
Omaha: 'A Hidden Gem' in Plain Sight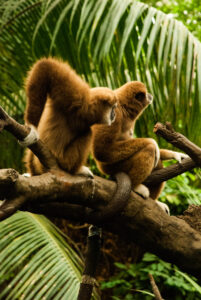 "What I find to be iconic about Omaha is how surprising we are," says Director of Sales at Visit Omaha Mattie Scheeter, CMP. As home to nearly 1 million people, "Omaha is a smaller city in population with all the offerings and amenities of a large city," she continues.
"We're used to hosting grand events. Here, it's convenient; and your dollar will stretch further." Nebraska is a uniquely central destination for meetings and events with nationwide invitees; plus, the average meal in Omaha is $2.50 less than the national average, Visit Omaha reports. And that's not to mention the fact that Omaha was named one of America's "Next Great Food Cities" by Food & Wine magazine this year.
Agriculture is the No. 1 industry in Nebraska, and the state has had a stake in the beef industry since the 1880s. Fresh ice cream and a surplus of steakhouses are to be expected in Omaha. But of all its feats in food, Omaha is arguably most proud to be the birthplace of the Reuben sandwich.
"We're used to hosting grand events. Here, it's convenient; and your dollar will stretch further."
The $300-million "RiverFront" redevelopment project is underway on the city's eastern border along the Missouri River and is to join three waterfront parks into one and connect the city's downtown convention district to its Old Market entertainment district by promenade, "making the city more walkable that it already is," Scheeter explains.
Spaces That Keep on Giving
Omaha's downtown convention district is a 10-minute drive from Omaha Airport (OMA), ranked the No. 1 medium-sized airport by passengers, according to a 2016 survey by Phoenix Marketing International. Complimentary airport-to-hotel shuttle services, ride share services and taxis help make the trip into town a little easier.
CHI Health Center Omaha Convention Center & Arena, the largest convention center in Nebraska at 346,000 sq. ft., is connected to the largest hotel in the state, Hilton Omaha, by sky bridge. Plus, there are 3,000 hotel rooms within a venue radius of less than a mile. CHI Health Center features an 18,300-seat, convertible arena, 79,400 sq. ft. of pre-function space and 63,000 sq. ft. of event space—and that doesn't include it's contiguous and adaptable 194,000-square-foot exhibition space, made up of three individual halls.
Hilton Omaha, accessible from inside the convention center, has 600 guest rooms and 40,000 sq. ft. of its own meeting space. Warm wood accents and flooring with cozy furniture and fixtures evoke a modern-regal-western style. Follow down South 10th Street for less than a mile and you'll hit The Old Market entertainment district, with all its cobblestone, pubs, antique emporiums and places to stay out after hours.
"What I find to be iconic about Omaha is how surprising we are."
Over the last few years, three hotels have opened in downtown Omaha. The 333-room Omaha Marriott Downtown at the Capitol District offers 19,181 sq. ft. of meeting space and is less than a 10-minute walk away from CHI Health Center. The 205-room Kimpton Cottonwood Hotel in Blackstone District, west of The Old Market, has 13,600 sq. ft. of its own meeting space and is surrounded by trend-savvy bars in bright lights.
The luxury property is less than a 10-minute drive from CHI Health Center and features a resort-style pool and a basement restaurant that is a thing of legend. Though now operated by Kimpton Hotel & Restaurant Group, the property is a historic, 1916 building that was originally known as Blackstone Hotel. Some locals say it is the place where the Reuben sandwich was first created.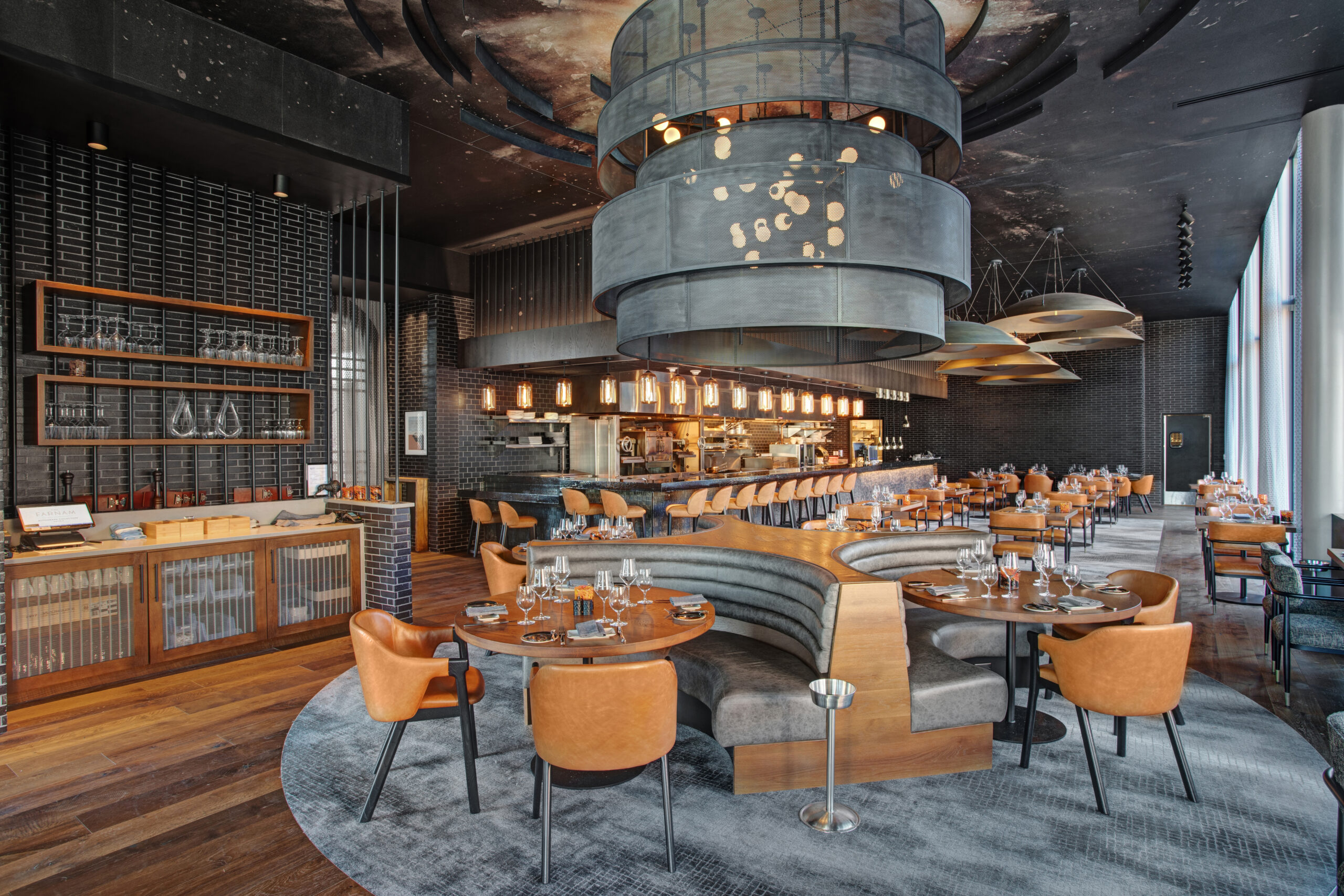 Debuted in 2020, The Farnam Hotel, Autograph Collection is a 120-room downtown boutique with 6,800 sq. ft. of meeting space. Its 3,300-square-foot Rosewater Ballroom boasts floor-to-ceiling windows with delicate and sleek recessed lighting. Staying at this property puts you at about a 15-minute walk from the convention center. However, one of its prettiest perks? Step off The Farnam's backdoor patio into The Old Market and out its front door to Gene Leahy Mall, consisting of 40,000 sq. ft. of newly opened lawn space.
King of the Eats
The city kid from the country, Omaha has an eclectic dining style and is known for its breadth of accessible suppliers in agriculture. "Omaha's got a little flavor of everything," Scheeter remarks.
The state's agricultural foothold makes farm-to-table food and beverage a thing of almost cultural expectation, even in the big city. The steakhouse, 801 Chophouse, in The Old Market, is highly regarded by locals and has an array of steak options. Dynamite Woodfire Grill next to The Farnam offers creative dishes including Reuben croquets, Bloody Mary shrimp deviled eggs and prime cowboy ribeye.
But meat eaters aren't the only ones who can enjoy a fresh and tasty meal. Modern Love is a vegan restaurant seven minutes from downtown that prepares just about all your favorite comfort foods with plant-based alternatives that doesn't compromise on flavor. Kitchen Table on Farnam Street has vegan, vegetarian options and meat options made from carefully sourced local ingredients.
But The Old Market is good for more than just its 30-plus locally owned restaurants; it's also a great place to find top-tier craft beer. Upstream Brewing Company offers seasonal brews of all blends, fried appetizers like lightly battered cheese curds and local wagyu corn dogs, and more. Brickway Brewery & Distillery has over 30 craft beers to choose from and a wide selection of cocktails. It also distills award-winning whiskies, bourbons, rum, gin and vodka. M's Pub in the middle of The Old Market serves up classic and new continental cuisine and offers a wide range of wine, beer and seasonal cocktails.
Bleisure In and Out of the City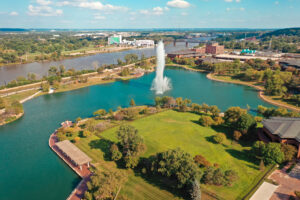 Whether you want to head to the water or into the countryside, there are opportunities for all kinds of downtime adventures and affordable experiences in Greater Omaha.
Once completed, the RiverFront will provide a unified stretch of individual parks—Gene Leahy Mall, Heartland of America Park and Lewis & Clark Landing—where downtown meets the Missouri River. The project will bring waterfall attractions, a river boardwalk, an urban beach, park-side cafes and more in the coming months; the RiverFront is set to open in phases throughout 2022 and 2023 as the project develops. Kiewit Luminarium, an interactive science, technology and engineering center for all ages, is scheduled to open in April of 2026 at Lewis & Clark Landing, steps from the downtown convention center.
Metropolitan Entertainment & Convention Authority (MECA) is a local nonprofit that builds and manages public event venues in the area, including CHI Health Center and Charles Schwab Field Omaha, home of the NCAA Division I Creighton Bluejays baseball team. MECA also manages the RiverFront and its redevelopment, meaning the organization will have interactive events planned in the parks year round as sections of the new waterfront green space continue to open to the public.
Omaha Performing Arts (OPA) is the largest arts institution in Nebraska and hosts jazz, dance, Broadway and blues shows, and more. Take a group to its Holland Performing Arts Center in downtown or its Orpheum Theater right outside of Old Market entertainment district; OPA has a savvy group sales team that can offer your group discounts, priority seats, personalized services and more.
The Durham Museum houses a collection of Western United States history, culture, science, industry and innovation in an Art Deco-style building that first opened in 1931, in the wake of the 1860s Transcontinental Railroad effort, as Omaha's Union Station. Omaha's Henry Doorly Zoo and Aquarium boasts the largest indoor desert dome in the world as well as North America's largest indoor rainforest.
The zoo is open throughout the year and updates its animals' enclosures frequently to provide the best, most natural enclosures for its tenants. For those looking for a tranquil place to explore, Lauritzen Gardens is made up of 100 acres of indoor and outdoor botanical gardens.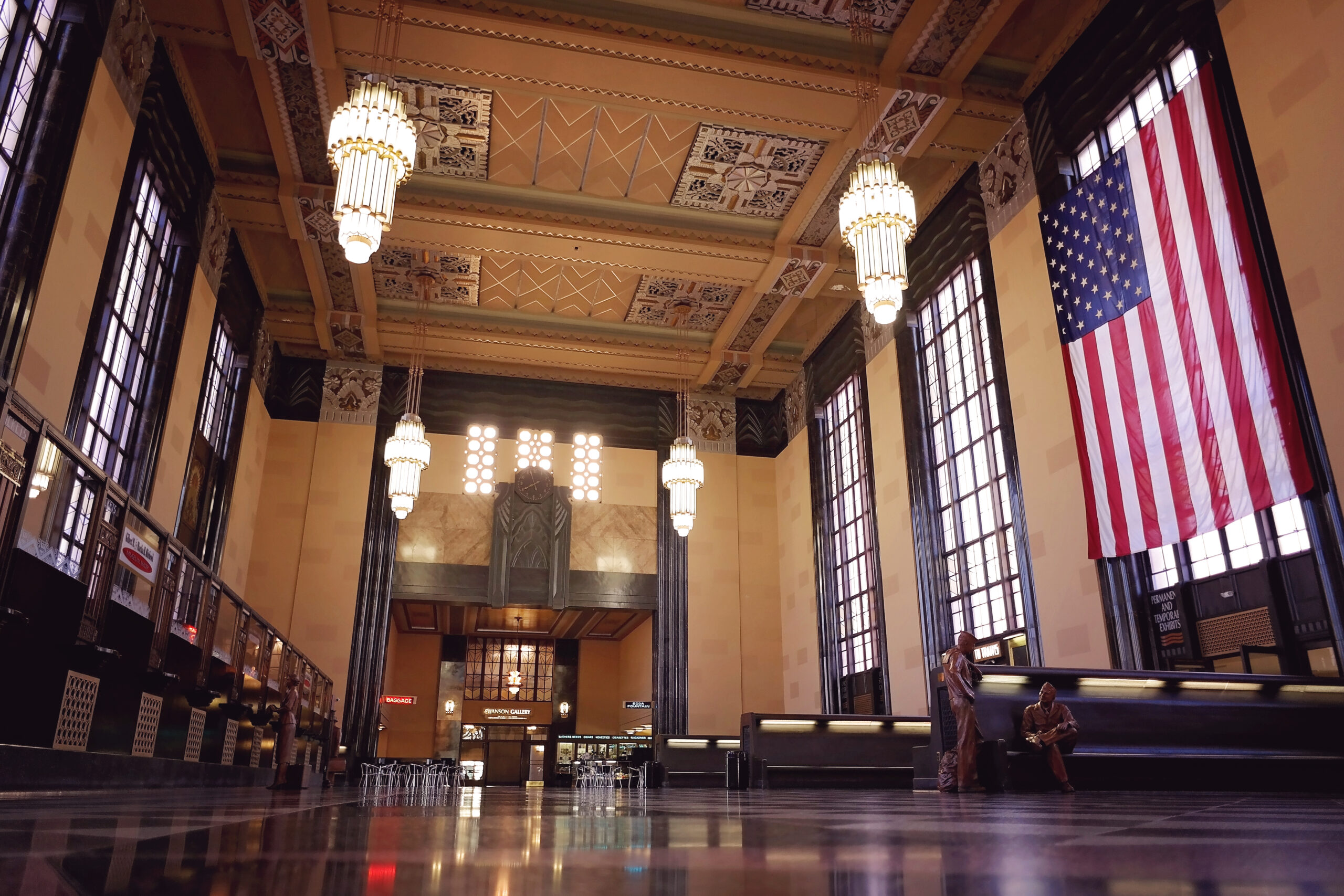 And, as we approach the fall, there isn't a better time to bring up what some might call the "Disneyland of the Midwest": Omaha's pumpkin patches. If your group is visiting Omaha between the end of September and early November, make a stop at Vala's Pumpkin Patch, Wenninghoff's Farm on the edge of Omaha or Bellevue Berry and Pumpkin Patch in Papillion, just outside the city.
Lincoln: Capital Meets
Fifty miles southwest of Omaha, Lincoln has a population of just over 280,000. Visiting groups to Nebraska's political center can fly by United Airlines or Delta Air Lines to Lincoln Airport (LNK) from Chicago's O'Hare International Airport (ORD) or Denver International Airport (DEN).
While the destination does not have a dedicated meetings and convention center, Lincoln has a list of large meetings hotels, unique off-site venues and is a prime focal point for exploring the agritourism opportunities around the state's metropolitan area.
Meet and Sleep in Luxury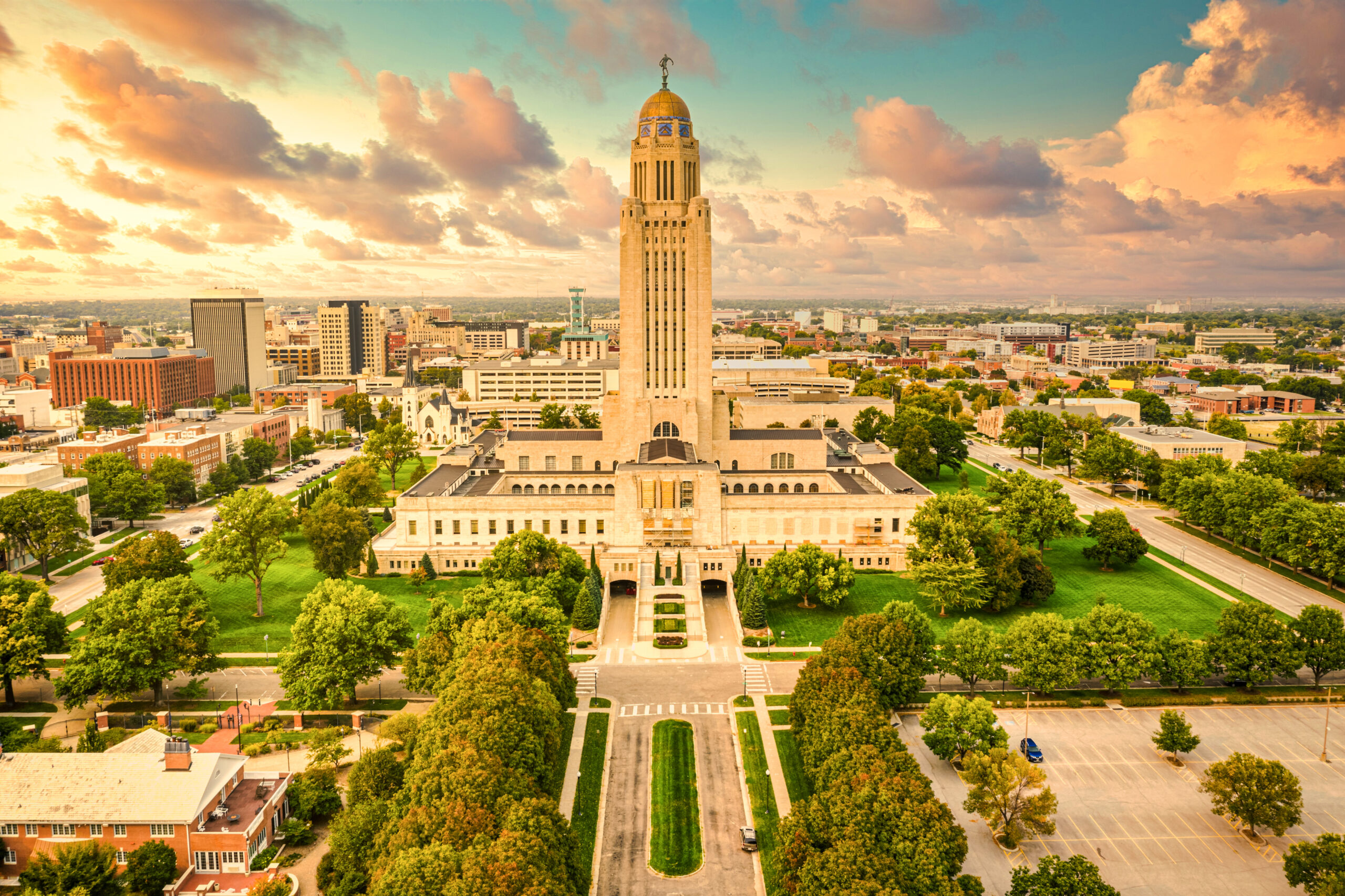 Lancaster Event Center on the northeast side of the city hosts small community events, the annual summer Super Fair—the largest county fair in Nebraska—and everything in between. The venue has more than 400,000 sq. ft. of multipurpose meeting, event and exhibition space, with eight distinct spaces that each offer something different.
The Scarlet, Lincoln, a Tribute Portfolio Hotel by Marriott International, is a 154-room property in a central location to the rest of the city. Built in 2021, the hotel is decorated with dark antique and modern accents, and chevron patterns in the hardwood flooring that lend a sense of upscale Victorian living. The property has 1,328 sq. ft. of meeting space, the perfect amount for small- to medium-sized groups.
The Lincoln Marriott Cornhusker Hotel, on the other hand, is located downtown in the heart of the bustle and meant for large meets. The 300-room property has over 38,500 sq. ft. of event space and was renovated in 2014. Its lobby greets guests with large, glowing pillars of wood and stained glass, lit up from the inside, and a wide staircase made of dark wood and a delicately carved banister that curves up to the next floor. The hotel offers a wide selection of spacious meeting rooms and a pillarless ballroom with 3,000 sq. ft. of its event space located outdoors.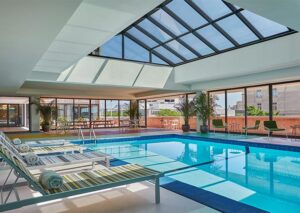 Several blocks away, Graduate Lincoln is also located downtown and a neighbor to the Historic Haymarket, a popular place for farmers markets and local beer and wine events. Graduate Lincoln was renovated in 2021 and has 231 guest rooms and 14,082 sq. ft. of space for meetings. Its event spaces are colorful, bright, open and diverse. Embassy Suites by Hilton Lincoln is a 252-room property two blocks from Graduate Lincoln with 20,000 sq. ft. of meeting space. Renovated in 2016, the hotel is adorned with earthy oranges and greens, has an indoor pool and opens in into a wide atrium filled with skylight.
Agritourism for the Foodies
Downtown Lincoln has a slew of restaurants serving all variations of new American cuisine. Walking distance from Graduate Lincoln and Embassy Suites by Hilton Lincoln, Mellow Mushroom makes unique fusion dishes like its "pizzaiola burger," which merges two traditions into one. The restaurant also offers a long list of pizzas, vegetarian dishes, beer and cocktails. The 70s-style restaurant Misty's Steakhouse and Brewery specializes in steak and craft beer and is a next-door neighbor to Embassy Suites by Hilton Lincoln.
Take a 20-minute drive north to Waverly, Nebraska, and you will find Lakehouse Farm & Prairie Plate, a restaurant where guests can experience "farm-to-table" firsthand and up close. At Lakehouse Farm, visitors can tour the farm and then eat in its lakeside dining venue. Capitol View Winery & Vineyards in Roca, Nebraska, is 20 minutes south of downtown Lincoln and offers tours and tastings.
In your downtime around town, visit Pioneers Park Nature Center, with 668 acres of tallgrass prairie, woods, wetlands and water views and has hiking trails through out. Plus, there is a small herd of bison that live in this wildlife sanctuary, which are commonly seen roaming the area.
Sunken Gardens on the southeast side of the city is the only garden in Nebraska to be named one of the "300 Best Gardens to Visit in the United States and Canada" by National Geographic Guide to Public Gardens. Wandering its manicured paths winding through its 1.5 acres of colorful flora, this site takes you out of the city noise and into the green space that sets Nebraska apart.
Resources
This article appears in the September 2022 issue. You can subscribe to the magazine here.