Downtown Columbia
New ways to meet, drink and be merry in Maryland
Maryland is minty fresh in 2018. One of the original 13 colonies, The Old Line State is not showing its age at all. This year, the hospitality industry welcomed new hotels, renovated existing properties and added exciting new tours to its portfolio of offerings.
The more than 12,000-square-mile state is actually larger than the country of Belgium and is home to more than 6 million people, offering a wide variety of experiences. That is why headlines in the national news about one part of the state—including recent flooding in Howard County's historic Ellicott City—can be misleading. Amanda Hof, interim executive director for Visit Howard County, assures planners that the area is "equipped and ready to accommodate meetings." Its venues, which offer an accumulated 124,000 sq. ft. of meeting space, are located in regions such as Greater Ellicott City and Columbia that were not impacted by the flood.
Let's take a closer look at all the sparkling new options now available for charming and thrilling groups.
Annapolis and Anne Arundel County
Stay & Meet
One of the most exciting new additions to the region is the flagship, 310-guest room Live! Casino & Hotel, which opened May 22 in Hanover. Its 20,000-square-foot Grand Event Center includes a ballroom, six breakout rooms and a 1,500-seat concert venue. The casino also debuted Orchid Gaming & Smoking Patio, the first and only fullservice outdoor gaming area that allows gamblers to bet and puff simultaneously. Minutes away, the newly renovated Live! Lofts boutique hotel offers an additional 250 guest rooms and about 3,400 sq. ft. of meeting space.
Eat & Drink
Sustainability is a recurring theme citywide as part of the Annapolis Green's "Don't Suck. #SipResponsibly" campaign, which launched in February to reduce the use of plastic straws at restaurants and bars.
See and taste the city during a brand-new tour curated by Annapolis Urban EvenTours. The Original Annapolis Dessert Sprawl takes guests on a sweet culinary experience through town on its fleet of EZ Cruisers. It also offers a popular seafood crawl. Wash down the cake and cookie crumbs at Great Frogs Winery's new tasting room, Tadpole Barn, which popped the cork in March.
If your group consists of beer lovers, Guinness Open Gate Brewery & Barrel House opens in Halethorpe this summer, making it the first operational Guinness Brewery in the United States in more than 60 years. It will be located on the site of the first distillery that opened in Maryland after Prohibition.
Also new to the local beer scene are Chesapeake Brewing Company, which opened in downtown in fall 2017, and the 6,100-square-foot Crooked Crab Brewing Company, pouring since February.
Be Merry
Arundel Mills Mall is the largest shopper-tainment complex in Maryland. The outlet center is very popular among the international meetings crowd. Mission Escape Rooms is opening its second Annapolis location there this year for team-building escapades. Enjoy a night with knights at Medieval Times Dinner & Tournament, which is debuting an entirely new show this month featuring a queen on the throne for the first time in its history.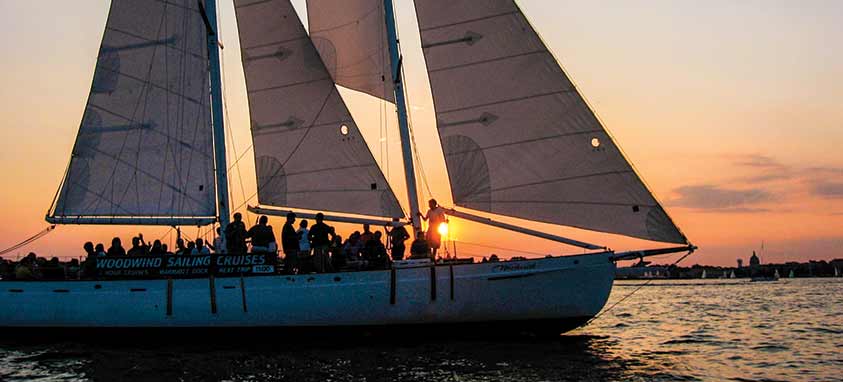 Known as America's Sailing Capital, a great group outing is aboard Schooner Woodwind Annapolis Sailing Cruises, which is celebrating its 25th anniversary this year. Twin boats, available for private voyages and team building, each hold 48 passengers and were featured in the film The Wedding Crashers.
Baltimore
Stay & Meet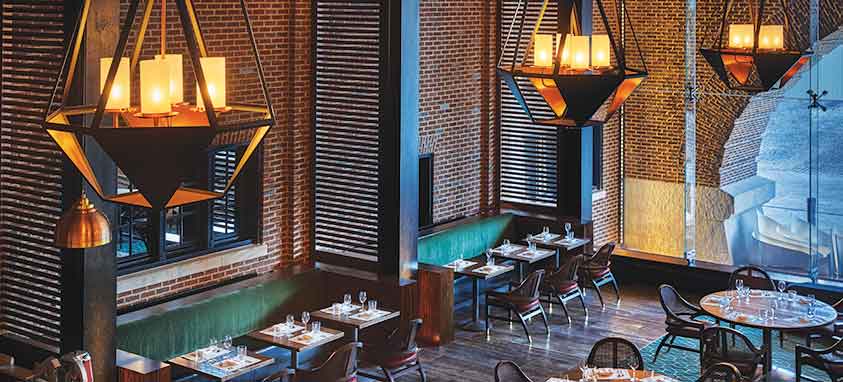 Oh, say can you meet! Baltimore is the where the "The Star Spangled Banner" was written. It is also home to Baltimore Convention Center and Royal Farms Arena. Two new hotels recently hit the meeting scene. Perched atop Recreation Pier overlooking the Inner Harbor, Sagamore Pendry Baltimore contributes 128 guest rooms to the Fell's Point neighborhood. The historic 1914 property opened as a hotel in March 2017 and has 10,000 sq. ft. of meeting space.
Hotel Revival is another new-again locale. The city's newest boutique hotel premiered this May in the Mount Vernon part of town. It has 107 guest rooms and 4,000 sq. ft. of meeting space. Hotel Revival started life as a private mansion and was the site of Baltimore Museum of Art's inaugural exhibition in 1923. Art remains prevalent throughout the property.
Eat & Drink
A couple of celebrity chefs have opened new eateries at Horseshoe Casino Baltimore—Gordon Ramsay Steak and GDL Italian by Giada. "I'm thrilled to join the amazing culinary community here in Baltimore," Giada De Laurentiis said at the May grand opening. "I've had the pleasure of sampling a wide range of Charm City's wonderful restaurants, and I am looking forward to introducing my personal take on both traditional Italian favorites and my signature dishes served in a warm and welcoming environment." Horseshoe has a 6,700-square-foot ballroom.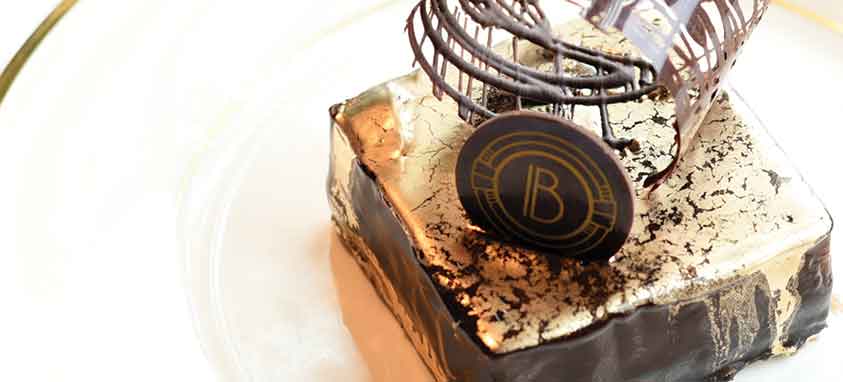 Sitting atop Four Seasons Hotel Baltimore (20,595 sq. ft. of flexible meeting space and 256 well-appointed guest rooms), The Bygone opened last December and offers breathtaking views of Harbor East. In decor and cuisine, the restaurant transports guests into the 1920s and even enforces a dress code to add a sense of exclusivity. Guests can enjoy eats from the rotisserie grill and sips from the whiskey bar, cocktail menu or selection of more than 800 wines. The Bygone accommodates up to 175 people for a buyout.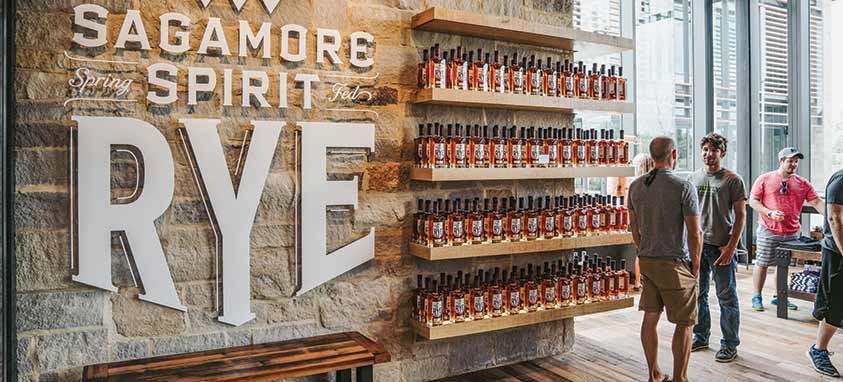 Rye Street Tavern opened in September adjacent to Sagamore Spirit Distillery in Port Covington. The 13,000-square-foot restaurant is the brainchild of James Beard Award-winning chef Andrew Carmellini and serves Southern and Mid-Atlantic American food. Up to 300 guests can be entertained.
Groups meeting at Renaissance Baltimore Harborplace Hotel can enjoy local fare during its weekly Evenings at Renaissance events. One example is peppermint lemon sticks, which are a springtime tradition at the area's FlowerMart festival. Quench your thirst by poking a peppermint stick into a lemon and using it as a straw alternative. The hotel has 27,548 sq. ft. of meeting space and 586 guest rooms.
Be Merry
Feel the sand between your toes during a social gathering at Sandlot Baltimore, a 30,000-square-foot event space in Harbor Point. Another James Beard restaurateur, Spike Gjerde, is behind this fun spot. Since opening last summer, guests have been enjoying Sandlot's food, bar, beach volleyball and beautiful sunsets. It is available for private event rental.
Montgomery County
Stay & Meet
Montgomery County boasts 9,700-plus guest rooms and more than 974,000 sq. ft. of meeting space. It is one of the finalists for the Amazon HQ2 bid, and the hotels are already upping their game to remain competitive. One headquarters that is a sure thing is Marriott International, which has been based in the county for more than 60 years. It's in the process of building a new $600 million campus for its main office and a hotel in downtown Bethesda. Opening in 2022, the hotel will have more than 8,000 sq. ft. of meeting space and 242 guest rooms.
Gaithersburg Marriott Washingtonian Center is already up and running, having recently completed five-years' worth of renovations to meeting spaces and public areas. The lakeside hotel has 9,288 sq. ft. of meeting space and 284 guest rooms. It's located near the RIO Washingtonian Center shopping, dining and entertainment complex.
"I'm treated like gold," says Karen A. Bertani, CMP, director of global engagement and knowledge sharing for CASSS-Sharing Science Solutions. "The service at the hotel is impeccable and the staff is always there to assist with whatever needs to be done. Holding our meetings at Gaithersburg Marriott is the easiest repeat decision that I can make every year."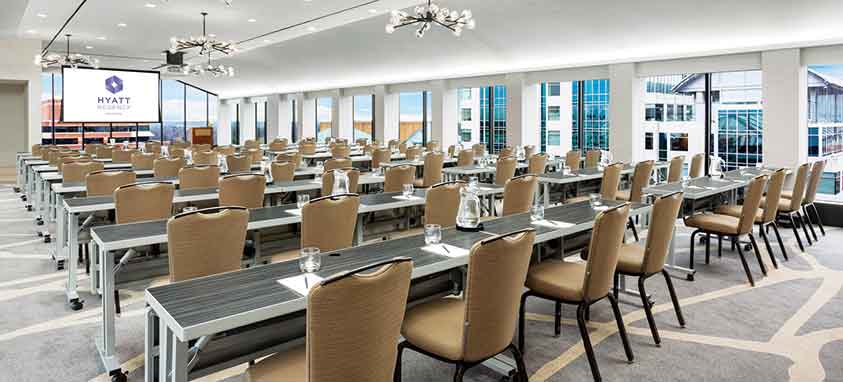 Hyatt Regency Bethesda is fresh off a $37 million transformation that includes new guest rooms, remodeled meeting space and the brand-new 2,400-square-foot, enclosed The Rooftop Downtown Bethesda. The renovated lobby atrium features a communal Make Space work area and interactive touch screens that act as a concierge at your fingertips. More than 20,000 sq. ft. of meeting space and 390 guest rooms can be found there.
"From sleeping rooms, breakout rooms and menus to the mundane aspects of coordinating a national meeting, you made it a point to see that all of our needs are met and in a pleasant and professional manner," says Cindy L. O'Brien, event coordinator for the National Council on Radiation Protection and Measurements, about her group's visit.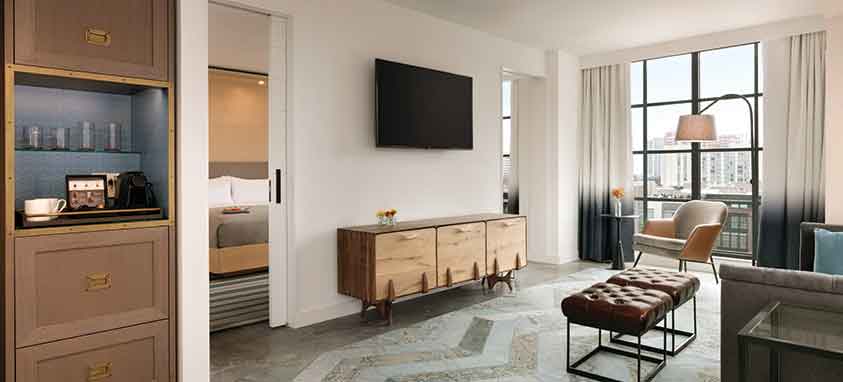 The burgeoning Pike & Rose retail district welcomed a new 177-guest-room Canopy by Hilton Washington DC Bethesda North in March. It has 8,700 sq. ft. of meeting space, including a 4,200-square-foot rooftop terrace.
Eat & Drink
In Fe-brew-ary, Visit Montgomery launched a new partnership with Maryland Brewery Tours. Itineraries vary based on dates, but each outing promises behind-the-scenes tours, a pint at each stop and a commemorative glass.
"A brewery tour is an excellent way for visitors and locals to experience the distinct flavors of Montgomery County, while showcasing the craftsmanship of our talented brewers," says Cory Van Horn, director of marketing for Visit Montgomery.
Be Merry
IFly Indoor Skydiving dropped into Gaithersburg this May. Break out of the "bored" room and enter this fun zone for team building and corporate events. Guests can take turns experiencing the sensation of skydiving in a chamber, which resembles a vertical funnel powered by fans. Catering and conference space is available.
Glenstone Museum in Potomac, renowned for its collection of contemporary art, is undergoing an expansion project set to open in October, when the new 204,000-square-foot Pavilions building makes its debut. Two cafes, a new entrance and 130 more acres of landscaping are also being added. Admission is free and group tours are available.
Prince George's County
Stay & Merry
Across the street from campus, The Hotel at the University of Maryland joined the College Park neighborhood in September. The area's only fourstar luxury property has 297 guest rooms and 43,000 sq. ft. of meeting space. The Red Door by Elizabeth Arden spa opened there in May.
Situated along the Potomac River, National Harbor is the Washington, D.C., area's largest waterfront destination. Last month, Smart Meeting Mid-Atlantic took place in Oxon Hill at MGM National Harbor. The lessthan- two-year-old property boasts more than 50,000 sq. ft. of meeting space and 308 guest rooms.
Smart Meetings also partnered with Gaylord National Resort & Convention Center to execute the event. Its RiverView Ballroom is the new kid on the block. The 16,000-square-foot Infinity Ballroom opened in May 2017. It gives guests the illusion of floating on top of the Potomac River and has two outdoor terraces. Holding the title of largest, nongaming hotel and convention center on the East Coast, Gaylord National offers 546,889 sq. ft. of event space and 1,996 guest rooms.
Eat & Drink
A new outdoor lounge, Flight Deck at the Capital Wheel, opened in May 2017. Smart Meetings hosted a cocktail reception at this National Harbor attraction last month. The 145-person capacity Flight Deck serves champagne, local beer and light bites. The observation wheel consists of 42 gondolas, holding eight passengers each. Ride duration is 12 to 15 minutes, so it makes for a unique way to break out into small-group discussions. Special VIPs can be treated to a ride in National Harbor One gondola, fitted with glass floors, chilled Perrier, Amazon Alexa service and leather bucket seats. The 1.6 million LED lights on the wheel can be customized to reflect the colors of your event, company or brand. Choose from a spectrum of more than 16 million colors.
Be Merry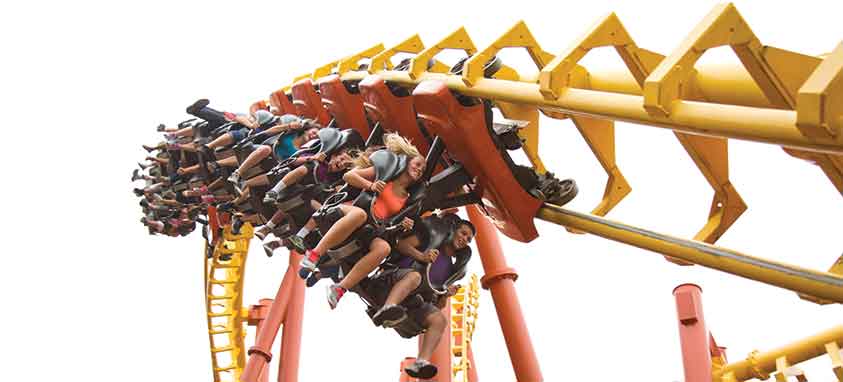 Six Flags America (pictured above) in Bowie is the only theme park in the Washington, D.C./Baltimore metroplex. The latest addition, Wonder Woman Lasso of Truth, is a 242-foot-tall swing ride. The Nation's Capital of Thrills debuts an all-new water attraction this season at its water park, Hurricane Harbor. Swimmers can now enjoy a faster current, waterfalls, waves and other interactive water features. Six Flags has several options for groups, including full park buyouts, picnics for 75 to 20,000 guests and discounted ticket packages.
In May, rapidly expanding Topgolf announced it will be building a brand-new facility in Oxon Hill, slated to swing open its doors by 2019. "We have a very rich history here in the greater D.C. area," says Topgolf Chief Operating Officer Craig Kessler."Topgolf's first location in the U.S. was built in Alexandria, Virginia, which paved the way for our expansion nationwide. We are excited to continue that growth in this key market."