Sponsored by Visit Baltimore
Maryland is full of reasons to meet outside
Oh, summer! It calls to mind vacations on tropical beaches, long days by the pool, music festivals and barbecues. It beckons us outside with sunshine, fresh air, lush fields and colorful flowers—and it's not just for vacations and weekend getaways. Meeting attendees want their dose of nature, too, because let's face it: No one wants to feel stuck inside a on a beautiful summer day.
Taking meetings outside or giving people the chance to play outdoors creates a more relaxed vibe and can encourage networking. Just providing outdoor space can enhance mood, provide fresh air and encourage attendees to move around. Outdoor space also expands meeting options to include offsites and team bonding activities. And studies show that spending time in and around nature can boost activity, relieve stress and enhance mental clarity. Here are some ways to meet—on land and on water—in Baltimore and Montgomery County, Maryland.
Baltimore
With more than 4,600 acres of parkland and 262 parks, and the historic Inner Harbor at the northwest branch of the Patapsco River, it's easy for groups to meet and enjoy the outdoors in Baltimore. From cruise meetings around the Inner Harbor to team hikes on wooded trails and offsites among historic gardens, Baltimore offers plenty of outdoor options for gathering on water and land.
Floating Venues
Watermark has roots going back about 45 years and, in its second generation of family-owned leadership, offers several opportunities to meet on Chesapeake Bay while touring Baltimore's Inner Harbor.
According to its website, "Watermark's vision since the beginning has been to immerse people in the history, culture and fun of the Chesapeake area more completely than any other tour or charter company."
True to its ideals, the company claims the largest fleet of yachts available in Baltimore. Planners can choose one of nine U.S. Coast Guard-regulated boats ranging from 24 to 99 feet, with both enclosed and open decks. The yachts can accommodate from two to 240 guests and are chartered for each event exclusively. Cruises range from two hours to all-day adventures. Planners can arrange afternoon team-building sessions, group lunches or dinner tours—even all-day meetings on the bay.
Another option for nautical gatherings, Spirit of Baltimore, an Entertainment Cruises operation, will arrange custom cruise experiences for groups of 20 to more than 300. Attendees can network, play interactive games, dine and dance while touring Baltimore's Inner Harbor along the Patapsco River.
Planners can choose from specialty cruises or all-inclusive packages. Lunch, dinner and moonlight cruises are options for breakouts between and after meetings. Cruises run from two to 3 1/2 hours. Sixty-minute interactive sightseeing cruises are also available aboard the Inner Harbor Spirit, Spirit of Baltimore's sister ship.
Venues for Landlubbers
While on land, planners and attendees can ground themselves at any one of Baltimore's many parks. Some provide both indoor and outdoor space, so planners can give attendees the best of both.
One such place is Cylburn Arboretum, a 200- acre urban oasis. With hundreds of trees and plants, shady trails and four distinct gardens—in addition to three indoor meeting spaces—the property welcomes planners arranging team-building activities, offsites, bizcations and informal or formal meetings.
The historic Cylburn Mansion, dating from 1863, was designed by George A. Frederick, the architect who designed Baltimore's City Hall. It seats 75–100 for dinner in three rooms and 65–75 for lecture-style meetings or seminars. The Greenhouse Classroom holds 100 theater-style and 75 for dinner.
The arboretum's Vollmer Visitor and Education Center seats 250 theater style and 200 for dinner. The center features a living roof, back patio and natural outdoor amphitheater. AV setup and catering facilities are provided.
Druid Hill Park, Baltimore's first large municipal park and the third-oldest established park in the United States, is 745 acres of lush, green space. It features tennis and basketball courts, and a disc golf course, so attendees can team up for some exercise. Greenhouses, a Zen garden and a reservoir are also located throughout the park.
The Howard Peters Rawlings Conservatory and Botanic Gardens, located in Druid Hill Park, can host small or large groups inside or out. Indoors, planners can choose from any of five distinctive greenhouse rooms, including the original Palm House dating back to 1888. Two side-wing pavilions, a courtyard and a half-acre garden provide additional space to network.
Meeting-Worthy Hotels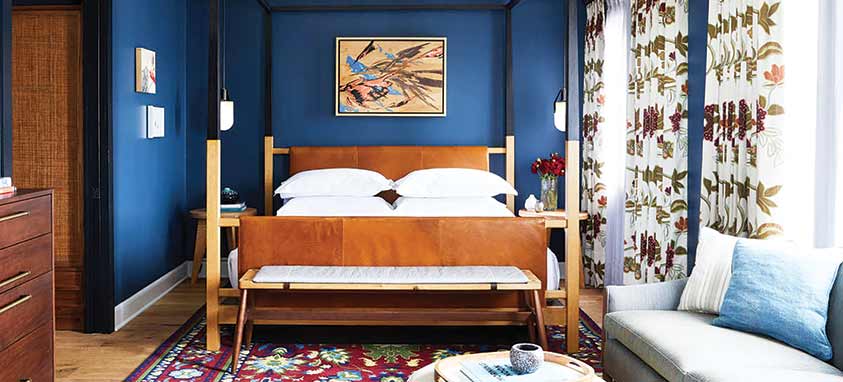 Hotel Revival, Baltimore's newest boutique hotel, debuted in May 2018 in Baltimore's historic and vibrant Mount Vernon neighborhood. Formerly the mansion home of an art enthusiast and later the site of Baltimore's first art museum, the 107-room, 14-story hotel embraces the neighborhood's rich history of art and culture.
The property offers 4,000 sq. ft. of event space and meeting venues, including a private dining room that can be used as meeting space for up to 12 people, a garden room for up to 40 people and—for a unique team-building experience—three karaoke rooms, measuring 100 sq. ft. and accommodating six to eight each. Topside, the hotel's rooftop bar, serves up locally sourced seafood and The Garden Room brings the outdoors in for custom cocktails, tea service and nontraditional bites.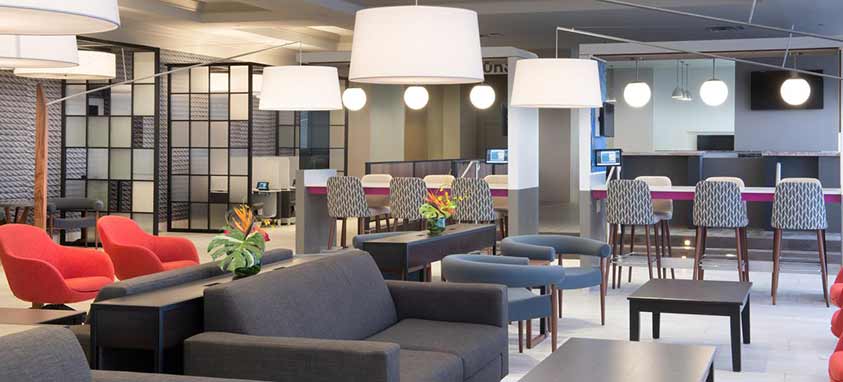 Another newcomer, Crowne Plaza Baltimore–Inner Harbor opened in July 2018 after a multimillion-dollar renovation. The 385-room property features nine meeting rooms, more than 20,000 sq. ft. of meeting space and the innovative Plaza Workspace, which provides flexible meeting and work areas. When combined with its neighbor, Radisson Hotel Baltimore Downtown-Inner Harbor, the properties provide 708 rooms and 38,500 sq. ft. of function space.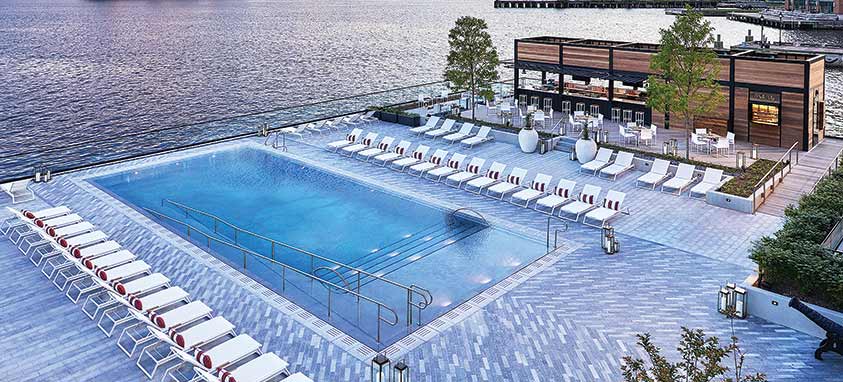 Sitting atop Baltimore's iconic Recreation Pier, overlooking the Inner Harbor in the city's historic Fell's Point neighborhood is Sagamore Pendry Baltimore. The 128-room luxury boutique hotel features several meeting areas, including a 4,565-square-foot ballroom, a semiprivate dining space for intimate gatherings, a 3,988-square-foot courtyard and a 5,744-square-foot pool deck, overlooking the harbor at the water's edge.
Top Spots for Crab in Baltimore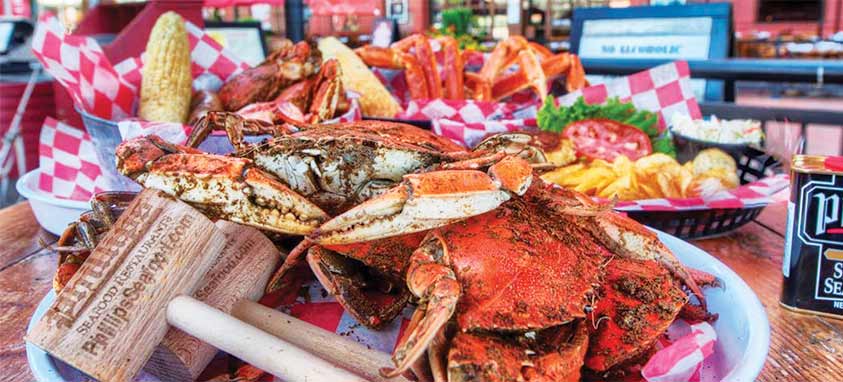 Maryland and crabs go together like summer and sunshine. That is to say, it's just not summer in Maryland without the blue crabs of Chesapeake Bay. Most Marylanders will tell you there are few things better than diving into a bucket of blues (turned red from cooking) smothered in old bay seasoning, or biting into a warm, perfectly broiled jumbo lump crab cake and washing it down with an icy "Natty Boh."
There's no better time to enjoy the celebrated crustacean than now. According to a recent study by Maryland Department of Natural Resources and William & Mary's Virginia Institute of Marine Sciences, Chesapeake Bay's blue crab population has almost doubled in the last year. Here are three places in Baltimore where you can get your hands—and mouth—on some of the best, al fresco style.
Nick's Fish House is a staple in the Port Covington neighborhood. Famous for its crab cakes, it also serves 'em steamed, along with a variety of fresh, local seafood, such as Chesapeake Bay oysters. Also not to be missed at Nick's: the Baltimore Orange Crush—a Charm City summer staple—and the crab pretzel, a large, soft pretzel stuffed with crabmeat. Located on the waterfront, Nick's has an open-air, almost beachy vibe; the deck is the place to nosh while taking in views of the Patapsco River on a warm summer evening.
With a Zagat rating, top online reviews and television acclaim, family-owned and managed L.P. Steamers has reason to boast. Moreover, it's a Locust Point neighborhood institution. But the restaurant's reputation is rooted in its homestyle cooking of some of the freshest crab in the city. And don't worry—if you don't know how to pick crabs, the staff is happy to teach you. If crab's not your thing, there are plenty of options on the extensive menu of fresh seafood. Rooftop dining and great city views round out the experience.
For more than 100 years, the Phillips family has been sourcing wild, in-season crabs, oysters and fish from the Chesapeake Bay for its Phillips Seafood properties. Its Baltimore location boasts award-winning crab cakes, fresh oysters and clams, classic seafood dishes and land-based options. The crab-deck (pictured below), situated on an overwater dock in the harbor, is a must for groups looking for a steamed-crab feast. Crabs are sorted and prepared to order right on deck at a steaming station, and professional shuckers prepare fresh, local clams and oysters on site.
Montgomery County
Despite being the most populous county in Maryland, Montgomery County is home to many rural areas. From the 93,000-acre Ag Reserve and Sugarloaf Mountain to abundant waterways, there is no shortage of places for attendees to soak up some sun in Montgomery County.
Floating Venues
Great Falls Canal Boat Rides, part of the Chesapeake and Ohio National Park Service, is set to reopen following extensive canal refurbishment—just in time for summer. The mule-driven boats take passengers along the historic Chesapeake and Ohio Canal. With a 65-person capacity, the boats are suitable for team bonding and networking between meetings. Rides last about one hour, leaving time for more group activities in the C&O park and along the historic C&O Canal.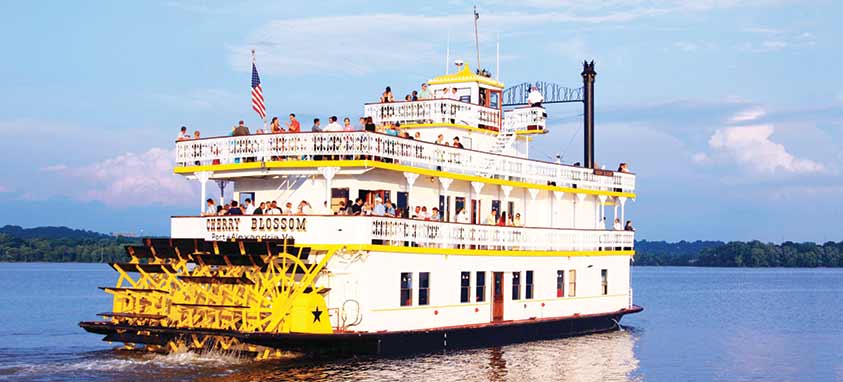 For large groups that want a unique way to meet, Potomac Riverboat Company, an Entertainment Cruises operation, offers Cherry Blossom, its recreation of a 19th-century riverboat. The authentic split sternwheeler can accommodate up to 350 passengers for a three-hour meeting on the Potomac. The company has four other vessels of varying sizes, with space for 20 to 125, so smaller groups can find the right fit.
Black Hill Boats at Little Seneca Lake offers a variety of options for small groups looking for team-building activities. Groups of up to 30 can take a private tour of 505-acre Lake Seneca aboard a Kingfisher pontoon boat. Adventurous types can jump aboard a canoe or kayak to traverse the Black Hill Water Trail for some serious wildlife appreciation.
Venues for Landlubbers
For a truly unique experience (and one not to miss after having a mule-drawn boat ride) befitting offsites, retreats or team-building events, the C&O Canal Trust provides seven fully restored, historical lockhouses for up to three nights. Each house sleeps up to eight people—and no two are alike. Every house has a different level of amenities, ranging from electricity-only to rustic or modern. The houses and surrounding park grounds are also available for day use if sleeping quarters are too close for comfort. While there, attendees can explore sites such as Great Falls, the towpath and Paw Paw Tunnel, by biking or walking any of the 185-plus miles along the Potomac.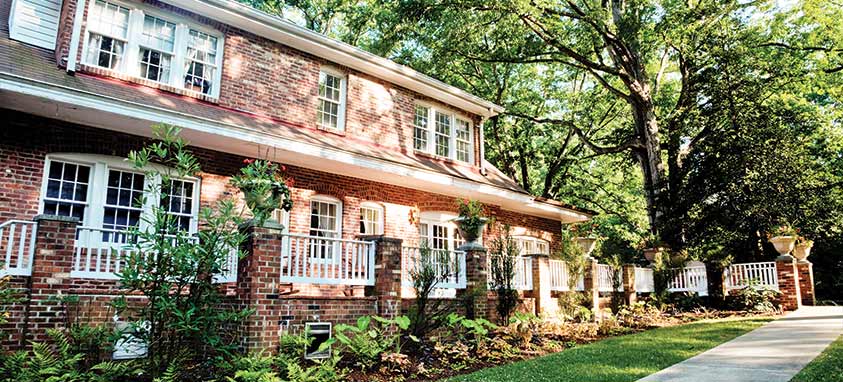 Also along the C&O Canal and Potomac River, Rockwood Manor Retreats and Events is perfectly suited for executive or wellness retreats, team-building events and seminars. The property provides 30 acres of wooded park and a historic 1920s manor house with six flexible meeting spaces, including a 630-square-foot ballroom. The manor house and grounds are available for buyouts, with a capacity of 120. Attendees can mingle on the wooded patio, break on the sun porch and sip post-meeting cocktails on the veranda.
Rockwood Manor also provides custom retreat packages for businesses, with a variety of guest houses and cabins that can house a maximum of eight to 20 guests.
Meeting-Worthy Hotels
Home2 Suites by Hilton Silver Spring debuted in April with a focus on sustainability. The all-suite hotel promises to meet LEED platinum certification standards, and has been designed for conservation, with low-flow water fixtures and solar energy sources for its 100 guest rooms and 1,720 sq. ft. of meeting space. The property features an indoor pool, electric vehicle charging stations and an integrated Spin2Cycle fitness/laundry facility.
The Hilton Washington DC/Rockville Hotel & Executive Meeting Center in Rockville houses 315 guest rooms, 14 meeting rooms and 35,000 sq. ft. of dedicated meeting and event space. The Atrium is the largest space, at 7,954 sq. ft. It can accommodate up to 800. The Millennium Trail, a 10.6-mile loop around Rockville, runs directly behind the property.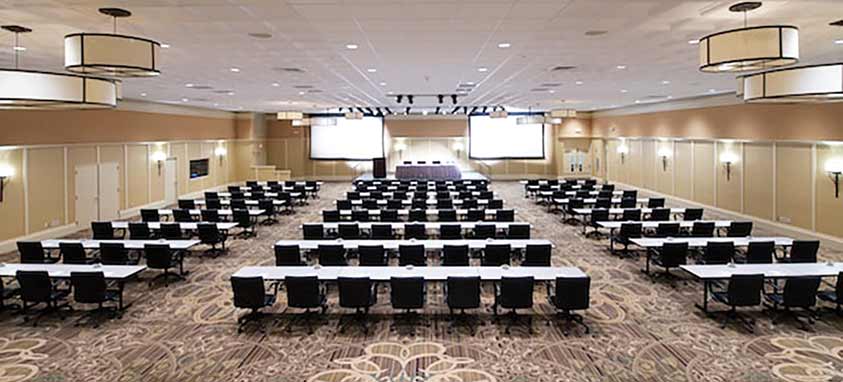 Situated on 43 acres of manicured grounds, lush gardens and country trails, historic William F. Bolger Center, a Conference Hotel, marries business and pleasure in Potomac. The property can accommodate almost any type of meeting or event, with 431 rooms and 70,000 sq. ft. of meeting space—including 75 meeting rooms, two ballrooms, two full-service business centers and 24 junior boardrooms. Attendees can mingle and relax at the Junior Olympic pool or network in the abundant outdoor space and two on-site dining spots.