Sponsored by Mohegan Sun

Connect in Connecticut at Mohegan Sun
Take your next event to the next level at Mohegan Sun, conveniently located
equidistant between New York City and Boston in scenic Mystic Country,
Connecticut.
Barrier-Free Space That Raises the Bar
Mohegan Sun features two convention centers with over 275,000 square feet of flexible indoor meeting space. Earth Expo & Convention Center, the Northeast's newest exhibition center, houses a 125,000 square-foot, column-free Expo Hall.
More Room, Any Way You Add It Up
The Earth Expo & Convention Center, featuring the 20,000 square-foot Earth Ballroom and 15 breakout/meeting rooms, provides additional unique function space. Sky Convention Center, anchored by the 38,000 square-foot Uncas Ballroom, includes 20 more meeting rooms.
Unique Spaces for Unique Needs
With a variety of meeting rooms, executive boardrooms and other unique venues,
Mohegan Sun can accommodate groups of any size or style.
Award-Winning Service
All of Mohegan Sun's world-class facilities come with their first-rate staff dedicated to making your event a success.
Suites That Suit You
Mohegan Sun boasts two hotel towers with 1,600 guest rooms featuring sweeping
views, top-of-the-line amenities and an incredible service staff to ensure you
experience first-class comfort during your stay.
And So Much More...
Every event at Mohegan Sun also comes with endless entertainment options, including a 10,000-seat Arena, over 90 restaurants, shops and bars, two trendy nightclubs, two spas, a championship golf course, and more, all at one incredible destination.
Ever wonder what happened to the butcher, the baker and the candlestick maker? They've all escaped the nursery rhyme and gone to Maker Faire! What is a maker? In broad terms, it is anyone who makes things. "Whether it's a baker preparing small batches for the corner coffee shop, or a local hardware manufacturer that's working towards their first big supplier contract, makers are the small but mighty entrepreneurs that help build innovation economies and create vibrant neighborhoods," says Lee Wellington, executive director for Urban Manufacturing Alliance.
Make magazine, which coined the term "maker," was launched in 2005—a year before Etsy, the wildly successful website that enables local artisans to share their crafty talents with the world via online sales. According to its website, 26 percent of American cities had makerspaces and 13 percent hosted a Maker Faire by 2016.
But if you stood before a map of the United States and had to place a pin at the epicenter of today's maker movement, the choice would be clear: New England. Its heritage of artisan craftspeople and Yankee inventors, small entrepreneurial businesses and waste-not, want-not self-sufficiency makes it the ideal incubator of makers of all types. For groups, the benefit is obvious—authentic experiences, storytelling from DIY stars and opportunities galore to escape the typical meeting environment for a world where creative problem-solving has been elevated to an art form.
Come with us now, as we prowl maker madness in Massachusetts and Connecticut.
Massachusetts
Boston
Makerspaces are sprinkled all over Boston and include Boston Makers, Artisan's Asylum and Make Shift Boston. They also are on some college campuses, such as Massachusetts Institute of Technology and University of Massachusetts Boston. The country's oldest nonprofit craft organization, Society of Arts and Crafts, (founded 1897) is located in Boston's burgeoning Seaport District, which is also being called the Innovation and Design District. The organization's building offers 6,000 sq. ft. of event space.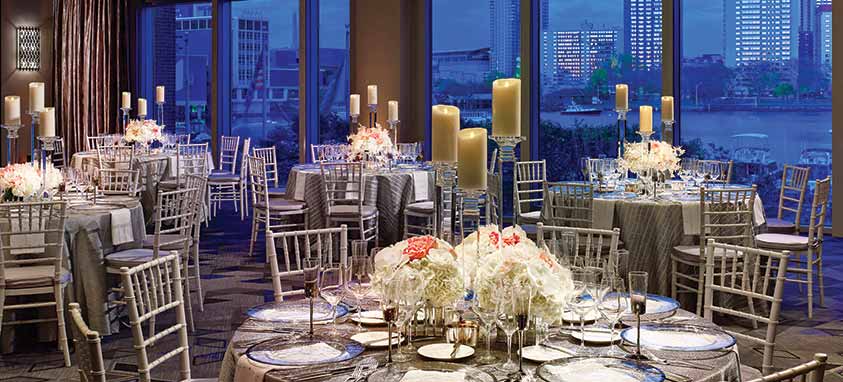 This art culture carries over to Royal Sonesta Boston, which is filled with contemporary art. Some pieces were specifically commissioned for the hotel. Its newly renovated ArtBar restaurant encompasses 1,440 sq. ft. and can seat 60 people for an event. The catering team takes prides in making all pastries and desserts in-house. Perched on the shore of Charles River, Royal Sonesta has 28,000 sq. ft. of function space and 400 guest rooms.
Makers need not be rustic or nonutilitarian; even robots get made. The hotel's virtual attendee robot, Phil, enables people to attend a meeting remotely, using a Facetime-like interface. From any location, participants can dial in, and can then swivel Phil in any direction to follow the conversation as if they're present in the meeting room.
Meeting attendees assume the role of makers at Seaport Hotel & World Trade Center in the newly renovated Action Kitchen. Planners have two choices for team-building exercises for up to 75 attendees—Collaborative Cuisine or Creative Cook- off. In the former, participants split into teams and are given a recipe card. With the help of a chef, the team takes its shot at preparing the dish. As the name implies, Creative Cookoff fully embraces the maker movement—because there are no rules. Guests can make whatever they want from a basket of groceries.
The hotel has more than 180,000 sq. ft. of meeting space and 428 guest rooms. The outdoor space, Seaport Head House, has recently been renovated to include LED lamps, new furnishings and foosball tables.
Also glowing are the LED swings at the 4,839-square-foot The Lawn on D Powered by Citizens Bank, which is celebrating its fifth season. A brand-new Halo Swing, which seats six, is making its debut for groups that book events in the 3,225-square-foot Signature Pavilion. The Lawn on D is operated by Signature Boston, which also oversees John B. Hynes Veterans Memorial Convention Center (176,480 sq. ft. of exhibit space) and Boston Convention & Exhibition Center (516,000 sq. ft.).
Cape Cod
The world can be your oyster at Ocean Edge Resort & Golf Club in Brewster, Massachusetts, home of Cape Cod's only Jack Nicklaus-designed golf course. Comprised of the historic Nickerson Mansion and The Villages, the 429-acre waterfront property has joined forces with local oyster farmer Brian Daley to serve oysters raised off the resort's Bay Pines Beach. Meeting groups can arrange guided tours of the oystering operation to learn how the city of Brewster and Daley are advancing the local economy and aquaculture. The hotel's restaurants and bars use herbs such as rosemary, thyme and chocolate mint, grown on-premises, in cocktails and cuisine.
The maker movement is extra magical at Ocean Edge during its Harry Potter-themed Wizarding Week, in April, when guests can make their own wands. Other hands-on, team-building activities include boat building, campfire building and sand sculpting. In October, readers of Conde Nast Traveler voted The Mansion at Ocean Edge the No. 10 Top Resort in New England and The Villages at Ocean Edge No. 18. Ocean Edge, with 335 guest rooms and 20,815 sq. ft. of meeting space, debuted The Beach House Spa last summer.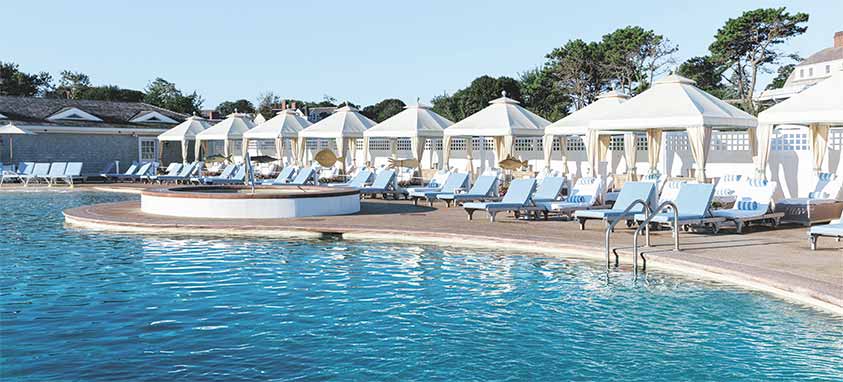 Create unforgettable moments aboard one of Chatham Bars Inn's vessels. Groups can set sail to see seals and whales in their natural habitat, and reel in the catch of the day. Boasting 10,000 sq. ft. of meeting space and 217 guest rooms, guests can also visit the resort's 8-acre farm nearby, where fresh produce for the culinary team is grown.
Springfield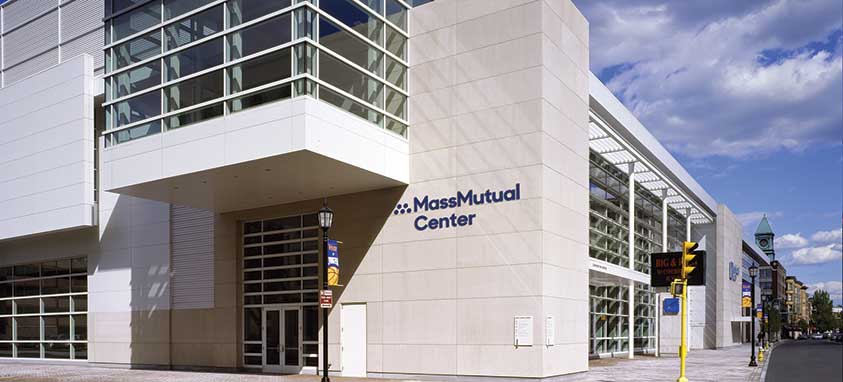 In Springfield, Massachusetts, consider making Mass Mutual Center (MMC) the site of your next New England meeting, convention, sporting event or formal affair. It offers 100,000 sq. ft. of event space, including an 8,000-seat arena, 40,000-square-foot exhibition hall and 15,000-square-foot grand ballroom. MMC is managed by MGM Springfield.
When a new, $960 million hotel, located a block from the convention center, opens this fall, it will become the first luxury gaming resort in New England. It will feature 250 guest rooms and 44,000 sq. ft. of meeting space.
Slightly north of Springfield, guests can go on self-guided tours of Yankee Candle Village in South Deerfield, Massachusetts. There, visitors can make wax molds of their hands, customize candles in jars and create a personalized photo candle. Yankee Candle also makes 13 tons of fudge annually.
Connecticut
Jake Mendelssohn, a Connecticut school teacher and Make Hartford volunteer, credits Mark Twain for creating the stereotype of a Connecticut Yankee as someone who can make anything. It's a reference to Twain's 1889 novel, A Connecticut Yankee in King Arthur's Court. Historically, hundreds of manufacturing companies started in Connecticut and Massachusetts because of their many small rivers and streams. "They harnessed these rivers with mills to grind corn and then to power equipment," Mendelssohn says.
Connecticut Invention Convention (CIC) was established by schoolteacher Michele Munson in 1983 to encourage children in grades K–8 to invent things. Since its inception 35 years ago, CIC has grown to 17,000 members. Making has such a large presence in Connecticut that one in three students who attended National Invention Convention and Entrepreneurship Expo in 2016 and 2017 hailed from the CIC program.
"Connecticut is a state with a rich history of imaginative residents who invented or created useful products or artwork that dates back to our founding years in the 17th century. Many of those homesteads or workplaces today are attractions that double as unique venues for off-site social events," says H. Scott Phelps, president of the CT Convention & Sports Bureau. "We are also the home of a growing number of new makerspaces of different sizes and with different focuses."
Hartford
The state's largest makerspace is coming to downtown Hartford this year when MakerspaceCT opens its new facility with more than 20,000 sq. ft. It will have equipment for electronics, wood and metal fabrication, glass-blowing, 3-D printing, ceramics and other artistic crafts and trades."Our manufacturing history can be the foundation for a vibrant, tech-savvy, economy-driving future," says Devra Sisitsky, MakerspaceCT's executive director and co-founder. "MakerspaceCT will be in the vanguard of that effort, with innovation, entrepreneurship and workforce development at the core."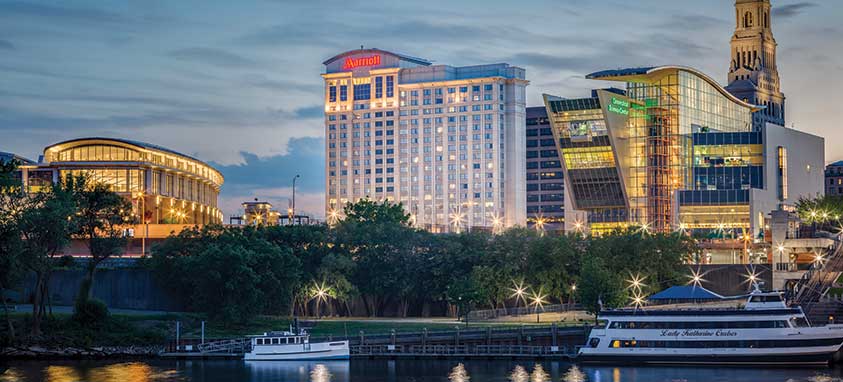 In the heart of Hartford's Adriaen's Landing District, meeting professionals will find 540,000-squarefoot Connecticut Convention Center (CTCC). It has a 140,000-square-foot exhibition hall for trade shows, a 40,000-square-foot ballroom and 25,000 sq. ft. of meeting space. A population of 23 million people live within a two-and-a-half-hour drive of Hartford, and Bradley International Airport (BDL) is close by. The attached headquarters hotel, Hartford Marriott Downtown, has 409 guest rooms and 13,089 sq. ft. of meeting space. A total of 6,500 hotel rooms are within a 30-mile radius of the city.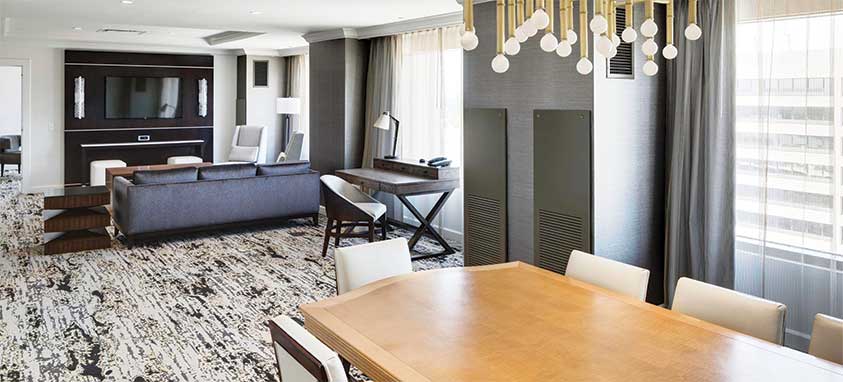 Phelps adds that CTCC's location is particularly appealing to events that focus on hands-on activities, such as Connecticut Flower & Garden Show, the Stitches United multicrafting event, which met in March, and several home-improvement shows. "This year, CT Convention Center was the site of the North American Handmade Bicycle Show, the biggest gathering of frame builders and consumers interested in custom-made bikes and the sharing of ideas," Phelps says.
Other area attractions include Connecticut Science Center, which hosted more than 400 educators for the 2017 Connecticut STEM Conference in October. Visitors can also dine, shop and be entertained in Front Street District, where Infinity Music Hall Hartford can host 400 guests for meetings.
Native-American Casinos
Native Americans were makers long before modern civilization and technology. They had to be resourceful with what nature provided to hand-make everything from dream catchers to woven baskets and feathered headdresses; from carved wooden totem poles to lacrosse sticks and musical instruments; and from teepees to their other dwellings.
Mashantucket Pequot Museum and Research Center at Foxwoods Resort Casino features 85,000 sq. ft. of permanent, indoor exhibitions, making it the world's largest Native American-owned and operated museum endorsed by Smithsonian Institution. One of several tour offerings highlights gifts from the land and waters. Visitors learn how native people made objects from stone, bone, shells and wood, and can purchase Native- American arts and crafts.
In September, visitors who attend Foxwood's 17th-century Encampment event will participate in wampum-making, basket weaving, pottery-making and more. The museum has almost 64,000 sq. ft. of event space, including a glass-enclosed atrium, Gathering Space; there's also an outdoor terrace, 327-seat auditorium, conference rooms and classrooms. Foxwoods has 2,230 guest rooms in its four hotels—Grand Pequot Tower, Great Cedar Tower, The Fox Tower and Two Trees Inn—and 150,000 sq. ft. of meeting space.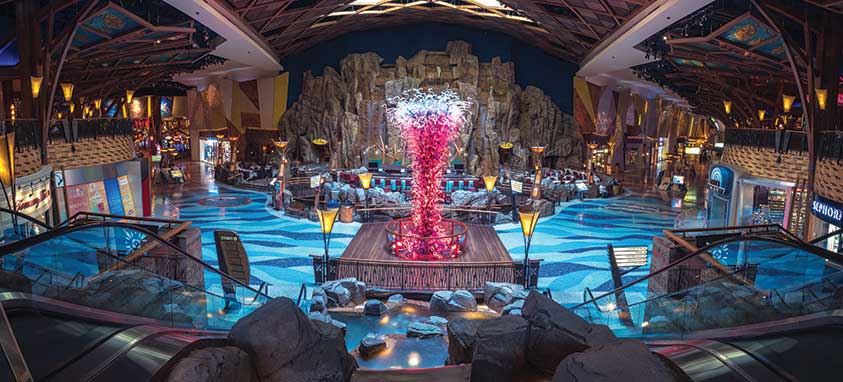 Makers of all sorts, most notably engineers, architects, carpenters and electricians, have been hard at work constructing the new $80 million Mohegan Sun Exposition Center, coming soon to the Uncasville property. The new facility will be christened in June by a Barrett-Jackson collector car auction, which attracts 70,000 people annually.
Mohegan Sun's Convention Center has more than 100,000 sq. ft. of meeting space, including the 38,000-square-foot Uncas Ballroom. The expo hall addition will increase the property's total meeting space to 275,000 sq. ft. The gaming property Mohegan Sun, Uncasville, Connecticutalso has a 10,000-seat arena that provides 30,000 sq. ft. of exhibition space.
"Mohegan Sun not only rolled out the red carpet for our event; they made the entire experience magical from start to finish," says Donald B. Shea, president and CEO of Rubber Manufacturers Association. "The most memorable aspect of the meeting was the staff. Every single person made us feel most welcome."
The two-tower hotel offers 1,600 guest rooms and more than 175 spacious suites. The hotel's design has a distinctive tribal influence, paying tribute to materials traditionally used to craft arrowheads and objects of ceremonial importance to the Mohegun tribe. In an online testimonial, Kathy Hastings, CMP, CMM, regional event planner for Anheuser-Busch Corporate, referred to Mohegan Sun as "the Nordstrom of the hotel industry" and said her group's experience will be "the benchmark for all future meetings."
Mystic
Mystic, Connecticut, has much to offer, as well. Grab a slice at Mystic Pizza, made famous by the 1988 Julia Roberts film, only 5 miles from Mystic Marriott Hotel & Spa, in Groton. The hotel has 20,297 sq. ft. of event space and 285 guest rooms. The dining and wine rooms at its Octagon steakhouse can also be booked for private events. Quality downtime could mean a treatment at the hotel's Elizabeth Arden Red Door Spa.
Take your group off-site for a fin-tastic event at Mystic Aquarium. The aquarium boasts the largest beluga whale exhibit in the United States, as well as seal and sea lion shows. Its gallery can accommodate up to 600 guests for a cocktail reception, catered by Ocean Blue Catering and surrounded by a panoply of colorful fish. There's also a 50-seat theater in Ocean Conservation Center. Planners can even arrange for a penguin appearance at a group event.
Old Saybrook
Do you prefer your drinks shaken or stirred? At Saybrook Point Inn, Marina & Spa, groups can partake in a mixology class with a hotel bartender. It's a fun way to learn how to make a Moscow mule, martini and other unique creations. Another exciting team-building activity awaits in the kitchen. In the Chopped Challenge, attendees are given ingredients and tasked with turning them into something delicious with the help of a chef.
This family-owned boutique hotel is located on the oceanfront, about two hours' drive from New York City and Boston. It has more than 6,000 sq. ft. of meeting space and 96 guest rooms. Planners can charter a yacht for sport fishing for up to 45 guests at the hotel marina. The chef will gladly prepare the catch for dinner. Now, that's how you make the experience into sea-to-table dining!
A Maker's Dozen: 13 Ways a Planner Can Use Makers
Swag bags made by hand

Unique, locally handcrafted gifts for select VIPs

Laser-cut award plaques

Decorations, such as large-scale origami pieces

Comfortable shoes, such as clogs from Scandic Footwear in Burlington, Massachusetts

Handmade stationery for invitations, menus, place cards and thank-you notes

Pottery for centerpieces, coffee mugs and vases

Flower arrangements highlighting area growers from a local florist

Robotic greeter, direction giver and information source

Local, artisan-baked goods

Chocolatier who uses local ingredients

Craft brewer

Handmade table linens