Louisiana's buoyant festivals enhance meetings
No trip to Louisiana is complete without sampling local culinary favorites such as gumbo, jambalaya, po'boys and crawfish etouffee, and experiencing a bit of jazz, zydeco, Cajun and brass band music. All these offerings are available throughout the year, but they are especially prominent during the state's many annual festivals.
"The festivals in Louisiana are a celebration of heritage and culture, and we celebrate them primarily through our food and music," says Terrie Birkel, CDME, vice president of Visit Jefferson Parish, located adjacent to New Orleans. "In our celebrations, the whole world is invited to join in."
Many planners arrange meetings during festivals so that they can be ensured of an upbeat, stimulating environment and provide attendees with ample opportunity to delve into local culture. The Cajun expression "laissez les bons temps rouler" (let the good times roll) is commonly shouted out at Louisiana festivals.
The most famous city in the state is New Orleans, home to the country's leading Mardi Gras festival. But many other cities in Louisiana have their own unique Mardi Gras festivals and, along with New Orleans, plenty of other celebrations.
"Each city has different kinds of festivals, and it's important to our culture that we keep celebrating these traditions that we hope will be carried on for generations after us, as they have been taught to us for generations," says Christy Lohmann, communications specialist for Visit Baton Rouge. "We have many well-known festivals in our state that have become bucket-list items for visitors and locals, and we love to see that continue."
Here's a look at the major festivals in some of Louisiana's most vibrant, colorful cities—New Orleans, Baton Rouge, Lafayette and Shreveport-Bossier.
New Orleans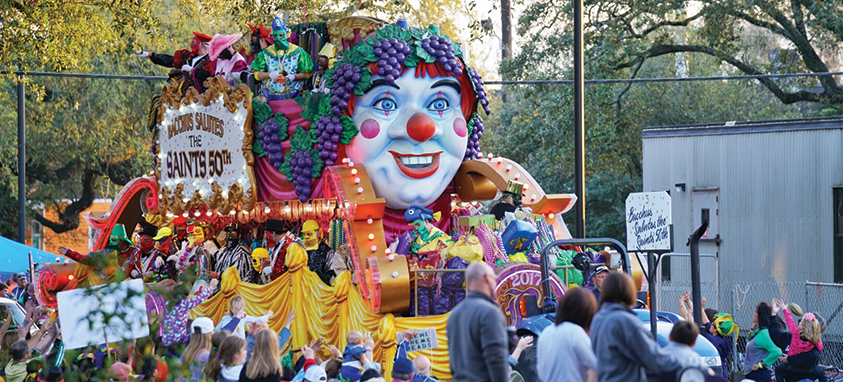 Simply put, the Crescent City is pure magic to meeting planners. Free flowing, with an unmistakably unique history and culture—including fabulous food and music—New Orleans is a sure bet to attract maximum numbers of attendees.
"Over the past 300 years, the city has been influenced by European, Caribbean, African and many other cultures, creating the unique melting pot—or gumbo—you see today," says Stephen Hahn, senior vice president of convention and sales strategy for New Orleans & Company, the city's convention and visitors bureau. "It is a city that inspires new ideas, new partnership and out-of-the-box thinking. New Orleans is the birthplace of jazz, a hub of celebration and a rich entrepreneurial ecosystem."
The city hosts more than 135 annual festivals, which not only define the culture and celebrate its kindred spirit, but also substantially support the state's economy.
Awesome Experiences
Mardi Gras, or Fat Tuesday, is the last day of the Carnival season, and falls on the day before Ash Wednesday, the first day of Lent. Most visitors arrive no later than the preceding Saturday to enjoy an extended weekend of festivities. In New Orleans, however, Mardi Gras celebrations begin on Twelfth Night (the Epiphany), Jan. 6, which marks the end of the 12 Days of Christmas, the conclusion of the holiday season.
"Beginning on the Twelfth Night, the city is obsessed with eating, costuming, bead-tossing and parading that increase in intensity as Ash Wednesday nears," Hahn says. "On the weekends leading up to Fat Tuesday, parades roll all over town. When you're not eating oysters and king cake, you can watch parades roll down St. Charles Avenue and tag along with marching krewes [organizations or associations that stage a parade or other event for a carnival celebration] as they wind their way into the French Quarter. Local krewes spend all year planning for the day they ride through the streets of New Orleans."
The spirit of Mardi Gras is embedded in the culture and lifestyle of New Orleans, and is experienced throughout the year, but is especially prominent during the Carnival Season, which is celebrated as a fifth season of the year.
Following Mardi Gras, French Quarter Festival, held for four days in April, features musicians from throughout Louisiana performing on more than 20 stages, playing everything from traditional and contemporary jazz to zydeco, R&B, New Orleans funk, brass band, folk, gospel, classical, cabaret and international. Local restaurants serve food and beverages in Jackson Square, Louisiana State Museum's Old U.S. Mint, JAX Brewery and Old Woldenberg Riverfront Park.
Satchmo SummerFest, honoring Louis Armstrong, also is held in April. It's a four-day festival featuring contemporary and traditional jazz, mostly from New Orleans. Restaurants provide outstanding local cuisine, including Armstrong-inspired dishes.
New Orleans Jazz & Heritage Festival, aka Jazz Fest, is held during a 10-day stretch in April and May, and showcases live jazz and many other genres of music associated with the city and state. It also features local chefs and craft artisans from throughout the world. Some 400,000 people attend the festival, which is held at Fair Grounds Race Course.
New Orleans Oyster Festival, a free event that takes place June 2–3 every year in Woldenberg Park, celebrates the French Quarter's unofficial title, Oyster Capital of America, while educating attendees about the benefits of eating foods from the Louisiana Gulf and raising funds for Louisiana coastal restoration. Unique dishes and flavors from various local restaurants are featured, along with live music, cooking demonstrations, arts and crafts, and oyster-shucking and oyster-eating contests.
The largest gay event in New Orleans, Southern Decadence, is an around-the clock street party that takes place each Labor Day weekend, mainly in the French Quarter. Featuring parades, dances and plenty of F&B, it has increasingly attracted a more diverse crowd, including people from the lesbian, bisexual, transgender and straight communities.
Meeting Venues Buzz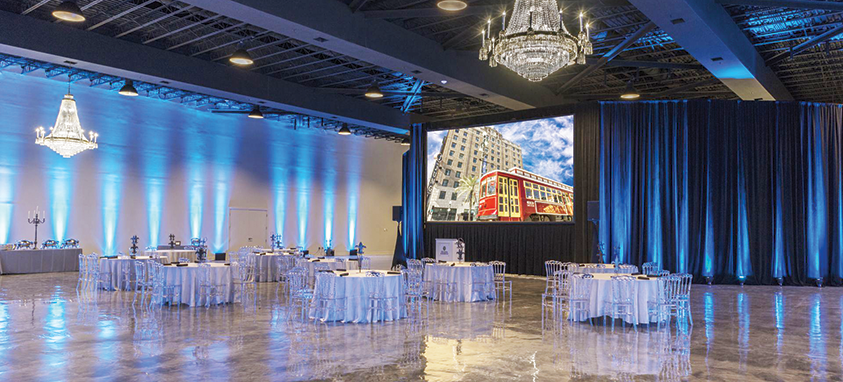 New Orleans' hotels provide 22,000 downtown guest rooms. One of the newest properties, NOPSI Hotel New Orleans, opened in July 2017 and is housed in the former headquarters of New Orleans' power and transportation company. It features 217 guest rooms and 14,000 sq. ft. of meeting space. Jung Hotel & Residences, housed in a renovated, historic 1850s structure, debuted in January 2018. It provides 207 spacious guest rooms and more than 21,000 sq. ft. of meeting space, including 15 rooms and a 12,000-square-foot exhibit hall.
InterContinental New Orleans offers 484 newly renovated, elegant guest rooms, first-class amenities, several food and beverage selections and 30,000 sq. ft. of meeting space,. The hotel offers easy access to New Orleans Morial Convention Center (MCCNO).
Newly renovated MCCNO is the sixth-largest convention center in the United States. It contains 1.1 million sq. ft. of contiguous exhibit space and is one of the most technologically advanced facilities in the country. One of the newest additions is a 225-foot-long rooftop herb and vegetable garden, which will grow seasonal crops that will be used by Centerplate chefs, MCCNO's food and beverage partner.
Scheduled to open in 2020, Four Seasons Hotel and Private Residences New Orleans will be situated in the historic, 33-story World Trade Center building in the Central Business District. It will include 336 guest rooms and 28,000 sq. ft. of meeting space.
Baton Rouge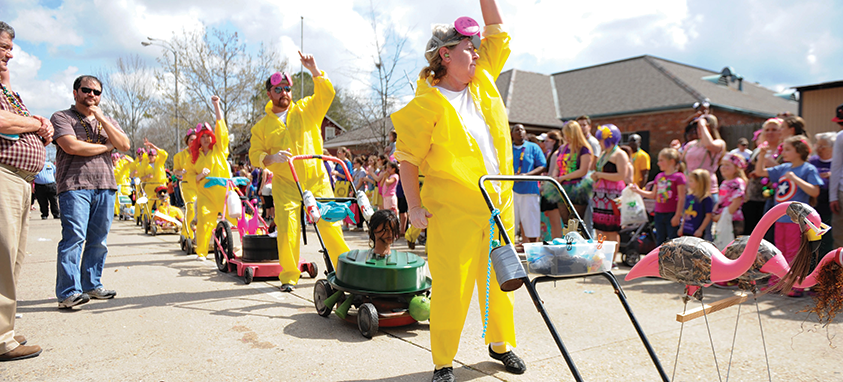 Baton Rouge sits on the Mississippi River, 81 miles northwest of New Orleans and 59 miles east of Lafayette. It's the capital of Louisiana and home to Louisiana State University, which gives it a college-town vibe. The city also features mild weather, a great mix of Creole and Cajun cultures in everything from its food to its music—and plenty of festivals.
First-time visitors are often puzzled by the many uses of the term "red stick" in the city.
"Baton Rouge translates to Red Stick in English," says Lohmann of Visit Baton Rouge. "It's a nickname you'll often hear when referring to our city. Many businesses use 'Red Stick' in their name."
Awesome Experiences
Mardi Gras in Baton Rouge kicks off with traditional floats, fancy balls and other entertainment. The annual parades include everything from beautifully designed floats to marching bands, costumed canines and lawn mower-pushing krewes. Parades begin with Mystic Krewe of Mutts Mardi Gras Parade in mid-February and run through Krewe of Spanish Town Parade in early March.
"We have some nighttime parades with New Orleans-style floats and our own take on Mardi Gras, as you will see at the Spanish Town Parade, which features the color pink, political satire and tons of flamingoes," Lohmann says. "The Southdowns Parade is a smaller float parade through one of Baton Rouge's most well-known neighborhoods, where you'll see a lawn-mower brigade, dancing groups and more."
Baton Rouge Blues Festival, which began in 1981, is one of the oldest blues festivals in the United States. Held on the Southern University campus in April, it honors the legend of home-grown artists, such as Slim Harpo and Rudy Richard. Visiting performers have included Buddy Guy and Bobby Blue Bland. A variety of food and art vendors also participate.
The hugely popular Louisiana Book Festival is a free, world-class literary celebration that features personal appearances by more than 100 prominent writers, poets and storytellers and a variety of book-related activities, including a writing workshop and the Authors Party. Food and drinks are available at the festival, which is held at Capitol Park downtown.
Red Stick Revelry on New Year's Eve begins with Red Stick Rising at North Boulevard Town Square. Groups can watch as a giant red stick ascends 60 feet above Town Square, where it remains until the new year officially arrives. The main festivities begin at 9 p.m., when six 3D lasers project over the audience while synchronized to live music. As midnight strikes, the light show is accompanied by the ceremonial dropping of the LED-lighted Red Stick and a fireworks display over the Mississippi River.
Meeting Venues Buzz
Baton Rouge Marriott Hotel unveiled a $25 million renovation last spring that included expanding and renovating the 299 guest rooms, remaking the lobby and 6,050-square-foot ballroom, creating a modern restaurant space for Stinky's Fishcamp (featuring oysters and wine) and updating technology. The 21-story hotel has 29,979 sq. ft. of meeting space.
A new meeting space, The Estuary at The Water Campus, sits on the Mississippi River. It's a world-class campus devoted to coastal research and sustainability, and houses scientists, researchers, and public and private businesses. It features 6,000 sq. ft. of meeting and event space, including a gallery with breathtaking views of the Mississippi River.
Lafayette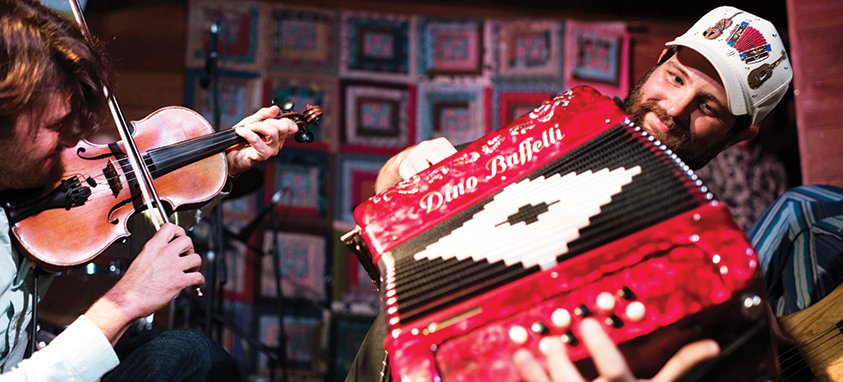 Located 135 miles northwest of New Orleans, Lafayette is in the heart of Cajun country, the birthplace of Cajun and zydeco music.
"It's full of people with a great joie de vivre (joy of living) who love to laissez les bons temps rouler," says Ben Berthelot, president and CEO of Lafayette Convention and Visitors Commission. "It's a place where every day, you can get immersed in the way of the Cajun and Creole people, and the traditions that are still celebrated."
Lafayette has earned high honors, including Happiest City in America (The Wall Street Journal), Tastiest Town of the South (Southern Living) and Best Food City in the United States (Rand McNally and USA Today).
Festivals provide a way for residents to celebrate all that is important to them—food, music, friends, family and having a good time.
Awesome Experiences
Lafayette's Mardi Gras celebration, which is held from the Friday before Easter to Fat Tuesday, is the second-largest in the state. Live music flows at many of the dance halls throughout the festivities. Groups can arrange for a VIP experience in which they have access to watch the parades in comfort while enjoying food and libations.
"And the most unique thing we offer for Mardi Gras is that just 30 minutes down the road, you can be at Courir De Mardi Gras, which comes from the way Mardi Gras was celebrated in France in the rural section, as opposed to the urban carnival," Berthelot says. "It's a one-of-a-kind experience."
The largest free outdoor Francophone festival in the country, Festival International de Louisiane celebrates the connections between Acadiana and the Francophone world. Hundreds of performing and visual artists from 15 countries, along with local artists, converge on seven stages across downtown Lafayette for five days of world music in April.
No, Scott Boudin Festival isn't named after a man named Scott Boudin. It's a celebration of boudin—a combination of rice, a special blend of seasonings and, traditionally, pork (although shrimp, crawfish or even alligator can be substituted), and all wrapped in a sausage casing. And the event is held on the municipal grounds in Scott, the fourth largest municipality in Lafayette Parish.
The festival celebrates the spirit of Scott's rich Cajun heritage. Boudin is a unique Cajun specialty, and its recipe has been passed down from one generation to the next. The three-day April fete also features other foods, arts and crafts, and music.
Also in April, Acadiana Po-Boy Festival, held at Parc San Souci in downtown Lafayette, celebrates the legacy of the humble po'boy sandwich, and promotes the culture and hospitality of Acadiana. The festival features unique arts and crafts, live entertainment, Po-Boy Eating Contest and Best of the Fest Po-Boy competition.
Festival Acadiens et Creoles, the world's largest free Cajun and zydeco festival, takes place over a four-day period in October at Girard Park. It offers an ideal opportunity for groups to discover the food, music and culture that make Lafayette so unique. For more than 40 years, the festival has featured nonstop music, dancing, food and crafts.
The Original Southwest Louisiana Zydeco Music Festival, the world's largest Zydeco and LaLa music festival, celebrates the spicy culture of Louisiana Creoles by highlighting, documenting preserving and enhancing their rich heritage at Yambilee Festival Grounds in Opelousas, 20 miles north of Lafayette. World-renowned and new zydeco artists are featured at the one-day, late-summer event, along with Creole foods, including jambalaya, red beans and rice, fried turkey wings, fried pig tails, boudin hog cracklins, seafood, sweet potato pies, pralines and even alligator on a stick.
Held annually in late October, The South Louisiana Black Pot Festival & Cookoff celebrates Cajun culture and cooking with two days of great music, dancing, food and camping. The festival is a cooperative of South Louisiana musicians, artists and Southern culture enthusiasts, creating an unprecedented gathering of south Louisiana's hottest roots bands and other bands from throughout the country. Cajun, zydeco, Creole, swing, hot jazz, blues, bluegrass, Americana, Irish and old-time performers are featured, as well as an old-fashioned black pot cook-off, an accordion contest and square dancing.
Meeting Venues Buzz
DoubleTree by Hilton Lafayette, set on the banks of the Vermilion River, recently underwent a major renovation that included creation of a larger lobby and updates to the entire property, which offers 327 guest rooms and 22,000 sq. ft. of meeting space, including 18 breakout rooms.
Townplace Suites by Marriott, with 74 guest rooms and 400 sq. ft. of meeting space, is under construction, with no opening date set.
Shreveport-Bossier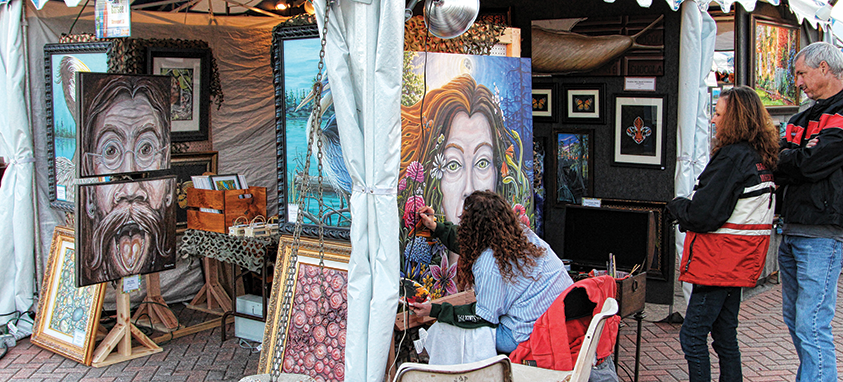 Situated in the northwest corner of Louisiana, Shreveport-Bossier is an action-packed area that features 24-hour gaming on six riverboats casinos, nightlife, riverfront entertainment and delectable local cuisine.
"Shreveport-Bossier, 'Louisiana's Other Side,' is a mixture of spicy Cajun attitude and wide-open Texas spirit: It's where Creole meets cowboy," says David Bradley, vice president of sales and services for Shreveport-Bossier Convention and Tourist Bureau. "The best way to get to know us is to head to any of our amazing festivals—from Mardi Gras and jazz music to crawfish and gumbo, we love to celebrate it all."
Awesome Experiences
Mardi Gras begins on the Twelfth Night and extends until Fat Tuesday in the Shreveport-Bossier community, which features the largest Mardi Gras parades in north Louisiana, with some 585,000 spectators attending the four largest parades. They are more family-friendly than those in many other cities and include daytime parades. Krewe of Centaur Parade, Krewe of Gemini Parade and Krewe of Highland Parade are recognized as three of the Top 20 Events in the region by Southeast Tourism Society.
The Shreveport-Bossier Convention and Tourist Bureau hosts the annual Red River Mardi Gras Bash during Krewe of Centaur Parade in downtown Shreveport. Groups of 10 or more are offered VIP treatment and behind-the-scenes access. Following the parade, groups often enjoy nearby nightlife and casino gaming.
During Battle of the Gumbo Gladiators, held in March at Festival Plaza in downtown Shreveport, culinary teams of Gumbo Gladiators battle for the title of Ultimate Gumbo Gladiator. Gumbo categories include seafood, lagniappe and chicken, and sausage.
The following month, Festival Plaza is home to Ark-La-Tex Ambassadors BBQ Cook-Off, which attracts top barbecue teams from throughout the South. Barbecue lovers can sample ribs, brisket, sausage and more while enjoying live music and a host of exciting activities.
Also in May, arguably the premier crawfish festival in the South, Mudbug Madness Festival, takes place at Festival Plaza. It features Creole and Cajun cuisine, nonstop Cajun and zydeco music, activities and food. Southeast Tourism Society named the festival one of the region's Top 20 Events.
Red River Balloon Rally, offered in July at Louisiana State University Shreveport, features tethered, hot-air balloon rides as well as a local culinary favorites, craft vendors, live music and fireworks to cap off the evening.
The ever-popular Red River Revel Arts Festival takes over Festival Plaza for nine days each October. Food, live music, activities and visual and performing arts experiences from top local and regional artists are offered.
Meeting Venues Buzz
Remington Suites Hotel and Spa, Shreveport-Bossier's premier boutique hotel, unveiled a new renovation to its fourth-floor suites last fall. The floor now features four suites that have the option of utilizing adjoining rooms. Each suite as access to a common area with an expansive media/game room and a commercial kitchen. The entire floor can be rented, and is ideal for groups.
The 22-room hotel also boasts a rooftop venue space that can host dinners and events, and connects to a ballroom featuring elegant chandeliers, a full-service bar, exposed brick walls and a grand view of downtown Shreveport. Remington offers 15,000 sq. ft. of event space.
A Parish Full of Life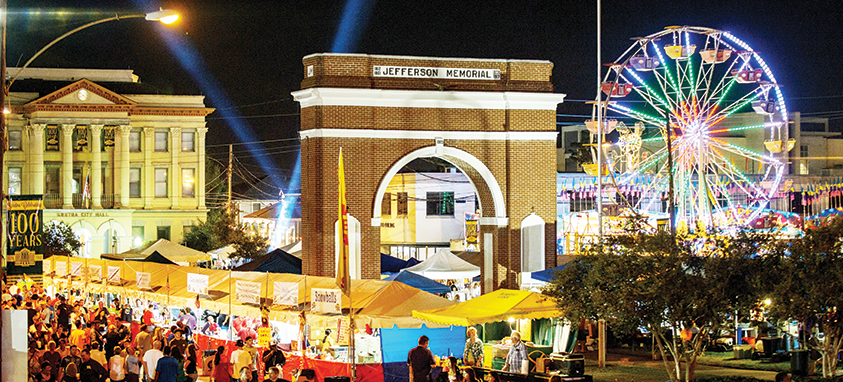 Situated just west of New Orleans, lively Jefferson Parish is Louisiana's most populous parish, with around 440,000 residents. It features great diversity in both its people and landscape. It truly is une paroisse pleine de eie (a parish full of life).
"The people of Jefferson Parish are Louisianans, yes, but sprinkle our great region of the state with French, Creole, Hispanic, Asian, Italian, German and Middle Eastern culture," says Terrie Birkel of Visit Jefferson Parish. "These cultures come together seamlessly, creating experiences in traditions of family, faith as well as cuisine. The landscape is equally diverse, from the metropolitan cityscape—which includes Louis Armstrong International Airport [MSY], two convention centers, business districts, restaurants, shopping and shipping industries—to the lush marshlands, swamps and bayous, abundant wildlife and seafood."
Jefferson Parish celebrates its culture through its food and music, both of which are abundantly featured in its festivals. Mardi Gras, which lasts from late February to Fat Tuesday, is ideal for groups wanting to experience the traditional parades of New Orleans, since the krewes and riders model much of their pageantry after them. The parades take place in several parish locations.
"The parades are attended by families and children, and feature interaction among neighbors and families—you will not experience the crowds and infamous revelry of the French Quarter," Birkel says.
Visit Jefferson Parish produces a major event, Family Gras, which takes place during the first weekend of Mardi Gras at Clearview Center in Metairie. Featuring food, music, art and carnival parades, this free event provides a great opportunity to celebrate Mardi Gras in the parish.
Gretna Heritage Festival, held the last weekend of September, honors the parish's German and Italian heritage with national and local musical acts, food, crafts, the German Beer Garden and the Italian Village. It takes place in the heart of Gretna, a historic district that encompasses 25 city blocks.
St. Clement of Rome Oyster Festival is a three-day, October event in Metairie that features live local bands each day and evening, along with rides, games, rides, beer and food, including oysters, oysters and more oysters!
In 1973, Louisiana Gov. Edwin Edwards proclaimed the parish's Bridge City the Gumbo Capital of the World, inspiring the annual Bridge City Gumbo Festival. Besides arguably the best gumbo in the world, groups can enjoy jambalaya, New Orleans style red beans and rice with sausage and plenty of other foods. The three-day festival provides continuous live entertainment, including Cajun, country, zydeco, jazz, blues and rock 'n' roll music. Carnival rides and games, as well as arts and crafts booths, are also featured.