MGM Grand breaks ground on its conference center and Stay Well Meetings expansion
Las Vegas is adding meeting space to prepare for an even bigger tomorrow
Imagine the magic you could perform with 2.2 million sq. ft. of meeting and exhibit space. That is the amount of convention space scheduled to open in Las Vegas in the next three years. This is in addition to more than 11 million sq. ft. of diverse meeting, exhibit and trade-show space already in this event oasis. These are not your grandparents' meeting rooms, either. They are designed to be more connected, healthier and more flexible than ballrooms of yore. So, get your planning hats on, because the inspiration starts here.
An Even More Muscular Convention District
The $1.4 billion news is that Las Vegas Convention and Visitors Authority (LVCVA) is in the midst of an expansion and renovation of Las Vegas Convention Center to add 600,000 sq. ft. of exhibit space, new meeting rooms and other amenities designed by tvsdesign/Design Las Vegas. Yes, the home of the annual Automotive Aftermarket Industry Week gathering of 160,000 people, the National Marijuana Business Conference congregation of 10,000 and 21,998 other meetings in 2016 will be even bigger by the end of 2020, just in time for CES 2019.
The upgrades are part of a massive three-phase plan that will create a convention center district. New LVCVA President and Chief Operating Officer Steve Hill says the addition gives clients the opportunity to grow and expand their shows. "It also provides the ability to bring new shows to the destination," he adds.
At the same time, Caesars Entertainment Corporation will bulk up with 300,000 sq ft. of additional meeting space when the $375 million Caesars Forum opens. The all-new build represents a modern vision for meetings that includes a 100,000-square-foot outdoor plaza, the two largest pillarless ballrooms to ever be built—each measuring 108,000 sq. ft.—and two additional 40,000 square-foot ballrooms.
Mike Massari, senior vice president of Caesars Entertainment, sees the opportunity as a blank canvas. "This will be a place where event planners can do things that haven't even been thought up yet," he says. Massari also hailed the advent of all the new meeting space because the ratio has tilted too much toward guest rooms in the past. "This will fill the gap," he says.
MGM Grand announced at 2017 MPI World Education Congress that it would add 250,000 sq. ft. to MGM Grand Conference Center, for a total of 850,000 sq. ft., with plans to host the first opening session by November 2018.
MGM Resorts markets its Las Vegas conference properties—MGM Grand, Aria Resort & Casino, and Bellagio—as a campus with 4 million sq. ft. of meeting possibilities. The new space will feature Stay Well Meetings program amenities designed by Delos, with input from advisory board member and wellness expert Dr. Deepak Chopra. The goal is to create a meetings experience that is more conducive for mental acuity and achieving business objectives.
Michael Dominguez, senior vice president and chief sales officer of MGM Resorts International, explains that in addition to luring more groups to the meeting capital of the world, the expansion is designed to continue serving a growing number of customers who return each year with larger meetings; they also bring more sophisticated technical requirements for flexible spaces that can accommodate everything from virtual reality presentations to impromptu brainstorming sessions. "Customers are asking for more space. Some of our best customers are continuing to grow," he says.
MGM has also been busy building up the offerings at Aria. A total of 200,000 sq. ft. of sparkling new convention center space will cater to a discerning audience eager for spaces that bring in light and offer flexibility. Construction began in 2016 and was scheduled for completion in February, bringing the total gathering space to 500,000 sq. ft. of LEED Gold-certified space on three levels, while also affording privacy so multiple groups can meet at the same time without feeling crowded. The crowning glory will be 22,000 sq. ft. of multiuse event space with glass doors opening into a 7,000-square-foot terrace overlooking The Park and T-Mobile Arena.
Tony Yousfi, vice president of sales for Aria (and Vdara Hotel & Spa), lauds the easy accessibility of the bright, open meeting space. "You can walk from your sleeping room without going through any casino space, and literally within minutes you reach a convention and performing arts theater that is much more than a convention space," he says.
Down The Strip, a $95 million expansion at South Point Hotel, Casino & Spa added a 25-story third tower (the height of a football field standing on end) that included 830 guest rooms and 10,000 sq. ft. of conference space, for a total of 160,000 sq. ft. of meeting and convention space. Plans for another 60,000 sq. ft. of casino and restaurant space is in the works.
It is marketed as the only property in town where you can ride a horse in the morning, play bingo after lunch, catch a matinee at the theater, eat dinner at a AAA Four Diamond restaurant, and see a world-renowned act in the showroom—and never leave the resort.
Treasure Island Resort & Casino is spending $7 million to add 12,500 sq. ft. of meeting space overlooking an outdoor pool. This brings the total group size that can be accommodated to 1,900, with lots of options for breaking into smaller venues.
A New Look at Event Space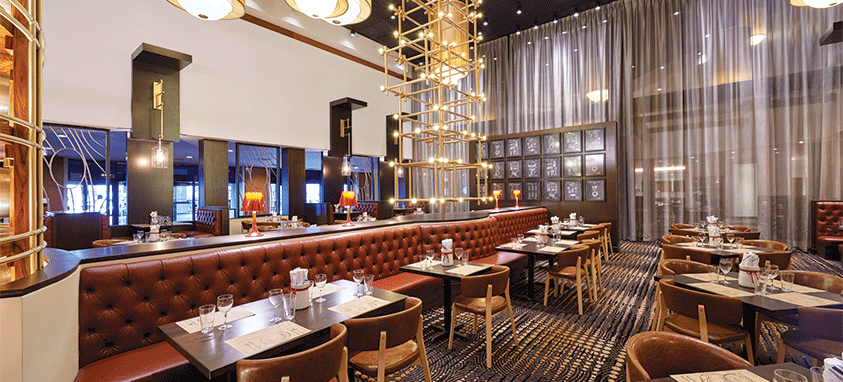 Nearby, Cosmopolitan of Las Vegas is refreshing 2,895 guest rooms with a modern, luxurious design from Virserius Studios. Look for fun touches such as custom damask wall treatments that serve double duty as a bed canopy, and shadow motifs on the wall between the shower and bedroom. The 21 stunning spaces completed in February 2017 have become favorite VIP reception areas, with a total of an opulently detailed 63,000 sq. ft.
A virtual concierge, managed using in-room iPads, can book everything from restaurants to show tickets, and control lighting and temperature. Event planners can use the iPads to send messages to attendees, reminding them of important sessions or informing them of a change in transportation plans. William P. McBeath, president and CEO, explains, "The past two years have been a transformative process that has reinvigorated gaming, food and beverage, and will now include the complete redesign of our hotel rooms."
In the spirit of everything classic is new again, Harrah's Las Vegas celebrated the 80th anniversary of Bill Harrah opening a bingo parlor in Reno in 1937 with a $140 million face-lift of his namesake property on The Strip. The renovations include a 2,000-square-foot penthouse with superstar metallic features and a private game table.
After purchasing what was International Hotel and then Las Vegas Hilton in 2014, and renaming it Westgate Las Vegas Resort & Casino, Westgate Resorts poured $100 million into renovations on the historic property adjacent to Las Vegas Convention Center. The retro-hip look plays off celebrity visits from the likes of Elvis Presley back in the day, and includes pop touches in 225,000 sq. ft. of meeting space and Edge Steakhouse.
Meanwhile, The Westin Las Vegas Hotel & Spa transformed itself into a nongaming, nonsmoking property. Four meeting rooms have been added, bringing the total gathering space to more than 30,000 sq. ft. The 826 guest rooms have all been updated, too. Jake & Eli, a new restaurant, pays homage to the two innovators credited with creating American bourbon.
Forward Thinking
Despite Las Vegas visionary Steve Wynn's departure from Wynn Resorts in February after accusations of sexual harassment, new leadership pledged to continue with a planned $1.5 billion expansion that includes a 1,000-room hotel tower, 260,000 sq. ft. of additional meeting space, and a lagoon area with an island, beach and boardwalk on the site of the 130-acre Wynn Golf Club. Opening had been penciled in for as early as 2020.
That expansion is in addition to Wynn Plaza, which opened in 2017 with additional retail connected to Encore Las Vegas. Chris Flatt, executive vice president of sales and marketing for Wynn Resorts, said in an interview in October that additional meeting space and an 85,000-square-foot pillarless ballroom would exceed the high bar already set at Wynn Las Vegas and Encore Las Vegas. "We don't just build meeting rooms; we build creative spaces," she said.
Beyond Wynn, the semi-abandoned Fontainebleau casino is rumored to be coming back to life as a JW Marriott "Edition" property called The Drew Las Vegas, with 4,000 guest rooms, 500,000 sq. ft. of meeting space and 20 restaurants. Look for this bright light on the north end of The Strip by 2020.
---
Think You Know Vegas? Think Again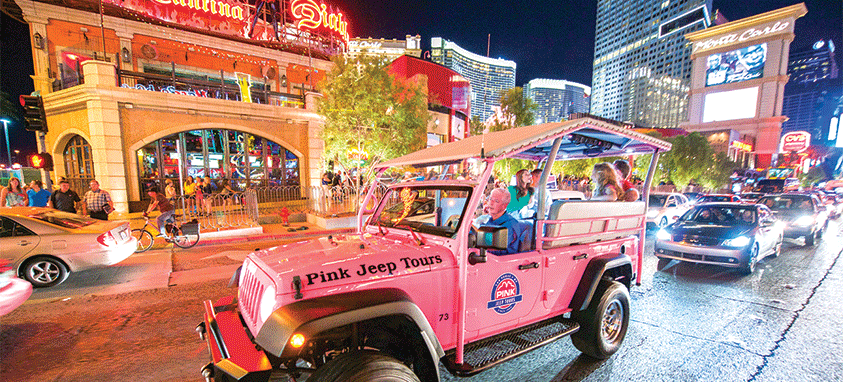 Intimate experiences await beyond the buffets
Imagine a Las Vegas conference. Visualize the flashing lights, massive ballrooms and big-name performers. Now forget all of that. There is another side of Vegas that offers more personalized alternatives to the massive hotels and electronic poker tables. Smart Meetings founder Marin Bright embarked on a quest to find that softer, more authentic Vegas. You would be surprised how much is hidden behind the glowing billboards, right on The Strip.
Room for a Boutique Experience
Colossal hotels have a lot to offer in the way of large room blocks that can be conveniently packaged with meeting space and F&B minimums, but a number of boutique hotels within the bigger properties afford more premium surroundings for small groups or VIPs, while still counting toward those package requirements.
Nobu Hotel Caesars Palace features 181 modern, Asian tranquility-inspired rooms tucked behind a glowing, orange-onyx entryway in 3,960-room Caesars Palace. A reception in 1,850-square-foot Nobu Suite includes a signature teppanyaki sushi bar and private sushi chef. Start with an enlightening sake tasting, then leave decisions up to the chef, who tailors cold sashimi innovations with yakimono hot off the grill to fit tastes and dietary requirements of any group.
Since you are inside Caesars Palace, a trip to Qua (which means "to be present") Baths & Spa is one way for groups to relax together, jumping from Roman bath to steam room, to arctic ice enclave and back. This 50,000-square-foot sanctuary also offers crystal-free, diamond-tip microdermabrasion and hydrotherapy facials.
Or, consider The Cromwell Las Vegas, an updated incarnation of what was Barbary Coast. This 188-room property retains French, romantic touches with playful use of scale in mirrors, lighting, art and a peekaboo shower. It also incorporates modern conveniences with dramatically lit corridors, grounded in poetry (French and English prose is literally woven into the carpet) that set the property apart from the expected even before the room key is slipped in the door.
Eating at a Higher Level
Buffets are an efficient way to feed large groups, but sometimes you want to treat guests to a more intimate, memorable meal. Paris Las Vegas Hotel offers two choices guaranteed to impress.
Lunch at Hexx Kitchen and Bar is a bright, indoor-outdoor dining option with front-row seats facing The Strip and Bellagio fountains. Follow up the signature "elevated American cuisine" options with a chocolate tasting at your table led by a trained cacao expert, who can teach the finer points of aroma, texture and notes in each varietal (Equadorian dark chocolate is a favorite for its redolence of berries).
For a breathtaking dinner, head upstairs to Eiffel Tower Restaurant, 110 feet above it all, where velvety crescent booths serve up stunning panoramas of The Strip. Chef J. Joho woos with classic French favorites, including hundreds of specialty souffles floated each evening. After dinner, another elevator ride up to the Eiffel Tower Observation Deck on the 50-story, exactly half-scale replica of the 1889 World's Fair landmark is the pinnacle of Vegas views.
Can't decide where to take the group? Lip Smacking Foodie Tours offers mobile Boozy Brunches, Savors of The Strip, and even a Savory Bites and Neon Lights helicopter tour. So, feel free to mix it up.
Meeting Outside the Box
Farther down The Strip, two architectural marvels await. Smith Center for the Performing Arts, an Art Deco-like structure of intricately detailed limestone and quartz, offers unique meeting space that will resonate with even the most refined tastes. It is worth the 6-mile limo trip, whether for a jazz performance in the 240-seat Myron's Cabaret Jazz club or a touring Broadway performance in Reynold Hall. Alcoves of all sizes fitted with the same Art Deco attention to detail make for ideal reception areas before moving to the world-class, tiered performance theater.
Next door, Frank Gehry-designed Keep Memory Alive Event Center at Lou Ruvo Center for Brain Health is a 9,200-square-foot blank canvas with 75-foot ceilings and 199 asymmetric windows. The celebrated architect even designed the furniture, bars and linens. Four Seasons chef Gustav Mauler created the catering menu. Rental proceeds go to research, treatment and study of neurological disorders.
Both are accessible from Golden Nugget Las Vegas Hotel and Casino and its Grand Ballroom, which can manage groups as large as 1,100 people.
Getting Out of Town
For a team-building adventure that goes beyond the ordinary, consider using The Strip as the starting point for an adventure that takes advantage of southern Nevada's natural beauty. Pink Adventures Tours' jeeps can pick up attendees in groups of 10 and whisk them in air-conditioned luxury a half-hour away to Red Rock Canyon, a scenic National Conservation Area, where a short scramble up a limestone "topple" offers a new perspective on the bright lights in the distance.
Trained guides can narrate the journey with relevant trivia based on the group's goals, or kick off a scavenger hunt around a theme. Bring box lunches from the hotel and eat there, or plan a barbecue for up to 200 people at nearby Spring Mountain Ranch. Modifications include a Mini Baja Chase Dune Buggy Adventure from SunBuggy or a Maverick Breakfast Ride to watch the sunrise over the oxide-streaked rocks from Wild West Horseback Adventures.