The Liberty Bell Center, Philadelphia
Ambitious modernization of vital areas lures meeting groups
Pennsylvania is a rich and varied state, home to two large cities—Philadelphia and Pittsburgh—as well as Valley Forge and other significant Revolutionary War-era historical sites. It also features impressive mountains and rivers, and fertile farming regions.
Much of the Keystone State has been experiencing substantial development recently, which has made it an even more attractive destination. This, in turn, has piqued the interest of planners and their groups, as in the case of Pittsburgh.
"Pittsburgh has experienced strong growth in the number of hotels built in the last 10 years, so there is a lot more variety for meeting planners to choose from when planning their events," says Karl Pietrzak, vice president of convention sales for Visit Pittsburgh. "There are a lot more people living downtown than there were 10 years ago, and this has led to a lot of amenities becoming available to residents, as well as visitors.
"We have bike lanes throughout downtown, as well as bike rentals that make it easy to get around on two wheels. Many new restaurants have opened in the last few years, offering a great variety at every level of dining experience."
Philadelphia and Lehigh Valley also are attractive areas that are in the midst of an ambitious growth phase. Here's a look at some of the most exciting features that all three places offer to meeting groups.
Philadelphia
Located in the far southeast corner of Pennsylvania, Philadelphia is the largest city in the state and the sixth-largest city in the United States, with a population of more than 1.5 million people. Philadelphia was named by its founder, William Penn, and has many nicknames, including "The City of Brotherly Love," from the literal meaning of the city's name in Greek. It is derived from the Ancient Greek terms philos (beloved, dear or loving) and adelphos (brother, or brotherly). Some have evolved the moniker to "The City of Brotherly Love and Sisterly Affection."
"We were fortunate to have a city planner in the 1600s who envisioned grand parades and global scholarly gatherings happening here," says Rick Staub, vice president of the convention division for Philadelphia Convention & Visitors Bureau. "William Penn's infrastructure and sentiment remains in place today and has served as fertile ground to some of the most important meetings in America's history. His foresight is still being recognized today, as Redfin's No. 5 Most Walkable City in America."
Why we love it: The city's booming millennial scene and attractive new features provide a balance to its abundance of legendary historical sites.
"The streets are buzzing with activity as young professionals spill into downtown restaurants and bars after work," Staub says. "Millennials have given the city an organic vibrancy and have helped to attract investment into the food and retail sectors.
"New communal spaces are attractive for groups, as well, with amenities like the Schuylkill River Trail, an elevated boardwalk along the banks of the Schuylkill River and the newly renovated Reading Viaduct Park, located just a few blocks north of the Pennsylvania Convention Center."
Standout feature: Philadelphia is arguably the United States' most significant historical city, with such attractions as The Liberty Bell Center, housing the 2,080-pound Liberty Bell; Independence Hall, site of the Constitutional Convention; Congress Hall, home of the U.S. Congress from 1790 to 1800; The Betsy Ross House, where the American flag was created; Elfreth's Alley, the nation's oldest continuously inhabited street, dating back to the early-18th century; The President's House, home to both George Washington and John Adams; Museum of the American Revolution, containing art and artifacts from the period; and National Constitution Center, dedicated to honoring and exploring the U.S. Constitution, drafted a few blocks away.
Unique meeting facility: Flavor Philadelphia, one of the city's most unique culinary attractions, is available at Loews Philadelphia Hotel. The hotel has partnered with some top local artisan food and beverage makers to offer POD Market and Bank & Bourbon. Highlights include La Colombe, which borrows from ancient and modern coffee traditions; Metropolitan Bakery, with handmade pastries, snacks and granola; and Saint Benjamin Brewing, which features unique beers brewed in a historic Philadelphia carriage house. The hotel offers 581 guest rooms and 47,000 sq. ft. of meeting space.
Downtime option: One of America's largest and oldest public markets, Reading Terminal Market offers a huge selection of locally grown and exotic produce, locally sourced meats, and top seafood, cheeses and confections. The market, housed since 1893 in a National Historic Landmark building, also features a wide variety of restaurants as well as culinary-related items such as cookbooks, table linens, kitchenware and fresh-cut flowers. It accommodates private events for up to 4,000.
Surprise your group: Philadelphia's Magic Gardens, a nonprofit art museum and gallery space, is located in the art environment of Isaiah Zagar, an award-winning mosaic mural artist whose work can be found on more than 200 public walls throughout Philadelphia and around the world. The half-block museum includes an immersive outdoor art installation and indoor galleries.
Zagar created the space using nontraditional materials such as folk-art statues, colorful glass bottles, bicycle wheels, hand-made tiles and thousands of glittering mirrors. The site is filled with visual anecdotes and personal narratives relating to Zagar's life, family and community, as well as to influential art history figures, and other artists and environments. Guided group tours are available, and spaces in the museum can be rented on Mondays, Wednesdays and Thursdays.
Pittsburgh
Pittsburgh, with a population of more than 305,000, is the second-largest city in Pennsylvania. It's situated in the southwest part of the state, 304 miles from Philadelphia, at the confluence of the Allegheny, Monongahela and Ohio rivers, which are being revitalized. Pittsburgh is called "the Steel City" due to its more than 300 steel-related businesses and "City of Bridges" for its 446 bridges.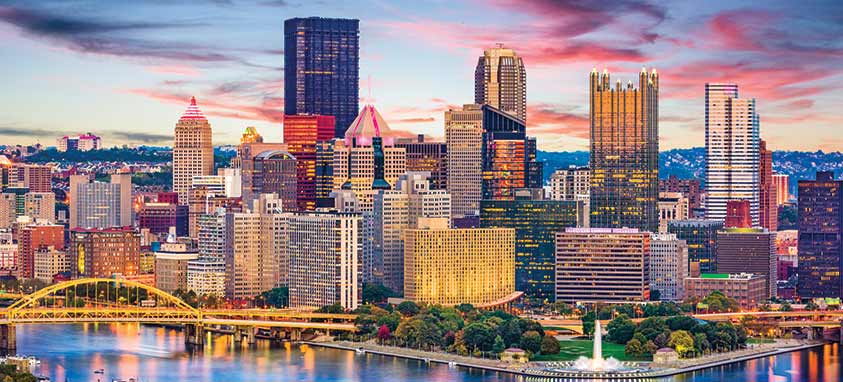 "Pittsburgh is easy to get to, as it's geographically located within 500 miles of more than half of the North American population," Pietrzak says. "It's also affordable, so our city offers a strong value compared to many other destinations. And downtown Pittsburgh is very compact, making it easy to walk to restaurants, shopping, attractions and sporting events from any downtown hotel."
Why we love it: The downtown area of Pittsburgh, like Philadelphia, is in the midst of a dramatic transformation that is heavily influenced by millennials. This has created a dynamic environment that includes a thriving high-tech industry and hundreds of start-ups. Several new hotels have opened downtown and more will debut soon, including AC Hotel Pittsburgh Downtown.
Standout feature: Less than a decade ago, no one could have foreseen the explosion in Pittsburgh's culinary scene. The Steel City, which was perhaps best known for Italian bread sandwiches from Primanti Bros., now boasts every type of food imaginable, earning it the ranking of No. 1 food city in the United States from Zagat in 2015.
"Most of the new restaurants are independent and are being opened by young chefs with unique visions as to what they want to offer," Pietrzak says. "Pittsburgh is much more affordable for new chefs to open restaurants than many other cities, such as New York, Philadelphia and Washington, D.C., so chefs from those cities are coming to Pittsburgh to open their dream restaurant."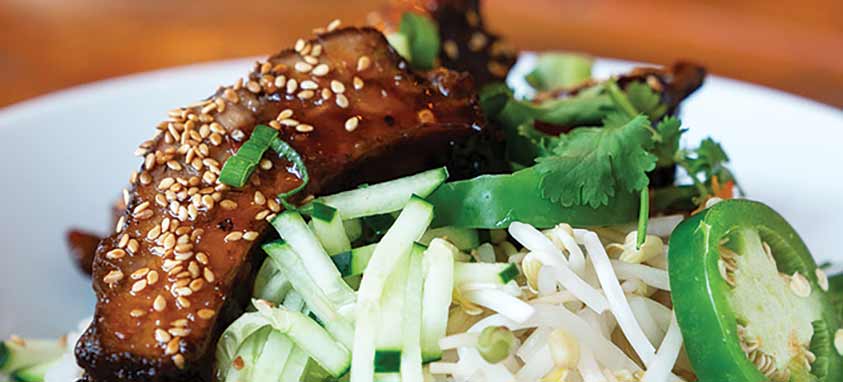 Two new spots, Smallman Galley and Federal Galley, are playing a major role in the Pittsburgh culinary scene by giving aspiring restaurateurs a forum to hone their craft, develop business acumen and build a following. The two restaurant complexes are great for groups and can accommodate private events.
Unique meeting facility: Since opening its doors in 1916, Omni William Penn Hotel has played a starring role in the city, hosting heads of state, politicians, movie stars and musicians, among others. And they've made some unusual requests: Michael Jackson had a gym installed next to his suite, actor and comedian Jackie Gleason ordered a bucket of ice cream from room service, and Liberace craved a birthday cake at 2 a.m., so a bellman found a bakery to deliver one within an hour. The 597-room property offers 52,000 sq. ft. of meeting space.
Downtime option: Just Ducky Tours takes attendees on a fully narrated, one-hour adventure in a World War II amphibious vehicle. The tour begins in historic Station Square and then proceeds through the city's business and cultural districts before splashing into the river. Tours are available from April 1 through Nov. 30. Private tours, including team-building excursions, can be arranged for groups of up to 210, in the seven boats.
Surprise your group: One of the city's totally unique features is The Nationality Rooms, located inside the Cathedral of Learning on the University of Pittsburgh campus. Each of the 30 working classrooms is designed and decorated to reflect the heritage of one of the city's ethnic groups. Guided group tours are available for groups of 10 or more; if tours take place when school is in session, rooms being used for classes can't be visited.
Lehigh Valley
The Lehigh Valley metropolitan region consists of Carbon, Lehigh and Northampton counties in eastern Pennsylvania, and Warren county on the western edge of New Jersey. The valley is the fastest-growing and third most-populous region in Pennsylvania, with a population of more than 820,000 residents. The region's largest city, and the third-largest in the state, is Allentown, which has a population of more than 120,000 and is 64 miles northwest of Philadelphia.
"Over the past decade, Lehigh Valley has seen a boom in economic development, leading to more options for hotels, as well as off-site attractions, dining options and more," says Suzanne K. Stianche, national sales manager for Discover Lehigh Valley. "Groups will find a plethora of things to do beyond the boardroom."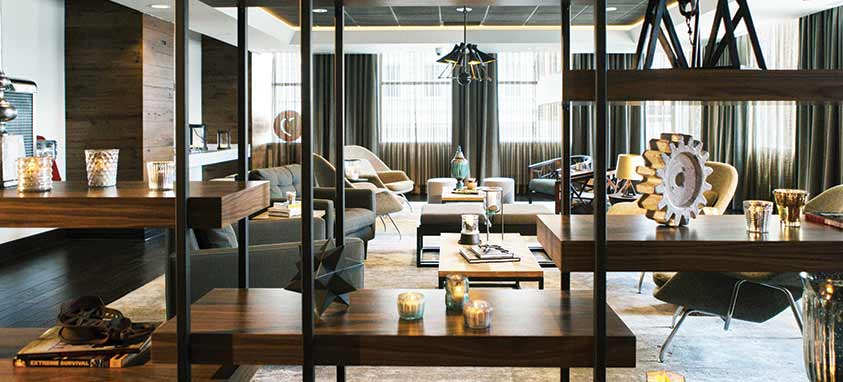 Why we love it: Throughout Lehigh Valley, historic structures have been redeveloped, bringing new energy to spaces that once were bustling with more traditional activity. In downtown Allentown, for example, Renaissance Allentown Hotel, which occupies the former spot of Dime Building (a bank) features the facade of the old building, but the interior is decidedly modern, with 170 luxurious guest rooms, a restaurant featuring locally sourced fare and 17,932 sq. ft. of flexible event space.
Steps away is Vault 634, also lodged in a former bank (Lehigh Valley Trust Company). Vault 634, which opened this spring, is a meetings and events facility that integrates gilded age opulence with luxury amenities. Vault 634 can accommodate 225 guests at a seated event and more than 400 guests for a cocktail reception. The lavish Grand Hall features marble-fluted pillars, gold-leafed crown molding, five authentic Hess Chandeliers and four antique vaults.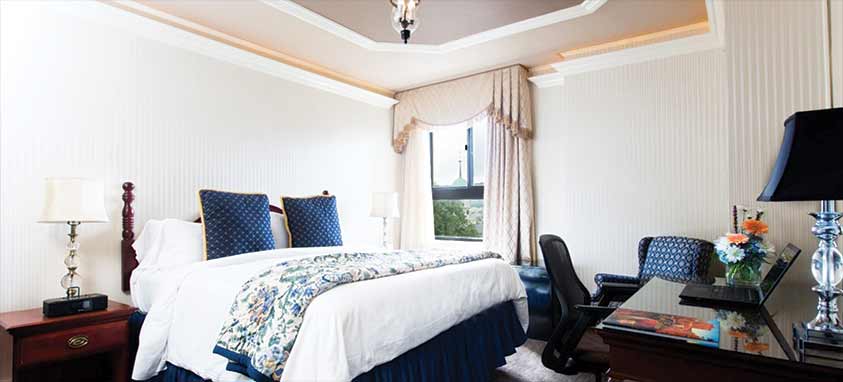 Standout feature: Lehigh Valley is known for its many historic buildings, and there's no better place to sample them than Bethlehem, founded by Moravians (a West Slavic ethnographic group from the Moravia region of the Czech Republic), who named it after the Biblical town Bethlehem in the central West Bank of Palestine. The National Historic Landmark District includes more original structures than Colonial Williamsburg and features the settlement of the Moravian community. The district was nominated to the U.S. Tentative List for UNESCO World Heritage Designation. Tours and other experiences of the district are available through Historic Bethlehem Museums & Sites.
Unique meeting facility: In the heart of the historic district of Bethlehem, Historic Hotel Bethlehem occupies the former site of First House of Beth lehem, built in 1741 by missioning Moravians in the wilderness. The upscale hotel features restored 1920s decor, 125 guest rooms, elegant dining at 1741 on the Terrace and more than 14,000 sq. ft. of meeting space. Guests and employees of the hotel have reported observing ghosts in the third-floor exercise room and lobby areas, kitchen/restaurant area, boiler room and room 932, known as "Room with a Boo."
Downtime option: One of the most popular downtime options for groups in Lehigh Valley is a visit to the oldest guitar-making company in the United States, C. F. Martin & Co., in Nazareth, located 12 miles from Bethlehem and 15 miles from Allentown. The company, which was established in 1833, offers tours of its factory floor that explain the guitar-making process—which consists of 300 steps! The site also features Martin Guitar Museum, which blends music history, culture and craftsmanship in its displays, and showcases more than 170 exquisitely crafted guitars that parallel the company's history. Private group tours are available.
Surprise your group: Crayola Experience in Easton, less than 11 miles northeast of Bethlehem, offers 28 fun activities for the young and young at heart. Great for team-building, the colorful adventures enable participants to explore art and technology, express their creativity and experience color in a whole new way. Private group activities, including outings, can be arranged.