There's a whole lot in the bowl besides the Big Apple
There are 62 counties in New York State. Only five of them comprise New York City. As planners and meeting attendees plant tentative toes back at in-person gatherings, many of those 57 other counties look more appealing than ever. You may not know them, but they are easily drivable from much of the Eastern Seaboard. And often uncrowded. And distinctly idyllic, with glorious backdrops of unspoiled nature and year-round attractions. Did we mention attractively priced? Yes, that too.
More: New York: Connecting to Nature
Many would add, particularly welcoming to that list. The "hidden" New York is accustomed to working a little harder for its place in the sun; it's learned how to avoid being overshadowed by the bright lights of the big city. This rest of the Empire State wants to win—and keep—your business.
So, here's an update on where to dip deep to discover delights that, besides the Big Apple, await in the bowl.
Albany County
The Desmond Hotel, Albany
Its county seat—and the state capital—is the city of the same name. As the oldest continuously chartered city in the United States, Albany has a history of hosting important meetings—and has been doing so since 1609. Yet it is also a vibrant, modern city of just under 100,000 with a booming tech corridor uptown and bustling downtown. It's conveniently located in the middle of the state and easy to reach via major highways.
Albany has been resourceful during the pandemic, capitalizing on its historic past as a Dutch trading center with virtual tours of historical homes and buildings and the Erie Canal lock. A recent meeting included Albany ale tasting, guiding online meeting-goers through 400 years of brewing culture that included craft beers shipped to attendees.
Albany Capital Center (ACC) has teamed with its audiovisual partner to offer a full suite of services for hybrid and virtual meetings. ACC, a dramatic new glass structure, is the capstone of Capital Complex, the largest combined meeting venue in the region, at 159,000 sq. ft. The state-of-the-art facility offers 22,500 sq. ft. of ballroom and exhibit space, six meeting rooms, plus prefunction space.
Climate-controlled walkways connect ACC to Empire State Plaza, The Egg Performing Arts Center, Times Union Center (a sports and special event arena for up to 7,000) and Renaissance Albany Hotel, which opened in 2015 and features 8,505 sq. ft. of meeting space and 203 guest rooms. Also nearby is Empire State Plaza Convention Center, which can host groups of up to 10,000.
ACC's fully equipped new studio was put through its paces while recording a series of informational seminars covering its new Value Shield program and other procedures and policies structured to support meeting in a safe yet productive manner. The videos live as a resource on the venue's website for meeting planners to reassure their stakeholders.
Hotels in Albany County are offering more competitive rates for planners than ever. Fresh offerings include The Desmond Hotel Albany, a family-owned local favorite set to debut a major renovation this month that includes flying the Crowne Plaza flag as part of the InterContinental Hotels Group. All 322 guest rooms, 28,000 sq. ft. of meeting space and dining outlets are updated. An outdoor bar and dining area with a fire pit will be completed by spring 2021.
Just across the street, Hotel Trilogy Albany Airport, Tapestry Collection by Hilton is in the final stages of a complete renovation and brand conversion. Albany's first Tapestry property is a sophisticated option for intimate meetings, with 107 guest rooms and 600 sq. ft. of meeting space.
Historic Kenmore Ballroom has finished a complete renovation and is a brand-new venue for corporate and social events. Built in 1878 in the heart of downtown, the Victorian landmark has a storied past as a hotel that once hosted the famous who visited or entertained in the city, including Frank Sinatra. Meeting options at 68-room Century House, part of Choice Hotel's Ascend Collection, in nearby Latham, include a tented outdoor space, plus there's a mile-long nature trail for fresh-air team building.
Discover Albany has just launched a new Discover Albany app. It's a repository of the latest on local events (including virtual), dining options, interactive "Albany Adventures" and more. For planners, there's also functionality for building a digital version of a program that includes meeting schedules, speakers, events and other pertinent information.
Warren County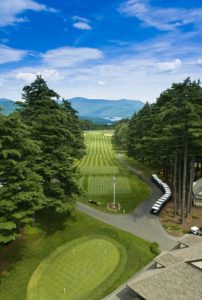 Known as the Queen of the American Lakes, Lake George in Warren County boasts 109 miles of shoreline edged in old-growth forest and more than 300 islands. The quaint village of the same name (pop. 3,400) is a three-hour drive from New York City, four hours from Boston and five hours from Philadelphia. It's only an hour away from Albany.
It's a fantastically scenic area. Some of best views of the glittering lake and Adirondack High Peaks can be had on Prospect Mountain Veterans Memorial Highway. And it's historic. Fort William Henry Museum & Restoration, a nearby British fort, dates to 1755.
Most of all, it's an outdoor adventure paradise. Think team-bonding activities like mountain biking, hiking (a summit on the summit, anyone?) rafting, ziplining, rafting, kayaking, boating—all the while enjoying the clean air and pristine surroundings.
In fair weather, outdoor meeting spaces abound. Lake George Village offers its 2 ½-acre Festival Commons (a state-of-the-art entertainment center for up to 3,500 attendees in Charles R. Wood Park) and in the center of nearby Glen Falls, City Park, with its gazebo bandstand, is a popular option from the Norman Rockwell era. Others include the outdoor terraces of opulent, AAA Four Diamond Sagamore Resort (137 guest rooms, 32,000 sq. ft. of indoor meeting space, 20,000 sq. ft. of outdoor space) on a 70-acre island; the rooftop terrace at Courtyard Lake George (119 guest rooms, 13,435 sq. ft.) and the expansive lawn adjacent to the historic fort at Fort William Henry Hotel & Conference Center (193 guest rooms, 16,500 sq. ft.)
More than 200 local businesses and hospitality partners have taken the Lake George Regional CVB Health and Safety pledge, pledging to adhere to guidelines and hygiene protocols.
New space is coming at 1926-vintage, 125-room The Queensbury Hotel in Glens Falls, right across from City Park. An additional 5,000-square-foot ballroom will be added in 2021, complementing the current ballroom of 4,000 sq. ft. Further north, social distancing can be taken to new, well, distances at the expansive Silver Bay YMCA Resort and Conference Center. Nestled along the lakeshore, the newly constructed conference center offers seating for up to 300 as well as up-to-minute tech; 16 separate meeting-space buildings—including the popular Boathouse that sits over the lake—offer ample room for gatherings of all types.
Ulster County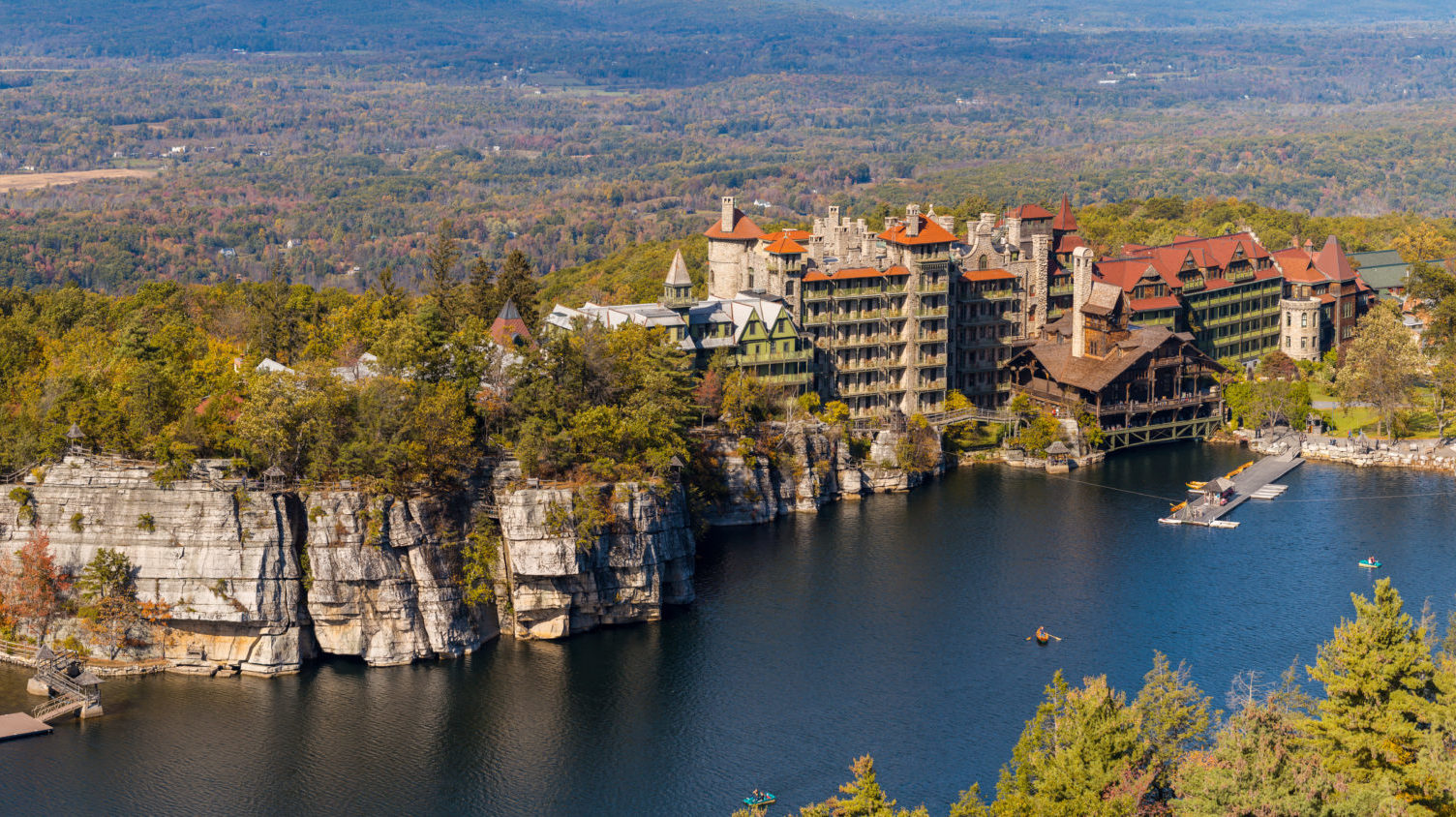 Just beyond the southern border of the Catskill Mountains and west of the Hudson River lies the charming town of New Paltz, in Ulster County. Manhattan is only 90 miles away. And the epitome of hospitality in Ulster is Mohonk Mountain House, which has reigned over glacial-formed Mohonk Lake, surrounded by 40,000 acres of Hudson Valley forest, since 1869.
"There is nothing in the world exactly like Lake Mohonk," enthused The New York Times in 1882. "It is famous, yet it has the kind of fame that people and places had before newspapers were known." Albert Smiley fell in love with the lake's beauty when he bought a 10-room inn on 280 acres in 1869. Now in the fourth and fifth generation of family leadership, it's a National Historic Landmark, a Victorian castle with 259 guest rooms and 14 meeting rooms. And it's one of the great 19th-century mountain resorts in the U.S.
The resort's original mission was to offer renewal of body, mind and spirit in a beautiful natural setting, and it has succeeded admirably through the decades. It received an award from the United Nations Environment Program in 1994, recognizing 125 years of environmental stewardship. Recreation by the season ranges from ice skating and snowshoeing to swimming, fishing, horseback riding, golf, archery and rock climbing. It also has 85 miles of trails.
A 30,000-square-foot Spa Wing features 16 treatment rooms, a solarium, an outdoor heated mineral pool, an indoor heated pool, comprehensive fitness center, and a yoga/motion studio.
The latest option for private executive retreats is handsome, eco-friendly Grove Lodge, nestled in a fern grove within an easy walk of the main resort; it has six guest rooms and the impressive Great Room, with a massive stone fireplace and custom-designed furnishings by local craftsmen.
Enhanced safety precautions and protocols follow state guidelines. New air filtration has been added in public areas, and guest rooms do not share air circulation with adjoining spaces.
Monroe County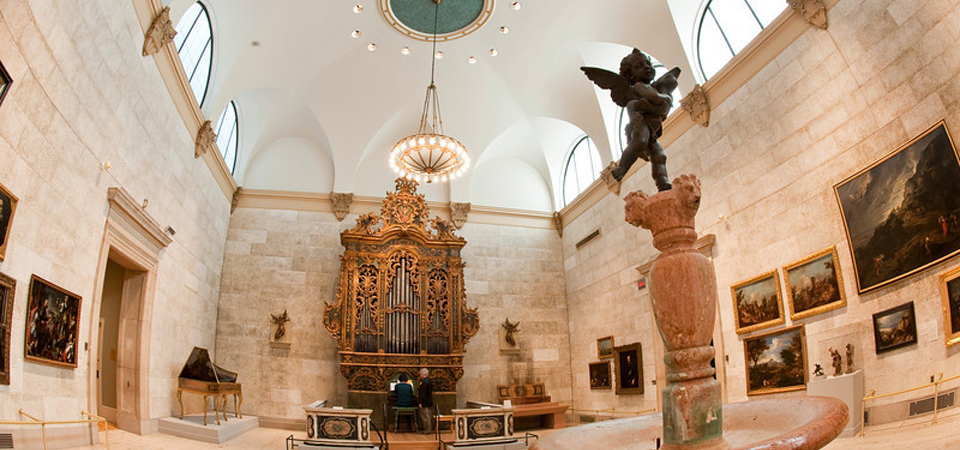 Monroe's county seat, Rochester (pop. 206,000), has a lively metro area on the upswing, sits on the shore of Lake Ontario and offers easy access to the many pleasures of the Finger Lakes district. More than $850 million has been invested in downtown revitalization in recent years.
And it's a cultural titan, from its world-class philharmonic orchestra to Memorial Art Gallery, which typically offers custom tours of its esteemed collection. George Eastman Museum, on the estate of the founder of Eastman Kodak Company, is the world's oldest photography museum and one of the oldest film archives. Private tours of the historic mansion, gardens and galleries can normally be reserved.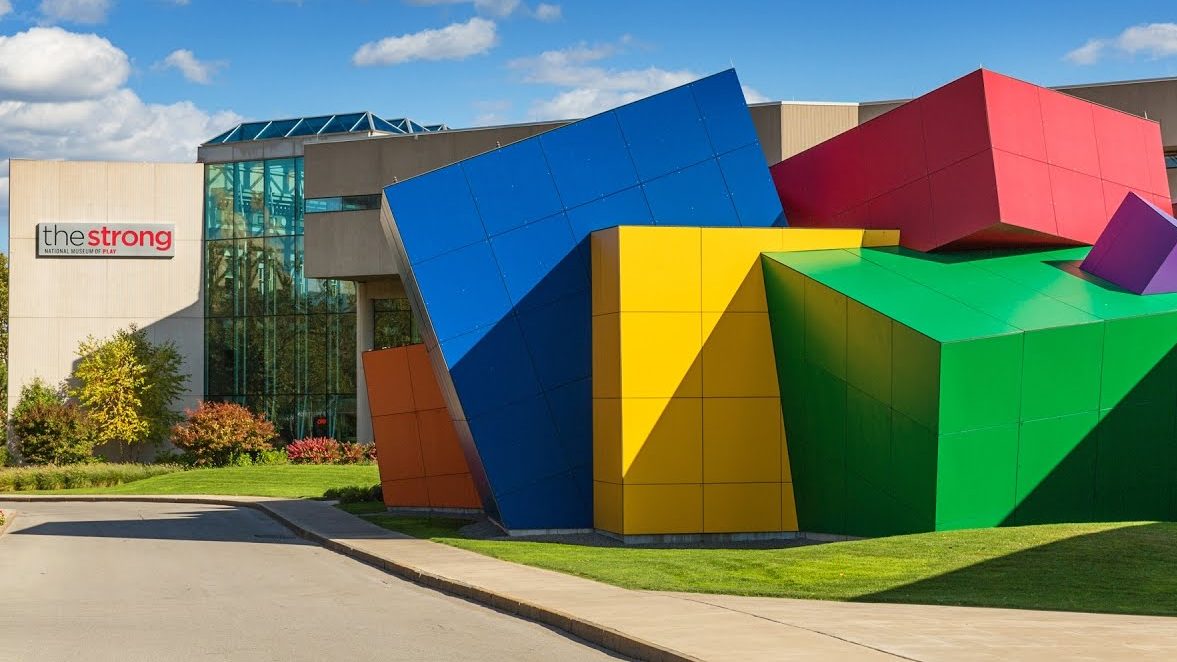 But Rochester's largest cultural draw is all about fun. Where else can your group ogle the first handmade Monopoly set, Thomas Edison's talking doll, the first LEGO sets and Barbie No. 1? Highlights of guided tours of The Strong National Museum of Play, which houses the world's largest toy, doll and game collection, includes recently added Toy Halls of Fame and World Video Game Hall of Fame.
In the Finger Lakes wine region, book a group tour and tasting at a few of the more than 100 wineries— most are within a 90-minute drive of Rochester.
The recent renovation of Hyatt Regency Rochester (338 guest rooms, 20,000 sq. ft. of meeting space) adds to the allure of meeting in Rochester. It is one of two hotels connected to Joseph A. Floreano Rochester Riverside Convention Center—a welcome benefit for meeting attendees during winter months. The convention center offers 100,000 sq. ft. of flexible meeting and exhibit space, including 25 meeting rooms and seating for 5,000. The other property linked by covered walkway, Radisson Hotel Rochester Riverside, is the largest in the area, with 467 guest rooms and more than 30,000 sq. ft. of meeting space.
RESOURCES