Aerial shot of Miami Beach
What makes the Greater Miami Area a record-breaking host destination?
Just as quickly as confetti showered the field at Mercedes-Benz Stadium in Atlanta to celebrate the New England Patriots' 13-3 victory over the Los Angeles Rams in Super Bowl LIII in January, focus shifted to Miami 2020.
Super Bowl LIV will be more than touchdowns, tackles, turnovers, chicken wings, nachos and beer. In the meetings world, it will be the equivalent of a citywide. Plans encompass three counties—Miami-Dade, Broward and Palm Beach—working together to host a record-breaking 11th Super Bowl in the region.
To capitalize on the big game, the Miami Super Bowl Host Committee is fervently planning a year's worth of exciting festivities leading up to Feb. 2, 2020, to highlight new communities that have blossomed since the Magic City last hosted the game, in 2010. In addition to the stadium, a multitude of venues, including convention centers, parks and hotels, are on the roster.
"Super Bowl LIV is a great opportunity to show off the 'new' Miami and Beaches," says William Talbert, CEO and president of Greater Miami Convention & Visitors Bureau and host committee member. "New neighborhoods like Wynwood, Brickell, Historic Overtown, Little Havana and Little Haiti are all part of Miami's multicultural gems, with myriad cultures that share a unique space in each of our heritage neighborhoods, and Super Bowl LIV will capture that diversity."
Stadium
If you rent the field at Hard Rock Stadium in Miami Gardens, your attendees can show off their touchdown dance moves in the end zone. Book a special appearance by the Miami Dolphins Cheerleaders to help get attendees' groove on. Presentations and branding can be displayed on the stadium's new HD video boards, the largest in the American Football Conference's East Division.
The recent $550 million-plus renovation, which was privately funded by owner Stephen Ross, added a canopy, luxury seating and premium amenities. Conferences, receptions and trade shows can take advantage of these upgrades. There is more than 200,000 sq. ft. of event space in more than 20 rentable areas, including the Dolphins' locker room, suites, club level area, concourses and nightclub. The stadium also features one of the most expansive street-art collections in the world for guests to enjoy as they walk around. This month, it will host the Miami Open tennis tournament for the first time. It was previously held on Key Biscayne.
Convention Centers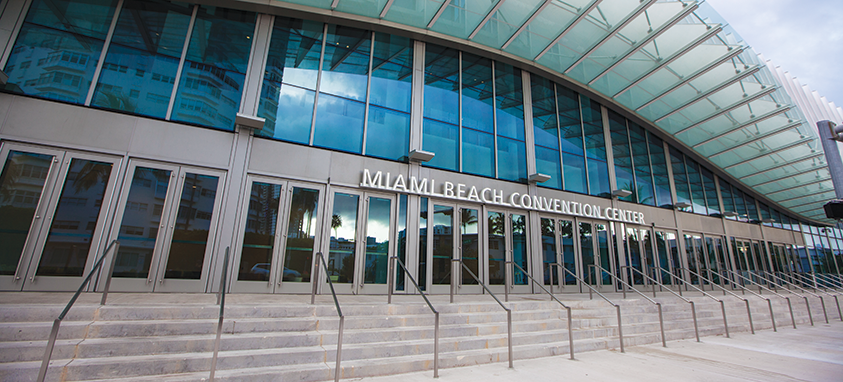 The media center for Super Bowl LIV, which includes the famous "radio row," will be stationed at the newly renovated Miami Beach Convention Center (MBCC). A $620 million expansion project added almost 300,000 sq. ft. to the structure. The building now boasts a 60,000-square-foot grand ballroom, 500,000 sq. ft. of exhibit space and 84 breakout rooms.
In November, residents approved plans to build an 800-room headquarter hotel, expected to be complete in 2022. For the time being, MBCC relies on the inventory of nearby hotel product at such large properties as Loews Miami Beach Hotel (790 guest rooms, 65,000 sq. ft. of indoor function space), Fontainebleau Miami Beach (1,504 guest rooms, 107,000 sq. ft. of indoor meeting space) and Royal Palm South Beach Miami (393 guest rooms, 5,040 sq. ft. of indoor and outdoor event space). The area boasts the highest concentration of boutique and lifestyle hotels in the country.
Taste of the NFL, a fund-raiser to end hunger, will return to Greater Fort Lauderdale/Broward County Convention Center. Current and retired NFL players, Hall of Famers, actors, celebrity chefs and fans will come together for food and entertainment at the 600,000-square-foot convention center. Last month, The Ritz-Carlton, Fort Lauderdale's executive chef, Paula DaSilva, represented South Florida at a kick-off for the Super Bowl countdown in Atlanta. The Ritz has 198 guest rooms and more than 24,000 sq. ft. of oceanfront meeting space.
Greater Fort Lauderdale Convention & Visitors Bureau is also represented on the Miami Super Bowl Host Committee. Stacy Ritter, CEO and president, is a board member and Carol Hudson, vice president of sports development, has been working in tandem with the committee, dating back to the bidding process.
Hotels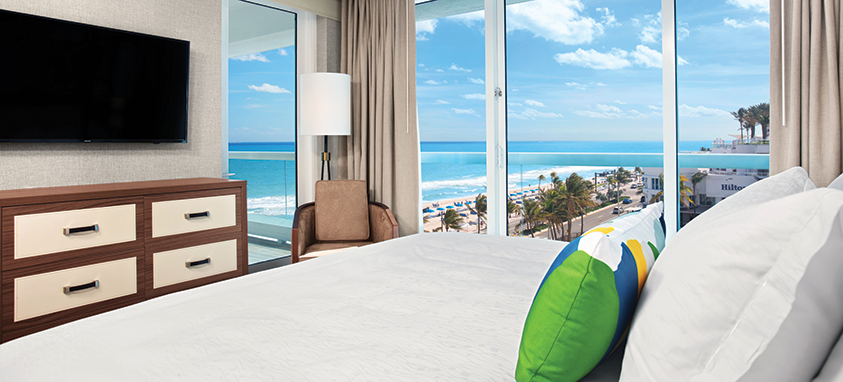 The NFL has designated Hotel InterContinental Downtown Miami as the league's headquarter hotel during the big game. The hotel has 653 guest rooms and more than 101,000 sq. ft. of exhibition space.
The largest convention hotel south of Orlando, The Diplomat Beach Resort Hollywood, Curio Collection by Hilton, has also been selected as a host property because of its 1,000 guest rooms, 209,000 sq. ft. of meeting space and ability to provide the league with privacy and exclusivity. Recent $100 million renovations include eight new dining concepts. Anchors away! Meetings can take place on private yachts at this beachfront property.
Hilton Fort Lauderdale Marina, which has 589 guest rooms and 21,300 sq. ft. of meeting space, will also be a preferred hotel for Super Bowl LIV. Conrad Fort Lauderdale Beach is still confirming its official involvement with the sporting event, but expects to host many guests during that week in its 290 suites and 20,000 sq. ft. of meeting space.
Fresh off a $15 million renovation, nautically themed Bahia Mar Fort Lauderdale Beach-a DoubleTree by Hilton is excited to host events that offer food and beverage specials connected with the game to show off its new culinary offerings and restaurant concepts. High Tide Lounge, a rooftop patio and event space, opens this month. The hotel has 296 guest rooms and more than 25,000 sq. ft. of indoor and outdoor meeting space.
"This is a great property for a corporate function and the staff is dedicated to making your visit a great one," says Cara Yesawich, marketing manager for Softub, which has held meetings at the property. "The meeting spaces are great and so is the food."
Seminole Hard Rock Hotel & Casino-Hollywood is not only music to your ears, but for your eyes. A giant, guitar-shaped, 638-guest room hotel tower is currently under construction, and is expected to be completed in the fall. The $1.5 billion expansion will also add a 167-room pool tower overlooking private cabanas, 6,500-seat Hard Rock Live concert venue, 42,000 square-foot Rock Spa, and 21 new dining and nightlife destinations. The hotel has 120,000 sq. ft. of meeting space, including a 38,000-square-foot exhibit hall. By year's end, there will be more than 1,200 guest rooms (currently, there are 469).
Off-Site Venues
Super Bowl Live will make its debut in Miami when Bayfront Park in the downtown area is transformed into a free block party with a schedule full of concerts, games, NFL exhibits and fun for all ages. A giant, interactive football field will be placed atop Biscayne Boulevard, and the host committee says attendees can expect ground-breaking and cutting-edge virtual reality and social media experiences. The committee teases that Instagram posts will be projected on the side of a skyscraper! Meeting professionals should keep their eyes open for creative event inspiration.
Sandwiched between Bayside Marketplace and InterContinental Miami, Bayfront Park is a 32-acre green space that includes a rentable amphitheater and The Tina Hills Pavilion, which can accommodate 1,000.
GFLCVB confirms that Miramar Cultural Center/ArtsPark will be used for Super Bowl activities. The performance and event venue features a 4,500-square-foot banquet hall and an 800-seat theater with a 3,000 square-foot lobby. The botanical garden can host up to 400 guests.
Accessibility
The region's three major airports will welcome fans from all over the globe to South Florida for the Super Bowl. Miami International Airport (MIA) served more travelers than ever before in 2018, surpassing the 45 million mark for the first time. The airport offers the most flights to Latin America and the Caribbean from the United States.
As the third-busiest airport for international passengers in the nation, MIA served almost 21.9 million international passengers last year, in addition to more than 23.1 million domestic travelers. More than 100 airlines fly in and out of it.
Fort Lauderdale-Hollywood International Airport (FLL) is conveniently located 3 miles from Greater Fort Lauderdale/Broward County Convention Center, hotels and beaches along the Atlantic Ocean. Slightly North, Palm Beach International Airport (PBI) offers about 200 flights daily, including nonstop service to 28 destinations on 11 carriers.
PBI is situated 3 miles from Palm Beach County Convention Center, which provides 350,000 sq. ft. of meeting space, and the adjoining Hilton West Palm Beach, with 400 guest rooms and 29,000 sq. ft. of indoor and outdoor meeting space.
Paige Feigenbaum is a former Smart Meetings content editor.