On these popular islands, CSR takes a deep dive into Hawaiian culture
Once, Hawaiian alii (royalty) were stewards of the land on behalf of all their subjects. They called this aloha aina. In the Hawaiian language, it means "love of the land." It's one of the most deeply rooted and most cherished ideas of ancient Hawaiian culture.
Today, aloha aina is used to cover everything from recycling to organic farming. If you've planned meetings in Hawaii, you've probably been encouraged to show aloha aina, too. Placing sustainability high on your list is one way to honor the responsiblity. In those fragile island environments, in the most isolated archipelago on earth, a zero-waste meeting shows great aloha aina.
Another way is through CSR activities.
CSR experiences are, of course, a team-building favorite. They're a feel-good experience that bonds attendees with one another. They can be poignant touchstones to the destinations in which the meetings are taking place. And in Hawaii, like nowhere else in this country, they can strongly link to a rich cultural tradition.
In the Aloha State, giving back is aloha aina.
CSR as Cultural Exchange
Like many others of Hawaiian descent, Kainoa Daines did not grow up speaking Hawaiian. His great-great grandparents on his mother's side were the last in his family to speak it at home. Although he did not learn the language until he studied it as an elective in high school on the island of Oahu, he still inherited a reverence for the culture that the ancient Polynesians created on the islands.
And so, he was a natural choice to occupy a newly created position at Hawaii Visitors & Convention Bureau (HVCB) as director of culture and product development. In that role Daines is overseeing creation of a new statewide resource for planners who are looking for CSR activities while in Hawaii. "We really want to make CSR more accessible for groups," Daiens says. The resource will be a tab on MeetHawaii.com, HVCB's site for planners. Daines expects it be available before April.
"Every CSR activity of worth here is a cultural one," he says. "We just want to make sure we've connected the dots properly and have good matchups." If a planner is bringing a big group to the island, in other words, Daines wants to be certain the cultural site is ready for it. "There are minimum qualifications, like parking and language," he says. "Some of the Hawaiians at these sites speak Hawaiian as their first language—this is the only state with two official languages. I have to explain to them, you have to translate."
For their part, planners should be briefed on proper protocol, he says. "At cultural sites, we ask permission to enter. It's been practiced that way for hundreds, if not thousands, of years. Groups are wowed by this. They get to clean their souls in a way, to connect with the experience and meet actual Hawaiian people. It's something special they won't find in other destinations."
Daines sees such challenges as a major opportunity—for visiting groups and Hawaiians alike. "The visitors might be here for a week, and yet this will be the only chance they will have to witness this and hear the language spoken fluently in a conversational manner," he says.
As for Hawaiians, they have the opportunity to learn, too. Even though Hawaii is heavily tourism-dependent, traditional Hawaiians have deep historical reasons to distrust haoles (non-Hawaiians). "They come, eat our food and leave," is a typical local perception, Daines says.
Planners know that CSR activities can strengthen teamwork between group members. But spending a morning or an afternoon at a cultural site working in tandem with local people builds connections and understanding between visitors and Hawaiians, as well.
"Sweating together, pulling up weeds, lifting that log together, up to their ankles in mud, it's all a win-win," Daines says. "It's a bonding experience. It's also a very healing experience for some people."
He speaks from personal experience. He has led his team at HVCB on outings to an ancient fishpond. "We want to walk the talk," he says. "We moved buckets of coral. We stripped bark from trees. We got our hands dirty. It was an enlightening and enriching experience."
What advice does Daines have for planners who want to give their groups a similar experience? "Come with an open heart and open mind. A feeling of trust. We promise that by the end of it, your group is going to feel something different that its members haven't felt before," he says.
CSR on Maui
Malama Maui Nui is a nonprofit created in 1982 to tackle litter and blight issues. It was later embraced by Maui Visitors & Convention Bureau in a campaign to encourage visitors to Maui County—encompassing the islands of Maui, Molokai and Lanai—to help preserve local culture and environment. It depends on volunteers for clean-ups and recycling events. The third Saturday of each month, Go Green is such an event held at Lahaina Cannery Mall, where volunteers are always needed. Other events include beach clean-ups and Art of Trash, where artworks are made from materials that are reused, recycled and reinvented.
Pacific Whale Foundation, a Maui-based international nonprofit organization with the mission of saving whales from extinction, is known for its group-friendly whale-watching excursions led by marine experts. It also has a Volunteering on Vacation program that pairs visitors with meaningful projects to benefit the island's ecology.
"We're an outreach for the community," is how Jens Currie, chief scientist for the nonprofit, puts it. Most volunteering options are best for 15 participants at most, but a planner could potentially offer groups several choices on a single day or days.
Recent opportunities: helping to preserve the native ecosystem by removing invasive plants in Haleakala National Park; revegetating stream banks and other stream restoration in the West Maui Mountains; hands-on learning about sustainable farming on an organic farm in upcountry Kula; helping protect native wildlife habitat; and cleaning up coastal areas while collecting data as citizen scientists.
Jens notes that in 2019, a total of 456 volunteers removed 26,455 pieces of beach debris. Marine debris is categorized and the data is used to help shape public opinion and state regulations regarding things such as use of plastic straws and Styrofoam.
These projects vary in duration, and some could be paired with a whale-watching trip that might end in brilliant sunsets.
Meetings hotels and resorts on Maui typically offer CSR programs as well. Grand Wailea, A Waldorf Astoria Resort (780 guest rooms, 100,000 sq. ft. of meeting space) is a vivid example. The island's largest resort works with a range of nonprofits and cultural groups across the island for community give-back and CSR experiences. Groups can work to rebuild a 600-year-old traditional Hawaiian fishpond, Koieie Loko Ia, by joining a community work day or arranging a private restoration experience. The fishpond is used as an educational tool to teach Mauians and visitors about its cultural and historical significance and connection to the island environment.
Another option is helping to restore a patch of 43,175 acres of dryland forest on the leeward slopes of Mount Haleakala, one plant at a time. This project was a recent recipient of a $10,000 grant to Hawaii State Division of Forestry & Wildlife from Grand Wailea via Hilton Effect Foundation, a global philanthropic entity created last year as part of Hilton Hotels & Resorts' 100th anniversary.
Groups can also work on (and sail on!) a traditional transoceanic voyaging canoe, helping to perpetuate these ancient traditions for future generations of Maui's youth.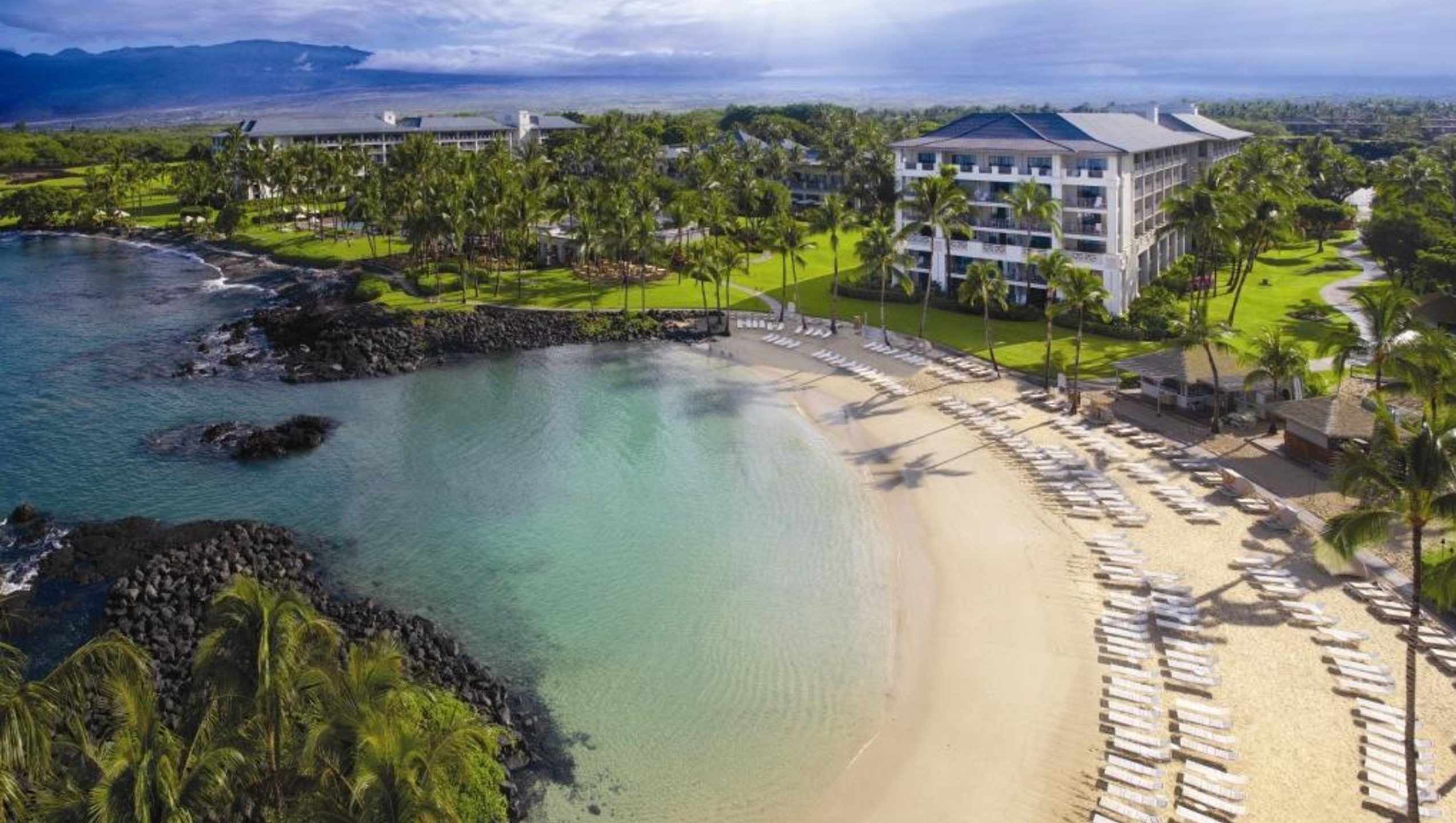 At Fairmont Kea Lani (450 guest rooms, 42,000 sq. ft. of meeting space), cultural programming is led by Kumu Kapono Kamaunu, a master of Hawaiian culture, language, hula and the arts. Groups work with Aoao O Na Loko Ia O Maui (Association of the Fishponds of Maui), a nonprofit created in 1998 by residents of the nearby Kihei area, which has hosted tens of thousands of people over the past two decades to educate them about Native Hawaiian fishponds and to rebuild and maintain Koieie, the most visible and accessible of these Hawaiian cultural treasures in South Maui. Sea turtles often rest on its rock walls.
Another experience offered by the resort is the preservation program managed by Hawaiian Islands Land Trust in beautiful, 277-acre Waihee Coastal Dunes and Wetlands Refuge, where attendees also learn about the history and cultural significance of this environmental ecosystem of cascading waterfalls, rainforest and pristine beaches.
The Wailea property's 8,400-square-foot ballroom, restaurant and fitness center have all been newly reimagined.
Giving Back on Island of Hawaii
The iconic Island of Hawaii resort Mauna Lani is reopening as part of the Auberge Resorts Collection this month. Preserving Hawaii's natural resources, environment and culture has long been an important aspect of the resort experience there. Two options for groups, at the historic Kalahuipuaa Fishponds and the property's Malama Honu (turtle care program), are designed for learning about, and giving back to, the traditional Hawaiian way of life.
An oasis within an oasis, Kalahuipuaa Fishponds—located on Mauna Lani's grounds—are the spiritual center of the resort. Bottom samples taken from the ponds date the ancient aquaculture system to as far back as 250 B.C. Seven ponds were maintained and managed by ancient islanders, who used them to raise mullet, awa (milkfish), shrimp and other sea life for the royalty and other persons of rank.
The ponds, spanning over 11 acres, are still home to countless fish, along with other marine flora and fauna. Today, the resort is committed to preserving and restoring the loko (pond) culture and native Hawaiian ecosystems, and daily educational tours and talk story programs are available to guests.
The Hawaiian Green Sea Turtle is the state's only indigenous reptile. More auspiciously, it is the enduring symbol of good luck for Hawaiians, a guardian spirit often depicted in ancient petroglyphs. Since 1989, the resort's Malama Honu program has fostered awareness of this endangered species through education and conservation. In partnership with Sea Life Park, a marine and wildlife center on Oahu, captive-reared hatchlings are sent to Mauna Lani to be cared for in the hotel's saltwater ponds. In two to three years, they grow big enough for release into the wild amid special celebrations on the Fourth of July, known as Turtle Independence Day. Guests get to visit and learn about the sea turtles year-round to aid future survival of the species.
Four Seasons Resort Hualalai, which is part of the Hualalai resort community on the Kona-Kohala Coast, has joined in an effort with nearby properties to use ancient Hawaiian methods to maintain a wetlands conservancy that is home to native plants, fish and wildlife. The resort can arrange behind-the-scenes tours and participatory activities.
Kathy Clarke Hawaii, a DMO with four decades of experience working with visiting groups, can set up CSR outings such as volunteering at Hawaii Wildlife Center in Kapaau, which treats and rehabilitates sick, injured and oiled wildlife for release back into the wild and other CSR activities based in traditional Hawaiian culture.
Hawaii Wildlife Fund, a nonprofit organization that works to conserve native wildlife and habitat, puts volunteers to work on marine debris removal on Island of Hawaii. Groups sizes can range from 10 to 20 people, but 4WD transport must be arranged separately.