Where better to gather outdoors than in the Sunshine State?
Anyone who thinks of everywhere in Florida as same same doesn't know Florida. In its range of meeting destinations—many with shiny new hotels and expanded outdoor options—and choice of ambience, the Sunshine State really has only two common denominators. Great weather and great beaches. Just about everything else depends on where you are and what your group is looking for.
This diversity is on display everywhere you look in Central Florida and the Florida Gulf Coast, in particular.
The Panhandle, for example, offers planners a distinctly small-town Southern feel in its landscapes, traditions, cooking and even local folks' accents. There, find places to meet under Spanish moss and along country roads, and alongside world-class (yet still-uncrowded!) beaches.
The state's western coast has some of the greatest beaches in America, too, plus impressive cultural amenities and state-of-the-art venues. Yet, each of its towns, from the reborn city of St. Petersburg to the Clearwater beach resorts, has its own distinct vibe.
Less than an hour inland from St. Pete/Clearwater is the utterly distinct destination of Orlando, not only the No. 1 visitor attraction on Earth but also the No. 1 convention city in America, with all the lodging, meeting, dining and off-site options attendant to that ranking.
All these regions have been busily making ready to welcome your return. Let's take a look at what's new and exciting.
Greater Orlando
In 1963, when Walt Disney flew in a small plane above Greater Orlando to gauge its potential for a new theme park, the population stood at about 230,000. Now, only slightly more than a half-century later, the population has swollen to over 2 million. Of course, now Orlando is often ranked as convention capital of America, too.
Orange County Convention Center is indisputably a top-tier venue. It offers a jaw-dropping 2.1 million sq. ft. of exhibition space, over a total of 7 million sq. ft. spread across 400 acres. It's also a leader in green initiatives, among them indoor hydroponic gardens that produce herbs, vegetables and edible flowers for the facility's restaurants. Near the end of last year, the venue debuted a state-of-the-art broadcast center called the OCCC Executive Studio, now being used for virtual and hybrid events ranging from board meetings to conventions.
This year, 103 events are slated at OCCC, with close to 1 million in estimated attendance and a projected $1.85 billion economic impact on the region. Also scheduled are 15 citywide conventions and trade shows relocated from other destinations, projected to add more than 91,000 room nights and $187.5 million to the local economy.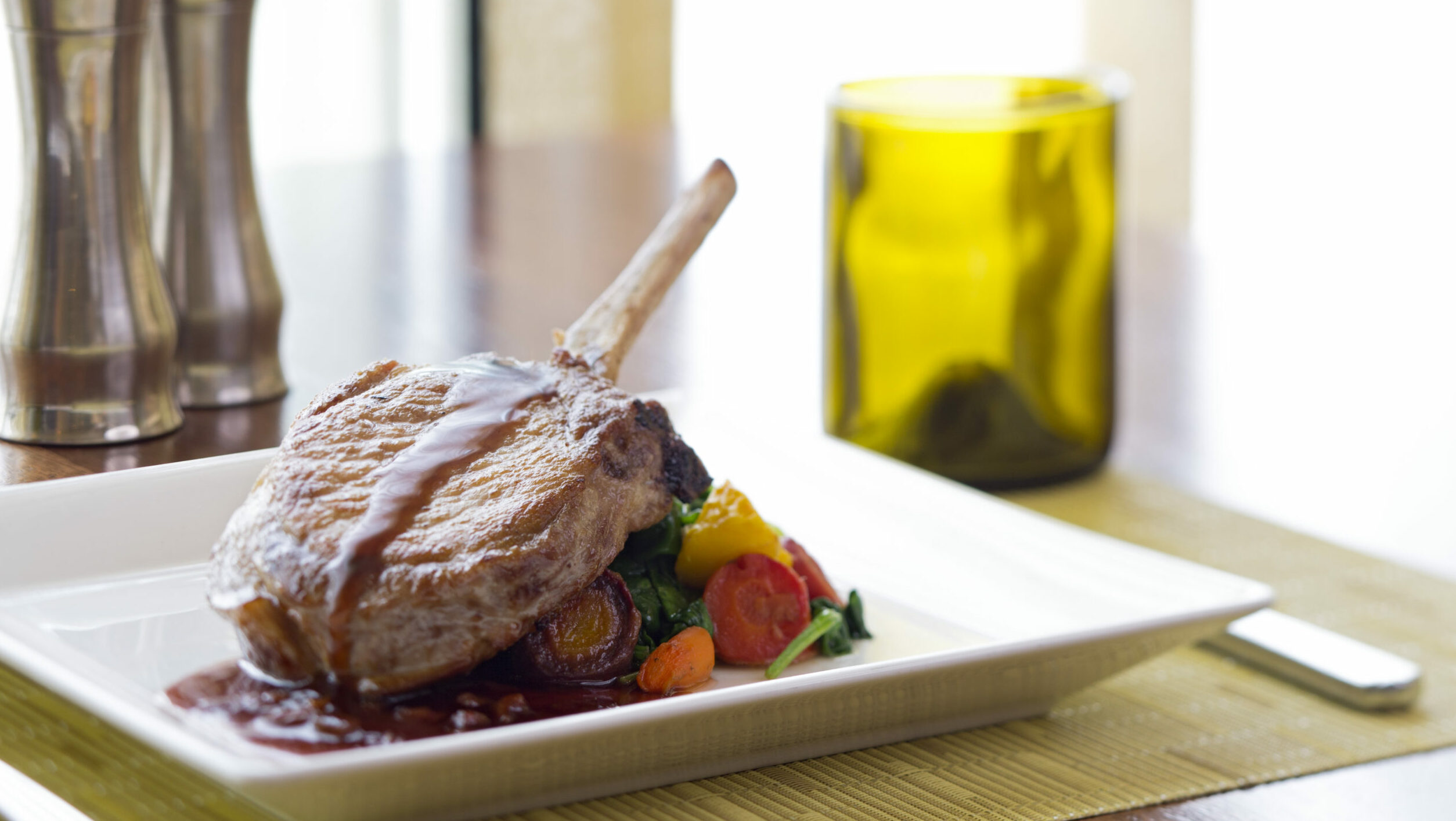 Impressive as those numbers are, OCCC is still in recovery mode. In prepandemic years, the center has hosted nearly 200 events and over 1.5 million attendees, providing about $3 billion in economic impact to the region.
OCCC has now earned STAR accreditation from the Global Biorisk Advisory Council (GBAC). Other local entities having won that accreditation include Orlando International Airport (MCO) and its on-site Hyatt Regency Orlando International Airport (445 guest rooms and 33,086 sq. ft. of meeting space).
While the pandemic stalled or even halted growth of new meeting hotels elsewhere, that was not the case in Orlando. And most of these fresh options have outdoor space for meetings and events.
The $95 million JW Marriott Orlando Bonnet Creek Resort & Spa opened in July 2020, with 597 guest rooms and 51,587 sq. ft. of meeting space, including an opulent ballroom. A new rooftop lounge has just opened, along with new restaurants and an open-air terrace for viewing the gigantic fireworks displays at the nearby parks.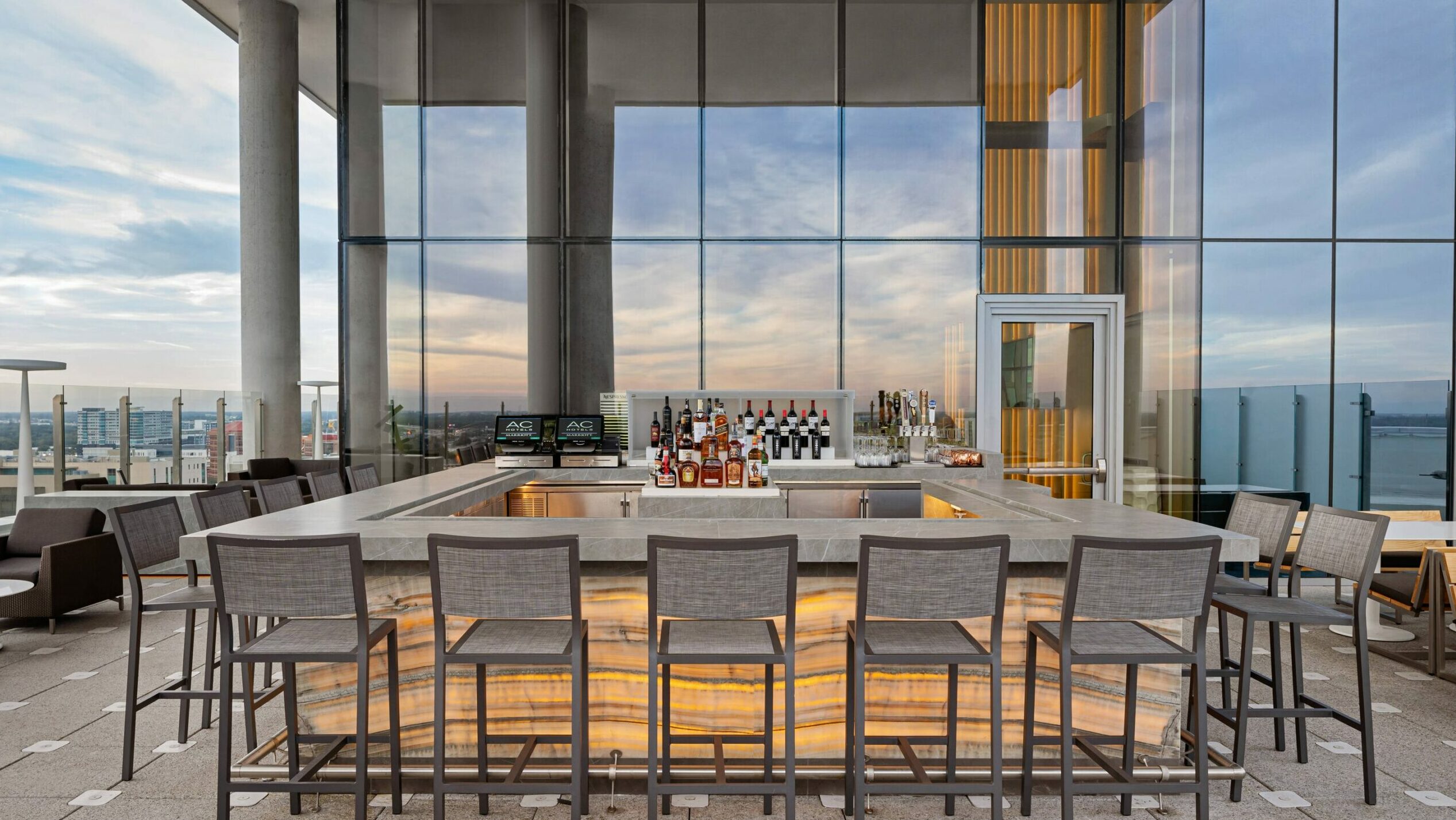 Tru by Hilton Orlando Convention Center Area opened last September with 259 guest rooms, 2,178 sq. ft. of meeting space, a lobby bar and breakfast bar and outdoor pool. AC Hotel Orlando Downtown, which debuted in January with 180 guest rooms, 2,000 sq. ft., a restaurant and Sky Bar, is an ideal setting for small gatherings and celebrations.
Coming this fall is Lake Nona Wave Hotel, in Orlando's Lake Nona medical city hub, with 234 guest rooms and 12,000 sq. ft. of meeting space, a lobby bar, pool deck and rooftop restaurant.
Long-standing Orlando meeting favorites aren't resting on their laurels, either. Walt Disney World Swan and Dolphin Resort recently completed the largest transformation in the resort's history: a $140 million, three-year project that included a redesign of all 349 guest rooms, complete transformation of the Dolphin Resort lobby and renovation of its 15,853 sq. ft. of meeting space, including two ballrooms and a rooftop space with spectacular views of Disney World. Outdoor events can be hosted on a pool deck with 13,835 sq. ft.
Caribe Royale Orlando completed a $125 million renovation this spring, including a new 50,000-square-foot ballroom that brings total meeting space to 220,000 sq. ft. The property offers 1,335 suites and villas and extensive amenities. A 2020 renovation at the 781-room Renaissance Orlando at SeaWorld included a new atrium lobby and new ballroom and breakout space, for total event space of 215,000 sq. ft.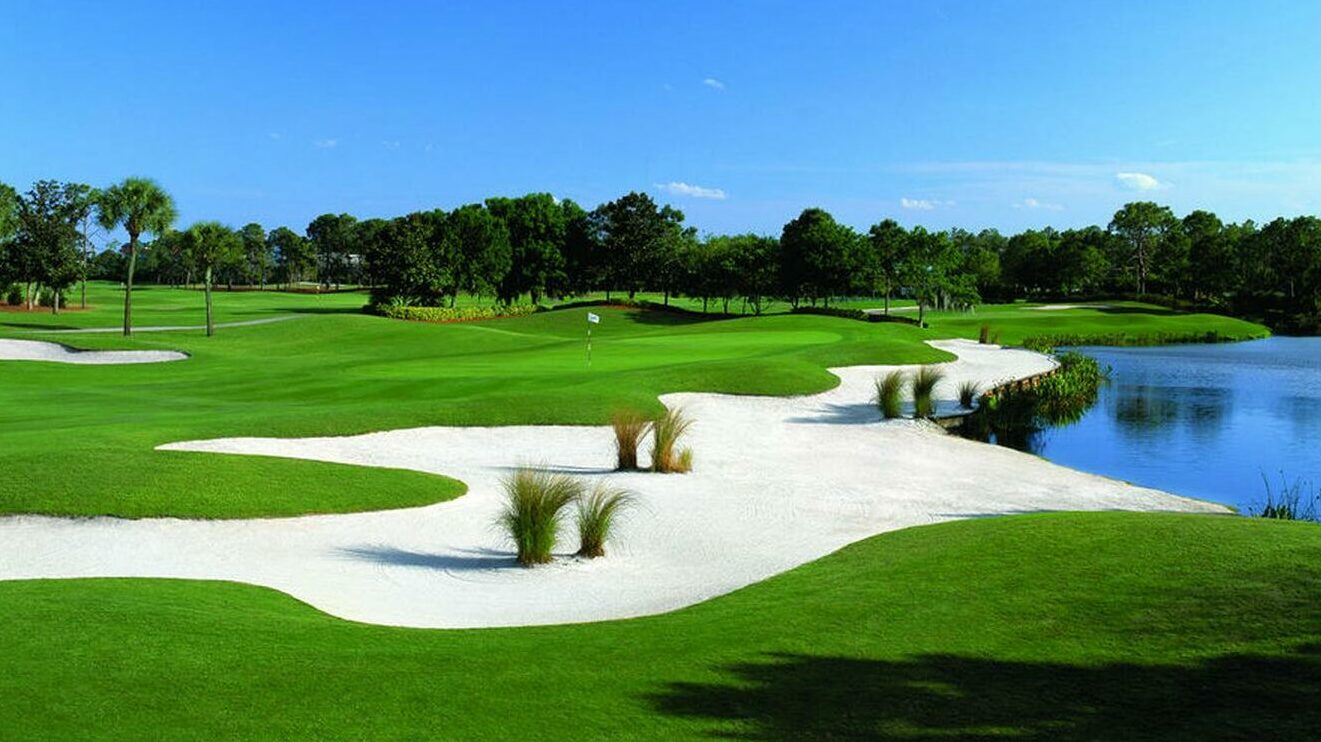 Orlando World Center Marriott will complete renovation of its 2,010 guest rooms by year's end, and will add 24 new breakout rooms by next summer. This will give the property in the heart of Orlando a total of 450,000 sq. ft., complemented by a championship golf course and ten restaurants and lounges.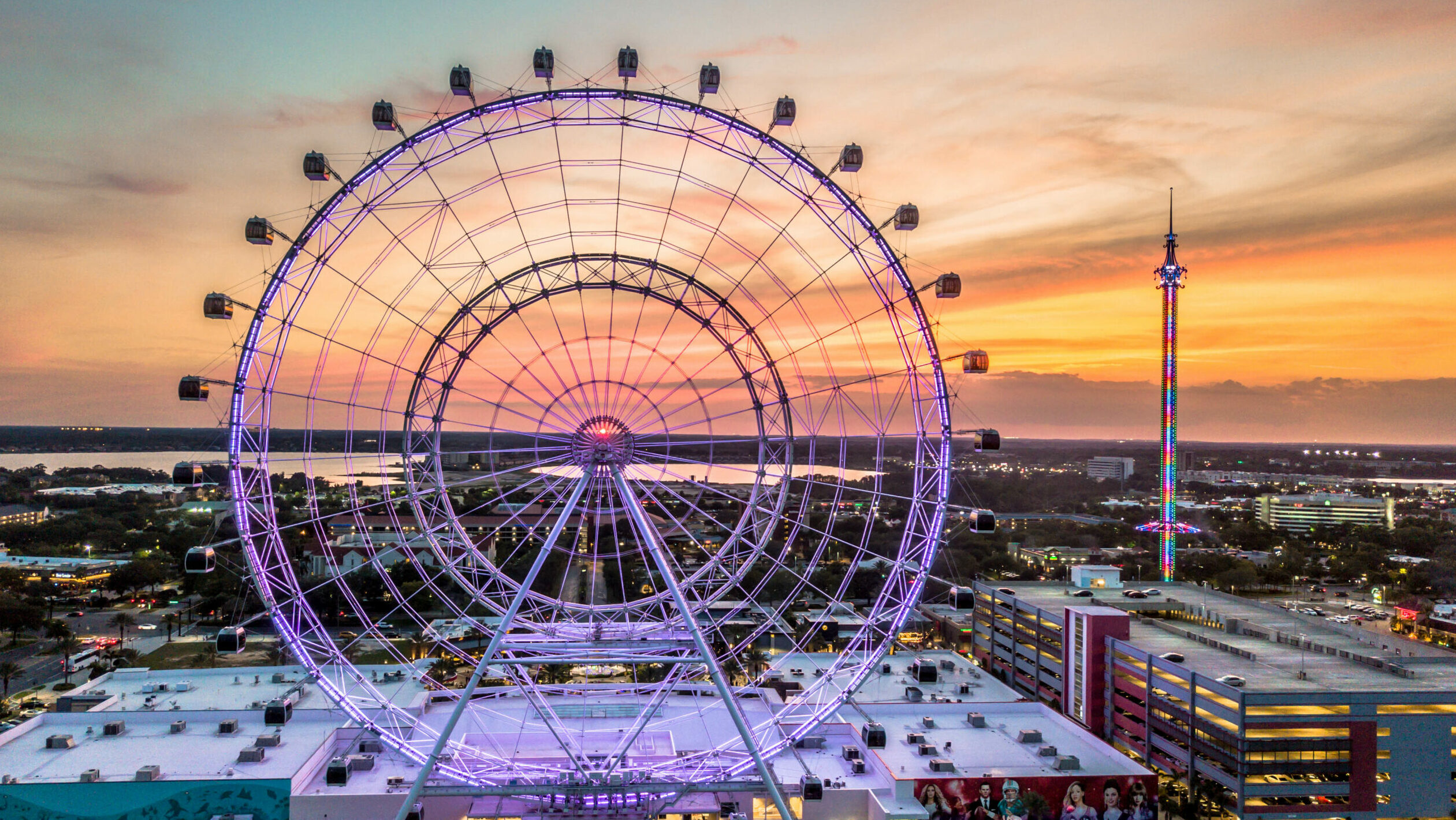 Outdoor options are a big plus at DoubleTree by Hilton Hotel Orlando at SeaWorld, with a 6,000-square-foot outdoor veranda amid 28 wooded acres. Four Seasons Resort Orlando at Walt Disney World Resort has lakeside venues accommodating up to 700. Hilton Orlando has outdoor spaces that can handle up to 3,000 attendees, and Hilton Orlando Bonnet Creek and Waldorf Astoria Orlando each offer outdoor options for up to 1,100 guests.
Off-site venues have also beefed up their offerings. ICON Park, a 20-acre entertainment complex, has recently invested more than $20 million in new facilities and renovations, among them Blake Shelton's Ole Red, with reception space for 850. A new attraction, Dezerland Park, offers 2,000 classic vehicles, a Go Kart track, bowling and arcade games, as well as event spaces up to 45,000 sq. ft.
Other outdoor event options: Dr. Phillips Center for the Performing Arts, which can host 5,000 attendees surrounded by lush tropical greenery; Harry P. Leu Gardens, which can host up to 180; and plantation-style Cypress Grove Estate House, where 200 guests can gather under the willow trees.
Lydia Janow, managing director/events for New York-based Aviation Week Network, brought 5,000 attendees from around the world to Orange County Convention Center in April for the company's Annual MRO Americas event. "Our conference brings together aviation buyers and sellers to network, educate and view current and new technologies in the maintenance, repair and overhaul sphere," says Janow. "And since these attendees are from all over the world—and Disney World is in Orlando—many bring their families. I have only great things to say. The OCCC is very user-friendly, and the Visit Orlando team members are consummate professionals. Our attendees loved the April weather and easy access to so many great attractions. We're already planning another event there."
St. Petersburg/Clearwater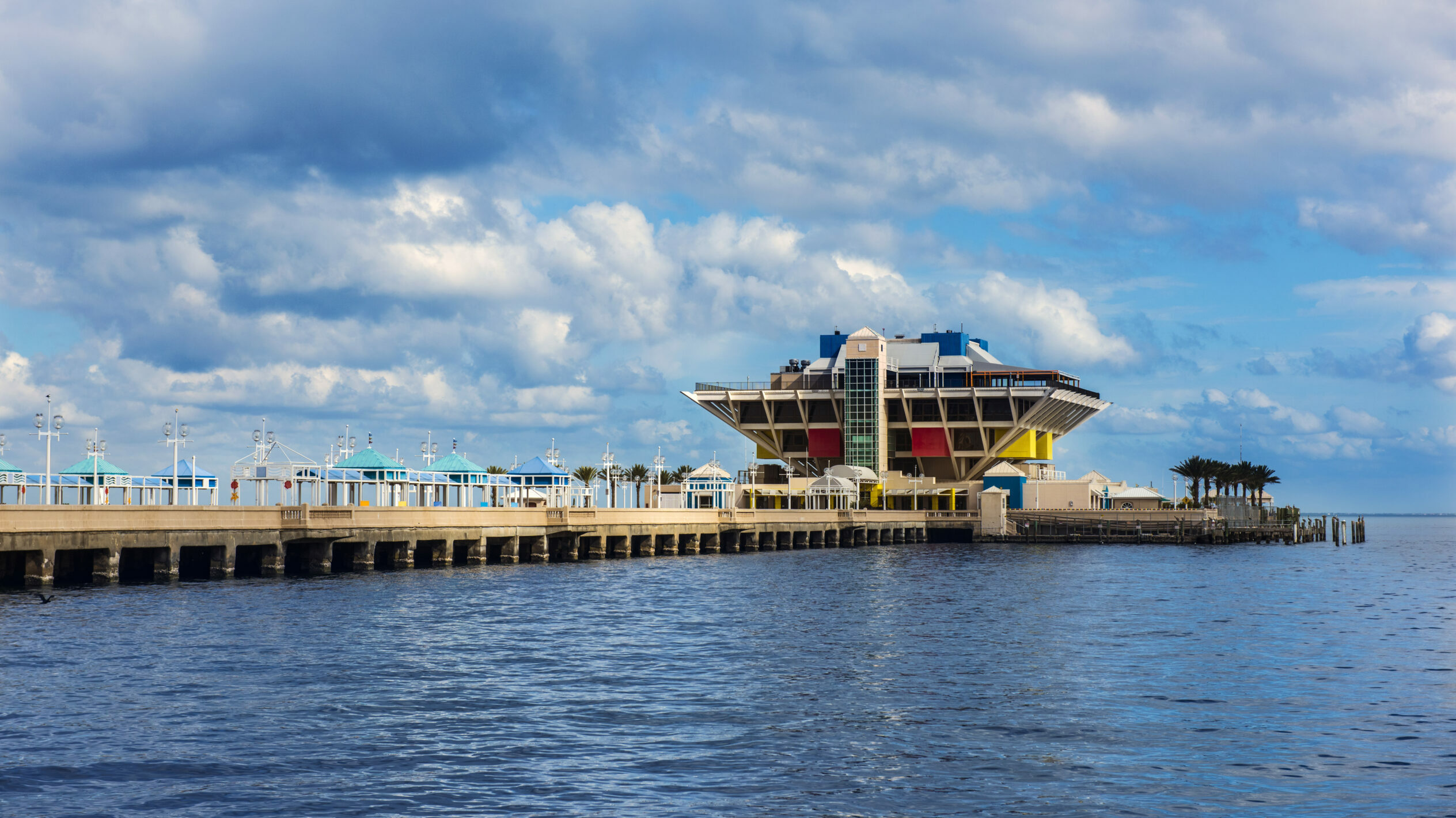 The western side of Tampa Bay combines the rejuvenated city (and beaches) of St. Petersburg with the world-class beaches of Clearwater and some two dozen other colorful communities.
Somewhat of a nondescript city with a shrinking business base not long ago, St. Pete is now booming, with cool start-up companies in authentically renovated classic buildings, interesting food halls, vibrant nightlife and cultural amenities like the Dali Museum and a burgeoning street-art scene that's drawing international acclaim. Proof positive can be witnessed on downtown's exciting Central Avenue, all but deserted after dark in the late '90s yet booming with atmospheric eateries and bars today.
St. Pete anchors an area that's received more than 30 awards for its pristine white-sand beaches, including two in the Top 10 (St. Pete Beach is No. 1) on TripAdvisor's 2021 Best Beaches in the U.S.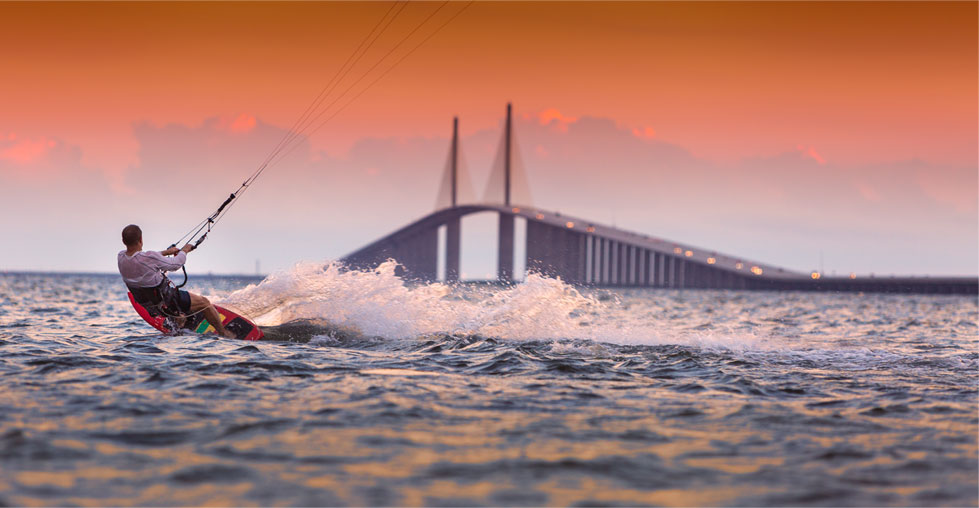 Attendees appreciate the city's unique feel. They also appreciate over 35 miles of beaches, ranging from bustling to secluded, as well as the hiking, biking, kayaking, parasailing, boating, fishing and golf. With all these outdoor pursuits readily at hand, it's no wonder planners report their relaxed and refreshed attendees are generally more productive when they meet there.
St. Pete/Clearwater, too, has used the Covid-19 slowdown to add enticing new meeting hotels particularly suited for smaller in-person meetings. Hilton Garden Inn St. Pete Beach opened in May, with 144 guest rooms, 884 sq. ft. for meetings, a restaurant, pool and bar. Cambria Hotel St. Petersburg-Madeira Beach Marina opened late last year, with 125 guest rooms, 1,800 sq. ft., a restaurant, spa, rooftop pool and event deck. The Karol Hotel, St. Petersburg Clearwater, A Tribute Portfolio Hotel, with 123 guest rooms, 6,904 sq. ft., a rooftop bar, restaurant, fitness center and pool, began welcoming guests in late 2020.
Expected to debut just about now, Bellwether Beach Resort offers 156 guest rooms, 8,000 sq. ft. of meeting space, three restaurants, Level 11 Rooftop Bar and an emphasis on team-building, health and well-being.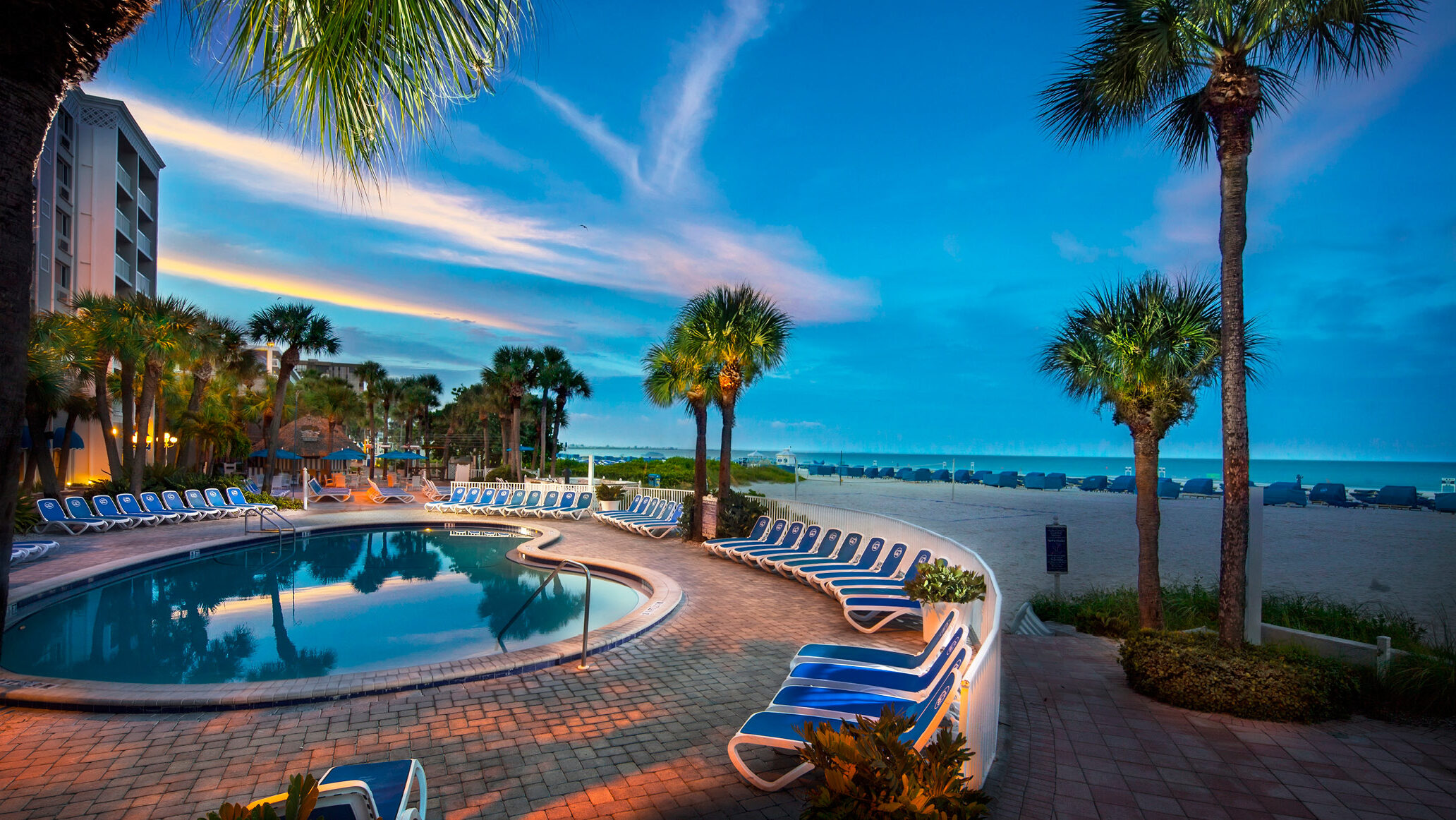 Existing properties that spruced up for the expected uptick in meetings include the two neighboring properties at TradeWinds Island Resorts on St. Pete Beach. Together, TradeWinds Island Grand and RumFish Beach Resort boast 600 guest rooms, 51,505 sq. ft. of gathering space indoors and 20,515 sq. ft. outdoors, a fitness center, a spa, 14 restaurants, multiple pools and 25 acres of oceanfront on America's top-rated beach. Between sessions, attendees can plunge down a three-story water slide on the beach, explore the Gulf via paddleboard or kayak, or meander through resort waterways on a paddleboat. A $2.2 million renovation of all meeting spaces was completed last fall.
The 102 guest rooms at The Beachcomber-St. Pete Beach reopened in March after a full renovation, and a new 2,100-square-foot meeting space will be ready this fall. Amenities include two pools, a restaurant and a beach bar that can handle up to 150.
One of the coolest options for taking your event outside in St. Pete/Clearwater is state-of-the-art Clearwater Marine Aquarium, which also has indoor spaces accommodating up to 150 for receptions. Probably the most popular outdoor setting (not counting the beach) for residents and visitors alike is St. Pete Pier, which just opened last year. The "Pier" is actually a 26-acre district with plenty to see, experience and eat, and stunning views of Tampa Bay for meetings and events.
The patio at much-loved Kozuba & Sons Distillery can hold 350 for dinner and 450 for receptions, and its handcrafted liquors with a Polish touch provide stimulating accompaniment. Also, St. Pete's oldest fire station now houses Red Mesa Events, which can hold up to 175 guests at the DeSanto Rooftop Bar, with incredible views of downtown, or 75 at the Cantinita Terrace overlooking a courtyard.
Great Annual Events in St. Pete/Clearwater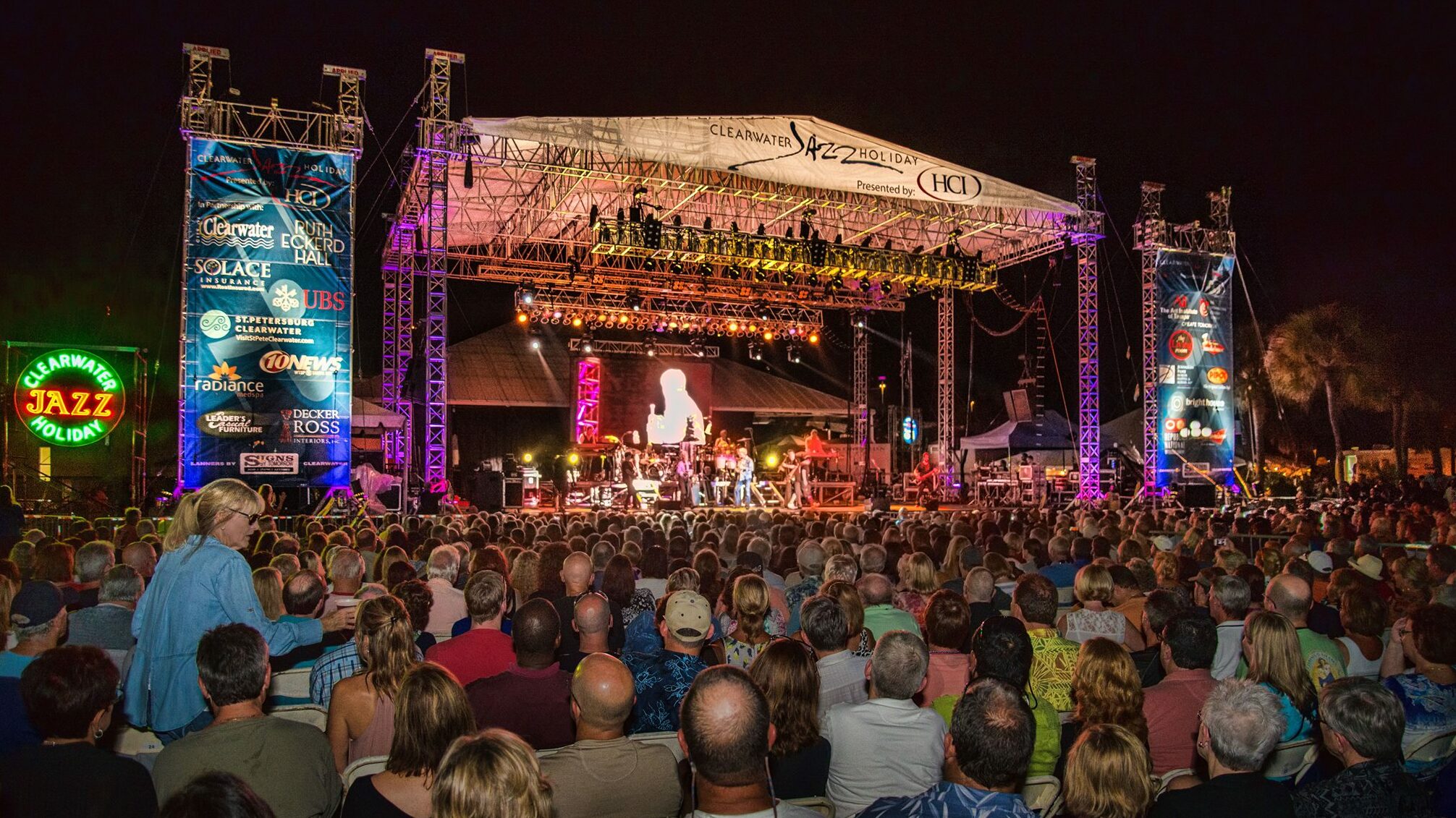 In St. Pete/Clearwater, there's always something for your attendees to celebrate.
The event season begins full throttle in December, with colorful boat parades to show off spectacularly lit watercraft, along with food and entertainment.
January brings John's Pass Seafood Festival, a seafood-lover's delight amid the over 100 nautically themed shops of John's Pass Village & Boardwalk. There, in addition to savoring the fare, groups can head-bob to performing groups, rent boats, cruise in a sightseeing boat, go fishing or take their families onto a pirate ship.
Also in January comes the colorful mixture of Greek tradition, food and dancing to joyous cries of "Opa!" in the town of Tarpon Springs, originally settled by Greek fishing families.
Spring brings events such as Firestone Grand Prix and the PGA Tour's Valspar Championship, followed soon after by two of the region's biggest annual happenings, Tampa Bay Blues Festival and St. Pete's Mainsail Arts Festival.
You don't have to be a baseball fan to have a ball watching MLB's Toronto Blue Jays in spring training in Dunedin and American League Champion Tampa Bay Rays at Tropicana Field all season long.
On Labor Day weekend, head to Gulfport for a taste of the unique GeckoFest, with musical groups, quirky street performers, food and colorful-costume contests. Thrilling Clearwater Offshore National Boat Races (and seafood festival) also takes place in September, while October brings the sweet sounds of the music festival known as Clearwater Jazz Holiday.
South Walton
At first blush, South Walton may not seem your typical meetings destination. Yet, that's proving to be a good thing, and it's attracting more and more groups. One reason is that it offers a vast range of outdoor options hard to match elsewhere.
Situated in the Florida Panhandle, South Walton's region is also known as the Emerald Coast. It boasts 26 miles of some of the most beautiful white-sand beaches on Earth, edged by 16 quaint little neighborhoods and fronted by technicolored Gulf of Mexico sunsets. It offers a surprising number of excellent meeting hotels, as well, and the great weather makes outdoor events possible almost all year long.
Added bonus: South Walton still offers value pricing compared to much of the country.
Some 40 percent of the Emerald Coast is preserved in state parks, preserves and forests. This offers planners the opportunity to stage their meetings and events with inspiring, nontraditional backdrops that can inspire creativity and productivity.
Accommodations on the Emerald Coast range from boutique properties to convention hotels, and from grand beach houses to quaint cottages and full-service resorts. The region can host meetings of up to 1,500 attendees, with varied dining options, eclectic shops and galleries, and championship golf. In addition, there's easy access through Northwest Florida Beaches International Airport (ECP) in Panama City.
In all, Sandestin Golf and Beach Resort has 1,250 guest rooms, and its Baytowne Conference Center reopened in February 2020 after a $1.3 million renovation that expanded and upgraded the facility. The Center now has 32,000 sq. ft., including the 13,500-square-foot Magnolia Ballroom, largest on the Emerald Coast. The grand lawn provides one of the largest outdoor spaces in South Walton.
Hotel Effie Sandestin, a luxury property in the Sandestin resort, opened its doors in February, with 250 guest rooms and 20,000 sq. ft. of airy meeting space. The hotel boasts the only rooftop pool with both a lounge and event space on the Emerald Coast, as well as sophisticated decor, gourmet dining and a state-of-the-art spa.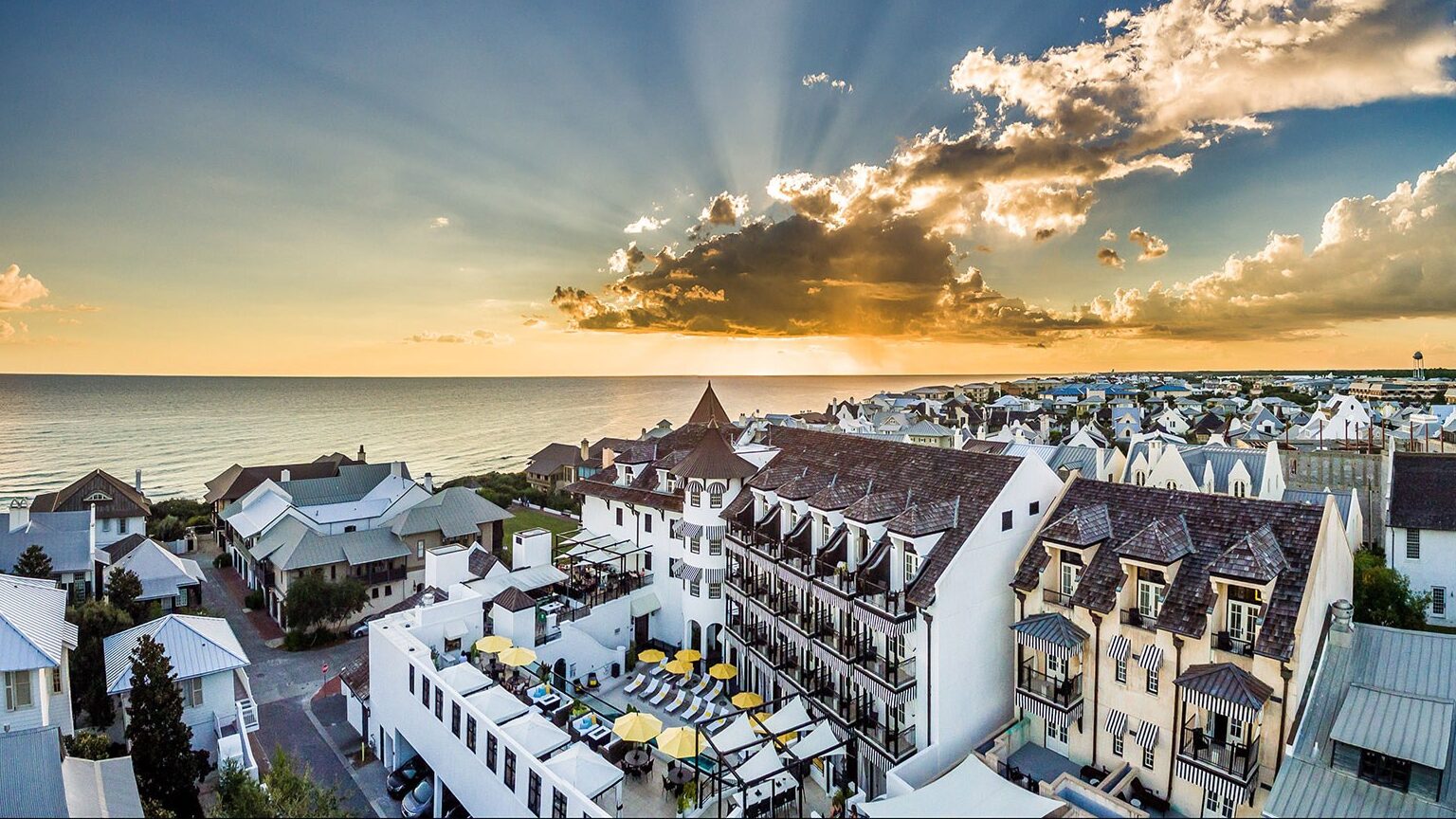 One of the most beautiful outdoor venues is Point Washington Preserve, with a 5,000-square-foot pavilion that can accommodate 350 attendees surrounded by a state forest preserve. The Pearl, an Old Florida-style, 55-room boutique hotel in Rosemary Beach, has event space with striking views on its rooftop pool deck. Eden Gardens State Park offers a look at an Old Florida estate, with 163 acres of live oak draped in Spanish moss surrounding an 1897 mansion, and an outdoor pavilion for meetings and events.
The entire Emerald Coast, in fact, is a "natural" for meetings and events, with more than 200 miles of biking and hiking trails, four state parks, a 15,000-acre state forest and 15 rare coastal dune lakes found in only one other place in the world. This diverse landscape affords unique team-building options like eco-tours, paddleboarding, bonfires on the beach and scavenger hunts.
All of which combine to make the Emerald Coast shine as a very special "jewel" for planners.
Barbara Jenkins is vice president for education and student programs at USPOULTRY Foundation, headquartered in Tucker, Georgia. She's been bringing four groups annually to this special part of Florida for years, each with 100-300 attendees. They stay and meet at Hilton Sandestin Beach Golf Resort & Spa, which offers 598 guest rooms and 28,410 sq. ft. of meeting space in addition to a boardroom, 106-seat theater and five outdoor spaces accommodating from 325 to 800.
"Our association focuses on education, research, communications and technical services for the poultry and egg industry," Jenkins says. "We've found South Walton to be a great place for productive meetings…and a good place to sometimes hold them outdoors. And I really like the flexible meeting spaces at the Hilton."
Jenkins says she has no plans to change the location or the venue. "Our meetings in South Walton are productive. And we're going back again four times this year."
Resources
Visit Orlando
Visit South Walton
Visit St. Petersburg/Clearwater