The ever-changing Sunshine State is full of surprises for planners
Only a hundred years ago, Florida had a population of less than a million. Today it's home to over 22,000,000 and is third in the nation in population.
Annual visitors now exceed 125 million, partially due to a fast-growing meetings sector, and the hotels, attractions, restaurants, museums, and shopping that service it.
Orlando is a perfect example of this growth. In the mid-sixties, when Walt Disney flew over it while searching for land for a new amusement park, the metro population was only 250,000. Today, it's over 2.5 million.
Happily, Florida's cities are also filled with undiscovered hidden gems for planners and attendees.
Florida Keys: Different and Proud
This 180-mile island chain dangling into the Atlantic is different—and proud of it.
For instance, in the Upper Keys, Flamingo Lodge & Restaurant will open late this year with some meeting space and 127 guest rooms/cottages constructed of elevated shipping containers connected by a boardwalk.
The Keys have excellent meeting resorts. On Key Largo, Playa Largo Resort & Spa has 177 guest rooms and 40,000 sq. ft. on the beachfront, along with a restaurant, fitness center and spa. Nearby Baker's Cay Resort has 200 guest rooms, 27,212 sq. ft. and four restaurants and bars.
In Islamorada, in the Upper Keys, Cheeca Lodge & Spa recently completed a renovation, which includes a new 10,000-square-foot event center and new oceanfront suites, bringing its room-count to 244 and meeting space to 16,300 sq. ft. On Duck Key, the AAA Four-Diamond Hawks Cay Resort has 60 acres, 177 guest rooms, 250 villas, 48,760 sq. ft. indoors and out, and six restaurants.
Opal Key Resort & Marina is on the Key West waterfront with 178 guest rooms and 16,000 sq. ft. of indoor/outdoor meeting space. Casa Marina Key West has been a local landmark since 1921, with 311 guest rooms and four restaurants/bars, and its 11,000 sq. ft. of meeting space is the most in town.
Hidden Gems in the Keys
On Key Largo, visitors can board the "African Queen," featured in the classic 1951 movie starting Humphrey Bogart and Katharine Hepburn, for scenic 90-minute cruises.
Key West Lighthouse Sunset Experience hosts groups of up to eight, with ninety minutes of exclusive access to the lighthouse, keeper's quarters and grounds.
Attendees can experience the spooky side of Key West at Sloan's Ghost Fort Adventures; and if those adventures get a bit too spooky, Serenity Eco Therapy offers gentle meditation, yoga and Pilates with a guided paddle in a kayak.
Miami Magic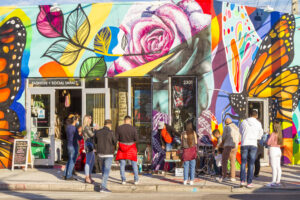 Miami's now a world capital of culture, cuisine and commerce, sitting on aquamarine Biscayne Bay across from the world-famous beaches of Miami Beach. Small wonder it's called "The Magic City."
This region combines urban chic and Old-World Florida, and its 150 ethnicities color the music, food, festivals and art.
Greater Miami first gained fame during the 1930's Art Deco era, and still has the world's largest collection of Art Deco architecture, with 800 technicolored buildings now filled with trendy hotels and nightspots.
Miami draws more than 1.3 million meeting attendees a year, and Miami International Airport was the second in America to receive health accreditation from Airports Council International (ACI) World.
After a $620-million renovation/expansion, the Miami Beach Convention Center (MBCC) is now a world-class venue, surrounded by great nightlife and the Art Deco District.
The MBCC now boasts 1.4 million sq. ft., with 500,000 sq. ft. of exhibit space, a new 60,000-sq. ft. Grand Ballroom, 84 breakout rooms, a 20,000 sq. ft. rooftop space, and nine acres of green space for events. It also recently received LEED® Silver certification.
The Convention Center District's also getting a new headquarters hotel, Grand Hyatt Miami Beach, an 800-room property opening in 2025 with an elevated skybridge to the Convention Center.
In downtown Miami, Miami Convention Center offers 110,000 sq. ft. attached to the Hyatt Regency Miami and its 612 guest rooms. The redesigned Miami Airport Convention Center (MACC), with 172,000 sq. ft., is adjacent to the Doubletree Hotel, with 373 guest rooms and 18,000 sq. ft.
AC Hotel Miami Brickell, Downtown Miami is part of a new dual-branded property with Element by Westin. The hotels opened in December 2021, with a combined 264 guest rooms, 4,683 sq. ft., fitness center, restaurant and rooftop pool.
The Mayfair House Hotel & Garden opened last summer, with 179 guest rooms, 8,500 sq. ft., a restaurant and rooftop pool bar. The Goodtime Hotel opened on Miami Beach in April 2021, a stylish 266-room property with 5,000 sq. ft., a pool, restaurant and fitness center.
Hidden Gems Are Everywhere in Greater Miami
At the world-class Perez Art Museum (PAMM) on Biscayne Bay in downtown Miami, groups can rent out the entire 200,000 sq. ft. The adjacent Patricia and Phillip Frost Museum of Science is also rentable, with 250,000 sq. ft. centered around "living" terrestrial and aquatic exhibits.
Vizcaya Museum & Gardens is an Italian-Renaissance home built by industrialist James Deering in 1916. It's a favorite spot for receptions, for the Continental elegance inside and the stunning views of Biscayne Bay outside.
Meetings in Paradise
"Florida's Paradise Coast" is where the Gulf of Mexico's aquamarine waters meet 30 miles of white-sand beaches. Here, amidst striking natural beauty, are scenic downtowns, luxury spas, beachfront resorts, and over 90 golf courses. Not to mention the wonderful silence of placid waterways and uninhabited islands, and breathtaking sunsets over the Gulf.
The Ritz-Carlton, Naples is now completing a $50-million expansion/redesign. The result will be 92 new luxury-suite accommodations, bringing the total to 474 guest rooms; improvements to the 42,000 sq. ft. of meeting space; a new Club Lounge; and an upgrade of the renowned sushi restaurant DUSK.
Following a $25-million renovation/expansion, the Artis-Naples organization is offering thirteen new event spaces for groups. It's Hayes Hall can host 1,477 for conferences and events on the stage used by Diana Ross, Tony Bennett and the Beach Boys, and the Baker Museum Signature Event Space can host 150 seated or 300 standing, with an on-site kitchen.
The Paradise Coast has hidden gems for meetings, too.
Innovation Hotel has 169 guest rooms and 17,580 sq. ft. dedicated to the art of collaboration, and the Arthrex One conference center can accommodate 750 in its meeting spaces, pre-function areas and dining spots.
NGALA® Wildlife Preserve is a wooded 42-acre location accommodating up to a thousand attendees for events incorporating exotic animal encounters and unique culinary experiences.
Also, a SeaFair Mega Yacht will be starting Naples/Marco Island operations by year's end. With 12,000 sq. ft. of glass-walled space, this luxurious multi-level yacht can host 600 attendees.
Orlando: Disney and Beyond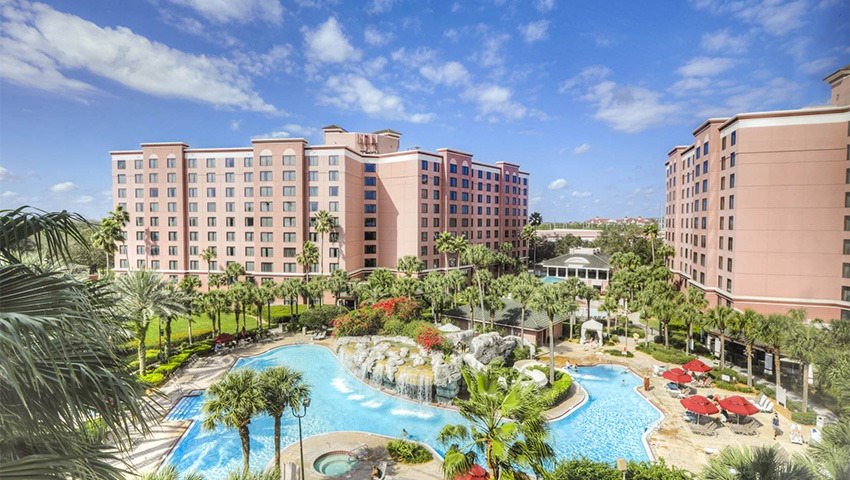 Orlando International Airport (MCO) just completed Phase One of a $3.82 billion project, with the opening of the South Terminal Complex. The project adds 15 gates, interactive media, new baggage system, shops, restaurants, and the Intermodal Terminal Facility (ITF) accommodating three train systems, including the Brightline to Miami.
The award-winning Orange County Convention Center (OCCC) offers 7,000,000 sq. ft., in   two buildings connected by a 1,500' pedestrian bridge with moving sidewalks. It's gained a reputation for sustainability with multiple "green" initiatives.
Restaurants, entertainment and the parks are close, as are 125,000 guest rooms, including 5,000 connected to the facility by pedestrian bridge.
During the fiscal year ending in September, the OCCC hosted 158 events, with 1.4 million attendees and an economic impact of $2.3 billion. Next year it welcomes back longtime clients such as Premiere Orlando, with an expected 57,000 attendees and economic impact nearing $146.3 million.
In November 2021 Swan and Dolphin Resort opened the 349-room Walt Disney World Swan Reserve, bringing the resort's room-count to 2,600 and meeting square-footage to 350,000. Lake Nona Wave Hotel opened a month later with 234 guest rooms, 12,000 sq. ft. and two restaurants.
Read More: Lake Nona Wave Hotel Wants to Turn Your Group into Superhumans
Drury Plaza Hotel Orlando Lake Buena Vista is beginning a phased opening in a former Best Western, with 602 guest rooms and 17,000 sq. ft. Opening next year is Conrad Orlando at Evermore, with 433 guest rooms, 40,000 sq. ft. and rooftop dining.
Caribe Royale Orlando, with 1,335 guest rooms/villas, completed a $125-million renovation of one-bedroom suites last spring, and a new 50,000 sq. ft. grand ballroom brings meeting/event space to 220,000 sq. ft.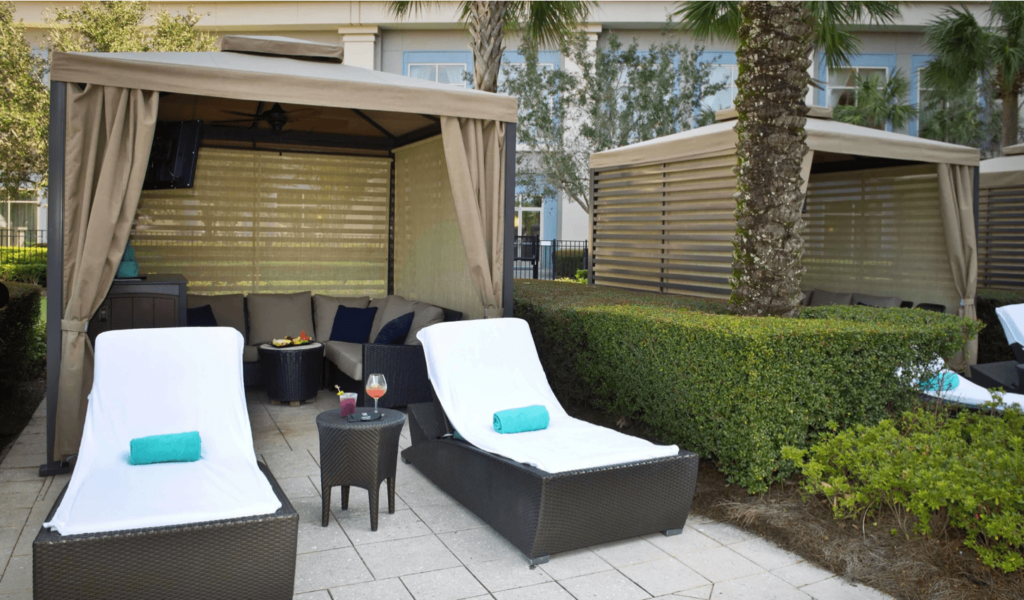 Next year brings an additional 103,000 sq. ft. of meeting/event space at Signia by Hilton Orlando Bonnet Creek, bringing the total close to 300,000, along with 1,009 guest rooms, 12 restaurants and a golf course. Waldorf Astoria Orlando adds an 8,000 sq. ft. ballroom to its 42,000 by year's end, and its 502 guestrooms will be upgraded by next summer.
Rosen Centre Hotel has garnered numerous industry awards. Connected by skywalk to the Convention Center, it's close to the airport and the parks. This is a landmark hotel known for personal service and memorable meetings, with 1,334 well-appointed guest rooms/suites with panoramic views, over 150,000 sq. ft. of meeting/event space, and nine dining options proffered by an award-winning culinary team. Rosen Centre's earned the coveted GBAC Star, symbolizing the highest standard of safety and cleanliness.
Rentyl Resorts offers high-quality rentals for groups in Orlando, including Encore Resort at Reunion, with 2,883 sq. ft. on its third-floor terrace and 835 in its dining room. Amenities include two restaurants and a lounge, a grab 'n go market, pools, tennis, fitness center, and a ten-acre water park with three water slides on a 60-foot tower.
Steinmetz Hall at the Dr. Phillips Center for the Performing Arts opened last winter, accommodating 850 for receptions, 600 for banquets and 1,700 theater-style.
Hidden Gems
Boxi Park, a 30,000 sq. ft. outdoor entertainment district created from repurposed shipping containers, can host 1,200. Combining 7,200 sq. ft. of event space with mind-tripping illusions, the state-of-the-art Museum of Illusions Orlando has customizable event packages for groups, including entertainment.
Then there's Icon Park. This is a 20-acre entertainment destination with over 50 rides, restaurants, shops, bars and amusements, including The Wheel, a 400' Ferris Wheel with bird's eye views of Orlando. There's also 150,000 sq. ft. for groups.
Catherine Lyons, CFO of the Alexandria, VA-based International Sleep Products Association, held the organization's Biennial Expo, for manufacturers and buyers, in the Orange County Convention Center from March 8-10.
"We brought 3,100 attendees from 55 countries here, and they stayed in eight different hotels," she says. "And the reason we came was because we had brought 4,100 attendees here in 2016 and had a great experience."
Lyons notes the great airlift, and that attendees enjoy the dining options and the outdoor events.
"This was our first show since 2018, because of COVID," she says. "So, it was an important one for us. And both manufacturers and buyers spoke very highly of the destination…which is why we're coming back in 2026."
St. Pete/Clearwater
In recent years, St. Pete/Clearwater has gained worldwide acclaim for its 35 miles of award-winning, white-sand beaches washed by the warm waters of the Gulf of Mexico.
Here you can dine outside every day, or stroll revitalized downtowns, or enjoy breathtaking ocean views. This region covers 24 distinctive towns, combining an urban energy with a laid-back beach vibe.
The Karol Hotel, St. Petersburg Clearwater opened in February 2020, and then closed during the Covid pandemic. However, it re-opened in November 2020, with 123 guest rooms, 7,340 sq. ft., Vantage Rooftop Bar, K Club Bistro, fitness center and pool. Cambria St. Petersburg – Madeira Beach Marina opened December 2020 with 125 guest rooms, 1,400 sq. ft., restaurant, and a rooftop bool with a bar and 360-degree views.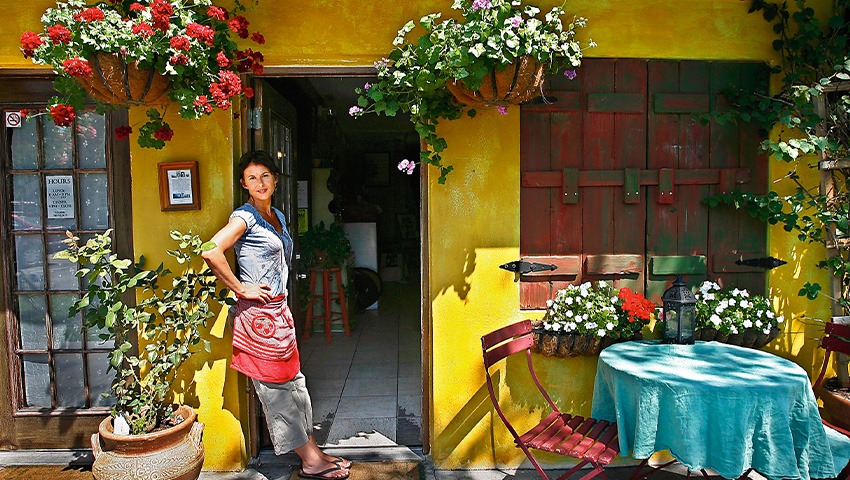 Hilton Garden Inn St. Pete Beach debuted in May 2021 with 144 guest rooms and 884 sq. ft., and a fitness center, pool, restaurant and beach bar.
AC Hotel St. Petersburg is scheduled for a late-February 2023 opening, with 121 guest rooms, 1,605 sq. ft., two restaurants and a lounge, a fitness center and pool.
One of the region's most popular resorts with meeting planners is actually two resorts. Tradewinds Island Resort on beautiful St. Pete Beach is the site of Rumfish Beach Resort and Island Grand Beach Resort. Together they offer 585 guest rooms, 51,505 sq. ft. inside and 20 acres of beach outside, a spa, five pools, six restaurants and seven bars. Tradewinds completed a $2.2-million renovation of meeting spaces in late-2020.
Hidden Gems Are Ubiquitous Here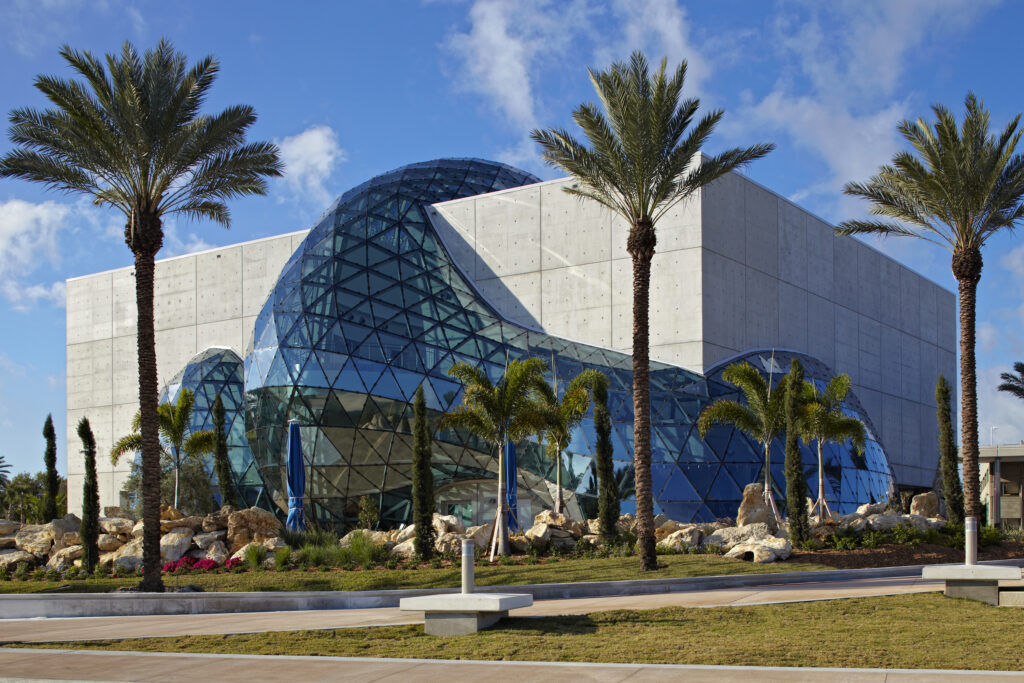 Dali Museum in St. Pete is one of only five Dali Museums in the world, and the only one in America. It has 3,000 sq. ft. of meeting/event space. Nova 535 is a stylish, very unique venue with 4,200 sq. ft.
Tampa Bay Automobile Museum in Pinellas park offers 14,000 sq. ft., and shiny automobile classics you've seen only in movies, and Tropicana Field, home of Major League Baseball's Tampa Bay Rays, has 7,500 sq. ft. for groups.
The Golden Age of The Palm Beaches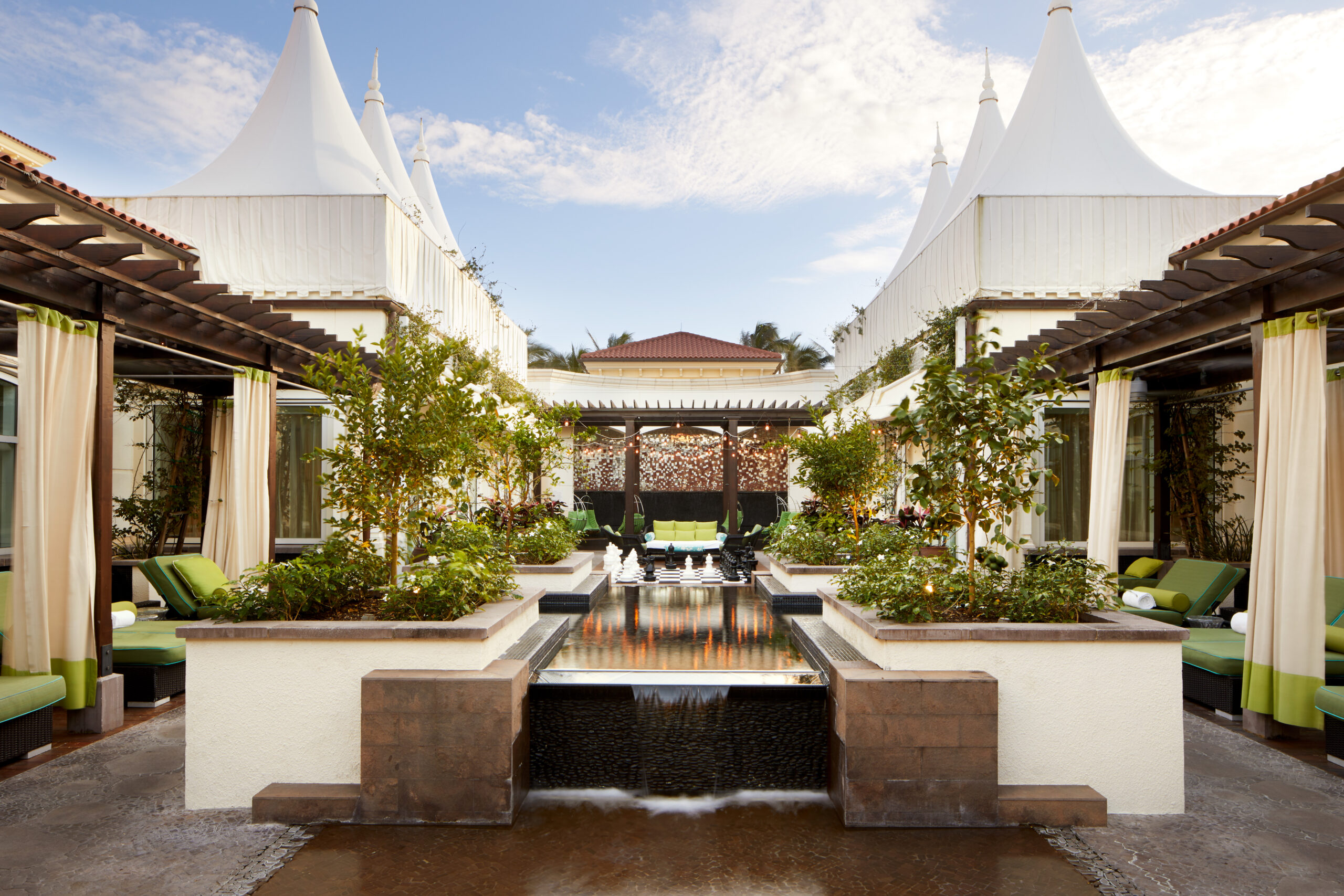 Florida's original resort destination, The Palm Beaches, are reinventing themselves as wellness havens catering to what attendees want today. The vacation escape Henry Flagler envisioned in 1892 as a "veritable paradise" and Addison Mizner designed as a mix of Spanish Colonial, Italian Renaissance and Beaux Arts stucco, arches and red roof tiles is now one of the most in-demand meeting destinations in the country.
The destination brimming with colorful attitude is even home to an annual Pink Retreat to celebrate the Lilly Pulitzer lifestyle made famous by the vibrant owner of a juice stand on Worth Avenue in 1959. She reportedly designed an apron that would hide the stains and a floral brand was born.
From West Palm Beach's colorful boutiques and nightclubs to Boca Raton's renovated spaces, new and refreshed venues await returning guests with wellness-centered luxury, innovative culinary concepts and lots of outdoor space. This is an incentive meeting paradise.
Eau Palm Beach Resort & Spa tucked on Florida's gold coast pops with luxury and fun after a Jonathan Adler treatment to the 309 guest rooms and 30,000 sq. ft. of meeting space. The Spa is the star, however with a lounging garden and personalized services.
Conveniently located in the heart of Palm Beach, newly renovated The Brazilian Court Hotel is 80 guest rooms arrayed around an elegant outdoor courtyard with award-winning Café Boulud providing the elevated catering for the VIP meeting space.
The Breakers Palm Beach is an iconic beachfront property dating back to 1896. The owners pour $30 million into refreshing the 80,000 sq. ft. of meeting space, 538 guest rooms, half-mile of private beach and 10 restaurants, including the off-property Echo and cabana service poolside.
Four Seasons Resort Palm Beach closed for six months in 2019 to completely refresh the 21,128 sq. ft. of meeting space and 207 guest rooms. When it reopened just in time for the pandemic, it was almost immediately bought out for a year to create a bubble for a financial company's employees. The lessons learned during that time helped them welcome groups back quickly and safely. The popular incentive destination is renowned for it spa treatments and creative pool deck activations.
In hip Delray beach, Opal Grand Oceanfront Resort & Spa made it's own upgrades last year, including the addition of a new Drift restaurant to serve its 22,000 sq. ft. of meeting space and 276 guest rooms.
The Boca Raton is embarking on its own "new golden era" as the 200-acre property has been completely reimagined. The buildings were restored to their original coastal white with the exception of a new 224-guest-room pink tower adjoining the Harborside Pool Club. Signature spaces at each of the five different buildings, including the distinctive Cathedral room, add a sense of place to a gathering. Golf tennis, yoga on the spa pool deck and easy access to ocean excursions add turnkey energy to any agenda.
This article appears in the October/November 2022 issue. You can subscribe to the magazine here.