Las Vegas Strip
Same small-town hospitality
There will soon be even more—3 million sq. ft. more—for event professionals to love in the convention capital of the world. This influx of new meeting space from your favorite major hotel properties is in addition to a massive new convention center expansion and innovative new concepts coming to The Strip that will cement Las Vegas' role as the prime destination for major gatherings.
Over the next 24 months, a 21 percent increase in inventory will be welcomed in the shining city in the desert, which already boasts more ballrooms and breakout rooms than any other place on the planet—and for the last 24 years has been named top trade-show destination in the United States by Trade Show News Network.
Behind all the neon lights and oversize Grecian columns, however, the hospitality community is still a tight-knit one that works together to serve visitors even as they compete to win business and claim bragging rights. "It is a city of 2.2 million people, but the hospitality industry feels like a small town," says Chris Meyers, senior vice president of global sales for Las Vegas Convention and Visitors Authority (LVCVA). "We all know what the others are doing, and it causes us all to stay at the top of our game."
In this city of hoteliers, performers and celebrity chefs, the magic act event professionals will be watching is how the brands they know and book regularly will be able to delight and surprise attendees by pulling even more gee-whiz spaces and experiences out of their hats.
International Destination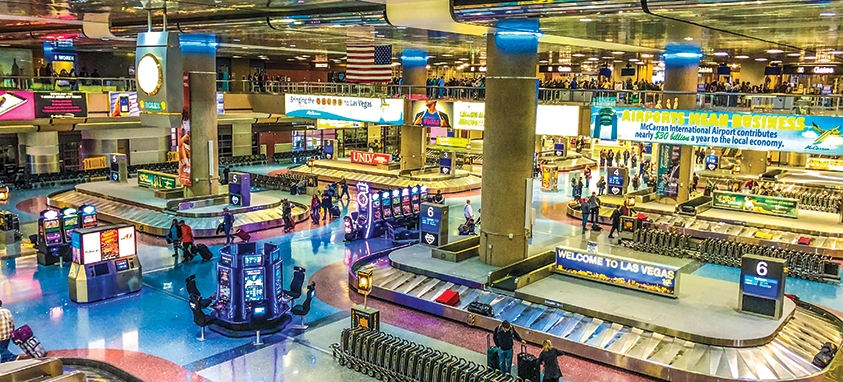 Hoteliers in Las Vegas hosted 42.1 million visitors in 2018—6.5 million of those for conferences. Sixteen percent come to this convention hot spot from out of the country. Meyers says the city is extremely popular in the MICE world, particularly with visitors coming from China, Korea, Japan, Canada, Mexico, Brazil and Columbia.
The average age of attendees has been getting younger for the last three years, according to LVCVA's annual report. The average age of those coming to the city is 44, but 38 percent of those disembarking at McCarran International Airport (LAS) qualify as millennials. They are looking for different things than some of their baby boomer counterparts, and that is showing in the menus and agendas event professionals are developing.
"Younger attendees require us to rethink the experience—food option, breaks, access to natural light and outdoor areas," Meyers says. This doesn't even count the thousands who could practice sports tourism when the NFL Raiders football team arrives in 2020 to make their home in a new stadium being built on the UNLV campus.
LVCVA is preparing for this dynamic new delegate population while still offering nostalgia for the Vegas of yore. An $860 million expansion to Las Vegas Convention Center (LVCC) will add 1.4 million sq. ft. to the 3.2 million sq. ft. of existing space (scheduled for its own complete renovation by 2023) and bring an estimated 600,000 new visitors a year to the city. This new phase of improvements will include a rooftop terrace overlooking The Strip, re-creations of classic Las Vegas neon signs and immersive, LED video displays that can be used to project art and branded event messaging.
"Southern Nevada's economy is driven by tourism, and this expansion will propel our convention center forward to enable us to maintain our status as the No. 1 trade show destination in North America," said Rossi Ralenkotter, LVCVA chief executive officer, when the designs were unveiled.
The first group booked in the new convention center district has become synonymous with major Las Vegas events: CES, the consumer electronics show, which attracts more than 180,000 industry professionals from all over the world to see the latest gadgets. It has been meeting in Las Vegas for 40 years. "The renovation and expansion of LVCC is critical to the growth of CES. It ensures the show will have state-of-the-art facilities and space to grow strategically as more nontraditional verticals are incorporated into CES," said Allison Fried, director of global event communications for Consumer Technology Association, the organization behind CES, when the announcement was made.
New Conference Centers on the Block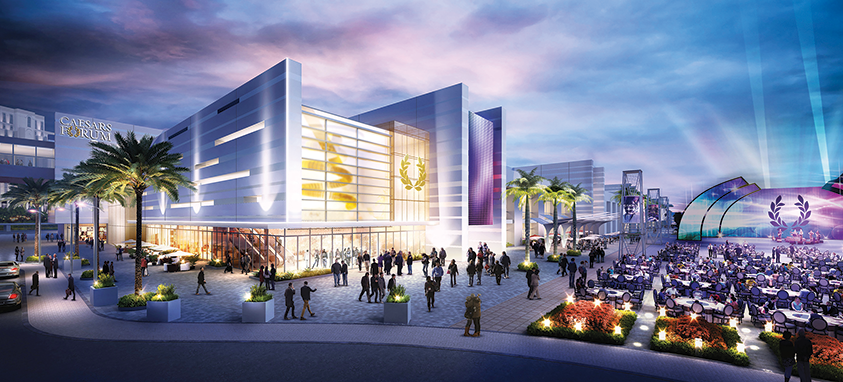 Two new convention master spaces are coming to The Strip from familiar names. Caesars Entertainment, which owns nine properties in Las Vegas, will open the doors in 2020 on the two largest pillarless ballrooms ever built—108,000 sq. ft. each—and two additional 40,000 square-foot ballrooms. Caesars Forum is a $375 million conference facility that will total 300,000 sq. ft. of natural light-filled meeting space—more than five football fields of exhibit nirvana—with another 100,000 sq. ft. of outdoor plaza accessible through massive roll-up doors for taking advantage of that year-round Nevada sunshine. It is being built to LEED silver standards and topped with solar panels to fuel greener meetings.
Because flexibility is the secret sauce for hoteliers today, 2.1 miles of smart air walls will allow event professionals to make it their own. All that tech-enabled space will be on one level to make access between ballrooms, breakouts and exhibit space easy, and transitions seamless.
When choosing menus at Caesars properties, look for even more celebrity chef options—think Guy Fieri's lollipop wings—and less waste as the food and beverage staff is working to limit overages and collaborating with local nonprofits to donate untouched meals.
The new space will channel the inner Roman congress in groups, allowing them to come together to make decisions and get business done in ways they couldn't when restricted by smaller, less inviting spaces. "The Roman forum was the town square, the city center where ideas were created and matriculated, and where the gatherings took place. It was where commerce happened. We want to make sure we honor that heritage," said Mike Massari, chief sales officer for Caesars Entertainment, when the project was announced.
Caesars Forum will directly connect via skybridge to 5,000 guest rooms at Harrah's Las Vegas, Flamingo Las Vegas, and The Linq Hotel and Casino, all of which are being renovated to welcome the new groups already booking to be the first in the magnum-size center.
MGM Resorts, which owns 4 million sq. ft. at MGM Grand, Aria Resort & Casino and Bellagio, recently flipped on the lights at IACC-certified The Meeting Center at Park MGM, which provides 77,000 sq. ft. of indoor and outdoor space, including the Ideation Studio, which integrates Cisco Systems technology in 7,000 sq. ft. of hyperflexible space. It is also home to Madison Meeting Center, a 10,000-square-foot space broken down into 10 individual rooms and two lounges, with moveable furniture and smart white boards, plus the 5,200-seat Park Theater.
These modern spaces offer Stay Well Meetings program amenities designed by Delos, with input from advisory board member and wellness expert Dr. Deepak Chopra. To activate mental acuity, they incorporate insights from behavioral science in the furniture and layout. "We're not just building space: We are building the right space," said Michael Dominguez, senior vice president and chief sales officer of MGM Resorts International.
MGM has also been busy building up the offerings at Aria. A total of 200,000 sq. ft. of sparkling new convention center space brings the total LEED Gold-certified gathering space to 500,000 sq. ft., including the 22,000-square-foot glass box, opening into a terrace overlooking The Park and T-Mobile Arena.
To celebrate its 25-year anniversary, MGM Grand is opening the front of the property to The Strip, thereby enhancing the pedestrian experience and adding to the retail mix at the signature property.
More New Ways to Vegas
Wynn Resorts modified plans for a $1.5 billion expansion to do away with a planned lagoon. The 400,000 sq. ft. of convention center space is still on pace to open this year and will be followed by an 18-hole golf course between Wynn and Encore. Look for even more high-end shopping and restaurants along the way.
Across the street, Resorts World Las Vegas anticipates a 2020 opening of a 3,000-room property with a Chinese theme and 100,000 sq. ft. of gaming.
Farther up The Strip, Marriott is converting the foundation of an abandoned Fontainebleau casino into a campus that will house The Drew Las Vegas, JW Marriott and Edition properties, with 4,000 guest rooms, 500,000 sq. ft. of meeting space and 20 restaurants. Look for this bright light by 2020.
Meanwhile, JW Marriott Las Vegas Resort & Spa recently threw open the doors on a major renovation that touched all the guest spaces at what is known as the "Scottsdale of Las Vegas." With almost 116,000 sq. ft. of full-service event space, a world-class spa and access to year-round golf adventures, it provides everything for meetings in one place.
In another development off The Strip, Virgin Hotel Group purchased Hard Rock Hotel and will be putting millions of dollars into converting it before the name changes sometime this year.
At M Resort Spa Casino Las Vegas, i addition to 92,000 sq. ft. of meeting space, planners can now also trick out M Pavilion, 25,000 sq. ft. of pillarless space with endless possibilities.
Tropicana Las Vegas, a DoubleTree by Hilton, recently renovated 1,470 residential-style guest rooms, VIP Sky Villas and Bungalows, many of which feature balconies with waterfall pool views. The expanded Tropicana Las Vegas conference center now includes more than 100,000 sq. ft. of meeting space that can be broken into 38 breakout rooms, with easy access to the Tropicana Theater for that unforgettable closing reception where a Prince tribute show could be your special guest.
A $40 million renovation at South Point Hotel, Casino & Spa will upgrade 2,134 guest rooms by 2020. This is in addition to recent improvements that include upgrades in the 75,000-square-foot conference center, the addition of 100,000 sq. ft. at the equestrian center, expansion of Costa del Sur Spa and Salon, construction of a multibillion-dollar professional bowling plaza and the opening of Zenshin Asian Restaurant. "We live in a city that is continuously evolving and we are always looking for opportunities to improve our guest experiences," General Manager Ryan Growney said when he announced the investment.
Treasure Island Resort & Casino recently spent more than $7 million to add a whole new lower level for meetings, bringing total space to 30,500 sq. ft., with separate access from the gaming floors.
At Cosmopolitan of Las Vegas, a luxurious refresh endowed 2,895 guest rooms with new ways to wow VIPs, including a virtual concierge, managed with the touch of an in-room iPad to book everything from restaurants to show tickets, and control lighting and temperature. Event planners can use the iPads to send messages to attendees, reminding them of important sessions or informing them of a change in transportation plans.
Harrah's Las Vegas celebrated its 80th anniversary with a $140 million face-lift of his namesake property on The Strip. The renovations include a 2,000-square-foot penthouse with superstar metallic features and a private game table.
After purchasing what was International Hotel and then Las Vegas Hilton in 2014, and renaming it Westgate Las Vegas Resort & Casino, the owners poured $100 million into renovations on the historic property adjacent to Las Vegas Convention Center. The retro-hip look plays off celebrity visits from the likes of Elvis Presley.
For something completely different, Hilton transformed what was Mandarin Oriental hotel into Waldorf Astoria Las Vegas hotel & Residences , a 389-guest room, nongaming, ultra luxury property with 12,000 sq. ft. of meeting space.
"For the planner, all of this means more choice, more flexibility. When you have choice, you have value," Meyers says.