Thy cup overfloweth in Brew City
Laverne and Shirley, cheese, Wayne and Garth being corrected on the pronunciation of "Milwaukee" by Alice Cooper—these are just some of the things that come to the mind of the uninitiated when pondering Milwaukee, such as myself. But the "Pearl of the Midwest" is a literal treasure trove of amazing meeting venues, cultural sites, live entertainment and restaurants serving tantalizing local selections. Cheers!
Arrival
Arriving at General Mitchel International Airport (MKE) can be a blustering affair depending on the time of year of your visit to Milwaukee—yes, it can get windy. But maneuvering the airport, claiming your bags and getting transportation is truly a breeze.
Moreover, the Milwaukee travel hub services over 30 cities across the U.S. nonstop, making it much easier for attendees to get there. Once there, Milwaukee's downtown area is just a quick 10-minute drive away with access to over 6,000 hotel rooms and the nearly 200,000-square-foot Wisconsin Center.
Activities
One thing you won't encounter in Steeple City is boredom. From art galleries to live music venues, Milwaukee has something to pique every interest, with aspects touching on entertainment and education alike. Milwaukee Art Museum is home to an eclectic collection, transporting guests through different creative eras from The Renaissance to the Pop art movement championed by Andy Warhol. The art museum is home to the 25,000-square-foot Quadracci Pavilion, a sculptural wonder that takes its cues from the dramatic topography of the city and can accommodate up to 1,000 guests.
Located in Milwaukee's historic Bronzeville neighborhood, America's Black Holocaust Museum recently reopened following an upgrade and relaunch in 2022 after closing in 2008. The new space stands on the footprint of the original museum first opened in 1988 by museum founder Dr. James Cameron.
Venues
The city's depth of history and development reflected in the local architecture is exemplified in Wisconsin Center District, which sits alongside the 24,000-square-foot UW-Milwaukee Panther Arena, 4,087-person-capacity Miller High Life Theater, and the 700,000-square-foot championship Milwaukee Bucks' Fiserv. Planners seeking an artistic touch will find just that at Saint Kate the Arts Hotel—a truly unique venue, providing luxury amenities in 219 guest rooms and nearly 12,000 sq. ft. of meeting space across seven meeting rooms, multiple art galleries and amazing dining options.
Dining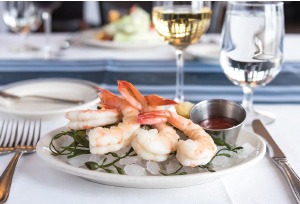 Milwaukee is home to a culinary scene that spans the gamut from fine dining to casual establishments specializing in regional dishes—all of which offer guests an elevated dining experience to compliment the extensive list of the city's venues and activities. Milwaukee's Harbor House, co-founded by two-time James Beard Award-winning Chef Paul Bartolotta, offers guests tantalizing dishes such as Black Angus Ribeye, striped bass, scallops, South African lobster tails, fresh oysters, to name a few.
Private dining available at the Harbor House includes the Captain's Room with a capacity of 46-60 guests, in addition to a total restaurant buyout with a capacity
of 200-220 guests. For a taste of the traditional dishes Milwaukee is known for, planners can take advantage of the expansive and entertaining space at Lakefront Brewery with a wide selection of award-winning beers and classic Milwaukee dishes such as fried cheese curds and the fish fry basket.
This article appears in the January 2023 issue. You can subscribe to the magazine here.