Say hola to the Mexican Caribbean
It's been great doing drive-to meetings in less-traveled locales, hasn't it? But let's face it, it's been a relief doing in-person gatherings (with virtual components, most likely) anywhere since last spring. Now, as days have turned cold and trees stand bare in most of the United States and Canada, planner's eyes naturally gaze further southward—to the warmest place in North America.
Mexico.
But two questions immediately arise. Is it open? And is it safe?
The answers are yes…and yes. Within specific parameters. At press time, air travel between the United States and Mexico was not restricted, although border crossings by land still were. And Mexican travel experts are recommending staying at major resorts, where stringent hygiene and other safety protocols and procedures are in place.
But where in Mexico? Well, the excellent choices are many, but you should be aware there is something new under the sun. It's being called the Mexican Caribbean. As a marketing entity, it encompasses the entire eastern coast of the Yucatan Peninsula—a dozen destinations in all—stretching from Cancun to the Belize border, including coastal islands like Isla Mujeres and Cozumel and resort cities smaller than the ever-popular Cancun, such as Playa del Carmen and Puerto Morelos. All are located in the state of Quintana Roo, Mexico's easternmost.
The cumulative assets are muy fantastico: 107,000 hotel rooms (with more than 10,000 more under construction or planned in the next few years), three dedicated convention centers (plus many more within hotels and resorts), three international airports, spas and wellness programs at nearly every hotel and—for getting outside to fresh air and stunning scenery—more than 550 miles of beaches, 6,000 cenotes (subterranean freshwater pools), 25 nature and theme parks, 10 archeological sites, 15 pro golf courses, and even one world heritage site.
Here, then, is your up-to-the-minute brief on the Mexican Caribbean's meetings magnets and multiple charms.
Safety First
Certain areas of the vast nation of Mexico may be best avoided at present. In September, the U.S. State Department urged Americans to "reconsider" travel to Mexico because of COVID-19, and also to "exercise increased caution" due to crime and kidnapping. Yet Quintana Roo was not singled out as hotspot for visitors on either front.
As you would expect from a region where 80 percent of the economy is tourism-reliant, the Mexican Caribbean has in fact taken aggressive steps to protect the health of those who visit and those whose livelihoods depend on tourism. Earlier this year, the Mexican Caribbean became the first destination in the Americas to align with World Travel and Tourism Council (WTTC) standards in creating its Mexican Caribbean Clean & Safe Check Certification program. The WTTC Global Safety Stamp was also issued to the specific destinations of Cozumel, Puerto Morelos, Tulum, Isla Mujeres and Costa Mujeres.
More than 6,500 hotels, transportation companies, tour operators and restaurants in the region have been certified or are in the process of doing so.
In addition to adopting protocols for distancing and face masks, global hotel brands have forged the same partnerships they have in the U.S., with companies like Lysol and Bayer, to offer advanced cleaning practices and products. Mexican and other major brands have done the same.
In short, COVID-19 safety is being taken seriously in a destination whose economy needs international visitors, especially from the U.S. and Canada. More than 19 million people visited the Mexican Caribbean in 2019, and the region wants them all back.
Cancun
Odds are, you've been to a meeting in Cancun or know someone who has. It's Mexico's most-visited destination, famed for its white-sand beaches and white-hot nightlife. It's as close to Las Vegas as Mexico gets, and like that other meetings mecca, it offers a vast range of accommodations and activities…but edged by tropical, turquoise waters.
As Mexico's most-visited destination, Cancun has more hotel rooms on the Mexican Caribbean than anywhere else. And the most meeting space. The meeting hotels are dependably either very new or recently renovated, offering fresh, often elegant accommodations, including venues that are all inclusive, adults only, family friendly and permutations of all these options. All offer generous outdoor space for meetings and events.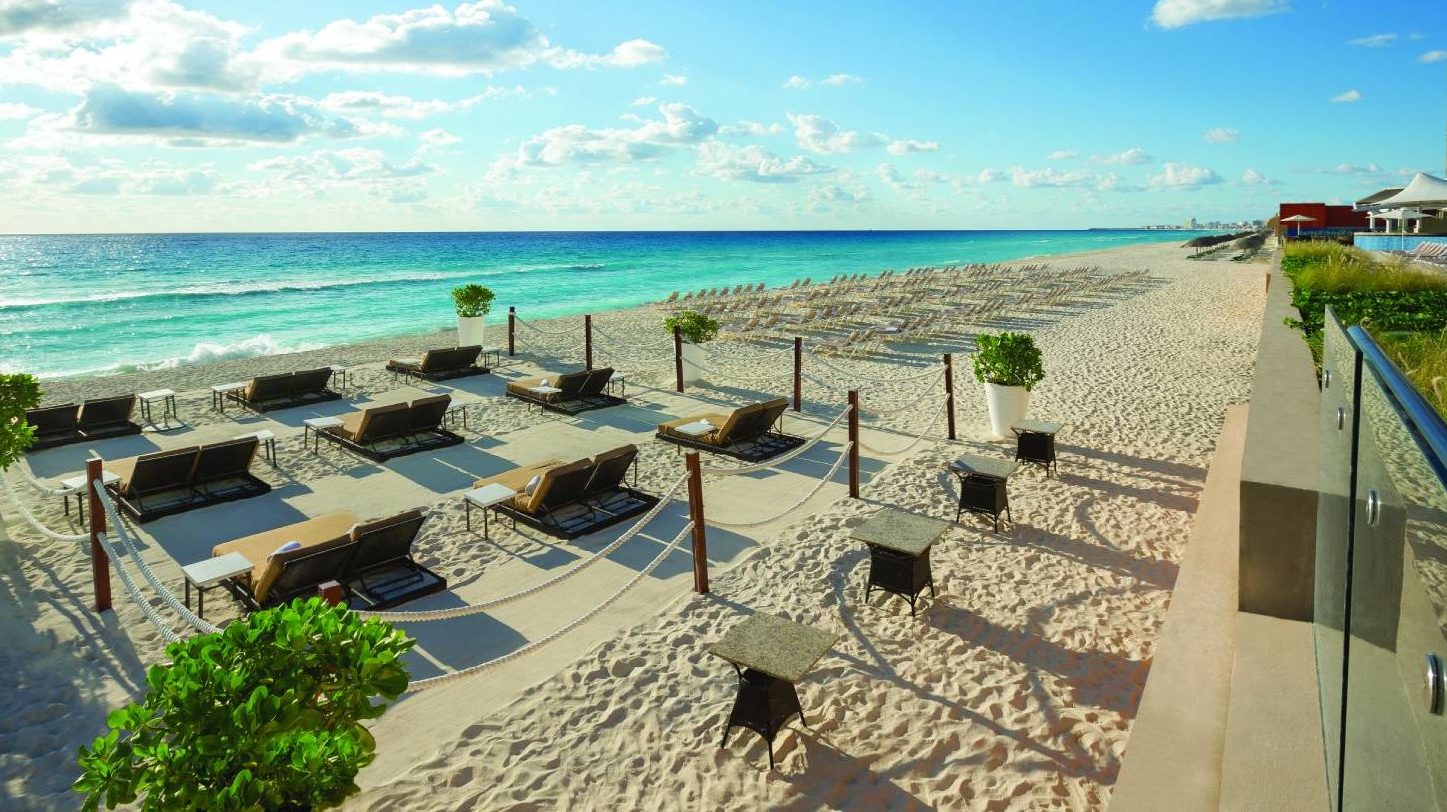 You know what you're getting at Hard Rock Hotel Cancun—this 601-room beachfront all-inclusive is "All Day, All Night, All Included, baby." That means experiential dining at its six restaurants, bottomless cocktails, nonstop live entertainment and "top-shelf everything across the board."
The all-inclusive philosophy extends to a single package rate for planners, including the meeting space, coffee breaks and group functions. As the hotel's website puts it: "We also eliminate those long and time-consuming expense reports you may be used to (and sick of), replacing that for a single master bill which includes everything you need in one single two- or three-page document." Meeting space rings in at 29,272 sq. ft. in three, divisible ballrooms (plus a 12,864-square-foot outdoor terrace). Its convention center can accommodate up to 1,500 attendees.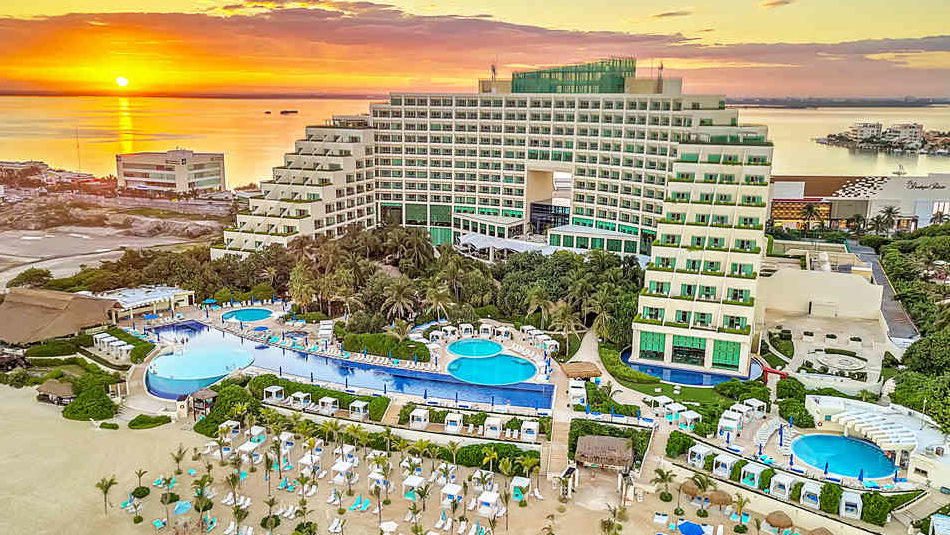 Also among the most noteworthy is Grand Fiesta Americana Coral Beach Cancun. A product of Posadas, the biggest hotel operator in Mexico, this luxury all-inclusive, oceanfront resort has 602 suites and plenty of outdoor meeting space—more than 80,000 sq. ft. of indoor and outdoor space in all, for groups from 10 to 1,700. Lavish Grand Coral Ballroom features 15,351 sq. ft. and includes 20 breakout spaces. There is a lagoon-style pool, as well as a dozen restaurants and bars. Another solid Posadas choice in the hotel zone is Live Aqua Cancun Resort (371 guest rooms, 14,500 sq. ft.), an adults-only, luxury all-inclusive.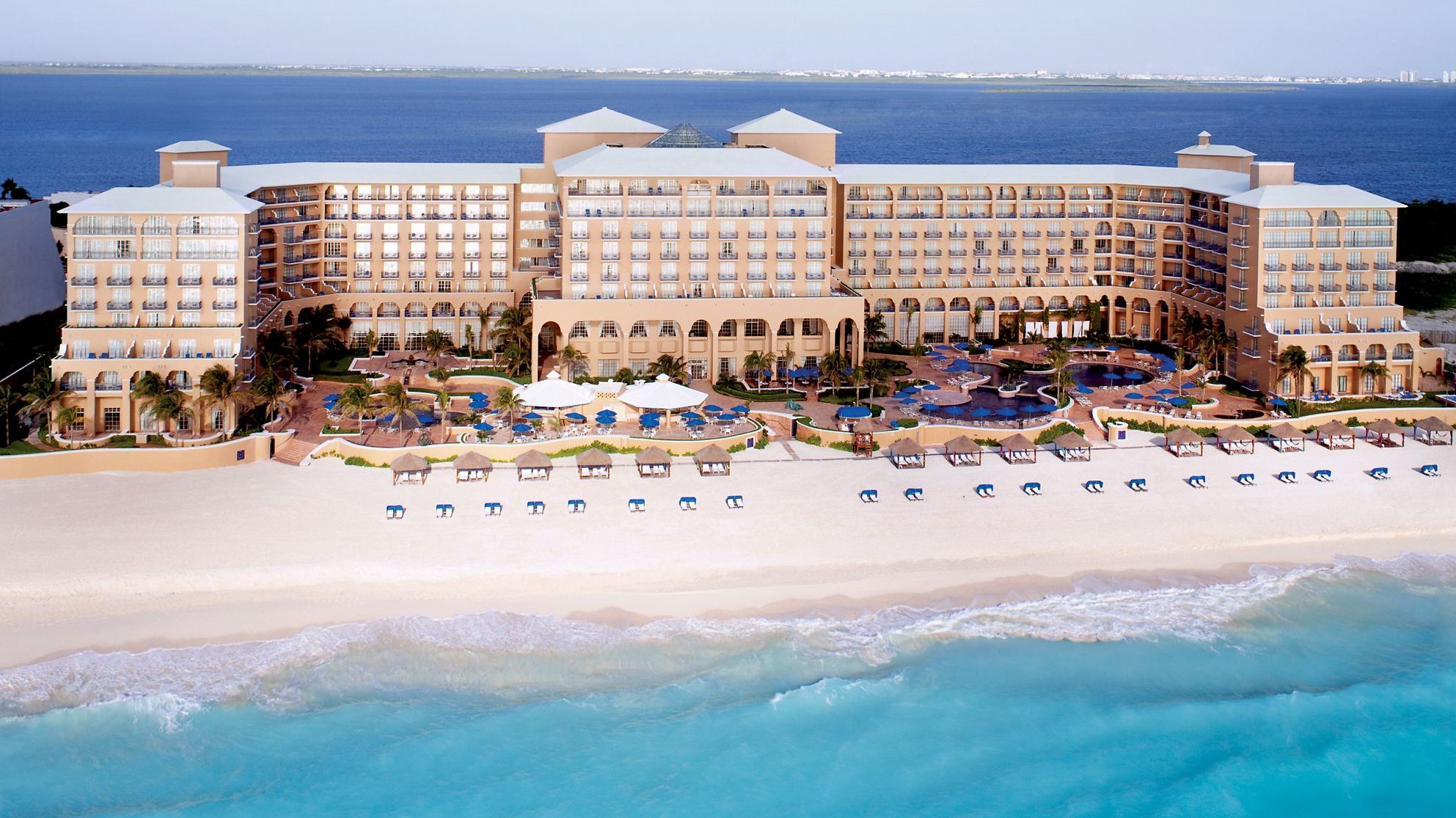 A beachfront favorite, The Ritz-Carlton, Cancun extends the brand's elevated ambiance and service to group activities like cooking lessons and mixology classes at poolside. Indigenous spa treatments, such as the Mayan Sanctuary Ritual, can be had at The Ritz-Carlton Spa after a gathering in the 27,000-square-foot conference center. There's a beachfront venue for up to 700 attendees, as well as private dining at two award-winning restaurants. The resort has 363 elegantly appointed guest rooms.
If it's more space you need, the biggest convention center in the Mexican Caribbean is still Cancun Center, in the center of the hotel zone, with lovely views to the Caribbean Sea and Nichupte Lagoon. It features 78,533 sq. ft. for expos, as well as 75,541 sq. ft. for conferences and conventions, with 13 salons that divide into 40 spaces, a 29,063-square-foot ballroom and 7,083-square-foot auditorium. Audiovisual and catering are among many services offered.
Riviera Maya
South of Cancun along the tropical coast is Riviera Maya, with the principal destinations being lively Playa del Carmen and Tulum, with its dramatic Mayan pyramid that was built 800 or more years ago overlooking the sea. Spectacular resorts also sprawl along the coast outside these populated centers.
About an hour's drive from Cancun International Airport (CUN) sits another beachfront Hard Rock all-inclusive—Hard Rock Hotel Riviera Maya. This one offers 870 guest rooms and even more meeting space—91,556 sq. ft.—as well as all the other musical and let-the-good-times-roll amenities of the brand, plus swimming, snorkeling, paddleboarding and kayaking in the resort's private beachscape. As at its Cancun sister property, meetings are priced in an all-inclusive fashion. An adults-only section, Heaven at Riviera Maya, has 394 "ultra-posh" accommodations.
Woodward Riviera Maya, a 20,000-square-foot "shrine to lifestyle sports," awaits next to the hotel, offering your attendees a chance to snowboard and ski in Mexico (with "dryland" gear), and try the skate and BMX park, trampolines and foam pits, parkour, cheer and hip-hop dance programs, as well as a digital media lab. Instructors welcome all skill levels, and there are observation platforms to just watch.
A few miles further south awaits Unico 20°87° Hotel Riviera Maya, an AIC Hotel Group concept for all-adult, all-inclusive luxury hotels on some of the world's best beaches. Unico means unique, and at 448 rooms—almost all with ocean views—the scale is small enough for sophisticated but big enough for never boring. Five restaurants. Five bars. Three pools. In the attractive, Mexican-contemporary convention center, the ballroom, which is divisible by three, totals 11,603 sq. ft., and 10 breakouts add another 4,220 sq. ft. Two expansive terraces are perfecto for outdoor events.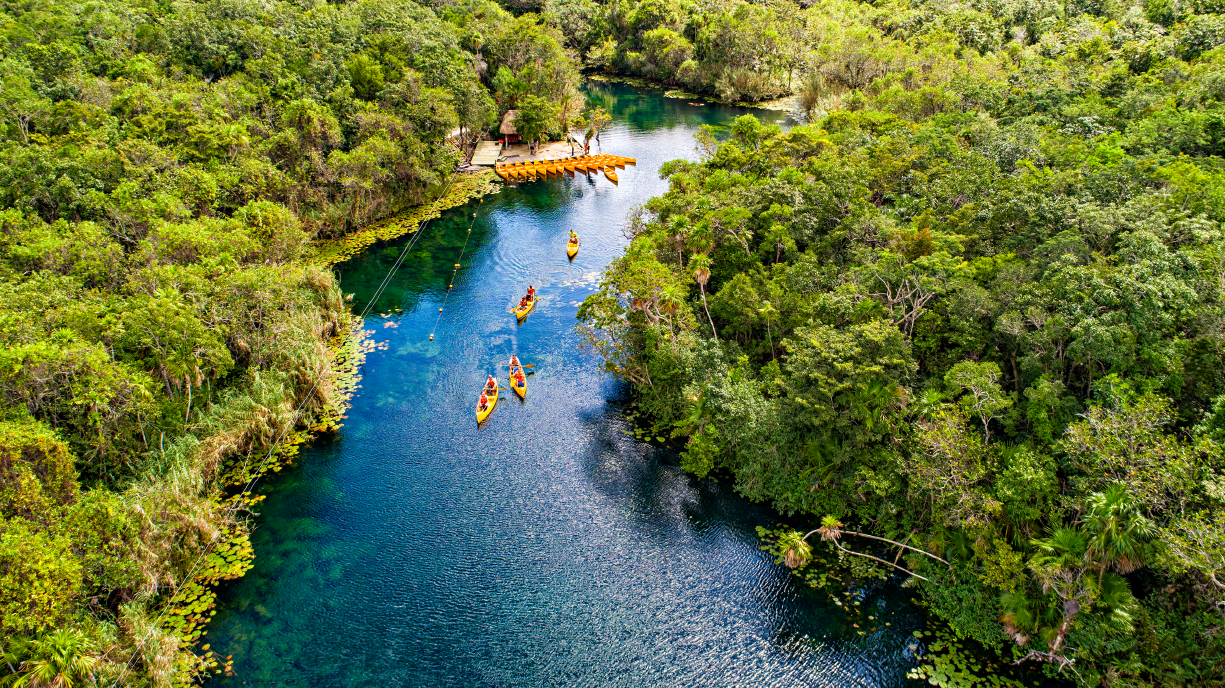 Guest rooms come with an anfitrion (local host), personal butlers who will fill the porcelain spa tub on your private balcony and iron travel-weary clothes. Among highly recommended tours offered by the hotel is Mayan Village & Tankah Cenotes. It does cost extra, but a half-day of ziplining, canoeing, diving and swimming in four distinctly different cenotes—among the 6,000 limpid, limestone pools that provide the fresh water of the Yucatan—will leave your attendees refreshed and ready for a traditional meal prepared by the descendants of ancient Mayans who maintain this eco-park.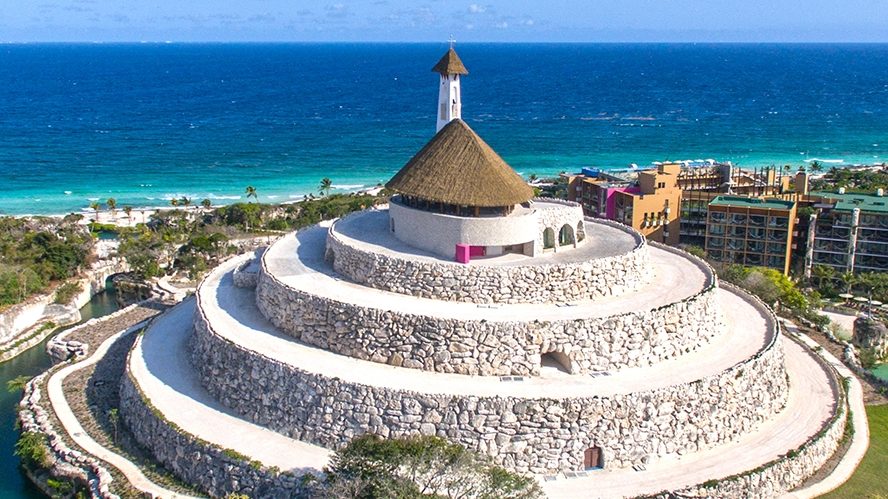 Speaking of eco-parks, near Playa del Carmen the AAA Five Diamond Hotel Xcaret is innovating a concept of "all fun-inclusive" that not only includes the usual soup-to-nuts dining, drinking and activities at the 900-suite luxury property, but also admission to nearby "eco-archeological" Xcaret Park, as well as other Xcaret Group parks in the region—Xel-Ha, Xplor, Xplor Fuego, Xavage, Xoximilco and Xenses—plus  Xenotes and Xichen tours, transportation between parks and airport shuttles. Each of the attractions is unique, but Xcaret Park alone has more than 50 places and things to see and do, including three underground rivers; tropical trails; wild animal sightings at Monkey Island, Jaguar Island, Manatee Lagoon, Butterfly Pavilion, Bat Cave and Coral Reef Aquarium; and swimming at beaches and natural pools.
Hotel Xcaret itself boasts 11 swimming pools and sprawling Muluk Spa, with 21 cabins nestled in natural rock and a temazcal (low-heat sweat lodge originating in indigenous Mesoamerican rituals). And, for groups, there's a new convention center with space for 900 seated or 1,200 reception-style.
Next to Hotel Xcaret, a brand-new, 900-room, adult-only hotel is planned for a July 2021 debut. Hotel Xcaret Arte will consist of its five buildings ("casas"), each themed to the arts—La Casa de la Musica, for example. Each of its nine gastronomical experiences promises to showcase one of the most important chefs in Mexico.
"It will also offer unparalleled outdoor spaces," says Manuel Saracho, corporate director of group sales with Grupo Xcaret. Saracho notes that yet another nearby property, Casa de la Playa Boutique, with 63 suites, is scheduled for opening in December 2022.
Andaz Mayacoba Resort Riviera Maya opened three years ago. Another upscale all-inclusive, its vast layout spread out over 590 acres of breathtaking oceanfront, preserved mangroves and tranquil lagoons, the property features programming that welcomes the outside in. Guests can easily navigate the grounds on foot or by bicycle.
Expect beach yoga and Pilates, Mayan meditation, SUP yoga, aquatic fitness, HIIT cardio, spa workshops (body scrubs, face masks, massage oil and aromatherapy) and more. Also recently introduced was a Vegan Bar, featuring fresh and seasonal Mexican-inspired, plant-based snacks and dishes made with sustainable, locally sourced ingredients, as well as natural juices, fresh fruit waters, smoothies and healthy shots.
The 214-room resort boasts more than 14,000 sq. ft. of meeting space, as well as lawn and terrace areas for outdoor functions.
Asked to sum up the meetings appeal of the Mexican Caribbean, Ken Torres, who heads up business development for the region in North America, says, "I'd say its great air connectivity, a wide range of hotel options, no VAT [value added tax], its stringent safety and health protocols, and, of course, Mexican hospitality, color and culture."
New and Notable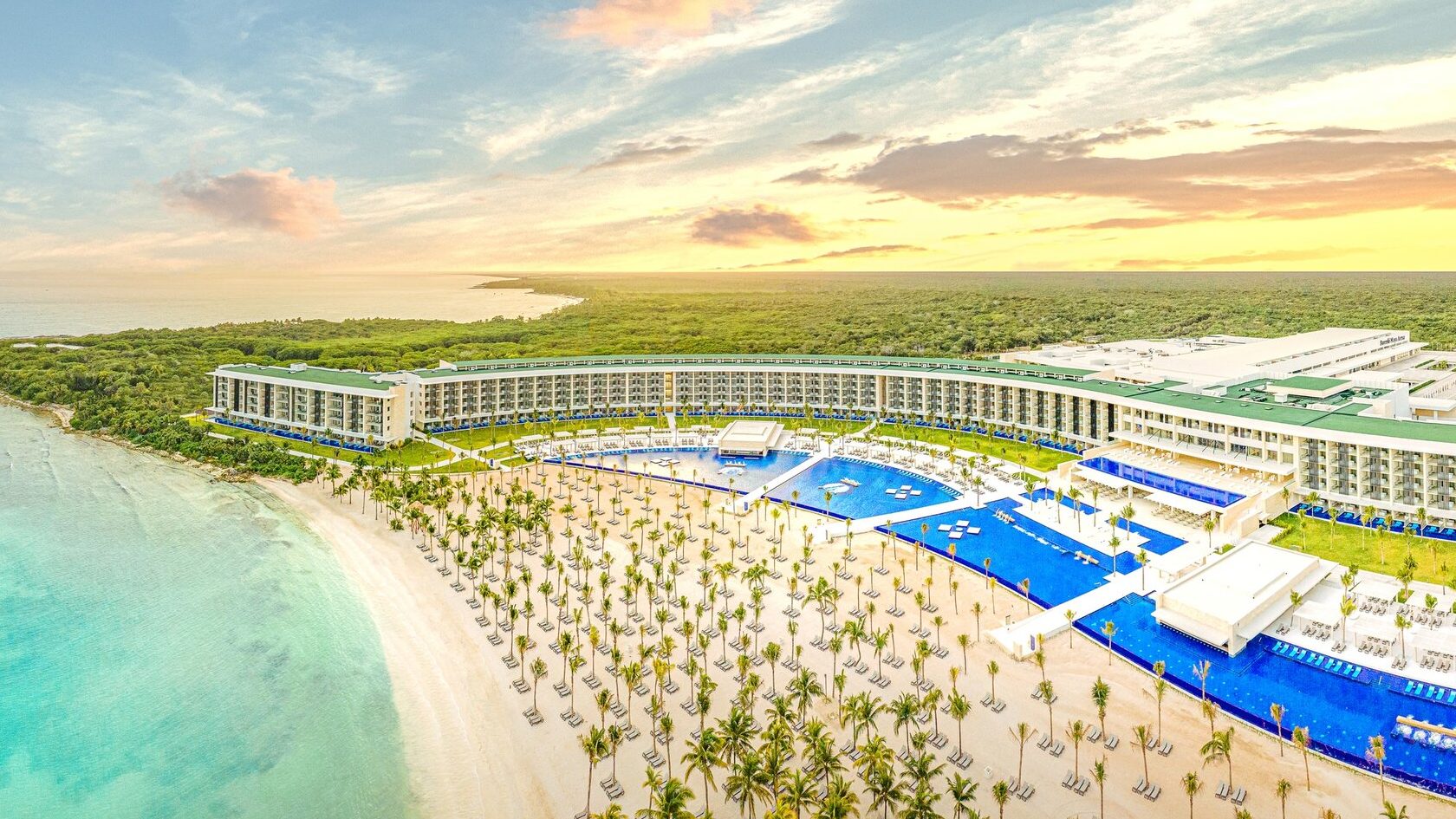 Barcelo Maya Riviera-Adults Only
This is the newest addition to the luxury all-inclusive, 850-room complex made up of Barcelo Maya Palace, Barcelo Maya Beach, Barcelo Maya Caribe, Barcelo Maya Colonial, and Barcelo Maya Tropical hotels. It also boasts Jewel, Riviera Maya's largest convention center, with a capacity of 8,000 attendees.
Dreams Natura Riviera Cancun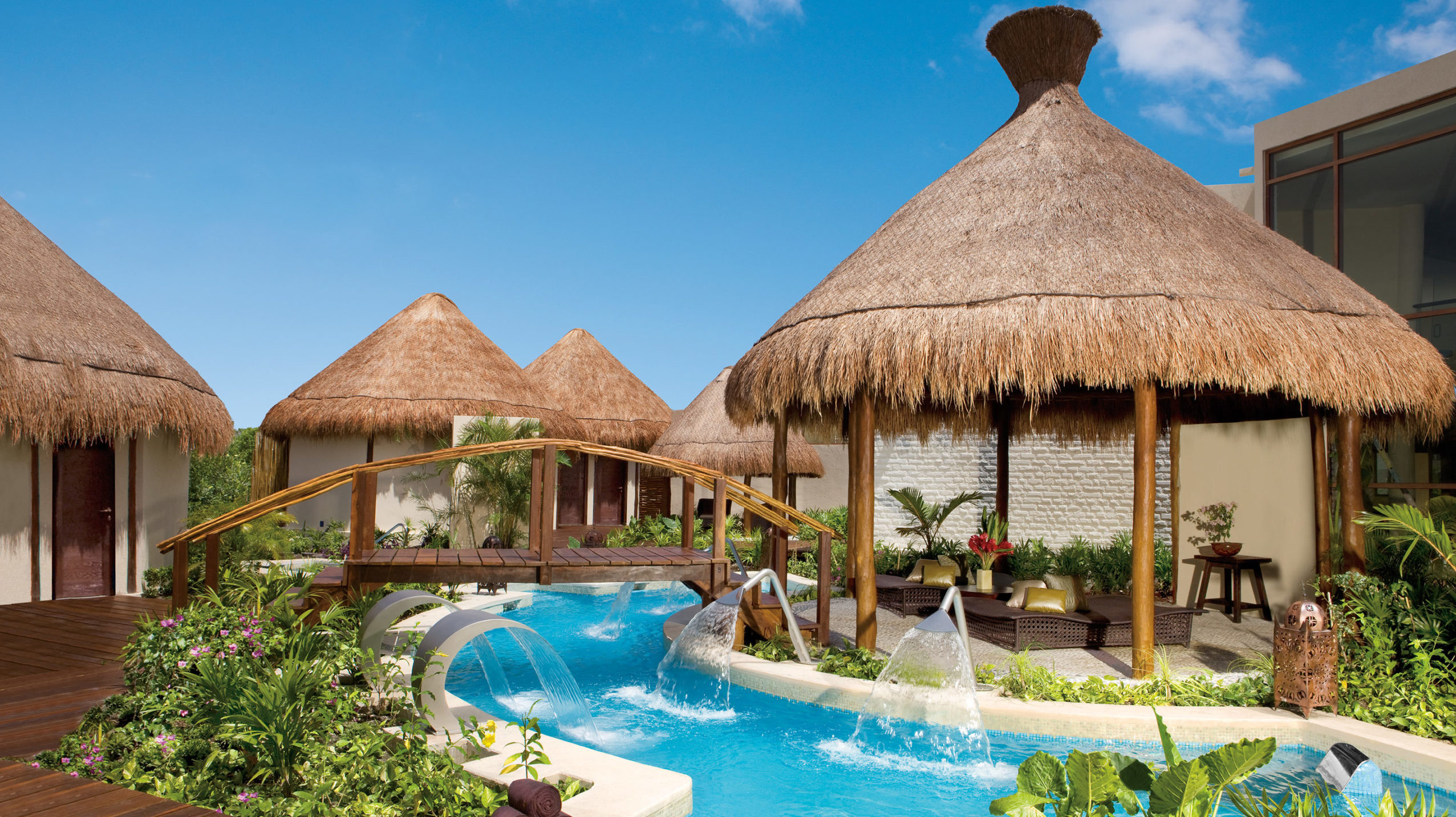 Inspired by elements of nature, the 553-room hotel has over 19,000 sq. ft. of dedicated meeting and function space and a beautiful garden for private events for up to 300 guests. It features a lazy river, exotic fishponds and The Dreams Spa by Pevonia, which is designed to look like the region's cenotes.
Dreams Vista Cancun Resort & Spa
In the exclusive gated community of Puerta del Mar, 416 oceanview rooms and suites include 185 connecting family suites and 8,460 sq. ft. of meeting space in a convention center divisible into three meeting areas. Family-friendly amenities include a rooftop pool, two surf pools, an outdoor theater and climbing wall.
Margaritaville Island Reserve Riviera Cancun
Jimmy Buffett's Margaritaville hotel brand debuted its first all-inclusive Mexican resort experience in March, bringing its casual-luxe aesthetic to the beach in Puerto Morelos. The property has 355 guest rooms, including swim-up rooms and oceanfront suites. Meeting space totals 4,639 sq. ft.
Planet Hollywood Beach Resort Cancun
This property in Costa Mujeres boasts Hollywood memorabilia, themed experiences and an incentive program for groups, meetings and conventions based on room-night production. The property has 12,676 sq. ft. of meeting space, 322 adult guest rooms and 566 family rooms, as well as four swimming pools, a lazy river, a trampoline park, kids/teens club, and a mini-golf course.