Dock events in the exciting new Seaport District
Boston has a bit of an image problem. Non-Bostonians may use Cheers reruns as a frame of reference. (So, where is that bar where everybody knows your name? Answer: Across from the Boston Public Garden.) By American standards, the city is ancient, and full of historic firsts such as the 1636 founding of our first institution of higher education—Harvard University.
But it might surprise you to know there's a revolutionary new Boston. Ten minutes from the Ivy League campus is Royal Sonesta Boston, where a virtual attendee robot named "Phil" enables planners to do remote site visits. At Prudential Center, the new 14,500-square-foot Earls Kitchen & Bar offers private chef-led culinary experiments; chef Mario Batali's 45,000-square-foot Eataly covers three floors; and 700 feet above ground, Skywalk Observatory can host up to 1,000 guests for 360-degree views. Adjacent is the 176,480-square-foot John B. Hynes Veterans Memorial Convention Center.
But the big news in Boston is Seaport Square on the South Boston waterfront. Under construction since 2014, it's a mega-project, with more than 7.6 million sq. ft. of development, including 476,800 sq. ft. of new hotel space poised to be the go-to destination for many meetings.
Seaport District
Seaport Square will encompass more than half of the 5,000-plus new hotel rooms being added to Boston's inventory in the next five years.
Here's an overview of what's ready and what's ahead for Seaport District meetings.
Meeting & Sleeping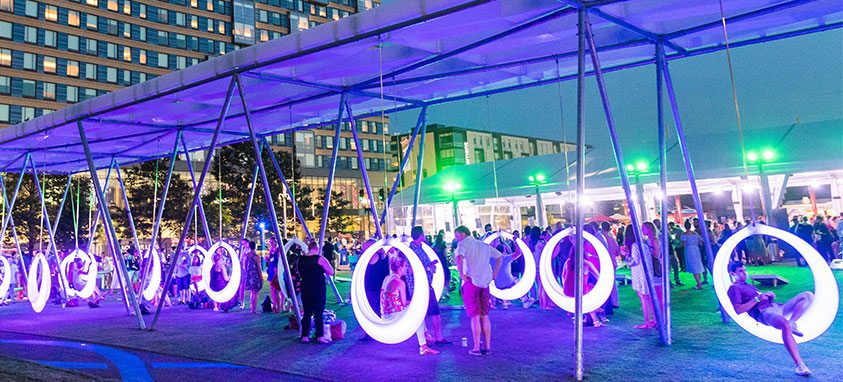 Within walking distance of Seaport Square—and closer to the airport than any other convention center in the United States—is Boston Convention & Exhibition Center (BCEC), which lays claims to being the most technologically advanced convention facility in the world. More than 500,000 sq. ft. in scope, it offers 82 meeting rooms and a 40,000-square-foot, column-free ballroom. This past summer bids were solicited for a possible 1.3 million-square-foot expansion. Executive chef Christopher "Kaeo" Yuen joined the culinary team in November and is bringing innovation to catering, such as wild game breakfasts and action stations.
Steps from BCEC, outdoor or tented events are the forte at The Lawn on D Powered by Citizens Bank. Comprised of more than 8,000 sq. ft. of space, it hosted more than 100 events and 300,000 visitors this year. It can handle as many as 4,000 guests at a time and dress spaces for anything from a fancy soiree to an American Ninja Warrior-style obstacle course for team building. Upgrades this year include expanded lawn space and games such as giant chess, checkers and Connect Four. An interactive art installation, Swing Time (pictured above), consists of 18 LED-lit swings for guests to sway back and forth on. The catering arm of Rebel Restaurants provides food for events.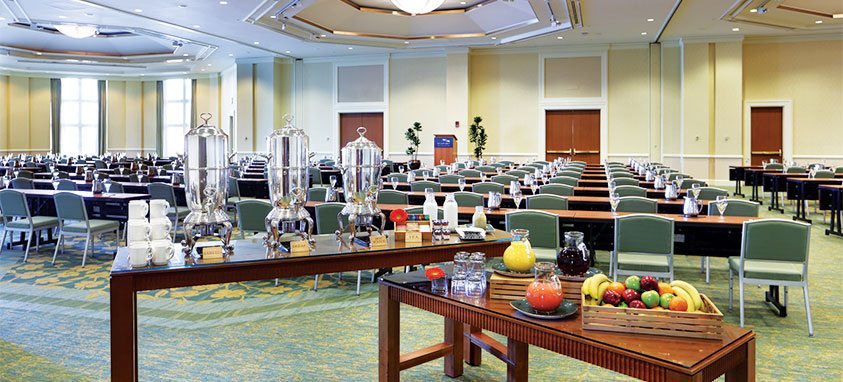 Three area hotels have formed an alliance called the Waterfront Collection—Seaport Hotel & World Trade Center (428 guest rooms, 180,000 sq. ft. of meeting space), Renaissance Boston Waterfront Hotel (471 guest rooms, 20,850 sq. ft. of meeting space) and The Westin Boston Waterfront (793 guest rooms, 90,000 sq. ft. of meeting space). Seaport Hotel's 42 event venues include an amphitheater with live broadcasting capabilities and seven ballrooms. Outside, the Boulevard of Flags—a plaza lined with flags from 50 nations—is a 92,163-square-foot space for more than 5,000 guests.
Seaport Hotel is also abuzz about its fifth-floor bee colony. A beekeeper can give honey tastes and a talk about the hive. Another fun offering is the 3,250-square-foot Action Kitchen. The immersive food experience allows guests to create a menu using ingredients found in a basket, and to wield a French knife and pair wine properly.
Natural light and panoramic views fill the three-story Exchange Hall/McKay Room atrium at Exchange Conference Center, a 1,444-square-foot space for up to 200 guests. The venue is equipped for meetings with a drop-down projection screen and built-in, dry-erase boards. During warm-weather months, guests can flow outdoors onto the Harbor Terrace. Conference rooms and additional event spaces are available on the second and third floors.
Live out your childhood urge to draw on the walls without getting scolded. IdeaPaint at District Hall invites attendees to do just that to foster a creative, sharing environment for meetings. The facility offers several flexible spaces for conferences and parties day or night for up to 250 guests in the Assembly, and up to 450 for a buy-out. Catering is available, and there's also an on-site restaurant and cafe. In 2016, District Hall hosted more than 870 meetings and events. Meeting professionals in a crunch to book space are encouraged to call for last-minute discounts.
Fun & Fitness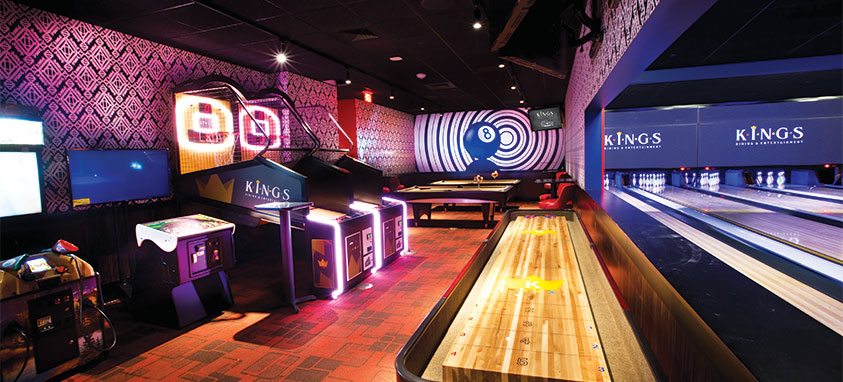 For step-counters, comfortable, reliable shoes are an essential on the trade-show floor. In October, Reebok International, Ltd. opened a 220,000-square-foot headquarters and flagship retail store in the Innovation and Design Building within the Seaport District. Shoppers can watch a shoemaker handcraft personalized sneakers in the YourReebok Customization Shop. The five-story store also features a 30,000-square-foot gym for workouts.
Trade in the new sneaks for loaner bowling shoes at brand-new, 20,000-square-foot Kings Dining & Entertainment (pictured above), in the $600 million One Seaport structure. This location has only been open since October, but the company has been knocking down pins since 2002 and has hosted more than 40,000 parties, including corporate and team-building events. Guests can nibble on bites from the scratch kitchen and sip on handcrafted cocktails and draft beer as they bowl and play classic arcade games. Private event spaces and lanes are available, as is a buy-out for up to 500 guests.
As the entertainment, dining and shopping hub of the district, One Seaport also raised the curtain on ShowPlace Icon Theater this month. In addition to 10 luxurious and intimate movie-screening rooms with reclining, heated seats, the brand's first theater to open in New England also boasts a restaurant and lounge that seats 150 patrons, and offers city skyline views.
Get ready to giggle at Laugh Boston. So much more than a comedy club, it also offers 5,000 sq. ft. of private event space for up to 400 people, complete with audiovisual, a bar and catering—all just a stone's throw from BCEC. Planners can hire Improv Asylum to entertain guests with a customized improv show there or off-site.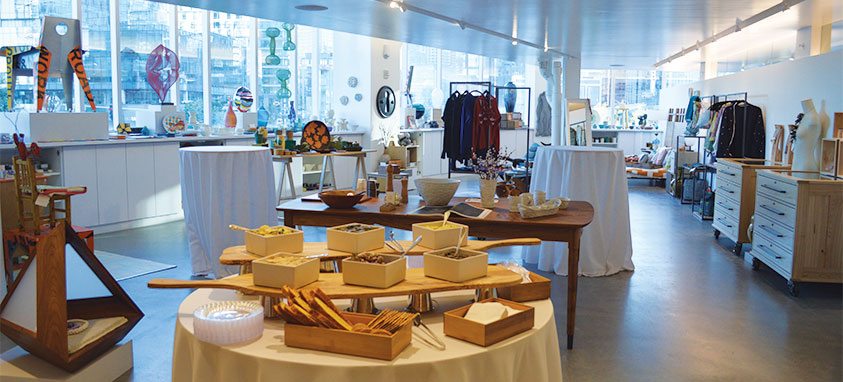 Nightlife in the Seaport District is on fleek at The Grand, an opulent, new nightclub of more than 12,000 sq. ft., which has already headlined some of the world's top music acts since opening in October. Lights twinkle above the dance floor, and a 70-foot LED wall illuminates the club. Its sister venue, the Gothic-style Scorpion Bar, offers an expansive tequila and food menu, plus 10,000 sq. ft. of space.
Want to incorporate some pipe cleaners and hot glue guns into your meeting? Founded in 1897, Society of Arts and Crafts (pictured above) is the oldest nonprofit craft organization in the country. The group recently settled into new digs in the Seaport District. Groups of up to 200 people can enjoy the cityscape through 160 linear feet of windows in the 6,000-square-foot event space. Meeting professionals are welcome to hire a caterer of their choosing and stage live music and performances.
Dining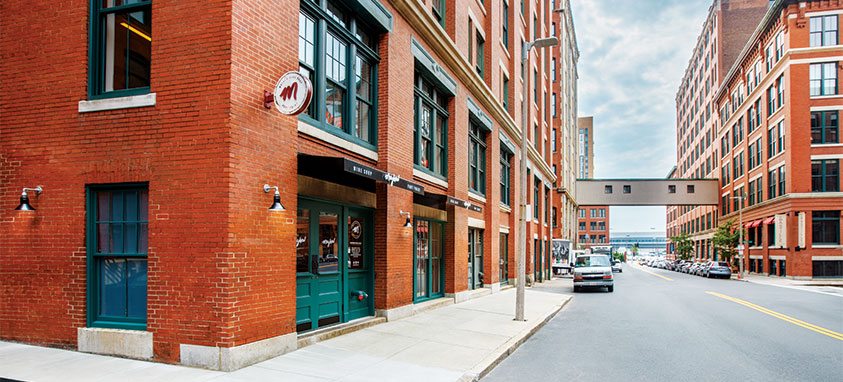 Since 2000, 140 restaurants have opened in the Seaport District. Wake up early to get your morning started with a New York-style bagel from Better Bagels before they sell out. The pop-up shop opened its first permanent location there in October. America's Test Kitchen relocated its headquarters to the Innovation and Design building to fill 55,000 sq. ft. with kitchens, television production studios and edit suites. Restaurateur Kristin Canty of Woods Hill Table will be opening a farm-to-table eatery where Anthony's Pier 4 sat for decades.
Not everything is new on the waterfront. Currently in its third generation, the landmark No Name Restaurant has been run by the same family for 100 years. The Boston seafood joint can accommodate 150 guests downstairs and 200 guests upstairs in private dining rooms. Del Frisco's Double Eagle Steakhouse is a fine-dining establishment that offers a trio of private dining rooms for groups ranging in size from 32 to 54 people, or a buy-out for up to 500 guests. A second location is coming to Prudential Center in early 2018.
In the Fort Point community of the Seaport, Mayhew Wine Shop (pictured above) has been offering private tastings and classes for groups of 25 to 50 since opening at the end of May. It entertains buy-outs for parties of just under 100 guests. The brewery scene is also on point. Harpoon Beer Hall (pictured below) can seat 400 guests for a buy-out. Tours are available, and a selection of 20 beers and ciders are on tap. Head South of the Border to Temazcal Tequila Cantina for authentic Mexican cuisine and tequila tastings. It offers three menu options for private events of up to 50 guests.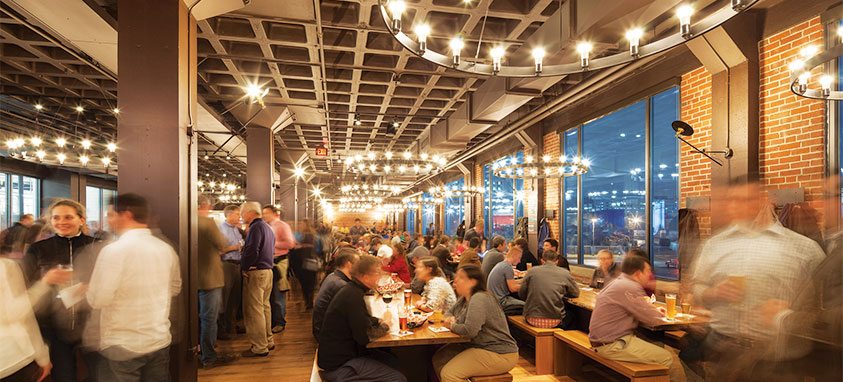 Boston "T" Party
Tea
Sip at The Langham Afternoon Tea with Wedgwood or Rowes Wharf Sea Grille at the Boston Harbor Hotel. Immerse yourself in history at Boston Tea Party Ships and Museum, where events for up to 250 guests can be held. Party like it's the 18th century with Colonial performers, and climb aboard replica ships to experience a seminal event in American history.
Tee
Events are in full swing at The International Golf Club & Resort. Meet, then play at two award-winning golf courses. The property offers indoor ballrooms and lounges and an outdoor event lawn. Guests can stay in The Lodge, a 53-room hotel.
Teams
Hit your meeting out of the ballpark at Fenway Park, home of MLB's Boston Red Sox. Overlook the field from indoor meeting, conference and dining spaces (and rooftop decks) that fit 20 to 200 to 20,000 guests.
Score points with attendees at TD Garden, where the NBA's Celtics and NHL's Bruins play their home games. Meeting professionals can book special appearances by mascots and retired players. Rental opportunities include the arena floor, The Sports Museum and Legends, a sports-themed event space, for as many as 15,000 fans. TD Garden is undergoing a $950 million expansion project to turn it into The Hub on Causeway, a 1.87 million-square-foot, mixed-use space.
Traffic Report
Like any major city, Boston suffers from traffic snarls on its roadways. According to Boston Globe, the bumper-to-bumper grind has become serious enough to pose a threat to the tourism industry. Organized tours are taking longer to complete, are unable to stick to schedules and are even cutting out destinations to avoid traffic. Well aware of the crippling traffic, Boston is seeking solutions to ease travel. Here's a mini traffic report.
Planes
In 2016, Boston experienced its sixth year of record-breaking air traffic at Logan International Airport (BOS). Up nearly 5 percent from the previous year, 391,222 flights serviced more than 36 million passengers—most from other parts of the United States. The airport is undergoing a $100 million renovation to Terminal E, which plans to add seven new gates by 2022 for improved international service. Massachusetts Port Authority, commonly known as Massport, also approved $45 million to begin upgrades to Terminal B.
In mid-October, the second phase of The Club at Boston Logan International opened. Located in Terminal E, the 82-seat lounge is divided into four zones: productivity, replenish, relaxation and resting. While waiting for flights, passengers can enjoy complimentary beverages and food, and even take a shower to freshen up. The lounge welcomes passengers from any airline who purchase a pass for $40 or are members of select organizations.
Public Transportation
Massachusetts Bay Transportation Authority operates Boston's subways, buses, trolleys and ferries. Locals call it the "T." To help make the Seaport more accessible via the water, the Massachusetts Convention Center Authority (MCCA) is considering offering ferry service for commuters and the general public traveling from the North Shore.
Walking and Biking
Dubbed America's Walking City due to its compactness, the City of Boston plans to begin construction next year on a long-delayed 3.5-mile walking and biking path, the South Bay Harbor Trail. Upon completion, walkers and cyclists will be able to step and pedal through Roxbury, the South End and South Boston. Boston also offers a bike-sharing system, Hubway. One thousand bikes are available for riders to rent from more than 100 stations during spring, summer and fall.
Self-Driving Cars
Boston is exploring several options in an effort to find a solution to road congestion, including self-driving cars. A few months ago, the city's Autonomous Vehicle (AV) Initiative released its report, titled Making Autonomous Vehicles a Reality: Lessons from Boston and Beyond, from The Boston Consulting Group (BCG) and the World Economic Forum. The program conducted trials on public roads within the Seaport District's Raymond L. Flynn Marine Park. Among several key findings, interestingly enough, was that AVs could have the opposite effect from what is desired. With people deeming commutes easier, they may travel farther to and from work. Users could also take AVs to run local errands they otherwise wouldn't drive to, or have their AV drive around without any occupants to avoid paying for parking.
Gondola
According to Boston Herald, a firm called Millennium Partners is proposing a gondola system to help ease traffic backups. The aerial tram system could potentially transport as many as 4,000 passengers hourly above Summer Street. If approved, it would connect South Station to the Seaport, possibly as far as Raymond L. Flynn Marine Park.
MAJOR MEETING VENUES IN BOSTON

Aloft Boston Seaport
Opened February 2016; close to Boston Convention & Exhibition Center; nearly 10,000 sq. ft. of meeting space; 330 guest rooms; additional rooms at sister property, Element Boston Seaport.

Boston Harbor Hotel
Smart Meetings Platinum Choice Award winner; Boston's only waterfront Forbes Five Star hotel; full-service 34-slip marina; 20,000 sq. ft. of waterfront meeting space; 230 newly renovated guest rooms.

Boston Marriott Copley Place
Walking distance to Prudential Center; largest ballroom in New England; 70,000 sq. ft. of meeting space; 1,146 guest rooms and suites.

Boston Park Plaza
Completed $100 million renovation in 2016; 26,000-square-foot David Barton gym; 50,000 sq. ft. of meeting space; 1,060 guest rooms.

DoubleTree Suites by Hilton Hotel Boston-Cambridge
Located between Harvard campus and downtown; more than 10,000 sq. ft. of flexible meeting and event space; 308 guest rooms.

Fairmont Copley Plaza
Opened in 1912; close to Hynes Convention Center; rooftop health club overlooking Back Bay; 23,000 sq. ft. of meeting space; 383 guest rooms.

Four Seasons Hotel Boston
Overlooks Public Garden; swan boat sailing; completed $15 million room renovation in April; 20,124 sq. ft. of meeting space; 273 guest rooms.

Four Seasons Hotel and Private Residences One Dalton Boston
Projected to open in early 2018; will be Boston's tallest residential building; 211 guest rooms.

Hilton Boston Bay Back
Walking distance to Hynes Convention Center and Fenway Park; more than 15,000 sq. ft. of meeting space; 390 guest rooms.

Hilton Boston Downtown/Faneuil Hall
Located in a 1920's art deco skyscraper; recently renovated; 10,000 sq. ft. of event space; 403 guest rooms.

Hilton Boston Logan Airport
Only hotel on airport property connected to terminals A and E via pedestrian walkways; 30,000 sq. ft. of meeting space on one level; 599 guest rooms.

Hyatt Regency Boston
Completed $13 million guest room renovation; located in heart of financial and theater district; 30,000 sq. ft. of meeting space; 502 guest rooms.

Hyatt Regency Boston Harbor
Complimentary airport shuttle; free water taxi to downtown; waterfront ballroom with floor-to-ceiling windows; more than 21,000 sq. ft. of meeting space; 270 guest rooms.

Langham Boston
Formerly the Federal Reserve Bank of Boston; hints of 1920s Renaissance Revival and British elegance; afternoon high tea; 10,000 sq. ft. of meeting space; 317 guest rooms.

Mandarin Oriental Boston
Only Forbes Five Star awarded Spa in Massachusetts; direct access to Prudential Center; 10,000 sq. ft. of meeting space; 148 guest rooms and suites.

Omni Hotels & Resorts
Slated to open in 2021; fourth largest hotel in Massachusetts; will be connected via underground tunnel to convention center; covered walkway to train station; largest ballroom in Boston, measuring 25,000 sq. ft.; may include ice rink; 120,000 sq. ft. of meeting space; 1,054 guest rooms.

Renaissance Boston Waterfront Hotel
Walking distance to convention center and World Trade Center; 13 breakout rooms; more than 21,000 sq. ft. of meeting space; 471 guest rooms.

Revere Hotel Boston Common
Rooftop@Revere pool and bar; 10,000-square-foot Tea Gallery inspired by Boston Tea Party; 35,000 sq. ft. of event space; 356 guest rooms.

Royal Sonesta Boston
Only outdoor space on Charles River for cocktail hours overlooking Boston skyline; close to Harvard, TD Garden and Kendall Square; 28,000 sq. ft. of newly renovated meeting space; 400 guest rooms.

Seaport Hotel & World Trade Center
Plaza lined with flags; beekeeping; 3,250-square-foot action kitchen; fitness center; herb garden; renovated pool; 42 event venues; more than 180,000 sq. ft. of event space; 428 guest rooms.

Sheraton Boston Hotel
New England's largest indoor-outdoor saltwater pool; connected to Prudential Center; walking distance to Fenway Park; 70,000 sq. ft. of meeting space; 1,220 guest rooms and suites.

Taj Boston
Built in 1927; close to Hynes Convention Center; 18,000 sq. ft. of meeting space; 273 guest rooms.

The Hotel Commonwealth
New suite with Red Sox replica scoreboard and stadium seats; outdoor terrace overlooks Fenway Park; completed $50 million renovation; 14,000 sq. ft. of event space (7,500 sq. ft. new); 245 guest rooms.

The Westin Boston Waterfront
Connected to convention center; Laugh Boston comedy club located inside; last minute meeting space for small groups; vertical garden; 19 breakout rooms; 90,000 sq. ft. of meeting space; 793 guest rooms.

The Westin Copley Place, Boston
Recent renovated Westin Club and WestinWorkout Fitness Studio; 54,000 sq. ft. of meeting space; 803 guest rooms and suites undergoing renovations (expected to be complete by spring 2018).

Wynn Boston Harbor
Opens June 2019; America's first five-star urban gaming resort; 13 restaurants and lounges; 200,000 sq. ft. of gaming; scenic harborwalk; ferry and water taxis will transport guests to airport and destinations across harbor; 50,000 sq. ft. of convention and meeting space; outdoor event space; 671 guest rooms.